The collapse of Silicon Valley Bank (SVB) brought Federal Deposit Insurance Corporation (FDIC) insurance for business accounts into the forefront of every business owner's mind. The FDIC protects against all bank failures for up to $250,000 per depositor, per insured bank. Amounts above $250,000 can be insured using separate banks, insured cash sweeps (ICS) alternative insurance plans, or banks with additional insurance protection.
One provider that has added additional FDIC insurance is Mercury. With its new product, Mercury Vault, you can get up to $5 million in business funds insured through the FDIC using partner banks and a sweep network. You can also get real-time suggestions for protecting funds. Visit Mercury's website for more information.
How Does FDIC Insurance Work for Business Accounts
FDIC insurance protects funds in your business bank account in the event of a bank failure, which is the closing of a bank by a federal or state regulatory agency, usually because the bank cannot meet its obligations to depositors. If that happens, the FDIC steps in and ensures depositors get access to insured funds.
The FDIC will cover the balance of each insured account up to the insurance limit, including any principal and accrued interest through the day that the bank closes. The FDIC will then set up a temporary bank to handle the funds of the closed bank until it can find a bank to buy the failed bank's assets.
The table below includes the insurance information provided by the FDIC website.
FDIC Insurance Limits

Account Ownership Type

FDIC Insurance Amount

Single Accounts―Owned by One Person

$250,000 per owner

Joint Accounts―Owned by Two or More People

$250,000 per co-owner

Certain Retirement Accounts, Including Individual Retirement Accounts (IRAs)

$250,000 per owner

Revocable Trust Accounts

$250,000 per owner per unique beneficiary

Corporation, Partnership & Unincorporated Association Accounts

$250,000 per corporation, partnership, or unincorporated association

Irrevocable Trust Accounts

$250,000 for the noncontingent interest of each unique beneficiary

Employee Benefit Plan Accounts

$250,000 for the noncontingent interest of each plan participant

Government Accounts

$250,000 per official custodian
Rules for both revocable and irrevocable trusts will be changing on April 1, 2024, to simplify deposit insurance rules for trust accounts. You can download this PDF from the FDIC that details the upcoming changes.
What Is Covered With FDIC Insurance for Business Accounts
Business checking accounts
Business negotiable order of withdrawal (NOW) account (interest-earning demand deposit account)
Business savings accounts
Business money market deposit accounts
Business time deposits, such as certificates of deposit (CDs)
Cashier's checks, money orders, and other official items issued by the bank
What Is Not Covered With FDIC Insurance for Business Accounts
Stock investments
Bond investments
Mutual funds
Life insurance policies
Annuities
Municipal securities
Safe deposit boxes or their contents
United States Treasury bills, bonds, or notes
Pros & Cons of FDIC Insurance for Business Accounts
PROS

CONS

Guarantees business funds up to $250,000 will be insured in the unlikely event of a bank failure
Most accounts are only insured for up to $250,000, which may be much less than a business has on deposit
FDIC insurance is automatic at member banks; you won't have to pay a premium to receive coverage
Low insurance limit for a business might require you to hold business funds at multiple banks
Additional FDIC Insurance With CDARS & ICS From IntraFi Network Deposits
Many banks and financial technology (fintech) companies can insure deposits in excess of $250,000 by using IntraFi Network Deposits. That company combined Certificate of Deposit Account Registry Service (CDARS) and Insured Cash Sweeps (ICS) with some of its financial offerings in 2021 to provide all of those services together.
IntraFi, a network of more than 3,000 banks nationwide, provides CDARS and ICS to allow banks to spread deposits across multiple financial institutions, with customers receiving $250,000 of FDIC insurance at each bank.
One drawback to CDARS is that it has limited liquidity because it's a CD. The depositor will likely have to pay a penalty for early withdrawal. Banks also have to pay a fee to access a CD in CDARS, making the return on investment for the bank less than other options.
There are fees with an ICS as well, which will limit the rate of return. However, you can insure up to $150 million with an ICS, which should cover the finances of most small businesses.
Below are two fintech options and one online bank for insuring more than $250,000 for your business. Before switching financial institutions, check with yours to see if it offers CDARS or ICS, which can allow you to increase your protection.
Annual Percentage Yield (APY)

Cash Deposit Fee

ATM Fee

FDIC Insurance

Treasury account up to 5.43% APY

No cash deposits

None at Allpoint ATMs

Up to $5 million

Cash invested earns up to 4.92% APY

No cash deposits

No ATM card

Up to $6 million

1.01% APY for Business Interest Checking

None at MoneyPass and Allpoint ATMs

Unlimited domestic ATM reimbursements

Up to $150 million using ICS
*Providers are fintech platforms backed and FDIC-insured through a supporting bank partnership (Mercury is partnered with Choice Financial Group and Evolve Bank & Trust; Brex has nine partner banks—see Brex's list of partners).
Other Ways To Insure Business Funds in Excess of $250,000
With personal bank accounts, most customers don't have to worry about having funds higher than the FDIC-insured limit of $250,000. However, this is much more common for businesses.
Here are five ways to insure funds that exceed the FDIC limit:
Choose a provider that sweeps funds into multiple banks: Some financial institutions partner with multiple banks, which allows them to split your funds into those banks. Your funds in each bank would be insured for up to $250,000. Brex distributes your funds among its nine partner banks to give you insurance of up to $1 million.
Open up accounts at multiple banks: You can split your money into multiple banks, with the funds in each bank insured for up to $250,000.
Move funds to a credit union: Credit unions have their own federal insurance known as the National Credit Union Share Insurance Fund. It's available through the National Credit Union Administration (NCUA), which insures accounts for up to $250,000.
Choose an FDIC bank that is also a member of the Depositors Insurance Fund (DIF): The DIF insures funds above the FDIC limit. Its website has a list of banks that are members of both the FDIC and DIF.
Find other providers of FDIC insurance: There are external companies that provide FDIC insurance in excess of the FDIC limits. One such company is Wintrust, which has a program called MaxSafe—and accounts are insured for up to $3.75 million. Visit the MaxSafe page to learn more about the program or to open an account.
You can get detailed information about your specific deposit insurance coverage through the FDIC's Electronic Deposit Insurance Estimator, where you'll be asked to provide information about your accounts. You can also call the FDIC at (877) ASK-FDIC or (877) 275-3342 for assistance from an FDIC deposit insurance specialist.
How To Know If a Bank Is FDIC-insured
Banks that are FDIC-insured must have the FDIC logo both at the bank's physical location and on all marketing materials.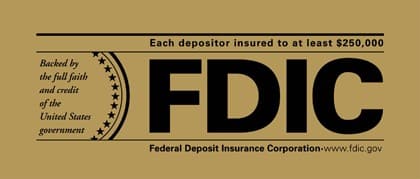 You can also call the FDIC at (877) ASK-FDIC or (877) 275-3342 or use the FDIC's BankFind tool to find out if a specific bank is covered by FDIC insurance. Make sure to check if a bank is FDIC insured before opening a business bank account.
Once you're ready to begin the process, you may refer to our guide on how to open a business bank account. It includes a downloadable checklist of required documents.
Frequently Asked Questions (FAQs)
Does FDIC insurance work for businesses?
Business bank accounts can be insured by the government's Federal Deposit Insurance Corporation (FDIC) in the same manner as personal accounts. A business bank account backed by the FDIC is insured against all bank failures for up to $250,000 per depositor, per insured bank. Check out the FDIC website for the latest rules on FDIC business insurance.
How does FDIC insurance pay out?
According to the FDIC, if a bank fails, then the FDIC will pay insurance within a few days after the bank closes. Usually, this happens the next business day. The FDIC will either provide each depositor with a new account at another insured bank equal to the insured balance at the failed bank or issue a check to each depositor for the insured balance.
Does FDIC insurance cover multiple accounts in the same bank?
FDIC insurance for business accounts covers all of the accounts at the insured bank but only up to $250,000 per depositor. So if your business has four accounts at a bank and the total of all deposits is less than $250,000, then all of your funds will be insured. If those accounts exceed $250,000, only the first $250,000 is insured. This is why you should secure additional insurance for amounts above $250,000 or use multiple banks.
Bottom Line
The failures of SVB and Signature Bank have served as reminders to banks to make sure business funds are adequately insured by the FDIC. While some small businesses have finances well below the traditional $250,000 insurance limit, others regularly exceed those limits. Before you switch banks or spread your finances out yourself, check with your bank to see if it offers ICS or CDARS that can help you insure your excess business funds. Now is the time to ensure you have enough FDIC insurance to protect your company's future.