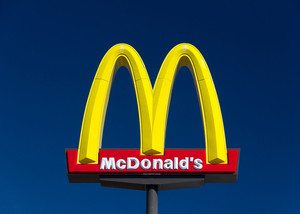 Whether you're just browsing for curiosity or looking to get some serious facts about a franchise, we've pinpointed 8 of the best websites to find franchises for sale. All of them make it easy to contact or request information from the franchisor, so once you've found a franchise you like, you can quickly move onto the next step.
Already have a franchise in mind? Click here for our franchise financing guide. Or, if you $50K or more in retirement accounts, you can avoid loans altogether by doing a rollover for business startups (ROBS). We recommend using Guidant Financial. Click here for a free consultation.
Whether you're looking for new franchise opportunities or want to buy an existing franchise, here's the 8 best places to start your search:
Can you directly contact Franchisors? Yes
Franchise Resales? No
Franchise Gator is an easy-to-use database of over 1,000 franchise opportunities. You can filter by industry, location and cash required for initial investment, or browse for franchises alphabetically.
What I especially like about Franchise Gator is that you can filter based on the specific amount of cash needed to get started. Unlike the total investment (which is usually much larger), liquid cash is the minimum amount you need on-hand before you can consider loans and other sources of funding.
Franchise Gator also puts together a list of the top 100 franchises each year. They pull together hundreds of Franchise Disclosure Documents (FDDs) and pick out those that score best on financial stability, growth, transparency, engagement, continuity and sustainability.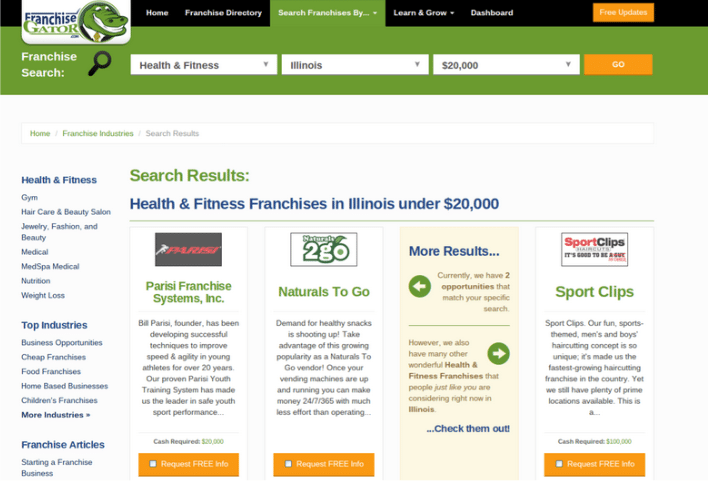 Finding the process of choosing a franchise confusing. You are not alone! A great resources if Joel Libava's Ultimate Online Franchise Course. Joel is known as "The Franchise King." Fit Small Business reviews the course here.
Can you directly contact Franchisors? Yes
Franchise Resales? No
The publication Entrepreneur has one of the best databases of franchise opportunities. Their annual Franchise 500 list finds the top franchise opportunities based on financial strength, stability, growth rate, size of the system and other factors. You can browse through the rankings here, which conveniently displays the total initial investment next to each business name.
They also make many smaller lists, like 10 home-based franchises, top 10 new franchises, top 10 fastest-growing franchises and so on. As a magazine and web-based publication, there's usually good articles written about the different options, describing what each franchise is doing that's unique or advantageous.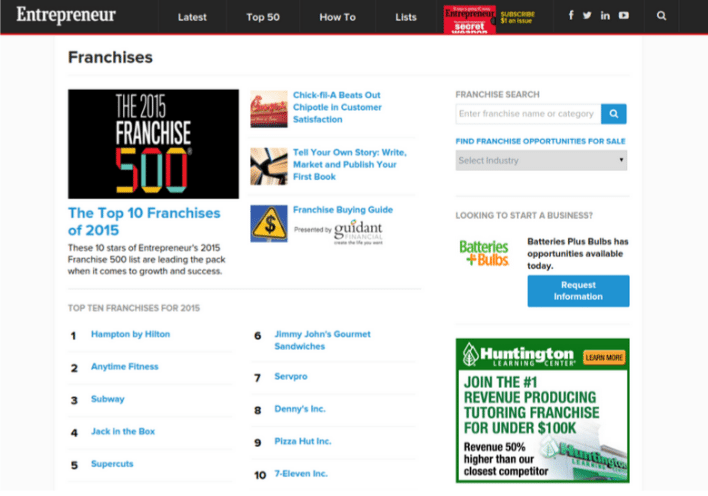 Can you directly contact Franchisors? Yes
Franchise Resales? Yes
BizBuySell is primarily a place to find businesses for sale. This includes both independent business and existing franchises. They also have a section to search for new franchise opportunities, as well as business brokers, but their main feature is the business listings.
You can search by state/region, asking price, cash flow, keyword and more. The interface is a little pesky, given all the banner ads and sponsored search results. But they have more existing businesses listed than any other website I've found, so it's definitely worth a whirl.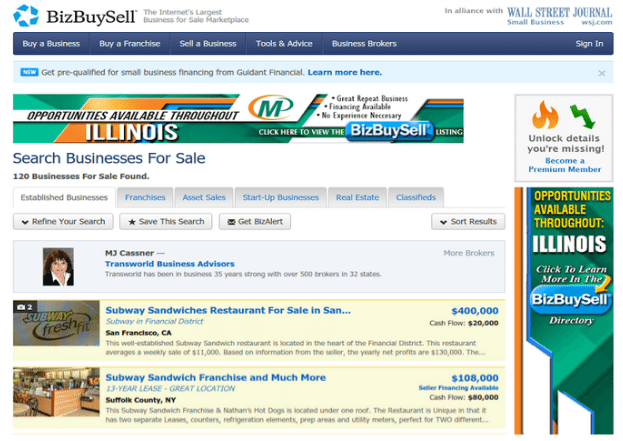 Can you directly contact Franchisors? Yes
Franchise Resales? Yes
Similar to BizBuySell, Businesses For Sale has both new franchises, franchise resales and listings for independent businesses.
The franchise search tools are nothing spectacular: There's fewer entries than the other databases and they don't display cash required or initial investment in the immediate results. What is a great feature, however, is their "for sale" listings, which includes both independent businesses and franchises. You can search by keyword, asking price, cash flow and many other factors.
On my sample run, I found slightly fewer results than BizBuySell, although it's still a great place to search if you want to buy an existing franchise.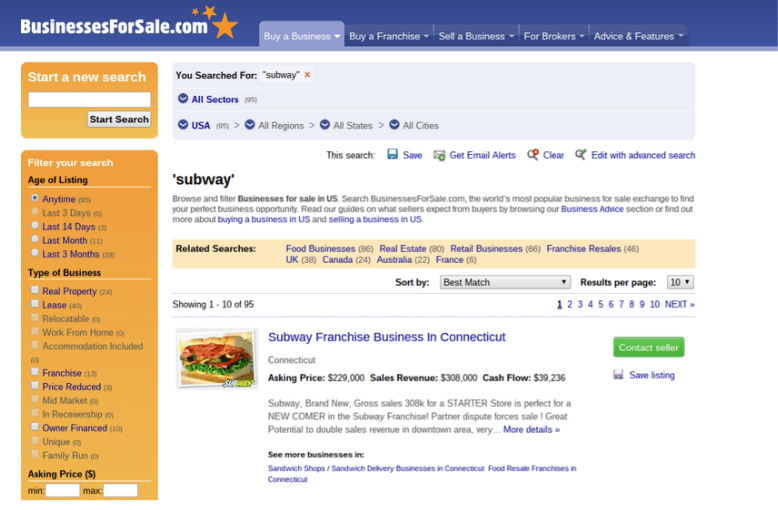 Can you directly contact Franchisors? Yes
Franchise Resales? No
If you're tired of sales pitches and want to read something a little more critical, Franchise Business Review is the way to go. They give out surveys to many different franchisees asking them to rank their satisfaction with the franchisor. You can see how respondents rated their training & support, leadership, financial opportunity, franchise community and more.
Unfortunately there's only about 50 franchises in their database, but this includes many popular companies like Marco's Pizza, CruiseOne, Liberty Tax Service, Two Men and a Truck, Crunch Fitness and more.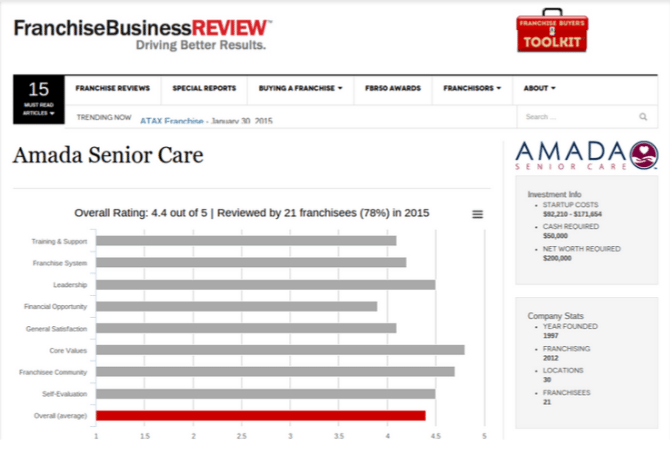 The Franchise Mall has one of the largest databases, with almost 4,500 listings. To narrow things down, you can search by keyword or browse by industry or investment amount. Within each industry, you can also select from many different subcategories. For example, within "Automotive" select from Wheels & Rims, Brake Repair, Customization and many more. This makes THe Franchise Mall one of the best places to find smaller and lesser-known franchise opportunities.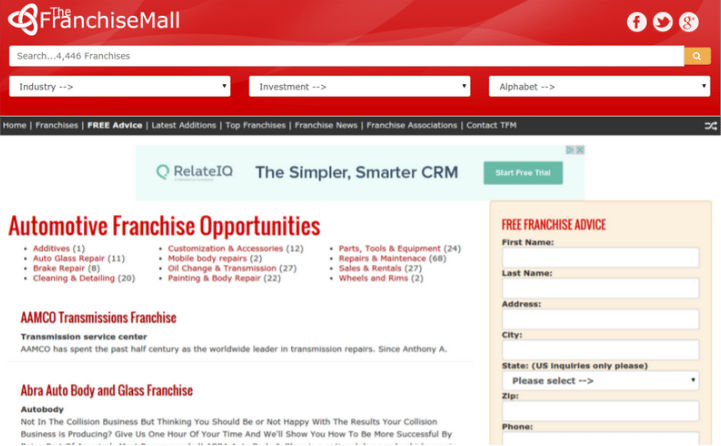 Can you directly contact Franchisors? Yes
Franchise Resales? No
Franchise Direct is a pretty standard Franchise database. You can search for opportunities by industry, minimum cash required and location. Minimum cash required is displayed in the search results for ease of browsing.
One thing that's nice about Franchise Direct is their special lists. They compile all franchises that are SBA-approved, for example, or have Green initiatives as part of their business model. They also have recommendation lists, like top franchises for veterans.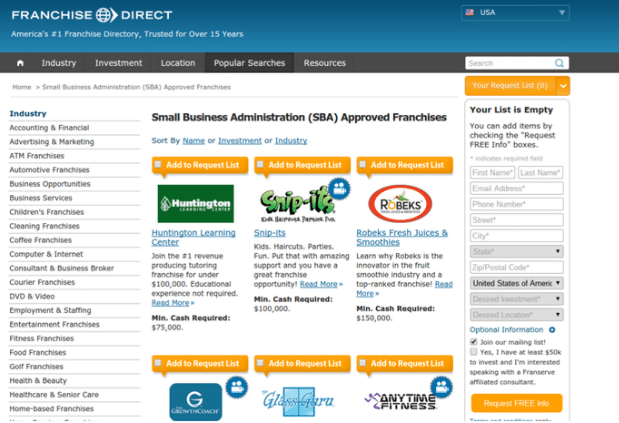 Can you directly contact Franchisors? Yes
Franchise Resales? No
Franchise.org is a place to look for new franchise opportunities – there's no resales. Their unique angle is a compare tool. Select 3 to 5 franchises, then build a chart that compares their total investment, start up cost, size, whether or not financing is provided and other factors.
It's a great tool for when you're deciding between a few opportunities, though unfortunately it's not fully developed. The tool is buggy, and doesn't display key information like profitability or business descriptions.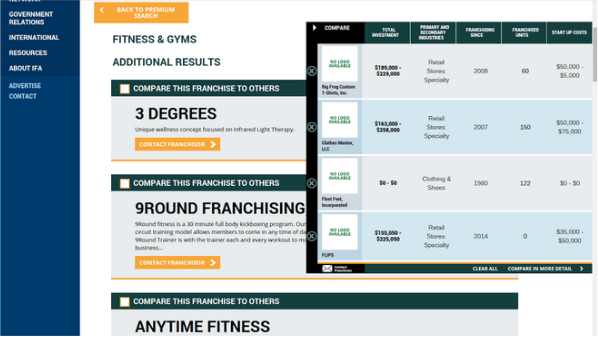 Bottom Line: Franchises for Sale
These eight sites are a great place to find franchises for sale or to begin your franchise research. Once you have a good idea of what franchise will be a good fit for you, you'll want to start thinking about the next steps – reaching out to the franchisor for FDD, scheduling discovery days, and lining up franchise financing.
If you are looking to avoid the borrowing process, maybe ROBS are the right way to fund your franchise. If you have more than $50,000 in your retirement account you can use this money to start or buy a business without paying early withdrawal penalties. Its called a rollover for business startups (ROBS). Click here to learn more or speak with a ROBS pro at Guidant.
Have a favorite franchise site that we didn't mention?  Let us know in the comments section below.