Home inspector training requirements vary by state―some don't require prelicensing education at all. However, high-quality education is critical if you want to start or grow your career as a home inspector. The school must offer extensive learning formats, practice and simulated tests, and hands-on training—all at a reasonable price. We compared dozens of options and identified the six best home inspector training schools based on cost, course availability and format, customer support, and student reviews.
Best Home Inspector Training Schools At a Glance
American Home Inspectors Training (AHIT)

Overall score: 4.92 out of 5

Live classroom training
Hands-on field training
99% exam pass success rate
Available in 49 states

International Association of Certified Home Inspectors (InterNACHI)

Overall score: 4.82 out of 5

Buy-back guarantee
Mobile-friendly practice tests
Videos and webinars
Available in 50 states

Inspection Certification Associates (ICA)

Overall score: 4.21 out of 5

More than 700-plus practice questions
17 included bonus courses
Digital certified inspector badge
Available in 47 states

ATI Training – Home Inspection Institute

Overall score: 4.15 out of 5

90% pass rate
Thousands of practice questions
Inspection video library
Available in 38 states

Professional Home Inspection Institute (PHII)

Overall score: 3.59 out of 5

Free bonus courses
12 hours per day phone support
1-year AHI membership
Available in 44 states

Kaplan

Overall score: 2.85 out of 5

Brand-new instructional videos
End-of-unit review quizzes
100 video segments
Available in 31 states
Things you need to know before enrolling in a home inspection training program: Along with education requirements, there are additional steps to getting your home inspector license. Check out our Step-by-Step Guide to Becoming a Home Inspector to learn what your state requires.
If you're unsure where to start with your home inspector training, take our quiz for a glance at which school is right for you.
Which home inspector training school is right for you?
Best for Comprehensive Online & In-person Training

Pros
Courses offered in 49 states
5-day free trial
Unlimited instructor support
Cons
No livestream online course options
No pass guarantee
No home inspector training in Nevada or New Jersey
Our Expert Opinion on AHIT
American Home Inspectors Training (AHIT) is one of the best home inspector training schools in the United States, with licensing courses in 49 states (including Washington, D.C.). It offers remarkably comprehensive education and support at an affordable cost. While the course is entirely online, students receive e-textbooks and additional resources. You can also participate in live, in-classroom training or field training at over 80 locations in over 30 states. However, AHIT must provide a pass guarantee or livestream courses to improve its education.
Certifications offered: Certified Mold Assessor Technician, Indoor Air Quality Technician, and Radon Measurement Professional
Bonus courses: Advanced and Expert packages include more than 40 hours of additional courses on marketing and business topics, like sales and office management.
Additional resources: Includes a national exam prep book, free trial of InspectIT reports, marketing manual and education on business practices, and basic tools like an inspection mirror, two-prong tester, and receptacle tester.
Multiple accreditations: American Society of Home Inspectors (ASHI) and the InterNACHI
AHIT has an excellent customer review rating of 4.6 out of 5, with most students noting how much they love the interaction with instructors, video lessons, and additional resources. Most reviewers said they felt confident about their exam and career after completing AHIT's home inspection license classes.
However, a few unhappy reviews expressed frustration that they couldn't reach customer support easily. Plus, some students are dejected about the relatively expensive cost of AHIT prelicensing classes. For more affordable home inspection license classes, consider InterNACHI, which offers prelicensing courses for around $200 less than most other home inspector training providers.
AHIT's pricing depends on the state and the type of education you're purchasing. Other courses like continuing education (CE) and professional development are offered individually, and pricing depends on the number of hours:
Prelicensing: $699 to $2,995
CE: $15 to $420
Exam prep: $99 to $229
Certifications: $75 to $999
Read how our experts feel about this home inspection training school in our AHIT Review.
Largest Resource Library

Pros
Most affordable monthly cost
Ongoing resources
Approved courses in every state
Cons
No one-time fee; you must pay monthly or annually
No instructor support
No interactive study groups
Our Expert Opinion on InterNACHI
InterNACHI offers an affordable membership-based plan that provides instant access to an extensive library of thousands of home inspection training courses. Search and filter courses for approved education in your state, like plumbing, home energy, structure, or air quality. Additional resources and tools are also provided, including a message board, design services, insurance discounts, and business development courses. However, the school could improve by giving interactive study groups and a mobile app.
Certifications offered: Certified Professional Inspector, Certified Four Point Inspector, Certified Mold Inspector, Certified Septic System Inspector, Certified Well Inspector, and over 60 more.
Free membership guide: Instantly download the digital membership guide for answers to all common questions and more details on the events, education, and specialty programs.
InterNACHI certification: As a member, you can complete coursework for your Certified Professional Inspector (CPI) anytime.
InterNACHI has an outstanding customer review rating of 4.9 out of 5. Members say that the education and tools provided are fantastic, especially since the material is available in both written and video forms. They also especially love the House of Horrors as a training tool.
The only negative review online is written by a customer who had a poor experience with an individual inspector. Additionally, the school doesn't offer a pass and refund guarantee. Consider ATI Training – Home Inspection Institute, which has a 90% pass rate and a refund guarantee.
InterNACHI membership: $49 per month or $499 per year, includes over 1,200 of approved online education, exclusive discounts, business success tools, and the ability to earn an InterNACHI Certified Professional Inspector certification.
Best for Instructor-led Courses

Pros
Online and live training courses
17 bonus courses
Lifetime access to courses and resources
Cons
In-person courses are only available in 13 states
In-classroom and field training classes are expensive
CE courses are only available in 11 states
Our Expert Opinion on Inspection Certification Associates (ICA)
Inspection Certification Associates (ICA) is an accredited home inspection school approved in 47 states. It offers online and in-person courses, which is helpful for inspectors in states requiring field training. Another reason it's one of the best home inspection training schools is that all licensing courses include 17 bonus courses on specific topics, which help you get the best understanding and tools to start your career. However, ICA may improve its educational services by providing a pass guarantee and live chat customer support.
Certifications offered: Commercial Property Inspector, Mold Assessment Technician, Radon Measurement Technician
Free exam prep course: Includes 700+ practice questions and practice exams
Additional resources: 17 bonus courses, podcasts, reporting software, and one-month access to InterNACHI
Multiple accreditations: Better Business Bureau (BBB), InterNACHI, and American Society of Home Inspectors (ASHI)
ICA has an incredible customer review rating of 4.6 out of 5 and even has an award from BBB for being complaint-free. Students think it's one of the best home inspector training schools because of its straightforward courses, personal support from instructors, and hands-on learning experience. Several students also mentioned that they appreciate the bonus courses, helping them gain more knowledge and save money.
However, some students noted that the positive reviews are for the in-person classes, but the online classes are not as interactive as they had hoped. Besides, ICA doesn't provide direct instructor assistance and interactive study groups, unlike AHIT.
The pricing for courses from ICA varies based on the type of education and learning format you choose:
Prelicensing: $695 to $1,795
CE: $10 to $299
Best for Solopreneurs

Pros
Self-paced online and live classroom courses
Lifetime access to materials
Financing and discounts available
Cons
No career assistance
No interactive study groups
No live chat and 24/7 customer support
Our Expert Opinion on ATI Training
ATI Training offers self-paced online and live classroom courses. It also delivers financing options and discounts for firefighters, emergency medical technicians (EMTs), police officers, and military veterans. The school provides professional and business-building resources and tools like website hosting and marketing. This helps solopreneurs better understand their insurance options and support them as they start their businesses. Yet, the school may improve by offering career assistance and interactive study groups.
Certifications offered: Disaster Inspector, Radon Measurement Technician, and Public Adjuster
Additional resources: Courses include one year of Horizon home inspection software, e-books, audiobooks, and bonus courses
ATI Training Academy store with marketing products and services: The academy store offers unique marketing services designed for home inspectors, like a custom logo and business card, website hosting, and inspection toolkits
Accreditations: InterNACHI and members of All American Association of Home Inspectors (AAAHI)
ATI Training is the only school on our list to score a perfect 5 out of 5 customer review rating. Students rave about the courses and instructors, calling them "exceptional" and "wonderful" and saying the school is the best home inspection training on the market.
They also say a ton of information is presented, but the format and instructors make it interesting and easy to digest, so students feel supported instead of overwhelmed. Regardless, ATI Training doesn't offer career assistance and interactive study groups. If you wish to have those features and services, we recommend AHIT.
The home inspection degree programs from ATI Training are offered in two learning formats: self-paced online and interactive in-classroom courses:
Prelicensing: $495 to $2,500
CE: Free
Best for Specialty Certifications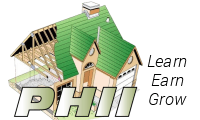 Pros
Lifetime access to materials
30-day satisfaction guarantee
Video and audio content, interactive exercises, flashcards, and practice quizzes
Cons
Only offers field training in South Dakota
No pass guarantee
Only phone support is available
Our Expert Opinion on Professional Home Inspection Institute (PHII)
PHII online training course has many beneficial resources and tools like bonus courses, report software, a business website, and one year of North American Association of Home Inspectors (AHI) membership. The school also provides the highest number of courses for specialty certifications and non-credit topic courses, helping you enhance and advance your career. However, PHII should provide comprehensive customer support and one-on-one coaching and training.
Certifications offered: Certified Energy Auditor, Certified Weatherization Contractor, Infrared Thermographer, Certified Residential Mold Inspector, and Certified Commercial Mold Inspector
Instructor access: Online and in-person courses give you access to instructors for questions and support
Multiple accreditations: Workforce Investment Act (WIA), BBB, American Society of Home Inspectors (ASHI), Institute of Inspection Cleaning and Restoration Certification (IICRC), Inspector Pro Insurance, Associations Liability Insurance Agency (ALIA), National Radon Proficiency Program (NRPP), National Radon Safety Board (NRSB), plus many individual state organizations (view the full list of PHII credentials)
Even though most online reviews for the Professional Home Inspection Institute are positive, there are a limited number of them, so their customer review rating is 3.8 out of 5. Reviewers said they had used PHII's courses for their certifications for many years, which have helped them establish and grow a successful business. They've also noted that instructors and customer support are easily accessible and helpful.
However, a few unsatisfied customers say the courses were not as comprehensive or engaging as they hoped. In addition, the school doesn't provide a pass guarantee and email and live chat support, making it challenging for students to contact the school. If you require those features, we suggest ATI Training – Home Inspection Institute or AHIT, which boasts a 90% pass rate and 99% exam pass success rate, respectively.
Prelicensing: All online training packages cost $549, regardless of the state they are offered in. Classroom training starts at $2,195.
CE: $199 to $395
Certifications: $199 to $799
Best for Self-directed Study Courses

Pros
Direct instructor assistance
Online courses include videos and interactive activities
Home study and online video learning formats
Cons
Courses can be expensive
No pass guarantee
No in-classroom courses
Our Expert Opinion on Kaplan
As a reputable real estate online education provider, you can be confident that Kaplan's home inspector training classes are in-depth and easy to follow. They offer the highest number of self-paced course formats―you can order a textbook and study at home, learn online, or access on-demand videos to complete your required hours. This makes Kaplan the best choice for students who want an engaging, self-paced online education. Yet, Kaplan may improve by supplying students with live webinar classes and a mobile app.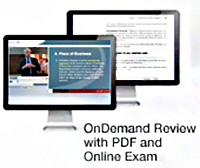 Engaging course format options: Courses available via physical textbook (home study), online, or on-demand video courses, which include instructional videos and graphics, and interactive activities
Professional development course: An on-demand course about starting and establishing a successful home inspection business
Additional resources: Free trial of Horizon home inspection software
Multiple accreditations: ARELLO and International Distance Education Certification Center (IDECC)
Kaplan has an excellent customer review rating of 4.6 out of 5. Students love the course variety and interactive course material. However, Kaplan is an education provider for multiple industries, so most reviews are from students who took courses to become real estate agents instead of home inspectors.
Note that Kaplan doesn't provide in-person classes with hands-on instruction. So, if you want to take in-classroom courses, we recommend AHIT or Inspection Certification Associates (ICA).
The pricing structure for Kaplan's home inspection courses is simple. There are two licensing course options and one professional development course, and the prices for each course are the same in every available state.
Principles of Home Inspection: Systems and Standards Online: $799
Principles of Home Inspection: Systems and Standards Textbook: $179
Read how our experts feel about this home inspector school in our Kaplan Review.
How We Evaluated the Best Home Inspector Training Schools
Since being a home inspector is an active, hands-on job that usually requires business knowledge, the best training programs combine real-world examples with access to industry experts and the resources you need to succeed. We looked for state-approved and accredited programs that provide videos of actual home inspections or recorded in-field demonstrations. We also evaluated online courses that provide comprehensive resources on building mechanics and other aspects of a residential property inspection.
Based on the criteria above, we recommend American Home Inspectors Training (AHIT) as the best overall option for home inspection training. Not only does its platform offer a range of course types and lifetime support to students, but it is also the only school to offer a free trial and have a 99% student pass rate.
We evaluated each home inspector training program based on the following:
25%
Learning Styles & Course Features
25% of Overall Score
Consists of various formatting and learning styles for each course to meet the specific needs of the student as well as ease of course accessibility.
20% of Overall Score
Pricing is based on the cost of prelicensing, continuing education, and exam prep for each online institution.
15% of Overall Score
The availability of courses throughout the country, measured by the number of states where each institution offers education.
15% of Overall Score
This criterion is based on the additional features each institution provides to students to enhance their learning. These include career assistance, coaching and training, pass and refund guarantees, interactive study groups, and course extension options.
10% of Overall Score
Based on customer feedback for each program to certify the course meets user satisfaction, with particular attention given to reviews of the home inspection training program and the provider's popularity.
10% of Overall Score
Expertise in the field and firsthand experience with the providers allow us to evaluate the stand-out features, value for the money, and ease of use for each training program.
5% of Overall Score
We looked into the convenience and attainability of customer service support for technical support and instructor assistance.
*Percentages of overall score
Bottom Line
To become a home inspector or grow in your career, finding the right home inspector training schools is key. To determine which home inspection certification is best for you, find one that fits your budget, learning style, and need for support.