Inventory financing is a short-term loan or line of credit used by a business to purchase inventory. The loan or line of credit is typically secured by existing inventory without needing to pledge personal collateral. Inventory financing is commonly used to prepare for busy seasons, fill large purchase orders, or as startup capital for product-based businesses.
If you need access to capital fast, you may also want to check out our article on short-term working capital loan providers. Short-term loan providers have easy online application processes and you can get the funding as fast as the same day you apply.
Inventory Financing Options at a Glance
| Provider | Who It's Right For |
| --- | --- |
| Business Line of Credit with Kabbage | Businesses with consistent cash flow or inventory needs. |
| Online Inventory Financing with Behalf | Business that need fast inventory financing up to $500K. |
| Bank Inventory Financing | Businesses with an established banking relationship and a high personal credit score. |
| Asset Based Lenders | Businesses that can wait up to 1 month for financing, and have inventory that holds its value. |
| Vendor Financing | Businesses who buy large quantities of inventory from the same vendor. |
How Inventory Financing Works
Traditional inventory financing is typically when you take out a loan backed by new inventory assets that are purchased using the loan. Often, inventory financing lenders will pay your suppliers directly and you'll then repay the lender. However, if you're a small business owner, it's more common to use a general short-term working capital product.
The 5 best inventory financing options for small business owners are: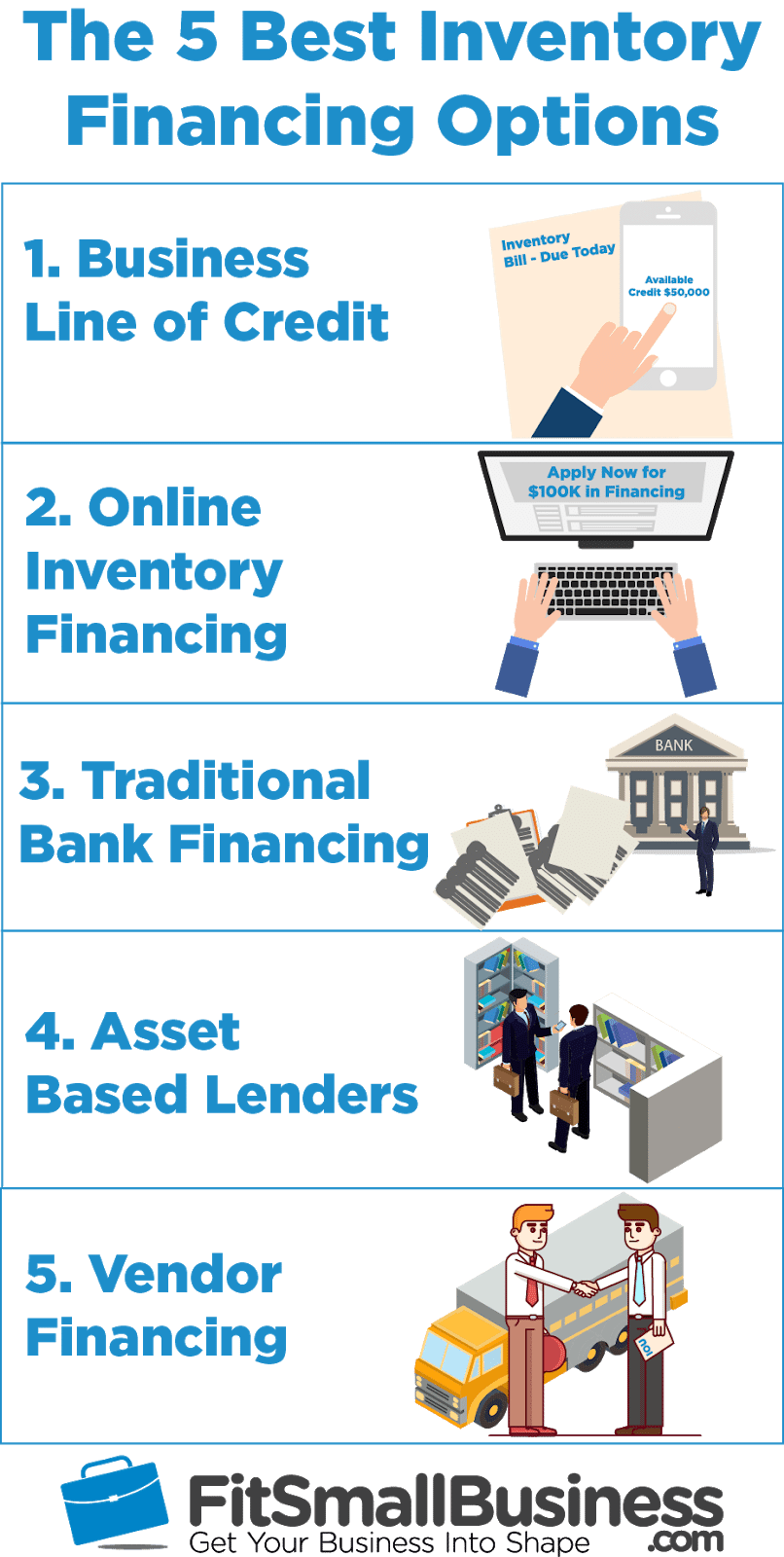 1. Business Line of Credit
A business line of credit is the fastest inventory financing solution. With a LOC, you get financing that you can use again and again without having to reapply. Plus, if you have unexpected expenses that pop up, you can use your business line of credit for more than just inventory purchases. It's a good tool to have regardless of your needs.
Who's it Right For
A business line of credit is generally right for businesses with consistent inventory or cash flow needs. Since you don't have to reapply each time you need money, it's the perfect solution to be used for the same purchases each month.
Costs
The costs of a business line of credit vary widely, depending on where you get it from. The general APR can range from 13.99% – 55%. This doesn't include additional fees you may see, such as draw fees, origination fees, or service fees.
Terms
With a business line of credit you can get approved for a line up to $150K, and your repayment terms will generally be 6-12 months for each draw. You're only required to pay interest on the portion of the credit line you're currently using. So if you're approved for a $100K line, but only borrower $10K, then you'll only pay interest on the $10K until the amount is repaid.
Qualifications
The qualification requirements will vary by lender, but typically you'll need to meet these minimum standards:
Credit Score: 550+ (check your credit score for free here)
Time in Business: 1+ Year
Annual Business Revenues: $100K+
Other Requirements: You may also need to be profitable and have no major recent credit violations like a bankruptcy, tax lien, or repossession.
Recommended Business Line of Credit Provider: Kabbage

Our recommended small business line of credit provider is Kabbage. They offer up to $250K of financing with an APR that ranges between 30-50%. Your repayment terms are either 6 or 12 months, and you make payments monthly until it's paid in full. You can qualify if you have $50K+ in annual business revenue, have a credit score of at least 500, and have been in business for 1 year or more. It takes 10 minutes to apply.
2. Online Inventory Financing
There are a variety of online lenders that offer financing specifically for inventory. Getting a business line of credit might be easier and faster, but if you know you'll be using the money solely for inventory, it can be more affordable to choose one of these more specialized providers. These lenders typically pay your suppliers directly and then collect repayment.
Who's it Right For
These online options are good for businesses that don't have a lot of inventory, receivables, or track record of success and are therefore unable to qualify for a business line of credit. However, they are a good alternative for businesses that need a smaller (up to $50K) short-term solution and know that they don't need the financing for anything else.
Costs
These online inventory financing lenders will typically charge you up to 3% of your loan for every 30 days you're in repayment. The average APR falls between 30-35% but can be more affordable if you pay it back within the first month.
Terms
You can borrow between $300 and $50K with an online inventory loan, and your repayment terms will be between 1 – 6 months. These loans work similarly to a short-term business loan, but are slightly more affordable since you can only use the funds for inventory. You can get fully funded in as quick as 1 day.
Qualifications
Online inventory financing lenders aren't always clear about their qualification requirements. Each of them will generally check your personal credit and connect to your bank account to determine your eligibility. If approved, some will want to verify information about your inventory to see how long of a shelf life it typically has, with some requiring as much as 1 year.
Recommended Online Inventory Financing Provider: Behalf

Our recommended online inventory financing provider is Behalf, who pays your vendors directly so that you can make large purchases of inventory. You can borrow up to $50K in under 4 minutes, and you have up to 6 months to pay it back. All you need to apply is a social security number and US bank account. The APR on a Behalf loan is typically around 30%.
3. Bank Financing
When looking for inventory financing, you can also go the route of more traditional financing and get a bank loan or line of credit. This is the slowest option but the most economical one if you're borrowing money. Banks prefer to lend to businesses with a strong cash flow and good credit. The value of inventory is a secondary consideration.
Your existing inventory will serve as collateral for bank financing, but the bank may also place a blanket lien on your business assets, which allows them to go after any business asset if you can't pay back the loan. A blanket lien can also affect your ability to get other financing. If your business isn't profitable, the bank is less likely to approve you or will approve you for smaller amounts of capital.
Who's it Right For
Businesses who don't need immediate financing, and are looking for the most affordable option. Also good for business owners with a strong personal credit score and businesses with a strong business credit score and business credit report.
Costs
Whenever you get a loan from a bank you'll likely encounter origination fees, packaging fees, or other upfront costs that are rolled into your loan or paid out of pocket. The APR typically falls between 4-10% for traditional banks and closing costs can be 2% – 5%.
Terms
You can borrow a large amount of money to fund your inventory from a bank, as much as $1 million or more. You're also likely to get the longest repayment terms with a bank, typically falling between 1 – 5 years. A bank may offer you a business line of credit to finance your inventory if you need money on a consistent basis.
Qualifications
Like other forms of financing, it can be difficult to qualify with a bank. While it will vary by lender, and depend on your current banking relationship with them, you can generally qualify if you meet these minimum standards:
Credit Score: 680+ (check your credit score for free here)
Time in Business: 2+ Years
Inventory Value: 1+ Year of shelf life and can only borrow up to 50% of inventory value

DSCR: 1.25+
DTI: Less than 36

Other Qualifications: Business must be profitable. You can't have any negative credit events such as bankruptcy, tax liens, or repossessions.
Generally with a bank the stronger your business' cash flow is the more likely it is that you will get approved because you're showing lenders that you can pay back the loan.
Recommended Bank Financing Provider
We currently don't have a recommended provider, but you should check with your current bank first. Existing relationships are the best place to start. For example, you can inquire with the bank where you have your business checking account or business savings account.
4. Asset Based Lenders
Whereas banks lend based on cash flow and credit score, asset-based lenders look at two sets of assets, accounts receivable and inventory, in deciding whether to approve you for a loan.
"We serve businesses that can't qualify for bank financing because their profits or credit score aren't high enough," says Marc Smith, Senior Vice President at Magnolia Financial, an asset-based lender that provides inventory financing for B2B companies.
Asset-based lenders take a much more hands-on role in assessing your inventory by appraising your inventory on-site prior to you getting approved. After that, they require monthly reports on inventory levels. Ideally, according to Marc Smith, they want clients with well-managed inventory systems who know exactly where their inventory levels stand at any given moment in time.
Who's it Right For
Businesses who need a large amount of financing ($500K+) and carry at least double their financing needs in inventory value. Meaning, if you need $500K in financing then at any given time you have $1M+ in inventory.
Costs
Asset-based loans have interest rates of approximately 10 – 18%. There may also be loan origination fees and costs related to the lender doing an on-site inventory analysis.
Terms
You can borrow up to 50% of the value of your inventory and get funded within 1 month. The loan is secured by your inventory and your business receivables.
Qualifications
There are no set credit score or revenue requirements. Instead, the lender will inspect and appraise the inventory and assess your inventory management system. You can get approved for up to 50% of the value of your current inventory.
Recommended Asset Based Lender
We do not have a recommended asset-based lender at this time. Some examples of lenders in this space are Crossroads Financial and Capital Source.
5. Vendor Financing
A good place to start when looking for inventory financing is to ask your vendor if they will allow you to pay on credit. This is often the easiest way to purchase inventory when you're short on cash because your vendors will be very interested in making a sale or getting an update on the payment you owe them.
Vendors may offer 30-90 day payment terms. If this is the case, they may collect a percentage of payment up front (deposit) and defer the rest to an agreed upon date. Or, they might collect installment payments over time. Still, if you have a good relationship you should be able to negotiate payments in full after 30-90 days.
Although most vendors that offer these financing services offer them for free, some may charge an interest rate. Before offering you a payment plan, the vendor will most likely check your business credit score and business financials. However, a vendor is more likely than a lender to overlook issues such as a bad credit report or poor cash flow.
Who's it Right For
Vendor financing is for everyone. If you can get your vendor to agree to extend your payables then it's a great solution, regardless of what your needs are or how big of a business you have. It's typically best for existing businesses and business owners with prior vendor relationships.
Costs
Typically this is offered free of charge, but some vendors may require you to pay an additional charge or a higher interest rate in exchange for this option. There might also be late payments if you fail to pay on the agreed date.
Terms
Your vendor can extend your payables by offering you additional time to pay what you owe them. They can also charge you interest to pay off your inventory over a longer period of time. These costs could be anywhere from 1 – 10% or more, depending on how comfortable your vendor is with offering financing.
Qualifications
The only qualification is that your supplier agrees to offer the financing to you.
Recommended Vendor Financing Provider
Your current suppliers.
Who Inventory Financing is Right For
Inventory financing is right for businesses looking to pay for inventory before they receive payment from their customers. For example, it can help solve inventory shortage problems where you don't have enough of the inventory your customers want, or it can help you increase inventory levels of new products in an effort to drive sales.
The following types of businesses may benefit from inventory financing:
1. Brick and Mortar Retailers
Many retailers use inventory financing because most of their cash is tied up in inventory. Having the right amount of products on their shelves is often the livelihood of their business. Inventory financing gets you the inventory levels you need while freeing up your cash flow for other expenses.
2. E-Commerce Retailers
Selling products online through an e-commerce website doesn't necessarily mean your cash flow or inventory management is any easier. You'll still likely have a need to keep your inventory levels at an acceptable rate in order to fulfill a constant flow of customer orders.
3. Wholesalers
Wholesalers need a steady supply of inventory to fulfill incoming orders and replenish inventory that leaves the shelves. Since wholesalers typically have larger order volumes than retailers, it's important to keep more disposable inventory that could get ordered at any given time. Financing can help you replenish that inventory, even if you haven't yet been paid for past purchases yet.
Benefits of Inventory Loans
Inventory financing has many benefits for companies with inventory needs. The right business will find it to be very convenient and helpful in running a consistently tight cash flow. Retailers are notorious for having thin margins, which creates a problem for you when you try to fully stock your shelves. Inventory financing can help with that cash flow problem.
The 4 most important benefits of inventory financing include:
1. Helps Prepare You for the Busy Season
If you're a seasonal business, you can prepare for the busy season by using financing to acquire inventory the months leading up to the start of your best season. You won't typically have the money to fund the inventory needed for your busy season until after it's in full swing. That makes inventory financing a great solution for you.
2. Improves Your Cash Flow
Many retailers struggle with cash flow problems because of their thin margins combined with the timing of their payments. These retailers don't receive revenue without inventory to sell, and often you don't have the cash flow to buy the inventory you need to maximize your sales. The right financing helps overcome this issue by freeing up your cash flow to be used for other expenses.
3. Increases Sales Volume
Inventory financing helps you improve your total sales because it can help you maximize the amount of inventory you have for sale. When you don't have to pay cash for your inventory, you're much more likely to purchase extra items that sell well for you. It also helps you buy additional items that you wouldn't have had available to your customers otherwise.
4. Easier to Get Than Other Financing
The actual inventory you purchase is often used for collateral when you're financing it. This means that inventory financing is much easier to obtain than a traditional business loan would be. And you usually don't have to put up personal collateral to secure this additional working capital either.
Drawbacks of Inventory Financing
While these are all great benefits of inventory financing, the one major drawback is the expense of due diligence. Many traditional lenders will require a field audit to look at your inventory, and see how you care for your inventory. They may also want to look at your accounting and inventory systems to make sure they're functioning properly, and get an inventory appraisal.
These due diligence items can be really costly, and you'll be asked to pay these costs up front before you know if you've been approved for financing. If you go with a loan provider that requires these qualification measures, we recommend only applying for larger amounts of inventory financing, in the hundreds of thousands of dollars.
However, with smaller financing needs you can qualify with alternative loan providers. They're more expensive, carrying higher rates, but they also take much less due diligence and can fund very quickly. Our recommended provider is Kabbage, who can offer a business line of credit of up to $150K. You can fill out an online application and pre-qualify within 10 minutes, and be fully funded within 1-3 days.
Bottom Line
Inventory financing can help you meet customer demand by funding the purchase of inventory that will fill your shelves and hopefully increase your sales. You have numerous options to get inventory financing, from vendor financing to banks and asset-based lenders or online lines of credit. The right option for you depends on how much financing you need, and how quickly you need it.
Our recommended inventory financing option is a business line of credit. If you've been in business for at least 1 year, have a credit score above 550, and over $50K in annual business revenue, you may pre-qualify for up to $250k in financing with Kabbage. The application can be completed online within a few minutes and you can be funded in as quick as 1 day.