4 Best Online Real Estate Classes in Delaware 2023
A high-quality real estate education in Delaware is essential to complete your 99 hours of prelicensing education as well as continuing education, post-licensing, and beyond. Online real estate schools in Delaware provide a variety of course formats, interactive features, easy course access, and customer service to support online education. We've researched these features as well as availability and pricing to determine the best online real estate classes in Delaware for real estate agents and brokers:
Best Online Real Estate Classes in Delaware at a Glance
Schools

Education Provided & Starting Price

Learning Formats

Pass Guarantee

Customer Support

Prelicensing: $839

Post-licensing: $45

CE: $45

Exam prep: $79

Self-paced
On-demand videos

✓

Phone, email, and live chat

Post-licensing: $109.95

CE: $49

Self-paced
On-demand videos

✓

Phone and email

Prelicensing: $560

CE: $40

Exam prep: Free

✕

Phone

Prelicensing: $595

Self-paced
Livestream
On-demand videos

 

✕

Phone and email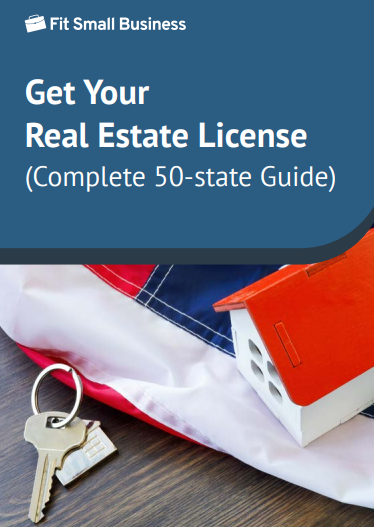 Thank you for downloading!
Your e-book is on the way! If you don't see it, check your "Spam" or "Promotions" folders.
The CE Shop: Best for Self-paced, Interactive Courses
Pros
On-demand video learning
Course accessible on multiple devices
Exam prep courses available
Cons
Broker exam prep offered
No livestream webinar format
Mobile application not provided
The CE Shop learning format fosters a flexible learning environment that allows students to complete their education on their own time. Its course offerings span from pre- and post-licensing to continuing education and exam prep—assisting agents throughout their real estate careers. Aspiring and experienced real estate professionals can find the courses they need with The CE Shop to meet their real estate education requirements.
Unlike other online Delaware real estate courses that only provide continuing education (CE) courses or just prelicensing classes, The CE Shop also provides interactive study groups for students who learn better with the help of other students. These study groups are in webinar format, or students can join the Facebook Groups or Student Form to connect with others online.
The CE Shop is one of the only Delaware real estate schools offering a pass guarantee. The pass guarantee refunds the initial licensing exam or Exam Prep Edge course if students do not pass their state exams.
Additional The CE Shop Features
E-books: With each prelicensing course package, students receive e-books written by experts and are updated monthly with new topics to help agents grow their business.
Custom LEAP platform: Creates an interactive environment for online distance learning and is a central location to access course materials and resources.
Exam Prep Edge: Online course that covers all topics present on the licensing exam, along with an initial knowledge assessment and unlimited practice tests.
Career resources: Knowledge provided to help agents during their broker interviews, along with help finding their niche and resources to launch a new real estate career.
Students of The CE Shop have rated the school a 4.4 out of 5 stars. They mentioned the courses are comprehensive and cover all the real estate topics needed to pass the exam. One student mentioned that the exam prep course allows plenty of opportunities to study the material, enabling them to take the practice test as many times as needed to obtain a passing score.
The negative reviews surrounding the online real estate education program stem from more technical issues than the education itself. One student said it took months to receive their course certificate, and other students were not satisfied with the course access time limitation of one year. Students might find the McKissock Learning program more engaging, hoping to complete the course in the six-month access period.
---
The course package options at The CE Shop give students various options at different price points that make the Delaware real estate classes affordable. Students choose between packages or individual courses based on their needs.
Prelicensing: Starting at $839
The prelicensing packages include the required education hours in addition to the business e-books, career resources, downloadable resources, digital flashcards, real estate glossary, study schedules, and instructor-led webinars. Delaware students can choose monthly payment plans to help alleviate the upfront education costs.
Courses-only package: $839 for the above-mentioned items
Standard package: $945 includes everything in the Courses-only package plus exam prep and a money-back pass guarantee
Value package: $999 for everything in the Standard package above, along with an added building business course
Premium package: $1,109 for everything in the Value package and the Delaware 12-hour post-licensing first renewal sales course
Reciprocal Prelicensing: $259
Specifically for agents who are already licensed in another state, but would like to obtain their Delaware real estate license as well
Post-licensing: Starting at $45
Individual classes: $45
12-hour post-licensing package: Priced at $109 for all four three-hour courses
Continued Education: Starting at $45
Individual CE courses: From $45 to $79 based on credit hours
Full 21-hour package: $209
Exam Prep: Starting at $79
Pearson VUE National Portion: $79
DE Salesperson National and State Portions: $135
DE Salesperson State Portion: $79
---
McKissock Learning: Ideal for Unlimited Access to Continuing Education Materials
Pros
Instructor assistance included
Career assistance available
Ability to extend course access
Cons
Prelicensing courses not available
Course access for only six months
No pass guarantee
McKissock Learning is one of the top real estate schools in Delaware that offers premier online continuing education. Continuing education courses are in self-paced and live webinar formats for agents and real estate brokers. Enrollment in continuing education courses gives students access to professional development tools, informational videos, and industry discounts. For Delaware agents, McKissock also offers post-licensing education for agents looking to renew their licenses for the first time.
In addition to the standard learning modules offered by most other real estate schools in Delaware, McKissock Learning also offers a CE Plus Membership that gives agents unlimited access to learning materials. Those materials include an on-demand library of webinars, over 500 professional development resources, job aids, and connections with knowledgeable education specialists. If agents are licensed in multiple states, there is also a multi-state McKissock CE plus membership for access to all CE courses offered by McKissock.
Additional McKissock Learning Features
Livestream/webinar courses: Engaging online learning that keeps students on pace for completion.
Instructor assistance: Direct instructor assistance is provided for all students.
Multiple device support: Students can access courses on a computer, phone, or tablet.
Students of McKissock Learning said the program was easy to enroll in. They answered the students' questions regarding the programs and felt the course material was easy to understand. McKissock Learning had over 60 online reviews rating it 4.5 out of 5 stars. One student said the program was well-priced compared to other online providers, and flexible courses were easy to navigate and informative.
Most reviewers did not list a con to the program; some even insisted there were no negatives. One student said there was a lot of material to remember, and another said that the course time limitation was difficult, with the possibility of having to start over and lose money. Students who want longer course access length should consider The CE Shop as their real estate education provider.
---
Real estate agents can purchase course packages or individual courses to meet their education needs. Packages offer a slight discount over purchasing courses individually.
Post-licensing: Starting at $44
Two-hour Sales Agent Package: $109.95 for four modules of learning
Individual courses: $44
Continued Education: Starting at $49
Salesperson First-time 12-hour Renewal Package: $129 includes New Salesperson Modules 1-4: Professional Standards in Real Estate (three hours), Agreement of Sale–Buyer Representation (three hours), Real Estate Documents – Seller Representation (three hours), and Real Estate Professionalism (three hours)
21-hour Salesperson or Broker Renewal Package With NAR Ethics: $239 includes Delaware Core Modules 1-5: Agency and Fair Housing (three hours), Professional Standards (three hours), Real Estate Documents (three hours), Office Management (three hours), and Legislative Issues (three hours)
DE McKissock CE PLUS Membership: $299 includes all courses listed in the packages above plus all CE courses in Delaware, a real estate coaching tool, access to the pro-series on-demand webinar library, how-to videos, Sherri Johnson 90-Day Boot Camp, over 100 job aids (worksheets, scripts, and checklists), product and service discounts, and knowledgeable education specialists
Individual real estate classes: $49 to $59 based on credit hours
---
Omega Real Estate School: Best for Free Exam Prep Review Sessions
Pros
Live virtual courses offered
Free career seminar sessions
Partial course refund available
Cons
No email or live chat support
Mobile application not offered
No pass guarantee
Omega Real Estate School was founded by Ruth Vella, who has 50 years of real estate experience. The school has Delaware real estate license courses, continuing education, and exam prep courses. The prelicensing and CE courses are taught virtually via Zoom. To promote interactivity, students are required to have video and speakers on their devices to participate.
Unlike many other Delaware real estate license online programs that charge for exam preparation and course packages, Omega Real Estate School offers free exam preparation through its partnership with CompuCram. Free review sessions are taught every Thursday to help students prepare for the Pearson VUE Exam. This session is offered to past and current students, so students who have completed education elsewhere cannot participate.
Additional Omega Real Estate School Features
Career seminars: Free information sessions to discuss obtaining a license and how to have a successful career in real estate.
Accelerated classes: For students who want to complete the course quickly with daytime classes.
Refund policy: Abides by the Delaware Code for Private Business or Trade School policy. However, the $100 registration fee is non-refundable.
Students rated Omega Real Estate School a 3.9 out of 5. There were raving reviews of Ruth Vella, the primary instructor of the school. We should note that she is also an instructor at Delaware Real Estate Academy. Many of the students pass the state exam on the first try. One student who was a reciprocal licensee found the school to be very instructive and provided you with all the knowledge you need to be successful.
Many of the negative reviews for Omega Real Estate School were about the cost and refund policy of the program. A student mentioned they were charged for a study guide, even though the program was a virtual learning environment. Another student said they had difficulties getting a refund because they were unaware of the cancellation policy. Students who would like a more flexible refund should consider Delaware Real Estate Academy, which has a 72-hour cancellation policy after enrollment.
---
For over 45 years, Omega Real Estate School has been offering day and evening real estate courses with one of the highest passing percentages for State Boards. Although there are limited course options, its strategies and offerings have been proven successful.
Prelicensing: $560
99 hours of prelicensing education in livestream format
Continued Education: Starting at $40
Each CE course module is available for $40 each; the course fee is reduced to $30 a course if a student registers for three or more courses at the time of purchase
Exam Prep: Free
Available through a partnership with CompuCram
---
Delaware School of Real Estate: Best for Livestream Courses
Pros
Taught by experienced professionals
Tuition includes course books
Accelerated learning courses offered
Cons
No exam prep or continuing education courses
Instructor assistance not available
Course access for less than 6 months
Delaware School of Real Estate provides day and evening prelicensing real estate courses for aspiring real estate agents. Students can take live virtual courses taught by experienced instructors. Students who have the ability to take courses during the day will be enrolled in an accelerated day program consisting of eight-hour sessions three days a week, whereas evening courses are only three hours offered three days a week.
Since the course is taught live, students must remain on camera at all times during the class. This type of class format is unlike many other self-paced online learning environments offered by other real estate classes in Delaware, since students cannot take the course at any time and at their own pace. However, Delaware School of Real Estate has partnered up with The CE Shop to offer an online self-paced course format for students unable to meet the set schedule of the livestream courses.
Additional Delaware School of Real Estate Features
Course books: Included in the price of tuition are Modern Real Estate Practice (21st Edition), Delaware Real Estate Primer, and Mastering Real Estate Mathematics (9th Edition) books.
Exam retake: If necessary, students can retake the final exam in all or one of the three areas of study (Real Estate Law, Real Estate Practices, Real Estate Math).
Exemption from the math portion: A math pretest is given during orientation, and any student who scores 80% or higher is exempt from the math portion of the course
The Delaware School of Real Estate received an online rating of 4.6 out of 5. The students who rated the school highly touted the instructor's ability to make the material easy to understand and learn. Students felt prepared for their state exams, and many passed on the first try. They also said the instructors seemed to care about everyone's success and went out of their way to assist if any questions arose.
Of the few reviews received online, Delaware School of Real Estate had few negative reviews. In our review of the program, it felt like it was missing continuing education courses to help agents renew their licenses. Students who would like to have online continuing education could consider McKissock Learning as their CE education provider.
---
The price of the prelicensing course includes tuition and textbooks, but students must provide their own technology and internet access since the courses operate in a livestream format.
Prelicensing: $595
99 hours of livestream directly through Delaware School of Real Estate or self-paced instruction through partner The CE Shop
---
How We Evaluated the Top Real Estate Schools in Delaware
Those looking to become Delaware real estate agents or are currently experienced agents have many options for education in the state of Delaware. The real estate classes in Delaware offer mostly online virtual education with either self-paced or virtual interactive distance learning. Many of the schools we evaluated offer multiple support channels and instructor access. Most importantly, the schools provide many career resources to ensure their students are successful post-course completion.
In our evaluation, we determined that The CE Shop is the best overall choice for online real estate schools in Delaware. We determined this due to the courses offered—from prelicensing to post-licensing, continuing education, and exam prep. With a customer review rating of 4.4 out of 5 and the presence of a pass guarantee, The CE Shop is ideal for Delaware real estate professionals.
We've determined the best online real estate schools in Delaware based on the following criteria:
25%
Learning Style/Course Features
25% of Overall Score
Consists of various formatting and learning styles for each course to meet the specific needs of the agent as well as ease of course accessibility.
20% of Overall Score
Pricing is based on the cost and availability of pre- and post-licensing, continuing education courses, and exam prep for each online institution.
15% of Overall Score
The availability of each level of education for different stages of licensure. This would include pre- and post-licensing, continuing education courses, broker prelicensing, and exam prep.
15% of Overall Score
Extending services past licensure such as coaching, training, and career assistance. Also, whether the provider offers pass or refund guarantees for its courses.
10% of Overall Score
Based on customer feedback for each program, with particular attention given to reviews of the product and popularity of the provider, to certify the course meets user satisfaction.
10% of Overall Score
Expertise in the field and firsthand experience with the providers allow us to evaluate the standout features, value for the money, and ease of use for each school.
5% of Overall Score
We looked into the convenience and attainability of customer service for technical support and instructor assistance.
*Percentages of overall score