50 Free Real Estate Flashcards for Exam Prep (+ Video, Free Download & Tips)
Real estate flashcards are a tried-and-true way of mastering common topics and concepts for your licensing exam. Your flashcards should include questions and terminologies covering property ownership, financing, contracts, real estate calculations, and other subjects from your prelicensing coursework. Test your knowledge against our video flashcards or download our 50 free real estate flashcards containing definitions, true or false statements, common acronyms, and real estate vocabulary.
Even though your exam will contain multiple-choice questions only, studying flashcards will ensure you retain all the real estate knowledge you need to pass your exam.
Real Estate Exam Scholar takes flashcards a step further with its $39 all-in-one online preparation tool. It provides you with six months of unlimited access to video, audio, practice tests, and real estate exam vocabulary to make sure you're prepared. Even with a 95% pass rate, Real Estate Exam Scholar offers a pass guarantee, giving all students assurance that they will succeed or get their money back.
Visit Real Estate Exam Scholar
Tips for Passing the Real Estate Exam
Studying for any exam can be daunting, especially with a busy schedule and distractions that can divert your attention. Nevertheless, you must set aside time to study for your real estate exam to avoid spending more time and money retaking it. Also, the sooner you pass the exam, the sooner you'll be able to start a successful real estate career.
In addition to using flashcards, here are study tips to use that will improve your understanding and memory:
Take notes on paper
Schedule short periods of focused study
Study a little bit every day
Read out loud to improve memory
Take a walk before your real estate exam
Use mnemonic devices
Remove distractions
Study with friends
It's also necessary to think about your test strategies on the actual day of the exam. Multiple-choice questions can be tricky if you're not focused and relaxed, especially when you're on a time frame to complete them. Just like any other multiple-choice question test, you often need to master the questions more than the content.
Answer the questions you know first and temporarily skip the difficult questions. After you've gone through the entire test, return to the difficult questions you originally skipped. Use strategies like the process of elimination to get rid of answers that you know are wrong and then take your best guess of which remaining answer is correct. Also, once you've chosen an answer, do not second-guess yourself. Oftentimes, your gut tells you the right answer.
Free Practice Exam & Sample Questions
Every state provides its aspiring real estate agents with a Candidate Handbook when registering for the real estate license exam. The Handbook provides information on licensing requirements, scheduling the exam, and the structure and contents that will be on the test. Reviewing sample questions from your state-specific Candidate Handbook is an effective method of studying and quizzing yourself before exam day.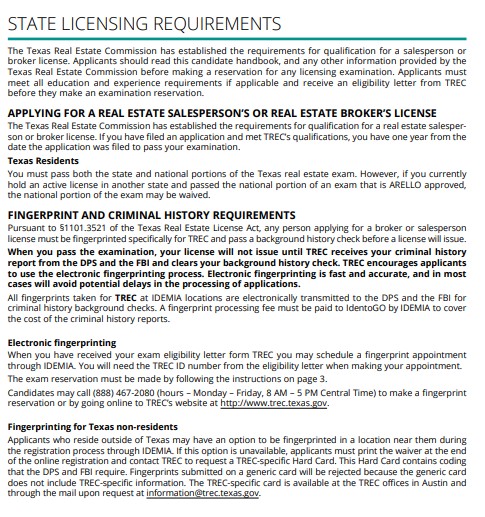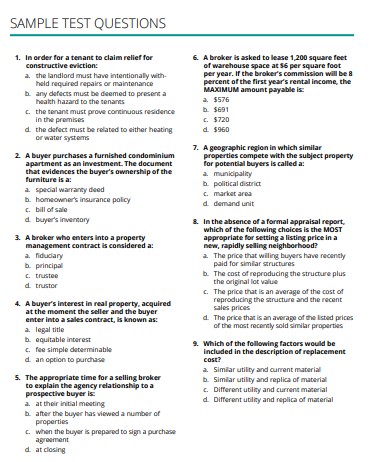 The Handbook will also break down the categories you'll be tested on and the number of questions per category you'll be expected to know. This information is valuable for real estate agents to understand the overall structure and areas of focus for the exam, but also to determine the areas that need improvement before test day. These commonly tested categories are:
Property ownership and land use controls and regulations
Laws of agency and fiduciary duties
Property valuation and financial analysis
Financing
Transfer of property
Practice of real estate and disclosures
Contracts
Real Estate Schools That Provide Flashcards & Other Study Tools
In addition to studying on your own, many agents invest in an online real estate study program to prepare for the exam. Among real estate exam flashcards, online real estate providers offer many other tools, like audio, videos, practice tests, study guides, and real estate definitions, for the exam. Here are a few of the best real estate exam study providers:
Schools

Best For

Aspiring agents who need additional study time

Most affordable real estate exam preparation

Prelicensing courses that include exam prep

Real estate professionals who want to study via a mobile app

Key Features

Choose from one week, one month, or one year of study time
Exam prep e-book
Live online webinars

6 months of unlimited access
3,500+ practice questions
Unlimited practice tests

State-specific practice questions
Private tutoring available
Live Q&A

Readiness meter
Simulated exams
Vocabulary study through matching and fill-in-the-blank

Starting Price

$59

$39

Varies per state

$59

Learn More

or

or

or
Bottom Line
Using real estate exam flashcards is an effective way to prepare for your licensing exam. Download our 50 real estate terminology flashcards and combine them with other tools like sample questions and testing tips to guarantee you're exuding confidence on exam day.