Using QuickBooks Online, you can print checks at anytime from your QuickBooks account. This makes it easy and quick to pay vendors, employees, and general expenses. Click here to get 15% off your checks with QuickBooks.
Where To Buy Business Checks
In order to print checks directly from QuickBooks Online, you will first need to order blank checks. You cannot print checks on regular paper because it does not have the security features required by financial institutions to prevent fraud.
The most common merchants from which you can purchase computer checks compatible with QuickBooks Online are as follows:
Next, we'll tell you how much it costs to buy checks from each of these places.
How Much QuickBooks Checks Cost
The lowest you can pay for QuickBooks checks is about $64 through Amazon for a set of 500. This comes out to about $0.13 per check. On Intuit's official website, it will cost you $151 for a set of 500 basic checks, or $231 for "Secure Plus" checks.
Below is a chart that provides the average cost of purchasing 500 checks:
Average Cost of Purchasing QuickBooks Checks
Merchant

Cost
(Qty of 500)

Starter Kits
(Qty of 250)

Amazon

$64

N/A

Membership Clubs

$135

N/A

Bank or Credit Union

$181

$190

Intuit

$231

$180
Banks/credit unions and Intuit offer business starter kits for approximately $190 and $180 respectively. These bundles typically include the following items:
250 single checks
200 book-bound deposit tickets
250 compatible window envelopes
Pre-inked endorsement stamp
Standard logo
Executive Lettering
If you only write a handful of checks a month then you should purchase the business starter kit. 250 checks will certainly last you awhile plus it comes with other items that you could use like deposit tickets and an endorsement stamp. In addition, your company logo is included in the price.
Kinds Of Checks You Can Print With QuickBooks Online
If you have a QuickBooks Online Simple Start or Essentials account, then the only type of check you can print from QuickBooks are voucher checks. Below is a snapshot of a voucher check. It has the check at the top and two vouchers below that. One voucher is mailed with the check to the vendor, and the other voucher is kept on file with your accounting records.
If you have a QuickBooks Online Plus account, then you can print either voucher checks (above) or standard checks (see image below). Standard checks allow you to save time and money by printing 3 checks per page, which allows you to pay 3 vendors at one time. This check style does not include a voucher to keep on file.
Wallet size checks are not compatible with QuickBooks Online. Wallet size checks are only compatible with QuickBooks Desktop.
Customizing Your Checks
When it comes to customizing your checks, the following choices are offered by all merchants:
Security features: There are a number of security options to choose from that may increase your cost. All check stock includes the basic security features like printed on chemically reactive paper, a colored background, and with toner adhesion to protect from forgery. However, there are a number of additional security features available at an additional cost. Click here for more information.
Color:  There are typically 5-6 colors to choose from.
Single/Multi-part checks: Checks may come with one or two carbonless copies to keep on file.
Company logo: You can upload your company logo and have it printed on your check. This will cost an additional $25 or more.
When To Use QuickBooks To Print Checks
Typically there are two scenarios you will encounter where you will need to print a check directly from QuickBooks. They are as follows:
1. Pay an expense that is due immediately
If this occurs, from the QuickBooks Home page, you would go to the Vendors menu and select Check:
A check template will open up and you will enter all of the required information like payee, amount, memo etc.
At this point, you have the option to print the check now or later. Either way, it will have the following impact to your accounting records:
| | |
| --- | --- |
| Expense or Asset Account | Expense or Asset Account |
| Checking Account | Decrease |
If you print the check now, the status of the check will be marked as "printed" in QuickBooks. If you decide to print the check later, the status will be marked as "to print." We will cover the step-by-step process of printing checks later on in this article.
2. Pay a bill that was previously entered into QuickBooks and has now become due
If this occurs, from the QuickBooks Home page, you would go to the Vendors menu and select Pay Bills as indicated in the screenshot below:
A window will open up with a list of bills that you have entered into QuickBooks. After selecting the bills that you would like to pay, the fields on the check will automatically populate based on the bill that you previously entered into QuickBooks. At this point, you can choose whether you want to proceed to print the checks now or later. Whether you decide to print the check now or later, it will have the following impact to your accounting records:
| | |
| --- | --- |
| Expense or Asset Account | Increase |
| Checking Account | Decrease |
If you print the check now, the status of the check will be marked as "printed" in QuickBooks. If you decide to print the check later the status of the check will be marked as "to print".
How To Print Checks From QuickBooks Online
There is no special printer required to print checks from QuickBooks. You can print QuickBooks checks using an ordinary Laser or Inkjet printer. Both check types we have discussed (Voucher/Standard) can be printed using a Laser or Inkjet printer.
Below you will find step by step instructions on how to print checks from QuickBooks Online:
Step 1: From the Home screen, click the plus(+) menu. Print Checks is the last item listed under Vendors:
Step 2: If this is your first time printing checks, you will need to set up your printer by printing a couple of samples on blank paper. Select the type of check you have, either Standard or Voucher style as indicated below:
Step 3: Load blank paper into your printer for a test run.
Step 4: Click the View preview and print sample as indicated below next to the letter (c):
Step 5: The following screen will display. This is a sample page of the information that will print on your checks. Click the "print" button as indicated below to print this sample check on blank paper:
Step 6: Take the sample printout and put one of your blank QuickBooks Business checks on top of it. The sample numbers on the printout should align with the amount boxes on your checks. If it does not align, no problem. It usually takes a couple of tries to get it perfectly aligned. You can go back and repeat this setup as many times as you need to.
Step 7: To get back to the printer setup screen, close out of this window by clicking on the "Close" button in the far left-hand corner as indicated below:
Step 8: At the bottom of the setup page, you can indicate that the fields did not line up properly by clicking on the button that says "No, continue set-up" as indicated below. If the fields did line up properly then you would of course select "Yes, I'm finished with setup".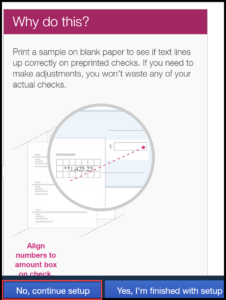 Step 9: You may need to update your Adobe PDF Reader software to print checks correctly. You can do this by downloading the latest version of the Reader as indicated below: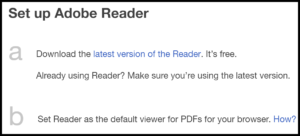 Step 10: Click on View and print sample option to print another sample:

Step 11: If the amount is still not lined up properly, then you will need to adjust the alignment. You can do this by dragging and dropping the amount grid to match the spot where the misaligned numbers are printing on your test checks.
Be sure to drag and drop the grid where the amount is actually appearing on your test printouts.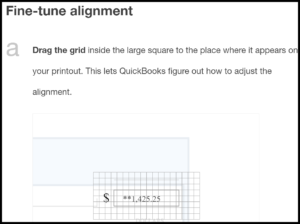 Step 12: Click preview and print sample to view and print another test. You will need to repeat these steps until you are satisfied that the amount is aligned.
Step 13: Once your printer is aligned, you are ready to print checks. From the Print checks menu,
Enter the starting check number
Put a checkmark next to each check you want to print
Click Preview and print button at the bottom right as indicated below:
Step 14: Be sure you have loaded your check stock in the printer before clicking the Print button as indicated on the print preview screen below: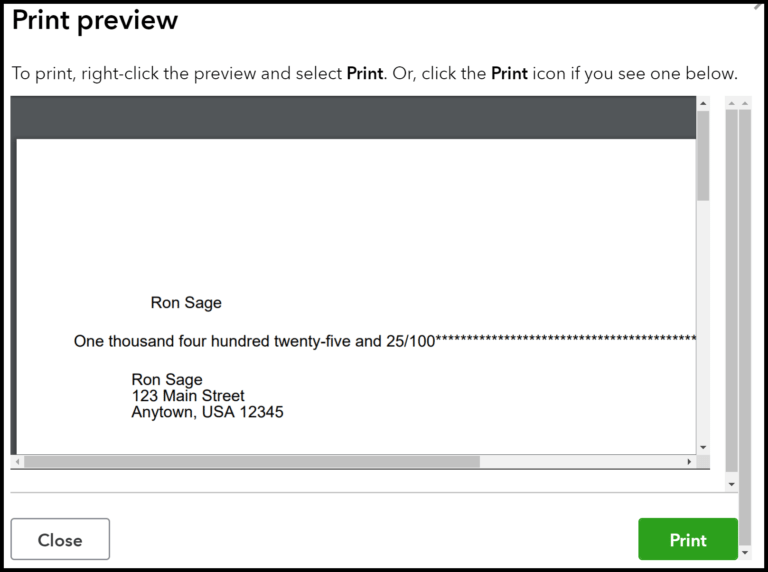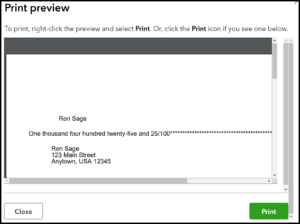 Step 15: When you have finished printing your checks, click the X at the top right of the print preview screen to exit.
Step 16:  In the next screen, QuickBooks will ask you whether or not your checks printed correctly. If they did, then select Yes, they all printed correctly and click Done.
If your checks did not print correctly, then select one of the other two options that apply, and follow the on-screen instructions to reprint.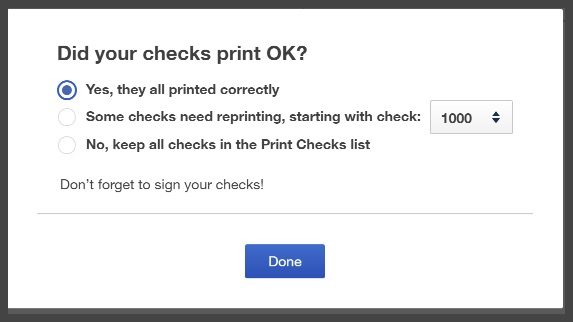 Click here to watch a video tutorial that will walk you through this step by step process.
Note: This tutorial is only for printing checks to pay vendors. If you need to print checks to pay employees, this is done through QuickBooks payroll which is beyond the scope of this article.
How To Reconcile Checks Once They Have Been Cashed
Reconciliation is the process of making sure that your QuickBooks account matches your bank statements. One of the benefits of printing checks directly from your QuickBooks file instead of manually writing checks is that you don't have to enter the check into QuickBooks when it's time to reconcile.
For step by step instructions on how to reconcile your checking account in QuickBooks, click here.
Bottom Line: QuickBooks Checks
QuickBooks checks printing can save you time and money. You should now have a better understanding of what kind of checks are compatible with your QuickBooks Online subscription, where to buy check stock, how much it will cost you, how to print vendor checks, and finally the impact this will have on your accounting records. Check out our free QuickBooks Course to learn more about how to setup and run your small business using QuickBooks!