In this article we're going to explain the SBA guarantee fee in detail and discuss how much you'll typically be charged. These guarantee fees are important to understand before you seek SBA financing in order to fully be aware of all costs associated with a potential loan. When getting an SBA loan there are other fees you'll be charged on top of the guarantee fees. We're going to talk about these fees as well, how much they typically are, and when you'll be responsible for paying them.
If you're ready to start the SBA loan application process then we recommend using SmartBiz as your loan provider. They offer working capital loans up to $350,000 and commercial real estate loans up to $5,000,000. Their SBA loan experts can help you navigate the difficult SBA funding process in as little as 30 days. You can fill out an online application and get pre-approved within about 5 minutes.
What Is an SBA Guarantee Fee?
In most cases, the Small Business Administration (SBA) is not a lender. Rather, they guarantee certain types of loans that private lenders make to small businesses. This guarantee is what keep SBA rates so low and the repayment terms so long. When the SBA guarantees a loan, they typically assess a fee, known as an SBA guarantee fee, that is passed on to you by your lender.
The SBA guarantee fee is based on two things:
The dollar amount of the guaranteed portion of the SBA loan – The SBA doesn't guarantee 100% of your loan. Instead they guarantee 75% – 85% of your loan and the guarantee fee a percentage of that dollar amount.
The repayment term of the SBA loan – Repayment terms can vary and be as high as 10 years for working capital loans or 25 years for commercial real estate loans. Any loan with a term of 1 year or less will have a 0.25% guarantee fee, while all other terms begin at 3% and differ based on the amount of the guaranteed portion of the loan.
The SBA guarantee fee can range from 0% – 3.75% and can be included in the overall loan proceeds. These guarantee fees are only required on SBA 7a loans, but all SBA loans have fees of some sort that are paid to either the lender or the SBA. We discuss the different types of fees you may experience below.
In the table below we look at what you'll typically be charged in exchange for the SBA guaranteeing your loan. These fees are based on the amount of your loan being guaranteed and reflect an SBA 7a loan.
SBA 7a Loan Guarantee Fees by Loan Amount
SBA Loan Under $150,000
SBA Loan from
$150,000 - $750,000
SBA Loan Above $750,000
SBA Guarantee Fee
None
0.03
0.035
Additional Fee on Amounts Above $1,000,000
N/A
N/A
0.0025
Percent of Loan Guaranteed by the SBA
0.85
0.75
75% up to $3,750,000
How SBA Loan Guarantee Fees Work
When an approved lender puts a loan in front of the SBA for approval, they require the lender to pay a fee in exchange for the SBA to guarantee the repayment of up to 85% of the loan. The lender then typically passes this fee onto the borrower, rolling it into your loan where you pay it back over time as part of the whole loan. The lender also must pay the SBA an annual service fee of 0.546% of the guaranteed portion of the loan to continue guaranteeing the loan. This ongoing fee is not usually passed on to you.

The guarantee fee amount varies based on how much the SBA is guaranteeing for the lender. The fee is not based on the entire loan size, but instead on the portion of the loan the SBA promises to repay in the case of a default. The SBA's guaranteed portion of the loan ranges from 75% – 85%.
If the loan amount is less than $150,000, then the SBA has agreed to waive their guarantee fee. This is significant because as of April, 2017, 56% of all SBA 7a loans are for $150,000 or less. This doesn't mean that SBA guarantee fees aren't important, however. Because while the majority of borrowers don't pay a fee, loans under $150K account for only 9% of the total money loaned out through the SBA 7a program in 2017.
While the SBA guarantee fee is waived for loans under $150,000, the fee becomes 3% of the guaranteed portion of the loan if the SBA loan is between $150,000 -$750,000. For SBA loans above $750,000, the fee starts at 3.5% of the guaranteed portion of the loan and increases (and more complicated) once the loans size crosses the $1,000,000 threshold.
For SBA loans above $1,000,000, the total fee for the first $1,000,000 is 3.5% of the guaranteed portions of the loan. Any dollar amount over above $1 million will be charged a 3.75% fee on the guaranteed portion of the loan. The two fee amounts are added together to reach the total guarantee fee you'll pay.
The table below represents an example of what guarantee fees you would pay based on the amount the SBA is guaranteeing.
SBA Guarantee Fee Example
| Loan Amount | Total Amount of the Loan Guaranteed by the SBA | Total Guarantee Fee | Guarantee Fee Breakdown |
| --- | --- | --- | --- |
| $110,000 | $93,500 (85%) | $0 | Fee is waived if loan is under $150,000 |
| $160,000 | $120,000 (75%) | $3,600 | 3% of $120,000 |
| $800,000 | $600,000 (75%) | $18,000 | 3% of $600,000 |
| $2,000,000 | $1,500,000 (75%) | $53,750 | 3.5% of the first $1,000,000 plus 3.75% of the rest of the guaranteed portion ($500,000) |
If you're looking for an SBA loan provider that can help you navigate through the entire loan process, including all fees you'll be charged, then we recommend SmartBiz. They can get you approved for up to $5,000,000 and fully funded within 30 days. Their application can be completed online within a few minutes.
SBA 504 Loan Fees
The SBA 504 loan doesn't have a specific guarantee fee like the 7a loan does but they do have standard loan origination fees that are about equal to the 7a loan guarantee fee amount. These standard fees are about 3-3.5% of your loan. This fee, like the guarantee fee of the 7a loan, can be financed as part of your total loan.
SBA 504 loans are most often used to finance commercial real estate. When getting an SBA 504 loan you're combining two loans, a loan from a lender, like a bank, and a second loan from a nonprofit community development corporation (CDC). This combination helps the SBA achieve their policy goals, and it helps you get financing with lower interest rates and longer terms than you may be able to find elsewhere.
The bank almost always charges an origination fee of about 1% to fund these loans. The SBA charges 0.5% on the bank's loan, and around 2.65% on the CDC loan. The SBA guarantees 100% of the CDC loan in exchange for these origination fees. The CDC will also charge a $2,000 – $3,000 flat fee for funding the loan. The table below shows an example of what these origination fees would look like for a project funded through the SBA/CDC 504 loan program.
Total Loan Amount
$5,000,000
Your Down Payment
$500,000 (10%)
Bank Loan Amount
$2,000,000 (40%)
CDC Loan Amount
$2,500,000 (50%)
Total Origination Fees
$98,750
Fees Explanation
Bank's 1% fee on their loan = $20,000
SBA 0.5% on bank loan = $10,000
SBA 2.65% on CDC loan = $66,250
CDC Flat Fee = $2,500
All of these fees can be financed into your total loan amount.
Other Typical SBA Loan Fees
Both the SBA 7a loan and the SBA 504 loan have fees that are associated with other types of business loans. If you aren't aware of them ahead of applying you may be surprised to see how much they could potentially increase the total cost of your loan. Preparing for these loans will help you know the size of loan you can afford before you get into the application process.
The SBA has limits to what fees can be charged and SBA form 159 must be filled out prior to closing on a loan to disclose if any agents were paid to provide services during the loan application. Below is a list of fees that are allowed by the SBA that are commonly charged when getting an SBA loan:
SBA Origination Fee: 0.5% – 3.5%
SBA 504 loans all require origination fees that work like the 7a guarantee fees. When borrowing a loan in the SBA 7a loan program, a lender may also charge you an origination fee to process the loan. Origination fees range from 0.5% – 3.5% depending on your lender and the size of the loan.
SBA Loan Packaging Fee: $2,000 – $4,000
To improve your approval chances, it is important that your loan documents are packaged together in a detailed and easy to understand way. A loan provider will typically charge this during an SBA loan process because they put forth effort in packaging your application and getting it approved by the SBA to be guaranteed. The range for this fee is $2,000 – $4,000.
SBA Loan Broker Fee: 1% – 4%
Broker fees are paid directly to third parties that package your loan or introduce you to the lender who funds your loan. Broker fees aren't allowed by the SBA, but are often charged as service or packaging fees. These fees are not standard and require you to engage someone to help you get your loan funded. Depending on the size of your loan the fees can range from 1% – 4% of your total loan amount.
SBA Loan Service Fees:
A loan provider may charge ongoing service fees to manage your loan. These will be charged monthly or quarterly and are generally for services like billing and keeping accurate records of payments made. These vary by lender but you can expect anywhere from 0.25% – 0.75% of the remaining balance on the loan for each billing cycle.
SBA Loan Closing Costs:
Additionally, the fees listed below are commonly associated with the closing of your loan, and are typically bundled together as "closing costs":
Appraisal Fees: You may need to get an appraisal on a piece of property you're either using as collateral or purchasing. These fees range from $2,000 – $5,000 in most states. Special use commercial properties could require a fee as much as $10,000.
Business Valuation Fee: If you're using your SBA funds for a business acquisition then you'll need a valuation of that business. These can cost anywhere from $5,000 – $30,000 or more depending on the the business's size and how complicated it is.
Phase I Environmental Report Fee: If you're purchasing commercial real estate, or using some as collateral for your loan, then your loan provider may require you to get an environmental report. These reports identify potential or existing environmental issues that may harm the property in the future. The reports cost around $2,000 – $3,000 depending on your state.
Title Fee: If you're purchasing real estate then you'll need to make sure the property has a clean title, free of any other claims to it. The title fees go to doing UCC lien searches, buying title insurance, and recording your new title at closing. These fees can cost you $1,000 – $2,500.
Attorney Review Fee: You should expect your loan provider to use an attorney to review all of the loan documents prior to closing, and if they do then it's very likely that they'll pass these costs on to you. You can budget $2,000 – $3,000 for this fee.
With the exception of any service fees, which can be ongoing, these are all one-time fees that are either charged at closing or financed as part of the loan. In order to move forward through the loan process, you will typically have to pay deposits at different parts of the loan process to show the lender you're prepared to close the loan.
None of these fees that you're charged are standard for all SBA loan providers. Each loan provider charges different fees based on a number of different attributes. Some of the attributes that go into deciding which of these fees you'll pay are:
Purpose of Your Loan: Extra fees are generally associated with loans that involve the purchase of real estate, or that use specific property as collateral. If you're purchasing a business then there will also be additional fees for things like getting a business valuation.
Third Party Involvement: There could be additional fees if you have a third-party involved in the loan process. Also, the size of fees charged can vary based on which third party you or your lender uses to complete legal, environmental, or other tasks required prior to closing.
Amount of Your Loan: If your loan amount is small enough, your SBA guarantee fee could be waived. The dollar amount of your fees can depend on the size of your loan if a percentage is charged instead of a set amount.
Creditworthiness: Your lender will decide whether or not they charge you some fees, and when you must pay them. Deposits are an example of a typical cost that a lender may reduce based on your credit profile. The better your profile, the more your deposit might go down.
Collateral: If you have a large amount of collateral then it could eliminate or reduce certain fees. Collateralization helps the loan provider see you as less of a risk, and fees are typically increased the riskier the loan is to the lender.
If you're ready to apply for an SBA loan, then we recommending using SmartBiz. They're the SBA loan provider we used when we were looking for financing. They're the fastest SBA loan provider we've reviewed, being able to get you funded within 30 days. They can approve you for up to $5,000,000 and you can pre-qualify in about 5 minutes.
When Do You Pay SBA Loan Fees?
While SBA loan guarantee fees are financed as part of your final loan and repaid as part of your monthly payment, it can be confusing as to when you generally need to pay the other fees discussed in this article.
SBA loan providers will generally require you to pay deposits during the lending process that show your commitment to closing your loan. These deposits typically count as either part of your down payment on the loan, or as a prepayment on the fees that are charged at closing. You must pay all of the required deposits prior to closing out of your own pocket.
All other fees are paid when specific work is beginning, at closing, or they're rolled into your total loan amount. The breakdown of which fees fall into each category is:
Paid as Deposits
Paid at Closing
Rolled Into Your Loan

Appraisal Feesc
Business Valuation Fee
Phase I Environmental Fee

Loan Packaging Fee
Appraisal Fees
Title Fees
Attorney Review Fees

Guarantee Fees
Origination Fees
All of the fees in the "Paid as Deposits" category are typically paid through your 2nd large deposit if the funds are large enough to cover the work. The graphic below represents when each fee and deposit is generally paid during the SBA loan process below.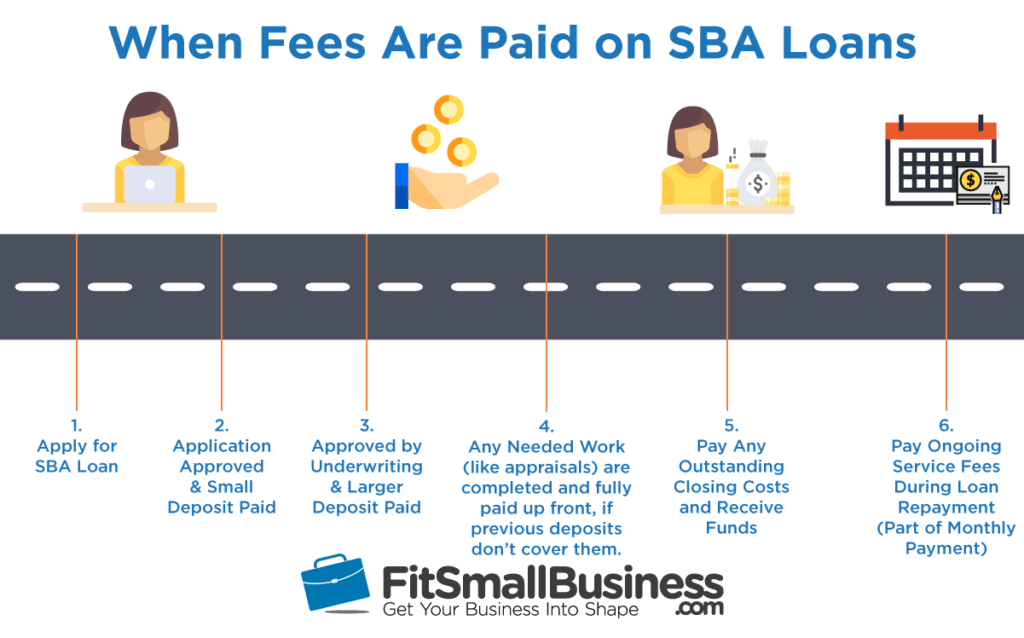 Bottom Line
SBA loan providers are charged SBA guarantee fees in exchange for guaranteeing up to 85% of your loan in the event of a default. These guarantee fees are usually passed on to you and financed into your total loan amount. Loan providers also charge you a number of different fees depending on your loan profile and your use of the funds. It's important to know what you potentially could be charged in fees before you apply so that you can accurately predict your loan costs.
Once you have a pretty good idea of what your loan costs could be and you're ready to move forward then we recommend using SmartBiz as your loan provider. SmartBiz can get you funded for up to $350,000 for working capital or up to $5,000,000 for commercial real estate. You can prequalify within a few minutes and be fully funded within 30 days.