Applying for an SBA loan requires four steps, including determining your eligibility, finding the right SBA loan provider, assembling your paperwork, and completing the SBA application and forms. Getting an SBA loan can take about two to three months with a traditional SBA lender, or as few as 30 days with an SBA loan broker.
For the fastest, most streamlined SBA loan process, we recommend SmartBiz. They offer SBA working capital loans up to $350,000 and commercial real estate loans up to $5 million. Loans have terms of 10 or 25 years and rates start at 7.00%. Their online application can have you pre-qualified in a few minutes and funded in about 30 days.
The four steps to take as you consider how to get an SBA loan are:
Step 1: Determine Eligibility for Getting an SBA Loan
The first step when learning how to apply for an SBA loan is to determine if your business is eligible. You'll typically need to meet both general SBA loan qualifications and SBA 7(a) loan requirements unless you're applying for another type of SBA loan. Once you've determined your eligibility, we've created a free SBA loan documentation checklist that will help you get your paperwork in order.
SBA Loan Qualifications
As you learn how to apply for a business loan from the SBA, it's important to consider the requirements. SBA loans are available to both startups and established businesses. Qualifying as a startup is more difficult, as you need to meet the requirements below plus demonstrate that you have experience and provide a business plan.
The primary SBA loan qualifications are:
Credit Score: 680+ for all primary business owners (check your score for free).
Down Payment: 10% or more if you're using the loan proceeds to purchase a business or commercial real estate.
Collateral: SBA loans don't need to be 100% collateralized, but the more business and/or personal collateral you bring to the table, the easier it will be to get your loan approved.
Repayment Ability: You need to have sufficient cash flow to cover all your loans with a cushion. A business debt service coverage ratio (DSCR) of 1.25x is typically sufficient.
Time in Business: Two+ years. As noted, startups can get SBA 7(a) loans, but it is more difficult. When considering how to qualify for an SBA loan as a startup business, you need to have all the above plus sufficient management and industry experience.
Owner-Occupied: Commercial real estate loans must be 51% or more owner-occupied.
Other Requirements: No delinquencies or defaults on debt obligations to the U.S. government (including student loans). Additionally, your business will need to be profitable.
SBA 7(a) Loan Requirements
The SBA loan requirements pertain to qualifications and eligibility. To qualify for an SBA loan, you need good credit (680+), management experience, and sufficient cash flow (minimum 1.25x DSCR). You'll need to provide collateral and personal guarantees from all 20%+ business owners. To be eligible, you need to be a for-profit, U.S.-based small business.
The key SBA 7(a) loan requirements pertaining to eligibility include that you are:
A small business as defined by the SBA (generally means under 500 employees or less than $7.5 million in annual sales).
Engaged in an industry that is eligible, such as restaurant, retail, or hospitality (most active, non-speculative businesses qualify).
A for-profit business engaged in, or planning to do business in, the United States or its possessions.
Using alternative financial resources, including personal assets, before seeking financial assistance.
Able to demonstrate a need for the loan that also qualifies as a sound business purpose.
Required to create or retain jobs and meet public policy goals that are in line with the SBA goals.
Sound like you? You can get pre-qualified for an SBA loan in minutes by filling out SmartBiz's online form. They are one of the fastest providers we've seen. In fact, they're who Fit Small Business used to get an SBA loan! SmartBiz offers SBA working capital loans up to $350,000 and commercial real estate loans up to $5 million. Loans have terms of 10 or 25 years.
Step 2: Find an SBA Loan Provider
If you meet the SBA loan requirements and qualifications, the next step is to find an SBA loan provider to originate and service your loan. One online SBA loan provider is SmartBiz. They take the guesswork out of how to apply for a business loan from the SBA. SmartBiz can get you pre-qualified in minutes and funded in as quickly as 30 days.
Finding an SBA loan provider means reaching out to direct lenders like banks and brokers. The right one for you will depend on your current banking relationship, how much you're looking to borrow, how fast you need funds, and your planned use for the funds. As you consider how to get an SBA loan, let's take a look at each loan provider option in greater detail.
Find a Direct SBA Lender
In general, it's a good idea to find a direct lender that regularly works with SBA loans. These providers are more likely to approve your loan application and typically know how to deal with unique circumstances you may have because of their experience. Direct lenders include traditional banks, credit unions, or other traditional lending institutions.
Make sure the lender is part of the SBA Preferred Lender Program (an SBA PLP lender). PLP lenders are SBA loan providers that have so much experience and such a strong track record that the SBA actually gives them more leeway to process loans faster.
As you visit potential lenders, we recommend asking them the following questions:
What is your total SBA loan volume?
What's your average SBA loan size?
Do you participate in the SBA Preferred Lender Program?
How familiar are you with the SBA 7(a) borrowing and lending processes?
How long does it take to get pre-approved?
How long will it take to get funded?
Is there one person who will be my point of contact throughout the loan application process in case I have any questions?
What are your internal policies on collateral for a loan like mine?
Will I need a down payment? If so, how much?
What are the approximate interest rates I might qualify for on an SBA loan?
If the lender you speak with isn't sure about their bank's SBA loan performance, you can browse through the SBA's list of the 100 top SBA lenders. These lenders are more experienced with SBA loans than anyone else and should be able to answer your questions.
Use a Broker to Get an SBA Loan
SBA loan brokers can provide a valuable service to small business owners by leveraging their expertise. Brokers have a keen understanding regarding which lenders will be most likely to approve your loan for your type of business as well as how to present your business' loan request so it has a better chance of approval.
Additionally, SBA loan brokers can save you a lot of time and headache by coordinating all the lender's document requests and other communications. However, not all small business loan brokers are created equal. As you think about how to get an SBA loan, putting together a list of questions for your potential loan broker is an important step.
Here are a few questions you should ask a potential loan broker:
How many lenders do you work with directly?
How do you get paid? How much? When?
How many loans have you closed?
Have you previously worked with a business of my size or in my industry?
How familiar are you with the SBA 7(a) loan process?
What are the approximate interest rates I might qualify for an on SBA loan?
How long does it take to get pre-approved?
How long will it take to get funded?
How much of the process do you handle for me?
Using a broker to manage your SBA loan process will typically cost you a little extra money, but the right broker can make the process a lot smoother. Their ability to shop your loan proposal with multiple SBA loan providers may also improve your chances of approval.
When you find a lender, you should try to find out as much information about their SBA interest rates and fees as possible. The SBA sets a cap on interest rates, but exact rates may vary by lender. Read our article on SBA Loan Rates before you begin shopping around. Once you're pre-approved, you can use our SBA Loan Calculator to estimate your monthly payments.
SmartBiz is an SBA loan broker that is experienced at getting borrowers through the application process quickly. Their experience makes the process of applying for an SBA loan much easier. They can help you get funded for up to $5 million in as quickly as 30 days. You can pre-qualify by filling out their online application.
Step 3: Gather the Necessary SBA Loan Paperwork
Once you have selected an SBA lender or loan broker, you should begin to assemble the documents required for your application. These documents include personal and business tax returns, projected business financials, resumes, leases, and your loan request. You can download our comprehensive SBA loan document checklist for more information.
Depending on which SBA loan you apply for, the necessary paperwork includes:
General SBA Loan Documentation Requirements
The main documents required by a direct lender or loan broker include:
Loan Request Amount and Detailed Allocation of Funds
Business Financials
Year-to-Date Profit and Loss (P&L) Statement
Year-to-Date Balance Sheet
Projected Financials (one to three years)
Proof of Ownership
Business Certificate/License
Loan Application History
Business Tax Returns (last two years)
Personal Tax Returns (last two years)
Personal Financial Statement
Owner Résumés
Business Overview and History
Business Lease
Business Acquisition SBA Loan Documentation Requirements
If you are getting an SBA loan to buy an existing business, in addition to the general SBA loan documentation, you will need to provide:
Acquisition's year-to-date balance sheet and profit and loss statement
Acquisition's last two years of business tax returns
Purchase Agreement (should include asking price with a schedule of inventory, machinery and equipment, furniture and fixtures, accounts receivable, and intangible assets)
Commercial Real Estate SBA Loan Documentation Requirements
If you are getting an SBA loan to buy commercial real estate, in addition to the general SBA loan documentation, you will need to provide:
Real estate purchase agreement
Rent rolls and leases for any tenants of your property
Property appraisals (which will be ordered by the lender prior to closing)
Any plans for remodeling or build-outs (including timelines and costs)
Other SBA Loan Documentation Requirements
If you have a 20% or more stake in any other business or own rental properties, you will also need to provide documentation for those as well (e.g., financials, appraisals, leases, or rent rolls). These are used to verify your ability to repay the loan, making them especially important if you are a startup.
"If you are a startup, it is important to provide a pro forma and cash flow projection that shows viability. You will also be required to provide a solid business plan, which is vital to your application being approved."

— Andrea Roebker, Regional Communications Director for the SBA
The overall goal is to show a bank that your company is well managed and has an attainable plan to be profitable. So make sure you take the time to prepare a great business plan. This includes projections of how you expect the business to perform in the next three to five years.
Much of the speed of your application process will depend on your ability to provide timely and accurate documentation to your loan officer or lender. Download our free SBA loan document checklist to make sure you collect all the information you need to streamline your loan process.
Free SBA Loan Document Checklist
Step 4: Complete SBA Loan Application & Forms
SBA loan applications vary by lender, but they typically all request basic information about your business and the purpose of your loan request. This requested documentation helps the SBA get a better understanding of your business and how you intend to use and ultimately repay the funds you borrow.
The information required by the SBA to complete your loan includes:
Executive Summary
Business Profile
Ownership Breakdown
Management Experience
Breakdown of How Funds Will Be Used
Statement of How Loan Will Be Repaid
This application will be combined with all the other required information listed above in step three when you submit your documentation. Additionally, you'll need to fill out other SBA forms depending on your personal or business situation.
SBA Forms
As part of your application, you will need to fill out some SBA forms before your loan can be approved. The forms you need to fill out depend completely on you and your business.
Here are comprehensive guides on the most used SBA forms and how to complete them:
Once you've completed all of your SBA forms and assembled your supporting paperwork, you will meet with your bank to finalize your loan application. This is where the process of getting an SBA loan is taken out of your hands. You'll rely on your lender to push the loan forward and close quickly. An experienced SBA loan provider is invaluable if you need funds fast.
SmartBiz can get your SBA loan funded in as soon as 30 days. It offers SBA working capital loans up to $350,000 and commercial real estate loans up to $5 million. Once you've learned how to apply for a business loan from the SBA, you can get pre-qualified with SmartBiz in minutes. You may qualify if you've been in business for two or more years and have a credit score above 680.
Sample SBA Loan Application
Every SBA lender is going to have different paperwork that you'll be required to fill out in addition to the SBA's paperwork. Your application will vary in length, but the overall SBA lender application will look something like this: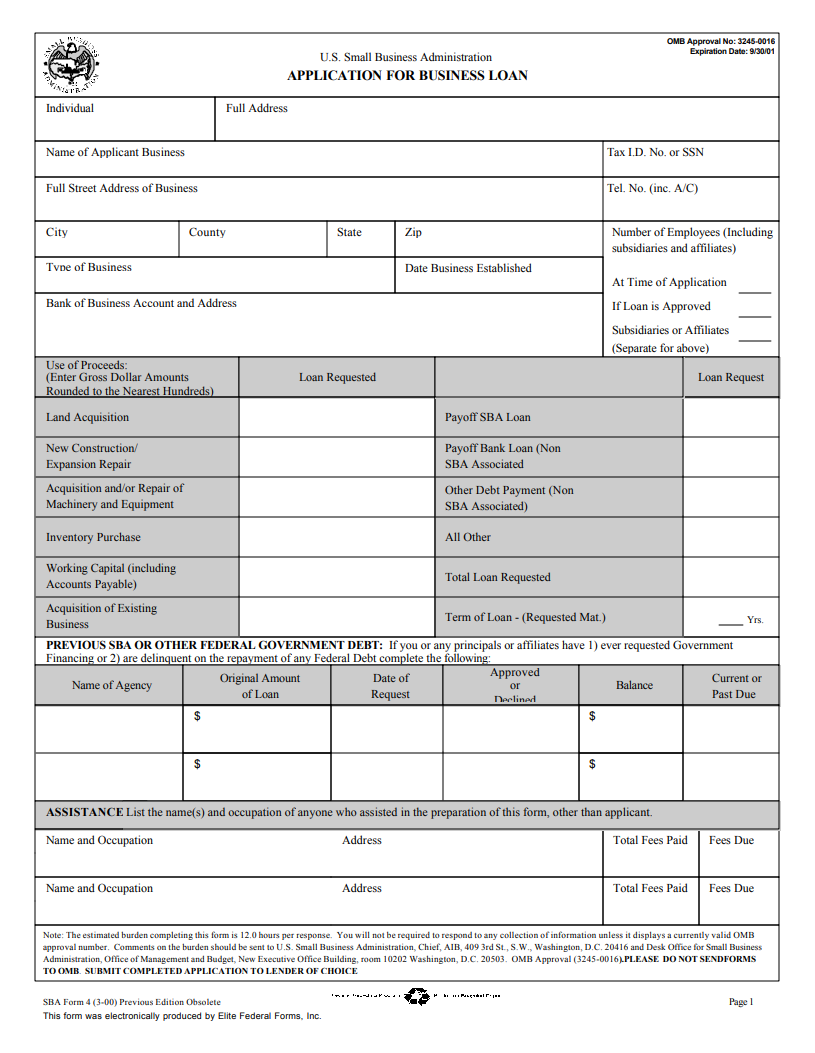 Additionally, you'll be asked to fill out SBA Form 1919 to provide the SBA with basic information about yourself. We've written a great article all about SBA Form 1919, which you can reference to better understand it or to download the actual form.
SBA Loan Application for Commercial Real Estate
SBA 504/CDC loans and SBA 7(a) loans can both be used for commercial real estate. Regardless of which loan you choose, the eligibility requirements, forms, and required documentation are almost identical to the working capital SBA 7(a) loan requirements. However, applying can be more complicated and time-consuming than a regular 7(a) loan.
In addition to everything required for a general SBA 7(a) loan, you'll need to include the following with your application:
Rent Rolls for All Tenants
Commercial real estate typically has at least one tenant that pays rent, even if the only tenant is your business. You'll need to provide rent rolls for all tenants involved with the property being purchased or used as collateral.
Property Appraisals
A property appraisal will be ordered by the loan provider after your application is initially approved. You'll typically pay for this appraisal. The amount your property appraises for may change how much you pay down or your maximum borrowing limit.
Environmental Studies
A study showing any potential environmental issues around your property will be ordered by the loan provider after your application is approved. If any red flags show up, then a more in-depth study may need to be ordered before your property is approved by the loan provider.
List of Ongoing Maintenance Expenses
You'll also need to provide a breakdown of costs that must be spent on an ongoing basis to upkeep the property. The loan provider will likely want to make sure you have the cash to handle these costs, even if you plan to pass much of it on to other tenants.
Report on the Condition of Property
Many lenders will require a report on the condition of your property to see what deferred maintenance items are coming up in the near future. The loan provider will typically want to be comfortable that you have the cash to make any standard facility upgrades or overdue maintenance.
Current Leases on the Property
To get an SBA loan for your property, it must be at least 51% owner-occupied. If you are renting any portion of the property, then the loan provider will want to see all existing leases. They will also want to see any terms you and your tenants have agreed to that will go into effect after closing.
Note: If you're not going to occupy more than 51% of the property, you may want to consider a traditional commercial real estate loan.
How to Apply for a Business Loan from the SBA for Startups
Many startups find SBA loans an attractive alternative to taking on high-interest rate debt, like using their credit cards. In 2018, 36% of SBA 504 and 7(a) loans went to new businesses, which included startups, business two years or younger, and business acquisitions. While existing businesses tend to receive almost twice the amount of SBA loans as startups, they're still an excellent option for new businesses.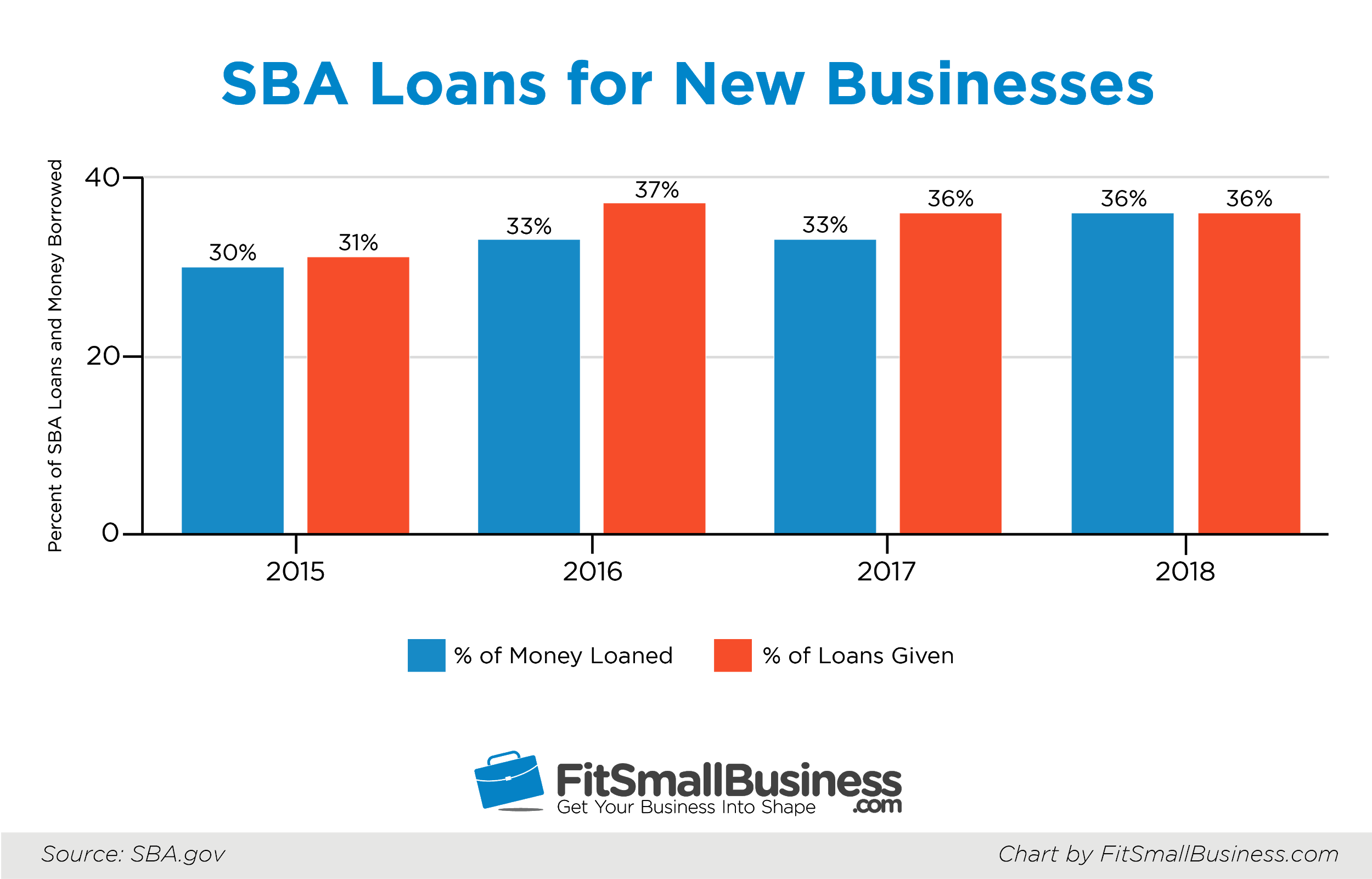 The application process for a startup is virtually the same as it is for an experienced business.
The only differences are the following:
You may need to pledge additional personal collateral to get approved for your loan.
The SBA likes to see that you have invested a portion of your own liquid savings into the business (usually 20% to 30% of the loan amount).
You must have prior management experience in the industry to show that you can make the startup a success.
Your approval chances increase if your business or industry is considered to be underserved.
Two SBA loan programs that are more startup-friendly are the Community Advantage Program and the Microloan Program. You can read our article to learn more about the various types of SBA loans. If you don't think your business will qualify for an SBA loan, there are plenty of other startup loan options that might be available to you.
If you're looking for an SBA startup loan, we recommend working with Guidant Financial. They are startup funding experts who can help entrepreneurs prepare an SBA loan package and identify an SBA lender who is most likely to fund your loan. They can also help borrowers find creative ways (including using retirement savings without paying penalties or taxes) to come up with the 20% to 30% down payment often required by SBA lenders. Fill out this short form to get a free SBA startup loan consultation with Guidant.
5 Stages of an SBA Loan Timeline
The SBA loan timeline will depend on how familiar your SBA lender is with the type of SBA loan you want and how prepared you are with the required documentation. If you apply for an SBA loan online with someone like SmartBiz, you'll likely experience SBA funding times under 30 days. Getting an SBA loan from traditional SBA lenders typically takes two to three months.
You'll typically go through the following five stages when getting an SBA loan:
1. Prepare & Apply for an SBA Loan (Days or Weeks)
First and foremost, you should prepare by following the four steps on how to apply for a business loan from the SBA we already discussed. By the end of the four steps, you've hopefully applied and have likely increased your chances of pre-qualifying for an SBA loan. Good preparation can help you accomplish this step in days versus weeks.
2. Review SBA Letter of Intent (1 to 2 Weeks)
Once you have submitted a full application, you can usually expect to hear back within one to two weeks. If your lender wants to move forward with the loan, they will provide you with an initial proposal, called a Letter of Intent (LOI). This will outline how much you qualify for and what you may expect as far as loan terms and rates.
If you find the rates and terms agreeable, you will need to return a signed copy of the Letter of Intent to the lender pretty quickly. Most lenders will also require a small deposit, usually around $2,000 (refundable, minus third-party fees if the loan isn't funded), in order to move forward with underwriting the loan.
3. Complete SBA Loan Underwriting (2 to 3 Weeks)
After submitting a signed Letter of Intent and deposit, formal underwriting will take place. Underwriting for an SBA loan can typically take two to three weeks. During that time, the underwriting team may have further questions about your financials and your plans for the loan proceeds, or they may request other relevant documentation.
4. Receive SBA Loan Commitment Letter (Days to Weeks)
If underwriting is successful, your lender will give you a commitment letter outlining the terms of your loan and what steps remain before you can close. Accepting the commitment letter typically requires you to put down an additional deposit to show the bank you're ready to move towards closing. The timeline for this step depends on how quickly you respond.
This deposit is typically $5,000 or 5% of the loan, and it counts towards your down payment. It's also typically refundable (minus third-party expenses) if the loan is not funded.
5. Complete SBA Loan Closing (Days or Weeks)
During closing, loan terms are finalized. The amount of time it takes to close the loan is determined by the complexity of your deal, your lender's familiarity with SBA loans, and the length of third-party work (like appraisals and environmental reviews). Eventually, you'll sign the loan agreement, all closing costs and SBA guarantee fees will be paid, and the loan proceeds will be disbursed.
The general application process for financing through a bank can be time-consuming and involve a lot of paperwork. Providing documentation and dealing with phone calls from multiple lenders can take up most of your time.
How to Get an SBA Loan Frequently Asked Questions (FAQ)
This article has provided a lot of information about how to apply for a business loan from the SBA. However, some questions are asked more frequently than others. We've tried to address the most frequently asked questions here. If we haven't answered your question, feel free to share it in the Fit Small Business forum and we'll provide an answer.
The following are frequently asked questions about getting an SBA loan:
What Should I Do First When Considering How to Get an SBA Loan?
An initial step when considering how to get an SBA loan is determining the eligibility of your business, as per the SBA's requirements. Figuring out if you meet the SBA's eligibility criteria early will make the process quicker. If you're not eligible, you can quickly find an alternative financing solution, such as an online lender.
Is It Hard to Get Approved for an SBA Loan?
If your credit score is lower than 680, you're a startup, or you're delinquent on federal loans, it's hard to get approved for an SBA loan. If your credit is good and you meet the SBA's requirements, it's easier to get approved for an SBA loan. It's also easier if you provide all requested information.
How Can I Improve My SBA Loan Application?
A key to improving your SBA loan application is paying close attention to the SBA loan requirements and qualifications. Take time to assemble and organize your SBA loan paperwork, and make sure you've included everything before submitting your loan application. Using a loan document checklist makes it easier to ensure you've included all the paperwork.
We asked this question of Cece Mitchell, SVP and Enterprise SBA Administrator for Zions Bank, which is an SBA PLP lender. In response, Cece provided the following suggestions:
"As for what can improve an [SBA loan] application package:

Have a business plan and provide a copy to the lender. [This is] especially important for new or newer companies.
Be precise when indicating how much you need to borrow and very detailed on how those funds will be used.
Answer all questions on the application forms. Missing information can delay the application.
Be prepared for the lender to ask questions."

— Cece Mitchell, SVP & Enterprise SBA Administrator, Zions Bank
How Long Does It Take to Get an SBA Loan?
The time it takes to get an SBA loan depends on your lender and how quick you are at responding to their questions. This time frame could be anywhere from 30 to 120 days or more. You can significantly reduce this timeline by providing the required documentation initially and promptly responding to any requests.
Bottom Line: How to Apply for an SBA Loan
Learning how to apply for an SBA loan can be a complicated process. It can take a significant amount of time away from running the day-to-day operations of your business, even if you're pursuing an SBA express loan. To speed up the process and make sure you apply correctly, partner with a loan provider that is well-versed in SBA lending.
SmartBiz can make getting an SBA loan much easier for you by dealing with most of the paperwork on your behalf. They can also get you funded with an SBA loan faster than anyone else we've reviewed, funding in as quickly as 30 days after you learn how to get an SBA loan. You can qualify for up to $5 million by filling out an online application that only takes a few minutes.