Flipping houses is generally not considered passive investing by the IRS. Tax rules define flipping as "active income" and profits on flipped houses treated as ordinary income with tax rates between 10% – 37%, not capital gains with a lower tax rate of 0% – 20%. Taxes on flipping houses will usually include self-employment tax.
If you can make an after-tax profit on house flipping you'll want to check out LendingHome. They're an online hard money lender that offers fix and flip and rehab loans to short-term investors up to 80% LTV and 90% LTC. They offer competitive rates to prime borrowers.
Ordinary Income vs Capital Gains on Flipping Houses
If the investor is categorized by the IRS as a "dealer," the profits from most property flips will be taxed at their ordinary income tax rate. There are minimal exceptions that will be covered below, but most fix and flip profits will be taxed at the investor's prevailing income tax bracket between 10% – 37% because flippers are considered "active investors" and earn active profits.
Most fix and flip investors are therefore considered dealers, which means they hold their fix and flip properties for a short period of time and most of their yearly income comes from flipping houses. Even real estate investors who only occasionally flip houses are also typically considered dealers and are taxed at ordinary income rates.
Although, there are rare cases where the deals may be considered passive investments and subject to more favorable capital gains taxes between 0% – 20%. Properties held for more than a year and rented to tenants, or even lived in by the investor can help push a deal into that passive investment category, but this typically excludes fix and flip investors. For more information on what determines dealer status, read our section below.
Ordinary Income Tax Consequences When Flipping Houses
If you're classified as a dealer, the profit from a flip will be taxed at your prevailing ordinary income rate. Currently, ordinary income tax rates range from 10% to 37%. In addition, the profit is subject to self-employment tax (the self-employed person's equivalent to FICA) which is 15.3%, double what you typically pay as a W2 employee.
So, the higher your annual profit, the more taxes you will have to pay based on the tax bracket that you're in. As a dealer, the tax consequence on a flip can range from as low as 25.3% to as high as 52.3% depending on your tax bracket. Needless to say, you don't want to misperceive your profits as fully belonging to you – Uncle Sam gets a big chunk of them.
When Capital Gains Taxes Apply to Flipping Houses
If you're fortunate enough to avoid the dealer definition, deriving the majority of your income from flipping houses and selling the houses within 1 year, then you'll be taxed at the lower capital gains rates on the profit from the sale.
Keep in mind that this is rare for most flippers and the majority of the time they're taxed at the ordinary income tax rate, but we want to mention it since it does happen. Even better, if you qualify for capital gains tax treatment, you don't have to pay self-employment tax.
Short-Term Capital Gains Taxes On House Flipping
If the property is held less than 12 months, the profit from the flip isn't given any preferential treatment. Short-term capital gain is taxed at ordinary income tax rates whether you're defined as a dealer or investor by the IRS. However, you do have the benefit of not paying self-employment tax so there are good savings nonetheless.
Long-Term Capital Gains Taxes On House Flipping
If you hold the property for 1 year + and aren't classified as a dealer, the profit from the flip will be taxed according to long-term capital gains rates. Currently, those rates range from 0% to 20% for most taxpayers. Compared to the one-two punch of ordinary income tax rates and self-employment tax, it's quite a savings. However, since fix and flippers typically buy, renovate, and sell a property within 1 year, this is rarely ever the case.
"The trick that flippers know, is if you hold onto the property for over a year, and then earn a profit on the sale, you'll pay long-term capital gains taxes, which max out at 20%. The less-than-one year short-term capital gains trick, is to play a flip that didn't make a profit against one that did. This reduces the net capital gains you've earned and thus your taxes on them."

– Brian Murphy, Attorney, Real Estate Broker & Tax Prep Educator, At Your Pace Online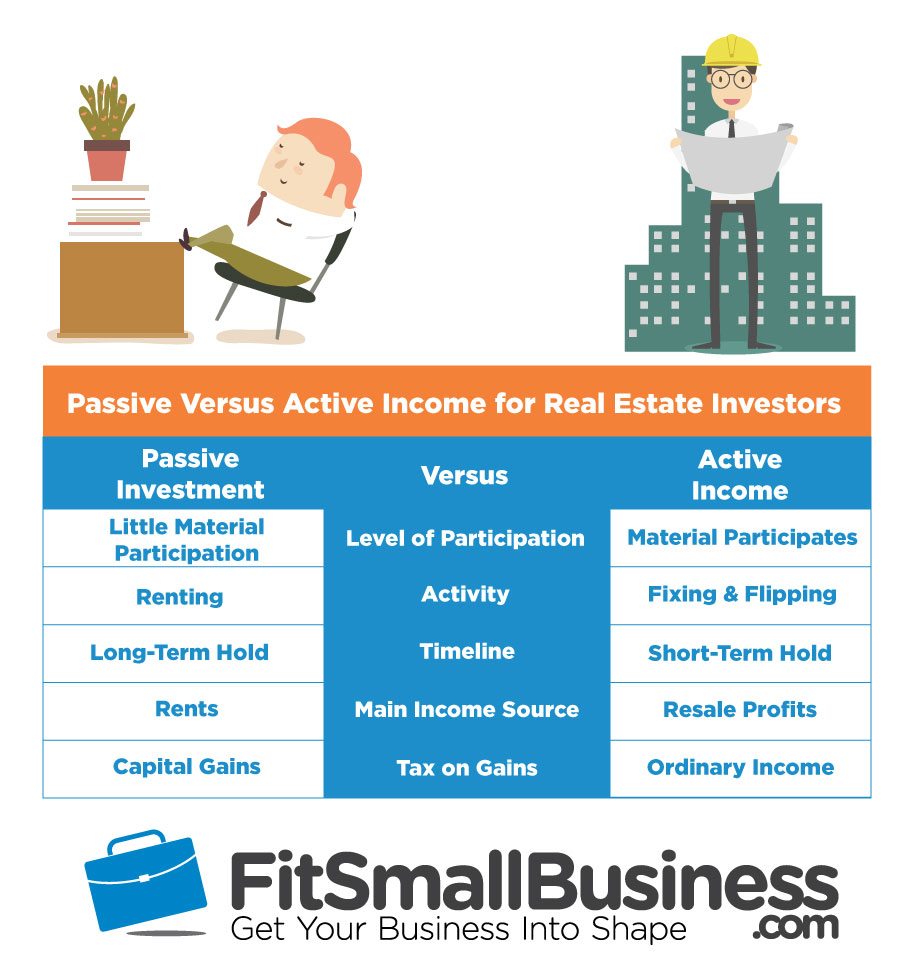 Whether you own a small business and are filing as a dealer or are filing as an investor, TurboTax provides customary tax software. You can quickly import all of your expenses and file your taxes online. If you have questions, you can chat with their team of support staff and have your return checked before filing, so that you get your maximum refund, guaranteed.
How Taxes on Flipping Houses Are Calculated
Ultimately, you're going to get taxed on your taxable fix and flip profits, which is your sales price minus total expenses and deductions.The profit is calculated by subtracting the expenses, including the purchase price, from the final selling price.
"One reason real estate taxation is so difficult is because of the active versus passive activity designation. The idea of flipping a house is that you intend to buy it, fix it up, and sell it. This means you're considered a real estate dealer. Pretend your business is buying old lawn mowers, fixing them, and reselling them. This is a lawn mower business, just like flipping houses is also a business. "

– Nathan Byers, CPA/PFS, JBC Wealth Advisors
Purchase Price
The purchase price includes the cost of the house itself. While you might view closing costs, points, etc. as part of the purchase price, for ease of accounting everything beyond the actual purchase of the building itself is best treated as an expense.
Expenses
Expenses beyond the purchase price include mortgage interest and points, loan fees, materials and supplies, labor, closing costs, taxes, professional services, and all the marketing costs and Realtor commissions involved in selling the property. This table provides a good snapshot of what to consider.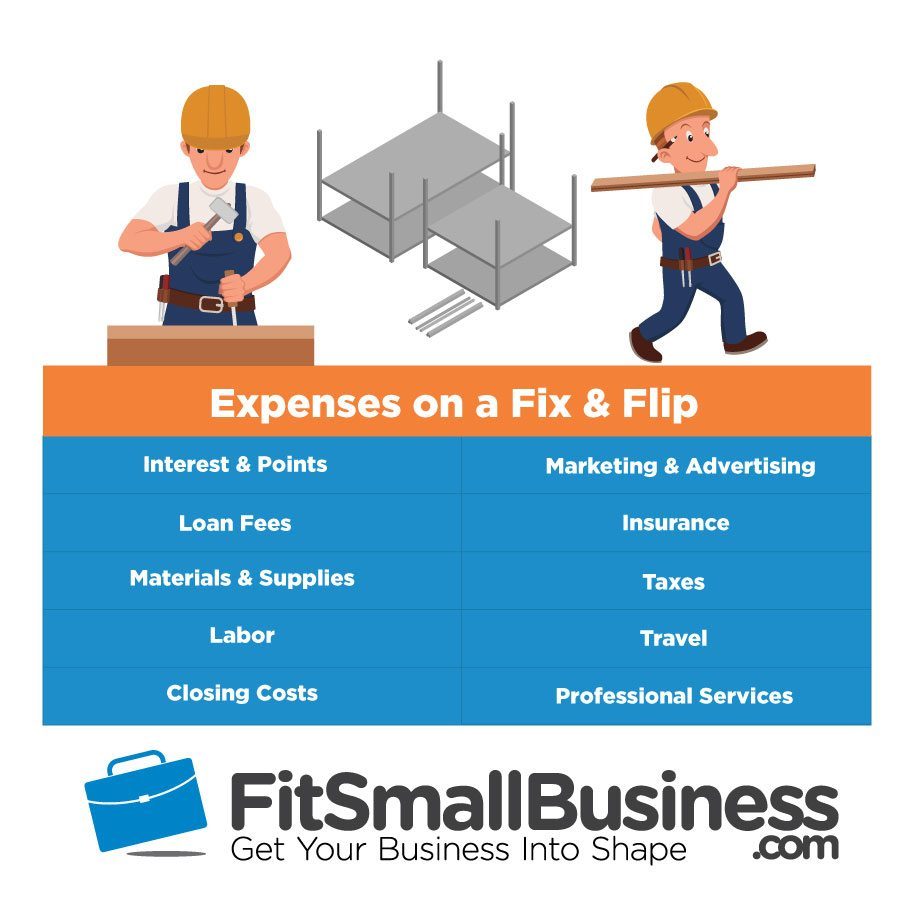 Profit
Profit is the amount you've cleared on the sale after all expenses, including the purchase price, are taken into consideration. The basic formula is:
Profit = Selling Price – Expenses
Annual Taxes
From there, you multiply your taxable profit by your ordinary income tax rate, which gives you your annual tax burden.
An Example Of Taxes On a House Flip
Let's run through a basic scenario to demonstrate the fundamentals of how flipping houses taxes are computed. We'll use 4 assumptions:
The investor is considered to be a dealer by IRS guidelines, so the profits will be subject to ordinary income tax;
The property gets flipped in 10 months further pinning it to ordinary income tax;
The investor's ordinary tax rate is 23%; and,
We will consider the effect of self-employment tax
House Flipping Tax Example
| | |
| --- | --- |
| Purchase Price | $40,000 |
| Expenses | |
| Loan origination and points | $1,000 |
| Purchase closing costs | $600 |
| Interest during the rehab period | $200 |
| Materials cost for rehab | $9,000 |
| Contractor's labor and other costs | $23,000 |
| Insurance during holding period | $200 |
| Travel related to the purchase/rehab/sale | $100 |
| Advertising | $400 |
| Selling commission and closing costs | $4,000 |
| Total Expenses Not Including Purchase Price | $38,500 |
| Total Expense Including Purchase Price | $78,500 |
| Selling Price | $105,000 |
| Profit (Selling Price - Total Expenses) | $26,500 |
So, this flip deal has $26,500 in profit
The investor's ordinary tax rate is 23%, so the income tax owed on the flip is $6,095 ($26,500 x 23%)
In addition, the profit is subject to self-employment tax of 15.3%, so that's an additional $4,055 ($26,500 x 15.3%)
That brings the total taxes due to $10,150 on this flip.
Starting with the $26,500 of profit, then subtracting what's needed to pay taxes, the investor is left with $16,350. Keep in mind that the investor can't consider the $26,500 as if it's theirs to spend since Uncle Sam needs his portion.
How to File & Pay Your House Flipping Taxes
After you calculate your flipping houses taxes, you need to know when to file them and how to pay them. Generally, if you're a sole proprietor, part of an LLC or registered as an S Corp, and your house flipping business is making over $1,000 per year in profits, then you should pay quarterly taxes.
If you're not generating revenue yet or meet other exemptions, you will file your taxes at the end of the year. However, most house flippers pay quarterly taxes. These quarterly taxes are known as your estimated taxes and they're generally due April 15th, June 15th, September 15th and January 15th of each year.
For example, the income you earned flipping houses from January 1st through March 31st is due April 15th. However, if these dates fall on weekends or holidays, your taxes will be due the next business day.
Schedule C Flipping Houses
You will need to fill out a Schedule C for these estimated taxes. This form is also referred to as a 1040 Profit & Loss Form. For more information on how to fill this form out, check out our in-depth Schedule C guide that includes step by step instructions for filling out the form.
Keep Good Tax Records When Flipping Real Estate
Because expenses are so important to reducing your taxable income and therefore the amount of tax you'll owe, it's vital to keep good track of every expense related to a flip. No matter how insignificant some expenses may seem, they all matter – and they all add up.
Whether you try a do-it-yourself route and set up a spreadsheet for your records, use real estate investing software, or accounting or bookkeeping software, be sure to do something to keep an accurate accounting of your flips. Come tax time, it will matter because every dollar that's not spent on an expense is subject to taxes.
"If you are considered a real estate dealer, there are some factors to consider. You can claim unlimited losses to offset ordinary income like salary and business income. You can also claim additional expenses related to dealer activities."

– Noel Dalmacio, CPA, CFP & founder, Dalmacio Accountancy Corporation
How to Save Money on House Flipping Taxes
While working around the basic consideration of flipping as active income is difficult, there are some special cases that can help you flip a property and not be subject to ordinary income tax. These include things like holding onto an investment for a longer period of time or even owning the property as your primary residence.
Here we discuss 4 ways to reduce your taxes when flipping houses:
1. Hold Investment Property For More Than a Year
If you find yourself in the category able to pay capital gains tax instead of ordinary income tax, forecast whether holding the property for a year or more will work. Recall, if you hold the property for a year or more, you are subject to long-term capital gains tax rather than short-term.
Using our example above with the $26,500 profit, if you held the property sufficiently long, you would likely owe 15% or less in long-term capital gains tax. Moreover, you would not be required to pay self-employment tax because it's considered an investment and not active income. So, your tax owed would be $3,975 or less as opposed to over $10,000 in the case above.
2. Make Property Your Primary Residence Before Flipping It
If you are casually flipping a single property, consider whether you could move into it as your primary residence after renovations are complete. If you move into the property, you can likely shift the tax consideration on the eventual sale from active income to capital gains. Plus, current tax laws allow that, if you live in the property two of the five years prior to sale, you may be able to avoid tax on the gain entirely.
3. Do a Tax Deferred Exchange for the Flip
A tax-deferred exchange, also known as a 1031 exchange allows you to roll over the gains on one property to another. To qualify for this, you'll need to hold the property for a year or more (longer is better in the IRS' eyes) and rent it to tenants. It can't be used just on a quick-turn property. For more information, you can read our ultimate guide on 1031 like-kind exchanges.
4. Claim House Flipping Tax Deductions
The IRS allows house flippers to write off certain expenses that pertain to purchasing, renovating and selling properties. Writing off these expenses help reduce your taxable income. You can deduct some expenses before you flip the property, but other expenses such as capital expenditures can't be deducted until after the property sells.
What Expenses Can I Deduct When Flipping a House
It's important to know what expenses you can deduct when flipping a house. This will give you a better idea of how much your taxable income will be, so you can have money set aside to pay your taxes. This, in turn, affects your budget on your next flip.
Some expenses you can deduct when flipping a house include:
Capital expenditures (Expenses related to buying and renovating a house with the intention to flip). These are deducted after you flip the property.
Vehicle expenses which can include gas and repairs or a standard mileage rate
Office Expenses including rent and utilities and office supplies like printer ink and paper
Building permits
Mortgage interest
What Determines Dealer Status for a Real Estate Flipper
A business that regularly profits from selling an asset, whether it's a property, a vehicle, or inventory, is classified as an active business. Therefore, an investor who flips properties will likely be classified by the IRS as an active business – a "dealer" in houses – and is subject to ordinary income tax on the profits.
A fix and flip investor who flips a dozen houses a year, holds them for a very short period, and/or derives most of their income from their real estate flipping business will be considered a dealer and the income will be taxed at higher ordinary income rates.
This is in contrast to passive investment income such as a rental property which, if eventually sold, the profits will be taxed at a more favorable capital gains rate. However, the IRS code isn't particularly clear on what constitutes active versus passive income, and many factors are taken into consideration. These can include how many properties are flipped, if they're owner-occupied or rented for a period of time before resale, and how long they are held.
If you're an active fix and flipper that holds a property for less than 1 year, you'll most likely be taxed at your ordinary income tax rate of 10% – 37%. Determining your taxation category and the rate you owe is complicated, and your tax professional should be involved.
Whether you're a passive investor or a dealer, TurboTax tax software can accommodate you. Not only can you file your taxes quickly online, but you can easily upload your prior year's tax information and you have the option to have your return checked by a tax pro before filing.
Bottom Line – Flipping Houses Taxes
Home flips were up in 75% of U.S markets in 2015. Following this enthusiasm, you still need to know what taxes you're responsible for paying on your house flipping business. Profits from flipping houses are generally treated as ordinary income, not capital gains, so profits are subject to normal income tax and self-employment tax.
Make sure you check out LendingHome if you want to make a profit flipping houses and reduce your flipping houses taxes. They're an online hard money lender that offers fix and flip and rehab loans to short-term investors up to 80% LTV and 90% LTC. Rates are competitive for prime borrowers.