Schedule C, also known as "Form 1040, Profit and Loss," is a year-end tax form used to report income or loss from a sole proprietorship or single-member LLC. You must file a schedule C if the primary purpose of your business is to generate revenue/profit and if you're regularly involved in your business's activities.
Schedule C is due on or before April 15 for income/losses during the previous year. Download this IRS Schedule C Form and follow along as we will walk through the steps on how to fill out Schedule C. A simplified form, Schedule C-EZ, is no longer available for years after 2018.
1. Gather the Necessary Business Information
The first thing you want to do when filling out your Schedule C is to get your profit and loss report for the prior year. You'll also want to have your general business information ready, like an EIN if you have one. If this is not your first year filing Schedule C, have your prior Schedule C available as it will have lots of required information.
If you use an accounting software program to track your income and expenses, you can simply run your profit and loss report for the tax year and use that to complete each section of your Schedule C. If you're not using accounting software, we recommend QuickBooks. QuickBooks will ensure your books stay organized and save you time when tax season rolls around as you can simply print your profit and loss to prepare your Schedule C. Fit Small Business readers get up to 50% off QuickBooks Online.
Profit and Loss Report
Below is a Profit and Loss report from QuickBooks Online that was used to complete our example Schedule C.
The Profit and Loss report includes a couple of items that are not deductible on Schedule C. Contributions of $1,200 are deductible as an itemized deduction on Schedule A, but not on Schedule C. Only 50% of the $3,036 in meals are deductible. After adjusting for contributions and 50% of meals, we expect Schedule C profit to be $110,061 (107,343 + 1,200 + 50%($3,036)).
2. Fill Out Schedule C Basic Business Info
The first section of Schedule C at the top of the form requires basic information such as business name and business address. Below, you will find a brief explanation of how to complete each of the fields in this section.
Line A: Principal business or profession, including product or service – Indicate the type of business you have and whether or not you sell products or services.
Line B: Principal business or professional activity code – Select the code that best describes your business from Page 17 and 18, professional activity code list, provided by the IRS instructions.
Line C: Business name – Put the name of your business in this field. If you don't have a business name, just leave this field blank.
Line D: Employer ID (EIN) number – Enter your nine digit employer ID (EIN) number. If you don't have one then the field blank. If you have employees then you need an EIN number. Be sure to read our article How to Apply for an EIN.
Line E: Business address – Enter the physical address of your business. Do not enter a P.O. Box here. Leave the field blank if the address is the same as your address listed on Page 1 of the tax return.
Line F: Accounting method – Select the accounting method that you use to track income and expenses (cash or accrual). This must be the same as the prior year. You may choose your method if this is the first year of the business, but most small businesses use the cash method. Read our guide to accrual vs cash accounting for more information.
Line G: Material participation in the business – Material participation means that you were heavily involved in business operations and not just an investor. If you perform at least 500 hours per year of service for the business, or you perform substantially all of the services for the business, then you materially participate. However, there are other ways to qualify as well. IRS Schedule C Instructions Pages 4 and 5 list seven tests to determine material participation. This is an important question as you cannot deduct a loss in the current year if you do not materially participate.
Line H – If you started your business in the current tax year, check this box. Otherwise, leave it blank.
Line I – If you paid a contractor $600 or more during the tax year then you need to select "Yes" on this line. By selecting Yes, you are required to send a 1099 Form to each contractor who you paid $600 or more to during the tax year. To learn more, check out our 1099 reporting guide.
Line J – If you selected "Yes" on Line I then you should also select "Yes" on Line J and be sure to send out the required forms.
A good tax preparation software, like TurboTax, can make filling out your Schedule C much easier. TurboTax will ask you a series of questions, including your income and expenses for the year. The program will even provide additional information regarding what is deductible. You can start your return for free on TurboTax Online and not pay until you are ready to file!
3. Complete 1040 Schedule C Part I – Gross Income Section
Below you will find a brief description of what information you need to report in the Gross Income section of Schedule C and where you can find this info on your Profit and Loss statement.
Line 1: Gross receipts or sales – This is the total amount of all product and services sold to your customers before taking into account any product returns or other related costs to generate those sales.
Line 2: Returns and allowances – This is the total amount of refunds that you gave to customers for returned or damaged products.
Line 4: Cost of goods sold – This is the cost of producing all of the products or services sold.
4. Complete 1040 Schedule C Part II – Expenses Section
Below you will find a brief description of what information you need to report in the expenses section of 1040 Schedule C. For a complete description of deductible expenses see our guide to IRS Business Expense Categories. Below is an example of Part II completed using our sample Profit and Loss report.
Line 9: Car and truck expenses – You have the option to deduct the actual expenses of using your vehicle for business or taking a standard mileage deduction.
Line 11: Contract Labor – Payments made to independent contractors for services provided to your business belong here. Do not include any wages paid to employees on this line.
Line 12: Depletion – Depletion is only reported by companies that own and use natural resources such as mining, timber and petroleum businesses.
Line 13: Depreciation and section 179 – Include the annual deduction allowed to recover the cost of business equipment or investment property used in your business that has a useful life beyond the tax year. To learn more about how to calculate this deduction, check out our guide on Section 179 deduction.
Line 18: Office expense – Deduct office supplies and postage expenses here. Expenses of maintaining a home office belong on Line 30, not on Line 18.
Line 19: Pension and profit-sharing plans – Deduct any contributions that you made for the benefit of your employees to a pension or profit-sharing plan. Retirement contributions for yourself do not get reported on Schedule C.
Line 21: Repairs and maintenance – Deduct minor repairs and maintenance that does not add to the property value. For example, paying a plumber to repair a toilet or to unclog a sink would go in here.
Line 23: Taxes and licenses – You are able to deduct real estate and personal property taxes on business assets, licenses and fees for your trade or business, and the employer portion of Social Security and Medicare taxes paid wages of your employees.
Line 26: Wages – Enter total salary and wages paid to employees for the tax year. Do not include amounts paid to yourself.
Line 27a: Other expenses – List any business expenses that you did not report on Lines 8-30. You will provide the detail of these expenses in Part V of the schedule C.
Line 30: Expenses for business use of home – You may be eligible to deduct expenses for the business use of your home. See our guide to the home office deduction for more information.
Line 32 – If line 31 is negative, you need to check one of the following boxes:
32a: All investment is at risk – Select this option if you have a business loss and all of the amounts you have invested are at risk, meaning there is no protection against the loss. Most schedule C business owners have all their investment at risk.
32b: Some investment is not at risk – Select this option if you have a business loss but not all of your investment in the company is at risk. The most common example is nonrecourse loans used by the business to purchase equipment. Refer to the at risk rules on Page 14 of the schedule C instructions.
5. 1040 Schedule C Part III – Cost of Goods Sold Section
Part III reports the direct cost of producing the sales reported on Line 1. If you sell goods or merchandise you are required to report beginning and ending inventory. Our sample company, Paul's Plumbing, is a service provider so they don't have inventory. Below is a completed Part III for our sample company without any inventory.
Line 33: Inventory method – Select the inventory valuation method that you use. You can value inventory using any method approved by the IRS. However, if you are using the cash method of accounting, then you are required to use the cost method to value inventory. Refer to IRS Pub 538 for more information on inventory valuation methods.
Line 35: Beginning inventory – Indicate the inventory on-hand at the beginning of the tax year. This should match up with your ending inventory from last year. You need to provide an explanation if it does not.
Line 36: Purchases – Enter the total amount of inventory purchased less any product used for personal reasons.
Line 41: Ending inventory – Enter the value of inventory on-hand at the end of the year.
Line 42: Cost of Goods Sold – Total cost of goods sold on this line must match cost of goods sold on part I, Line 4.
6. 1040 Schedule C Part IV – Information on Your Vehicle
Most taxpayers report vehicle information on Page 2 of Form 4562, which is also used to report depreciation. However, if you are claiming vehicle expenses on Line 9, but you are not claiming depreciation for any assets, then complete section IV in lieu of file Form 4562. Below is a copy of Part IV.
It is very important that you keep a written record of the miles that you drive for business purposes. The information that you should include is as follows:
Date & purpose of the trip
Name of the client or supplier, if applicable
Total miles driven round trip
QuickBooks Online mobile app has a built-in mileage tracker that automatically syncs with your QuickBooks Online account, including QuickBooks Self-Employed. If you don't already use QuickBooks for your bookkeeping, you can get a 30 day free trial and give the mileage tracker a try.
7. 1040 Schedule C Part V – Other Expenses Section
Part V provides a breakdown of other expenses included on line 27a of Part II. A good rule of thumb is to keep any expenses labeled as "Miscellaneous Expense" to a minimum. Make sure the total on line 48 matches line 27a from Part II. Below is an example of a completed Part V using our sample Profit and Loss report.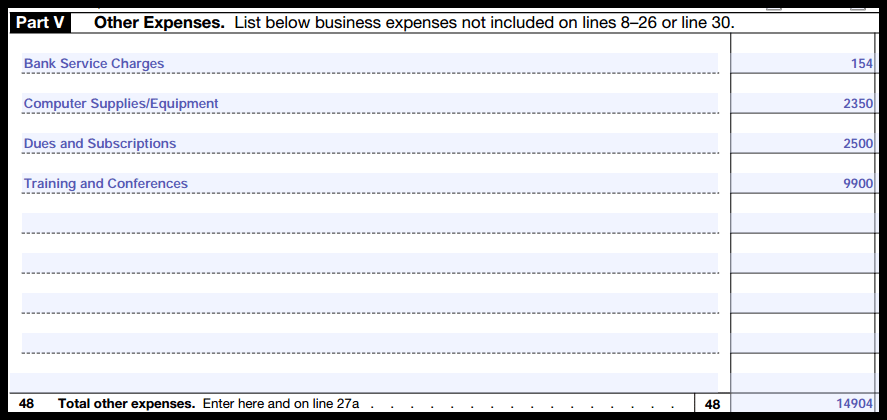 Schedule C Due Dates
Schedule C – Profit and Loss from a business is filed along with your personal income tax return, Form 1040. It is due April 15 of the following year. If April 15 falls on a weekend or holiday, it is due on the following business day.
| | |
| --- | --- |
| Tax Year | Due Date |
| 2019 | April 15, 2020 |
| 2020 | April 15, 2021 |
You can receive an automatic six-month extension until Oct. 15 by filing Form 4868. An extension of time to file does not extend the time to pay. You must estimate the tax you will owe and make a payment when you file Form 4868.
Bottom Line
There are two primary keys to success when it comes to filing your Schedule C. First, use accounting software to capture and document all your available deductions in an accurate statement of profit and loss. Second, accurately complete your Schedule C as described in this article.