Rental property tax benefits are numerous. If you own investment real estate, you can take rental property tax deductions for any legitimate expense related to running the properties. You can claim expenses ranging from interest, to insurance, repairs, and depreciation. However, you must record them according to IRS guidelines.
H&R Block provides tax software that allows you to file your taxes quickly and easily online. With H&R Block, you can easily upload your prior years tax information and record your expenses according to IRS guidelines.  If you have questions, you can chat to their team of Tax Pros and have your return checked before filing.
Expenses are the key influencer of tax benefits and deductions for rental property because taxes on rental income are not computed on gross rents; they are computed on net rental income after subtracting expenses. The larger the expense figure, the lower the net income and hence the greater the tax deductions. That equates to potentially lower taxes due. However, you can't simply track expenses as a lump sum. You must group tax deductible expenses according to 12 IRS designated expense categories.
Disclaimer: Please note that this article contains general information, and we suggest consulting your own accounting and legal professionals for tax deduction related matters.
Here are the 12 categories of tax deductions for rental property:
1. Mortgage Interest & Other Forms of Interest Tax Deductions for Rental Properties
Rental property tax benefits include interest, which may take several forms: mortgage interest; points and loan origination fees, interest on credit lines and unsecured loans for the property; and, possibly interest from credit cards used for property-related expenses.
When you make a loan payment on your rental property, there are two components to that payment. There is the portion going to the principal and the portion paying back interest. You can see this by looking at your statement. Unfortunately, you can't deduct the principal portion of your payment. However, you can deduct the interest portion.
For example, let's say you have a mortgage or other loan related to the property with a monthly payment of $1,000. Let's assume $200 is applied to principal; that means, $800 is interest. Only the $800 is deductible as an expense.
Mortgage Interest
Tax benefits for rental properties start with deductions for mortgage interest payments. Since the main loan(s) on a rental property are likely mortgages, this is the first interest figure to consider. You can also deduct points, etc. as a form of prepaid interest.
If you have more than one mortgage, don't forget to also include interest figures for any second or even third mortgages. This includes interest amounts for home equity lines of credit (HELOCs) connected to your rentals.
Points & Loan Origination Fees
When you obtained financing for your rental property, you probably paid loan origination fees and/or points. Both of those are deductible forms of interest.
Interest on Credit Lines & Unsecured Loans for the Property
If you've obtained financing in the form of a credit line or unsecured loan, specifically used for a given property, that interest may also be deductible. For example, you might have gotten an unsecured loan for the replacement of a roof on a property; the interest on that would be deductible.
This is an area where you may want to engage the services of your accountant because deductibility for unsecured loans can be tricky – particularly if the proceeds were used on more than one property or certain amounts used personally. Accurate accounting is vital.
Interest on Credit Cards Used For The Property
You may have also used a credit card or fuel card for the property and incurred some interest. An example might be purchasing a refrigerator for a property from an appliance store on a credit card, but paying for it over several months, resulting in some interest charges. The interest stemming from that purchase would be deductible.
Similar to the situation with unsecured loans, involve your tax professional or CPA if you are trying to deduct credit card interest because it can be tough to properly account for.
2. Property Taxes, Licensing Fees, & Other Taxes Related to the Rental Property
Property taxes, licensing fees, and occupancy taxes are the three most common forms of taxation on rental property. They are also a major form of tax deductions for rental properties.
Property Taxes
Virtually every county or municipality in the country charges property taxes. In rural areas, the amount may be small, perhaps only a few hundred dollars. In some markets property taxes can be quite high, sometimes 5 figures per year!
Property taxes are one of the legitimate expenses related to a rental property, hence tax deductible.
Licensing Fees
Many states have licensing requirements for rental property. This is a license specifically for using the property as a rental. Don't confuse it with a business license for your real estate business (which still may be deductible in another way). If you've had to obtain or renew a landlord or similar license for the property, that cost is deductible.
Occupancy Taxes
Some states charge occupancy taxes on rental amounts, very similar to a sales tax. This is particularly the case in states where short-term rentals are common. Examples include Florida which charges a "tourist tax" for rentals less than 7 months and multiple areas throughout Arizona. If you are required to pay a tax on rental amounts, that figure can be written off.
3. Rental Property Tax Benefits Related to Insurance
Any form of insurance is an expense, hence deductible for the rental building. That includes basic hazard insurance, special perils insurance such as flood or hurricane coverage, and liability insurance.
Deducting Umbrella Liability Policies for Rental Properties
If you have other forms of insurance such as a landlord liability policy or umbrella liability policy that covers multiple properties, you will want to seek the counsel of your tax professional or CPA to determine how it should be deducted. One option is to prorate the cost among each property; another possibility may be to deduct it from the overall business entity.
4. Utilities
If you have to pay for any utilities – gas, electric, or water each would be a rental property deduction. If you pay for private trash removal and/or recycling service, those may be lumped in with utilities. In addition, if you pay for communication services such as Internet or cable/satellite TV for your rentals, those costs are also deductible as a utility expense.
5. Maintenance & Repair
Costs to maintain, care for, and improve the property are tax deductible rental property expenses. However, there is a difference between how things like cleaning, maintenance, and repair are deducted versus how improvements are handled.
Cleaning, Maintenance, & Repair
These items are considered normal, ongoing items in the operating of the property. They are deductible as normal operating expenses. An example of maintenance might be replacing a few shingles lost to a storm.
Improvements
Improvements are considered long-term benefits to the property and are depreciated over several years. Some items may be depreciated over 5 years, others as long as 27.5 years. Using the roof example from above, if it's the entire roof being replaced, that's considered a capital improvement and must be depreciated over 27.5 years.
With improvements, it's vital to involve your CPA or tax professional. It's important to classify and compute things correctly, and the recordkeeping responsibility is rigorous.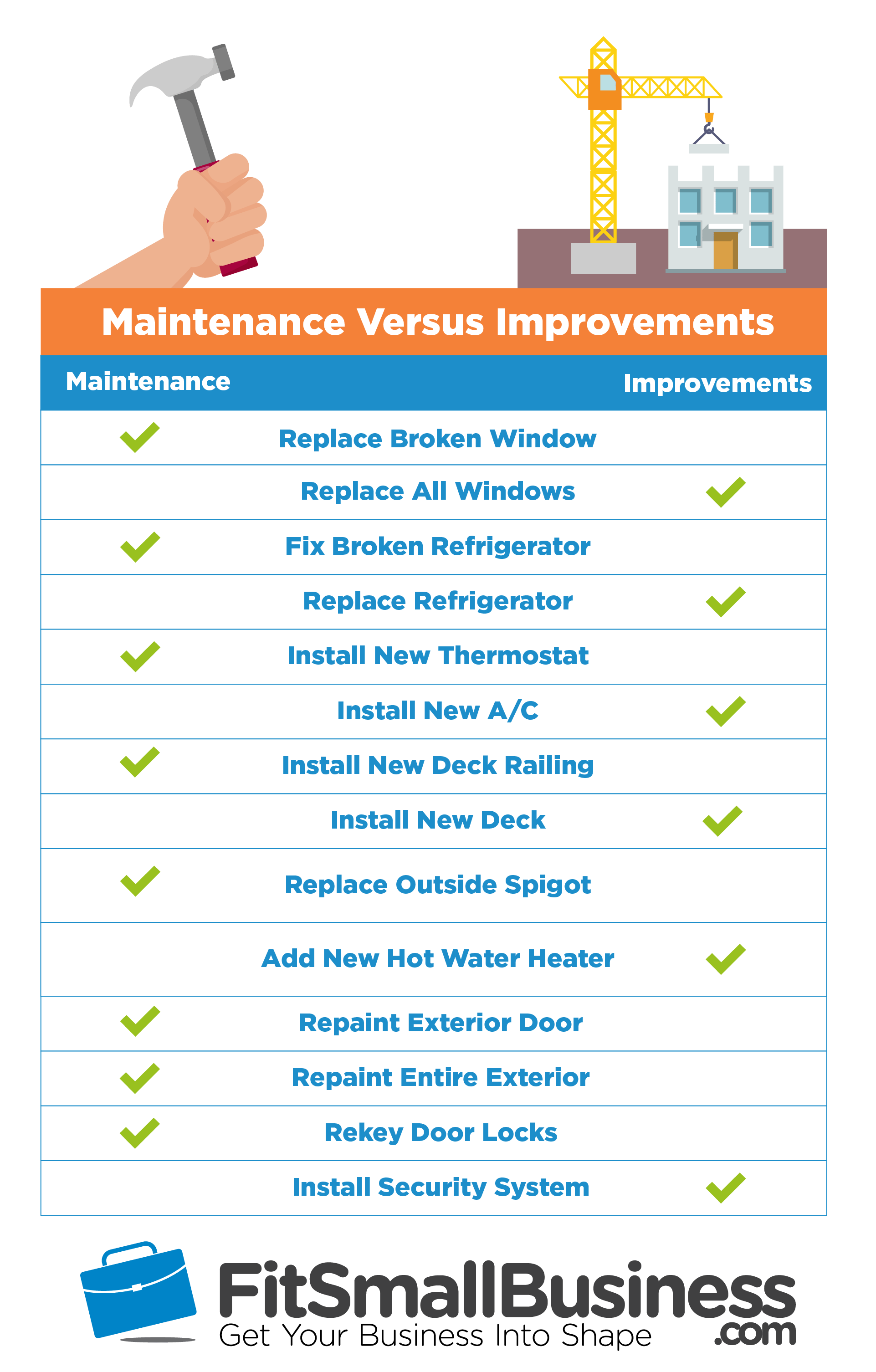 6. Advertising & Marketing
There are 2 sources of deductions for marketing of your rental property: advertising for tenants and lease-up commissions.
Advertising
Any amount you expend to advertise your building, its availability for tenants, or for anything else related to the property (like trying to find an onsite manager or contractor) are all deductible as normal operating expenses. This includes fees or subscriptions for websites such as Zillow where you might list your property for rent.
Tenant Placement & Lease-Up Commissions
An often overlooked marketing expense is the commission paid to a real estate agent or property management firm to either secure a new tenant or renew their lease. Since this is often a month's rent, it's a significant expense well worth recording.
7. Homeowner Association (HOA) Fees
If your rental property is located in a community that charges any kind of homeowner association fees, condo fees, planned unit development (PUD) fees, etc., these are deductible expenses.
8. Auto & Travel Expense-Related Rental Property Tax Benefits
Travel-related tax benefits for rental properties come in 2 forms: automobile-related travel expenses and other travel-related expenses.
Auto Expenses
Business use of your car for your rental properties is deductible. Mileage is one of the best rental property tax benefits and deductions because if you have to drive to show a property, tackle repairs, buy supplies, or otherwise visit the property for a legitimate operational purpose, the mileage is a deductible expense.
Auto expenses can be deducted one of 2 ways: the standard mileage method or the "actual" method. For 2017, the IRS set the rate at 53.5 cents per mile driven for business. The "actual" method uses the percentage of all the actual vehicle's expenses used for business. Both require that you keep necessary records – date and business purpose of the drive, odometer readings before and after the business travel, and the mileage itself. There are apps for smartphones that make keeping the records very easy.
Additionally, you may have investment business mileage not attributable to individual properties, but to the business overall, that may also be deductible. Any business-related mileage (such as going to the office supply store or post office) is deductible if properly documented.
Other Travel Expenses
Aside from using your car, other travel expenses related to your rental property may be partially or totally deductible.
For example, if you fly to a property in another state to clean out the building between tenants, that's legitimately business-related. The airfare would be deductible as would hotel stays and meals. Even rental cars, parking, and tolls are part of the deduction.
However, only the business portion of the trip is deductible; you have to prorate that portion which is clearly business versus that which isn't. In the above example, if you stayed a week, but only dealt with the property for 2 days, you can't deduct all 7 days worth of meals or hotel costs.
9. Supplies
The supplies category is somewhat a miscellaneous one that can include anything from hardware to office supplies. Many supplies will be directly used on a given property and deductible to the property itself. An example might be driveway sealant if the can was used on just the one property.
Other supplies might be applicable to several or all of your properties and deductible to the business as a whole. An example might be computer printer paper which can't be allocated to a single property but is used for anything related to the business.
10. Property Management Costs
Property management comes in several forms, each a tax deduction for rental property. You may be handling it yourself, engaging a property management firm, or actually hiring a property manager. Each is handled differently from a tax standpoint.
Rental Property Tax Benefits If You Are Handling Property Management Yourself
Whether you can deduct any of your personal management depends on how you've structured your business. If your properties are owned by you personally (a sole proprietorship) it's tricky to deduct the cost of your own management. However, it can be done, and the more you can substantiate your active management – like using tenant screening tools or property management software – the more likely you'll be able to demonstrate your active engagement.
If you have an entity like an LLC or corporation, there may be the possibility of the company employing you as a property manager which means your salary will be a deductible expense.
Rental Property Tax Deductions If You Engage a Property Management Firm
Fees that you pay to a property management firm for their services is deductible. Be aware, though, that things like commissions for tenant placement should be noted as marketing and not management.
Tax Deductions for Rental Property If You Hire a Property Manager
Real estate investors with large multi-unit properties or apartment buildings will often hire onsite property managers. Salaries and any benefits paid to these managers are fully deductible rental property expenses.
11. Legal & Professional Fees
If you use any professional services, perhaps for accounting or legal work, those are deductible expenses. Generally, these will be applied overall to your real estate investment business. However, if there is work clearly applicable to certain properties then the expenses are deductible for the properties themselves.
12. Depreciation
Depreciation is the process of treating the hypothetical wearing out of your building as if it were an expense. It is a major rental property tax benefit. Even though you may not financially feel this wearing out, accounting principles allow you to take advantage of the eventual costs through depreciation.
Aaron Lesher, CPA and Head of Customer Success at Hurdlr, a mobile app for financial tracking for entrepreneurs, says:
"When you invest in a fixed asset like real estate, the IRS allows you to take a tax write-off for depreciation, or the expense you incur over time for the reduction in value due to wear and tear. The great thing about depreciation is that it is *not a cash expense*, and real estate historically appreciates, rather than depreciates, in value over time — meaning you benefit from the tax treatment but incur none of the assumed downside."

-Aaron Lesher, CPA and Head of Customer Success, Hurdlr
Determining what the depreciation figure is, and keeping proper records over time is vital, and you should turn to your CPA or tax professional for assistance.
Keep Good Records to Get Maximum Tax Benefits For Rental Properties
Needless to say, none of this matters if you don't keep good records. You can't deduct what you haven't accounted for, and if you are ever audited, good records are essential.
"A big mistake is simply failing to keep good documents. It seems elementary, but the first thing we do when we onboard a client is train them on how to keep good records. We can give you all of the sexy tax strategies in the world, but if you can't maintain good records, our strategies will be pointless under an audit."

— Brandon Hall, The Real Estate CPA
How the Investments Are Owned Affects the Tax Benefits for Rental Property
Whether your property is a sole proprietorship, partnership, or corporate entity, the business structure you choose for your rental properties will affect what deductions you can take and how you approach them.
In particular, there are tax deductions that are directly tied to the rental properties themselves (These are known as Schedule E deductions); there are other that can be attributable to an overall business that runs the investment business (known as Schedule C deductions). The type of business entity you select will govern, to a great degree, how much of the latter kind of deductions you can take.
Tax Deductions for Rental Property – Beyond The Basics
In addition to the basic rental property tax benefits and deductions, there are other tax issues worth noting. They are related to rental property losses, FICA or self-employment tax, capital gains, and what's known as depreciation recapture.
Loss Limitations
Rental properties showing a loss offer the most tax benefit, although you should be aware of two things. First, losses are limited to $25,000 in any year, although you can carry over any excess losses into future years. Second, any tax savings stemming from a rental or any other business loss only end up being a portion of what was expended. So, don't go overboard with spending. Good financial management is the first rule.
FICA/Self Employment Tax Benefits
One of the biggest withholdings you have in your paycheck is that for social security, known as FICA; if you're self-employed, you know this as self-employment tax. Depending on how your business entity is structured and what the financial situation of the properties looks like, you may be able to avoid paying some (or all) of the FICA or self-employment tax.
Depending on the situation, that can save you from approximately 7.5% to nearly 15% of the profits derived from the properties.
Capital Gains Taxes Versus Taxes on Ordinary Income
If you sell a property at a profit, chances are you will be taxed on that profit. But, it will be capital gains tax, not ordinary income tax. Currently, capital gains tax rates run from a low of 0% to a high of 20%. That's compared to income tax rates that range from 10% to as high as 39.6%. So, it's a substantial tax saving.
Depreciation Recapture
Unfortunately, depreciation is a bit of a two-edged sword. At the outset of ownership, depreciation provided a tax benefit. However, when you sell, it will create a taxable amount through what is called depreciation recapture. In short, a portion of the depreciation you have taken over the years will eventually be taxed as part of the gain on the sale.
What's important to note here is that most investors are not even aware of depreciation recapture, but it can wield a big tax bite upon sale. It's one of the main reasons to have a tax advisor or CPA handle the tax strategy for your rental properties.
Special Tax Situations Involving Investment Property
There are many special-case tax situations worth learning about. While they may not end up being part of your investment landscape, knowing about them can give you access to even more tax benefits.
Tax Deductions for Vacation Homes Used as Rental Property
If you have a second home or vacation property that you sometimes rent out, account for it as a rental property for the period of time you are leasing it. That means you can write off things like advertising, rental commissions, part of the insurance, prorated repairs, etc.
That will help offset the income generated by the rents and might mean a fairly hefty tax deduction at the end of the year.
Historic Tax Credits
If your property is a qualified historic property you might be entitled to take a historic tax credit. Historic tax credits are available at the federal level, and many states such as Ohio and Massachusetts also have programs. These may apply to both the building's renovation and/or the operation of it as a rental.
Tax credits are a bit different than tax deductions. Whereas tax deductions come back to you as a portion of the effect of expenses, tax credits are dollar for dollar. In other words, spend $1 dollar on renovations, get $1 reduction in the taxes owed.
State or Local Tax Incentives
In addition to historic tax credits, your state or municipality may have economic development tax credits for buying, fixing up and operating property in lower-income areas like this example of Detroit. Governments use economic development tax credits to encourage people to purchase in these areas so they will eventually be improved.
Bottom Line: Rental Property Tax Benefits & Deductions
Rental property tax benefits and deductions are abundant. Tax deductions are based on the expenses of a rental property, so it's vital you keep thorough records for expenses. Depending on how you hold the properties, you may be able to deduct expenses directly related to running the properties along with deducting expenses related to the overall business entity. Tax laws for rental property are complex and it's advisable to use a tax professional or CPA for the tax strategy for your investments.
If you want to do your taxes online, H&R block offers customized software for rental property owners.  Their easy to use application will allow you to quickly import your expenses and arrange them according to IRS guidelines.