Vacant home insurance covers homes left unoccupied for extended periods of time. These properties have a higher risk for vandalism, theft, and weather damage when unoccupied for at least 30 consecutive days. Policies can cost up to three times what a homeowners policy costs, but a limited endorsement may only be $100 more per year.
Vacant Home Insurance Providers
Most unoccupied home insurance providers specialize in homeowners insurance and adjust the risk based on the increased exposure. Choose a provider that can insure your property based on its location and reason for vacancy. A fix-and-flip property has different needs than a vacation home in the mountains used seasonally.
Top Vacant Home Insurance Providers
| Insurance Provider | Best For |
| --- | --- |
| | Condo owners who need personal policies to match the HOA's master policy |
| | Fix-and-flip investors who move have pending sales that may be extended for months |
| | Investors needing an umbrella policy to cover vacant homes, vacant land, and rental properties |
| | Rental property owners with multiple properties where vacancies may be unexpected and lengthy |
| | Snowbirds spending part of the year in one home who then migrate for sunshine |
*Liberty Mutual quote provided by our partner Commercialinsurance.NET.
Generally, a vacant home or unoccupied home insurance policy covers the same perils that a homeowners or rental dwelling policy covers. The difference is in the premium because the risk is greater for homes without homeowners or tenants.
Five of the top unoccupied home insurance providers are State Farm, Liberty Mutual, GEICO, Farmers, and Policygenius.
State Farm is a leading national insurance provider for homeowners and rental dwelling insurance. Policies are often discounted when bundled with auto or life insurance. Vacant home coverage is an endorsement with State Farm and is added to traditional homeowners or rental dwelling policies. More than 19,000 local agents are available to help property owners properly insure their assets.
State Farm is the right choice for condominium owners who have to address the needs of their own unit as well as the master policy for the homeowners association (HOA). The State Farm vacant property endorsement for condos also offers loss assessment coverage so that if the HOA has a loss while the condo is vacant, the insurance still covers the assessed deductible from the master policy.
Liberty Mutual offers home, auto, life, and commercial insurance through a national network of independent agents. This insurance carrier offers an endorsement to existing property policies for any home or rental unit that is unoccupied or vacant for 30 days or longer. Discounts are available for properties built or completely renovated within the past 13 years.
Liberty Mutual is the right choice for fix-and-flip investors who can take advantage of the new home and renovated home discounts. Investors should also note any security systems and upgrades to electrical or plumbing to maximize discounts while holding the property before the sale.
*Liberty Mutual quote provided by our partner Commercialinsurance.net.
GEICO is a national personal lines insurance specialist that offers competitive pricing and bundling discounts on auto, home, and umbrella insurance. The company is known for its fast and reliable customer service, making the adjustment from occupied to unoccupied insurance quick and easy.
GEICO is the right choice for investors who have multiple investment properties and want to obtain an umbrella policy that extends liability coverage to all properties, occupied or not, and can cover vacant land where liability is the only exposure.
Farmers is a national personal and business carrier offering home, auto, life, and commercial insurance. Unlike the other providers, it doesn't offer vacant property insurance endorsements. Instead, it has separate policies that are prorated based on the amount of time the property will be vacant.
Farmers is the right choice for property owners who want tailored standalone policies that can cover partial or total loss as defined at policy inception. Property owners with multiple rental units may prefer the option to customize vacant property insurance rather than be limited to endorsements added to standard property insurance.
Policygenius is an online insurance broker that works with multiple insurance carriers to help homeowners and investors find the right policy for the right price. This broker prides itself on making the purchasing process for home, auto, and life insurance painless.
Policygenius is the right choice for people who alternate between two properties throughout the year, such as snowbirds who stay in Wisconsin in the summer and Florida in the winter. Both homes alternate between occupied and vacant and need the right carrier to meet not only the risk but the state insurance requirements.
What Unoccupied Home Insurance Is
Vacant property insurance, sometimes called unoccupied home insurance, is a policy that covers the structure and contents of a home that is left unoccupied for extended periods. Coverage is similar to homeowners insurance and may be added as a rider to existing home policies.
Most traditional homeowners insurance or vacation home insurance policies do not cover losses when a property has no residents for 30 consecutive days or more due to the higher risk for damage. Not only are vacant properties a bigger target for vandals and burglars, but they are also more susceptible to weather damage such as windstorms, wildfires, and frozen pipes bursting, leading to extensive damage or complete loss.
Unoccupied vs. Vacant Property
While the terms unoccupied and vacant are often considered interchangeable with vacant home insurance policies, there are some insurance differences to consider between the two terms. A home is vacant if it has been unoccupied for 30 or more consecutive days, the utilities are off, and there are no appliances. Generally, vacant homes contain few or no personal belongings in the home, such as many homes for sale.
A property is considered unoccupied if it hasn't been occupied for 30 or more consecutive days, but appliances and personal belongings remain in the home. An unoccupied home may have no one regularly in it but is prepared for occupants with minimal effort. Common scenarios for unoccupied homes include vacation properties and second homes.
Importance of Properly Defining Occupancy vs Vacancy
Insurance providers consider the overall risk when determining premiums for insurance policies, which means a home with personal property and utilities on is more likely to experience a greater loss. If a pipe bursts and no one is there to check on the property for 60 days, the damage to the structure and the contents is much greater. A vacant property with no utilities has less chance of a pipe bursting or electrical fire erupting.
A home is generally considered vacant if:
It has no personal property like clothes, toiletries, and furnishings
The utilities are turned off
It needs repairs
Appliances are missing or haven't been installed
A home is considered unoccupied if:
It is move-in ready
It has furniture and personal property in it
The utilities are on
Appliances are in it
Make sure to discuss why the property has no one in it, what personal belongings are in the property, and how often someone is checking on the home with your insurance agent. Your insurance agent can then appropriately define it as vacant or unoccupied on your application. Generally, an unoccupied home that has an expected date of occupancy poses less risk than a vacant home and could be cheaper to insure.
Vacant Home Insurance Coverage
Vacant and unoccupied home insurance covers the same types of losses that a homeowners policy does but specifically outlines coverage for properties without regular inhabitants for a time.
Vacant property insurance coverage generally includes coverage for:
Vandalism: Graffiti and intentional damage done to the vacant home
Named perils: Covers losses from mentioned perils like a house fire, windstorm, and water loss
Total loss: Coverage for the total cost of replacing the property
Partial loss: Coverage to partially replace the damaged areas of the home
Liability: Bodily injury and property damage sustained by others while they're on the property
Some insurance companies let homeowners add vacant property insurance policy endorsements onto their current policy, and other providers require a new policy. This usually is contingent on the duration and overall reason for vacancy.
"Homeowners insurance typically includes liability insurance and other factors associated with dwelling insurance. Vandalism, theft, and water damage are the biggest factors you should be looking for in your vacant home insurance policy."
—Vince Lefton, CEO, Bulldog Adjusters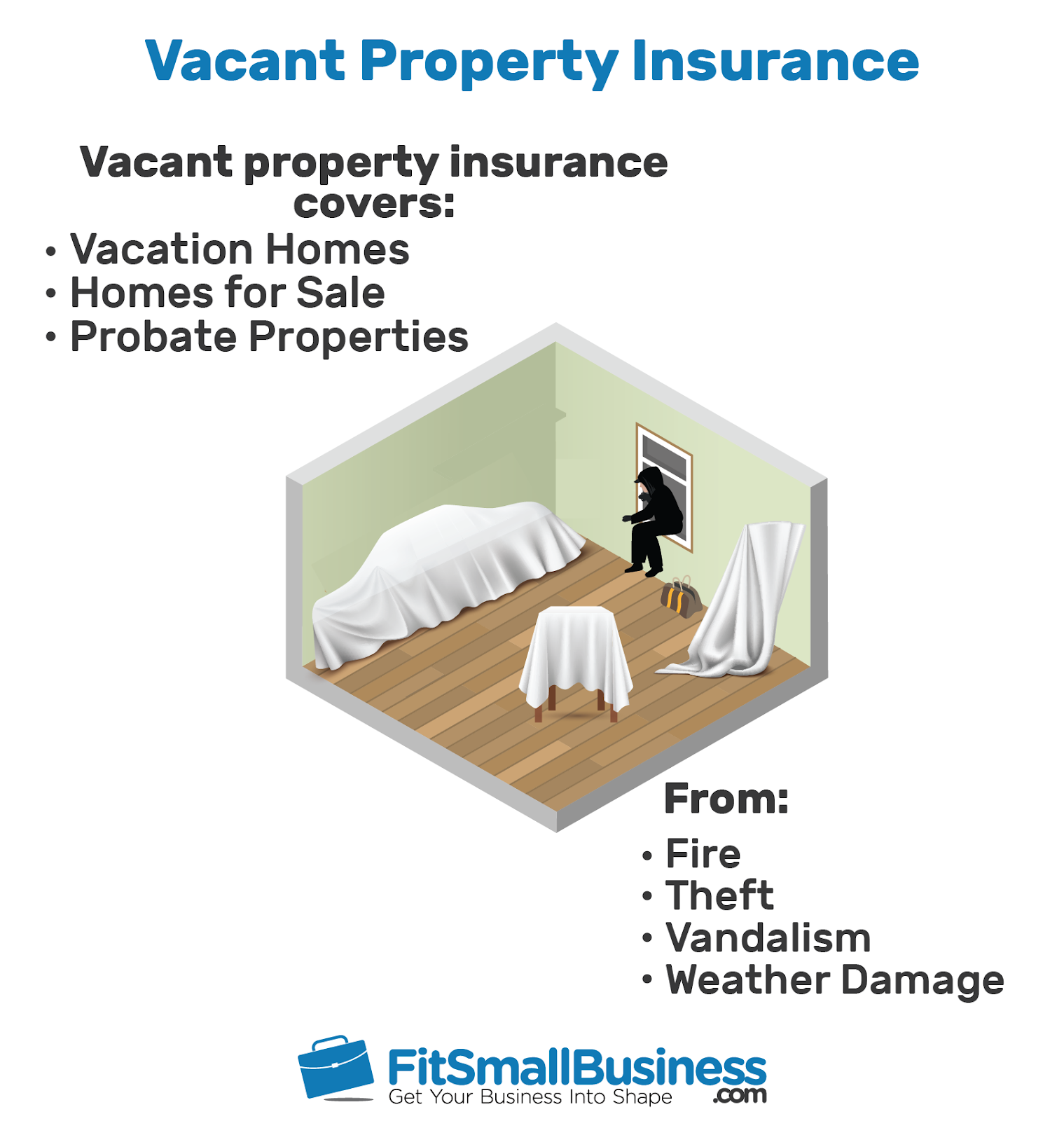 What Unoccupied Home Insurance Doesn't Cover
Vacant property insurance is written to cover many of the same types of losses that a standard homeowners or rental dwelling insurance policy covers. Property owners need to confirm what types of natural disasters are excluded from policies. These may vary by insurance carrier, but earthquakes, wildfires, hurricanes, tornadoes, and floods are a few of the most commonly excluded natural disasters.
Common Natural Disaster Coverage on Vacant Home Insurance
| Natural Disaster Type | Most Often |
| --- | --- |
| Earthquakes | Excluded |
| Wildfires | Excluded |
| Hurricanes | Excluded |
| Tornadoes | Included |
| Flood (From Outside the Home) | Excluded |
| Hail | Included |
| Windstorm (Excluding Hurricane) | Included |
Check with your insurance carrier to see what is covered and what additional policies you may need to purchase based on area and natural disaster risks.
Vacant Home Insurance vs Homeowners Insurance
Vacant home (unoccupied home) insurance and traditional home policies are very similar in that they protect the structure and contents of real estate. In fact, most policies read the same in terms of covered losses. The critical difference is in the added risk that comes with vacancy and how this impacts the premium.
Vacant home insurance deviates from traditional homeowners insurance in two ways. First, it covers personal homes that are not being used regularly or sit vacant for a period of time. Second, it covers investment properties in transition due to remodeling and sitting on the market.
Homeowners insurance protects a person's primary residence from many perils, including fire, theft, water damage, and windstorm. These policies are not designed for investment homes such as rental properties or fix-and-flip purchases.
Homeowners policies can provide coverage for unoccupied homes in scenarios such as:
Extended vacations
Dual residents like snowbirds who spend winters in warmer climates like Florida or Arizona
Prolonged hospital stays
Pending property sale during relocation
Probate or estate settlement
Home renovations
A vacant home insurance policy considers the increase of potential losses because there is no occupant in the property. Unoccupied home insurance is generally 50% to 150% more expensive than a typical homeowners policy because of those risks. The range varies so much because insurance providers also consider the location, duration of vacancy, amount of personal contents, and whether utilities are on or not when determining premium.
Who Needs Unoccupied & Vacant Home Insurance
Generally, you need unoccupied home insurance and vacant home insurance whenever your property is going to be unoccupied for 30 or more consecutive days. Aside from homeowners who are away from their primary residence for extended periods, fix-and-flip investors and rental investors may both need unoccupied home insurance policies.
Fix-and-Flip Investors
Fix-and-flip investors generally need a vacant home insurance policy when they purchase the home, while they are renovating, and until they flip the property. The property is vacant during the rehab process, so a typical homeowners insurance policy won't cover it.
Fix-and-flip investors can give the vacant home insurance provider a timeline of repairs and can either prepay for a yearly policy, pay monthly, or get a prorated policy for the amount of time they anticipate the property will be vacant. Different providers offer different payment options.
Rental Property Investors
Long-term buy-and-hold investors don't usually think they need vacant home insurance. However, they should get it whenever the property is going to be vacant for 30 or more days. For example, a tenant may move out, and another might not move in for 60 days. This gap in tenancy requires unoccupied home insurance. You should also get unoccupied home insurance when you're doing property renovations, and no one is living there.
Investors can generally get an unoccupied home insurance policy or rider just for the period that the property is unoccupied. Many providers have monthly payment plans and prorated policies. Once the property is occupied, you can contact your provider easily and switch back to your landlord insurance policy.
Frequently Traveling Homeowners
Homeowners may have various reasons for leaving their homes unoccupied for extended periods of time that include work travel, retirement travel, dual homes, or family care requirements. Keep in mind that any home left without an occupant for 30 to 60 days is considered vacant by your insurance company's insurability standards.
If you need to go on a trip for more than just a few weeks, call your homeowners insurance agent to see what is required to be properly insured. Some insurance carriers allow you to add an endorsement for as little as $100 to cover extended periods of time when your home is left unattended.
Unoccupied Home Insurance Costs
Vacant home insurance policies are typically 50% to 150% more expensive than homeowners insurance policies. While premiums for homeowners policies vary widely across the country, the national average is $1,228 per year, making the average for vacant property insurance $1,842 per year.
Sample Averages of Vacant Property Insurance Costs
| State | Average Homeowners Insurance Premium | Potential Vacant Property Insurance Premium |
| --- | --- | --- |
| Florida | $3,575 | $5,363 |
| Texas | $1,945 | $2,918 |
| Nebraska | $1,583 | $2,375 |
| Mississippi | $2,290 | $3,435 |
| California | $986 | $1,479 |
The average premiums for homeowners insurance were taken from various sources. These averages were then increased by 50% to determine the potential vacant property premium. Policies quoted reflect a $200,000 dwelling replacement costs with $1,000 deductible and $100,000 in liability coverage.
Unoccupied or vacant property insurance is significantly more expensive than a homeowners policy because it's considered riskier than an occupied property. Because no one is actively maintaining or watching the property, it becomes a target for thieves and vandals. Moreover, unoccupied homes may incur damage during a storm, which can get worse because if it's not noticed right away.
However, insurance providers assume the property isn't going to be vacant forever, so they generally let you prorate the policy for the time it will be vacant. For example, if the property will be vacant for about 90 days, you can usually pay for a 90-day vacant home insurance policy. Your coverage reverts to your homeowners policy for the remainder of the year.
Factors That Affect Vacant Home Insurance Costs
Although vacant property insurance can be expensive, certain things impact the costs. Two examples are the planned length of vacancy and the reason the property is vacant both. Generally, a home that is in between tenants or a vacation rental property is less expensive to insure than a home that is vacant because it needs repairs.
Factors that affect vacant property insurance costs include:
Length of vacancy: Generally, the shorter the vacancy, the lower the risk, which results in a lower insurance premium
Reason for vacancy: If the reason for the vacancy is that the property is being renovated or the owner suffered a medical emergency, the premium is often lower than if the property has no future occupancy plans
Security system: Installing burglar alarms and other security measures generally earn a small discount on the insurance premium
Property condition: The better the property condition, the lower the vacant home insurance policy cost
Multipolicy discount: Getting more than one policy from an insurer often results in a lower cost for your unoccupied home insurance policy
Neighborhood: Insurers typically charge more when a vacant home is on a street with multiple boarded-up houses or in proximity to high-crime areas
Replacement cost: Larger homes with more upgrades cost more to replace in a loss, and this increases the amount of coverage required and the overall cost of insurance
Property oversight: A vacant property that is regularly monitored by a real estate agent or an on-site contractor has less risk than a second home in the middle of nowhere in a mountain town
Protecting Your Vacant Home
Vacant home insurance is just one step to protecting your property. It's also essential to protect your vacant home as much as you can from potential damage. For example, you should keep up the maintenance on the house so that it doesn't look unoccupied to potential burglars or vandals.
Other tips for protecting your unoccupied or vacant home include:
Installing an activated home security system
Performing regular property inspections
Maintaining the home with regular upkeep like clean gutters and snow removal
Stopping mail so that it doesn't pile up or leave signs that the property is empty
Asking a trusted neighbor to keep an eye out for suspicious activity
"Reach out to your insurance provider before your home becomes vacant or unoccupied. Some insurance providers require a separate policy or refuse to insure a vacant home at all while others require an endorsement to your current policy. In any case, communicating with your agent is key. Hiding information from your insurance company is never a good idea and many people have found this out the hard way when they needed to make a claim."
—Joel Ohman, Certified Financial Planner & Founder, Insurance Providers
Tips on Buying Vacant Home Insurance
Vacant home insurance is expensive but is usually only necessary for a limited time. If you are dealing with insuring a vacant home, here are some tips to help keep premiums down and lessen the chances of loss.
Keep Things Maintained
Vacant home insurance carriers will ask whether anyone is maintaining the property and how often they visit. This doesn't mean you have to hire a property manager. Instead, you can ask a neighbor to water the plants, set up security systems, and have a gardener mow the lawn and keep weeds at bay. This reduces the appearance of a vacant home, thus lowering risk and potentially your premium.
Notify Insurance Carrier of Changes
As soon as the home is occupied, notify the insurance provider to make the correct adjustments to your policy. Premiums will be adjusted, and any unearned premium will be refunded to you if the more expensive policy was paid for a period, you didn't need vacancy coverage.
Shop for Endorsement Coverage
Don't assume that the least expensive home insurance carrier is the least expensive way to go for your vacant home insurance. While it may be convenient to make a phone call to add on a vacant home endorsement, consider shopping around for the best rates since the premium is much more expensive, property owners expecting longer vacancies should shop rates among insurance brokers.
Frequently Asked Questions (FAQs)
Many homeowners and real estate investors will find themselves sitting on a vacant property at some point in property ownership. While we have tried to address all aspects of vacant property insurance coverage, questions may still arise. Below are some of the most common questions.
Can you have rental property insurance on vacant property?
Rental property insurance policies usually stipulate that if a property is vacant for more than 30 days, there is no coverage. To insure rental properties during periods of unoccupancy properly, request an endorsement from your insurance carrier.
How long can vacant homes be insured?
Vacant homes can be insured through normal homeowners insurance policies for 30 to 60 days without additional notification or policy adjustments being made with the insurance company. When properties remain vacant or unoccupied beyond this period, owners should contact their insurance carrier to discuss the best option for protection.
How much does vacant home insurance cost?
Vacant home insurance costs anywhere from 50% to 150% percent more than traditional homeowners insurance premiums for the same property. The increase in premium is directly related to the increase in risk homes left unattended face, including the high probability for vandalism, vagrancy, theft, and weather damage.
Do you have to have insurance on vacant land?
Vacant land is any land that doesn't have a structure on it, but there is liability if someone on the land gets hurt—even if the person is trespassing. A liability-only policy can be purchased, or a homeowner may check with their insurance company to see if existing home or umbrella policies cover this.
Bottom Line
A property that is unoccupied for more than 30 consecutive days generally won't be covered by your homeowners insurance policy. Instead, you need to purchase an unoccupied home insurance policy to protect the vacant property. This policy includes things like peril, liability, fire, and vandalism coverage and is generally 50% more expensive than a homeowners policy.