You need vacant home insurance because your unoccupied property may be at risk of vandalism and weather damage. Generally, insurance providers consider a home to be vacant if it's unoccupied for 30 to 60 consecutive days. The policy should contain liability, peril and vandalism coverage. The typical unoccupied home insurance cost is $1,842 or higher.
Top Vacant Home Insurance Providers
| Insurance Provider | Best For |
| --- | --- |
| State Farm | Insuring vacant condos, although it does offer coverage for other types of properties |
| Liberty Mutual | Saving money because it offers multiple types of policy discounts like early payment discounts |
| Geico | An investor who wants an umbrella policy that can cover vacant homes, land and rental properties |
| Farmers | Investors who own multiple vacant homes, want a specific policy for each vacant home and don't just want to add an endorsement to their homeowners policy |
Generally, unoccupied house insurance providers offer similar types of policies for your unoccupied house. They're mostly nationwide and a good place to start looking for unoccupied home insurance is with your current insurance provider. You should compare vacant home insurance cost, policy coverage and areas covered when looking for a provider.
Four top unoccupied home insurance providers are:

State Farm is a leading vacant home insurance provider and a well-known nationwide insurance company. Its typical homeowners and rental property insurance policies don't offer vacant property insurance coverage. Instead, you need to contact your State Farm agent to add a vacant property endorsement to your current policy. If you don't already have coverage with State Farm, you can purchase a policy and then add the vacant property endorsement.
State Farm is right for investors who have a vacant or unoccupied condominium because State Farm is one of the few insurance providers that offer separate policies for condominiums. Once you're on its site, it offers some helpful tips on securing your vacant home and keeping it safe.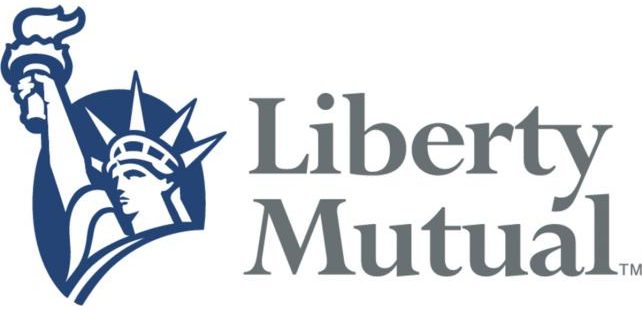 Liberty Mutual is another well known vacant home insurance provider that also offers nationwide coverage. It's similar to State Farm in that it also requires an endorsement for any property that's going to be unoccupied for 30 or more days. You need to notify the insurer when a property becomes vacant. It will add a vacant property endorsement to your existing policy, and then remove it once the property is occupied again. It offers a unique discount for properties built or renovated within the last 13 years.
Liberty Mutual is right for an investor or homeowner who wants to take advantage of its many discounts. It's also right for investors with multifamily homes because it offers specific policies for properties with two to four units.

Geico is another nationwide, reputable vacant home insurance provider that generally has the same policies as the other providers. Its typical rental property and homeowners policies don't cover vacant or unoccupied homes. Instead, you need to contact your local Geico agent if your property is going to be unoccupied for 30 or more days. New customers can go to its site and find an agent by typing in the property's ZIP code. It also offers umbrella policies and flood insurance.
Geico is right for investors who want to purchase an umbrella insurance policy to protect against liability and lawsuits on multiple properties including vacant properties, rental properties and land. It's also right for you if you already have a homeowners or auto policy with them.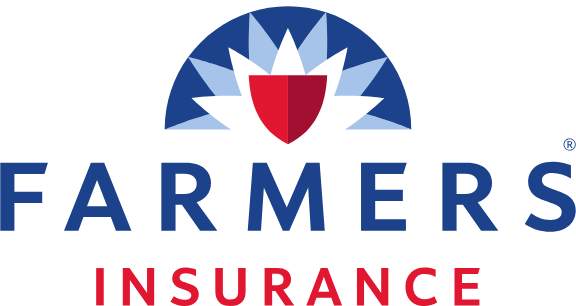 Farmers is another leading nationwide vacant property insurance provider. Its site goes into the most detail on the types of vacant home insurance coverage it offers. Unlike the other providers, it doesn't offer vacant property insurance endorsements. Instead, it has separate policies that are pro-rated based on the amount of time the property will be vacant. Its policies include named peril coverage, vandalism coverage, total and partial loss coverage as well as liability coverage.
Farmers is right for you if you want a specific policy for your vacant home and don't just want to add an endorsement to your current homeowners policy. It has something called the Farmers Vacant Home Program that is tailored to vacant and unoccupied homes.
Unoccupied Home Insurance Costs
Vacant home insurance policies are typically 50 percent more expensive than typical homeowners insurance policies. The average homeowners policy costs $1,228 per year, so vacant property insurance typically costs $1,842 per year.
Unoccupied property insurance is significantly more expensive than a homeowners policy because it's considered riskier than an occupied property because no one is living in or watching the property, leaving it open for thieves and vandals. The unoccupied home may incur damage during a storm, which can get worse because it may not be noticed right away.
However, insurance providers know that the property isn't going to be vacant forever, so they generally let you prorate the policy for the amount of time it will be vacant. For example, if the property will be vacant for about 90 days, you would pay for a 90-day vacant home insurance policy and then the remainder of the year reverts back to your homeowners policy, This is common and easy to do by contacting your insurance provider.
Factors That Affect Vacant Home Insurance Costs
Although vacant property insurance can be costly, there are certain things that affect the costs. The planned length of vacancy and the reason the property is vacant both affect the cost. Generally, a home that is in between tenants or a vacation rental property is less expensive than a home that is vacant because it needs repairs.
Factors that affect vacant property insurance costs include:
Length of vacancy: Generally, the shorter the vacancy, the lower the risk, which results in a lower insurance premium
Reason for vacancy: If the reason is that the property is in the process of renovation or the owner suffered a medical emergency, the premium cost typically is lower than if the property has no future occupancy plans
Security system: This generally gives a small discount on the insurance premium
Property condition: Generally, the better the property condition, the lower the vacant home insurance policy cost
Multipolicy discount: Usually results in a lower cost for your unoccupied home insurance policy
Neighborhood: Multiple boarded-up houses on the street and proximity to high-crime areas
Fair market value: Generally, properties with a higher FMV are more to insure because the replacement cost is higher
Unoccupied vs. Vacant Property
An insurance provider generally considers a home vacant if it has been unoccupied for 30 or more consecutive days and the utilities are off, there aren't any appliances in the home and there aren't any personal belongings in the home. However, a property is considered unoccupied if it hasn't been occupied for 30 or more consecutive days but has appliances and personal belongings in the home.
Unoccupied and vacant are commonly interchanged, but insurance providers generally think of them as two different terms. When determining the vacant or unoccupied property insurance costs, most insurance providers determine whether your property is vacant or unoccupied.
A property is generally considered vacant if:
No personal property in the home like clothes, toiletries and furnishings
Utilities are turned off
Property is in need of repairs
Appliances are missing or haven't been installed
A property is considered unoccupied if:
Property is move-in ready
Furniture and personal property is in the home
Utilities are on
Appliances are in the property
Keep in mind that insurance providers look at each property on a case-by-case basis and what one provider deems vacant another may see as unoccupied. Generally, an unoccupied home that has an expected date of occupancy poses less risk than a vacant home and may be cheaper to insure. Insurance providers typically provide both vacant home insurance and unoccupied home insurance policies — not just one or the other.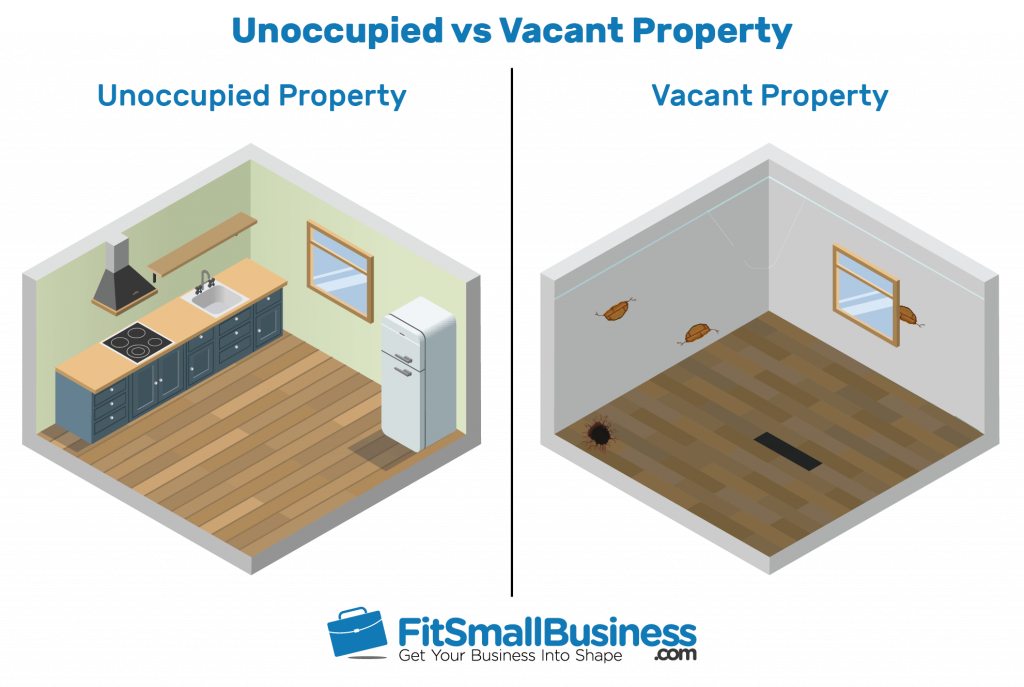 How to Apply for Vacant Home Insurance
Generally, you apply for a vacant home insurance policy the same way you apply for a homeowners insurance policy but, instead of applying online, you need to apply over the phone or at a local insurance agent's office. There are three types of agents: captive agents independent agents and brokers, and you can apply with any of them.
The three steps for applying for vacant home insurance are:
1. Get Several Vacant Home Insurance Quotes
We recommend that you price shop with two to three vacant property insurance providers and then make a decision based on their cost, company reputation, coverage offered and areas where they offer coverage. You should go to the provider's website and get general information on its vacant property insurance policies and what it covers, and then contact an insurance agent in your area.
2. Choose a Vacant Home Insurance Provider
Choose your unoccupied home insurance provider based on the coverage it offers, the vacant home insurance cost and if it provides coverage in your desired area. Generally, providers are pretty similar and just structure some of their policies differently. We recommend that you call your current insurance provider first and see if it offers vacant home insurance coverage.
3. Apply for Vacant Home Insurance
Once you've decided on a vacant home insurance provider, speak to an agent on the phone or in person. He or she will ask questions about your vacant property and will usually email you a quote to review and some documents to sign.
This process generally takes about 30 minutes over the phone. Once you receive the policy documents, sign them and email or fax them back to the company along with your premium payment and then your policy will go into effect immediately.
You typically need the following documents when applying for vacant home insurance:
Proof of ownership: Deed or settlement sheet
Identification: Driver's license or passport
Insurance policy: Past policies if you insured this property with another provider previously
Property value: This can be from an appraisal or an estimate from Zillow
Vacancy timeline: The insurance provider wants to know how long the property has been vacant or unoccupied and when it will be occupied again; proof may be asked for in the form of a lease
Vacant Home Insurance vs. Homeowners Insurance
Vacant home insurance and homeowners insurance both offer insurance protection for real estate but they're quite different. Homeowners insurance generally has a policy that protects the property, some of its contents and any liability that happens on the property. A typical homeowners policy doesn't allow business use at your primary residence.
However, a vacant home insurance policy focuses more on the potential risks that may happen to the property like theft, vandalism, water, fire and wind damage. Unoccupied property insurance is generally 50 percent to 150 percent or more expensive than a typical homeowners policy because of those risks. The range varies so much because different providers have different definitions of vacant homes.
The vacant property insurance provider generally considers a property to be vacant if it has been unoccupied for 30 or more consecutive days. Some companies allow a property to be unoccupied for up to 60 days before they consider it vacant and not covered by a standard homeowners insurance policy.
Vacant Home Insurance Coverage
Vacant property insurance coverage generally includes:
Vandalism coverage: Graffiti and intentional damage done to the vacant home
Named peril coverage: Covers losses from mentioned perils like hail and hurricane damage
Total loss coverage: Coverage for the total cost of replacing the property
Partial loss coverage: Coverage to partially replace the damaged areas of the home
Liability coverage: Bodily injury and property damage sustained by others while they're on the property
Vacant property insurance policies have more specific coverage than homeowners insurance policies offer. Some companies let homeowners add vacant property insurance policy endorsements onto their current policy and other providers require a new policy.
"Homeowners insurance typically includes liability insurance and other factors associated with dwelling insurance. Vandalism, theft and water damage are the biggest factors you should be looking for in your vacant home insurance policy." — Vince Lefton, CEO, Bulldog Adjusters
Tips for Protecting Your Vacant Home
It's important to protect your vacant home as much as you can so you can potentially protect it from being damaged. You should keep up the maintenance on the house so it doesn't look unoccupied to potential burglars or vandals.
Tips for protecting your unoccupied or vacant home include:
Up-to-date vacant home insurance policy
Activated home security system
Regular property inspections
Maintenance and upkeep like clean gutters and snow removal
Don't let mail pile up or leave any signs that the property is empty
Have a trusted neighbor keep an eye out for suspicious activity
"Reach out to your insurance provider before your home becomes vacant or unoccupied. Some insurance providers require a separate policy or refuse to insure a vacant home at all while others simply require an endorsement to your current policy. In any case, communicating with your agent is key. Hiding information from your insurance company is never a good idea and many people have found this out the hard way when they needed to make a claim." — Joel Ohman, Certified Financial Planner & Founder, Insurance Providers
Who Needs Unoccupied & Vacant Home Insurance
Generally, you need unoccupied home insurance and vacant home insurance whenever your property is going to be unoccupied for 30 or more consecutive days. Fix-and-flip investors and rental investors may both need unoccupied home insurance policies.
Fix-and-Flip Investors
Fix-and-flip investors generally need a vacant home insurance policy when they purchase the home, throughout the renovation process and all the way until they flip the property. The property will be vacant during the rehab process, so a typical homeowners insurance policy won't cover the fix and flip property.
Fix-and-flip investors can give the vacant home insurance provider a timeline of repairs and can either prepay for a yearly policy, pay monthly or get a prorated policy for the amount of time the property will be vacant. Different providers offer different types of payment options.
Rental Property Investors
Long-term buy and hold investors don't usually think they need vacant home insurance. However, they should get it whenever the property is going to be vacant for 30 or more days. For example, a tenant may move out and you may not have another tenant move in for 60 days, so you should get the unoccupied home insurance policy during this gap in tenancy. You should also get unoccupied home insurance when you're doing property renovations and no one is living there.
Investors can generally get an unoccupied home insurance policy or rider just for the period that the property will be unoccupied. Many providers allow monthly payments and pro-rated policies. Once the property is occupied, you can easily contact your provider and switch back to your landlord insurance policy.
Frequently Asked Questions (FAQs)
Can You Have Rental Property Insurance on Vacant Property?
If the property is considered to be vacant or unoccupied and remains in that condition for 30 or more consecutive days, then your rental property insurance policy won't be valid. Instead, you either need to add a vacant property insurance endorsement to the policy or get a new vacant home insurance policy.
For more information on rental property insurance, check out our in-depth guide to rental property insurance which includes costs, coverage and providers.
Do You Have to Have Insurance on Vacant Land?
Generally, insurance is only required when you finance a property with a mortgage lender. However, insurance on any type of property is always recommended. If there aren't any structures on the property, then a vacant land insurance policy is recommended. However, if there are any structures on your property, then you need vacant property insurance.
The Bottom Line
A property that is unoccupied for more than 30 consecutive days generally won't be covered by your typical homeowners insurance policy. Instead, you need to purchase an unoccupied home insurance policy to protect the vacant property. This policy includes things like peril, liability, fire and vandalism coverage and is generally 50 percent more expensive than a homeowners policy.