8 Best Business Security Systems for 2023
Modern business security systems include everything from locks to motion detectors and flood monitors. Some offer specific tools like tags to prevent shoplifting. Most systems include a smart app for monitoring and controlling the system, while some integrate with Alexa or Google Home to set temperature, turn on lights, or activate the alarm.
We looked for the best business security systems with high-quality tools at reasonable prices and 24/7 professional monitoring. Some on our list are adapted from home security systems, while others offer more specialized services.
Based on our evaluations, the best small business security systems are:
Business Security Systems Compared
Our Rating

Monthly Fee From

Smart Platform Integrations

4.07/5

$9.99–$27.99*

Amazon Alexa, Google Assistant, Apple Watch, August Locks, and Nest Thermostat

4.02/5

$18–$28.83

Amazon, Alexa, Google Assistant

3.99/5

$20.95–$70

None

3.88/5

$49.20**

Amazon Alexa, Google Assistant

3.68/5

$19.99–$44.99

Amazon Alexa, Google Assistant

3.61/5

From $46.95 + $99+ upfront

Amazon Alexa, Google Assistant, Apple Watch

3.45/5

$39.99+

Nest Secure, Smart Security Systems, Google Assistant, Amazon Alexa

3.34/5

$45.99–$59.99+

Amazon Alexa, Google Assistant
*$9.99 includes self-monitoring with unlimited recordings and alerts. Professional monitoring starts at $27.99 per month.
**Price depends on a 36-month contract.
Hardware pricing

Installation

Contract

Design your own system

DIY or call for quote

None

Design your own system

DIY or call for quote

None

$399+

DIY or call for quote

None

$304.98+

DIY

3 years*

$599+

$99

3.5–5 years

Included

Included

3–5 years

$199+

DIY or call for quote

3 years

$299+

$99+

3–5 years
*When purchasing online, Frontpoint assumes a 36-month contract at checkout. Call to see if you can get a lesser contract or monthly service.
Not sure which system is right for you? Take this three-question quiz for our recommendation (without being redirected to another page):
SimpliSafe: Best Overall Small Business Security System

What We Like
Inexpensive equipment
Month-to-month contracts
Easy DIY installation and help guides
Lots of smart technology integrations
What's Missing
Smart locks only; no keycards or biometric locks
Reimbursement policy unclear
Customer support is hit and miss
SimpliSafe Pricing & Key Features
Monitoring: $9.99–$27.99 per month
Setup: $99 (optional)
Business hardware kits: $274.95–$508.85, additional cameras and locks available
Cameras: $99–$189.99
Installation: $99 (optional)
Warranty: 3 years
Contract length: None, 60-day free trial
Smart platform integrations: Amazon Alexa, Google Assistant, Apple Watch, August Locks, and Nest Thermostat
SimpliSafe is a popular security solution with inexpensive pricing and easy-to-use equipment you can install yourself. This system is the best choice for budget-minded businesses needing basic security in the form of locks, cameras, and environmental monitors like flood and fire.
It scored 4.07 out of 5 in our evaluation. SimpliSafe is an inexpensive system that is easy to use, has several monitoring options, and gets great reviews from real-world users, making it a good fit for many small businesses.
While it provides great value for the money, it is a home system that can be adapted for businesses. As such, it lacks some of the more advanced features you can find with bigger companies like Vivint, ADT, or Tattletale.
Lack of equipment-specific monitoring, truly wireless cameras (though some are Wi-Fi-enabled, they still need to be plugged into a power source), and limited video recording options are where SimpliSafe lost points. Vivint, on the other hand, does have all of these features (just at a higher price). SimpliSafe also offers no clear policy on reimbursement if its system fails and you have a theft or damage. Some, like ADT and Cove, offer some reimbursement.
Since our last update:
Some camera and plan prices have increased. SimpliSafe has also removed its midlevel Standard Monitoring Plan.
Video verification is now included in all plans, rather than as an add-on.
SimpliSafe Pricing
Monitoring: SimpliSafe offers two monitoring plans. The plans are monthly and do not require a contract.
Self-Monitoring plan with camera recording ($9.99/month): It does not tie to emergency services, but includes a timeline event log, remote arm/disarm, unlimited camera recording for five cameras, and smart home integration
Interactive Monitoring Plan ($27.99/month): All the features of the Self-Monitoring plan, with unlimited camera recording for 10 cameras
Hardware: SimpliSafe has starter kits that include the base system and keypad, plus a combination of entry sensors, smoke detectors, motion sensors, smart locks, cameras, key fobs, and more (detailed below). You can also build your own set. Individual pieces of equipment run from $14.99 to $189.99.
Hardware Kits
| Business Essentials | Office System | Storefront System | Restaurant System |
| --- | --- | --- | --- |
| | | | |
| Best for: Standard brick-and-mortar security | Best for: Businesses looking to protect employees and sensitive equipment | Best for: Establishments with multiple entrances and a lot of foot traffic | Best for: Restaurants and coffee shops with multiple entrances and windows |
| Includes three entry sensors and a motion sensor for your entrances and hallways, plus a base station and a keypad. | Includes three entry sensors, two motion sensors, one panic button, a base station, and a keypad. | Includes two entry sensors, two glass-break sensors, one motion sensor, one panic button, a base station, and a keypad. | Includes three entry sensors, two motion sensors, two panic buttons, one glass break sensor, one key fob, a base station, and a keypad. |
| From $274.95 | From $408.89 | From $458.88 | From $508.85 |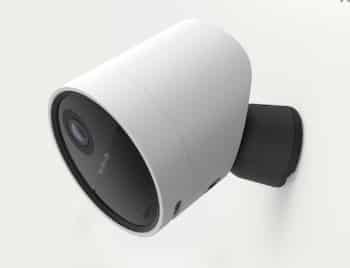 ---
SimpliSafe Features
Equipment: Unlike many of the systems on our list that use third-party equipment, SimpliSafe manufactures its own. The camera and doorbell camera include intelligent heat sensors to tell a human from an animal, and the camera motion sensors can tell the difference between humans and cars. It notifies you when it sees unusual activity, and you can view the video or set it to record using the app.
Take it anywhere: The SimpliSafe system is easy to install yourself, and you can take it with you when you move. Others, like Vivint, charge you to transfer equipment, while several require you to sign a new contract for the new location.
Video verification: With this addition to your plan, SimpliSafe can view video footage related to an event to determine if an intruder is on the premises and understand what is happening at the location. It helps reduce false alarms. We also found this feature with Vector and ADT.
Environmental monitoring: With a professional monitoring plan, you also get SimpliSafe's fire, flood, and extreme temperature monitoring tools. This also gives you a chance to qualify for insurance discounts with some insurance providers. Many others on our site have temperature and flood monitoring, while Tattletale offers equipment-specific temperature monitors.
Smart platform integrations: SimpliSafe offers both smart home and business platform integrations, namely: Alexa, Google Assistant, Apple Watch, August Locks, and Nest Thermostat.
---
Where SimpliSafe Falls Short
Glitching: Real-world user reviews often complained about the equipment glitching. False alarms and camera glitches are common complaints with most systems on our list.
Specialized security equipment: SimpliSafe lacks specialized equipment, like invisible fences, equipment-specific temperature or tampering monitors, or RFID theft devices. For these, consider Tattletale, Vivint, Brinks, or ADT.
---
Cove: Best Budget Security System

What We Like
Indoor and outdoor cameras both have two-way voice
Control panel walks you through installation
Pays damages up to $2,000 if the system fails and you are robbed or vandalized
What's Missing
No photo or biometric access
No equipment-specific sensors
Has had customer service and control panel issues 2022
Cove Pricing & Key Features
Monitoring: $18.00–$28.83 per month
Setup: DIY
Business hardware kits: Build your own.
Cameras: $99–$199
Installation: Optional
Warranty: 1 year to lifetime, depending on plan
Contract Length: None; 60-day free trial
Smart platform integrations: Amazon Alexa, Google Assistant
Since our last review, Cove has risen to the second spot on our list. It's primarily a home security system, but it does offer plans for small businesses at inexpensive prices. All its plans include professional monitoring, but it lets you set up your own system or bring in an expert to do it for you. We recommend it for offices and small retail stores because it offers a good variety of cameras and sensors, but is limited in its access tools and does not have specialized security tools like Tattletale or ADT.
This system earned 4.02 out of 5. Cove's best score was for pricing, with monitoring plans starting as low as $18 and inexpensive equipment as well. It has a strong showing for general features, only taking a hit for not working with other devices, and it also lost points for not having equipment-specific hardware. However, it's easy to use and overall offers good value for money.
Cove Pricing
Cove does not have standard packages like many of the systems on our list but rather lets you select the items you want and the monitoring plan you need. At the time of this writing, Cove offers a free key remote as well. The questionnaire asks how many doors and windows you have, if you need cameras, etc., and then makes a package for you that you can add or subtract from.
We priced out a plan with an alarm panel, two door sensors, two window sensors, a motion detector, a glass break detector, a smoke alarm, a water/flood sensor, a fob, an indoor camera, and an outdoor camera. It came to $268 with discounts ($867 without). This is competitive with other plans on our list.
Monitoring is mandatory, and businesses can choose from two plans. For 60 cents a day ($18 per month) you get monitoring, flood and fire protection, three-factor alarm verification, smash and grab protection, automatic tests, and a one-year equipment warranty. For 93 cents a day ($27.90 per month), you can add on smart technology, seven days of cloud storage, a lifetime equipment warranty, and camera integration.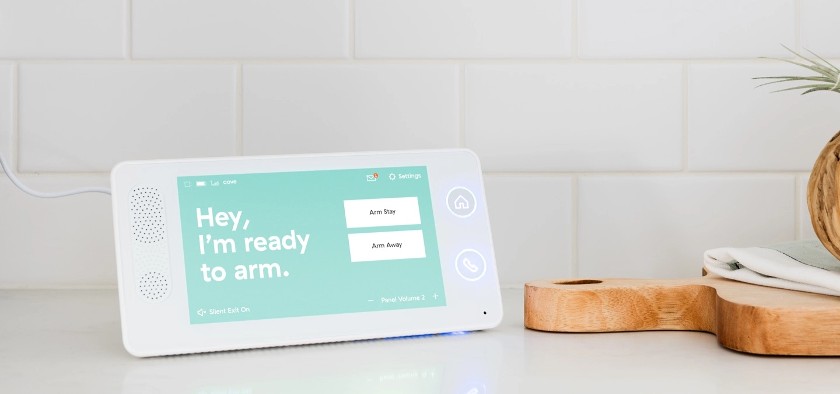 ---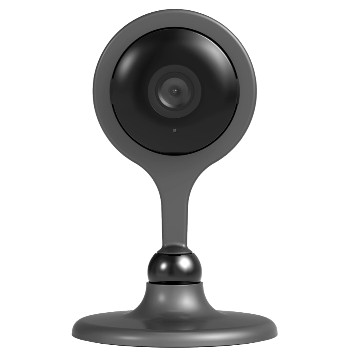 ---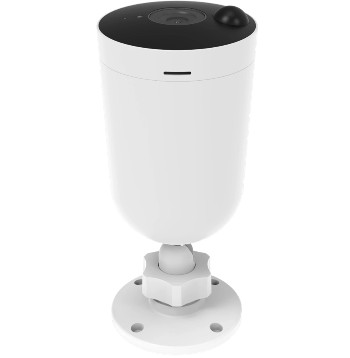 ---

---
---
Cove Features
Three-factor communication: Cove communicates with you in three ways when an alarm is tripped. LiveAssist is the two-way channel between you and Cove through the alarm panel. At the same time, they will text the number on record and you can quickly respond with Dismiss Alarm or Dispatch. Finally, they will call. If they don't get an answer, they contact emergency services.
RapidSOS: The RapidSOS system lets 911 call centers pull information like location directly from your smart devices. This ensures operators get the correct information quickly to send responders. Cove is one of the few security systems connected to this network. SimpliSafe is also connected to RapidSOS, while ADT integrates with RapidDeploy, which is similar.
Touch-screen Panel: Cove offers a tablet-like touch-screen panel that is tamperproof, self-testing, and includes a button so you can talk to the 24/7 monitoring team whenever you need to. This is good for letting them know about false alarms or an emergency when the alarms did not trip for some reason. The panel also has instructions to lead you through the installation process on your own. Overall, it's one of the best control panels we saw.
Reimbursement for damages: Like ADT, Cove's terms say it may reimburse you for property damage if a result of a system's failure, but only "if any Cove party is found liable for such losses." It sets a limit of $2,000, which is more than ADT.
---
Where Cove Falls Short
Does not work with other devices. You'll need to purchase Cove equipment. The equipment comes with a one-year warranty and has overall good reviews on Amazon.
No DIY monitoring. You will need to pay for Cove security monitoring. If you prefer a DIY option, then look at SimpliSafe.
Control panel issues. The most recent complaints have been about communication and power errors with the control panels. Some have speculated that the communication issues are coming from the switch to 5G networks. Be sure to ask about this if you are on a 5G network.
Reimbursement for damages if the system fails: You would think security systems would stand behind their systems with a guarantee of compensation if the system fails and you incur damage from a crime or accident it should have detected. However, most on our list do not have a clear policy of reimbursement if you are burgled or have damage because a system fails. Cove sets an upper limit, but implies that you would need to take legal action to establish liability. Only ADT offers a clear warranty against damage.
---
Tattletale: Best for Outdoor Security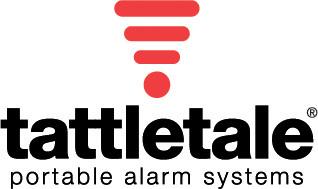 What We Like
Able to secure large areas/yards
Inexpensive monitoring plans
No contracts
Outdoor monitoring tools for large areas
What's Missing
No locks—biometric, keycard, or otherwise
No smart platform integration
No native surveillance camera options
Tattletale Pricing & Key Features
Monitoring: $40–$70 (Business), $20.95–$33.95 (Residential)
Equipment: $29.95–$999
Installation: Call for quote
Contract length: None
Equipment warranty: 2 years
Mobile app: Edge Application
Outdoor camera: $599 (Arlo Pro Camera)
Advanced environmental sensors
Connects up to 500 sensors
Built-in motion detector with a 30 ft. range
Up to 3,000 ft. wireless perimeter sensor range
Tattletale's commercial plan is specifically designed for the needs of large outdoor areas such as construction sites, utilities, recreation sites, garden or landscaping businesses, schools, and churches. Features include invisible fences and an ultra-durable portable security system that can track some 500 sensors. Tattletale's home system is suitable for small businesses as well, but you need to get your own locks or access equipment.
In our evaluation, Tattletale earned a 3.99 out of 5. The system is very affordable, has great installation support, and earned high user reviews. However, it has the lowest score for general and hardware features of the systems on this list. Limited device compatibility, warranties for equipment and damage, lack of smart platform integration, and inability to use the system to check locks, cost it points.
Tattletale Pricing
Tattletale lists pricing on its website, something many business security systems don't do. Business plans with outdoor monitoring cost $40 to $70 per month. Home monitoring, which can be used for shops or offices, comes with two options. For $33.95 per month, you get police, fire, and medical monitoring with mobile alerts as well as contacting the authorities; for $20.95 per month, you get text or email alerts only.
Indoor equipment is priced about average for the industry, with sensors starting at $29.95, and the touch screen costing $399. Commercial equipment is more expensive, especially for the outside units. The sensor hub starts at $999. However, these systems are outdoor-rated and extremely robust. All equipment comes with a 30-day money-back guarantee and a one-year warranty.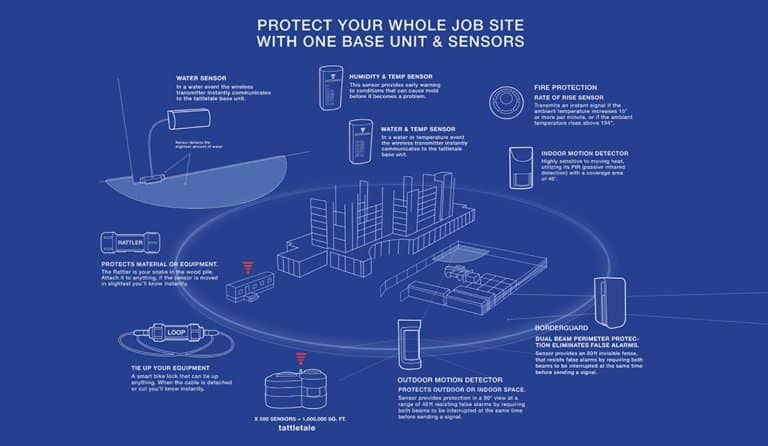 ---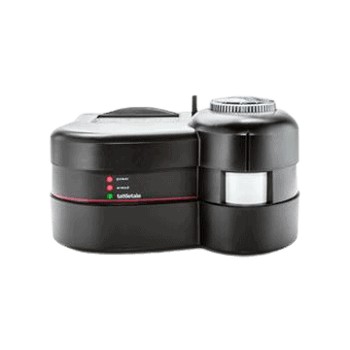 ---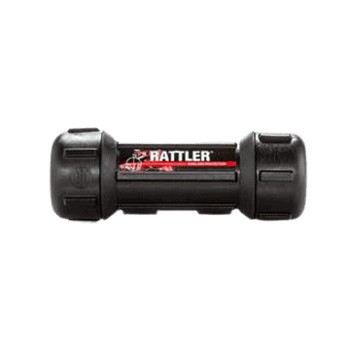 ---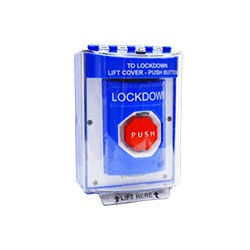 ---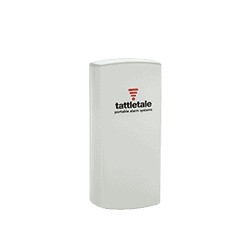 ---
---
Tattletale Features
Heat detection alarms: The commercial environmental sensors include a rate-of-rise sensor that can sound an alarm if the temperature increases more than 10 degrees per minute or rises above 194 degrees. While some services, like Vivint and ADT, also offer temperature sensors, they only send out an alarm when an area is too hot or too cold.
Large area security: For large properties with equipment, such as auto dealers or utilities, Tattletale offers motion detectors with 90-degree views and 40 feet of sensitivity, plus invisible fences. The Unbeatable Pro Security System Base can track up to 500 sensors, be set for 125 users, and is one of the most durable in the industry. It contains a strobe warning system as well as a 115-decibel alarm.
Plug-and-play technology: Even with its wide array of outdoor equipment and ability to integrate up to 500 sensors at a time, Tattletale maintains a plug-and-play setup with its indoor and outdoor hubs so you can opt for a DIY installation.
Equipment locks: Tattletale is unique in its equipment security. Its equipment locks work like bike locks to tie down your equipment. Alternatively, attach its Rattler™ alarm to the machine or hide it in a pile, like in a stack of lumber at a construction site. When someone tries to move the equipment, the alarm goes off.
RV alarm system: Tattletale has a system designed specifically for RVs, something we did not find with other systems. This could be a good choice if you have a food truck or mobile office.
---
What Tattletale Is Missing
Door locks and smart platform integrations: We did not find door locks in Tattletale's catalog. It also does not offer smart home technology integration. Try SimpliSafe for the most options for smart platform integration.
No reimbursement policy: Tattletale says it does not have a compensation policy for loss due to the system failing, but the only failures it has seen in 23 years were from user error such as ignoring a warning or letting a battery die.
No native surveillance camera equipment: Tattletale does not sell cameras in its system. Rather, it integrates with Arlo for its indoor and outdoor camera equipment. You'll need to purchase it separately.
---
Frontpoint: Best DIY Business Security System

What We Like
DIY
High customer satisfaction rating
Camera has two-way voice communication
Includes identity theft protection
What's Missing
No option for a professional install
More expensive than other DIY options
Customer support not 24/7
Frontpoint Pricing & Key Features
Monitoring: Call for quote (business), $49.20 (residential)
Equipment: $304.98–$790.91 for kits, $23.99+ for individual pieces
Smart platform integrations: Google Assistant and Amazon Alexa
Installation: DIY
Warranty: 3 years
Contract length: 3 years; may be able to negotiate lower length
30-day money-back trial
24/7 to customized monitoring for businesses
Frontpoint is a DIY security system with professional monitoring. You can purchase the equipment and install it yourself and then get a monitoring plan. The plan listed with the purchase is for 36 months at around $50 per month and includes identity theft protection from Allstate Identity Protection.
The system earned 3.88 out of 5 in our evaluation. It got high scores for value and did well for installation support (important for DIY installation options) and general features. However, it lacks some of the more specific tools that others provide, like biometric locks and equipment-specific sensors. For most businesses just needing simple location security, it's a good system and has the highest customer satisfaction score after Cove and Tattletale.
Frontpoint Pricing
Like Vivint, you need to call for a quote for your business, but it lists prices for its home plans, which depend on the equipment you buy. The home packages start at $402 for the most basic. The equipment costs are about on par with the others on our list, but like so many of its competitors, it offers deep discounts for new customers.
Monitoring costs $49.20 per month. In the past, we found evidence that you could have a monthly plan, but they have changed their plans since our last review. Now, there is only one plan, and the checkout assumes a 36-month commitment. You may be better off calling for a customized quote and discussing the commitment. As with so many security systems, the contracts are notoriously hard to get out of.
Frontpoint Hardware
| Starter Pack | Home Shield | Family Lookout |
| --- | --- | --- |
| | | |
| Includes hub and keypad, a door/window sensor, a motion sensor, signs and decals, and the phone app. | Includes hub and keypad, 3 door/window sensors, a motion sensor, an indoor camera, a heat and smoke alarm, a flood sensor, signs and decals, and the phone app. | Includes hub and keypad, 3 door/window sensors, a motion sensor, an indoor camera, an outdoor camera, a keychain remote, a doorbell camera, signs and decals, and the phone app. |
| From $402.96 | From $678.91 | From $790.91 |
---
Frontpoint Features
Since our last update, we've removed the crash and smash protection from our list of features. Frontpoint treats this like any other alarm, just as other security services do.
Two-way voice cameras: Like several security system providers on our list, Frontpoint's cameras have two-way voice communications. Not only can you speak to a visitor you see in the camera, but if it's an intruder, you can warn them away before they break in.
Custom business security package: Frontpoint offers businesses a custom security package for hardware, automation, and professional monitoring. Its experts will assist you with the best solution for your unique business layout and needs. This is pretty typical for business security systems.
Smart automation: This feature allows you to customize your security and alarm settings such as lighting and temperature, as well as alert notifications. You can also integrate Frontpoint with smart platforms such as Google Assistant and Alexa.
Perimeter Guard™: Paired with video analytics, Frontpoint's camera can be customized to let out flashing lights and loud beeps when intruders are detected within its field of vision.
---
What Frontpoint Is Missing
Professional installation: Frontpoint does not have professional installers, even though most DIY security systems, such as SimpliSafe, offer this option.
No biometrics: Access control is limited to the keypad only; it does not offer keycards or biometric access. If you need this, take a look at Vector.
---
Vivint: Best for Business Security System for Businesses With Company Cars

What We Like
Smart device technology
May be able to incorporate existing equipment
Cameras have sound and noise deterrent features
What's Missing
Contracts up to five years; difficult to get out of
No keycard or biometric access controls
No equipment-specific monitoring
Vivint Pricing & Key Features
Monitoring: $19.99–$44.99 (home); custom quote for businesses
Hardware: $599+
Installation: $99
Contract length: 3.5–5 years
Warranty: 120 days–lifetime
Smart platform integration: Amazon Alexa, Google Assistant
Vivint has plans for both home and business, provides custom installation that may be able to incorporate any existing equipment you have, and has 24/7 professional monitoring. Vivint offers smart locks, environmental sensors for temperature or flooding, smart thermostats, and a smart control panel to run it all. Plus, its cameras are wireless. However, we liked its Car Guard system, which lets you monitor your vehicles. If you have company cars, like for delivery or transport, this can keep them safe.
In our evaluation, Vivint earned a 3.68 out of 5. It earned high scores for everything but price and general features. Vivint's contracts are 42 to 60 months, which brought its score down significantly. Its equipment is standard, but it took a hit for not having biometric locks. Vivint's user rating has also gone down, due to recent complaints about equipment failures and poor customer service, but it still had 4.03 out of 5 averaged over multiple user review sites.
Vivint Pricing
Since our last update, Vivint's installation fees have increased.
Vivint provides custom quotes for businesses, but for comparison, its home security prices are among the lowest on our list. We found home security monitoring prices that ran from $19.99 to $44.99 monthly, with equipment packages starting at around $599. However, they ask that you call for a quote, so prices may vary. Vivint installation fees begin at $99. Warranties are only 120 days unless you pay for premium service.
Vivint's contracts run three and a half to five years, which is slightly higher than most business security systems. Only SimpliSafe, Cove, and Tattletale do not have contracts. Frontpoint has contract requirements as low as one year. Vivint's contracts are notoriously hard to get out of, so choose carefully.
Vivint Hardware Packages
| Starter Package | Premium Package | Premium Plus Package |
| --- | --- | --- |
| | | |
| Includes a door sensor, a motion sensor, a water sensor, a smart hub, and an app. | Includes an outdoor camera, a doorbell camera, a door sensor, a motion sensor, a water sensor, and an app. | Includes an outdoor camera, a doorbell camera, an indoor camera, a door sensor, a motion sensor, a smart thermostat, a water sensor, smart lock, a smart lock, a smart hub, a car guard, and an app. |
---
Vivint Features
Car Guard: Vivint's Car Guard works on your phone and syncs with your Vivint system. It alerts you if someone disturbs your car, whether bumped, towed, or stolen. GPS tracking lets you know where your vehicle is at all times. It can even diagnose issues like battery life and recalls, and track fuel efficiency. This was the only system on our list with this feature, although Tattletale has some vehicle protection tools too.
Alarm system equipment: Vivint offers smart locks; door, window and motion sensors; environmental sensors for temperature or flooding; smart thermostats; and a smart control panel to run everything. The temperature sensors include overheating or freezing alarms for sensitive equipment.
Surveillance equipment: Monitor your inventory with motion-detecting indoor cameras with a built-in speaker and microphone, plus an outdoor camera that offers a 140-degree field of view, night vision, and zoom, which can recognize the difference between an animal and an intruder.
Automobile security: Vivint also has tools for automobile security—a nice addition for service vehicles and something not found in other systems we reviewed (although Tattletale has RV security systems).
Recordings: You can save your camera footage on the camera for 30 days. That's for 24/7 recording, and you can access it from your phone. Most of the systems on our list offer some recording and storage, but not to this level.
Smart technology: Like many systems on our list, Vivint integrates with smart devices. Its systems are designed to work with Z-wave smart locks, thermostats, and more.
Smart platform integrations: All of Vivint's smart tech security hardware works together with Amazon Alexa and Google Assistant so you can remotely control and manage your business security measures. However, you may need to get a premium plan to enable the automations.
---
What Vivint Is Missing
Self-monitoring option: Some small businesses on a budget prefer a self-monitoring option to minimize costs by eliminating monthly fees. If this is something you would like to have, try SimpliSafe or Cove.
Biometric locks: Vivint does not have biometric or keycard access controls or equipment-specific sensors. For this, look to ADT or Vector.
No reimbursement policy: Some services like ADT offer some reimbursement if you have a break-in and the alarm system fails. Vivint, however, specifically says it is not responsible for break-ins or property damage.
---
Vector: Best Business Security System for Multiple Locations

What We Like
24/7 monitoring
Solutions for multiple businesses
Specialized solutions for different industries
Some motion detectors have image confirmation
What's Missing
Service area in Eastern US only
Automatic contract renewal
36-month contract required
Vector Pricing & Key Features
Monitoring: $46.95+ to $64.95+ (prices may vary by ZIP code)
Initial upfront cost per plan: $99+
Equipment: Included in plan
Installation: Included
Smart platform integrations: Alexa, Google Assistant, Apple Watch
Contract: 3–5 years
Warranty: 1 year
Extended warranty plans: Included in hardware package plans or as an add-on (request for quote)
Consultation-based business security customization
Business security features include energy management and environmental hazard monitoring
Vector Security offers plans and equipment specific to the needs of different industries. It is one of the few providers that has commercial-grade equipment and dedicated consultants who help with customization for your unique business as it changes or expands, making it ideal for larger or multilocation businesses that need a serious security solution while working within a budget. Vector works with the automotive, financial, food, warehousing, grocery, healthcare, restaurant, and retail industries.
It earned a 3.61 out of 5 in our evaluation, taking hits for pricing, contract length, and auto-renewal policy. The warranty is shorter than many, which hurt its score, as did the lack of some advanced tools like equipment-specific monitoring.
Vector Pricing
Since our last update, Vector has changed the prices of its plans.
As with the other business security systems on our list, Vector does not advertise prices for business services. Home plans require a three-year contract that includes equipment and monitoring. The lowest plan costs $46.95 and includes a control panel, three door/window sensors, a motion detector, and signage; you'll pay $99 up front. The mid-range plan costs $54.95 per month with an upfront fee of $199 while Vector's highest plan has a one-time fee of $199, and then runs $64.95 per month. Vector gives you a discount if you want to install it yourself and have a technician walk you through it and check your work.
Contracts: Vector's contracts include an auto-renewal policy. When your contract is up, it can be renewed automatically for another year. Many users were surprised by this. Read the contract carefully.
Much of Vector's commercial-grade equipment is not listed on the website catalog. You will need to contact the provider for pricing. All equipment comes with a one-year warranty.
Vector Hardware Packages
| Essential Security System | Home Automation | Connected Home |
| --- | --- | --- |
| | | |
| Includes a control panel with Bluetooth speaker, three door/window sensors, a motion detector, a yard sign, and stickers, plus professional installation and monitoring | Includes a control panel with Bluetooth speaker, three door/window sensors, a motion detector, a video doorbell, a yard sign, and stickers, plus professional installation and monitoring | Includes a control panel with Bluetooth speaker, three door/window sensors, a motion detector, a video doorbell, a smart thermostat, a yard sign, and stickers, plus professional installation and monitoring |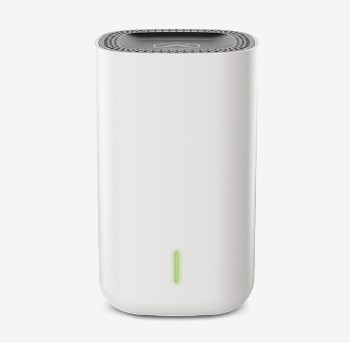 ---
Vector Features
Multisite security: Vector provides physical security and network solutions to over 90,000 multi-site commercial businesses in North America. Network Security manages everything from installation to network operations with scalable connectivity solutions.
Specializations in warehouse, supply chain, delivery: Vector was the only service on our list that specifically lists its services for warehouse and storage facility security, including people screening, plus expertise in supply chain security issues.
Additional access tools: Vector has one of the widest ranges of access security tools we saw. It even has proximity readers, which is a card or fob that automatically gives someone access. Also, it offers turnstile readers and intercom systems.
Push notifications: All the systems on our list can text or call you in case of alarms. Vector also lets you choose to receive email, text, or push notifications for other events such as an employee entering the store, particular cabinets or safes being opened, the system being disarmed, or someone trying to log in to your account. The Cancel-Verify feature lets you cancel false alarms online or through your app from anywhere.
---
Where Vector Security Falls Short
Not available everywhere: Vector is only available along the East Coast and a few interior states so you should check with your local vendor for availability options. For wider options, check Vivint, Brinks, or ADT.
Limited warranty: The equipment warranty is only a year. Compare this to Frontpoint's three-year warranty.
Equipment monitoring: Vector does not have tools to monitor specific equipment such as machines for overheating or automobiles for theft. If you need this, look to Vivint or Tattletale.
---
Brinks: Best for Using Compatible Equipment

What We Like
Works with a wide range of devices
May incorporate existing equipment
Video verification
DIY installation optional
What's Missing
Difficult to cancel
2-year warranty with monthly insurance cost of $5
3-year contracts
Brinks Pricing & Key Features
Monitoring: $39.99+/month
Equipment: Hardware kit for $199
Extended warranty: Brinks Home Plus plan $5/month
Contract: 3 years
Warranty: 2 years
Installation: Optional
Smart platform integrations: Smart Security Systems, Google Assistant, Amazon Alexa,
30-day money-back guarantee
Brinks is one of the few security systems we found that says it can work with existing equipment, although it recently stopped supporting monitoring for Nest Secure systems. You may need to create a hybrid system, but it works with multiple brands of cameras, motion sensors, and detectors. It has a firm three-year contract, so be sure you understand the terms and are confident in the service.
This system earned 3.45 out of 5 in our evaluation. Like with many others, the long-term contract and lack of clear online pricing for businesses hurt its score; it also lacks certain tools like equipment-specific monitors. It charges a monthly insurance cost of $5 for its equipment if you want the extended warranty. However, it earned strong scores for general security functions, installation, and ease of use.
Brinks Pricing
You need to ask for a quote, which is location-dependent. However, according to Safehome.org, hardware packages run $199–$1,099 for the equipment plus $39 a month for monitoring. (USNews lists monitoring at $44.99 per month.) You can return your Brinks system within 30 days to get a refund. After that, you are tied into a three-year contract. Hardware has a two-year warranty, which is better than most on our list, but costs $5 a month.
You also have the option to build your own security package or purchase add-ons to the standard security hardware kits. Prices are no longer listed on the website, but Safehome.org lists them as between $29 and $199, depending on what you purchase.
| Smart Security Essential | Smart Security Complete | Smart Ultimate Security |
| --- | --- | --- |
| | | |
| Includes a smart control panel, two door/window sensors, one motion sensor, and the mobile app | Adds a video doorbell to the Essential kit so you can watch livestreamed videos on the control panel and the mobile app | Includes an additional door/window sensor and an outdoor camera to the Smart Complete Security package |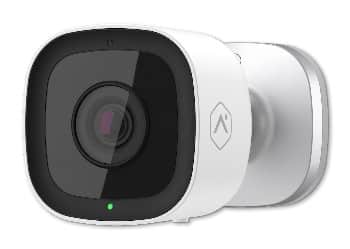 ---
Brinks Features
Since our last update, Brinks stopped offering professional monitoring for Nest Secure customers.
Use existing equipment: Like Vivint, Brinks may be able to incorporate your existing equipment into its system. This could save you money and make transitioning from another security company easier.
Built for large areas: The hub can handle 119 smart home or security devices and can be controlled using smartphones, Alexa, Google Home, Apple TV, and other systems. The system itself can handle 256 unique passcodes and takes a photo of the person using the panel.
False alarm prevention: Like SimpliSafe and others on our list, Brinks has video verification, so it can check for signs that an alarm is true. Plus, it has two-way voice communication on its indoor cameras so you can speak to someone on camera. This could be enough to scare away a would-be thief or to verify that it's an employee who flubbed their code.
---
What Brinks Is Missing
No equipment-specific monitors: Brinks lacks equipment-specific monitors, which you can find with Tattletale.
Damage reimbursement: In the past, we've found reimbursement policies for Brinks. However, this time, we only found a disclaimer that their liability extends only to the price paid for the defective equipment. ADT offers the best coverage.
---
ADT: Best for Retail & Restaurant Businesses

What We Like
9 monitoring centers in the US
Industry-specific solutions
Live phone support
What's Missing
Pricing quote requires an on-site visit
Many complaints about billing
36-month contract with hefty cancellation fees
ADT Pricing & Key Features
Monitoring: $45.99–$59.99+
Equipment: Build your own package for businesses from $299 (available in flexible payment options)
Contract: 3–5 years
Installation: $99+
Smart platform integration: Amazon Alexa, Google Assistant
Theft protection guarantee of up to $500 and 6-month money-back guarantee for qualified accounts
Add-ons for access control and video verification tools
On-site and cloud-based video storage
With over 145 years in the security business, ADT is a staple among commercial and home security services. We recommend it if you are a stable business with specialized needs because it offers an excellent variety of monitoring and alert services covering everything from burglary to flood to cybersecurity. ADT has experience with industries from retail to restaurants and also understands what you need to keep compliant with government and professional regulations. It's a strong choice for businesses that need a comprehensive system.
In our evaluation, ADT earned a respectable 3.34 out of 5. It has the highest scores for general and hardware features out of all the systems on this list. However, expensive pricing, long contracts, lack of overall transparency, and mixed customer reviews prevented ADT from earning a higher score.
How We Evaluated Business Security Systems
We delved into business security systems, looking at a dozen US services. We narrowed it down to those that provide service in multiple states, have plans suited for small businesses (even when they were primarily focused on homes), and offer professional monitoring. Next, we looked at the equipment, features, and service, concentrating on physical security. We also considered environmental monitoring.
Since our last update, we changed our criteria slightly and took a new look at current user reviews. For example, we assigned less weight to items most systems had in common, like ease of use, and removed items where they all took top scores, like camera resolution. While slight, it nonetheless made a big difference in scoring.
Click through the tabs below for our full evaluation criteria:
20%
Installation & Support
25% of Overall Score
Pricing is difficult, as many services want to evaluate your needs and create a custom package. Where necessary, we used home pricing as a comparison and considered extra costs for installation and equipment. Simplisafe had the best score for pricing, followed by Tattletale.
20% of Overall Score
This section dealt with monitoring and guarantees, such as what happens if the system fails. ADT led the pack in this area, with Brinks second.
15% of Overall Score
We looked at specific features in the equipment itself and what it can cover for you. Again, ADT took the top spot here, followed by Vector.
20% of Overall Score
Do you get professional installers? How well does customer support help with issues or billing questions? How easy is the app or control panel to use? Each provider scored very well here, except ADT.
20% of Overall Score
This score combines our judgment of price, ease-of-use, and feature set with the reviews of real-world users. We gave Frontpoint and Vivint the best expert scores.
*Percentages of overall score
What to Look for in a Security System
By far, the most common complaint with security systems is how difficult it is to break a contract. Therefore, pay close attention to the conditions under which you can cancel and what kind of fees you will incur. Do not take the salesperson's word—read the fine print yourself before signing.
Also, look for reimbursement policies if the system fails and you are the victim of theft, fire, or other damage that the system should have alerted you about. We were surprised to find that many times, this is not clear. If you don't see it, ask, and get it in writing.
Reviews can only tell you so much. Be sure to ask questions important to your business. We have compiled a list below to ask providers including:
Know the threats specific to your area (whether you are just starting a retail business or have an established location), and ask how they handle those issues.
What is the response time for alerting you? For alerting the authorities?*
Do they have independent video verification before calling the authorities or false-alarm safeguards?*
How many passcodes can the system handle?
What limits can you set on employees? For example, can you allow Betty to arm and disarm the entire system anytime, but give Reggie access only for morning shifts?
What happens if the equipment fails? Are there fail-safes in place?
Do you have hidden cameras?
How do they catch someone tampering with the system and in what ways (ex: blocking the camera, cutting the power, breaking the equipment)?
Can you integrate your existing equipment into the new system? Does it work with smart technology like Alexa?
*Ideally, you should be alerted whenever your system detects something. In most cases, you are notified before the authorities so that you have a chance to check it out via video link or to put in the appropriate cancellation code. If your system is tied directly to the authorities, then you may only have a delay in which to cancel the alarm before they are automatically notified.
Business Security System Frequently Asked Questions (FAQs)
Is there a difference between a home security system and a business security system?
While many small businesses can use home security systems for their businesses, there is a difference. The laws concerning use and placement are stricter for businesses, for example. Also, a home security system may not have all the devices you need, such as security tags for retail items.
---
What are the pros and cons of having a contract vs a monthly subscription?
First, some systems require a contract, so if you want that company, you need to commit to one or more years with them. However, many companies offer incentives like free equipment, maintenance, or installation.
As noted above, breaking a contract is difficult and expensive. There are some systems that require as much as 80% of your remaining contract costs. Some systems are portable, so you can take the equipment with you and change the address being monitored, and this can influence cancellation. Read the cancellation clause in your contract before signing.
---
Can having a security system get me a discount on my insurance?
Homeowners often get insurance discounts for professionally monitored alarm systems. Most do not for self-monitored solutions. Check with your agent to see if this applies to your business. You may need to show some proof, such as a contract.
---
How do 3G/4G/5G networks work with a security system?
Most security systems use cellular for backup, communication, or notification. As technology turns to 5G, cellular providers are transitioning out of 3G and no longer supporting this equipment. Verizon, for example, has started phasing out 3G completely, and this is affecting several companies on our list. When looking into the equipment, ask whether it uses the 3G network and what this means for replacing the equipment later.
---
How do I prevent false alarms?
The best way to prevent a false alarm is to be aware when your system is active, as most false alarms are caused by someone entering the building when the system is armed and not putting in their code. False alarms often come with fines to pay for the time spent by authorities, so be sure your employees are trained. It also helps to have a remote app on your phone that lets you input codes. Most business security services have this feature, but be sure to check.
---
I need equipment to deter shoplifting. What system works for me?
On our list, ADT offers retail anti-theft devices in addition to monitoring. Of those that did not make our list, InVue offers the widest variety of anti-theft devices, from cable tags to stands for phones, to security for hanging items. It even has caps to prevent people from sampling perfume or wine. (Learn about other ways you can reduce retail theft.)
---
Bottom Line
Business security has gone beyond motion sensors and fire alarms. Now, systems can include biometric locks, cameras with two-way communication, flood sensors, and smart home technology. When considering the best, determine your needs first. Also think hard about whether you want to be locked into a contract, as these are notoriously difficult to get out of.
We found SimpliSafe to be the best business security system for small businesses because of its affordability and ease of use. While designed for homes, it offers excellent tools for small businesses and has monthly contracts as opposed to demanding a commitment of years. Visit SimpliSafe and get started on securing your business.