WooCommerce QuickBooks integration connects and automates data transfer between systems in real-time, eliminating the need for manual data entry. Third-party plug-ins such as Zapier and MyWorks make this integration possible. Connections can be simple data transfers, like posting sales, or complex, like real-time inventory updates. The best plug-in for you depends on your operational needs.
Of course, you'll need to have a QuickBooks account to connect to your WooCommerce store, and the best accounting option for small businesses is QuickBooks Online, which we've also chosen as the best ecommerce accounting software. This cloud-based solution lets you track income and expenses, sales transactions, customers, and manage invoicing, purchasing, inventory, and more starting at just $20 per month. Try any plan on for size with a QuickBooks Online 30-day free trial.
Our four-step WooCommerce QuickBooks integration process explores the different types of integration plug-ins, then shows you how to identify your needs and compare, install, and test plug-ins to find the right solution for your business.
1. Understand the Two Types of WooCommerce QuickBooks Integrations
WooCommerce and QuickBooks don't directly connect to each other. You'll need to install third-party plug-ins or extensions to connect the two systems, and there are several different options to choose from. Knowing the differences in how they transmit data between WooCommerce and QuickBooks is the first step in picking the right solution for your business.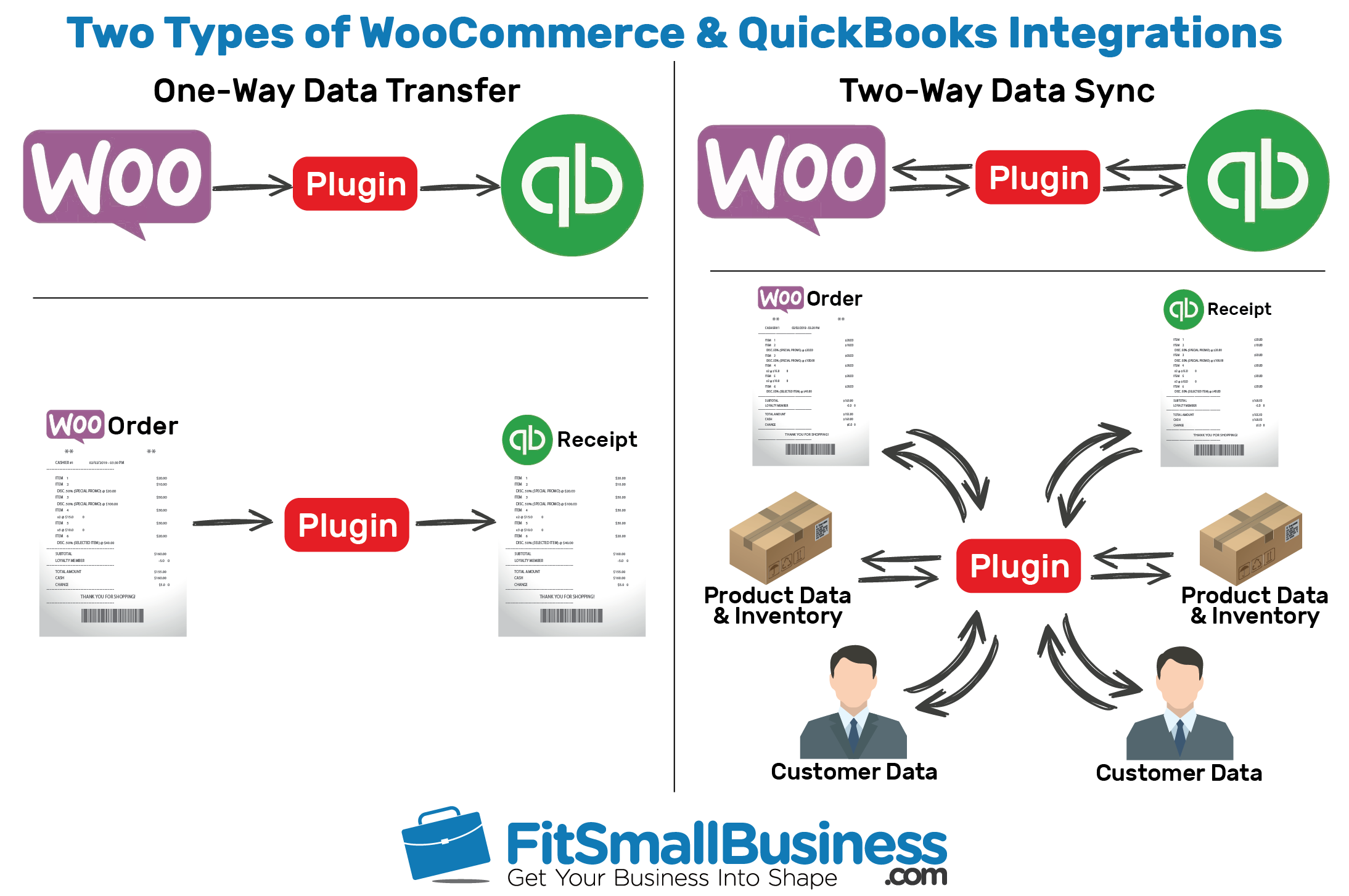 WooCommerce-QuickBooks integrations connect and transmit data in two different ways:
One-Way Transfer Integrations – These are basic integrations that transfer specific data from one system one to the other

—

like automatically posting a WooCommerce order into QuickBooks as a sales receipt. Single-action integrations have a low, one-time fee and are an economical way to handle basic tasks, like automatically adding new WooCommerce orders or customers to QuickBooks.
Two-Way Sync Integrations – These integrations support complex, real-time, two-way sync of multiple data streams between WooCommerce and QuickBooks. Two-way sync updates both systems as changes happen to inventory counts, product descriptions, customer information, order and tax details, and more. However, this complex functionality costs more than single-action options.
Now that you know your options—one-way transfer or two-way sync—you're ready to review your business needs to see which type of data integration your business needs to operate efficiently.
2. Define Your WooCommerce QuickBooks Integration Needs
Defining your business needs helps you select the best WooCommerce QuickBooks integration for your operation. For example, a startup or solopreneur might only need to automatically post WooCommerce orders in QuickBooks using a one-way plug-in with a small one-time cost. High-volume sellers generally benefit from a two-way inventory, order, and customer sync connection—but these plug-ins have monthly fees.
Peter Leonard, CEO of MyWorks, advises business owners to think ahead when making this decision. He says, "a simple sales receipt post into QuickBooks may be all a startup needs in the early days, but growth increases integration needs fairly quickly."
"It can be smart for a startup to choose a WooCommerce QuickBooks integration solution that supports two-way sync in the early stages," says Leonard. "This way, important functionality like real-time updates to inventory counts, syncing product data, and connecting customers between systems is already there, ready to be used when needed."
Answering the following five questions helps you define your current WooCommerce and QuickBooks data integration needs—plus plan for the future:
Which QuickBooks System Do You Use
—

Online or Desktop?

Most integration plug-ins work with QuickBooks Online, so if you use the Online product, you have several WooCommerce integration options. "QuickBooks Desktop requires a more detailed integration than QuickBooks Online," says Leonard, "so there just a few WooCommerce integration solutions for Desktop—and MyWorks is one of them."

"About 70 percent of our WooCommerce integration customers use QuickBooks Online," says Leonard. "The other 30 percent use MyWorks to connect WooCommerce to QuickBooks Desktop. These tend to be larger companies that run enterprise-level systems with multiple QuickBooks users working in the file at the same time."

If you're not sure which QuickBooks product is right for your business, you can compare the differences in our QuickBooks Online vs. QuickBooks Desktop guide.
What Data Do You Track in QuickBooks?
If you just track sales, income, and expenses in QuickBooks, one-way posting of WooCommerce orders to QuickBooks is probably all you need. But if you use QuickBooks to track inventory counts and valuation, customer information, sales taxes, and line item details for sales, then you need a more complex two-way integration with WooCommerce.
How Do You Manage Purchasing and Inventory?
Do you use QuickBooks to create purchase orders, receive stock, and track inventory quantities? If so, a two-way, real-time QuickBooks and WooCommerce inventory sync can save loads of time and maintain accurate inventory counts in both systems.
Where Do You Sell?
If you only sell online with WooCommerce, then a simple one-way connection that sends orders to QuickBooks may be all you ever need. But if you plan to connect your QuickBooks account to WooCommerce and other sales channels too, or sell in-store with a point-of-sale (POS) system, a two-way integration is better. This lets you sync inventory counts, customer information, and order line item details across all channels to streamline your daily operations and bookkeeping.
What Do You Want to Spend?
You can connect a simple one-way WooCommerce QuickBooks integration for a small one-time plug-in or extension fee and no ongoing costs. Complex two-way sync integrations carry monthly fees, but the time saved with these automated solutions is generally worth the cost if you need that level of integration. We'll explore these costs in Step Three.
After defining what your business needs from a WooCommerce QuickBooks integration, you can start vetting providers, which we'll explore next.
3. Choose a WooCommerce QuickBooks Integration Plug-in
Now that you know the types of connections available and have identified your data integration needs, you're ready to compare providers to find the best WooCommerce QuickBooks integration solution for your business.
A quick Google search for "WooCommerce QuickBooks integration" displays a number of potential services. We've compiled a list of top-rated integration options to save you the time and trouble of researching them yourself.
Here are the top-rated solutions for integrating QuickBooks and WooCommerce:
| | | | | |
| --- | --- | --- | --- | --- |
| Startup Cost | Plugin: $59 | $0 | Plugin: $29 | $0 |
| Monthly Fee | From $0 | From $39/month for unlimited orders | $29/month for 300 orders$99/month for unlimited orders | $99/month for 1,000 orders$299/month for 3,000 orders |
| Free Trial | None needed - 30-day money back guarantee | 14 Days | 7 Days | 15 Days |
| Connection Type | One-way | Two-way | Two-way | Two-way |
| Supported QuickBooks Products | Online only | Online & Desktop | Online only | Online & Desktop |
| Ease of Use | Medium | Easy | Medium | Medium |
| More Info | | | | www.Webgility.com |
As you can see from the table above, the Zapier extension works differently than the other integration options. Zapier provides simple and economical one-way connections versus the two-way integrations that other providers deliver for a monthly fee.
Zapier's one-way integration lets you:
Automatically create sales receipts in QuickBooks Online each time you receive a new WooCommerce order
Automatically add a new customer in QuickBooks Online for each new WooCommerce order
Automatically create sales receipts in QuickBooks Online from your WooCommerce monthly subscription renewals.
Note that these are all one-way actions from WooCommerce to QuickBooks. If you want to sync data from QuickBooks Online or Desktop to WooCommerce, say for real-time inventory updates, you need a two-way connection.
The more complex solutions from MyWorks, OneSAAS, and Webgility let you:
Update and sync stock levels in real-time between QuickBooks and WooCommerce
Sync product data-like description or item names between WooCommerce and QuickBooks
Sync orders from WooCommerce to QuickBooks and choose whether an invoice or sales receipt is created in QuickBooks
List WooCommerce order line items in QuickBooks sales receipts and attach line items like shipping and taxes to QuickBooks accounts
Download historical order and product data from WooCommerce to QuickBooks to kick-start your QuickBooks file if you're a new QuickBooks user
The takeaway here is there are several WooCommerce QuickBooks integration options to choose from. Zapier handles basic data transfers very economically if that's all you need. For more connectivity, you'll need a two-way connection, and those providers differ in terms of price, QuickBooks products supported, and overall ease of use. Since each offers a free trial period, you can test one or more risk-free to which is the best fit.
Now we'll do a walk-through of both Zapier and MyWorks to give you a closer look at how these two very different WooCommerce and QuickBooks integrations work.
4. Start a Trial and Test the Integration
The last step in integrating QuickBooks and WooCommerce is test-driving one or more solutions to find the best fit for your business. In this step, we'll walk you through setting up a simple Zapier connection and a two-way integration using MyWorks so you can see what's involved and how they differ.
How to Use Zapier for Simple WooCommerce QuickBooks Integrations

Zapier connects two systems—like QuickBooks and WooCommerce—using mini-integrations called Zaps. Each Zap includes a Trigger and an Action. For example, a Trigger can be a new order being placed on WooCommerce, and an Action would automatically create a QuickBooks Sales Receipt with that order information.
Zapier has three pre-set WooCommerce QuickBooks integrations, or Zaps:
You can have up to five Zaps in a free Zapier account, so you can easily use Zapier to set up a few basic integrations with no ongoing fees. You can also create your own custom Zaps using Zapier, but there are just a few WooCommerce triggers to choose from. You can see them all on the Zapier WooCommerce and QuickBooks Integration page.
How to Integrate QuickBooks and WooCommerce with a Zap from Zapier
Purchase the Zapier extension for $59
Install and activate the Zapier Extension into your WordPress/WooCommerce dashboard
Select a ready-made WooCommerce QuickBooks integration "Zap"
Follow the simple Zap setup wizard to connect WooCommerce and QuickBooks
Zapier is the most economical solution to send new WooCommerce orders or customers to QuickBooks. However, it can't send data from QuickBooks to WooCommerce. If you need to sync all data, including inventory, order line items, customers, and more, a two-way solution is your answer. For that, MyWorks is our top pick.
How to Use MyWorks for Full WooCommerce and QuickBooks Integrations

MyWorks, like its competitors OneSAAS and Webgility, provides a two-way sync integration between QuickBooks and WooCommerce. At just $39 per month, it's a very economical choice for businesses looking to create a robust integration between WooCommerce and QuickBooks Online. Other providers have their fans, but in our reviews, MyWorks delivers a ton of connectivity for its low monthly fee.
Also, MyWorks is one of the few that supports QuickBooks Desktop. That integration costs just $69 per month, which is a good value for enterprise businesses looking to integrate QuickBooks Desktop with WooCommerce.
Since there are more data elements to connect in a two-way integration, MyWorks setup requires more planning than the simple Zap connections from Zapier. However, you get a personal setup call, an intuitive wizard, and simple data mapping screens that let you connect data any way you wish.
How to Integrate QuickBooks and WooCommerce using MyWorks
1. Sign up for your MyWorks free 14-day trial for QuickBooks Online or Desktop
2. Install and activate the free MyWorks plug-in into your WordPress/WooCommerce dashboard
3. Connect the MyWorks plug-in to your QuickBooks account using the license and connection information from your MyWorks account:
4. Follow the wizard's steps to complete your connection between WooCommerce and QuickBooks.
5. Complete your default settings and data mapping. This where you select how your data is connected between WooCommerce and QuickBooks. In this step, you can choose the specific data you wish to connect, like orders, payments, taxes, and inventory, but not other data, e.g., product descriptions. You can also elect to do an initial download of historical data, like transactions and customers—or not—based on your particular needs.
6. Once your systems start to sync, you can check your MyWorks sync logs to see the data transfer and update activity that takes place behind the scenes.
This is a quick rundown of MyWorks setup process, but it gives you an idea of how easy it is to set up and maintain a rather complex two-way integration between QuickBooks and WooCommerce.
According to Leonard, "the most important factor in the integration equation is knowing what data you want to transfer between systems and how that should happen—one way, both ways, or not at all." Even then, he says, "growth will generally dictate changes to an integration plan. That's why we make it easy for users to adjust data integration and sync settings as needed."
Once you know what data you want to connect, and how you want the data to flow, setting it up in MyWorks' intuitive in-dashboard screens is quite simple. But if you get stuck, they provide free support whenever you need it.
Bottom Line
The best WooCommerce QuickBooks integration for you—single-action or two-way sync—depends on how you operate your business and—to some degree—your budget. A simple one-way Zapier integration that posts new WooCommerce orders to QuickBooks may be all a startup or solopreneur needs at first—or forever.
Complex two-way integrations from MyWorks, OneSAAS, and Webgility deliver a more robust real-time sync for inventory, orders, payments, taxes, customer data, and other key data. These WooCommerce QuickBooks integrations deliver far more in terms of data connections and customization—but that power comes with monthly fees. However, they save loads of time and eliminate manual entry errors, so it's generally considered money well-spent.
Whichever integration solution is right for you, you'll need to have both a WooCommerce store and QuickBooks account up and running. We recommend QuickBooks Online for most ecommerce businesses since it delivers the cloud connectivity that solopreneurs and busy entrepreneurs need to stay connected wherever business takes you.
How do you use WooCommerce and QuickBooks to run your business? Do you use Zapier for simple connectivity yet, are you seeking a more complex two-way integration, or are you looking for a way to replace time-consuming manual entry? We'd love to hear what works, or what you're looking for, in the comments below.