Yellow Letters: The Best Lead Gen Strategy for Investors?
Yellow letters are handwritten prospecting letters that real estate investors or real estate agents send to homeowners in order to generate seller leads. They're called "yellow" letters because they were historically handwritten on yellow legal pads. We interviewed successful real estate investors for their yellow letter strategies and best practices in 2017.
Why Yellow Letters Work: Curiosity + Empathy = Phone Calls
While the vast majority of yellow letters sent by investors today are created to look handwritten on computers rather than actually written by hand, and many are written on white paper, the name is still commonly used to refer to prospecting letters sent to homeowners.
To get a better idea of what they look like, check out this example of a yellow letter from Yellow Letters Complete: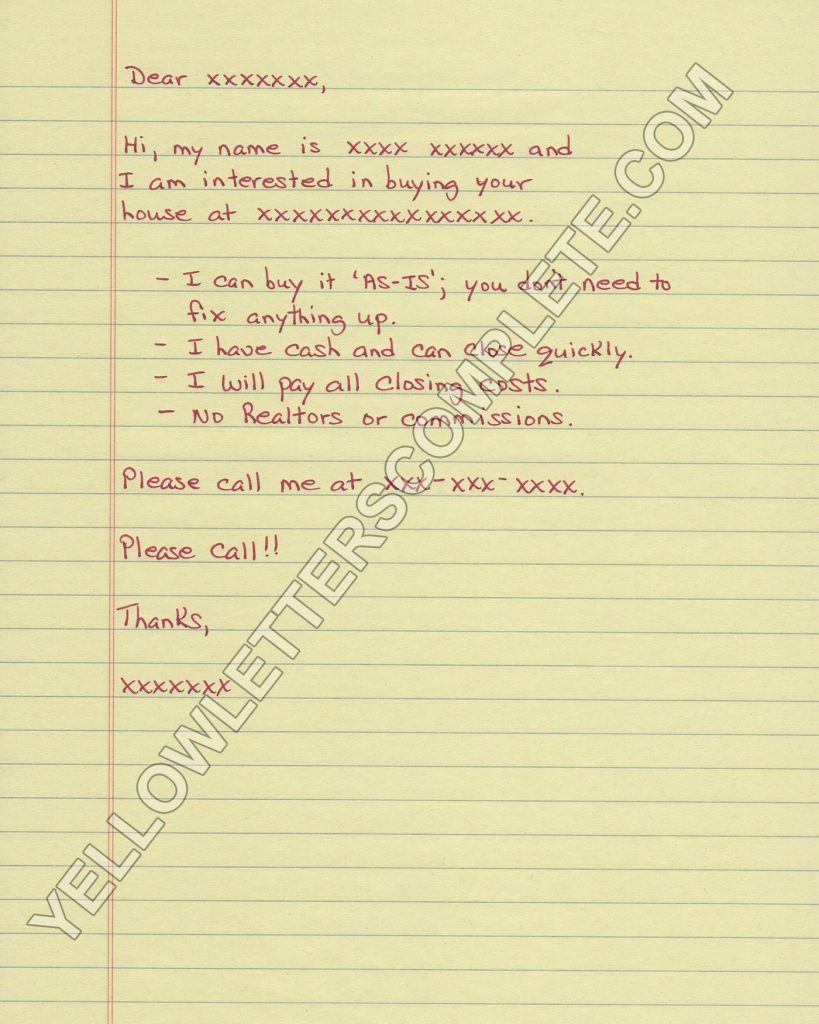 Let's face it. The hard sell rarely works, and since people today are continually bombarded with sales pitches, most people have learned to simply ignore them. If you've ever worked in sales though, you probably know that one of the best ways to get someone to do something you want is to make it seem like it was their idea all along. Surprisingly, there is actually science to back this up.In one recent study, researchers found that simply adding words like "you will probably refuse, but…" to sales pitches for charity donations increased donation rates from 25% to a staggering 39%. Why? They made the people they were soliciting donations from feel like donating was their idea. In short, they gave them a much bigger opportunity to say no.
One of the main reasons why this works is that they are getting people to empathize with them directly. They're no longer a salaried employee representing a large charity, they are a human being with feelings, dreams and goals. This is what you need to get across in your yellow letters.
Building Curiosity
Yellow letters get great response rates for a very similar reason. Many people, myself included, sort their mail over a recycle bin. The decision to keep or toss happens in a fraction of a second and is almost intuitive. Yellow letters work differently.
Imagine standing over your blue recycling bin and tossing 90% of the junk mail (marketing pieces someone worked very hard on) you come across a hand addressed envelope with no return address. Open or toss? If you're anything like most people, you're going to open that envelope. I know I would.
Creating Empathy
Now let's say you open the envelope and pull out a glossy, professionally designed flyer from Bank of America offering to buy houses like yours. The letter makes promises, but it's so generic looking that alarm bells begin ringing in your head. This company has hundreds of lawyers and accountants working for them and they are going to out negotiate me!
What if instead of the gloss letter from a giant bank, you got a pleasant handwritten letter from someone simply signed the letter Kelly? Who would you trust? For most people, Bank of America is telling them to sell, while "Kelly" is asking them nicely. They feel like calling Kelly is their own choice, rather than one teams of Madison Avenue ad execs pushed on them. Essentially, Kelly is saying "you will probably refuse but.." which can go a long way in lowering people's defenses.
"I find that the people who respond to yellow letters are looking for a simpler person to work with. There seem to be two rationales behind this: some people think a simpler person isn't going to try to take advantage of them, while others think that they will be able to take advantage of a simpler person and come out ahead. Either way, the people who respond to yellow letters tend to be very different from those who respond to the more traditional marketing messages."

— Mark Bloom, President of Networth Realty on the psychology behind yellow letters
Your Elevator Pitch: Writing Yellow Letter Copy that Will Make Your Phone Ring
Since your hand addressed envelope will inevitably pique your homeowner's curiosity, the next step to getting your phone to ring is to build empathy. That's where writing great copy for your yellow letter comes in.
While there are a lot of different ways to approach your copy, you should always keep the golden rule of all marketing in the back of your mind as you write. There is only one thing your homeowner wants to know after reading your letter: WIIFM = What's In it For Me?
Don't worry about flowery language or impressing your 12th grade English teacher here. You're not writing an Op ed for the New York Times. You're writing a personal letter to someone you want to buy a home from. You want to get straight to the point and build empathy with the homeowner and tell them you want to buy their home so they will want to call you. Simple.
Here's a good example of copy you may want to consider for your yellow letter:
Dear [Their name]

My wife Linda and I have lived in the community for many years and are very interested in purchasing your home. If you are thinking about selling, we can offer all cash for a quick and easy closing.

We are looking to close on a home in the next few weeks, so if this sounds like something that might work for you, please give us a call ASAP @ 555-555-5555

Sincerely,

Jack

[your signature]
While this letter might not be exactly what you end up writing, you get the idea. Focus on your value add (you can buy their house all cash) and build empathy and you should be able to get a decent response rate.
Here's another great yellow letter example from Real Estate Investor Colin Corrington. Note how he frequently mentions that he will buy for cash and closes with a reference to religion. If you know the neighborhood you're pitching, something like this might work for you as well:
Expert Tip: Sample Yellow Letters for Different Leads
Collin Corrington, co-founder of StopFlipping.com
Dear Mr.and Mrs. Homeowner,

I was driving by your home yesterday at [Address] and thought I would send you this brief letter. I pay CASH for homes and literally have helped hundreds of San Antonio residents over the past 10 years. I am known as San Antonio's number one source for CASH home purchases with no headaches.

If you would consider selling your home, please call me today at [phone number]. My name is Collin Corrington and I purchase homes AS-IS and do not require any inspections, appraisals, or surveys. Ipay 100% of all closing costs and will provide you proof of funds at the time we sign a contract. I just want to purchase it for CASH.

There are a lot of so called "investors" that play games and promise you the stars and moon but DO NOT DELIVER. I am the real deal and will give you NON-REFUNDABLE earnest money and can usually close within three days.

Your neighbors will thank you for selling the home to us. We will renovate the property and DO NOT RENT any of the homes that we purchase. We only sell to well qualified San Antonio residents.

Enclosed is a $1.00 down payment towards the purchase of your home. If you are ready to sell today, please call me immediately at 210-439-4471. If not please buy yourself a soda on me and save my business card for future reference.

May God continue to bless you and your family.

Sincerely,

Collin Corrington
Choosing Your Targets – What Kind of Lead Responds to Yellow Letters in 2017?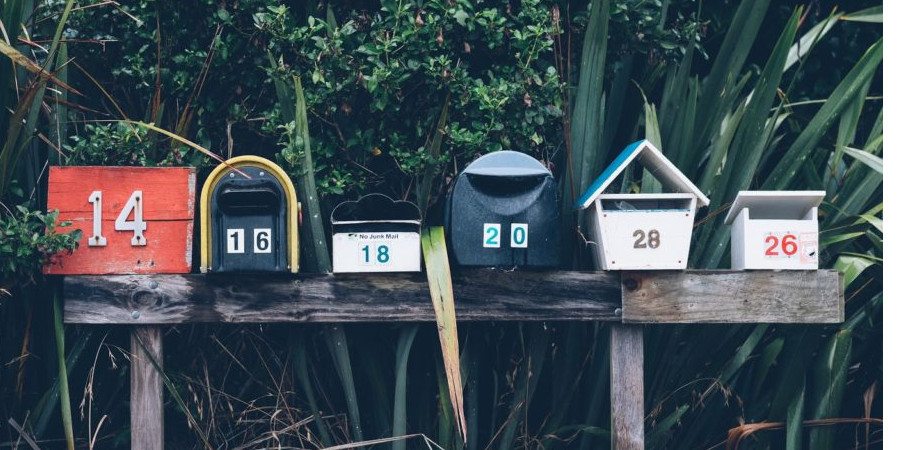 Traditionally, real estate investors send yellow letters to homeowners that are likely to sell their homes, but might not respond to traditional marketing techniques. Generally speaking, that meant owners of distressed properties, in other words people who are behind on their mortgages, or own properties that are neglected, abandoned, or not generating income. Here are some other common homeowners who you can target with yellow letters.
Probate leads
People who have recently inherited a home from a deceased loved one are frequently interested in selling. They may not be willing or able to keep up payments or maintain the home. Also, the bereaved frequently live out of state which means caring for a home they inherited is going to be difficult. You can certainly use yellow letters for probate leads, but you might want to think about only using a handwritten envelope and typing out a more formal and professional looking letter on white paper. People in the grieving process need to be treated a more delicately than a typical absentee owner or pre foreclosure lead.
Absentee owners
Homeowners that own properties outside of the state that they live in or who own multiple properties are called absentee homeowners. For example, a homeowner may live in California but inherit a property from a relative in Ohio. Since maintaining and paying taxes on the Ohio property can be a financial drain, they may be amenable to selling.
Pre foreclosures
Pre foreclosures are homeowners who are very far behind on their mortgage payments (often defaulting) and are close to entering the foreclosure process. Since the foreclosure process can be expensive, stressful, and take a long time, many of these homeowners are willing to just walk away from the property and settle their debts.
Other distressed properties
Abandoned properties, non performing rentals, or other distressed properties can also be good candidates for yellow letters.
If you are ready to send out some yellow letters but aren't sure where to start getting leads, Yellow Letters Complete can help. When you order seller leads from Yellow Letters Complete, you will become the exclusive owner of those leads for 6 months so no one else can purchase the same leads in your area from them. You can even filter their lead lists in your farm area to specifically target absentee owned, high equity or other niche audiences.
0
Expert Tip: Driving for Dollars Can Still Work
"Either ourselves or we hire someone to drive a neighborhood looking for houses with bad roofs, derelict cars, tall weeds and we save those houses on a GPS system that auto downloads to our mailing database."

— Mike Bolen, Napa Valley Real Estate Investor, Partner at Conway Ridge
People with equity
Finally, people who have paid off their mortgages or liens own their properties "free and clear" and can often be persuaded to sell for the right price. They may not know what their property is worth, or may be ready to move to a smaller home or retire to another state. A large cash payment can be a very enticing incentive for homeowners who own their properties free and clear.
Expert Tip: Investors in California Are Moving Away from Distressed Properties
"We are a hard money lender based in California that works with flippers all over the state. Here in California, investors have moved mostly away from distressed inventory (foreclosures, short sales and trustee sales) to focusing more on people with equity. Whether it be absentee landlords and individuals looking to sell as-is for all cash, the marketing world has gotten incredible noisy and print is a really important part of an investor's toolkit.

I personally own rentals and LOVE getting mail from investors. I get everything from funny postcards to yellow letters to businesses letters. Sometimes, investors that really focus on the mailer route follow up with more than three and they will all take different formats to specifically target different potential sellers."

— Aaron Norris, Vice President of California hard money lender The Norris Group
How to Create and Send Yellow Letters in 2017
While yellow letters are meant to look like you just dashed them off quickly on their doorstep, in reality you're probably going to need to send hundreds of them to get a decent response. Even if you do happen to get to them before other investors, most direct mail pieces take more than one touch to get a response. Here's a quick rundown of how investors are creating yellow letters in 2017.
Handwriting
Sitting down after a long day of work and handwriting letters can be tedious, but there are still a few investors who swear by it. However, if you're going to consider doing this, you need to pick your targets very, very carefully as the number of hours (not to mention carpal tunnel syndrome) you put in will make this difficult to get a decent ROI.
DIY Computer Generated Letters
Another option that will save you time (and physical therapy bills) is creating a font from your handwriting and using that to address your envelopes and fill in the "to" line on your letters. You can then upload your spreadsheet of leads into a CRM like Contactually which will automatically populate the "to" line with your leads first name written in your handwriting font.
From there, you just need to print out your letters and envelopes and send to a local printer.
Here's a quick tutorial on creating a font from your own handwriting using Myscriptfont.com:

Computer Generated Handwriting
The only issue with creating a font from your handwriting and printing it out is that people will be able to tell that your yellow letter is not really handwritten. Even the best printers don't quite look like ink.
If you want your yellow letters to look authentic, you can send them to a yellow letter printing company that uses a "robot" to actually write out your letters with a pen or marker.
Here's a quick video of a handwriting robot in action from New Scientist. Pretty cool!

The only downside here is that this can get a little bit expensive. Services like Maillift or Bond Co in New York City charge around $5 per piece for handwritten letters. This might make sense for a christmas card for your best clients, but sending out hundreds of these to get leads probably won't make sense.
How Much do Yellow Letters Cost?
If you're going with a DIY approach, then you're only really looking at the cost to print your letters and envelopes. Printing costs can vary widely, but for small quantities you can expect to pay around 50 cents per piece, including envelopes but not mailing.
Yellow Letters Complete will hand address and mail your yellow letters starting at 79 cents per letter. You can use their real estate templates that target new leads, or you can customize your own and they will hand-write them for you.
Trigger Direct offers birthday card sized yellow letters printed on classic lined yellow paper and a variety of brightly colored envelopes ranging in price from $1.49 per piece for fewer than 500, to 39 cents each for 20,000 and up.
GoBig Printing has dozens of different Yellow Letter packages starting at around 83 cents per letter.
Alternatives to Yellow Letters
If you're not entirely sold on yellow letters, you can always borrow the same techniques of creating curiosity and empathy to get your phone to ring. Here's real estate investor Mark Ferguson on getting creative with mailers:
"I see yellow letters, pink, orange, white and all types of colors. Some are just normal letters and some are postcards. The idea behind the yellow letter is it is supposed to looked like someone jotted a note down on a yellow piece of notepad paper. In theory that is supposed to look less like a company and more like an individual taking the time to write out the note. If the person wrote out the note, then maybe they really want that one house and it is not a mass mailing. I think the industry has shifted away from yellow letters and moved toward postcards that can be yellow or pink. The postcards have more info, people can read them quicker, and they are cheaper too."

— Mark Ferguson, Real Estate Investor and Founder of Investfourmore.com
Here are a few alternatives to traditional yellow letters you may want to consider:
Door Hangers
Door hangers are cheap to print, and while they may not have the personal touch of a yellow letter, depending on how you write them and what you include, they can have a huge response rate.
Postcards
Postcards can also have a great ROI for lead generation. Like with door hangers, you can adjust your message to help build curiosity and empathy to get your phone ringing.

Door Knocking
While definitely not for the faint of heart, door knocking can be an amazing way to generate leads once you hone your pitch and get over your fears.
The Bottom Line
If you want to get calls from leads that are not easy to reach with traditional advertising, you need to build both curiosity and empathy to help break down their defenses and get a response. Yellow letters can be a great way to do this, but you can apply the principles of writing them to many other marketing techniques.