If you're considering buying a franchise and want to know your franchise financing options, this article is for you.
According to a report by the International Franchise Association, about 12,000 franchises open their doors every year! It's often easier to get started with a franchise compared to an independent business because a franchise comes with a proven concept, brand recognition, and customer base. Although the success rates of individual franchises vary widely, as a whole, franchises perform better than independent businesses in the long run.
 In this article, we'll cover how to finance your purchase of a franchise, including:
Before we dive in, if you have at least $50,000 in retirement savings, read our article about how rollovers as business startups can help you fund your franchise quickly, avoid debt payments, and even help you shield more of your earnings from taxes. A ROBS let's you fund your franchise with retirement savings without paying early withdrawal penalties and taxes. Learn more by speaking with our best ROBS provider, Guidant. They offer a free consultation if you have over $50,000 in retirement savings.
Summary of Main Franchise Financing Options
Where Should I Look for Franchise Financing?
Franchise financing options run the gamut from SBA loans to equipment leasing to home equity loans and more. We'll cover these options in more detail below. In general, however, the best financing options for you and the options that you will qualify for depend on the following factors:
What Franchise You Are Going to Start

– Franchises vary significantly in terms of startup and operating costs and average revenues and profits. This will affect how much money you need to borrow to get started and which are the best financing options for you.
What You Need to Finance

– Depending on what franchise you are planning to buy, you may need to buy equipment, hire employees, purchase commercial real estate, and more. Craig Morgan, a managing attorney at

Providence Law

, says that some franchises, such as car dealership franchises, require the purchase of commercial real estate. The things that you need to get started will affect what type of financing option or combination of financing options is best for you.
New Franchise or Existing Franchise?

New franchises have more limited financing options than existing franchises. If you already own a franchise and are simply trying to renovate or add on a location, then you have more options to get capital.
Personal Credit Score

–

The higher your personal credit score is, the more financing options that are available to you and the more likely you are to qualify.
Personal Assets

–

Getting a traditional loan for a franchise can be difficult. The more personal resources you can bring to the table, such as retirement funds and personal savings, the easier it will be to buy a franchise. If you are planning to get a bank loan or an SBA loan, then you at a minimum need a 10-20 % down payment and some collateral (if the franchise involves the purchase of real estate, that can be used as collateral).
Below, we break down some of the most popular funding options for franchises, starting with franchisor assistance.
Start With Franchisor Assistance
The best place to start when searching for franchise financing is with the franchisor (franchisor is the parent company). The franchisor has a vested interest in you being able to purchase the franchise and will often provide some kind of help.
There are two main ways to get financing assistance from the franchisor:
Negotiate the startup and operating costs

– When you buy a franchise, there is a pretty long list of things that you need to buy before you can open the door to customers. The cost for such items will be noted in the

Franchise Disclosure Document

, which a franchisor must legally provide you at least 14 days before a sale. If you negotiate, the franchisor may be willing to absorb the cost of some of these items for you. For example, franchisors will sometimes reduce the franchise fee that you have to pay upfront.

Work with the franchisor's preferred lenders

– Often times, franchisors will partner with preferred lenders that they will refer you to to get a loan. They may also have relationships with leasing companies that can lease you essential equipment for your franchise. When possible, work with these lenders. These lenders have given loans for your franchise before, and so they are more likely to work with you.
Working with the franchisor whenever possible can save you money and put you on solid ground as you continue your search for financing.
Rollovers as Business Startups (ROBS) for Franchises
It can be difficult to qualify for a conventional loan or an SBA loan, so often the best place to start when funding a franchise is with personal assets. Many people choose to start a franchise with their personal savings.
If you have a retirement account, that's an option as well, but don't take a loan from your retirement account or simply withdraw funds from it. If you do that, you will have to pay taxes and an early withdrawal penalty. A Rollover for Business Startups (ROBS) lets you take retirement funds from a 401(k), traditional IRA, other other eligible retirement account and invest them in your franchise, without having to pay taxes or an early withdrawal penalty.
A ROBS isn't a loan, so there's no debt or interest to pay back. This lets ROBS-financed franchises conserve more of their income, and as a result, they may be more successful in the long run. You do have to pay fees each month when you do a ROBS, but compared to a loan, the monthly fees are about 11x cheaper!
When you do a ROBS, you basically sponsor a retirement plan under your franchise, rollover funds from your personal retirement plan to the company retirement plan, and use those funds to buy shares of stock in the franchise. The sale of stock creates the capital needed to start or buy a new franchise or recapitalize an existing franchise. To learn more about how a ROBS works, click here.
So what's the catch? You must have an eligible retirement account (Roth IRAs are not eligible, but most tax-deferred retirement plans are), and generally speaking, you should have at least $50K in the account to rollover. This means that ROBS is often not an option for young franchisees who haven't had sufficient time to save money in a retirement account. In addition, there is a risk to doing ROBS. If the franchise fails, you could lose your retirement funds.
Where to Apply for a ROBS
Guidant is our recommended ROBS provider. You can read our complete review of the best ROBS providers here. Guidant's helped over 8,000 businesses and facilitated over $3 billion in small business financing since 2003. They are also the only ROBS firm we know of which provides access to outside independent counsel during the ROBS setup process, which can help you objectively evaluate if ROBS is a good decision for the franchise you are buying.
SBA Loans for Franchises
SBA loans are government-guaranteed loans with long repayment terms and low interest rates. Franchises are often a great fit for SBA loans.
Qualifying for an SBA loan isn't easy. You generally need to have a strong credit score (ideally above 650) some collateral, and a 10-20 % down payment. However, a large percentage of SBA loans go to franchises because lenders can easily access loan performance data for franchises and predict the franchise's ability to pay back the loan. 
SBA loans can be used to buy a franchise, for working capital, or to expand/renovate an existing franchise. To understand how SBA loans for franchises work, you need to understand something called the Franchise Registry.
The Franchise Registry
The Franchise Registry is a collaborative effort by a private organization called FRANData and the U.S. Small Business Administration (SBA). The Franchise Registry lists the names of franchises for which the SBA has an expedited application process.
If your franchise is on the list, it doesn't mean you are guaranteed to receive an SBA loan or that the franchise is a good business opportunity. In fact, we recently ranked the 50 best and 50 worst franchises based on SBA loan default rates. In turns out that several franchises with high default rates, such as Wings-N-Things and Orangetheory, are on the Franchise Registry. So, a franchise being on the registry doesn't signify its quality. It simply means that the franchise has met certain SBA rules, so loan applications for the franchise receive expedited processing.
According to Meme Moy, a spokesperson for FRANData, about 2,000 franchises are currently on the Registry. When a franchise is on the Registry, lenders can see its historical loan performance. About 55 % of lenders only lend to franchises that are on the franchise registry, so this an important step in choosing a franchise. By choosing a franchise that is on the Registry, you get better and faster access to SBA funding. To check if your franchise is on the Registry, click here.
Where to Apply for an SBA Loan
SmartBiz has been ranked our best SBA loan provider. They do working capital loans up to $350K and commercial real estate loans up to $5MM. They have taken the SBA loan process, which normally takes 3-4 months, and brought it down to less than 1 month for the majority of borrowers. Plus, they can prequalify you online in about 5 minutes. 
Other Financing Options for Franchises
Franchisor assistance, ROBS and SBA loans are three of the main ways to finance the purchase of a franchise.
If these don't work out for you, or if you need additional capital after pursuing these options, consider the following:
Costs of Opening and Running a Franchise
Before you can obtain a franchise loan, you'll need to decide how much money you'll need to start and operate your franchise.
To get a good estimate of costs, the first thing we recommend doing is asking the franchisor for the Franchise Disclosure Document (FDD) early on in the process. It's a good idea to have an accountant and lawyer review the FDD with you before you sign any paperwork or hand over any money. A franchisor is legally required to give you the FDD at least 14 days before you buy a franchise.
Below are some of the average costs associated with starting a franchise that should be covered in the FDD:
Initial Franchise Fee:

One-time fee that ranges from about $20K-30K, but it can be higher for well-known national brands.

Ongoing Royalties

– These generally range from 4-8 % of gross revenues and may be paid weekly or monthly.

Net Worth/Liquidity:

Large franchisors won't even consider you if you don't bring a certain amount of net worth and liquid assets to the table. For example, Subway requires $80K in net worth and $30K in liquid assets, whereas Burger King requires a $1.5 million net worth and $500K in liquid assets.

Hiring costs

– As a franchise owner, you are a business owner responsible for hiring, training, and retaining employees. According to the

Bureau of Labor Statistics

, the average salary of a retail worker was $10.60/hour in 2015, but that doesn't include the time it takes to hire and train employees and the costs of employee benefits and insurance.

Equipment, marketing, and other miscellaneous costs

–  You may be assessed a weekly or monthly marketing fee apart from royalties to pay the franchisor for marketing material. Equipment generally makes up about 25-75 % of a franchise's startup costs, according to a report by Entrepreneur.
Remember, on top of these costs, you will likely have to pay for a lawyer and accountant to review your franchise paperwork and loan paperwork.
Sometimes, franchises will provide discounts or incentives to women, minorities, and veterans who are looking to open a franchise.
FranchiseGrade.com has a free tool that lets you compare the startup costs of different franchises. They have data on over 2,500 franchises. Here's a sample screenshot from their website: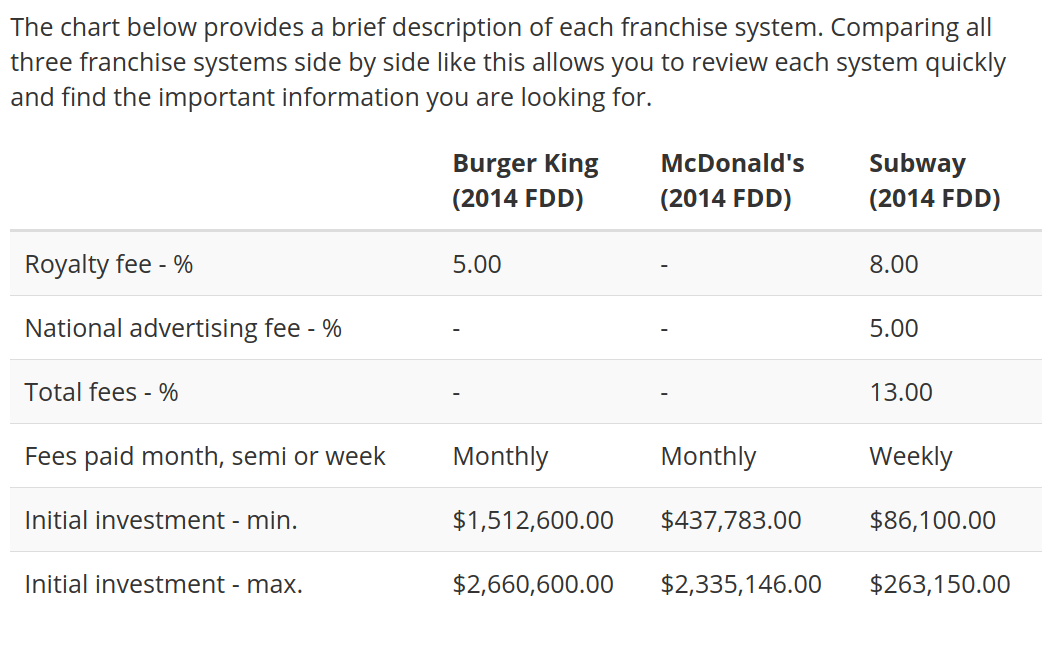 How to Increase Your Odds of Qualifying for a Franchise Loan
Although it's generally easier to get a loan for a franchise than for an independent business, you still need to do your homework before approaching a lender. You'll stand a better shot if you keep the following in mind:
Choose A Good Franchise.

After you start talking to lenders is not the time to be debating whether you should buy a Quiznos or a Subway. You should have a specific franchise in mind before approaching a lender. Consider things like location, historical performance, startup and operating costs, and brand value when choosing a franchise.

Check Out the Franchise Disclosure Document.

The FDD is the most reliable way to figure out the estimated startup and operating costs for the your franchise. We recommend having a lawyer and accountant review the document

Talk to Other Franchisees.

Talk to other franchisees to see what they like and don't like about the franchise. Alan Guinn, Managing Director & CEO of the

Guinn Consultancy Group

, says

there you can usually find a list of existing franchisees within the FDD. "What they tell you about their experiences, sad to say, may differ significantly from what you are being told by the Franchisor salesman. If Franchisees have left the system, be sure to attempt to interview them. Find out why they left the system.

"

Create a Solid Business Plan.

Many people wrongly assume that just because they're starting a franchise, they don't need a business plan. Even if a franchise has numerous locations throughout the country, each unit is an independent business that needs a business plan. Particularly if you're applying for an SBA loan or bank loan, a business plan is required. The most important part of the business plan is the Financial Projections section; the FDD will help you with that section.

We recommend LivePlan

software to create a business plan.

Improve Your Personal Credit Score.

Your personal financial history and credit score will be critical when applying for financing.

Nav

allows you to check your credit score for free. To increase your score, pay bills on time, reduce the amount of credit you use, and be selective about how many loans you apply for. Every time you apply for a loan or request a free quote, the lender could do a hard credit pull which can dent your score.

Maximize Your Personal Investment.

Bring as many personal resources as you can to the table. This decreases your reliance on external financing and shows that you have a vested interest in the franchise. For an SBA loan or bank loan, you will generally need a 10-20 % down payment at minimum, but the more money you can have to offer, the more likely you are to qualify and to get a good rate.

Gather Collateral.

Having collateral will go a long way towards getting approved for a franchise loan, particularly an SBA loan or bank loan. Franchise attorney Craig Morgan says some franchise brands require the purchase of real estate, in which case that can serve as the collateral. If not, personal real estate, business equipment, or other assets can serve as collateral.
Always ask about interest rates, fees, and prepayment penalties in advance before committing to a loan. This will prevent unpleasant surprises later on. The Annual Percentage Rate (APR) of a loan tells you the cost of a loan over 1 year, and makes it easier to compare multiple lenders and loan products. If you're pursuing SBA funding, make sure you're working with a lender who is part of the Preferred Lender Program. See a list of SBA preferred lenders here.
So what if your dream of owning a franchise doesn't turn out as well as you expected? Always have an exit plan, says Guinn.
"Many franchisees don't want to even think about walking away from a franchise network that they help to build, but if the venture isn't achieving what you want, don't be afraid to enlist the assistance of the franchisor in selling it. The longer you stay in a situation in which you are unhappy, the less will be the value of the franchise when it is ultimately liquidated through sale or dissolution. The Franchisor has a vested interest in putting in a happy, profitable franchisee rather than one who is unhappy with their leadership, guidance, and trade name."
Bottom Line
A franchise gives you the opportunity to have your own business with the safety net of a proven business model. However, the costs of starting and running a franchise can be substantial. SBA loans,  and Rollovers for Business Startups, combined with assistance from the franchisor, can all help you get enough capital and own your dream franchise.