Joining blogger forums and Facebook groups is a terrific way to build your knowledge, expand your network, and learn from others' successes and failures. There are so many online communities, it's hard to know where to start. That's why we've compiled our list of 11 best blogger forums and Facebook groups that stand out among the rest.
People often join blogging groups and forums to get answers to their most pressing questions about the tools and strategies required to build and monetize a blog. You can get a jump-start on getting those questions answered by downloading our free guide, The Blogger's Toolbox, right now.
Top Online Forums for Bloggers
Blog forums are online portals where bloggers can ask questions about any blogging topic, and then fellow forum members answer those questions. You can often quickly find what you're looking for with a mere search of the existing forum content.
Here are the top three online forums that you'll want to check out:
1. BloggerHub
Established in 2004, BloggerHub is an example of a blogger forum with an extensive content base featuring blogging-related questions, answers, and discussions. You can join the forum for free; you simply must abide by the forum's rules, which amount to making sure your contributions are relevant, lawful, and are not threatening, hateful, or obscene.
2. Digital Point Blogging Forum
The Digital Point Forum includes content on everything related to digital marketing and website creation. It also hosts an active discussion board devoted to blog-related issues. You can join existing discussions on the many Digital Point forums or ask questions by starting a new discussion thread. You'll need to open a free account to participate in forum conversations.
3. Warrior Forum
Warrior Forum offers extensive content on a wide variety of blogging-related topics. Not all topics covered here are relevant for bloggers; however, much of the site content is spot-on for those hoping to improve their blogging content and create a successful blog. That's why Warrior Forum makes our list of top online forums for bloggers.
You can join Warrior Forum discussions by signing up for a free account. You can also upgrade to the Premium Warrior Forum Membership for $97 annually; the membership includes dozens of digital marketing courses, tools, and resources.
Best Facebook Groups for Bloggers
While there are a handful of blogger forums that are still active and helpful—including the three I just mentioned—forums have primarily been replaced by Facebook groups as the go-to source for blogger networking. Facebook introduced groups in 2010 and, since then, their popularity has skyrocketed.
You must have a Facebook account to join a group. The owner and administrator of each group set the rules for group interaction. Participating in group discussions is a terrific way to gain more exposure for your blog and build connections that can help you make more money blogging.
Here are the top Facebook groups for bloggers that you'll want to check out:
4. Write Better, Blog Better Facebook Group
This Facebook group from Rigel Celeste and Gale&Plum offers writing support and resources related to blogging, including grammar tips, writing irresistible blog titles, and overcoming writer's block. The quality of discussions and overall interaction in this group are off-the-charts amazing.
One additional feature this group offers is a blogging mentoring program. You can find a mentor or become one. This is a free service that gives group members a unique way to support one another.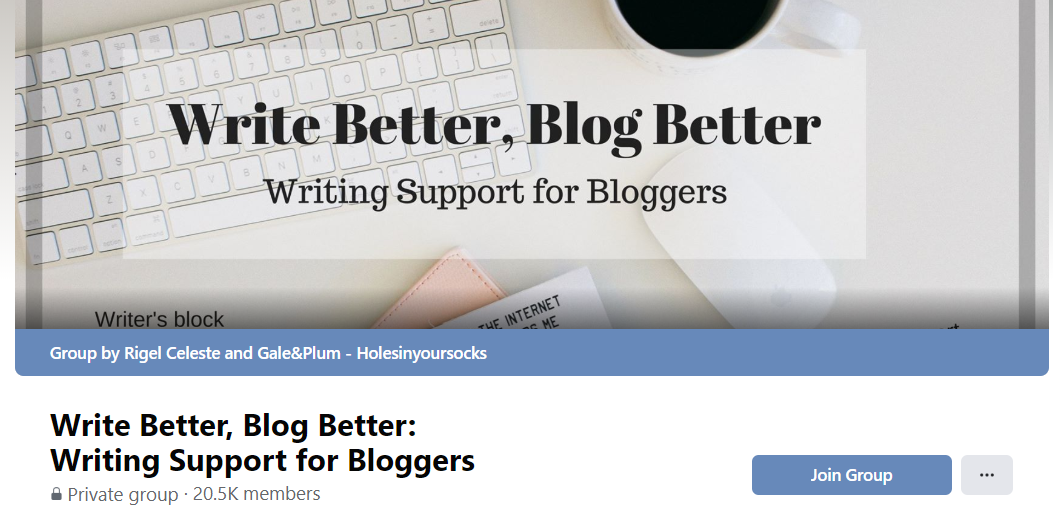 5. Blogging Like We Mean It Facebook Group
The Blogging Like We Mean It Facebook group has over 13,000 members. Launched in 2017, this active group averages more than 800 posts each month. The Blogging Like We Mean It group was created and is managed by Carly of the Mommy on Purpose blog. Carly understands firsthand what it's like to create a blog from scratch and grow it into a full-time job and shares excellent advice and tips with this thriving online blogging community.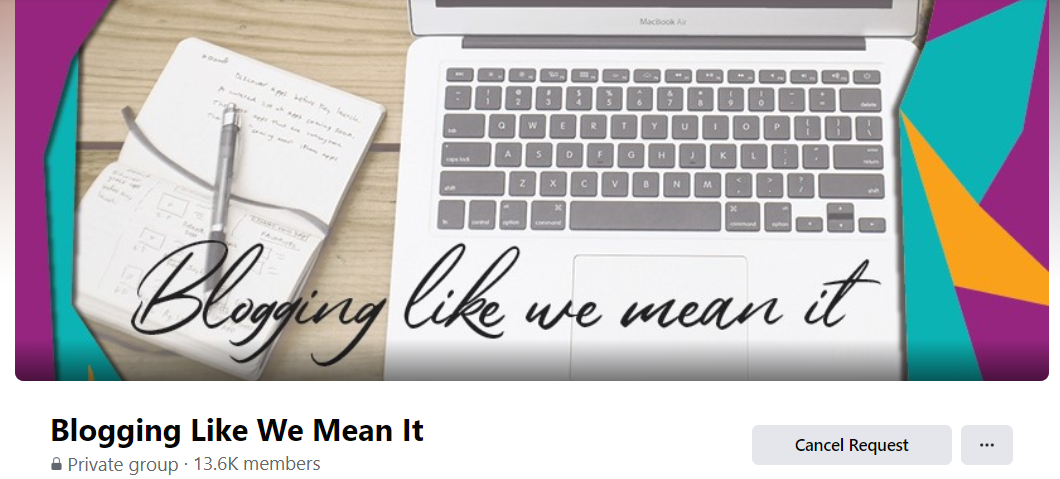 6. Ultimate Blog Challenge Facebook Group
Blogger Paul Taubman launched the Ultimate Blog Challenge Facebook Group in 2010 and has grown it to a community that's over 10,000 strong. Taubman holds free blogging challenges four times a year in this Facebook group to help community members create and improve their blogs and create thriving blogging businesses. The best part of the challenges is that you get to see what others are doing, which means group members learn with and from each other.
7. Blogging 101 Facebook Group
While this group from Nicole Floss of UniquelyWomen.net is called Blogging 101, the conversations featured here are often relevant for beginners and intermediate bloggers alike. The group allows you to ask questions of fellow members anytime. You can also grow your credibility as a blogger—and maybe even build your following—by answering questions others ask.
The Blogging 101 Facebook group designates each day of the week for different types of conversations. For example, Monday is goals day, where you are invited to share your blogging goals and intentions for the week. Tuesday is promote something day, where you can share your latest blog content, including lead magnets. And Thursday is feedback day, so you can ask the community to help you evaluate anything, such as a blog post, logo, or site design.
8. BlogHer Facebook Community
The folks at the BlogHer Network, which has been celebrating women in blogging since 2005, hosts the BlogHer Facebook group. BlogHer is best known for its stellar in-person and online blogging conferences as well as the SHE Media Partner Network, a thriving advertising network. BlogHer's Facebook group is yet another way for community members to network with other bloggers and entrepreneurs. If you're a woman who hopes to make a living blogging, you'll want to join this Facebook group.
9. Women Helping Women Entrepreneurs
Technically, the Women Helping Women Entrepreneurs (WHWE) Facebook group is not strictly for bloggers. It's an active group for all types of female entrepreneurs, but conversations tend to skew toward making money online as an entrepreneur or blogger. That's why WHWE made our list of best Facebook groups for bloggers.
This mega-group that was launched in 2016 by Christina Rowe has over 391,000 members. This group has grown so large, that it's now spawning new sub-groups based on geographic location. As a member of the WHWE group, you can connect here with bloggers of virtually every blogging niche under the sun.
10. Blogger Roundups
A roundup post is a popular type of blog format that involves gathering thoughts from various experts on a specific topic and sharing those thoughts in a single blog post. A common challenge that bloggers who write roundup posts face is finding experts to contribute to their roundup posts. The Blogger Roundups Facebook group from Review Wire Media helps you connect to other bloggers who want to participate in roundup posts.
The Blogger Roundups Facebook group has just shy of 2,000 members. All members can add requests for participation in their own roundups—or offer to participate in other members' requests for roundup content. All blog niches can benefit from this group, though food bloggers seem to be the most active in the group.
11. Mom Bloggers Collective
Mom blogs are among the most popular and profitable niches, so it's no surprise that many Facebook groups are dedicated to this audience. The Mom Bloggers Collective group from the Millennial Stay-At-Home Mom blog offers a supportive community for mom bloggers and mompreneurs. I particularly like its focus on making money blogging.
Launched in 2018, the Mom Bloggers Collective group has more than 3,200 members. The group is ideal for bloggers who want to ask questions of others who create and manage a mom blog. The group also offers unique opportunities to connect and collaborate with other bloggers who share the same challenges and struggles you face as a mom blogger.
How Joining Forums & Facebook Groups Benefits Bloggers
Don't underestimate the value of joining blogger forums and Facebook groups. It can have more impact on your success than you might imagine.
Blogger forums and groups are a great way to get answers to your top questions and learn how others are handling the same challenges you face. When you actively participate in groups and forums, you can get more exposure for your blog, which can lead to more traffic for your blog.
These online communities also offer invaluable insights into top blogging tools and resources. If you're wondering whether an app or platform is right for you, asking others who have experience using them can be quite helpful.
Joining blog forums groups helps you build your network. Very few successful bloggers make it on their own; most depend on their connections for support and collaborations. Having a vast network can prove invaluable when it comes to blog outreach, which is essential for getting the word out about your blog—which is tied to how much money you can make as a blogger.
The Main Drawback to Online Forums & Facebook Groups
One big downside of turning to Facebook groups and forums is that the quality of the information you get varies.
Anyone can answer your questions or offer advice, and not all those who offer their thoughts know what they're talking about. I've found that a lot of beginners on forums and groups share their opinions as though it's gospel, when in fact, the advice is weak or flat-out wrong. That's why you should always do your homework before acting on anything you learn through a group or forum.
Bottom Line
Facebook groups and forums for bloggers are a fantastic way to expand your network. Joining online forums and groups is also a fast and easy way to get answers to your most pressing questions about blogging from others who face the same hurdles you face.