Freelance websites provide access to just-in-time workers to complete important assignments of all kinds — from small projects like creating a logo for your business card to long term assignments like building a mobile app. We looked at six of the most popular freelance websites with affordable pricing and features a small businesses would want.
For small projects and one-off assignments, hiring a freelancer is a great way to still get the job done and save you time. To outsource consistent day-to-day tasks, you may consider a virtual assistant. Virtual assistants at Time etc can free up your time by doing things like checking and responding to your emails, creating content for your website, researching products and competitors, and more–while saving you money on overhead. Click here to start your free trial.
Freelance Websites Comparison Table
Freelance Website

What Makes it Unique?

Client Fees

Upwork

Best overall with ability to view the most qualified freelancers for your job.

2.75% transaction fee
(or $25 a month flat rate)

Fiverr

Jobs done for as little as $5, mostly by millennials.

$1 fee for jobs under $20
5% fee for jobs over $20

Freelancer

Largest freelance website with 21M freelancers.

3% transaction fee

Guru

One of the first freelance job websites with a loyal following of 2M freelancers.

2.5% invoice fee

PeoplePerHour

Allows you to post freelance jobs or small tasks, but it is pricier than most.

3.5% transaction fee
(After 15% commission on the first $280)

Giggrabbers

Completely free for employers (the freelancer is charged a transaction fee).

No client fees
Upwork: Best Freelance Website for Small Business Owners


Of all the freelance websites we reviewed, we chose (and personally use) Upwork as our top pick. We love their Upwork Pro feature which allows employers to only see highly qualified freelancers. Upwork has more consistently positive online reviews than Freelancer or Guru, more robust mobile apps, and better customer service options for employers than the other freelancer websites.
Who Upwork is Best For
Upwork is great for any small business. It's an easy to use website that provides freelancers of all types. Upwork is the result of a merger between oDesk and eLance, so many businesses may already be aware of its services, even if the name is new.
Upwork currently has 10 million registered freelancers, and allows employers to rate the quality of freelancer work, which helps you determine which freelancer might be best for your next project.
Upwork Pricing
It is free to register on Upwork as an employer, and you pay freelancers based on rates you negotiate when you post a job. Once a job is completed, Upwork charges business clients a 2.75% transaction fee on each invoice. This is lower than most other freelance websites. If you have more than $910 a month in payments to freelancers, you can opt for a flat rate of $25 a month, which is even better.
You can also purchase an Upwork Pro membership for $149 per month. We recommend this for businesses that hire a lot of freelancers because it eliminates the number one problem with freelance websites — sifting through less-than-qualified freelancers.
Escrow: Upwork uses an escrow account for jobs/contracts paid based on milestones rather than hourly. The employer places funds in the escrow account where they're held until each project milestone is complete. Once a milestone is completed and approved, the funds are released to the freelancer. For example, if you hire Inga to build your website for $2000, you may pay her 25%, or $500, once she sets up the server and domain name. Then perhaps you'd pay another 25% after the logo and theme is uploaded and visible on the website.
Upwork Features
What we especially like about Upwork is their Upwork Pro feature. Upwork Pro works like a talent agency by hand picking vetted professionals for your job — individuals with 10+ years work history and great reviews. Upwork interviews them via video to ensure they're a good fit for your project. This saves you time and avoids you having to deal with poor or misleading freelancers who might also bid on your project.
With Upwork, you can post:
An offer where you pay your freelancer on an hourly basis. Hourly jobs are billed to the client weekly. For example, you pay freelancer Susie for 10 hours of bookkeeping.
Or a contract where you pay based on the completion of the project, or project milestones. Your funds are held in escrow until milestones are completed and approved. For example, you pay Julio $500 for setting up your payroll software and running the first payroll.
There are additional useful features on Upwork as well, such as a time tracker tool to keep track of your freelancer's work hours and a free mobile app to help you stay in touch with your freelancer.
Upwork Service & Support
Upwork has the best customer service out of the top freelance websites we reviewed. You can contact Upwork 24/7 by phone, use live chat, or send an email support request from their website. In fact, they are the only one of the websites reviewed that publishes their customer service phone number online.
They prefer to be contacted via website email 'ticket'. However, they responded immediately via live chat, and contacting them by phone required about 2 minutes navigating their phone tree. They also provide a robust online community with advice and tips from other users.
Dispute Resolution on Upwork
For hourly projects, the employer can dispute the hours worked, not the quality of the work, since you can terminate the project at any time if the freelancer's work isn't satisfactory.
For fixed projects, employers can only dispute money in the escrow account for project milestones that have not yet been approved. Once a milestone is approved and paid, you cannot request a refund.
What's Missing From Upwork
Like other freelancer websites, scammers sometimes make their way to Upwork. Upwork does a good job of shutting down their accounts. Nonetheless, do your due diligence and research freelancer ratings before you commit your money to a project.
Fiverr: Best Freelance Website for Low-Cost Gigs


With $5 projects, called 'gigs,' Fiverr has the lowest entry point of all the freelance websites. It's largely populated by millennial freelancers who want to pick up smaller projects on the side of their primary job.
Who Fiverr is Best For
Fiverr is best for businesses that have short, quick, low-cost work that needs to be done quickly. It's a great website to find a freelancer or gig worker to do things like proofread your employee handbook, create giveaway packages for a trade show, add music to your company video, run a package across town, build a PowerPoint presentation, or do a little market research.
Fiverr Pricing
In addition to the price you pay the freelancer, which can be as low as $5, you will pay 5% as a client fee. That makes it much more expensive than most of the other websites which charge only 0-3.5% client fee if you end up doing large expensive projects.
However, if you only order $20 or less worth of work, the fee is a flat $1. Technically, that's more than 5%, but still very economical.
Escrow: Orders must be paid for in advance. Fiverr has an escrow account option like the other freelance websites. Once a buyer makes a payment (which can be done using PayPal), the money goes into an escrow account.
Fiverr Features
You can create a free account on Fiverr with nothing more than your Google or Facebook account. Once on the website, the interface makes it easy to find someone who can do the work you need at your price point. Fiverr uses an eBay-style rating system that includes a numeric and star rating of each freelancer along with the number of clients they've served.
Almost any kind of service you want can be found on Fiverr, from software programming to pranks. You can even hire a freelancer to give hugs to your customers or order a singing telegram from a gig worker who disguises his voice as Batman. No other site offers that!
Fiverr Service and Support
Fiverr offers support through their user forum and via request from their website available 24/7.
Dispute Resolution on Fiverr
You can submit a request for support or your order from their website.
What's Missing from Fiverr
Low client fees are what's missing from Fiverr. There are much better freelancer sites to use that charge only of 0-3.5% as a client fee if you're looking to get larger projects done.
Freelancer: Best Freelance Website that Allows You to Try Before You Buy


With over 21 million freelancers on the website, Freelancer is the largest of the freelance job websites we reviewed. You can use Freelancer to post a job in one of three formats, including a contest format, which is unique to Freelancer. With a contest, like 'best website logo,' you provide details on what you want and multiple freelancers submit their entry. Only the winner gets paid.
Who Freelancer is Best For
Freelancer is best for businesses that want to see what a freelancer can do before they sign a contract. Contests allow you to see how a freelancer completes a small assignment, before you commit to hiring one.
Freelancer is also open source and has the most freelance users. It attracts gig workers from all over the world — 247 countries to be exact. So you may be able to find one outside the US who can do the work based on their contest submission. You may also be able to negotiate lower hourly rates with workers in less robust economic environments where your dollar goes farther.
Freelancer Pricing
It's free to post a job on Freelancer, but in addition to paying the worker your negotiated rate, Freelancer charges a flat fee of 3% per project. That's just a bit higher than Upwork (2.75%) and Guru (2.5%). If you want help selecting a freelancer, you can pay an extra $19 per job posting for a service that saves you time and helps match the best candidates to your job. This is similar to Upwork Pro's freelancer matching service.
Other advanced options let you advertise the job for $9, or keep your project confidential for $19 (meaning it won't be visible to website search engines).
Escrow: Freelancer offers an escrow service called Milestone Payments. Freelancer holds client funds until either a service/project is done, or a dispute resolution has been decided.
Freelancer Features
Local jobs on Freelancer are the same as what the Upwork calls an 'offer' or Guru refers to as hourly. They're 'hourly' jobs. Otherwise Freelancer features:
Projects — such as building a website or translating a document
Contests — such as creating a new logo or designing graphics for a new box label
Local jobs — such as answering phones, entering data, or proofreading
Like Upwork, Freelancer also has a mobile app for IOS and Android.
When a freelancer finishes a project, the client has the opportunity to leave a public review on their profile. This is an awesome feature because if a freelancer has gotten lots of good reviews from other people that have used them, it is likely that they will do good work for you as well.
Freelancer Service and Support
Freelancer offers 24/7 live chat and email support and also provides online support with step-by-step guides, categorized into easy-to-find topics like 'payments' or 'contests.' There is no phone support.
Dispute Resolution on Freelancer
Disputes are handled similarly on all of the websites we reviewed, but Freelancer, like Guru, makes you setup your payments using an escrow service before they'll help with payment disputes. In comparison, Upwork will help you with any dispute whether you use their escrow service or not. Freelancer's Milestone Payments escrow service must be used in order to access dispute resolution or arbitration.
In addition, you can't dispute a contest payment after selecting a winner.
What's Missing From Freelancer
There's no phone number to contact customer support directly and the user reviews aren't very positive.
Guru: Best Freelance Website for Those Who Want a Proven Vendor

Guru has been around for 20 years and used to be one of the only websites dedicated to freelancers. However, websites like Upwork and Freelancer have now outpaced Guru in both the number of freelancers and clients using their websites.
Who Guru is Best For
Guru is best for businesses that want to deal with a proven vendor that's been around a while. Due to it being the first freelancer website, many freelancers and businesses are fiercely loyal to Guru. Guru also has the lowest transaction fees of all the websites we reviewed, with the exception of Giggrabbers that doesn't have a client fee.
Guru Pricing
It is free to sign up, and post a job on Guru. You can advertise your job for as low as $29.95. On top of the rate you negotiate with your freelancer, there's a 2.5% transaction fee added to the invoice.
However, Guro offers a rebate of 3.5% when paying via check, e-check, or wire transfer. So if you're not paying by credit card, you may actually earn a slight (1%) premium on each transaction.
Escrow: Guru offers an escrow account with their SafePay option.
Guru Features
On Guru, like the other websites, you can search for freelancers for any kind of work you need done — hourly or project based. You can post an hourly freelance job or a project for free, or you can advertise it to make it more visible to freelancers on the website.
Once you register, you provide job details such a location, rate, and description of what needs to be done. You set your own rates for what you'd like to pay. Guru will then send you a list of freelancers to choose from. Of course, some freelancers will negotiate with you until you both agree on the price. Guru encourages you to use and upload a contract clarifying terms in advance. Like the other websites, Guru provides ratings of their freelancers so you can find the ones with proven track records and great feedback.
Guru Service and Support
Guru provides adequate service, but some users claim they're not very helpful with dispute resolution, even if you opt for their SafePay escrow service. Support is provided 9 am – 6 pm EST via email and phone. There is no live chat option.
Dispute Resolution on Guru
Guru offers dispute resolution if both parties have agreed in advance to use the SafePay program, which escrows client funds while waiting for the freelancer to complete agreed-upon milestones. However, some clients complain that scammers game the system by sending invoices, knowing that 'auto-payments' are sent from escrow to freelancers after a fixed amount of time (7/14/28 days), whether the work was completed to the employer's satisfaction or not.
What's Missing from Guru
Guru's interface isn't as updated as some of the newer websites, they have no weekend support, and they don't yet have a mobile app. Also, because freelancer ratings can be removed at the request of the freelancer (if they're a Guru subscriber), you can't always trust that a top-rated freelancer is really that great. So do your homework, use an escrow account, and never agree to pay in advance for project work to be done.
In addition, the invoice auto pay feature pays invoices on a fixed date. Clients need to pay attention to those dates and dispute an invoice before that date if they don't want payment taken out for work not yet completed.
PeoplePerHour: Best Freelance Website for Managing Projects

PeoplePerHour is best for businesses that want to manage the workflow directly from the website. Once you agree to work with a freelancer, perhaps based on their contest entry, the 'workstream' feature with PeoplePerHour allows you to track progress online and even share documents, which Freelancer doesn't offer. You can post and manage multiple contests at once, and getting started is easy. Just go to their website and start filling in the blanks.
Who PeoplePerHour is Best For
In addition to features similar to other freelance websites, you can visually manage multiple projects maintaining all documentation online. So whether you post a website design contest to compare designers before you hire one, or hire a contractor to answer your phones off hours — you can use PeoplePerHour's tools to track the work.
PeoplePerHour also uses a 5-star rating system that helps you find freelancers with top ratings. Because they're based in the UK, you may find more European freelancers than other US-based freelance websites however.
PeoplePerHour Pricing
In addition to the payment you make to compensate your freelancer, PeoplePerHour takes a 15% 'commission' right off the top of the first $280 paid. Then they add a fee of 3.5% on top of payments over $280. The PeoplePerHour 3.5% fee is higher than Guru (2.5%), Upwork (2.75%), and Freelancer (3%). However, it's less than Fiverr (5%). In most cases, you have to provide a down payment to the freelancer at the start of a job, which is different than the other websites where no down payment is required.
Escrow: Funds are placed in an escrow account to be released within 7 days of your approval.
PeoplePerHour Features
Before PeoplePerHour shows you their freelancer list, they require you to sign up with your name and email address and describe in detail the kind of task you need help on.
Once signed up, you can do any of the following:
Post a job and get proposals from freelancers who want to do the work
Search and contact freelancers based on specific skills sets or key words
Browse freelancers who offer fixed prices, for example a standard $20/hour for proofreading
In addition to standard freelance projects, PeoplePerHour provides the option of being able to post a contest for freelancers to design a website for you, in addition to the standard job posts, or freelancer listings. Freelancer also has that 'contest' feature for any project. With PeoplePerHour it's only for a website project but there's no obligation to accept or pay for any of the results if they don't meet your needs. That lowers your risk as compared to Freelancer where you have to put the money in up front and are encouraged to choose a winner.
PeoplePerHour Service and Support
PeoplePerHour provides help guides (pre-written articles) and a community forum. Otherwise, your only option is to send in an email request for support from the website. Other than help guides and the forum, email is their only support option.
Dispute Resolution on PeoplePerHour
You can open a dispute at the time payment is requested from the freelancer if you're not satisfied with the quality of the freelancers' work. Once you open a dispute, a rep from PeoplePerHour will review both sides and make a decision on whether payment should be made or not.
What's Missing From PeoplePerHour
The biggest thing missing is a person to talk to over the phone if you're having a technical issue or need help with a dispute. They also don't have a mobile app. And some US users complained that it's easy to get scammed by foreigners on this website.
Giggrabbers: Best Freelance Website that's Free for Employers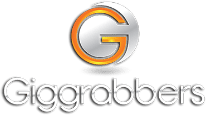 The biggest benefit of using Giggrabbers is that there are no transaction fees for the employer. Fees are paid for by the freelancer, so the price you're quoted by the freelancer is the price you pay. Giggrabbers doesn't bill you for anything extra. Giggrabbers is also the only website we reviewed that not only lets you find a freelancer for your project, but gives you the option to get crowdsourced funds to help pay for your project.
Who Giggrabbers Is Best For
Giggrabbers is best for businesses with limited budgets. They're a newer freelance platform and, in addition to not charging any client fees, they have an option that lets business owners use crowdfunding for their projects. That's something none of the other freelance websites offer.
Giggrabbers Pricing
Giggrabbers is free to you as the employer since the freelancer is the one who has to pay to use the service. Although Giggrabbers is one of the more expensive websites for freelancers to use (there is a 9.5 % service fee for freelancers), it's completely free for the job poster.
However, if you want help in setting up and managing your project, including finding the right freelancer, you can pay an additional $49.95 per job, which is cheaper than using Upwork Pro, but costs more than similar services on Freelancer.
Escrow: Giggrabbers, like all the other websites, also has an escrow option to ensure payments are secure until work is completed.
Giggrabbers Features
Giggrabbers has a simple three-step process to find a freelancer. Like other freelance websites, Giggrabbers lets you find freelancers either by searching for skilled workers — by keyword, category, job type, or location — or by posting a project so freelancers can find you.
Here's how that works:
Step 1: Post a job – complete the online prompts to post your job to the website.
Step 2: Hire a freelancer – communicate, complete work, make payments all online.
Step 3: Raise funds (optional) – create a crowdfunding campaign to promote on social media.
They also offer a contest option, but it's limited only to web design contest, whereas Freelancer contests can be for any kind of work product or deliverable. While most of the websites have a project tracking option to view individual project stages and key dates, Giggrabbers has a project management tool that gives you a visual look at all your projects at once.
Giggrabbers Service and Support
Giggrabbers only provides support by email.
Dispute Resolution on Giggrabbers
Giggrabbers provides a dispute center and promises their team will resolve disputes within 24 to 48 hours. You can submit a dispute with details directly from the website.
What's Missing from Giggrabbers
There's no phone or live chat support with Giggrabbers. As a newer website, there aren't many reviews for freelancers either, so proceed at your own risk. Their contests are also limited to website development, whereas Freelancer allows contests of all sorts including coding, design, and graphics.
Still Have Questions?
Have a question about choosing the right freelance website for your business? Our analysts are standing by to answer!
The Bottom Line
Freelance websites vary in the type of work and skills that they attract, so doing a little comparison shopping upfront can save you from headaches down the road. One of the most important considerations, in addition to price and quality of talent, is making sure that no matter which website you choose you select freelancers carefully. We recommend reviewing freelancer ratings and using the websites' escrow payment option to ensure you get what you pay for.