Upwork Review: Is It Right for Your Business?
This article is part of a larger series on Hiring.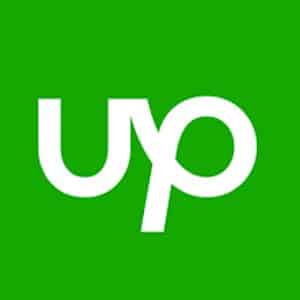 What We Recommend Upwork For
We've reviewed dozens of hiring services, as well as team management software, for freelancers and employees. Upwork impressed us with its ease of use, breadth of tools, and focus on meeting the needs of freelance workers and the businesses that hire them.
In particular, we found that Upwork is best for:
Companies that work with freelancers regularly and closely: Ranking No. 1 in our guide to the best websites to hire freelancers, Upwork has tools to make it easy to coordinate and pay freelancers on a single platform rather than signing a contractor up for multiple software.
Companies moving to a freelance or remote workplace: Upwork's new Any Hire package makes it worth considering if you have a solid mix of freelancers and hourly employees that you'd like to get under a single platform for management and payroll, especially if your employees are moving to remote work. Upwork even ranked in our evaluations of the leading job posting sites and the top free job posting sites.
When Upwork Is Not a Good Fit
Cheap, quick, one-off projects: Upwork does have projects, but they are more expensive than you'll find on alternative sites. Consider Fiverr instead.
Finding hourly or salary employees: While Upwork will let you take on a freelancer as an hourly worker, it is not designed for hiring regular full-time or part-time employees, particularly those that work in-office. Check out ZipRecruiter or Indeed to see if one works better for your business.
Looking for something different?
Read our guide to the best recruitment software for hiring tools that work for salary and hourly employees and even contract work.
Upwork & the Freelance Economy: Before & After COVID-19
Upwork does not reveal the exact numbers of freelancers on its site, but we can see its growth through its gross services volume, and its popularity is a reflection of the move by many workers to remote and freelance work. Upwork noted that the quality of freelancers has shifted, as they are more skilled and educated than ever.
And on CNBC, Upwork CEO and President Hayden Brown said that in 2020, 39% of the US workforce performed freelance work, and that percentage rose to 50% when looking at Gen Z.
"Sixty percent of workers who tried freelancing in '20–'21 said there was no amount of money they could be paid to go back to full-time work. Freelancing intersects with the needs they have holistically as humans and has given them economic choices as well as everything else they want in their lives—and that is something that's going to endure beyond the pandemic and anything else that's going on," said Brown.
Upwork Overview
PROS

CONS

Built-in time tracking tools
Limited dispute resolution
Freelancer reviews
Need a paid plan for some advanced features
Dedicated manager available
Not all freelancers are vetted
Expanding to provide payroll, EoR services
Upwork expands its horizons
Freelancing and remote work will continue to grow in the years ahead, and Upwork is growing with the demand. This year, it added Any Hire, a platform that lets you hire your own freelancers on the Upwork system—and it includes a plan that adds full-time employees to its payroll and team management.
Upwork Pricing
As of April 2022, Upwork combined its Basic and Plus plans into a single Marketplace package, which does not have a monthly fee but increases the transaction fee to 5% (3% for US businesses paying by checking account). Note that some clients may still operate under the old Basic or Plus plans for an unspecified period.
| | Client Marketplace | Enterprise |
| --- | --- | --- |
| Price | 5% per transaction; 3% for eligible clients in the US paying with a checking account | Custom |
| Job post upgrade | 1 free month | Custom |
| Invites to freelancers | 30 per job post | Unlimited |
| Create and post jobs | ✓ | ✓ |
| Search talent | ✓ | ✓ |
| Search projects | ✓ | ✓ |
| Chat, video, file share | ✓ | ✓ |
| Payment protection | ✓ | ✓ |
| Payment methods | Multiple | Multiple |
| Advanced reports | ✓ | ✓ |
| Coworker permission setting | ✓ | ✓ |
| Activity codes | ✓ | ✓ |
| Talent sourcing | Lite | ✓ |
| Program managers | N/A | ✓ |
| Compliance assistance | N/A | ✓ |
| Payroll | N/A | Optional |
| Onboarding | N/A | ✓ |
| Customer support | 24/7 Premium | Dedicated account manager |
Upwork also has two additional services:
Any Hire: Bring your outsourced freelancers to Upwork to take advantage of its tools and payment processing. Upwork serves as Employer of Record. No charge to freelancers.

Contractors: $49 per month + 3% transaction fees
Full-time employees: $49–$799 per employee per month + 3% transaction fees; payroll fees 5%–70% (depending on the location of the employee)

Payroll (available with Enterprise Plan): 23% of contract (13% for taxes, 10% for processing)
Upwork Features
Upwork works both sides of the freelance relationship: freelancers or agencies doing the work and businesses—called clients—that hire the freelancer or agency. We cover the tools for clients. These help you find, contract, work with, and pay your freelancer or agency.
Freelance Pool & Filtering
Upwork boasts over 10 million registered freelancers. You can find logo designers, app developers, customer support gurus, administrative assistants, and more. It even offers agencies in case you have a project that needs a team rather than an individual and organizes them into six categories:
Development and IT
Design and Creative
Finance and Accounting
Sales and Marketing
Writing and Translation
Admin and Customer Support
Upwork has to approve any freelancer who applies to the platform but otherwise does not vet them unless you use the Talent Scout tool (see below). Nonetheless, it makes it easy to narrow applicants down. You can filter by providing project details or look for qualifications, rates, and more.
Then, you can read their ratings and reviews (there are star review ratings that come from client reviews). Upwork also creates a user score based on public and private feedback, long-term client relationships, rehires, and contracts fulfilled. Its scores are as follows:
90%+: Freelancer or agency consistently delights clients
80%–89%: Freelancer or agency does solid work
79% and below: Freelancer or agency does not always meet expectations
---
Talent Scout
If you're overwhelmed by the number of applicants or simply don't have time to search for a freelancer, then Upwork's talent scouts can handle the work for you. You call and discuss your project's needs, then they pick candidates from a pool of vetted professionals with over 10 years' experience and great reviews.
Finally, they interview them to find you the best fit for your project and will present you with a shortlist of great candidates with hourly rates. Best of all—this service does not cost you extra.
---
Application Creation
Alternatively, you can create and post a job to take applicants. Upwork will walk you through your requirements. If you are not logged in, it will show you candidates to contact. If you log in, it will take you further in the job development phase until you have a completed job description to post. You can set parameters like whether you need an in-country employee or can accept candidates worldwide, how much you will pay (by project or hour), skills desired, and more.
---
Project Search
You don't have to create a job or a project from scratch. Many Upwork freelancers have developed their own projects with pricing and deliverables. Similar to Fiverr (but more expensive), these often include different levels. You can find them in the projects section, and the ads include samples of past work, pricing, and feedback from other customers.
You pay for the product rather than hiring the freelancer. Once you've purchased a package, you connect with the worker to discuss your specific requirements. It's a great way to find a skilled freelancer for a task without the hassle of screening applicants.
---
Project Management
There are many tools within Upwork for managing a project and keeping your freelancer on track. This includes communication tools, time tracking, and lists and milestones.
---
Add Team Members
It's easy to bring in team members to your Upwork account. This allows them to hire freelancers as well or to use the many project and communication tools for working with freelancers already in the system. With the new Marketplace plan (or the legacy Plus), you can set permissions so that team members can only access certain functions.
---
Create To-do Lists
You can make to-do lists, which create tiles of tasks with the information and a non-binding due date. Freelancers can mark them as done, and you can sort by completed and incomplete tasks. These lists are between you and your freelancer and do not affect their job scores.
---
Set up Mid-contract Feedback
You can set up private or public feedback with the client once a project ends. Mid-contract feedback, however, can be left before the project ends and is public. It shows up on the freelancer or agency work history but does not factor in the job success score. With some feedback (like mid-contract), you can choose to provide it; otherwise, the freelancer requests it. Freelancers cannot respond to public feedback.
---
Configure Milestones
Milestones apply to fixed-rate jobs, dividing a project into deliverables, due dates, or phases. They aren't individually funded but provide clear benchmarks toward the goal. For milestones, the project funds are put into escrow, and funds are released from escrow as milestones are reached. If for some reason the freelancer does not complete a contract and you part ways, they are paid for the work completed and you can request an escrow refund for the remainder.
---
Messages & Collaboration
The Upwork message app works a lot like Slack and other communications platforms. It lets you organize and manage discussions, search by group or freelancer, communicate in real time, and sync files or share documents.
Groups are called rooms. They can be set for projects or one-on-one conversations. Alternatively, you can go to all conversations and seek a conversation, room, or individual. Need to talk face-to-face? Click on the video icon in the upper right-hand corner to set up a video call. You can attach files to a message or by drag-and-drop them into a text box.
---
Time Clock & Work Diary
When you have hourly employees, they use the Time Clock app to track their hours. They simply click on the time, put a note in the memo about what they are doing, and get working. Upwork says it's important for work and payment protection for freelancers to accurately track and make notes of what they do during their time.
The time clock activates the Work Diary, a billing tool for hourly workers. Freelancers need to track time via the time tracker, and the Work Diary takes screenshots every 10 minutes. Workers can review the screenshots, removing extraneous ones and adding comments to explain the work. You can view these screenshots in the Work Diary. You or your freelancer can also add manual time for work not represented in the tracker, such as phone calls.
---
Paying Freelancers
Upwork lets you pay your freelancers by the hour or project. You need to attach your account to a PayPal account or credit card and for ACH transfers.
You can pay workers in their local currency, although the rates are shown in USD and you are charged in USD. There's a time tracker tool if you pay your freelancer by the hour and a milestone tool for project-based work. You can pay by PayPal or credit card, but if you pay using a Discover Card, your freelancer can only be paid in USD.
---
Dispute Management
Sometimes, even when you thought you made the best choice, things go wrong with a contract. Upwork offers payment protection for both freelancer and client. Sending a complaint to customer support does not count as a dispute. You must follow the directions for disputing an hourly fee or requesting a refund on escrow for a project fee.
You'll file your dispute under the appropriate contract in the My Jobs section of your dashboard, and the freelancer or agency then has a limited time to respond. If they accept the dispute or do not answer, you'll get your refund as a credit to be used with another contract. If they reject the dispute, then it'll be reviewed by an Upwork Dispute Specialist.
Hourly disputes only dispute the amount of time spent on a project; for instance, if a freelancer overbills you. Fixed-price disputes are for refunds in an escrow account for milestones not reached. You can also terminate the freelancer for unsatisfactory work.
---
Payroll (Available for Enterprise Users)
Sometimes, it's better to classify a freelancer as an employee. Then, of course, you need to put them on payroll. Upwork can handle payroll for your freelance team that you may hire as employees rather than as contractors. It's a great option when working with a freelancer on a long-term contract.
Upwork Payroll, which works in over 165 countries, partners with staffing agencies that work as the Employer of Record. Upwork complies with federal and state laws for where your freelancer is based. It manages legally required sick leave and ACA compliance for health care enrollment, transitions contractors to W-2 employees, and more.
Your freelancers will need to be paid on an hourly basis, and Upwork pays weekly or monthly, depending on the local laws and your preferences.
Payroll costs 23% of the freelancer contract. Of that, 13% is payroll fees (taxes and social security), which Upwork says is about what an independent contractor would pay in self-employment taxes, so the after-tax impact is often negligible. The rest cover Upwork's processing fees. You may get a discount on these fees when you also use Payroll. Upwork says many businesses negotiate these fees into the freelancer contract.
Upwork can provide worldwide payroll as well. Contact the provider for details.
---
Any Hire
Want to hire a great freelancer who's not on Upwork but you aren't sure what to do? Upwork's new Any Hire platform makes it easy to hire talent you don't find on its system. It costs you $49 per contractor plus 3% payment processing, but your freelancer does not need to pay anything.
However, if you want to bring in your full-time employees, too, Upwork has an Employer of Record plan that handles hiring, payroll, and Upwork tools for $49–$799 per professional, per month, plus a 3% payment processing fee, depending on the employee's location. This, however, can be expensive compared to other payroll services, especially those for small businesses, so be sure to shop around if you have employees.
Any Hire works in 190 countries, so you can hire just about anywhere on Earth and have all the security and tools that come from Upwork. Give Upwork the information about your new hire, and it will generate a contract that complies with local law that you can personalize and send. Then, you can import them to the Upwork system as a BYOT (discussed in the next section) to manage them using Upwork time tracking, payment, and communication tools.
---
BYOT (Bring Your Own Talent)
You can take advantage of Upwork's freelancer management tools even with freelancers not in the Upwork system. To bring workers in, you'll fill out an invitation that includes the details of your contract. The freelancer then receives an email, where they accept the invitation by clicking on a Get Started link to set up an account.
BYOT is moving to Any Hire. Upwork is migrating BYOT freelancers to its Any Hire program. Under Any Hire, the freelancer does not pay fees, whereas in the past, under the Basic or Plus plans, they would be charged a service fee. (Usually, you negotiate these fees into the hiring contract.) Upwork says Any Hire's flat-rate pricing saves users an average of 42% per contract. Any Hire's cost is $49 per contract, plus the 3% payment processing fee.
---
Moving freelancers to Any Hire From BYOT
Upwork creates a "new" freelance contract when switching someone from the BYOT program to Any Hire, but the terms will be set by you, which gives you an opportunity to update a contract or continue the status quo. Regardless of whether you change the terms or not, you should warn your contractor, as they will get two emails: one saying their old contract is canceled, and one with the new Upwork contract.
---
Enterprise Package
Used by companies like Microsoft and Airbnb, Upwork Enterprise offers advanced tools, greater analytics and reporting, and personal service to make it easy to manage your work with freelancers and agencies. Some of the extra features it offers include:
Global worker classification compliance services
Customizable contracts to align Upwork with your internal policies
Works with your onboarding processes for nondisclosure agreements, background checks, and more
Dedicated account executive
Program managers on-hand to help plan large projects
Talent Scout services—verified work history and reviews, expert-vetted talent
Advanced analytics and reporting
Work protection (if you're having a problem with a freelancer, Upwork will help solve the issue)
---
Mobile App
Upwork's mobile app lets you find freelancers and post jobs. You can interview employees and hire in the app, then use it to chat or video call, share files, and track project milestones. The app is better rated on the App Store, with 4.8 out of 5 stars at the time of this writing. The Android score on Google Play was much lower: 3.3 out of 5. The primary complaints were that the app was slow and laggy and the messaging feature did not work well, sometimes even erasing messages.
---
Upwork Ease of Use
24/7 live support
Free online course
Dispute resolution
Help videos covering all aspects of hiring freelancers
Knowledge base is thorough but not always illustrated
We found Upwork extremely easy to use. The search functions are simple and make it easy to drill down to find the right candidate. The tools were intuitive overall; however, the help section was not well illustrated, and we didn't find many how-to videos on its YouTube channel that covered how to accomplish tasks—the instructions in the Help Section were clear, though.
Upwork excels in providing additional information for working with freelancers, including videos and webinars. You can contact support 24/7, and with the Enterprise package, you get a dedicated account manager.
What Users Think About Upwork
Upwork reviews on user review sites often contain a combination of feedback from freelancers and clients. Most of the low scores come from freelancers who did not find the work they'd hoped for using Upwork. However, most agree that it's easy to use.
Businesses, on the other hand, almost always gave the platform 5 stars. They praised the ease of use, saying it made it easy to find a freelancer for a project (and often finding a reliable long-term contractor in the process). The lowest score was customer support. One client complained that a freelancer asked to be hired off-platform, which is against Upwork policy, and Upwork suspended the business's account even though it did not hire the freelancer.
When reading through Upwork reviews, I noticed these trends:
| Users Like | Users Don't Like |
| --- | --- |
| Easy to use | Some freelancers try to get you to hire them off-platform |
| Can hire on a project basis | Lots of competition from low-paying developing countries (freelancer complaint) |
| High-quality employees | Support can be slow to respond |
Top Upwork Alternatives
| | | |
| --- | --- | --- |
| | | |
| Best for: Finding international talent | Best for: Technical and design freelancers | Best for: Inexpensive freelance work on a project basis |
| Base monthly fee from: 3% transaction fee | Base monthly fee from: 2.9% per invoice | Base monthly fee from: $0 |
| Freelancer fees: Varies | Freelancer fees: Varies | Freelancer fees: Starting at $5/project |
| | | |
If you're unsure Upwork is right for you, see how it compares with our recommendations on the best websites to hire freelancers.
Bottom Line
The freelance economy is expected to continue to grow, with one study indicating that nearly 60% of non-freelance remote workers are considering freelancing in the future. Upwork makes it easy to find, manage, and pay remote workers on an hourly or project basis. With plans that add extra tools and even a way to handle payroll for remote employees and freelancers, it's a system that can help you manage the workforce of the future.
Upwork is free to use until you pay your first freelancer, and then it charges a 5% fee. Head over to the platform to find your workers.