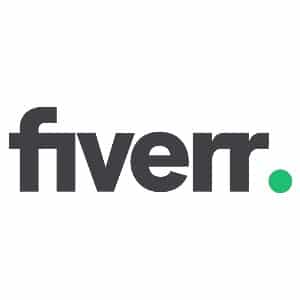 What We Recommend Fiverr For
We've examined dozens of hiring sites for full-time employees and freelancers and find Fiverr one of the best for breadth of offering while still focusing on quick gigs and small jobs—it even ranked in our guide to the best websites to hire freelancers. It's also one of the cheapest. This makes it a good site for small businesses needing an expert for one-time projects. While it's expanding into business functions, its strengths still lie in projects that include graphic arts, writing, and IT/web skills.
In short, Fiverr is best for:
When Fiverr Is Not a Good Fit
Looking for something different?
Explore our recommendations in our list of the best recruitment software for hiring tools that work for salary and hourly employees and contract work.
Fiverr Overview
PROS

CONS

Pricing starts at $5 per job
Mixed bag of professionalism and expertise
Wide range of skills, from logo designing to proofreading
No account management
Includes user reviews of freelancers
Freelancers are not vetted in Marketplace
No long-term contracts
Complaints of scammers and hackers posing as freelancers
Fiverr Pricing
Fiverr's pricing for buyers is easy. The projects are listed with their costs, which run from $5 for a quick task to as much as $15,000 for a long-term project. Fiverr also charges a 5.5% service fee on the purchase amount and tips. For purchases under $50, an additional $2 small order fee is applied.
Fiverr Features
Getting set up with Fiverr is easy—just go to fiverr.com and sign up. Alternatively, you can jump in and pick a project, then sign up when you are ready to make an order. When you sign up, it asks you some questions about your business to get started. To pay for the order, you need to register an account. Fiverr lets you both sell as a freelancer and hire as a business on the same account unless you upgrade to Fiverr Business (which we discuss later).
Fiverr is the place to go for projects from graphic design to IT support, and it continues to add new categories as needs (and freelancers) create demand. With over 800,000 people offering their services in over 400,000 categories, it can get intimidating. Fortunately, Fiverr offers multiple tools for narrowing parameters.
Start with the overall category, listed as tabs. This opens up a page where you can narrow the field even further. Drop-down lists let you get specific, such as file type to language or platform needed. You can also narrow the kind of freelancer (Seller) you prefer down, looking at ratings, qualifications, and more. Budgets and delivery times round out the list and help you get to the most likely candidates for your needs.
Need a job done fast? Fiverr says most freelancers have a 48-hour turnaround time and often give an option to pay extra for express service. You can also search for workers who are online (signified by a green dot on their profile image) and start a conversation right away.
Talent/Project Profile: Once you narrowed your list to a few finalists, you can further examine their qualifications and packages. Fiverr provides an extremely detailed platform, with samples, expected deliverables, qualifications, freelancer bio and contact information, package lists, reviews, and more. Fiverr also lists recommended alternatives in case the talent you're looking at isn't right for the job.
---
One of the biggest complaints about Fiverr is that clients get substandard work. Fiverr does not vet its freelancers (unless they apply to be a Fiverr Pro), so it's vital that you evaluate the freelancers before choosing them. To help with this, Fiverr provides you several tools:
Fiverr Pro and Fiverr's Choice: Although Fiverr does not evaluate all the freelancers on its site, as they get more gigs, Sellers can earn recommendations. Pro Verified means Fiver has evaluated them for quality and qualifications. Freelancers have to apply for this program and are asked about their education, expertise, and previous work. A Pro rating is available for graphics and design, brochure design, digital marketing, writing and translation, video and animation, music and audio, and programming and tech.
Fiverr's Choice means the Seller is highly rated and Fiverr recommends them for quality of service.
Seller Level: Fiverr categorizes its freelancers in four levels depending on experience and performance.
New Seller: Every freelancer starts here, but you can assume that they have little experience. They certainly have had few gigs on Fiverr from which to judge.
Level One Seller: The freelancer has at least 60 days on the platform and completed 10 gigs with high satisfaction (4.7 out of 5 or higher).
Level Two Seller: The freelancer has at least 120 days on the platform and completed 50 gigs on time and with high satisfaction (4.7 out of 5 or higher).
Top-Rated Seller: The freelancer has at least 180 days on the platform and completed 100 gigs with high satisfaction (4.7 out of 5 or higher). In addition, they've earned at least $20,000 on the platform and met Fiverr's internal quality requirements.
Reviews: You can read feedback from a freelancer's previous customers on their talent page. Similar to most user review sites, reviews have a one-to-five-star rating and comments section. They can be organized by topics as well. In addition, users can leave an image of the finished product if they wish.
Courses: Sellers can earn badges by taking any of Fiverr's continuing education webinars to develop their skills. The badges show an interest in their craft and willingness to grow their talent.
Set your own requirements: Every freelancer accepts Fiverr's Terms of Service, but you can add other requirements as needed, such as having them sign a nondisclosure agreement. You can send documents like this to the worker as an attachment using Fiverr's message system. They can choose whether or not to agree to your terms before proceeding, so get this accomplished or at least discussed before paying for a gig.
---
If you've found a freelancer you like, there are a couple of ways to make sure you can reach them for future projects.
Gig Subscriptions: If you need more than one project done within a short period, then some freelancers allow you to subscribe to services. For example, you can subscribe to get three social media campaigns done over the next six months. Some Sellers offer a discount when you subscribe.
When you order a Gig Subscription, you're authorizing Fiverr to automatically charge you for each order from your Fiverr balance or payment method. You can cancel the future orders within 10 days of the next consecutive order.
My Lists: You can create lists of your favorite Fiverr Sellers to make it easy to return to them when you need another project. It's a great way to keep your Seller's information where it's handy for future projects and to create a list of trusted freelancers that your team knows they can turn to for quick projects.
---
You don't have to search Fiverr's lists of gigs. Instead, go to Manage Requests on your account dashboard and click on Post a Request. Fiverr walks you through creating a job ad. You start with describing your project and adding any attachments, then defining parameters for delivery and compensation. The ad then posts for freelancers who can contact you through the system.
Like with all Fiverr gigs, you only pay once you hire the freelancer. The money goes into an escrow account to be paid when you accept the deliverables.
Need to hire an employee instead of a freelancer? Check out our guide to hiring employees.
---
Fiverr has several business tools that allow you to track your freelancers, manage active orders and billing preferences, and view completed projects. It has a section where you can communicate with your worker and tips and suggestions if you want to meet them in person or communicate through tools outside Fiverr.
Inbox: Fiverr's inbox works like a chat room, with conversations kept in separate threads. It has some nifty tools for working with international Sellers. You can see a buyer's usual response time and spoken language, for example. Conversations are marked read or unread, can be highlighted with a star, archived, or marked as spam. Sellers can also initiate a Zoom call. (Buyers do not have this option at this time.)
Milestones (for projects over $100): If you have a large project, like a website design, you can arrange with your freelancer to divide it into milestones. You pay for each milestone individually, and milestones are marked complete when you accept them. If after eight days you do not accept or request modification, the milestone will get marked complete, but the order itself is stopped until you reply. When you accept a milestone, you can choose to continue with the order or stop there.
You must pay milestones in advance; if you don't pay for the next one within 10 days of accepting the previous one, the order does not go to the next milestone. If you cancel the order in the middle of a milestone, you only cancel future milestones—you are still paying for the one the freelancer is currently working on.
Collaboration on Files: Fiverr allows you 5GB of file uploads for collaboration. This lets you leave comments on images, audio, and video files as well as documents. The comments are displayed on the right-hand side and include timestamps. In addition, you can invite a third party to comment on files sent by a Seller. The Seller won't see this person's comments—only you will. This is handy when needing a second opinion or approval from another department.
Revisions: If a project comes back unsatisfactory, you can request revisions. You reject the Seller's delivery and give them feedback for changes required. However, Sellers have control over whether they allow revisions. Revisions must be requested within three days of delivery or the order will be marked completed.
---
Like many freelance websites, Fiverr requires you to pay in advance and puts the money into an escrow account to pay the freelancer upon acceptance of the finished product. You can pay using PayPal, credit card, Apple Pay, or Google Pay. You should not pay Sellers outside of the platform; in fact, if you are asked to, Fiverr wants it reported immediately.
If you have a coupon, you need to apply it at the time of the order—Fiverr does not take coupons after the fact. In addition, if you have Fiverr credits, such as from a refund from another project, then Fiverr will automatically use these first and charge you the remainder. Fiverr credits have an expiration date and are non-refundable.
If you change the parameters of your order, such as asking for more items or changes, Fiverr processes any increased fees that apply but does not change the deadlines. Be sure to coordinate with your Seller to avoid confusion.
Tips: Fiverr encourages tips, sometimes to the irritation of users. It has multiple options and asks several times during the process. You have seven days after the order is marked as complete in which to tip your Seller. Fiverr takes a 5.5% service charge fee on tips as well.
---
Fiverr prefers that you try to work out disagreements with the freelancer before going to dispute management. However, it does offer help in solving disagreements or getting a refund if you cannot resolve the issue to everyone's satisfaction.
First, if a Seller is late or unresponsive to a request for 24 hours, you have the right to cancel the order and get a refund. If a Seller delivers work that does not meet your agreed-upon conditions, you can request a refund or ask for revisions.
You can access the Resolution Center by clicking on the job in your dashboard, and you can communicate with the Seller there. If you want some backup, you can contact Fiverr's Customer support team 24/7. (Note: Real-world users say the quality of support varies by the representative. Some even suggest contacting support more than once to get someone else if you're not satisfied.)
If you cannot resolve your issues, then you can request a refund. Refunds generally go back to your Fiverr account as credits to use with future projects. However, if you want a refund to your PayPal account, you can request it.
There's a 13-day grace period after an order is marked complete for you to evaluate it and try to work out any issues. After those 13 days, however, a Seller can take their payment and can decide whether or not to refund you.
---
If you want to use Fiverr's freelancers for multiple projects and have others involved, Fiverr Business is a great tool for keeping things organized. It lets you create multiple projects, invite team members to the account (with permissions), make and track orders, archive or delete projects, and see the project spend. However, it does not let you work as a Fiverr Seller.
Fiverr Business lets you set up projects at different levels.
MyProject: This is for you alone and works for orders that apply only to you.
Private Project: These are for teams but are by invitation only. If you order a project from a Fiverr freelancer, it will show up here and be shared with the other team members who have access.
Public: Anyone on your team can access these projects by clicking Join Project. Only the Public Project creators can remove members or change the project name. New orders in a public project will be shared with all project members.
---
The mobile app has high scores, but most of the reviews focus on Fiverr as a service rather than the app itself. Comments are less complimentary, with complaints about not being able to download files/deliverables and it being hard to navigate. Overall, though, users appreciated it and its service.
It lets you search projects and Sellers, order projects, communicate with Sellers, and make payments for completed projects. The app is available in English, Italian, Dutch, French, German, and Spanish. It earned ratings of 4.9 out of 5 on App Store, and 4.7 out of 5 on Google Play.
---
One of the most popular requests on Fiverr is for logos. Now, the platform lets you do it yourself with its free logo maker. It walks you through parameters like your industry, mood, and style. Then, it pulls from designs its freelancers have provided.
You can select a logo or variation or request a designer to edit it. You can also purchase the rights for $30 for digital rights or get a complete package with formats for print, web, and even Zoom backgrounds, plus a brand style guide for $60.
We tried out the logo maker for two very different types of businesses. The process was easy and fun. In some cases, it presented the same logos for both designs. However, changing the style parameters made a big difference in the results.
---
Fiverr Ease of Use
Support by email or ticket (but support is hit or miss)
Costs are automatically adjusted to your local currency
Thorough an FAQ
Help center includes how-to, instructional videos
Overall, we found Fiverr easy to navigate. The account functions are well-organized and the interface clean and responsive. The FAQ was very well done, although it lacked illustrations, but the help center does include videos. However, even though we specified we were a business, it seemed, at times, that the answers were directed at Sellers.
What Users Think About Fiverr
Examining real-world Fiverr reviews gave two very different impressions of the platform. Both Capterra and G2 were filled with freelancers and business clients praising it. They said it was easy to find great talent and appreciated the secure method for paying freelancers. Business users did warn to select freelancers carefully.
Sitejabber seemed to be the place people went to complain, and the complaints were fierce. Businesses claimed to be scammed by freelancers on the site, said they received substandard work, were asked by freelancers for more pay after signing the contract, and more. There were even warnings about "dark web" hackers, and one user said their website was deleted by the freelancer they hired. For all these complaints, they said Fiverr did not respond or gave flimsy support.
Fiverr's terms of service say that buyers are responsible for scanning all transferred files for viruses or malware.
The takeaway seems to be: Buyer beware. While there are a lot of legitimate freelancers, the lack of vetting means there's a potential for scammers too.
These are some trends I noticed when reading through Fiverr reviews:
| Users Like: | Users Don't Like: |
| --- | --- |
| Inexpensive freelance work | Talent not vetted |
| Huge choice of talent | Support not helpful |
| Easy to use | Fiverr reviews of Sellers do not reflect the results businesses got |
Top Fiverr Alternatives
| | | |
| --- | --- | --- |
| | | |
| Best for: Hiring freelancers by project | Best for: Technical and design freelancers | Best for: Freelance work on an hourly basis |
| Base monthly fee from: Free | Base monthly fee from: 2.9% per invoice | Base monthly fee from: Free |
| Freelancer fees: Varies | Freelancer fees: Varies | Freelancer fees: Starting at $5/hour |
| | | |
If you're unsure Fiverr is right for you, see how it compares with our top websites for hiring freelancers.
Bottom Line
Fiverr has come a long way since it was founded 12 years ago. The breadth of products its freelancers offer has expanded, as have the options—and the price ranges. No longer limited to quick $5–$25 projects, you can get entire websites designed, hire a virtual assistant, or order a subscription or contract job. It provides tools for evaluating candidates, including vetting, and even has its own logo maker.
Setting up a Fiverr account is free. Got a task you need done? Hop over to Fiverr and find your freelancer now.