Best Freight Brokers for Small Businesses for 2023
A freight broker taps into a huge network of freight carriers to find the best rate for your freight shipments. We looked at dozens of popular options to determine the best freight brokers by examining customer service, small business accessibility, price, reliability, scalability, and ease of use.
The best freight broker sites for small businesses in 2023 are:
Freight Brokers Compared
Brokerage Type

General Pricing

Quoted Price in Test

Freight and Service Types

Reputation

Asset-based broker

Competitive

$745.82—$4,652.49

LTL, FTL, intermodal, air and sea, and various specialty freight, distribution services, warehousing

Very strong

Online freight exchange

High

$1,168—$2,289 (had to split to 2 pallets)

LTL, FTL, intermodal, air and sea, and various specialty freight and small transport services

Strong; can vary by indie trucker

Online freight exchange

Low

$518.72—$1607.55

LTL, FTL, intermodal, air and sea, and various specialty freight and food and beverage

Strong; can vary by indie trucker

Asset-based broker

Low

From $610

LTL, FTL, intermodal, air and sea, and food and beverage

Very strong
To determine cost and pricing, we requested a quote for transport of the same load from each provider we evaluated.
The details of the job are as follows:
Origin: Houston, TX 77002
Destination: San Francisco, CA 94108
Commodity: Textiles (2,160 T-shirts)
Freight class: 175
Value of goods: $9,720
Handling unit: Pallet
Dimensions: 39" x 49" x 50"
Weight: 900 lbs.
Quantity: One
Accessorials (special handling needs): Must stay dry
Delivery speed: ≅ Four business days
Redhawk, Coyote, and uShip generated quotes immediately, while the quote from MODE was emailed to me by an agent within a day. Each broker returned four or more quotes from various shipping brokers and service levels.
---
Redhawk Logistics: Best Overall Freight Broker for Small Businesses

Pros
Access to discounted quotes from vetted carriers
Helpful and responsive account managers
Asset-based brokerage company with Columbus, Ohio, warehouse
Cons
No parcel shipping or order fulfillment
Support platform designed for enterprise-level clientele
Does not guarantee two-day shipping
Redhawk Highlights
Provides a range of discounted quotes for 70+ freight carriers, 3,200 closed trailer motor carriers
Highly rated in online reviews and zero BBB complaints (A+ rating)
Highly scalable with services to help expand logistical reach
Includes features like warehousing and distribution services, web-based TMS and routing platform, and simple tracking
Types of Freight:
Intermodal
Rail
FTL
LTL
Air Freight
Drayage/Final Mile
Ocean Freight
Expedited Freight
Courier
Climate-control
Redhawk Logistics (formerly Redhawk Global) is an asset-based brokerage firm and full-service supply chain management company that provides freight shipping, warehousing, and distribution services across the US, Canada, and Mexico.
It supplies distribution and warehousing from its own facilities in addition to standard freight brokerage services. For this reason, it's a good choice for quickly expanding businesses. We also rated it a top 3PL service for small businesses.
My quote request with Redhawk returned a healthy variety of bids, including one as low as $745.82. Redhawk factors the value of your load into its carrier recommendations and builds each quote to include insurance.
All in all, Redhawk is an incredibly cost-effective option for brokering freight, especially for small businesses. The cost of warehousing and/or distribution services through the company is determined on a custom basis.
---
Scalability: DIY or agented account management. No minimum frequency or volume requirements. Contractual pricing for frequent shippers. 3PL and warehousing services available.
Heavy-haul: Redhawk can ship large cargo, from steel coils to prefabricated houses. It understands DOT guidelines and the travel challenges a heavy load presents.
TMS: The company's advanced, web-based TMS and routing platform allows you to control, route, track, and manage your freight from anywhere, with helpful analytics and reporting features.
Online resources: Helpful calculator tools, glossaries, FAQ posts, written guides, and regulation directories are available on the company's website.
Vetted carriers: All of Redhawk's partnered movers are vetted, although the company does not publish its screening process.
User reviews: Like MODE, Redhawk has an excellent score from the BBB. The third-party user reviews are also fantastic.
---
uShip: Best for Experienced Shippers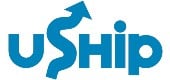 Pros
Widest network of carriers
Lowest prices
Proprietary insurance options and "Shop with Confidence" guarantee
Can ship animals and livestock
Cons
Unvetted pool of independent owner-operator and other carriers
Difficult process for resolving issues with drivers
uShip Highlights
Online freight exchange with traditional brokerage services
Accessible from iOS or Android mobile app
Built for individuals and small businesses but offers limited scalability
Can ship animals and livestock, agricultural and odd items
Types of Freight:
Intermodal
FTL
LTL
Air Freight
Ocean Freight
Expedited Freight
uShip is a freight exchange that acts as an online marketplace for all kinds of shipping services—from LTL freight to auto hauls to animal transport. It's built for individuals as well as small businesses.
The platform primarily works through listings that allow shippers and carriers to post their services and needs. Listed shipments can receive bids from carriers with compatible availability, but uShip also offers a more hands-off broker service that draws potential options from listed carriers and partnered companies.
Despite the wide range of items it can ship, its freight pallet has size limits; we had to break our test shipment into two pallets to make it fit their requirements. As a result, uShip's prices increased significantly—it went from the least expensive quote in our last update to one of the most expensive of all the quotes we received. However, all the delivery times promised four days. Most provided a range from one to 10 days.
---
Shipping variety: Transport service categories include less-than-truckload (LTL) freight, truckload (TL or FTL) freight, vehicle and boat, household items, home or office moves, heavy/industrial equipment, and animals. It's the only one we found that mentioned agricultural commodities and livestock.
Freight exchange: This shipping broker has standard brokerage and freight exchange options, so you can list your freight and review multiple bids. Unlike others on our list, you are drawing from a pool of movers who may or may not be licensed and trustworthy professionals—although uShip's direct insurance offering may help mitigate this risk.
Mobile app: uShip can be used on your web browser and on the go with the iOS or Android uShip app. The app allows you to create listings, review bids, communicate with your driver, get important status alerts, and make payments. It also lets you track your shipments.
Insurance: While most brokers can set you up with insurance through the hired carrier, uShip offers all-risk cargo insurance with coverage for direct physical loss and/or damage. This direct relationship can speed up payouts on claims, and it's backed by Lloyd's of London. Plus, uShip offers a "Ship With Confidence" guarantee that pays out a percentage of lost or damaged goods—up to $500.
User reviews: The site has its share of complaints, most of which stem from failed service from untrustworthy carriers.

Trustpilot: 4.3-star rating from 11,000+ reviews
BBB: A+ rating, 7 complaints since our last update
---
Coyote Logistics: Best Budget Freight Broker

Pros
Part of UPS
Network of 70,000 independent carriers
Handles refrigerated shipping
DIY or agent assistance
Cons
Complaints/problems must be resolved with the individual carrier
Quotes were for seven-day shipping
Carriers are not vetted
Coyote Logistics Highlights
Worldwide shipping and more options thanks to the partnership with UPS
Low prices—but may have longer travel times
Handles food and beverage—refrigerated options
Agents available to advise on the best way to ship a product
Types of Freight:
Intermodal
FTL
LTL
Air Freight
Ocean Freight
Expedited Freight
Drayage/Final Mile
Refrigerated
Coyote is new to our list. Like uShip, it is a network of independent drivers. However, it has the added advantage of being part of the United Parcel Service (UPS) system, broadening your options for shipping and extra services handling surges, rush orders, and on-site support. It was the winner of the Anheuser-Busch King of Beers freight competition in 2022.
Coyote has an A+ rating from the BBB. There are a few complaints, and the one thing we didn't like is that Coyote passes these on to the independent carrier for resolution. Some shippers complain that it favors its drivers over its customers. However, its pricing was among the lowest, although the quotes we got were for 7-day shipping.
Like Redhawk and uShip, you can put in your information and get an immediate quote back. Alternatively, if you're unsure of the best way to ship your products, you can reach out to an agent to discuss your needs. We went the DIY route and got some excellent prices: $518.72—$1,607.55. Alas, the drive times were all around 7 days.
---
Part of UPS: Although a network of independent truckers and trucking companies bidding for contracts, Coyote Logistics is also part of the UPS system. This gives you greater flexibility for shipping choices, as well as access to other services like:

Trailer repositioning
Drop and hook
Daily and monthly surges
Last-minute and rush orders
On-site support

CoyoteGO digital freight platform: Coyote's TMS platform, like most, lets you get quotes, track information, manage paperwork, and see delivery stats. However, it also lets you communicate with your representative and get insight into what drivers think of your facility. You can also build and edit shipments.
Outsource supply chain: In addition to freight, Coyote offers full and partial supply chain solutions to manage day-to-day operations for proposal requests, key performance indicator (KPI) tracking, automated quoting, and more.
User reviews: This freight broker received very few complaints, but when it did, it was because customers didn't feel the brokers were working in their best interests. They said brokers were not available to them when needed and were more likely to side with the truckers.
---
MODE: Best for Agent-assisted Quotes

Pros
Set requirements for carriers, especially for insurance and food safety
Can handle food, refrigerated items
Agent-generated quotes look at all modes of shipping
Cons
Quotes are not immediate
No warehousing, order fulfillment
MODE Pricing
Vetted carriers
Agent-generated quotes
Ground, LTL across North America, including cross-border
Types of Freight:
Intermodal
FTL
LTL
Air Freight
Ocean Freight
Parcel
Refrigeration available through partners
MODE Transportation is a light asset-based transportation company that handles a wide variety of shipments throughout North America and abroad. It made our list because it sets specific requirements for its partner carriers, is food and beverage handling-qualified, and offers agent-guided quotes.
MODE, like Redhawk, has an A+ rating and zero complaints from the Better Business Bureau. The few reviews we found online were not great, but some were older than two years. We were pleased with the response we got from our agent, Natasha, who took the time to ask questions to get us the best deal.
MODE was the only one to make our list that did not provide an immediate quote. Instead, we filled out a contact form with our needs, and an agent reached out in less than a day. In our case, the parcel is a little taller than most trucks can take. Rather than jumping to a larger truck with swing doors (as most we evaluated did), the agent reached out to see if we could compress the package a few inches to get a cheaper rate. (We chose to split, instead.)
---
Agent-generated quotes: While the others on our list offer the convenience of instant quotes, MODE makes up for having a short delay with its expert advice. Agents will work with you to find the best choice for your shipment, even by exploring alternate methods, like intermodal vs FTL.
Carrier vetting: Unlike uShip and Coyote, MODE posts minimum requirements for its carriers. They must carry at least $100,000 in insurance and be qualified to handle food, for example.
Parcel shipping: If you occasionally have a small package, MODE can leverage the infrastructures of FedEx and DHL. It offers simple rather than tiered pricing, makes use of its large-scale transportation spend to get discounts, and can handle returns. Coyote is part of UPS.
B2B: Mode specializes in B2B freight and ecommerce and commercial at all levels, including parcel shipping.
User Reviews: As usual, the online reviews are low, but the star rating was typical for movers. MODE stood out, however, in how few reviews it got. The bad ones involved shipping and receiving times; two mentioned a specific employee. Meanwhile, the 5-star review said that MODE always gets the job done and the people are considerate.
---
How to Choose the Right Freight Brokerage Service
It's widely reported that there are over 17,000 licensed freight brokers in the US, and finding the right one for your specific needs can be daunting.
Make sure you work with a broker who is licensed, insured, experienced, and reputable. It never hurts to rate-shop between a few different brokers to test the waters.
Here are some additional tips to help you in your search:
There are a few distinctions in the world of freight brokering. To know what you're searching for and dealing with, take a look at these common types of services:
Non-asset-based Freight Broker
The common term "freight broker" usually refers to a non-asset-based freight brokerage firm—which is an individual or company that solely acts as an intermediary between shippers and carriers. These delivery broker companies do not own their own freight equipment.
Brokers make a profit by adding a percentage to carriers' wholesale rates—which are significantly lower than market costs. Generally, they have competitive prices thanks to strong relationships with partnered carriers. They also offer hands-on customer support, sometimes with a dedicated account representative.
Asset-based Freight Broker
An asset-based broker is similar to a non-asset-based broker, with the exception of owning its own freight-related equipment. These assets can be truck fleets, warehouses, distribution centers, or any combination of the three.
An asset-based broker often works with outside logistics companies to supplement its own resources. They're known for being more reliable and having the flexibility to present custom solutions.
Freight Exchange
Freight exchanges offer a different, DIY type of service that aims to yield the same result as brokerage firms. They're platforms that allow shippers to list their freight in need of transport. Then, carriers with extra space on their vehicles can search the database for jobs that fit with their existing loads and routes.
Alternatively, carriers can post their services and schedules, and shippers come to browse available options.
In either case, the hosting site adds a small percentage to the cost on either end of the transaction—or changes a monthly fee for membership.
These sites create a way for customers and transporters to connect outside of the standard channels. This comes along with low prices, but also more rigidity and risk than you'd get using a traditional broker. Deliveries often take longer than estimated, and you're trusting an unvetted company with your precious goods. For these reasons, it takes a bit of savvy to use freight exchanges.
Freight Forwarder
A freight forwarding company specializes in handling all the details involved in import and export. This can include the preparation of documents, brokering a freight carrier, arranging warehousing, buying insurance, filing claims, managing tracking, and scheduling inland transportation.
Essentially, a freight forwarder is a full-service international shipping agent. They're best for companies frequently shipping cargo to various countries; these firms are deeply familiar with the customs laws, requirements, and logistics companies of regions around the world, so it's helpful to lean on their expertise.
Freight Expeditor
Freight expeditors facilitate global freight shipping and domestic and regional rush orders. This can include brokering shipments as well as providing freight forwarding services.
Large international third-party logistics (3PL) companies specialize in these services, and some logistics brokers and independent carriers offer expeditor services, as well.
---
Start with the Services You Need
Some logistics broker companies (like uShip) can handle everything from heavy equipment to your favorite cow. Others are more specialized. If you have particular needs, especially non-negotiables like refrigeration, make sure the company offers them.
Next, consider coverage, warehousing, tracking, and what level of customer service you expect.
Also consider how much and how often you'll want to use the service. Some freight brokerage solutions are fine with one-time shipping; others encourage you to make an account, offer a dedicated account representative, and have discounts for use.
Find Brokers Whose Strengths Match Your Needs
If you're doing more than a one-time shipment, take some time to look not only at the freight broker sites but talk to a representative as well. Put in a test quote and see how quickly they respond. Ask what they specialize in and what their experience is with your kind of commodity.
Consider Reviews
When it comes to trusting your products to a stranger, it pays to do some checking. The Better Business Bureau is a good place to start. Don't just look at the grade; consider the number and types of complaints. We usually look at the past year rather than the total number. Read how the company responds—do they pass the buck? Fight back? Quietly resolve the issue? If you have problems, that's how they will treat you.
Freight broker companies as a whole have somewhat of a bad reputation—but don't judge the many by the actions of a shady few. Using a trustworthy broker is a great way to ship freight at highly discounted rates with expert guidance.
Find Out How They Treat Their Truckers
Don't just look at how they treat customers. This is a case where unhappy employees can mean trouble for you. Companies that treat their truckers badly, especially by delaying paying them, can end up with employees and contractors that don't care about quality service or going the extra mile to help a customer. The best freight brokers for owner-operators pay their people on time, don't mix up invoices, and work as a go-between for truckers and customers to resolve issues.
---
Freight Broker Companies to Avoid
Since Or Last Update:
We have taken GoShip and Uber Freight off this list. Uber Freight has fulfilled the hopes we expressed in our last review and has consistently high ratings on third-party review sites. GoShip still has mediocre reviews overall but has improved.
We evaluated a wide range of the top freight brokers used by small businesses and found that many of the biggest companies in this arena are the most problematic.
During your search for the best freight broker solution, you're likely to come across the following names. Here's what you need to know:
TQL (or Total Quality Logistics) is a high-grossing logistics company with a large North American footprint. It's known throughout the supply chain for its persistent cold calls and emails, which many recipients consider to be borderline harassment.
If you haven't yet received a call from TQL, you'll benefit from keeping your number out of its database. Many shippers claim they've attempted to block incoming communications and request removal from the company's phone list, but have continued to receive daily calls from other TQL agents using different phone numbers.
The brokerage has a wide network of partnered carriers, but negative reviews of its services abound. It maintains a one-star rating on Yelp due to users reporting rude customer service, unfulfilled contracts, and damaged loads.
FreightQuote.com is an online brokerage site owned by C.H. Robinson (one of the biggest providers of multimodal transportation services and third-party logistics in the world). We reported in our last update that we warn against them because of numerous complaints to the BBB and one-star ratings from users.
Since that update, we found fewer complaints, but some of these were too much back-and-forth to resolve. In addition, we found several third-party review sites that give FreightQuote.com one-star reviews. Primary issues: overcharges, poor customer service, and scheduling delays.
In 2020, the Better Business Bureau gave XPO an F rating for frequent and unanswered complaints. Since that time, it does not seem to have noticeably improved. Reviews on multiple third-party sites like Yelp, Sitejabber, and even its own Facebook page are two stars or lower on average. Even on the BBB website (where XPO is now "Non-Rated"), the most recent reviews are consistently one-star. Complaints include missed delivery times, multiple reschedules, drivers being dishonest, and even hidden fees.
While one of the most popularly mentioned transportation brokers, it is nonetheless one we cannot recommend. The Better Business Bureau gives it a D- rating, and the user reviews average under two stars. There are complaints about poor delivery but also about apathetic responses by the brokers when customers called to complain.
How We Evaluated
Freight brokers exist to make the process of shipping freight easier, cheaper, and more efficient for customers. We assessed dozens of providers to determine which ones accomplish that best—and are most accessible to small businesses.
We chose Redhawk as the best freight broker company. We were impressed with its price, speed and variety of quotes, and overall range and quality of service. It's also a top 3PL service.
Here's an overview of what we considered in our evaluation:
Click through to see the scoring criteria:
This criteria looks at the range of partnered carriers each delivery broker has, which carriers offer discounted rates, the cost of insurance, and any available value-added features. We also conducted a quote test to see how these factors contribute to the final cost of booking freight through each provider.
We assessed critical features like network size, TMS (transportation management system), accuracy, speed, reporting, scalability, and more. The best freight broker sites deliver well-developed services and features that lend to efficient transport.
This score largely considered customer service accessibility and prioritized brokers that provide multiple contact channels, effective support, and extended hours of operation. Each broker was also evaluated for its website interface, online resources, usability, startup-friendliness, and payment system.
Unfortunately, there are a decent number of shady brokers in the logistics industry. We combed through thousands of ratings from real-world users on trusted third-party review sites to get a feel for each broker's professional history and prioritized the most reliable and trustworthy providers.
Bottom Line
According to the US Department of Transportation, there are over 1.1 million motor carriers for hire in the United States. Navigating that many options while trying to score the best price is nearly impossible for a new shipper to do on its own—which is why we recommend working with a vetted freight broker.
The best brokers deliver a host of features and are cost-effective, easy to use, small business-accessible, and reliable. Our top-ranking freight broker solution Redhawk offers the widest variety of delivery solutions at reasonable prices. Get a quote today.