Best Freight Brokers for Small Businesses
A freight broker taps into a huge network of freight carriers to find the best rate for your freight shipments. We looked at dozens of popular options to determine the best freight brokers by examining customer service, small business accessibility, price, reliability, scalability, and ease of use.
The best freight broker services for small businesses in 2022 are:
Best Freight Brokers Compared
| | | | |
| --- | --- | --- | --- |
| Brokerage Type | Non-asset based broker | Asset-based broker | Online freight exchange |
| General Pricing | Competitive | Competitive | Lowest |
| Billing Options | Credit card or Net 15 with approved credit | Credit card or Net 15 with approved credit | Credit card, ACH for select repeat shippers |
| Reputation | Fair | Excellent | Good |
| Website Ease of Use | Medium, lots of features | Medium, lots of glossaries and FAQ sections | Easy, simple for shipping beginners |
| Number of Carriers | 80,000+ national and regional carriers | 50+ national and regional carriers | 788,000 major, independent, and specialty providers |
| Freight and Service Types | LTL, FTL, rail, and various specialty freight | LTL, FTL, rail, and various specialty freight, distribution services, warehousing | LTL, FTL, and various specialty freight and small transport services |
| Online Resource Rating | Excellent | Good | Excellent |
| Online Resources Available | Blog, e-books, and state guides | FAQs, state regulations, and shipping guides | How-to videos, blog, and mobile app |
| Customer Support | Phone, email, and online form | Phone and online form | Phone and online form |
| Support Hours | Mon-Thurs 7 a.m. - 6 p.m. Central time, Fri 7 a.m. - 5 p.m. Central time | Mon - Fri 8 a.m. - 6 p.m. Eastern time | Mon-Thurs 7 a.m. - 7 p.m. Central time, Fri 7 a.m. - 5 p.m. Central time, Sat 10 a.m.-4 p.m. Central time |
| Quoted Price in Test | $375 | $345 | $325 |
How We Evaluated the Best Freight Brokers
Freight brokers exist to make the process of shipping freight easier, cheaper, and more efficient for customers. We assessed dozens of providers to determine which ones accomplish that best—and are most accessible to small businesses.
Overall, NTG (formerly FreightPros) claims our top spot for consistently delivering affordable and accurate freight quotes with industry-leading customer service, impressive features, and excellent online reviews.
Here's an overview of what we considered in our evaluation:
Pricing: This criteria looks at the range of partnered carriers each broker has, which carriers offer discounted rates, the cost of insurance, and any available value-added features. We also conducted a quote test to see how these factors contribute to the final cost of booking freight through each provider. See full details on this below.
Functionality: We assessed critical features like network size, TMS (transportation management system), accuracy, speed, reporting, scalability, and more. The best freight brokers deliver well-developed services and features that lend to efficient transport.
Ease of Use: This score largely considered customer service accessibility and prioritized brokers that provide multiple contact channels, effective support, and extended hours of operation. Each broker was also evaluated for its website interface, online resources, usability, startup-friendliness, and payment system.
Reputation: Unfortunately, there are a decent number of shady brokers in the logistics industry. We combed through thousands of ratings from real-world users on trusted third-party review sites to get a feel for each broker's professional history and prioritized the most reliable and trustworthy providers.
Pricing & Freight Quote Comparison
To determine cost and pricing, we requested a quote for transport of the same load from each provider we evaluated.
The details of the job are as follows:
Origin: Houston, TX 77002
Destination: San Francisco, CA 94108
Commodity: Bottled beverages
Freight class: 65
Value of goods: $1,680
Handling unit: Pallet
Dimensions: 39" x 49" x 50"
Weight: 1,037 lbs.
Quantity: One
Accessorials (special handling needs): Cannot freeze
Delivery speed: ≅ Four business days
Redhawk and uShip generated quotes immediately, while the quote from NTG was emailed to me by an agent about 12 hours later. Each broker returned four or more quotes from various carriers and service levels.
The lowest-priced service from each broker was with Roadrunner Transportation—whose website doesn't allow customers to generate their own quotes for booking services directly. But, in recent research, I found that uShip and NTG returned quotes from TForce Freight that were 57% and 49% cheaper, respectively, than booking through the carrier directly.
NTG (Formerly FreightPros): Best Overall Freight Broker for Small Businesses
FreightPros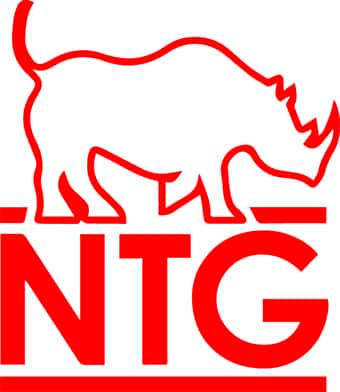 What We Like
Wide network of 100+ vetted carriers
Helpful and responsive account managers
Informative, cloud-based TMS
What's Missing
No order fulfillment or parcel shipping
Reported overcharges
No instant quote generation
Highlights
Provides a range of discounted quotes for multiple freight carriers
Highly rated in online reviews and minimal BBB complaints
Easy to use
Includes features like vendor management, reporting and analytics, and free consulting
NTG is a full-service freight broker and logistics provider that connects shippers with carriers from its database of over 80,000 national and regional partners— including 5,000+ warehouses. The company works well with small to enterprise-level businesses and delivers customized pricing.
NTG Services and Features
NTG offers a variety of high-performing features that other brokers don't. Though it wasn't the cheapest option we evaluated, this added functionality helped boost it to the top of our rankings.
NTG delivers the following services and features:
Shipping: Services include less-than-load (LTL), strategic full truckload (FTL), final mile, dry van, flatbed, refrigerated, and drayage shipping— plus power-only and drop trailer capacity.
Carrier network: NTG connects shippers with its database of 100+ vetted LTL carriers and 80,000+ logistics partners in total.
Discounts: Users receive significant savings on quotes from the company's partnered carriers, thanks to volume discounts and negotiated pricing.
Customer service: Support staff is available by phone or email, and service is highly rated.
Startup-friendliness and scalability: Whether you have one shipment or 10 dozen shipments in its system, NTG delivers account management-level service at every step. The company also works with any client, regardless of shipment frequency.
Cloud-based freight hub and TMS: NTG's platform provides a central repository for freight information, load history, freight quotes, GPS truck tracking, shipment tracking, bill payment, and more. The online-based system gives insight into previous, pending, and future loads and enables users to access information at any time and place.
Vendor management: NTG offers inbound vendor management solutions to help clients manage their inbound freight processes, such as shipment tracking, bills settling, and more.
Reporting: Online analysis tools allow NTG's clients to view their shipping data and create customized reports, including financial insight.
---
NTG Pricing
In our pricing test, this broker returned a quote with four options.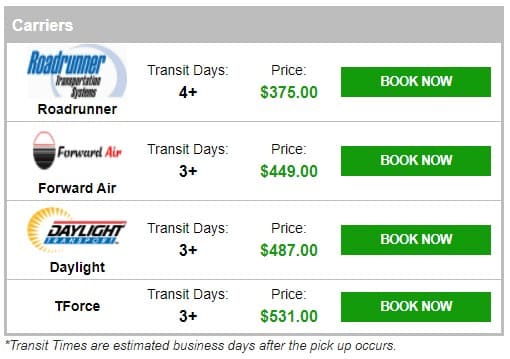 The lowest price in the NTG (formerly FrieghtPros) quote was slightly more expensive than our other two recommended brokers, but more cost-effective than other competing brokerages—and significantly cheaper than booking freight services through carriers directly.
The email I received states that insuring the load for its full value will cost an additional $25.
---
NTG Ease of Use
In addition to its high-performing features and economical pricing, NTG's ease of use is one of the top reasons we recommend it. Here are the contributing factors:
Vetted carriers: All of NTG's partnered LTL movers are vetted by a thorough process that checks multiple resources: DAT and ITS online carrier databases, FMCSA safety rating, CSA (compliance, safety, and accountability) history through the DOT, and the carrier's available hauling history. This ensures your load will be delivered safely and reliably—without the need to put your own time into researching the hired carrier.
Customer support: Support is available by phone or email Mon-Thurs 7 a.m. – 6 p.m. Central time, and Fri 7 a.m. – 5 p.m. Central time.
Consultative approach: The company's "service-first" approach grants each client access to dedicated sales, solutions, account management, and billing teams. A major objective of these teams is to provide tailored solutions and consultative support.
Payments: NTG lets users open a billing account to pay via check, or users can pay via credit card per shipment or statement. It supports net 15 billing for select customers—which means full payment is due in 15 days after the invoice date.
Online resources: A host of informative demos, blog posts, e-books and state guides is available to clients to help them ship smarter. Staff members also make themselves available by phone or email to answer any freight-related questions.
---
What NTG Is Missing
NTG's network of carriers pales in comparison to that of uShip—which connects shippers with 788,000 movers. This is likely why NTG returned a quote with four service options, while uShip presented 15.
The company's online platform doesn't allow users to instantly generate quotes, so it involves an amount of waiting that could potentially cause pricing fluctuations or issues with urgent needs.
---
What Users Think
NTG's online reputation is primarily negative, with many user ratings containing 1-star reviews.
Shippers report that NTG frequently cancels shipments multiple days after quoting and accepting the load. Other reviews mention inaccurate shipment info and a general lack of organization.
Positive reviews for NTG cite excellent customer service from carrier reps as well as diligent processes.
Trustpilot: 2.5-star rating from 170+ reviews
BBB: 1-star rating from 5+ reviews
FreightPros, historically, has a much healthier online reputation, including a 4.3-star rating on Trustpilot from 240+ reviews.
NTG's acquisition of FreightPros kept the original staff and infrastructure intact, so it's hopeful that this recent change will lead to an improved NTG customer experience.
---
Redhawk Logistics: Best for Fast-Growing Businesses
Redhawk Logistics

What We Like
Access to discounted quotes from vetted carriers
Helpful and responsive account managers
Asset-based brokerage company with Columbus, Ohio, warehouse
What's Missing
No parcel shipping or order fulfillment
Support platform designed for enterprise-level clientele
Limited network of carriers
Highlights
Provides a range of discounted quotes for multiple freight carriers
Highly rated in online reviews and zero BBB complaints
Highly scalable with services to help expand logistical reach
Includes features like warehousing and distribution services, web-based TMS and routing platform, and simple tracking
Redhawk Logistics (formerly Redhawk Global) is an asset-based brokerage firm and full-service supply chain management company that provides freight shipping, warehousing, and distribution services across the US, Canada, and Mexico.
Redhawk supplies distribution and warehousing from its own facilities in addition to standard freight brokerage services. For this reason it's a good choice for quickly expanding businesses.
Redhawk Logistics Services and Features
Redhawk Logistics offers the following services and features:
Shipping: Redhawk Logistics brokers LTL freight, as well as truckload, intermodal, drayage, van line, heavy haul, climate-controlled, and flatbed shipping.
Carrier network: Redhawk connects shippers with its database of 50+ vetted carriers.
Discounts: Users get access to significant savings from the company's database of qualified and vetted freight carriers, thanks to volume discounts and negotiated partnerships.
Distribution warehousing: Redhawk has a 185,000-square-foot warehouse strategically located in Columbus, Ohio, and offers sort-store-repack services.
TMS: The company's advanced, web-based TMS and routing platform allows you to control, route, and manage your freight from anywhere, with helpful analytics and reporting features
Tracking: Users can easily track their shipments with Redhawk Logistics' web-based application.
---
Redhawk Pricing
My quote request with Redhawk returned a healthy variety of bids, including one as low as $345.40. Redhawk factors the value of your load into its carrier recommendations and builds each quote to include insurance.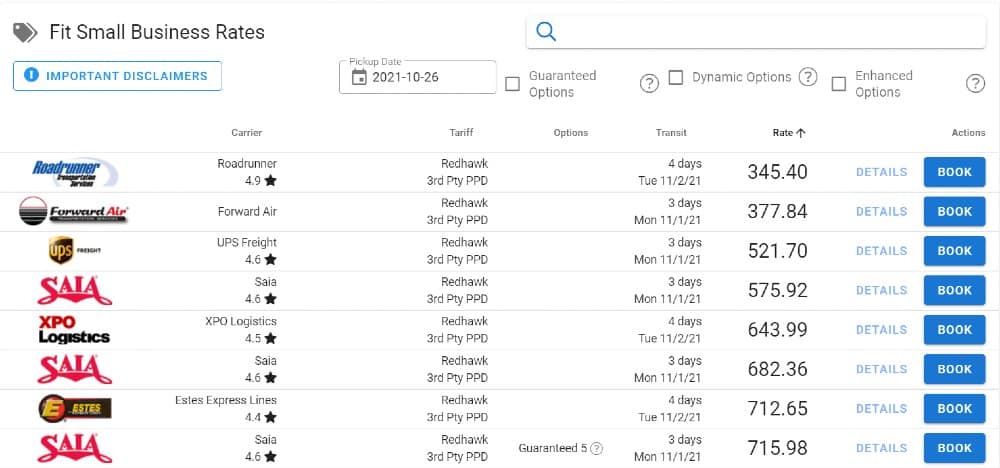 All in all, Redhawk is an incredibly cost-effective option for brokering freight, especially for small businesses. The cost of warehousing and/or distribution services through the company is determined on a custom basis.
---
Redhawk Ease of Use
Redhawk Logistics is very easy to use. It doesn't require independent research to ensure your load is in good hands, and the company offers plenty of resources to help shipping beginners. Here are more of the contributing factors:
Customer service: Staff provide support and management assistance through phone or email Mon-Fri, 8 a.m. – 6 p.m. Eastern time. Small accounts can use an account rep to assist as needed or be self-managed, but turnkey 3PL management services with dedicated reps are also available.
Startup-friendliness and scalability: Redhawk has no minimum frequency or volume requirement to use its services; it also offers contractual pricing for frequent shippers and the benefit of nationwide distribution.
Online resources: Helpful calculator tools, glossaries, FAQ posts, written guides, and regulation directories are available on the company's website.
Vetted carriers: All of Redhawk's partnered movers are vetted, although the company does not publish its screening process.
---
What Redhawk Logistics Is Missing
Redhawk Logistics pulls quotes from a carrier database that is significantly smaller than our other recommended brokers.
It also falls short of NTG and uShip in its tech offerings. Redhawk doesn't provide users with a mobile app, and its TMS isn't as developed as that of NTG.
---
What Redhawk Users Think
Redhawk has a fine reputation with its users, and many positive reviews describe utmost satisfaction.
A common theme in Redhawk review is the staff's impeccable work ethic, professionalism, and usefulness. Most of the negative reviews don't include a useful description, but the few that do revolve around billing issues.
Google Business Listing: 3.8-star rating from 32 reviews
BBB: 0 complaints filed
---
uShip: Best for Experienced Shippers & Users on a Budget
uShip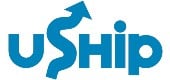 What We Like
Widest network of carriers
Lowest prices
Proprietary insurance options and "Shop with Confidence" guarantee
What's Missing
Unvetted pool of carriers
Difficult process for resolving issues with drivers
Mixed reviews and 41 complaints filed with the BBB
Highlights
Online freight exchange with traditional brokerage services
Accessible from iOS or Android mobile app
Built for individuals and small businesses but offers limited scalability
uShip is a freight exchange that acts as an online marketplace for all kinds of shipping services—from LTL freight to auto hauls to animal transport. It's built for individuals as well as small businesses.
The platform primarily works through listings that allow shippers and carriers to post their services and needs. Listed shipments can receive bids from carriers with compatible availability, but uShip also offers a more hands-off broker service that draws potential options from listed carriers as well as partnered companies.
Its prices are some of the lowest around, but that advantage comes with the risk of working with potentially un-vetted (and therefore risky) movers. For that reason, it's best for shippers who know their way around the logistics industry, or those willing to sacrifice ease of use for affordability.
uShip Services and Features
uShip offers the following services and features:
Shipping: Transport service categories include less-than-truckload (LTL) freight, truckload (TL or FTL) freight, vehicle and boat, household items, home or office moves, heavy/industrial equipment, and animals.
Discounts: Users receive negotiated rates from certain carriers, as well as deeply discounted pricing from the website's freight exchange service.
Customer service: Support staff is available by phone or email and is highly rated.
Freight exchange: uShip has standard brokerage and freight exchange options, so you can list your freight and review multiple bids.
Mobile app: uShip can be used on your web browser as well as on the go with the iOS or Android uShip app. The app allows you to create listings, review bids, communicate with your driver, get important status alerts, and make payments.
Tracking: Users can track shipments at any stage through the uShip website or mobile app, and enroll in push notifications for pickup and delivery.
Insurance: While most brokers can set you up with insurance through the hired carrier, uShip offers all-risk cargo insurance with coverage for direct physical loss and/or damage. This direct relationship can speed up payouts on claims, and it's backed by Lloyd's of London. Plus, uShip offers a "Ship With Confidence" guarantee that pays out a percentage of lost or damaged goods—up to $500.
---
uShip Pricing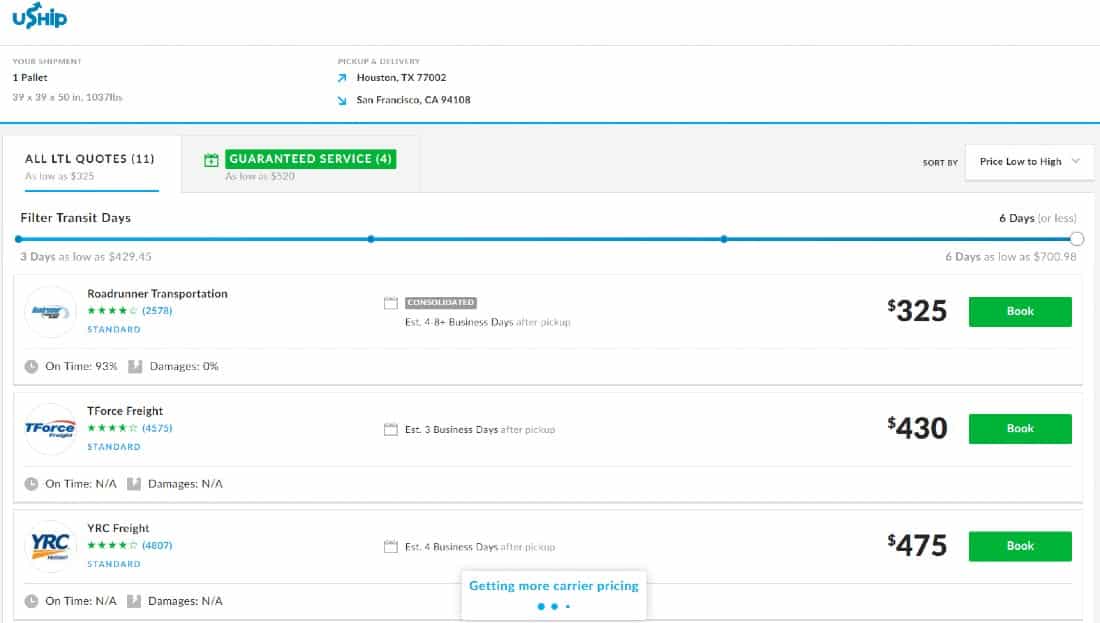 uShip returned 11 quotes for my sample request—which is much more than many of the other providers we evaluated. These quotes did not list the cost to insure the load.
The lowest-cost option is from the same carrier as my quotes from Redhawk and NTG, but with one major difference—the estimated delivery time is four to eight days rather than four days.
Delivery dates displayed on quotes are estimates, not guarantees. Standard freight deliveries can take a day or two longer than published times and not be considered late—this is the norm in the freight industry.
That range of time means the shipment could potentially take as many as 10 business days to be delivered. This concept applies to uShip as a whole—it's a cost-effective option, but the savings often comes along with stipulations.
---
Ease of Use
uShip's interface makes it simple to get a freight quote and book services—but on the whole, it isn't as easy to use as our other options. For that reason, it's best for savvy shippers and those seeking freight service on a tight budget.
Unvetted carriers: When using any freight exchange, you're drawing from a pool of movers who may or may not be licensed and trustworthy professionals. It's still possible to make sure your load stays in good hands, but using uShip requires a bit of research of your own (since its carriers aren't vetted).
Customer service: uShip's customer support is available by phone or email Monday-Thursday 7 a.m.-7 p.m. Central time, Friday 7 a.m.-5 p.m. Central time, and Saturday 10 a.m.-4p.m. Central time.
Payments: Most shippers pay through "uShip Payments," the company's secure processor that holds the payment until you release it post-delivery. Services totaling $5,000 or more can be paid directly to the provider, with a booking deposit.
Startup-friendliness: The platform is designed to be used by individuals as well as businesses who ship at any frequency, so it's a good choice for startups and young ventures.
Lack of scalability: uShip lacks some of the benefits and services that volume shippers may need as they grow. We recommend forming a relationship with an asset-based broker as your business approaches a regular shipping cadence.
---
What uShip Is Missing
As mentioned above, uShip doesn't screen the carriers you'll find on its site, like our other picks do. This can (and sometimes does) lead to poor service and scams, and it's the biggest drawback of the platform—although uShip's direct insurance offering helps mitigate the risk.
---
What uShip Users Think
uShip is a popular platform with a wealth of online reviews—most of which are positive. Reviewers frequently cite the support team as being responsive and quick to resolve issues, and some users describe uShip as the Airbnb of shipping.
A surprising number of uShip's reviews are posted by users warning others of scams on the website. The public marketplace-format of the platform makes it susceptible to scammers and fraud, which should be noted when navigating the freight exchange feature.
The site has its share of complaints, most of which stem from failed service from untrustworthy carriers.
Trustpilot: 4.4-star rating from 10,000+ reviews
BBB: 41 complaints filed
---
How to Choose the Right Freight Brokerage Service
It's widely reported that there are over 17,000 licensed freight brokers in the US, and finding the right one for your specific needs can be daunting.
Make sure you work with a broker who is licensed, insured, experienced, and reputable. It never hurts to rate-shop between a few different brokers to test the waters.
Here are some additional tips to help you in your search:
Types of Freight Brokers
There are a few distinctions in the world of freight brokering. To know what you're searching for and dealing with, take a look at these common types of services:
The common term "freight broker" usually refers to a non-asset based freight brokerage firm—which is an individual or company that solely acts as an intermediary between shippers and carriers. Brokers sometimes work out of an office, but many companies conduct their brokering online. These companies do not own their own freight equipment.
Brokers make profit by adding a percentage to carriers' wholesale rates—which are significantly lower than market costs. Generally, they have competitive prices thanks to strong relationships with partnered carriers. They also offer hands-on customer support, sometimes with a dedicated account representative.
Freight brokers as a whole have somewhat of a bad reputation—but don't judge the many by the actions of a shady few. Using a trustworthy broker is a great way to ship freight at highly discounted rates with expert guidance.
An asset-based broker is similar to a non-asset based broker, with the exception of owning its own freight-related equipment. These assets can be truck fleets, warehouses, distribution centers, or any combination of the three.
An asset-based broker often works with outside logistics companies to supplement its own resources. They're known as being more reliable and having the flexibility to present custom solutions.
Freight exchanges offer a different, DIY-type of service that aims to yield the same result as brokerage firms. They're platforms that allow shippers to list their freight in need of transport. Then, carriers with extra space on their vehicles can search the database for jobs that fit with their existing loads and routes.
Alternatively, carriers can post their services and schedules, and shippers come to browse available options.
In either case, the hosting site adds on a small percentage to the cost on either end of the transaction—or changes a monthly fee for membership.
These sites create a way for customers and transporters to connect outside of the standard channels. This comes along with low prices, but also more rigidity and risk than you'd get using a traditional broker. Deliveries often take longer than estimated, and you're trusting an unvetted company with your precious goods. For these reasons, it takes a bit of savvy to use freight exchanges.
A freight forwarding company specializes in handling all the details involved in import and export. This can include preparation of documents, brokering a freight carrier, arranging warehousing, buying insurance, filing claims, managing tracking, and scheduling inland transportation.
Essentially, a freight forwarder is a full-service international shipping agent. They're best for companies frequently shipping cargo to various countries; these firms are deeply familiar with the customs laws, requirements, and logistics companies of regions around the world, so it's helpful to lean on their expertise.
Freight expeditors facilitate global freight shipping as well as domestic and regional rush orders. This can include brokering shipments as well as providing freight forwarding services.
Large international third-party logistics (3PL) companies specialize in these services, and some freight brokers and independent carriers offer expeditor services, as well.
Companies to Avoid
We evaluated a wide range of the top freight brokers used by small businesses and found that many of the biggest companies in this arena are the most problematic.
During your search for the best freight broker, you're likely to come across the following names. Here's what you need to know:
TQL (or Total Quality Logistics) is a high-grossing logistics company with a large North American footprint. It's known throughout the supply chain for its persistent cold calls and emails, which many recipients consider to be borderline harassment.
If you haven't yet received a call from TQL, you'll benefit from keeping your number out of its database. Many shippers claim they've attempted to block incoming communications and request removal from the company's phone list, but have continued to receive daily calls from other TQL agents using different phone numbers.
The brokerage has a wide network of partnered carriers, but negative reviews of its services abound. It maintains a 1-star rating on Yelp due to users reporting rude customer service, unfulfilled contracts, and damaged loads.
FreightQuote.com is an online brokerage site owned by C.H. Robinson (one of the biggest providers of multimodal transportation services and third-party logistics in the world). These roots seem as though they should make for an effective broker, but FreightQuote.com is highly problematic.
The company has 49 complaints with the BBB, all of which were filed in the past 18 months. Most of the reported issues come from drastic overcharges due to unnecessary changes in classification.
The company holds a 1-star rating across every review site on the web. Many Trustpilot reviewers warn that the entire company is no more than a scam. Multiple users report service failures, missed deliveries, extreme lack of communication, double charges, overcharges, misclassifications, and damaged loads.
GoShip is an online freight exchange that also offers traditional broker services. Its platform is very similar to uShip, and in our test quote the two companies retrieved nearly identical rates.
The main drawback to GoShip is its lackluster customer service. Many reviews across the web mention running into missed pickups and canceled shipments with no explanation—then struggling for multiple days to even reach the company at all.
Most people know Uber as a platform that connects contracted car-drivers with customers in need of rides, take-out, and groceries. But the multi-billion dollar tech company extended its services into the freight world in 2018—and it seems like the kinks are still being worked out.
Uber Freight is largely unpopular with truck drivers, who claim the service underpays drastically. It's reported that each load is subject to changes in route without proper compensation.
From the other side of the transaction, Uber Freight poses similar problems to customers. As routes change and deliveries are added/modified, loads get further and further delayed. Customers report that it's practically impossible to get in touch with support staff, and the platform isn't equipped to handle many of the details that are crucial to shipping freight (such as multiple drops and appointment times).
Uber Freight has potential to be a strong player in the logistics industry in coming years, but it's not currently a service we recommend using.
Bottom Line
According to the U.S. Department of Transportation, there are over 920,000 motor carriers for hire in the United States. Navigating that many options while trying to score the best price is nearly impossible for a new shipper to do on its own—which is why we recommend working with a vetted freight broker.
The best brokers are cost-effective, easy to use, small business-accessible, reliable, and deliver a host of features. Our top-ranking freight broker NTG (formerly FreightPros) checks all of those boxes, and issues free quotes any time.