There are two ways ecommerce sellers can fulfill and ship orders to international customers. The first is cross-border international shipping, which ships goods warehoused in one country to another country, so shipments cross borders. The second is localizing international fulfillment, which stores goods within a certain country or region to minimize cross-border shipping.
The international fulfillment option that's best for your business depends on several factors. In this guide, we examine both international fulfillment methods and explore ways to make the process as simple and cost-effective as possible.
A good way to do that is to partner with a fulfillment company that already has an international delivery network in place, like FedEx Fulfillment. It handles all of your picking, packing, and shipping needs for both domestic and international sales, so you're free to grow your business. Learn how FedEx Fulfillment can help you expand sales in the U.S. and overseas.
First, we'll take a quick look at your two international fulfillment options and some key export and import considerations.
2 Ways to Handle International Fulfillment
Shipping orders to international customers can be handled two ways, these are:
1. Cross-border Fulfillment
Order fulfillment across borders involves shipping orders from one country across borders to buyers in other countries.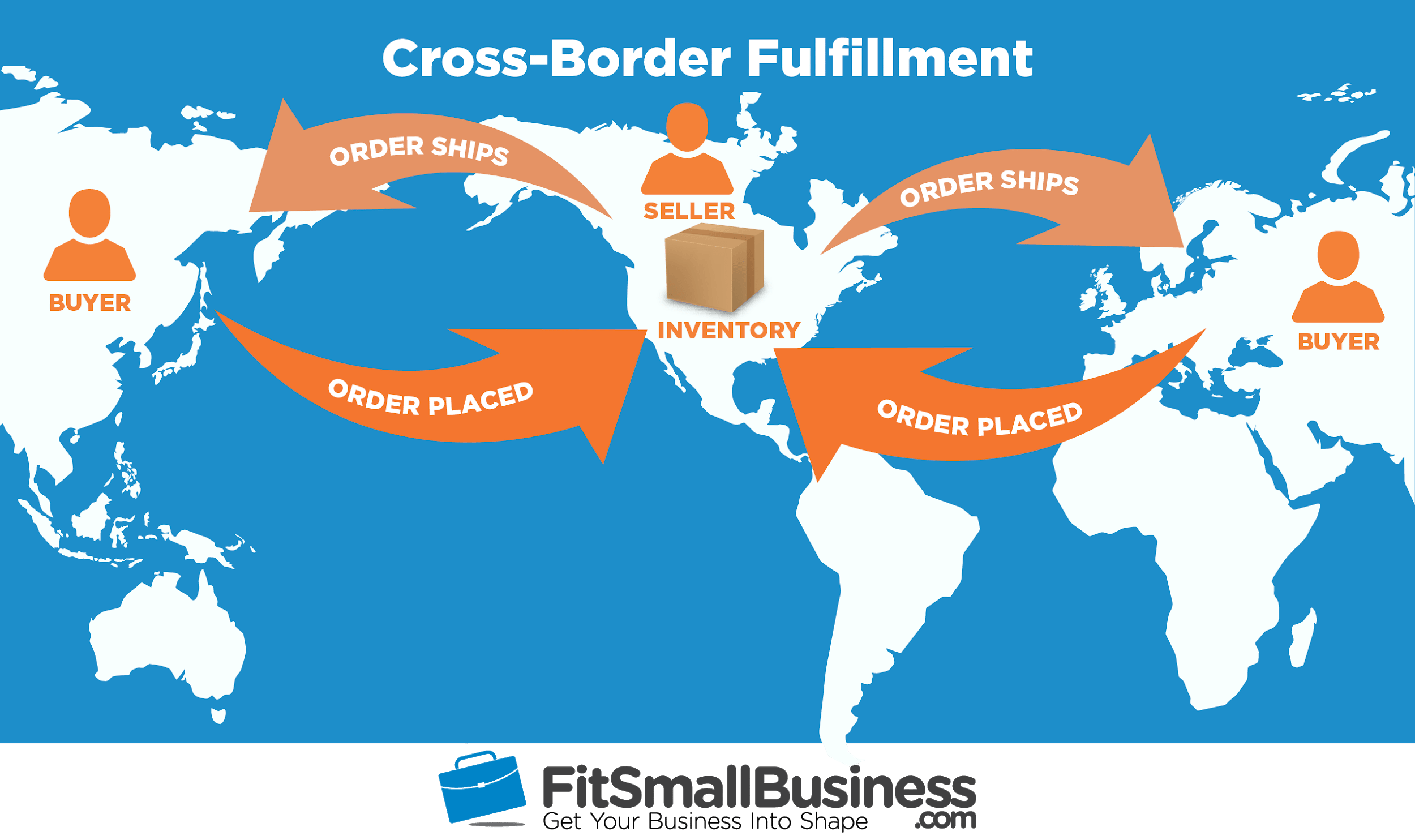 With cross-border international fulfillment, your inventory is not stored in the country that you're shipping to. So, orders cross borders and go through customs and customers pay applicable delivery duties. For most small sellers shipping from one warehouse, cross-border fulfillment is the easiest and lowest-cost way to handle international fulfillment.
2. Localized Fulfillment
Localized fulfillment involves stocking some or all of your inventory in warehouses within the countries or regions that you're primarily shipping to.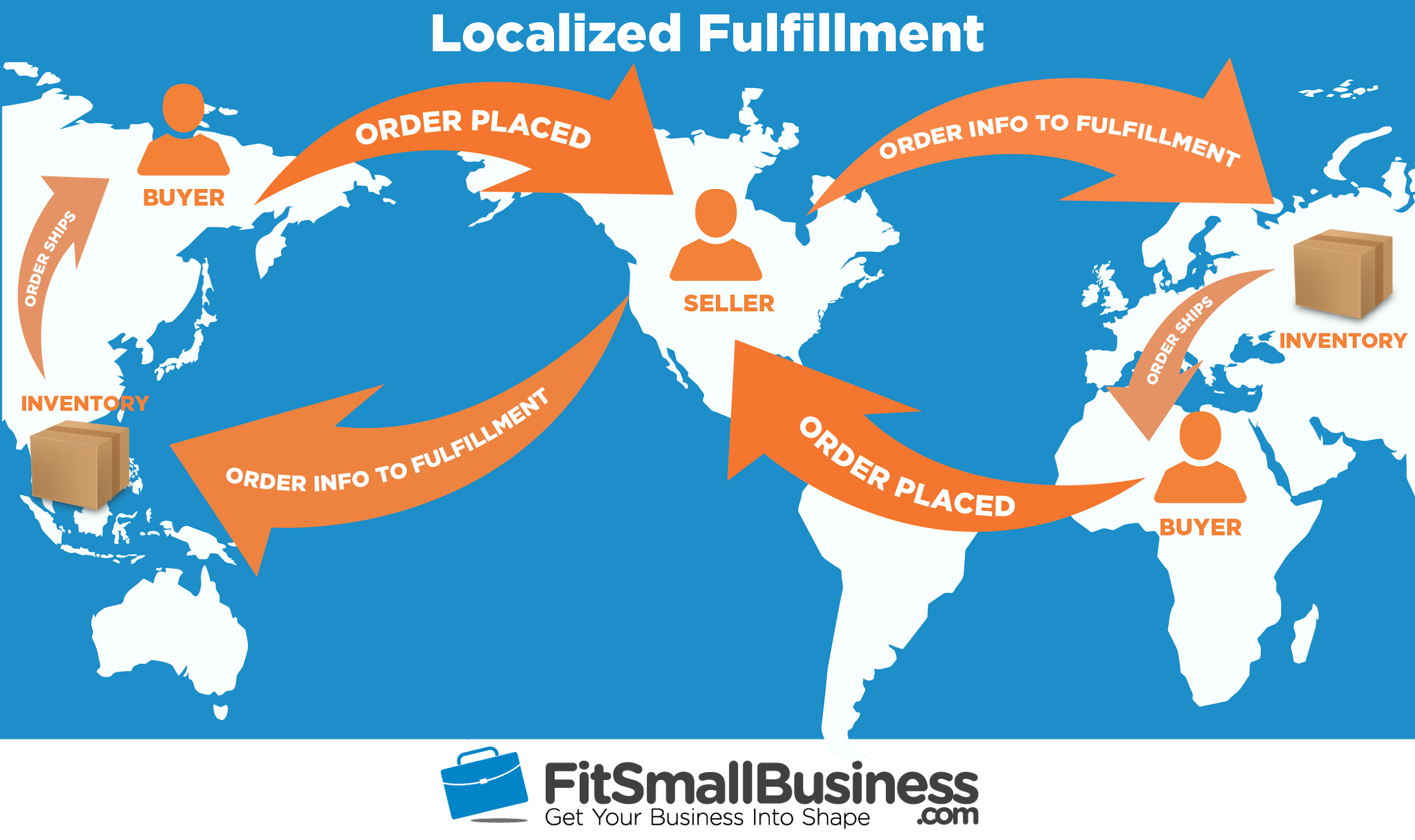 When you localize your international fulfillment, you store inventory in or near the country or region that you're shipping to. This way, many orders don't have to go through cross-border customs or be subject to delivery duties. It also reduces delivery costs and time in transit in most cases. Localized international fulfillment can be a very cost-effective way to handle international orders within specific global regions.
Export & Delivery Tax Considerations
Taxes, specifically delivery duties, are something that international shippers need to understand before starting to ship internationally. How duties are applied depends on whether you're shipping cross-border or using localized fulfillment for ecommerce shipping. We'll explore the specific differences in detail below. But first, let's answer U.S. ecommerce sellers' number one number one question when considering international expansion:
Do I have to deal with any export or import taxes?
For the answer to that, we went straight to the source. Here's what the U.S. Commercial Service has to say:
For your average B2C sale (around $50), there are no U.S. export value restrictions at this time. However, orders above the receiving country's de minimis value (minimum value) limit per shipment or sale can have delivery duties applied. These duties increase the total cost to your customer. Plus, ecommerce transactions are not exempt from other countries' product regulations—that goes for any food, pharmaceutical, material, or ingredient restrictions in the market you are selling to. It's recommended that you do some research on export.gov's country commercial guides to review individual country's prohibited and restricted imports. — James Bledsoe, Director, eCommerce Innovation Lab, U.S. Commercial Service
So according to Bledsoe, U.S. ecommerce sellers shipping internationally:
Generally won't encounter U.S. export regulations or taxes on international B2C sales
Must understand the receiving country's product regulations or restrictions
Need to inform international buyers that delivery duties may be added per their country's tax laws
Now we'll explore both cross-border shipping and localized fulfillment in detail, plus examine ways to research market opportunities, taxes, restrictions, and regulations in the countries you want to ship to.
How to Use Cross-border Shipping for International Sales
For most small ecommerce sellers, cross-border shipping lets you manage inventory and shipping via your usual process.
Cross-border is the easiest and quickest way for most small sellers to start shipping internationally. Here are four ways you can cost-effectively work international orders into your existing fulfillment workflow using cross-border shipping.
Manage Cross-border Shipping In-house
If you stock inventory and pack and ship orders using your own in-house operation, you first need to:
Learn about the best international shipping carriers (FedEx, UPS, USPS, or DHL) and methods to the countries you serve
Add a step to your parcel labeling process to create international labels and needed customs forms
How Managing Cross-border Shipping In-house Works:
Your usual order processing, picking, and packing method can stay the same. But your shipping label procedure will change since you also need to create customs forms. How much that differs from your usual procedure depends on the shipping software you use. Some shipping software prints international customs forms and auto-populates customs fields for you, as shown in ShippingEasy's Customs Information screen:
If your shipping software supports customs forms, you can print needed documents from your usual system. If not, you can use carrier websites to get the job done, but doing so breaks up your usual workflow and adds staff time to complete the task. If that's the case, you'll need to accommodate this in your plan.
Pros & Cons of Managing Cross-border Shipping In-house
The biggest "Pro" of this option is that it requires minimal setup and no integration with outside partners to launch. Once you allow your ecommerce platform to accept orders from international customers, you're rolling.
On the "Con" side, there's a lot to learn to do it right. International shipping rates can be quite high, so you need to research carrier rates and delivery times for different international shipping methods. You also must understand how to correctly fill out customs forms, and ensure that ordered items adhere to destination countries' regulations. You also need to have a policy for handling international returns.
If you don't want to add international shipping headaches to your workflow, you can tap cross-border shipping partners to handle all of the details. Here's a look at what these companies do for you.
Use Cross-border Fulfillment Partners
Cross-border shipping services take all of the work, and much of the risk, of managing international sales off your shoulders. There are many players in this field, but top names like GlobalShopex and FedEx CrossBorder take over the entire international sales process for you. These partners handle everything from foreign payments through customs, delivery, and even returns on your behalf.
How Cross-border Fulfillment Partners Work
Cross-border fulfillment partners integrate their secure shopping cart system into your existing shopping cart. If an international customer wants to check out, they simply select the International Checkout option on your cart, like this:
Clicking on
International Checkout
takes the buyer to a mirrored checkout page that's actually hosted by your cross-border partner, like this: Your international customer completes their checkout on a page that's localized to their country. They can even pay using their usual currency and payment methods, and the final total includes international shipping fees and applicable duties.
Your cross-border fulfillment partner then orders that item from your website and you ship it to their U.S. fulfillment location using your usual shipping methods. From there, your partner handles the overseas shipping, customs forms, final delivery, plus manages any returns on your behalf.
Pros & Cons of Using Cross-border Fulfillment Partners
Clearly, these partners take over time-consuming tasks like rate-shopping international shipments and handling customs forms, that's a big "Pro" in itself. But another notable "Pro" is that cross-border fulfillment partners take on all of the risks of accepting overseas payments. Your partner is processing the payment, not you. So you won't have to deal with international chargebacks and credit card fraud losses. You also don't have country-specific data compliance worries, like the E.U.'s 2018 data security guidelines, since your partner collects and stores international customer data, not you.
As the merchant of record, we are shielding our clients from exposure to chargebacks and fraud as sensitive financial details are never shared with the merchant. Depending on our clients' marketing needs and compliance concerns, we can also share or withhold international shopper data to ensure our clients stay in compliance with specific regions' data privacy guidelines. — Scott Epstein, Director of Business Development, GlobalShopEx
On the "Con" side are the costs that take a bite out of every international sale you make. For example, GlobalShopex charges a 10 percent fee, based on your products' total price on orders they process for you. But, that fee can be handled creatively to minimize your final cost.
We operate on a 10 percent revenue share model, but our flexible business terms allow us to service both high-value, high-margin merchants and sellers that operate on lower profit margins. If a merchant can't absorb our revenue share costs, we can simply add all or part of the revenue share amount to the buyer's shipping charge. For example, the 10 percent revenue share on a $30 tee shirt is just $3. That amount can be added to the buyer's shipping calculation at checkout. It's so minimal that it won't negatively affect conversions, but it completely covers the merchant's cost of using our service. — Scott Epstein, Director of Business Development, GlobalShopex
With a cross-border partner, you're also handing over much of your international customers' brand experiences to an outside company. If they meet expectations, that's a plus for you. But if there are delivery issues or if international customers have unreasonable ideas about delivery times or costs, that can reflect badly on your brand.
To keep this from becoming a "Con," you should clearly display international delivery times, rates, taxes, and duties, and return policies on your website's Customer Service and Shipping tabs to prevent misunderstandings.
It's imperative for your brand authority and growth of your business's international ecommerce sales that you clearly communicate all terms, conditions, taxes, and any other applicable fees required of the shipment to the customer before the time of purchase through your website's ecommerce terms and conditions. Otherwise, if your customer finds "surprise" customs and duties fees that add $80 to their $30 shipment upon delivery, your customer can and likely will refuse the delivery, sticking you with an abandoned package overseas and a payment drawback. — James Bledsoe, Director, eCommerce Innovation Lab, U.S. Commercial Service
Use One or a Combination of Fulfillment Companies
If you already outsource your U.S. order fulfillment or are considering it, your fulfillment provider can likely help you cost-effectively expand into cross-border sales. Some already have international shipping processing built into their workflow. Others already partner with cross-border fulfillment companies, like those covered above, to bring this service to their customers.
If your fulfillment partner doesn't offer international fulfillment via either method, you can still enable it yourself and not interrupt their existing workflow.
How Combining Fulfillment Companies Works
Just as we covered above, you can partner with a cross-border fulfillment company to handle your international checkout and overseas shipping. This in no way interferes with your usual fulfillment company's workflow.
Your cross-border partner enables the International Checkout on your website. When an international order is placed, your cross-border fulfillment partner enters it to be sent to their U.S. location. This order is processed and shipped as usual by your regular U.S. fulfillment company, no special steps or procedure needed. When that order arrives at your cross-border partner's location, they handle the customs and international shipping portion.
Pros & Cons of Combining Fulfillment Companies
The major "Pro" of pairing your usual fulfillment company with a cross-border fulfillment partner is that everything is hands-off for you. Orders process and ship from your fulfillment company as usual, and the ones intended for international customers ship directly to your cross-border partner with no extra fuss.
The biggest "Con" is added costs. You're already paying an order fulfillment company to pick, pack, and ship your order. Adding the cross-border partner's cost takes another bite out of each international order's profit. But if your margins can absorb the added fulfillment fee, then expanding internationally using a combination of domestic and cross-border fulfillment providers can be profitable.
Use Fulfillment by Amazon (FBA) as Your Cross-Border Fulfillment Partner
If you're an Amazon seller, expanding globally is quite simple. All you have to do is make your existing product listings available globally from your domestic Amazon account. Of course, you can ship orders yourself using the in-house fulfillment method discussed earlier. But for most sellers, Fulfillment by Amazon's FBA Export program is as turnkey as it gets.
How FBA Export Works
You send your stock to Amazon FBA and FBA Export handles your international orders seamlessly, including any international customer service issues and returns. FBA even gauges where your orders originate and will allocate your stock across their warehouse network to provide the fastest shipping on both domestic and international orders.
Pros & Cons of Using FBA Export
The "Pros" of tapping Amazon FBA include the millions of loyal buyers you can access through their global marketplace, the turnkey service that FBA provides, and being Prime-eligible in applicable markets. "Cons" are the costs. Selling on Amazon is not cheap. Amazon seller fees take an average 15 percent to 20 percent cut from each sale, and that's before your FBA fees. Amazon isn't right for sellers with narrow profit margins, but if you have margins that can absorb the fees, Amazon and FBA Export can quickly kick-start your global expansion.
So that covers four ways that cross-border shipping lets you fulfill international orders with little to no upfront costs, minimal setup, and little change to your existing procedures. If you think you have a market overseas, there's little to keep you from testing the waters.
Now let's look at ways you can actually store your inventory in other countries to take care of local and regional fulfillment needs faster and more cost-effectively.
How to Use Localized Fulfillment to Manage International Sales & Shipping
Localized fulfillment means you're storing inventory in warehouses in or near the countries that you ship to most often.
Localized fulfillment works much the same way that domestic order fulfillment works: you send inventory to your localized fulfillment partner, they store it, and process, pack, and ship your orders to customers. It's just all happens in another country.
You'll find many options when you're ready to pursue localized fulfillment for your international sales. Some top ways that small businesses make this move include:
International & Region-specific Fulfillment Companies
Fulfillment companies with international networks provide a way for businesses to stock goods in one or more regional warehouses overseas. Typically, international fulfillment companies are best-suited for high-volume businesses that can spread the cost of these advanced logistics needs over huge inventories and large numbers of orders.
But, some small-business friendly fulfillment companies operate one or more warehouses overseas. So chances are, you can find a fulfillment partner in both the U.S. and the region you're interested in targeting, such as the U.K., E.U., South America, Asia and more. Here are some top names to check out:
| Fulfillment Company | International Regions Served |
| --- | --- |
| | Worldwide Locations |
| | US, UK, AU & CAN |
| FloShip | Ship worldwide from Hong Kong |
| | AU, NZ & throughout Asia |
| Whitebox | Amazon Global FBA marketplaces |
Of course, Amazon also helps sellers expand internationally with their global fulfillment network, which we'll explore next.
Amazon FBA Global Marketplace Networks
Amazon sellers that want to target certain overseas markets can take advantage of Amazon's 11 global marketplaces:
Amazon's region-specific marketplaces offer a twofold benefit for international expansion:
First, you can target your product listings specifically to buyers in those markets. This allows you to localize listings based on regional languages, trends, product demand, restrictions, taboos, and more.
Second, you can store your products in Amazon's global FBA warehouses to shorten delivery times, reduce shipping costs, and remove or lessen delivery duty burdens on your customers.
Many Amazon sellers first test the waters in overseas markets using FBA Export, which we covered in the previous section. Then, they move their hot-selling products into targeted marketplaces using Amazon FBA's Global networks.
For many U.S.-based sellers, the U.K. and E.U. are the easiest places to expand into international sales. The U.K. is an especially good place to start since you don't have to translate listings. In fact, a good portion of the E.U. population is multilingual, so English is widely understood throughout the region. When you're ready to jump into international sales using Amazon FBA Global, store your inventory in the E.U. country or region where you see the highest demand. Then turn on Amazon's European Fulfillment Network (EFN) to cost-effectively sell across the entire E.U. Just be sure you understand the tax implications of selling throughout the E.U. before you make this move. — Robert Wray, CEO, Whitebox.co
Overseas Supplier Warehouses & Fulfillment Networks
If you're manufacturing good overseas and have demand both domestically and internationally, you can stock some inventory in or near the country of manufacture and fulfill orders from there. This can save you both import duties and inbound shipping costs. FloShip is a major player in this arena for products manufactured in China. Plus, you can tap your manufacturer for leads on fulfillment centers in their region. Chances are, they have some contacts and recommendations. Some might even handle it all for you if you ask.
So that wraps up the main ways you can store your inventory overseas to better-handle fulfillment for international orders. Now let's look at ways you can enter these markets successfully.
Other Considerations for International Sales
Fulfillment logistics are a major factor in your international expansion, but it's far from the only consideration. On a small scale, you can certainly start accepting international orders once you have fulfillment set up. But to really capitalize on international markets, you'll have to understand what overseas shoppers want, and how to get them to buy your products.
These factors roll up under the term localization, and that includes:
Language — To really connect with overseas customers, your product descriptions need to speak their language.
Currencies — Localized currencies leave the guesswork out of product costs
Payment methods — In some countries wire transfers are preferred, in others, credit cards
Trends, Technologies & Taboos — From electrical plugs to mattress sizes to footwear, what's normal, or even accepted, differs from country to country
Sellers should recognize that having an online storefront means they can begin selling internationally right now. You can immediately use IP addresses to change currency for site visitors and set shipping rules that show the correct price for international buyers. I recommend all online sellers go ahead and set that up and begin testing the international waters.

More strategic international expansion will likely mean a localized site, meaning in their language, with country-specific merchandising and maybe even a local warehouse to speed up shipping times. Before you invest in all of that, you want to make sure your products have demand in an area. Allowing international buyers to buy your products on your current site is an easy way to test out product market fit without much added work on your end. — Tracey Wallace, Editor in Chief, BigCommerce
So Where do You Find this Localized Information?
Whether you sell on Amazon or not, you can use their Global Selling Guidance to pinpoint many of these localization issues as you start to sell online. There, you can also find excellent details on Taxes & Regulations for their global marketplaces to help you understand data and privacy compliance issues as you enter new markets.
The U.S. government also has many excellent and free resources to tap. The U.S. Commercial Service's eCommerce Export Resource Center provides international ecommerce market research, video how-to's that guide you through the process, strategy planning, and more.
And to dive deep into localized B2C sales trends, product research, and consumer growth statistics worldwide look no further than PayPal. Its free PayPal PassPort global market intelligence portal provides a wealth of up-to-date insights on the global consumer economy.
Plus, you'll find detailed data on localization strategies, purchase trigger research on international buyers, and much more. It even walks you through a step-by-step process to take your products to global markets.
The Bottom Line
If you already have a website or sell on Amazon, or other major marketplaces, accepting sales from international customers is a simple process. Getting orders to them is another issue and there are many routes you can take to get the job done. You can tackle international shipping yourself or through your existing fulfillment partners. Or you can let cross-border fulfillment specialists carry the load.
After you've tested the waters, done your localization homework, and are seeing international sales volumes increase, you can look to localized fulfillment options to put your products closer to your international buyers. Amazon is a major player in this arena, but there are plenty of international and regional fulfillment opportunities to explore.
Do you sell internationally through your own website, on Amazon, or on targeted international marketplaces? How do you handle your inventory, fulfillment, and localization challenges? We'd love to hear how you get the job done in the comments below.