International Fulfillment & Cross-Border Shipping: The Ultimate Guide
There are two ways ecommerce sellers can fulfill and ship orders from international customers:
Cross-border international shipping: Goods are stored and fulfilled in your country, then shipped per-order to international customers. This method is best for startups and growing ecommerce businesses shipping a small percentage of orders to various international locations, as well as those wishing to test international markets.
Localized fulfillment: Goods are shipped in bulk to be stored in a country or region near your international customers, then fulfilled per-order from a local warehouse(s). This method is best for established ecommerce businesses with consistent international customer bases and well-established markets because it involves higher risk and more upfront spend.
Here's an overview of four ways to make both international fulfillment methods as simple and cost-effective as possible.
International Shipping Options at a Glance
Cross-border Fulfillment and Shipping (In-house)

Cross-border Fulfillment and Shipping (Third-party)

Localized Fulfillment (Global Warehouse Network)

Localized Fulfillment (Region-specific)

Best for

Ecommerce stores developing a dedicated in-house fulfillment operation
Sellers testing international markets
Small-scale startups

Sellers shipping a small, consistent percentage of sales abroad
Stores with diverse international customers bases

Growing small businesses
Stores with diverse international customers bases
Retailers wishing to expand internationally as they scale

Retailers nurturing strong customer bases in targeted locations
Sellers shipping a sizable, consistent percentage of sales abroad

Storage location

Your home, office, warehouse, or ecommerce facility

Specialized fulfillment center(s) in your country

Multiple fulfillment centers in your country and abroad

Fulfillment center(s) in the country or region you serve

Shipping costs

Market-rate cross-border shipping

Discounted cross-border rates

Discounted local rates

Discounted local rates

Customs requirements

Documentation, duties, and taxes per order

Documentation, duties, and taxes per order

Documentation and duties per bulk shipment
Sales taxes per order

Documentation and duties per bulk shipment
Sales taxes per order

Delivery speed*

1–4 weeks

1–4 weeks

2 days–2 weeks

2–6 days

Labor involved

Creating customs forms
Processing fees
Fulfilling orders
Shipping parcels

Integrating with fulfillment company
Managing partnership

Integrating with fulfillment company
Managing partnership
Managing inventory distribution

Integrating with fulfillment company
Managing partnership
Managing bulk shipments

Recommended solution

Rate comparison and order management software

Try

Domestic fulfillment provider

Try

International fulfillment provider

Try

Region-specific fulfillment partner
*Delivery speed varies greatly by location, carrier, and shipping method.
Using Cross-Border Shipping for International Sales
Cross-border fulfillment involves shipping orders from one country across borders to buyers in other countries.
Cross-border is the easiest and quickest way for most small-scale sellers to start shipping internationally. For most small ecommerce sellers, cross-border shipping lets you manage inventory and fulfillment via your usual process. The primary changes will be the documentation needed to ship and the carrier options you'll have.
Here are two ways you can cost-effectively work international orders into your business using cross-border shipping:
Manage Cross-border Shipping In-House
In-house international shipping has the lowest barrier to entry, and allows your shipping strategy to be modified at any time. It usually costs more in the long run than outsourcing to a third-party provider, but this method is best for those who are developing their own in-house fulfillment operation or just testing the waters with international sales.
When shipping internationally in-house, start by learning about the best international shipping carriers and methods that serve the countries you're selling to.
FedEx, UPS, USPS, and DHL are popular choices with a global reach. Each company has a convenient calculator tool to determine costs, options, and transit times.
Consider these factors when choosing your carrier(s):
Shipping speed
Affordability
Quality of service
Insurance options
Tracking capabilities
Returns management
You'll need to check in on country- or territory-specific regulations that may affect your international shipments. These restrictions largely affect hazardous or dangerous goods, but some locales restrict broader categories as well. For example, used clothing cannot be shipped to Saudi Arabia from outside countries.
Try using UPS' Import/Export Regulation tool, which provides area-specific information on product stipulations as well as necessary invoice requirements, documentation, exemptions, and weight/size/value limits.
In addition to specialized shipping methods and stipulations, international shipments may require different packaging than domestic orders. This is mainly because these parcels will be going through many additional facilities and spending more time in transit.
If your goods are susceptible to damage, include more dunnage or use sturdier boxes/mailers for international orders. To accommodate the cost of this, consider adding a handling charge to global orders.
For the most part, your usual order processing, picking, and packing method can stay the same when performing international shipping in-house—but your shipping label procedure will change, since you need to create customs forms. (Customs, which we will cover in more detail later, is an agency responsible for collecting fees and controlling the flow of goods into and out of a country.)
The simplicity of this task depends on the shipping software you use. Some programs print international customs forms and auto-populate customs fields for you, as shown in ShippingEasy's Customs Information screen below.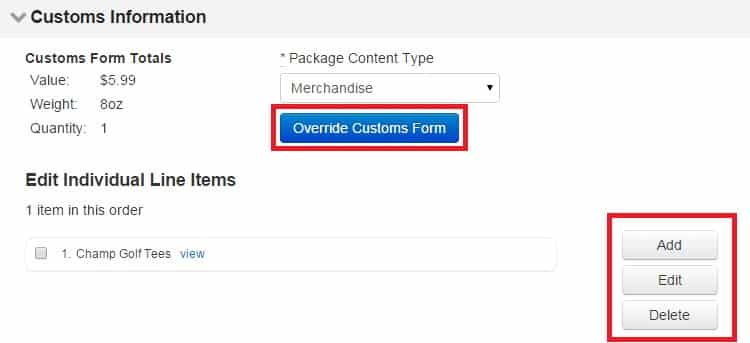 If your shipping software supports customs forms, you can print the necessary documents from your usual system. If not—or if your shipping strategy doesn't include the use of shipping software—you can use your carriers' websites to get the job done, but adding this extra step breaks up the usual shipping workflow and requires more time to complete the task.
We recommend ShippingEasy to streamline shipping processes and save on time as well as transport rates.
---
Use Cross-Border Fulfillment Partners
With cross-border fulfillment, your inventory is stored in your country, and a third-party logistics (3PL) provider handles the ins-and-outs of international shipping.
Similarly to the in-house method, each international order crosses borders and will go through customs—which entails applicable delivery duties and taxes. For most small-scale sellers shipping a small, consistent percentage of sales abroad, third-party cross-border fulfillment is the easiest and most cost-effective way to handle international fulfillment.
Most US-based fulfillment providers offer international shipping, but be sure to confirm this service (and clarify the details) before partnering with a 3PL.
Here are some of the top options for US-based fulfillment companies who offer robust international shipping services:
ShipBob: Our top recommendation for small business fulfillment with 19 US warehouse locations that can ship internationally. As global business scales, retailers can opt to store portions of their inventory in any of ShipBob's five international warehouse locations.
Red Stag Fulfillment: Best at handling large, oversized, heavy, or fragile products—and optimizing these tricky shipping scenarios to be as safe and cost-effective as possible. The company's three US warehouses can accommodate international orders.
FedEx Fulfillment: The logistics company's well-entrenched global transportation network makes FedEx Fulfillment a qualified choice for maximizing shipping potential. The company's warehousing and distribution services are effective and reasonably priced for small businesses processing 400+ orders per month.
Combining Multiple Fulfillment Companies
Some fulfillment partners have international shipping built into their offerings, while others exclusively ship to the country in which they're based.
If your existing fulfillment partner doesn't offer international shipping, you can enable it yourself without needing to break your contract and migrate all of your inventory to a new provider. This is done by choosing an additional 3PL to handle the international portion of your sales.
The most hands-off way to manage this combination of fulfillment companies is to route international orders from your primary partner to your cross-border partner, which then handles customs and ships the goods to the customer. This transfer can be easily automated through the companies' fulfillment platforms, but will likely add a couple of extra days to the order's delivery date. Plus, you'll be paying double fulfillment costs for each international shipment.
Alternatively, you can partner with a 3PL capable of shipping internationally and store a portion of your inventory in its warehouse. All international orders are routed directly to this secondary company, which fulfills them from the stock already available. This option speeds up the process, but you'll still face increased fulfillment costs.
If you're an Amazon seller, expanding internationally is simple—just make your existing product listings available globally from the settings in your domestic Amazon account.
To fulfill international Amazon orders, choose from any of the options outlined in this article, or consider outsourcing fulfillment and shipping to Fulfillment by Amazon (FBA)—which includes FBA Export for international sales at no extra charge to the merchant.
---
The hurdles of cross-border shipping individual orders may be draining if a sizable percentage of your sales come from abroad. Consider localized fulfillment to simplify the process and save on shipping and duty costs.
Using Localized Fulfillment for International Sales
Localized fulfillment involves stocking a portion of your inventory in warehouses within the countries or regions that you're primarily shipping to. These goods are fulfilled and shipped to your international customers by a third-party company.
Localized fulfillment works in much the same way as domestic third-party order fulfillment: You send inventory to your localized fulfillment partner, which stores it, then processes, packs, and ships your orders to customers. The difference is that your local fulfillment partner is based in your destination country.
This way, most orders don't have to go through cross-border customs or be subject to certain import taxes. It also reduces shipping costs and increases delivery speed, making localized international fulfillment a highly cost-effective way to handle international orders within specific global regions. Here are two ways to do it:
Choose a Fulfillment Partner With a Global Warehouse Network
Some US-based fulfillment providers boast an international warehouse network in addition to stateside locations. This allows clients to strategically distribute inventory throughout the globe—keeping shipping costs, time in transit, and duties low.
This option is the best choice for most small businesses as it provides the convenience and cost-effectiveness of standard outsourced logistics and allows for maximally efficient, seamless international shipping.
Outsourcing fulfillment and shipping to a global 3PL also gives you flexibility to redistribute inventory as demand increases in certain areas.
Here are some of the options that small business owners have for outsourcing global fulfillment:
Fulfillment Company

International Warehouse Locations

19 U.S. warehouses
Melbourne, Australia
Ottawa, Canada
Kilkenny, Ireland
Feltham, UK (near London)
Heywood, UK (near Manchester)

7 U.S. warehouses
St Laurent, QC (Montreal)
Peterborough, UK

13 U.S. distribution facilities
130 U.S. warehouses
Toronto, ON
European Global Distribution Centre

8 U.S. warehouses
Toronto, Canada
Vancouver, Canada
East Essex, UK
Waalwijk, Netherlands
Tin Shui Wai, Hong Kong
Sydney, Australia
---
Use a Region-Specific Fulfillment Partner
Retailers with consistent sales in specific countries or regions can opt to partner with a fulfillment company based in those locations. A portion of your inventory is stored on-location, and orders are shipped to your international customers without crossing borders. The rest of your stock is kept in your country for domestic sales.
This method can be combined with US-based third-party fulfillment or in-house shipping for domestic orders. It's best for retailers nurturing strong customer bases in targeted locations.
For additional international orders coming from locations outside of these targeted regions, shipping can be approached in multiple ways. It may be effective for your localized fulfillment center to cross-border ship certain parcels, depending on the distance between origin and destination countries.
You can also choose to fulfill other international orders in-house, or have them shipped by your domestic third-party fulfillment provider.
To find a region-specific fulfillment service, try searching for fulfillment companies in the countries you frequently serve and reach out for an individualized quote.
Brokerage services like FulfillmentCompanies.net can do the searching for you by matching your shipping and fulfillment needs with hundreds of prescreened fulfilment partners. When using a fulfillment broker, the third-party companies pay for matchmaking service—so there's no extra cost on your end.
---
Ecommerce Customs
Before embarking on your international shipping strategy, consider one of the main differences between domestic and cross-border shipping: customs.
Imported parcels have to go through the customs process, which applies to international ecommerce orders in the same way it does to all other shipments. To make sure your shipments arrive without delay, unnecessary cost, or legal penalty, you'll need to be prepared for customs.
Here's an overview of what to expect from the ecommerce customs process:
When you ship goods to another country, you (or the customer) may be asked to pay duties and taxes before the shipment is delivered.
Did You Know?: Not every shipment is taxed on import. If your shipment doesn't exceed the destination country's De Minimis Value—which is the minimum value required to apply customs duty and tax rates on imported goods—you'll be exempt from most customs fees. Check with each country's government website to find current De Minimis Value thresholds.
The purpose of these charges is for local governments to protect domestic companies from foreign competitors, control the flow of certain products, and raise additional revenue.
Here's an overview of the fees you may encounter when selling internationally:
Duties are a type of tax charged on goods moving into or out of a country. These fees are separate from sales taxes and vary depending on your shipment's country of origin and destination. They can include:
Import duties, which are charged by the government of the destination country. This fee is assessed as a percentage of the shipment's value, freight costs, insurance, and any additional costs.
Export duties, which are charged by the government of the country in which the cross-border shipment originates. Many countries, including the US, do not charge export taxes.
Tariffs, which are charged by the destination country to restrict the import of certain categories of goods that can be produced domestically.
Anti-dumping duties, which are charged by the destination country. These fees are imposed on imports priced below the fair market value of similar goods in the domestic market.
Taxes are government fees charged on purchased goods. They are assessed as a percentage of the goods' value and vary by country.
Depending on where your international sales take place (as well as your sales turnover), you may need to register for tax identification. Check with the country's government site for detailed information.
Some governments apply different tax rates to different categories of goods. The types of sales taxes you may encounter include:
VAT, or Value Added Tax, is applied at every step of the supply chain. It accounts for an added percentage of the goods' intrinsic value.
GST, or Goods and Services Tax, is a flat-rate percentage of a transaction's value.
Making it through the customs process requires additional forms and documentation not used in domestic sales.
These requirements vary by destination, but most countries ask for:
Commercial Invoice: This document is simply the bill for the shipped product from the seller to the buyer. It verifies ownership, contents, and accurate value. This is prepared by the exporter (i.e., your ecommerce business) and is necessary to be cleared through customs.
Certificate of Origin: This is a document declaring where the products you're shipping were manufactured. It is obtained from your local chamber of commerce.
Packing List: A document that details the contents of your shipment, including a description of goods, weights, dimensions, and how the parcel is packed.
Check with your shipping carrier for exact information on the documentation you'll need for your shipments.
Bottom Line
Expanding internationally is a powerful way to grow your ecommerce business. Shipping international orders is the trickiest part of global expansion due to customs requirements, shipping costs, delivery speed, and labor.
It's possible to successfully incorporate the task into your fulfillment workflow by creating a well-developed shipping strategy. But for retailers making a significant portion of their sales from international customers, outsourced fulfillment is the best way to send orders abroad.
ShipBob has a global network of 24 fulfillment centers—including five warehouses in popular international markets. This makes it simple to achieve localized fulfillment by distributing inventory near to your domestic and international customers.
Visit ShipBob to get a free quote.
You May Also Like …