How to Get a Freight Quote: The Ultimate Guide
There's more to getting a freight quote than entering your shipment's size and weight into a freight carrier's website. There are multiple options for comparing carriers to find the best rate—but an accurate quote depends on many variables.
One of the best ways to get a freight quote is through NTG (formerly FreightPros). As a freight broker, it gives you fast quotes from vetted and qualified freight carriers with deep discounts and the peace of mind of knowing your freight will be delivered safely and on time. Visit NTG for a fast, free quote.
Learn how to get a freight quote in three steps:
1. Decide Where to Get a Freight Quote
The right shipping partner makes quoting and shipping freight easy. You can go straight to a freight carrier to get a quote or use a freight broker or online exchange website that lets you compare quotes from multiple carriers. In any case, you want to make sure you're getting a good deal and that your freight is in good hands.
Freight Provider Options
Most freight brokers and freight exchanges offer free quotes, so there is no harm in shopping around to figure out which provider will offer you the best rate. Here's an overview of the four main types of freight providers:
Freight Resource

Best For

Examples

Freight Broker

Freight brokers help businesses find the right shipment carrier. They make money by adding a percentage to carriers' wholesale rates.

Freight brokers generally have competitive prices and strong relationships with carriers. They also offer more hands-on customer service—sometimes with a dedicated account representative.

Occasional or regular shippers looking for competitive prices and hands-on customer service for shipments to various locations

Online Freight Exchange

Online freight exchanges are like online DIY brokers; they require a little more shipping savviness from business owners in selecting the best carrier.

Like brokers, online freight exchanges also add a percentage to shippers' wholesale rates. They're similar to an auction house or a social network that directly connects shippers with carriers.

One-time or experienced repeat shippers that want total control over their shipping options

Independent Nationwide or Regional Carrier

Businesses can also choose to work directly with a shipper instead of going through a third-party broker or exchange. Working directly, a small shipper usually gets higher rates—but volume shippers can contract for discounts.

Repeat shippers with freight traveling on specific nationwide lanes or within a specific region

Freight Expeditor

Freight expeditors facilitate global freight shipping.

This can include brokering shipments as well as providing freight forwarding services (like customs documentation and movement coordination).

Like brokers, expeditors often add fees to carriers' wholesale freight costs. They also charge separate fees for import and export services.

Shippers exporting or importing freight
Select a freight provider from the dropdown below for more details:
Freight Provider Costs
So how do the different freight providers compare in terms of cost? Here's a sample chart of recent quotes from a broker, an exchange, and an independent carrier. The quotes are based on the same shipment with these attributes:
285-lb. shipment
Shipping from Houston to Los Angeles
Delivering to a residential address
Using a liftgate on delivery
Standard freight
Class of 150 (contains furniture such as bookcases)
Est. 3+ transit days
| Freight Resource | Freight Quote |
| --- | --- |
| Freight Broker (NTG) | $423.00 |
| Freight Exchange (uShip) | $490.00 |
| Independent Carrier (TForce Freight) | $847.81 |
Don't hesitate to compare quotes from different shipping providers. It costs you nothing to request several freight quotes for one or all of your shipments. This is a great negotiating tool to help keep costs low and ensure you're getting competitive rates.
In addition to saving you money, a good freight broker should also offer assurance that your freight will be delivered safely and on time. NTG's robust technology provides your team with freight pickup times, shipment tracking, GPS truck tracking, easy freight quotes, and more. Visit NTG (Formerly FreightPros) for a free quote.
2. Gather All Your Shipment Details
Now that you know where to get a freight quote, you'll need to provide them with detailed information about your shipment. The most important thing to remember here is to be accurate! If you provide incorrect details on weight, size, or items shipped, you could end up paying more than you should.
Here are the data points shipping providers need to give you an accurate quote:
Handling Unit Type
A shipment's handling unit consists of packaging materials and the goods contained in (or on) it. Carriers need to know what type of packaging they'll be transporting to properly assess cost.
Most commonly, goods are stacked onto pallets, but other handling units include boxes, crates, barrels, and reels.
If a material is shipped without packaging—which is sometimes the case with large industrial materials or components—it's handling unit is described as "loose."
---
Description or Classification of Goods
It's important to clearly describe the goods you're shipping when you get a freight quote, which has a great impact on your freight price. In fact, if not described correctly, you could receive an incorrect freight quote and see upcharges on your final bill once shipped.
Why is this?
Every type of good that ships via freight is identified using NMFC codes. The idea is that certain goods are easier, less fragile, and safer than others—and thus less expensive to ship.
This is a tricky area to navigate since NMFC code assignments can seem arbitrary, even to experienced shippers. But it matters because these codes (together with the size and weight of your shipment) determine your freight class.
Freight classification is a complex system determined by commodity, density, handling, stowability, and liability—but to get a freight quote, what you really need to know is this:
Freight classes are numbered from 50 to 500
The lower the class, the lower your shipping rate
Class can be based on the goods you're shipping, as determined by the NMFC code
Class can be based on shipment size and weight, called density-based class
Your shipping partner can help you determine how your freight should be classed
If you don't know your goods' freight classification, your broker or carrier can still provide you with a quote based on the shipment's physical attributes along with a description of its contents.
---
Shipment Weight
If you're shipping boxed items on a pallet, or bagged goods in a container, this value is pretty easy to figure out. Just weigh your items individually and add all of the weights together; a shipping or postal scale works fine for this.
Don't forget to add the weight of your pallet or freight container to your total! A safe rule of thumb for pallet weight is 40 lbs., but the weight of crates and other containers can vary. Weigh crates if possible—or if you build them yourself, weigh individual pieces before assembly.
If you're shipping a multi-piece freight shipment, simply add the weights of each packed unit together, like this:
---
Shipment Size
If you're shipping an enclosed crate, this value is easy to find. Simply measure the length, width, and height of your crate.
It gets trickier if you're shipping a pallet and haven't stacked it yet. If you have a pallet and the product available, you can stack it and measure the finished length, width, and height, like this:
If you don't have a pallet yet, you can stack your product on the floor. Mark or tape off a 40" x 48" square (most pallets are close to this size). Then stack your boxes, making your layers close to the edges of your square.
Once your boxes are stacked on the floor, measure the length, width, and height, and add 6" to the height to cover the height of the pallet.
For multi-piece shipments, measure the width, height, and length of each piece, then add all of the lengths together to get the total size of the shipment, like this:
---
LTL or FTL
The size and weight details we covered above let you determine the type of freight you're shipping, LTL or FTL. These are priced at different rates, so it's important to know the total size of your shipment to get the right freight quote.
LTL — Less-than-load: A shipment of one to six pallets or similarly-sized units is considered an LTL shipment. This means it doesn't fill the majority of the space in a freight truck. This is by far the most common type of freight shipping that small businesses use.
FTL — Full-truck-load: A shipment of seven or more pallets or similarly-sized units is considered an FTL shipment. This means it will fill most or all of the space in a freight truck. Mid-sized shipments are sometimes called partial truck loads.
---
Special Handling Needs
As stated earlier, you can ship virtually anything imaginable, but the more demanding the load and the service, the higher the cost.
Here are a few special handling charges that can add costs to your freight quote. These charges are called accessorial fees, and usually are itemized on both your freight quote and your final bill:
Residential delivery: Delivering to a residence is generally more costly than delivering to a business. Plus, a liftgate is usually required.
Liftgate service: If there is no delivery dock or forklift available at pickup or delivery, a liftgate is required to load and unload truck shipments.
Appointment delivery: Delivery appointments can be made to meet your pick-up or customer's delivery needs, usually with a fee.
Trade show delivery: Deliveries to trade show locations sometimes require scheduled deliveries and other destination services, such as inside delivery and signature by a specific receiver. These service add-ons usually come with additional fees.
Refrigeration truck: Called reefer trucks in industry lingo, refrigerated shipment or reefer freight enjoys climate-controlled transit end-to-end, at a cost.
Hazardous materials (hazmat) transportation: Hazmat shipments fall under their own set of transportation restrictions and additional fees.
If you're unsure if your shipment requires special handling, your freight broker or carrier rep can help you.
---
Origin & Destination
To get a freight quote, you need to know the delivery and origin zip code for your shipment.
You won't be asked for the full address until you're ready to book the shipment. However, you'll need to know the type of delivery location (residential or business), plus which special handling needs apply—such as a liftgate.
Here's a look at the freight quote screen for uShip. It makes it very easy to enter all of the shipment details we discuss in this guide, including the pickup and delivery zip codes, and any special services: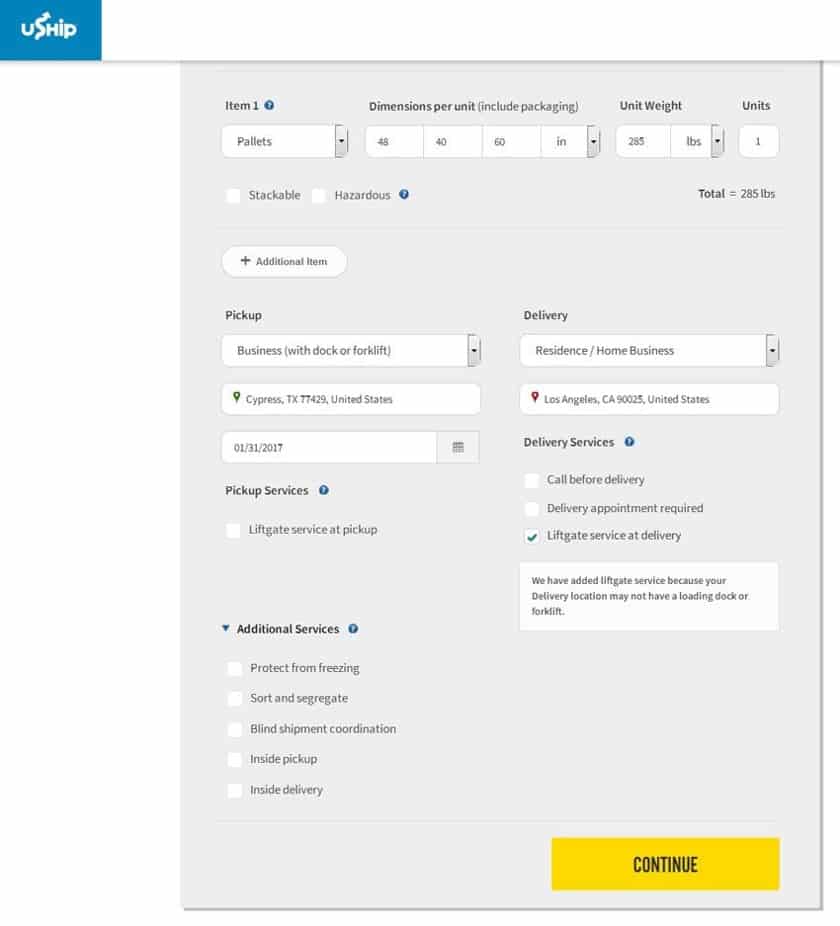 ---
Value
The value of your freight usually doesn't affect freight quotes unless you wish to purchase insurance beyond the carrier's liability insurance.
That said, basic freight liability insurance may not cover your complete replacement costs in the event your freight is lost or damaged during shipment. So additional insurance can be a good idea, and some carriers require it for high-value shipments, typically around $15,000 or more.
Most carriers, freight brokers, and freight exchanges make it easy to add insurance to your shipment when you get a freight quote. You can provide the shipment value when you enter your other shipment details and they will include an insurance cost, which you can elect or decline, as shown below: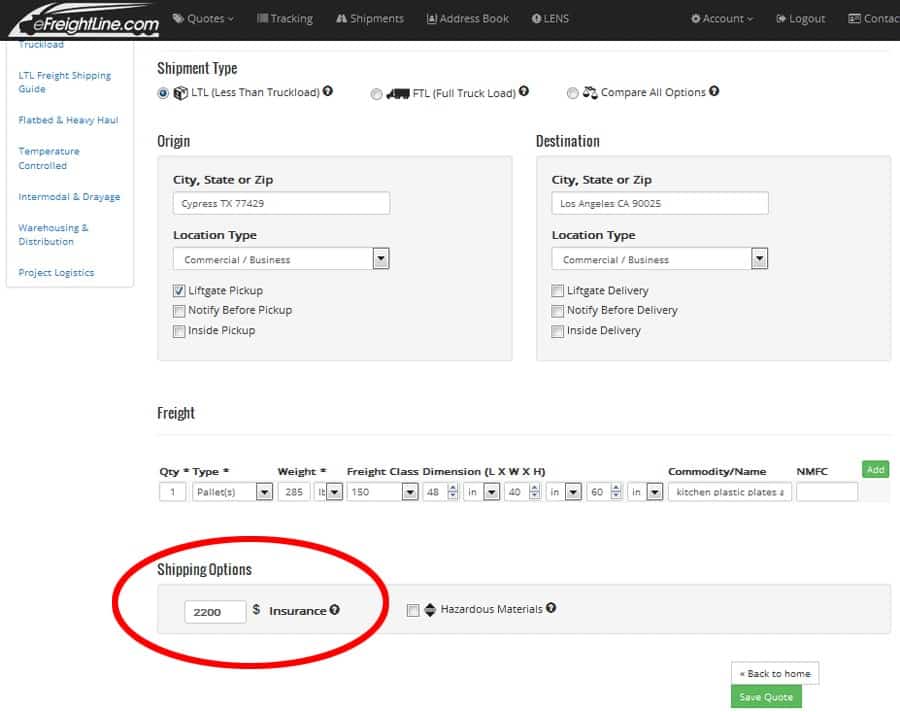 The cost to insure a freight shipment can vary based on many factors—such as the carrier, the goods being shipped, the shipping routes, packaging type, and so on. But it's usually a reasonable price, and we recommend purchasing insurance when possible.
For a shipment valued at $2,000 – $3,000, additional insurance will cost about $50, which is not a bad price for peace of mind.
---
Delivery Speed
The time your shipment spends in transit is another major factor that affects cost. Freight carriers have different names for the service types that determine delivery speed, but they typically fall under three timeframes:
Standard Freight
This is your ground transit time, which can differ by carrier as much as two to three days.
When you get a freight quote, you'll see both prices and transit times, as shown in the image below. These are delivery estimates, not guarantees.
Standard freight deliveries can take a day or two longer than published times and not be considered late. This is the norm in the freight industry.
Expedited/Express Freight
This faster delivery service is available at an additional cost. But like standard freight, expedited or express delivery times can vary per carrier as much as one to two days.
When you get a freight quote, be sure to note the delivery times and go with Guaranteed Freight for time-critical shipments, as explained below.
Guaranteed Freight
Whether you choose standard or expedited service, you can pay extra for a guaranteed delivery date, and even schedule a delivery appointment time.
This is handy when shipping to residential customers who might need to make arrangements to meet the truck. It's also worth the price for date-critical shipments, such as trade show displays or special event needs.
Delivery times can vary by days depending on the carrier, as shown below. Remember, only Guaranteed Freight with additional charges is guaranteed to arrive on a certain day.
Distances & Travel Times for Freight Quotes
The distance your freight travels is a big factor in your freight quote—but surprisingly, long distances don't necessarily equal higher costs, or even longer delivery times.
Within the US, freight carriers operate via commercial routes called lanes, and some are faster and cheaper than others.
Depending on where you're shipping from and to, lanes to closer destinations can be more expensive than lanes to farther destinations. Plus, shipments to large cities far away can be faster than those to small towns that are closer.
For example, shipping from Houston, TX, to New York City (1,628 mi) is generally less expensive and faster than shipping to Los Angeles (1,546 mi). So if you notice this as you get freight quotes for different destinations, don't be surprised.
If you're shipping freight out of the country, your best bet is to work with a freight expeditor to handle all of your cross-border export/import tasks.
---
After giving all of the freight details above to your shipping provider, you'll receive your quote. Depending on your provider and the service you need, you may receive just one price or several to choose from.
Once you've settled on the price and service, review the details with your provider to make sure it's all in order. Then you're ready to move to the final step.
3. Book Your Shipment
The good news is that once you've gotten through the quote process, the rest is pretty simple—now you just need to book your shipment.
If you use a broker, exchange, or carrier website, this usually happens with few simple clicks. If you received a quote via email from a broker or carrier, then you just need to respond to them.
After that, completing your shipment requires the following steps:
Create a Bill of Lading (BOL) & Paperwork
A Bill of Lading, or BOL, is the shipping paperwork for a freight shipment. It contains all of the key factors needed to describe, track, and deliver a freight shipment: ship-from and deliver-to addresses, contact phone numbers, shipment contents, freight weight, class, size, number of shipped units, service level, special services, and the freight tracking number called a PRO number.
After you book your shipment, you'll enter your delivery address information online or provide it to your rep via email or phone. The BOL paperwork will be created with this information. Before printing, be sure to double-check that the address, class, weight, and any special charges are correct per your quote.
If the BOL is in order, attach it to your packed freight shipment as instructed by your shipping provider. Usually, this goes in a clear plastic resealable envelope that adheres to the outside of your shipment.
Schedule Your Pickup
Upon booking your freight shipment, you'll also schedule the pickup day and time. Generally, this is a window of time in the afternoon. Freight carriers typically deliver in the morning and pick up in the afternoon.
Be sure to note your available pickup times so your truck driver arrives while you're open. Also be sure to add in a buffer, as drivers can run late. So if you close at 5:30, put a 4:30 cutoff for your pickup.
Meet Your Driver
When your driver arrives, have your freight shipment packed and waiting in an area the driver can access with the truck. If you have a loading dock, your driver will load your freight from there. If you don't have a loading dock and access to a forklift, you should add liftgate service at pickup to your quote to be certain you can get your freight loaded.
Your driver will review your BOL and sign off on the pickup day and time before loading. If you have two copies, the driver will leave a signed one for you as proof of pickup. After that, your freight is on its way and you can track the progress online on your broker, carrier, or exchange website.
Bottom Line
Getting the best freight quote isn't hard if you have accurate information about your shipment and a reliable freight provider. You can get freight quotes and book your shipments through a number of sources—including freight brokers, online freight exchanges, independent carriers, and freight expeditors for import and export needs.
Of these, freight brokers tend to be the best bet for price and service, especially if you're new to shipping freight.
We recommend looking into NTG (Formerly FreightPros). With NTG, you get fast, accurate freight quotes and a support team that works on your specific shipping needs. Visit NTG for a free quote.