6 Best Leave Management Systems
Leave management systems (LMS) automate the leave requesting, granting, and scheduling process—taking a lot of the busywork off the hands of your HR employee or manager. The best leave management system allows you to set time off policies and holidays and automatically notifies managers of requests and employees of approvals or denials. It also includes a calendar that lets you see who is off and when.
We looked at many types of absence management software and narrowed our list down to the six best.
Best Leave Management Systems Compared
Monthly pricing

Free trial

Number of countries

Overtime compensation (TOIL**)

Communication

Implementation support

Support

Integrations

$2 per person*

14 days

100+

(Multilanguage)

Report

In-app, email, Slack

Setup

Chat, email, guides, some video

Google Apps, JIRA

$1.35 per person* (free plan for <10)

14 days

50+

✓

Email, Slack

Onboarding

Contact form, account manager w/ Enterprise plan, guides, video

API only

$1.30–$2.50 per person

1 month

250+

✓

Email, Slack

Documentation

Contact form, guides, video

API only

$1 per person

4 months

25+ (Multilanguage)

Reports

In-app, email, Slack, HipChat

Onboarding

Contact form, in-app help, in-app chat

XERO, Quick Books, ADP, Zapier

$2 per person (subject to exchange rates)

1 month +

65+

✓

Email

Documentation

Phone, email, guides

API only

Call for quote

(quoted $3 per user, min $30 per month)

14 days

Unspecified (English only)

Reports

Email, Slack, Microsoft Teams

Onboarding

Email primarily, can schedule a video call

ADP, Okta, NetSuite, Google Apps, Microsoft, Lever, SAP, Paychex, QuickBooks, Paylocity, Oracle PeopleSoft, Workday
*Discounts offered for annual plans.
**TOIL: Time Off In Lieu of pay. It means that instead of accepting overtime pay, they take extra time off.
Want to know how much you'll spend for each leave management software? Use our calculator to check and compare the estimated monthly and annual fees.
Calamari: Best Overall Absence Management Software

What We Like
Excellent features and customizations
100+ countries supported
Conversations in-app or via Slack
Attach documents to requests
Tracks remote workers
What's Missing
Can't customize reports
Putting in the customizations can get time-consuming
No integrations to payroll software
Calamari Pricing
Leave Management: $2 per employee monthly ($1.70 with annual plan)
Clock In/Out: $2.50 per employee monthly ($2 with annual plan)
Minimum 10 employees
Discount for charities—call for quote
14-day free trial
Calamari works in over 100 countries and is available in English, German, Polish, French, and Spanish. You can use it for teams in multiple countries and remote workers as well. It has competitive pricing (although PlanMyLeave is the cheapest for 10+ employees) and the most features. It's especially good for remote teams and multinational companies, as it works with many languages and holiday schedules; however, Timetastic is still best for businesses with international employees because it's preloaded with holidays from 250+ countries, whereas Calamari has none.
Calamari earned a 4.36 out of 5 on our evaluation. It was hardest hit in pricing and reporting because it lacked a free version (only LeaveBoard has one), and its reports are not fully customizable. Calamari has a terrific set of features for tracking leaves, great customer service, and an intuitive interface.
Calamari Pricing
Calamari's leave management software costs $2 per user monthly ($1.70 per user monthly if you pay annually). The minimum monthly pricing is $20. For the best deal if you have fewer than 10 employees, consider LeaveBoard's free plan.
As of this update, Calamari does not advertise custom pricing for larger companies. However, it does have a discount for nonprofits; contact the provider for more information.
Calamari Features
Document attachment: Calamari alone offered document attachment capabilities. This is handy for special-case leave requests like those allowed by the Family Medical Leave Act or for internal use. PlanMyLeave and Timetastic also allow this—the others only have room for notes.
Manager/employee communication: Other leave management software on our list allow your employees to make comments. A few integrate with Slack or Microsoft Teams for communication. Calamari, however, has built-in communications features so that managers can discuss leave requests with the employee or other supervisors. It also works via Slack.
Widespread workforce: Calamari's leave management program lets you track remote workers and communicate with them in-app. It also has holiday tools for over 100 countries and comes in five languages: English, French, German, Spanish, and Polish. Timetastic, LeaveBoard, and PlanMyLeave are also good choices for international teams.
LeaveBoard: Best for Reporting & Free Software for <10 Employees

What We Like
Free plan for small businesses
Report builder
Works in 50+ countries
Assistance with setting up an account and importing data
What's Missing
Very few integrations
No phone, chat support
10 employee minimum for paid plans
LeaveBoard Pricing
Free: Up to nine employees
Pro: $1.35 per employee monthly for 10 to 80 employees (Annual pricing: $13.50 per employee yearly)
Enterprise: Custom pricing for 81+ employees
$13.50 monthly minimum for paid plans
14-day free trial
LeaveBoard is designed for businesses over 300 employees and works for teams that span multiple countries. However, it's the only absence management software on our list that provides an indefinite free plan for up to nine employees. It has excellent automation features and makes it easy for managers to see and approve leaves. It's also got the strongest reporting tools of those on our list.
LeaveBoard earned 4.19 out of 5 on our evaluation. The customizable reports earned it a perfect score for reporting; it also got a perfect score for functionality, along with Calamari and PlanMyLeave. The lack of a mobile app isn't a huge issue as it is designed to be accessed on mobile through the web, so you don't really need one. However, support is through a contact form, and the integrations are sparse, which hurt its score. Like all the leave management systems on our list, it does have an API.
LeaveBoard Pricing
Its free plan is good for up to nine employees and has all the features except priority support and advanced leave policies. The Pro plan costs $1.35 per employee monthly with managers and admins counted as employees. The Enterprise plan has custom pricing and is for over 80 employees—it includes an account manager. The prices compare well against other services on our list, although PlanMyLeave is the cheapest.
LeaveBoard Features
Intuitive interface: While we found all the programs easy to use (and users agreed with us), LeaveBoard especially impressed us with its bright, easy-to-use interface. The card-style dashboard keeps your most important information right where you need it. The calendar also uses lighter dots to show leaves submitted but not approved—a nice function for planning.
Free version: LeaveBoard's free version works for nine employees or fewer. It's a great option for small businesses that don't expect to increase their employee base soon. None of the others on our list offered a free plan.
Reports: We found LeaveBoard had the best options for reports because you can build your own custom reports and manipulate the leave reports it already supplies. For further analysis, such as chart creation, you need to export to Excel.
Additional leave options: You can set the system to do extra functions, such as automatically approving leaves or having employees automatically ask for a replacement, which is a great help for service industries like restaurants. There are options to retroactively request leaves and set up leave intervals, so expiring leaves are used first. Calamari comes close, and PlanMyLeave has more approval flexibility but not the replacement feature.
Overlap warning: LeaveBoard not only supplies employees with a calendar that shows who has already applied for days off but can send a warning if an employee asks for a day off and a colleague has already taken that day. This can save managers from dealing with staffing issues. Calamari and Built for Teams, for example, let you manually check, while others provide a list or a calendar to show who is off and when.
Timetastic: Best for Multinational Companies

What We Like
Preloaded with holidays of 250+ countries
Very easy to use
Highly rated by users
Offers Time Off in Lieu tracking on the calendar
What's Missing
Email support only
Can't attach documents to requests
English only
Timetastic Pricing
Business: $1.30 per user monthly
Pro: $2.50 per user monthly
Minimum: None
50% discount for Certified B Corporations, Fair Tax Mark holders, 1% for the Planet members, and NHS Trusts
One-month free trial
Timetastic is headquartered in Great Britain and can work in multiple countries and includes preloaded holidays for over 250 countries. Over 175,000 people use it—many in businesses that switched to Timetastic from spreadsheets or old-fashioned wall calendars. Like the other LMS software on our list, the automations and PTO customization policies are top-notch.
Timetastic earned 4.15 out of 5 on our evaluation. It earned perfect marks for features and high scores for functionality. It took hits for not having a report builder and for support being available only by contact form and during working hours in England.
Since our last update, Timetastic has made some cosmetic changes to the interface ("a subtle new coat of pain," it said). It also added some new email and menu designs. The user listing had admin badges. One of the biggest improvements, however, is that you can attach documents using the mobile app. These improvements did not change Timetastic's overall ranking on this list, but do make a cleaner and easier-to-use product.
Timetastic Pricing
At $1.30 per user monthly, Timetastic is on par with the other best leave management software. In addition, it has no minimum employee requirements, so for businesses with 10 or fewer employees, only LeaveBoard's free plan is cheaper. It offers discounts for some types of British companies.
Are you a nonprofit?
Timetastic offers a 50% discount for nonprofits, Certified B Corporations, and Fair Tax Mark holders, and 1% for the Planet members and NHS Trusts.
Timetastic Features
Customizable approvals: Most of the software on our list automatically alerts all the managers or makes a request to an administrator if the manager is not around. Timetastic, however, allows you to create a customized workflow for approvals.
Time Off in Lieu (TOIL): Like LeaveBoard and WhosOff, Timetastic lets you calculate and give time off as compensation for overtime rather than overtime pay. We especially liked how this feature was included in the calendars, a great tool for hourly workers who use this feature.
Preloaded holidays: Most of the programs on our list have holidays for the locations they work in. Timetastic, however, boasts the most with over 250 countries and 3,000 regions. You set the country and staff member and the software selects the holidays for you.
User favorite: Timetastic and Calamari both excelled in user reviews both for ratings and number. They both earned 4.69 out of 5 stars averaged over multiple sites, but only Timetastic had over 500 reviewers. Users praised its ease of use. On mobile, it saw a huge jump in user approval for iOS since our last update, with a current rating of 4.7 out of 5 stars.
PlanMyLeave: Best Absence Management System for Comp Time & HR Tools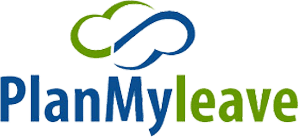 What We Like
Additional free modules for document management, onboarding employees, and more
Per-person price inexpensive
Manages comp time
Can customize languages
What's Missing
No mobile app
Very few user reviews
$30 per month minimum
PlanMyLeave Pricing
Leave Management: $1 per user monthly
Leave and Time Sheet Management: $2 per user monthly
Minimum: $30
Custom rates for >300 users
Discounts for nonprofits, educational institutions
30-day free trial
PlanMyLeave is the least expensive paid plan on our list when looking at it per-person. In addition, it provides basic employee management tools, like onboarding, employment histories, document management, employee appreciation, and more. This, too, can save you money by taking care of some of your HR needs. It also lets you manage comp time automatically.
PlanMyLeave earned a 4.01 out of 5 on our rubric. It did very well in price, features, and functionality, although the lack of custom reports brought its score down some. It's not as popularly rated and does not have a mobile app. However, it offers more flexibility for requests and approvals than the other leave management software on our list.
PlanMyLeave Pricing
At $1 per user monthly, PlanMyLeave is the cheapest leave management system by per-user rate. However, it has a $30 per month minimum, so depending on how many employees you have, LeaveBoard, Timetastic, WhosOff, or Calamari may provide better deals. Once you get past 23 users, however, it's the better deal.
It also offers free modules for simple HR support, which could save you money. None of the others on our list offer as many extras.
PlanMyLeave grants discounts for nonprofits, educational institutions, and businesses with over 300 employees.
PlanMyLeave Features
Encashed comp time: PlanMyLeave, like Timetastic and LeaveBoard, can calculate time off in lieu of (TOIL) time; however, it offers additional tools like calculating encashed time (such as time-and-a-half for working holidays). The others on our list do not do this.
Bonus modules: In addition to leave management, PlanMyLeave offers modules for tracking skills and employment history, managing documents, onboarding and offboarding workflows, travel requests, employee appreciation, and more. None of the other LMSes on our list offer extras like these. If you are a small business that doesn't need full HRIS software, PlanMyLeave could provide you with what you need.
Free language customization: PlanMyLeave claims it can be set to any language. The FAQs list English, French, German, Chinese, and Turkish. It also says it can add any language you need at no extra charge. While Calamari offers several languages, it does not offer this level of flexibility.
Integrations: PlanMyLeave integrates with Xero, QuickBooks, ADP, and other payroll software. It lets you store documents on Google Drive and Dropbox, works with multiple third-party calendars, and integrates with Slack and HipCat. Only Built for Teams offers more integrations.
WhosOff: Best for Custom Leave Types & Approval Flows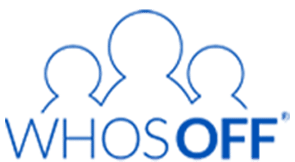 What We Like
Comp/TOIL tracking
Can add documents as attachments to requests
Mobile app works for managers and employees
Blackout dates
What's Missing
US, CAN, EU prices change according to exchange rates
Email notifications only
Limited integrations
WhosOff Pricing
Standard pricing is in British Pounds and change according to current exchange rates
US pricing as of this update: $2.015 per person monthly, minimum $20.15 (10 users)
6-week free trial
WhosOff is new to our list but has been around since 2006. Sold primarily in the UK, it also works in the US, Australia, Canada, and Europe, although it's only available in English. It impressed us with its flexibility for approval settings as well as overall functionality. While the mobile app is not the highest rated on our list—Timetastic has that honor—it is the most popularly used by more than an order of magnitude.
With a 3.79 out of 5 on our rubric, WhosOff comes just ahead of Built for Teams. It got a strong score in pricing, only taking a small hit for the monthly minimum (which Timetastic does not have) and lacking a free plan as LeaveBoard has. It had a near-perfect score for features, however, and only a lack of alternate communications tools hindered its score for functionality. It's not as popular or well-rated as those on our list, but still highly regarded and easy to use.
WhosOff Pricing
WhosOff is sold out of Great Britain, and the pricing is in English Pounds. Rather than set a price for other currencies, they depend on exchange rates. Therefore, if you are not British, your prices may vary. The price is £1.50 per person, for a minimum of 10 people. At the time of this writing, that comes to a minimum of $20.15 per month or about $2 per person per month. This is on par with Calamari's pricing.
WhosOff Features
---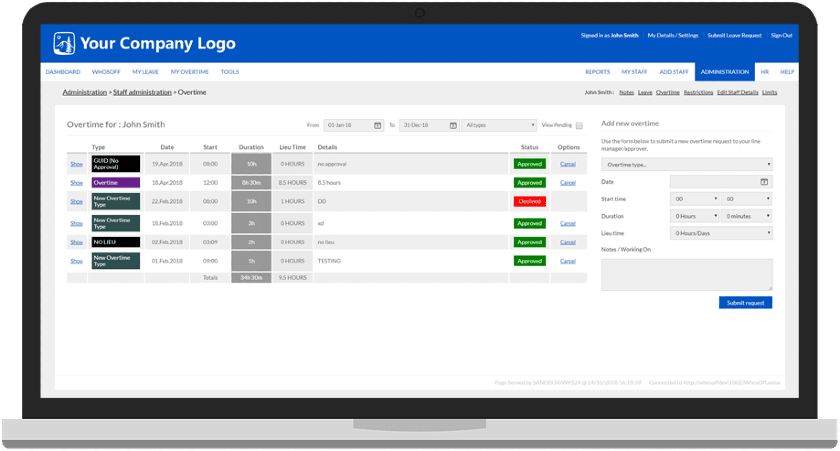 ---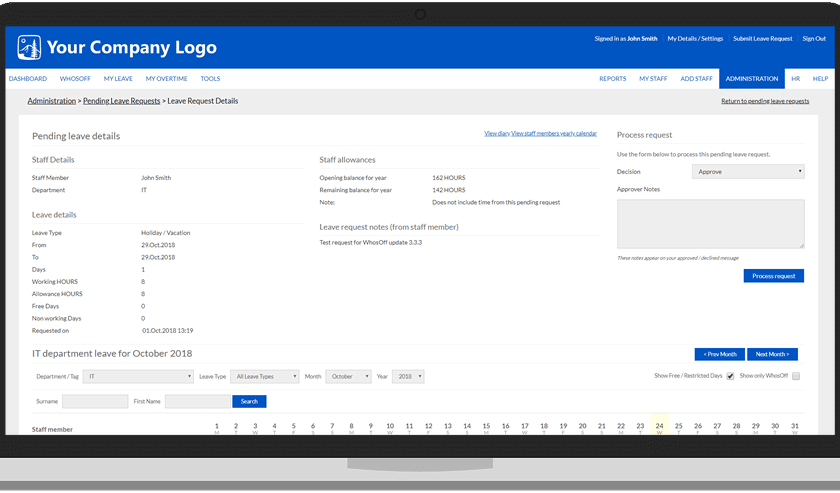 ---
Customizations: You can create your own leave types, including time off for overtime (TOIL). Then select whether they need approval, who can take that kind of leave, and who can see the option. The others on our list let you set different leave types for different groups.
Flexible sick leave reporting: WhosOff is the only absence management software on our list that allows a co-worker to request sick leave for someone else. This is a manual setting and only works for requests for one day, but gives great flexibility for a close-knit team.
Approval customizations: While some, like Built for Teams, follow an org chart for leave approvals, in WhosOff, you can set the approvals for whoever should approve. You can even set automatic approval rules where no sign-off is needed. This is great for doctor appointments, for example, and is a convenience we saw only in LeaveBoard.
Mobile app: WhosOff has the most popular mobile app of those we reviewed, especially on iOS. The app has tools for managers and employees. It earned 3.4 out of 5 stars with 139 reviews on Android, and an impressive 4.8 out of 5 with 3884 reviews in the App Store.
Built for Teams: Best for Integrations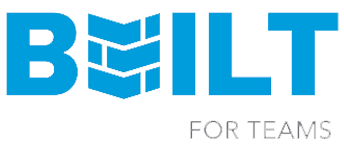 What We Like
Integrates with payroll and other software
Leave emails provide lists of others off on requested days
Set blackout days
What's Missing
Expensive
Limited phone support
Cannot attach documents to leave requests
Built for Teams Pricing
Call for Quote

Quoted at $3 per user monthly
$30 monthly minimum

Discounts based on company size, nonprofit status, and length of contract
14-day free trial
Built for Teams only comes in English but can be used in any country, as you set the holidays and leave policies. It tops our list for the most integratable, with connectivity to over a dozen apps in payroll and HR, as well as calendars and chat tools like Slack. It's the most expensive on our list but a strong choice for HR teams that need full-featured leave management that works with their HR or payroll software.
Built for Teams earned 3.78 out of 5 on our rubric. It had the lowest pricing score on our list both because of the expense and because you need a custom quote. It also lacked some standout features like attaching documents to requests. However, it excels in integration capability and is loved by users.
Built for Teams Pricing
Built for Teams does not list its pricing online, but we were quoted $3 per person monthly for the PTO management package, with a minimum of $30 per month. This is more expensive than the other systems on our list. It offers discounts for larger companies and nonprofits, as well as if you sign a contract of a year or more.
Built for Teams Features
Integrations: While most of the leave management systems on our list only integrate with calendars and Slack, Built for Teams also integrates with popular HRIS systems like ADP and Oracle and payroll software like Paylocity and Paychex. In addition, it integrates with QuickBooks, Okta, and Google. It has a CSV data importer to sync data to other programs as well. Most of the software only offer APIs.
Leave emails: Every leave management system can send leave-request notifications by email. However, Built for Teams also sends managers the summary, a list of other employees scheduled, and the link to approve or deny. It can also alert other employees and managers when a leave request has been approved.
Designate your cover: Employees can designate right on the leave request who will cover for them if needed. We did not see this feature in other absence management software.
Blackout dates: Like Timetastic and PlanMyLeave, you can set specific days when employees cannot request leave or cannot get the day off except for emergencies. We did not find this feature in Calamari, WhosOff, or LeaveBoard.
How We Chose the Best Leave Management Systems
For this lineup, we weeded out any leave management systems that only came as part of a time and attendance software package or HR software. Those that were left all offered an excellent set of basic features; the distinctions came in the extra details. In this update, we changed a few particulars, giving credit for free trials, looking for time off in lieu of overtime pay (TOIL) tracking, and checking for updated features.
Calamari topped the list again. It offers nearly everything we looked for and has a clean, easy-to-use interface that users liked.
Click through the tabs below for our full evaluation criteria:
20%
Leave Management Tools
20% of Overall Score
We looked at affordability and transparency, and gave credit for free plans. Only Built for Teams had custom pricing at every level, and most had a monthly minimum of at least $20. LeaveBoard and Timetastic got the highest scores.
20% of Overall Score
These tools make managers' jobs easier: importing holidays, setting rules, having accruals automatically calculated, calculating comp time, and getting automated messages when leave is requested and approved. Every provider scored well here, but Timetastic led with 5 out of 5.
20% of Overall Score
This score looked at calendar integrations and customizations. Calamari, LeaveBard, and PlanMyLeave all got a perfect score in this category.
10% of Overall Score
Here, we looked at feedback from real-world users, especially on customer service. Many of the apps did not have a lot of reviews. Built for Teams and Timetastic earned perfect scores here.
10% of Overall Score
We looked for standard and customizable reports. While all the products had some kind of leave reporting, only LeaveBoard offered much in terms of customization.
20% of Overall Score
We considered interface, customer support, online guides, and dedicated help for integration. Calamari led the way with 4.56 out of 5, with Timetastic last given its 3 out of 5 rating.
*Percentages of overall score
Tip:
To make the best use of absence management software, have your time off policies ready. Be sure to include all types, including time off required by law. Learn more in our article on PTO policy creation.
Bottom Line
There are other ways to track employee hours and leave. However, if you are ready to put aside the spreadsheets and wall calendars but don't want a full HRIS or time-tracking system, absence management software can provide the automations you need to make leave planning a breeze instead of a chore. They are reasonably priced, and most work in multiple countries.
Calamari tops our list because of its excellent feature set and high ratings by real-world users. While among the most expensive, it does offer multiple languages and holidays, as well as customizations to keep your leave policies in compliance with local law. It comes with a free trial with all its features. Try Calamari today.