4 Ways To Track Employee Hours for Your Small Businesses
Tracking employee hours is not only a safe way for managers to gauge where employees' time is being spent but it also helps businesses understand labor costs, prepare for payroll, and increase employee productivity.
Whether time sheet software, spreadsheets, physical time clocks, or manual tracking, determine what works best for your small business by weighing the technology requirements, cost, legal compliance, and ease of use for your employees.
1. Time Tracking Software
Time tracking software eases the burden of logging employee hours, ensures your staff is compensated accurately, and assists in maintaining employee schedules.
Using time tracking software can also make payroll processing more efficient:
Employees track their time digitally, decreasing error
Supervisors and managers can approve time entered online with a click of a button
HR Specialists can run reports, allowing management to see where improvements can be made
Below is a list of recommended time tracking software including which businesses each may be best for, along with the associated costs.
Recommended Time Tracking Software

What It Is

Best For

Cost

 

All-in-one employee scheduling, time tracking, and HR solution

Growing businesses with one physical location that employ hourly workers

Basic Plan: Free

All-in-One Plan: $80 per month, per location

 

Cloud-based time clock solution that offers online time entry, time-off tracking, GPS tracking, and an optional webcam and device lock feature

Small businesses that need help tracking their billable project time

Standard Plan: $2.99 per user, per month + $19 base fee per month

Pro Plan:

$3.99 per user, per month + $19 base fee per month

Enterprise Plan: Custom-priced

 

Employee scheduling software with time clock and attendance features

Startups and employers that hire across multiple locations

Essentials Plan: $4 per user, per month

Complete Plan:

$8 per user, per month
GPS Tracking Software
Monitoring your employees' hours worked using GPS tracking software allows you to record their time and attendance from worksite to worksite.
When your employees work off-site, a GPS tracking method may be the right option for your business. This works best for courier services, logistics, construction, and public transportation companies.
GPS time tracking is simple for the employee, who can log their time from any device—such as a cellphone—while they are working in the field. Additionally, it is easy for business owners and managers who maintain the time sheets from the office as they can be reported directly to HR through the app.
Pricing can start as low as $3 per month, per user (plus a $10 monthly base fee), with a basic service like ClockShark. Most software of this type also charges a base fee per month and offers custom packages for any business size.
2. Manual Employee Time Tracking
Manual time tracking is as old as businesses themselves. Also known as pen-and-paper tracking, employees record their own time on a handwritten piece of paper. This method can lead to issues (such as time theft, accounting errors, payroll issues, and labor law violations) and is not recommended for small businesses.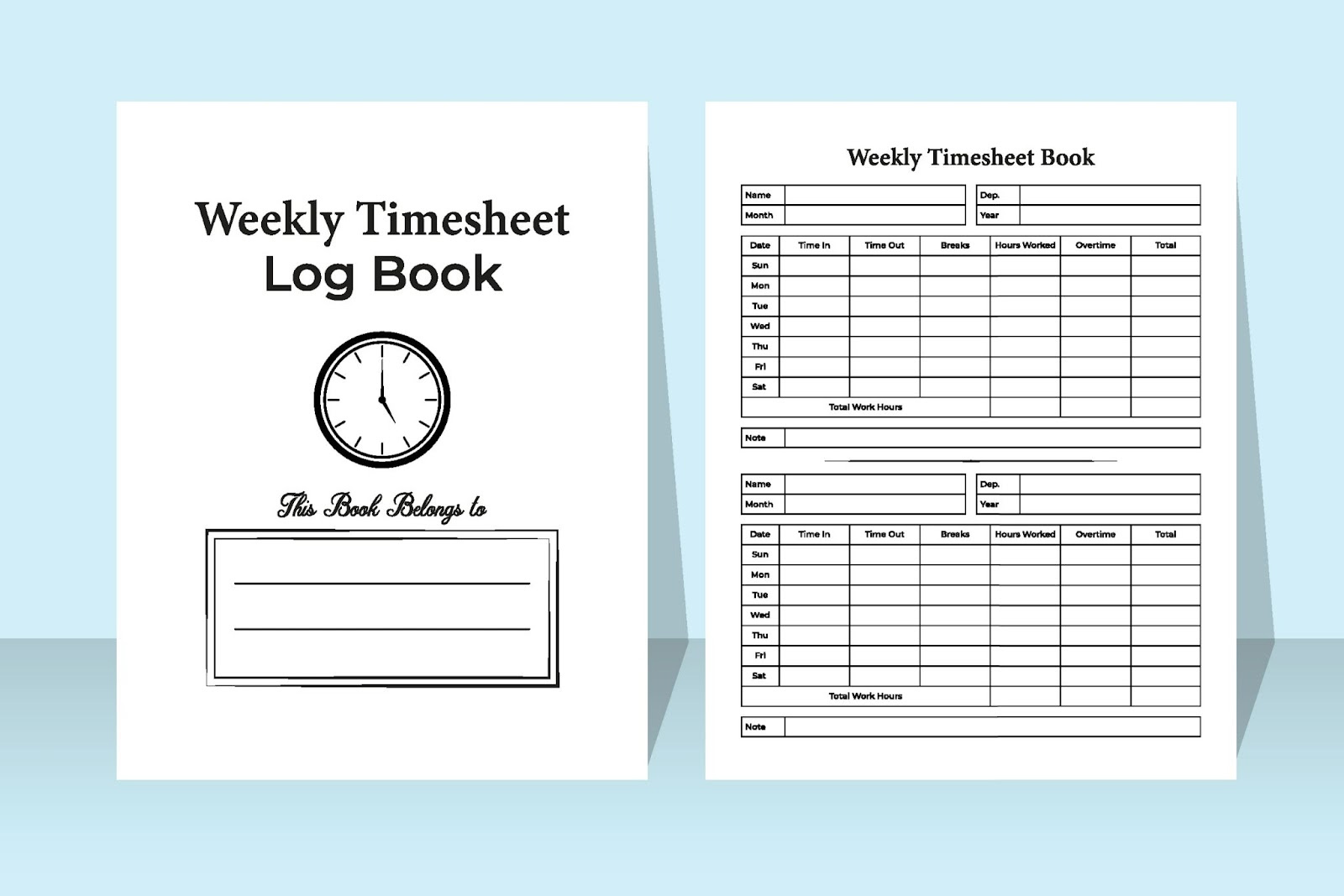 Manual time tracking does not offer the accuracy and security of a software time and attendance solution. Even though this is a free method, the following are reasons to reconsider manual time tracking:
Inefficiency: Employees can spend hours manually tracking their time.
Inaccuracy: Mathematical mistakes can be made when adding hours up.
Inconvenience: In this digital world of computers and cellphones, it can be problematic for an employee to track hours on paper.
Unreliability: Tracking hours on paper is a security issue. It can result in missed hours if you lose the report.
3. Spreadsheet Time Tracking
Spreadsheet time tracking utilizes a template on tools such as Google Sheets or Microsoft Excel. This is similar to manual time tracking, where the employee enters their time into a spreadsheet, but offers mathematical features to provide better accuracy. A spreadsheet can be shared online with managers and supervisors for time checking and approval.
Both Google Sheets and Microsoft Excel offer time sheet templates that automatically calculate total hours, regular hours, and overtime hours. They can also help track the efficiency and productivity of teams within your organization.
Once you purchase Google Workspace (as low as $6 per user, per month) or Microsoft 365 ($70–$100 per year), the spreadsheets and time tracking templates are free to use.
4. Physical Time Clocks
Businesses that need their on-site employees to "punch in"' for their shifts or workday can benefit from using a physical time clock. You may use a wall-mounted or biometric time clock depending on your specific business needs.
Wall-mounted time clocks are suitable for businesses such as factories or warehouses. These typically have employees that are in-house and required to log their time when they arrive, leave for breaks or lunch, and leave for the day.
With a wall-mounted time clock, the company clearly understands the hours each employee physically worked, so it pays accordingly. A disadvantage is that this system only works for employees physically in an office or factory and does not account for remote employees. Wall-mounted time clocks can be purchased on Amazon or at most office supplies stores and can cost anywhere from $100 to upward of $1,000.
"Punching a clock" is a term used by businesses wherein employees physically log their time by punching a time sheet into a wall-mounted time clock.
Biometric tracking relies on certain biological features, such as a fingerprint scan or facial recognition, to track time.
This type of tracking verifies the employee's identity and can prevent employees from buddy punching, which in turn, cuts down on time theft by reducing the chances of employees being paid for the time they did not work.
Biometric data is valuable to companies that may need to control access throughout their office or physically identify employees as they enter and leave a building. However, since biometric time clocks record specific data about employees, there are laws in place to regulate their use.
These time clocks can be purchased on Amazon and at most office supply stores. Prices range from $150 to $500 or more.
Reasons To Track Employee Hours
Small businesses need to track employee hours to:
Process payroll accurately: To accurately calculate payroll, you must know each employee's salary or time worked per pay period. Time sheets also help by tracking paid time off and accruals. Automated time tracking can streamline your payroll process by reducing time sheet errors. It can also eliminate the need for a large payroll department.
Monitor employee attendance: Recorded time serves as an attendance-keeping method for your employees. Based on the hours logged, you will be able to determine if an employee worked their full scheduled workweek, took paid time off, or was short on hours. Time tracking can also give a clear view of how long it takes employees to get tasks completed. Managers can then better manage employees by calculating future tasks and team scope.
Stay compliant with labor laws: The Fair Labor Standards Act (FLSA) requires all employers to track the time of their hourly employees. While the FLSA does not require a particular form for record-keeping, data must be kept on all non-exempt employees (whether salaried or hourly) showing their total hours worked daily and weekly, wages paid, and overtime earnings. A common form of noncompliance is due to inaccurate recordkeeping. Using software to track time and attendance can reduce errors and prevent costly legal issues that may arise.
Perform specific accounting and HR duties: Employee time tracking can be used to determine whether the hours tracked are billable or non-billable, increasing the company's productivity. As a result, accounting specialists can monitor project budgets and reprioritize tasks where needed. Additionally, tracking employee time can shed light on areas where additional resources may be necessary within the company.
Along with payroll, compliance, and other direct benefits, time tracking also provides more intangible benefits for both employees and the business.
| Benefits to Small Businesses | Benefits to Employees |
| --- | --- |
| Accountability: Employees are held to the hours they work. | Security: Assurance that they are being paid based on their actual hours worked. |
| Clarity: Time tracking provides transparency about the tasks each worker performs. | Management: By tracking their time, employees can see where they are making progress and where improvements in their time management can be made. |
| Morale: Tracking employee time can reduce micromanagement and increase employee satisfaction. | Insight: Time tracking helps employees record the projects they are working on, insight into work behaviors and patterns, and their overall performance. |
| Accuracy: Time tracking delivers accurate information for a streamlined payroll process. | Independence: Time tracking allows employees to self-manage and understand their overall capacity and workload. |
Bottom Line
Tracking employee hours is beneficial for both employers and employees. Accurate time tracking can save your business thousands of dollars by ensuring that you are only paying for the actual time your employees are working. Additionally, choosing the proper time and attendance method can mean the difference in legal compliance, efficient budgeting, reduced payroll errors, and increased employee performance.