Time and attendance software can give you better insight into your team and help you track the days and hours they are working. For this buyer's guide, we looked at the most popular options and rising stars and decided to review TSheets, TimeStation, and TrackSmart. These companies covered the range for small businesses in terms of price, ease of setup, and the number of customization options and eliminate the need for paper timesheets. Read on for our comparison and review of these three options, as well as our top recommendations.
Best Time and Attendance Software for Small Business: TSheets
We recommend TSheets because it has the best price for the number of time and attendance features included. They provide advanced features like scheduling and GPS tracking for clock ins, and integrate with 5 major payroll providers. TSheets is also the easiest time and attendance software to set up.
Free Employee Scheduling and Time Clock Software: Homebase
We recommend Homebase because it offers free employee scheduling and time tracking software that is easy to use and can be accessed from any web-connected device. Employees can check their schedules, clock in and out, and trade shifts. Homebase can also integrate your timesheets directly with popular payroll providers.
Time and Attendance Software Comparison Table
TSheets

TimeStation

TrackSmart

www.TSheets.com
www.TimeStation.com
www.TrackSmart.com
Price

Learn More
1 employee = Free

2-99 employees = $4/employee + $16/month base fee

100+ employees = $4/employee + $80/month base fee



*Discounts if you pay for a year up front.
Up to 10 employees = Free

11-20 employees = $19.95/month

21-50 employees = $29.95/month

51-100 employees = $39.95/month

101-200 employees = $59.95/month
CoreTrack = $21.95/month (up to 20 employees)

FlexTrack = $31.95/month (up to 50 employees)

PowerTrack = $41.95/month (up to 100 employees)



*Discounts if you pay for a year up front.
Free Trial?
14 days
30 days
30 days
Ease of Setup

Learn More
Easy
Average
Easy
Clock In/Clock Out Options

Learn more
Punch-card style, manual, mobile app, dial in by phone to clock in, or tweet clock in & out; GPS tracking

Punch-card style clock in/clock out from anywhere with internet; GPS tracking
Punch-card style clock in/clock out from anywhere with internet or with mobile app
Overtime (OT) Features

Learn More
OT calculation options by week and day; California compliance option automatically
No OT options automatically available
Guaranteed OT compliance; labor cost calculator feature (no alerts)
Employee Scheduling Capabilities

Learn More
By shift, by employee, or by job options for $1/employee
None
None (separate product - TrackSmart Scheduling)
Payroll Integrations

Learn More
QuickBooks Online, QuickBooks Desktop, Gusto, Square, and Xero

Integrates with Paychex and Ctuit
No payroll integrations
Reporting Features

Learn More
Advanced reporting capabilities
Basic reporting capabilities

Advanced reporting capabilities
Mobile Apps
iOS, Android, Windows
iOS, Android
iOS, Android (Windows "coming soon")
Customer Support

Learn More
24/7 email support; phone support M-F 6 am-7 pm MST; live chat M-F 6 am-6 pm MST
24/7 email support only
24/7 email support; phone support M-F 8am-6pm ET (but this is not operated by company staff)
Best Time and Attendance Software Overall for Small Business: TSheets

We recommend TSheets for the following reasons:
TSheets has the best price for the number of time and attendance features included. These include advanced features like shift scheduling and GPS tracking when employees clock in and out.
They integrate with 5 major payroll providers, including Gusto, our recommended payroll software for small businesses.
TSheets is the easiest time and attendance software to set up of the 3 systems we evaluated.
TSheets is the best value for time and attendance software because it includes 5 options for how employees can clock in/clock out, GPS tracking of employee time punches, and overtime alerts for the administrator when an employee is nearing overtime or double-overtime. Though TimeStation provides GPS tracking, the number of options for clocking in and out and overtime alerts are unique to TSheets.
TSheets also has scheduling software included in its single product, which can save you money from buying separate employee scheduling software, like you would have to if you chose TrackSmart. TimeStation does not offer scheduling options at all.
We also chose TSheets because it integrates with 5 payroll providers, including Gusto, Quickbooks Online, Quickbooks Desktop, Square, and Xero, all which are commonly used by small business owners and none of which are integrated with either TimeStation or TrackSmart. These integrations save you time because you can link your payroll to your time and attendance software, which ensures that the hours your employees log is exactly what they are paid for. TrackSmart offers no payroll integrations, so you have to do payroll manually.
TSheets is also the easiest to set up of our 3 software systems we looked at in this guide. TSheets is done in a 5-step, 5-minute process as soon as you create your free trial. This was much simpler and faster than TimeStation, which requires you to manually import employee data on a spreadsheet, and also faster than TrackSmart's badge/steps setup program.
The downside to TSheets is that, in the end, it is more expensive than the other two software systems we evaluate here. So, if you are on a tight budget, even with TSheets' great features, it might not be your best option.
Best Budget Time and Attendance Software: TimeStation

TimeStation is the best time and attendance software for the small business on a tight budget. Businesses with 10 or fewer employees can get a free account (TSheets does allow for one free employee account, but most companies will outgrow that really quickly).
Aside from price, TimeStation is a simple product that serves its purpose for tracking time and attendance. Good features include GPS tracking of employees' time punches and basic reporting functions. It integrates with Paychex and Ctuit, which are two major payroll providers, but both are not commonly used by small businesses.
TimeStation has several downsides. The most frustrating part was the setup, where you have to manually input employee data into a spreadsheet that it provides if you have a number of employees (you can also have employees register themselves through their website if you'd rather). This took much more time and effort than either TSheets or TrackSmart demand. The system also doesn't allow you to set up overtime alerts for employees, which is one of the biggest perks of time and attendance software. TSheets lets you set up alerts and caps for overtime, saving you money and time tracking your employees.
Another Good Time and Attendance Software Option: TrackSmart

TrackSmart is a simple time and attendance software option and that's it. TrackSmart does not have any big bells and whistles or fancy add ons (note: TrackSmart has 3 products – TrackSmart Attendance, TrackSmart TimeClock, and TrackSmart Scheduling. In this buyer's guide, we focus on the TrackSmart Attendance product only).
TrackSmart is middle of the road for everything in our buyer's guide including:
Price – it is cheaper than TSheets, more expensive that TimeStation
Features – it has far fewer options than TSheets (i.e. no GPS, no scheduling), but it has more features than TimeStation (i.e. an overtime cost calculator)
Unfortunately, TrackSmart does not integrate with any payroll providers. With TrackSmart, you would have to export a report on employee time worked in Excel or a CSV file to link it to your payroll system, which leaves room for error. Both TSheets and TimeStation have payroll integrations.
We were unable to tell if more features become available if you purchase TrackSmart's other two products, TrackSmart Scheduling and TrackSmart TimeClock, as a bundle with TrackSmart Attendance. Unfortunately, the company doesn't make this clear on their website, and the reps did not answer our questions about this.
What Does Time and Attendance Software Do & What Businesses Should Use It?
In this buyer's guide, we are looking at time and attendance software. This is closely related to, but different, from two other categories of software: scheduling software and time tracking software.
Scheduling software is different because it focuses on scheduling employees for shifts and is generally only appropriate for shift-based companies like restaurants or retail stores. Time tracking software focuses on tracking time for remote employees, projects, or client-based work, like for graphic design firms or companies with a lot of remote employees. For example, time tracking software might allow you to take photos of someone's computer screen while they work to verify they are working.
The three companies we are reviewing here all do time and attendance with some scheduling capabilities and some time tracking capabilities, but that is not their focus. Their focus is on tracking the days and hours your employees work and the days and hours they do not. This centers arounds giving employees options to clock in and out. The end result is more accurate payroll.
In-Depth Comparison: TSheets vs TrackSmart vs TimeStation
Pricing
All 3 of our systems have pricing that varies by the number of users, as well as by the features included. It is notable that all of them offer discounts for purchasing an annual package. Here is a table to help you see the comparison if you buy a monthly plan:
| # of Employees | TSheets Monthly Cost | TimeStation Monthly Cost | TrackSmart Monthly Cost |
| --- | --- | --- | --- |
| 12 | $64 (w/o scheduling) | $19.95 | $21.95, $31.95, or $41.95 (depends on plan you choose) |
| 25 | $116 (w/o scheduling) | $29.95 | $31.95 or $41.95 (depends on plan you choose) |
| 52 | $224 (w/o scheduling) | $39.95 | $41.95 |
Ease of Setup
Ease of setup directly relates to price for this buyer's guide on time and attendance software. The more you pay (TSheets), the easier setup is. You'll need to input the following data to get your time & attendance software up and running:
Your employee roster and their pay in either a payroll file or in an Excel/CSV spreadsheet
A decision on what day of the week your work week begins and ends
A decision on your overtime limits and budgets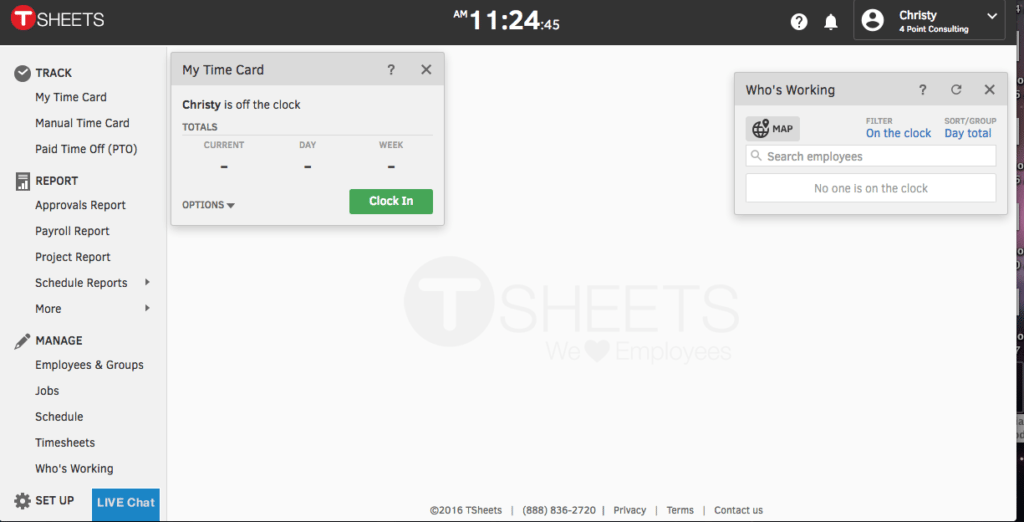 ---
Clock In/Clock Out Features
Depending on what kind of business you run, you might require a certain clock in/clock out feature that only one of our systems has or perhaps you require GPS tracking, like if you have an HVAC business where employees go to client sites for work. The 3 software systems compared here span a range of clock in/clock out options.
---
Overtime Features
With ever-changing labor laws, time and attendance software can be helpful to keep your business compliant with overtime laws. In addition, as a small business owner, it can save you money to know when staff members are about to start clocking at time and a half or double time. In this category, TSheets again takes the win because they let you set up overtime alerts and compliance features right away.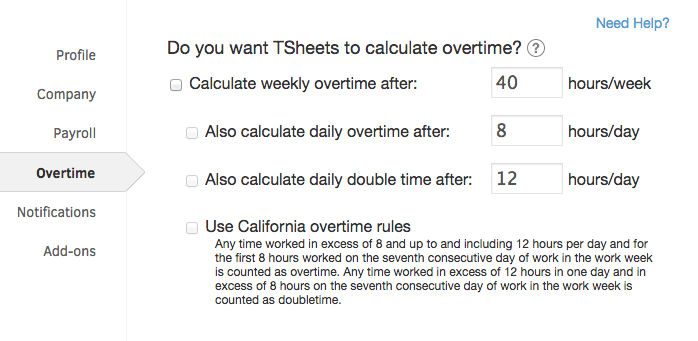 ---
Scheduling Capabilities
Even though we talk about employee scheduling in detail in another buyer's guide, we found that some time and attendance software systems also let you create employee schedules. TSheets includes both features, so you can solve two problems at once. TrackSmart and TimeStation do not have employee scheduling capability.
---
Payroll Integrations
When picking a time and attendance software system, the payroll system you currently have in place could determine which software. Integrating with payroll systems means that the time and attendance your employees log are automatically imported into your payroll software and matched seamlessly to how much you pay them–making payroll accurate and easy.
---
Reporting Features
One benefit of time and attendance software is that it can provide you insight into your workforce. From who is always on time to work to overtime costs, time and attendance software systems should be able to run reports that provide value to the business owner. Our recommended time and attendance software TSheets has the most reporting capabilities of the three software systems, but all three performed quite well in this category.
---
Customer Support
Since time and attendance software should link directly to your employees' pay cycles, customer support is a bit more important here than in other buyer's guides. If someone on your team has problems with their hours or log in issues or other needs, you need customer support to be consistent, reliable, and easy to reach.
---
All Time and Attendance Software Options
We do our best to review the 3 options that are best for small businesses, but we understand that there are several other great providers out on the market for time and attendance software. Here are all the time and attendance software companies that we considered for our article:
| Company | What it's Good For | Description |
| --- | --- | --- |
| TSheets | Small businesses | With an easy setup, TSheets includes a lot of options, features, and integrations for its price. It's our number one pick for small businesses. |
| TimeStation | Tight budget | At up to 200 employees for only $40/month, this is the cheapest time and attendance option for business owners. |
| TrackSmart | Another small business option | TrackSmart is a simple product with 3 affordable time and attendance options for small businesses. |
| BuddyPunch | Mobile/remote workforce | With GPS and webcam options, BuddyPunch is great for a company where the business owner wants to "see" what employees are up to. |
| Deputy | Shift businesses | Deputy is an affordable option that combines employee shift scheduling with time and attendance, including PTO tracking. |
The Bottom Line
Time and attendance software can be useful for streamlining your employees' time worked to your payroll, as well as provide helpful insight into your labor costs and any personnel issues in your business. We recommend TSheets as a comprehensive solution for small businesses because of its advanced features including GPS tracking and 5 ways for employees to clock in and clock out, as well it has an affordable employee scheduling add-on. For small businesses on a budget, TimeStation is a great option, and TrackSmart also proves to be another option for small businesses.