A paid time off (PTO) policy commonly combines vacation, sick time, and some or all personal time into a single bank of paid days off for employees. The advantage to employees is that they get to manage their approved time away from the workplace while employers offer an affordable benefit that is highly valued by their employees.
While it's important to have a clear PTO policy in place, you also need a system for managing and tracking PTO requests and accruals. Zoho People is an affordable HRIS platform for small businesses that makes it easy to customize leave types, create timesheets, set timers to automatically record hours, and let employees log time online or with a mobile device. Best of all, Zoho People is free for up to 5 users.
Here is our PTO policy template that you can use to get you moving in the right direction.
The Different Types of PTO
Simplifying PTO is the best way to not only understand it but also manage it well. There are essentially two different types of earned, unspecified paid time off. Sick and vacation time are what most supervisors are used to managing. Sick time, historically, has been unapproved time off and vacation has been approved time off.
Sick Time
This is the kind of PTO used when an employee is ill or has an ill family member. Some states like California and Oregon require companies to offer paid time off for employees' sick time, even if they do not have PTO benefits or policies.
State/City Sick Leave Laws
Sick leave is a hot topic in the news, and state, city, and local laws around this issue are changing frequently and constantly. Make sure you're up to date with what your state or city requires and consult with your attorney if you have questions.
Vacation PTO Time
Vacation time, under PTO, is when the employee schedules time away from the workplace, that is approved by their supervisor. In some cases, emergencies are also covered by PTO, such as a car breakdown or a meeting with a repair person at their house in the middle of the workday.
State PTO Payout Laws Upon Termination or Layoff
This table is meant to serve as a guideline for what you need to do in case you terminate or layoff an employee who has accrued vacation PTO (these laws generally do not mention paying out for sick leave or personal holidays). However, we advise that you also consult with your attorney about your specific situation. As a general rule, paying out accrued PTO is a best practice to prevent legal issues.
Law 'Group'

States Included
What It Means

No Law

Alabama, Florida, Georgia, Indiana, Kansas, Mississippi, Nevada, New Mexico, South Dakota, Virginia, Washington, Wyoming

You do not need to pay out accrued PTO in case of termination or layoff. If you would like to or want to include it as severance, you can include it.

Must Pay All Accrued Vacation PTO

California, Idaho, Illinois, Maine, Montana, Nebraska, Oklahoma, South Carolina

In these states, your business must pay out the accrued vacation PTO amount in the final paycheck. To do this, find your employee's hourly rate and then do the math from there. It is advisable in these states to not have a rollover policy for PTO as it is difficult to administer, and you could find yourself having to pay out a large amount of money.

Employer Must Have a Policy

Arizona, Connecticut, Washington D.C., Hawaii, Iowa, Kentucky, Louisiana, Maryland, New Hampshire, New Jersey, New York, North Carolina, Ohio, Oregon, Pennsylvania, Tennessee, Texas, Utah, Vermont, West Virginia, Wisconsin

Your business, no matter what size, should have a clear policy statement on whether PTO will be paid out upon termination or layoff. If your business is in one of these states, you might want to consult your attorney. Also, check out our template for a sample policy statement.

Payments Agreed to in a Signed Employment Agreement Must Be Paid

Most states

States laws often defer to the employment agreement, if there is one, as long as the agreement is more generous toward the employee than the governing state law.

Exceptions to the Groups

Delaware, North Dakota, Rhode Island

Delaware: PTO is viewed as a guaranteed benefit and must be paid out in case of termination or layoff in employers of 3 or more employees.
North Dakota & Rhode Island: The employee must be paid for PTO after 1 or more years of service.





Other Leaves That Intermingle With PTO
In addition, there are several more specifically identified reasons for taking time off that PTO may help compensate the employee for. Although this is not an extensive list, there are many other common leaves that your employees may notice other companies acknowledging through their policies and benefits programs.
Personal Holidays
In some cases, PTO is offered to employees as a "free pass" day. They can use this "holiday" whenever and however they want after their supervisor approves it. Employees can use their personal day to cover oddities like personal emergencies or religious holidays that are not celebrated in the United States or recognized by as a paid holiday by their employers. Even events like a loved one's birthday or wedding anniversary can be covered under this category.
National Holidays (Company Recognized Holidays)
These are holidays like New Year's Day, Memorial Day, Independence Day, and Thanksgiving Day, as well as others when the entire office is closed, but employees are still paid. Although there is no requirement to maintain any paid holidays, the best practice within the topic of "paid holidays" is that companies offer at least six or so, as many companies in 2020 offer 10 to 12 paid holidays.
Bereavement Leave
Many employers are offering bereavement leave to their employees in addition to whatever their PTO program offers. It commonly ranges from one to three paid days off. Employers typically differentiate between immediate family members, such as parents or childhood legal guardians, spouses, and siblings, and extended family members like uncles, aunts, and cousins.
The general rule here is that employers should manage this policy with flexibility. If you choose to offer this benefit, offer it with a wide berth of acceptance; if any employee says that she was close to Aunt Jenny while growing up and that she needs three days off, look for reasons to say yes as opposed to no. At the very least, remind the employee that they can take PTO time off to augment their time away from the workplace.
Jury Leave
This kind of PTO is typically triggered by a court document requesting your employee to serve jury duty. Again, although you are required to adhere to these court callings by allowing your employee time away from work, you are not required to pay them. The developing best practice is that a couple of days of paid jury duty signals to employees that you, the employer, support their civic service duties. Regardless of your approach, retaliation laws prohibit employers from threatening or intimidating employees from participating in jury duty.
Lastly, countless other types of leaves are recognized by some states, but not others. This list is almost endless. If you choose to have an employee handbook, which we recommend, partner with an attorney that you trust to ensure that all state-recognized leave laws are present. As a general rule, PTO can help employees cover time away from the workplace for just about any reason.
Maternity Leave
Maternity leave refers to the period of time that a new mother takes off from work following the birth of her baby. Many companies have similar policies for fathers, which allow for paternity leave. Most often, maternity leave is made up of a combination of paid time off benefits that include sick leave, vacation, holiday time, personal days, short-term disability, and unpaid family leave time.
For companies with 50 or more employees, companies govern maternity leave through the Family and Medical Leave Act of 1993 (FMLA) and/or state equivalent leave laws. Note that state laws often address employers with fewer than 50 employees, such as Oregon with its Family Leave Laws.
PTO Requirements for Businesses
Legally speaking, employers do not need to offer vacation time to their employees. However, sick time, which also can be under a PTO umbrella of offerings, is becoming more common of a requirement from states and cities around the country. Also, note employers that partner with unions and are subject to collective bargaining agreements may have stipulations that speak to both vacation and sick leave requirements. If you do business with a union, speak to your union delegate or attorney to make sure you understand how much PTO you are required to provide.
When Sick Leave Is Required
Sick leave is trending as a best practice in many different ways than that of vacation PTO. Be aware, as referenced earlier, sick leave is a requirement in many city, state, and regional areas throughout the US. Do not find yourself uninformed on this requirement. Penalties can be costly and, at times, public.
If your business has over 50 full-time employees, you are subject to federal and state regulations around unpaid time off for medical purposes, better known as the Family and Medical Leave Act (FMLA) at the federal level. Many state-specific requirements add to FMLA.
Federal Laws & PTO
There are no federal laws around requiring PTO in any form, be it national holidays like New Year's Day, paid sick leave, otherwise. Even if you are not required to provide paid leave, many companies choose to provide PTO for sick leave, vacations, and other events because it is a great value-added benefit for their employees. It helps in recruiting and retaining top talent.
State/City Laws & PTO
When it comes to PTO, state and city laws have been implemented that may require you to provide some amount of paid leave in specific situations.
If you hire remote employees or have employees in different offices around the country, keep in mind that you'll need to comply with the state laws of your employee's location. For example, if you hire an employee who works from Chicago, you will need to provide paid sick leave as required by Chicago employment law, even if your business is primarily and/or headquartered outside of Illinois.
How to Track PTO
Whether you use time-tracking software like When I Work or a simple time tracking document that you create, you need to make sure you're staying compliant with state and federal laws and paying out PTO properly. Fit Small Business has developed a list of top vendors for time tracking that may also be helpful to review.
Common PTO Accrual Rates Others Provide
Except in areas such as sick leave, when legislation can play a role, small businesses have a lot of flexibility in terms of how much PTO and what kinds of PTO to provide. Since this is a fringe benefit that companies can offer what they choose to. The regulatory part of these decisions relates to being fair and equally accessible to all employees in your company. There may be categories of employment that can alter accrual rates by position class, as an example.
Offering paid time off benefits that can be administered to your entire staff in a sustained manner in the most important criterion that you should govern your decisions by. Also note that once benefits like PTO are announced, retracting them is very painful for both the employees and the employer. Start small, if need be, and continue to add benefit luxuries over time.
The US Bureau of Labor and Statistics suggest that right around 10 PTO days annually is where many PTO programs begin within the US.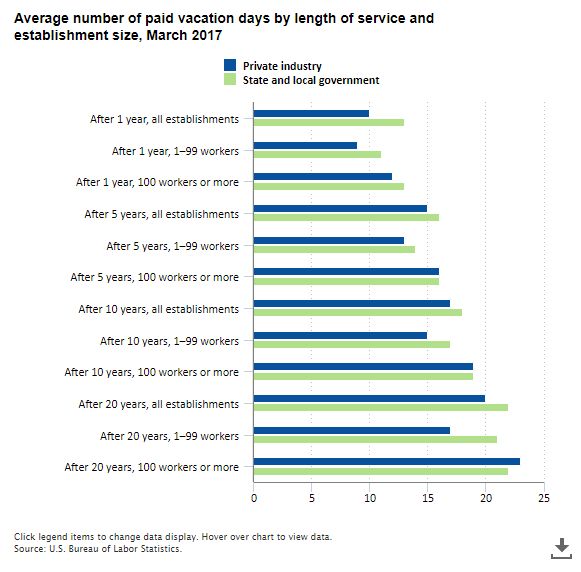 According to a survey by Paychex subsidiary SurePayroll of 259 small business owners, the vast majority of small businesses offer 10 days (2 weeks) or less of vacation PTO (Source: KinHR). As we can see, the pattern of paid time off seems to hover around two weeks of paid time to begin one's employment and, over time, builds from there.
Additional Guidance for Supervisors on Paid Leaves
At this point, we have acknowledged many of the forms of paid time off that are commonly offered to employees. We want to offer more context into some of these leaves, as they are all quite different.
Sick Time
Sick time PTO is commonly thought of as just that—if you wake up sick, you use sick time to call in your absence and are still then paid for the day.
Sick leave is a hot button issue right now in state and city legislatures. Our table above summarizes requirements in various states and cities. Remember, if you have more than 50 full-time employees, you will also need to comply with FMLA, which is unpaid sick leave. Note that many states build upon or expand on FMLA protected leave, so ensure that you are also aware of state-specific protected leave laws in addition to your FMLA requirements.
While you may have to have a certain amount of paid sick leave, many small businesses look the other way when an employee calls in sick as long as it's not abused. For example, if Johnny calls out sick once every three months, that is four days total per year. Do you want to track these sick days, or do you want to be a supportive employer?
To some extent, this is going to depend on the type of business you have. If you employ shift workers, calling out sick can be a big scramble and can be taxing on other employees.
When creating your sick leave policy, you need to think about more than just the employee. What if the employee's child is sick? Will you count that as sick time or vacation time? FMLA counts a sick dependent as a reason to take FMLA.
There is no shortage of options for sick leave, be it mandated by state/city law or as a custom policy you craft on your own. Remember, however, employees are human. They do get sick, and docking pay from an otherwise hard-working employee simply because they fall ill is not a pro-employee practice that will retain team members long-term.
Light Duty Accommodation
One final note regarding the use of sick pay: it is not uncommon for employees to augment sick pay with light-duty accommodation. At times, if an employee is injured, they can work a lighter duty to what their normal job requires of them. Light duty work is also a type of accommodation routinely offered by employers in compliance with workers' compensation, disability, and/or maternity leave laws.
If light duty requires a reduced number of hours worked, employees can fill in the remainder of the hours via paid sick time. Then, this results in a full or normal paycheck for the employee during that pay period.
Vacation Time
Vacation time is when your employee books a trip to Maui and doesn't even check email. That's no work, all play, meaning it's a real vacation from work. Scheduled vacation time is requested ahead of time and planned, like an out-of-town wedding, cruise, or special birthday event. Some companies even offer their employees unlimited vacation or PTO.
However, as noted above, in the US, two weeks or 10 working days (80 hours) is the average amount of paid vacation time that is considered normal. To provide some perspective, many European countries offer around 20 days or four weeks as the norm for an entry-level job.
Providing at least two weeks of vacation time will probably aid employee productivity and improve your bottom line. According to HealthNet, studies show that employees who take vacation time show:
Decreased stress levels
Decreased rates of depression
Improved productivity
Decreased heart problems
Employers want happy, highly productive, and engaged employees who do not resent them. If you do not provide performance bonuses or very high salaries, paid vacation time can be an excellent way to budget a benefit that employees appreciate and does not cost disproportionality. Some businesses have learned over time that offering a day or two of vacation-PTO as an incentive or prize in a company contest is a great reward that employees truly love to receive.
Personal Holidays
Personal holidays are a new trend in the ever-changing world of HR. As workplaces continue to become more diverse, having personal holidays is how many businesses are supporting employees' needs that don't fit neatly into the other PTO buckets.
Many businesses now include three to five paid personal holidays that are meant to be used at the employee's personal discretion, be it for a religious holiday, children's school conference, or even their own birthday. Most policies don't require employees to provide a reason for taking a personal day, and it's a separate box on the requesting PTO form or in the tracking system.
This is an area in which you can assess your own workforce and see if it is a good option. See our Free PTO Policy Template for more. Remember, as a business owner, the less you know about your employee's personal areas like medical issues or religious preferences, the better. Personal holidays help allow for that barrier.
National Holidays
According to the US Bureau of Labor and Statistics, these are the standard American holiday off-days that companies offer. Also note that, although there is no requirement for you to offer paid holidays off, and every company does it a little differently, the more you offer, the greater the incentive is for the employee to remain part of your team. Since this is considered a "paid day off," most employees hold this benefit in high value.
New Year's Day
Memorial Day
Independence Day
Labor Day
Thanksgiving Day
Christmas Day
If the holiday falls on a Saturday or Sunday, usually the preceding Friday or Monday is offered as the holiday.
Many other companies also recognize the following days as paid holidays, depending on their employee base and business services, such as if many of your employees have children, you might need to offer them all to reflect school holidays:
Martin Luther King, Jr., Day
President's Day
Good Friday (possibly a half-day)
Columbus Day
Veteran's Day
The day after Thanksgiving
Christmas Eve (possibly a half-day)
New Year's Eve (possibly a half-day)
If you own a restaurant or fitness studio or retail store, you might want to stay open on holidays to get more patrons. What should you do then? Probably be closed at least on the six national holidays mentioned above to give your employees a break.
Another option for businesses with holidays as potential cash flow times would be to ask the employees if someone wants to volunteer to work on those holidays. Perhaps you can incentivize it with overtime pay―pay times 1.5―or a cash bonus.
Bereavement Leave
Bereavement leave, or the time off that you would give an employee when someone close to them passes away, is the right thing to offer to your employee in that situation.
Most of us have had the unfortunate experience of losing someone and, as an employer, providing bereavement leave is the right thing to do. Most employers provide three to five days paid bereavement leave, sometimes with a clause allowing one to two days extra if travel is required.
As it relates to family leave law, the word "family" has developed and evolved varying definitions through the years. For example, The meaning "family" or "primary caretaker" can refer to more than simply blood relatives. Some employers feel the need to list out the relatives or people close to someone that an employee can utilize bereavement leave for. Others leave the policy vaguer and use common approval practices within the company itself, which is fine as long as you are consistent. We give you some options for consideration in our Free PTO Policy Template.
Accrual vs Flat Rate PTO
How will your employees acquire their PTO? Most employers use either an accrued method or a flat rate method. Although both are fine to use, which one you decide on determines your preference and work culture. Note that a flat rate method generally makes the entire PTO bank available from the beginning of the fiscal or calendar, year while an accrual method requires employees to earn as they work throughout the benefit year.
An Accrual Method
The amount of PTO that employees have increases with the hours and days they work. Although accrual rates can be whatever you want them to be, note that usually at a rate of about 8 to 12 hours PTO earned for every 120 hours or four weeks worked.
A Flat Rate
Under a flat rate PTO policy, employees are given a set amount of PTO per year, such as two weeks or 10 days and, if someone starts midyear, the amount is prorated accordingly.
When you consider accrual vs a flat-rate policy, you need to consider how it is that you are tracking PTO. Maintaining a payroll service provider like Gusto can help you to track important data-points, including how you can auto-set PTO accruals by start date. Having a solid tracking system in place prevents the accrual method from becoming too difficult to administer.
Also important to consider is the amount of time who may spend responding to questions on PTO. Generally, accrual methods are a little more confusing to employees and many request their balances through HR when flat rates are simpler and require less calculation by the employee.
Waiting Period for New Employees
Some employers require employees to pass an introductory period, such as 30, 60, or 90 days before they can take PTO. Some state laws require sick leave to be available prior to this, but there are no laws that require vacation time at all, so if you choose to have a waiting period for vacation, bereavement, or personal holidays, it is at your discretion.
Rollover vs Use It or Lose It
In addition to accrual versus flat rate as well as a waiting period, you also need to consider the time period of a PTO policy. These additional points are important to consider prior to launching your PTO policy carefully. Chances are your employees may not ask about each one but will inquire about one or more. It is wise to be prepared beforehand and to mention all of these details in your policy from the get-go.
Rollover Policy
A certain amount of unused PTO can "rollover" to the next year and essentially be saved up. The rollover contingency has strings attached. This detail circles us back around state, city, and local leave laws that may require to retain an employee's earned but unused paid time off.
Use it or Lose it Policy
Employees have to use all their PTO time by a certain date, usually within a calendar or fiscal year or forfeit it. Again, as we have covered extensively, be certain you are aware of state, city, and local leave laws that may prevent you from eliminating earned, unused paid time off at the end of the year. Check with legal counsel on this one and do not get into the practice of taking earned PTO away from employees when you are not able to do so. Begin by answering the questions below, which will get you moving in the right direction.
Do you have a PTO tracking system? You might want one if you are going to do a rollover to keep everything tracked accurately.
How comfortable are you with your employees "saving" time off? If an employee suddenly asks to take one month or more of saved time off, will your business be able and willing to handle that request?
On the flip side, if you maintain a use-it-or-lose-it policy, you will more than likely deal with many call-outs and/or PTO requests clustered together during common holidays throughout the year, especially during the holidays like Christmas or New Year's Day. Can your company manage that staffing wise, and is that the kind of culture you want your team to manage its PTO balances within?
Best Practices in PTO Policies and Their Administration
The best practices to having a PTO policy and administering one can also range widely given your leadership team's style, company culture, or business needs. This section nicely outlines what to be mindful of when comprehending what PTO is and how to operate a successful paid time off benefit.
Put it in Writing
Have a clear, written policy that employees understand and can reference. Preferably, something online is best.
Be Specific
Create a policy and be clear on who is eligible and for what and when. If all of your employees seem unclear on the policy, rewrite it to be more specific. We'd again refer you to our template above.
Have a Process
Employees on all levels need to follow the same process for requesting PTO, be it calling in sick or requesting time off for a cruise in the Bahamas. Hold people accountable to the process, no matter what their rank. Make sure when an employee is brought on board, you communicate the PTO policy to them in writing in the employment agreement or employee handbook.
Use a Tracking System
A time and attendance platform we like a lot is Zoho People, which can help you track PTO and provide vacation and sick balances for your employees, making payroll management and time off less of a headache. Whether you track time, attendance, and leave on your own, which means that you maintain your own forms, or through a partner, be sure that it is consistently done for all employees.
PTO Policy Frequently Asked Questions (FAQs)
What are the benefits of having PTO? Will it cost me a fortune?
Paid time off is a great way to reward your employees for working hard and helping you grow the business. Two weeks, or 10 days, of PTO is generally worth 3.8% of yearly wages. If you don't provide bonuses or other performance incentives, PTO can provide a great morale booster and will help you retain top talent who, by the way, will not remain with you if you do not offer PTO.
Are there any cons to having a PTO policy?
As with all HR policies, the few employees who abuse a policy can ruin it for the many. To prevent PTO abuse, ensure that documentation and requests for PTO are followed every time. Do not permit the, "I'll do it later," excuses or "I'll log it when I have time." That's how people skate by and get extra PTO, which can lead to frustrated supervisors and irritated co-workers who are following the rules. Keep your policy and its procedures clear and consistently enforced, and you will be the one coming out ahead.
What about freelancers or contract 1099 employees? Do they get sick leave and vacation time as well if I provide it?
For vacation time, bereavement leave, and other optional paid days off, such as paid holidays, the short answer is no. Can you include them in the policy? Absolutely. But you do not have to.
For sick leave, the answer depends on where you are located, meaning which city and/or state, and what the sick leave laws require.
For example, in the state of New York, if your employee meets the definition of an independent contractor, then you do not need to provide sick leave. However, if the person in question is not an independent contractor, and perhaps has been working full time for you as a 1099, then you would need to provide paid sick leave.
To provide another example, in California, their statewide law says that all employees classified as freelancers or independent contractors are exempt from the paid sick leave law.
This is an area where you should keep your eyes on new legislation. Stay abreast of your city and state laws and the changes being made to them.
What if I have remote employees in several states? In other countries?
Much of the time, the benefits, policies, and rules within the organization are what governs all employees, regardless of their location. However, as we have addressed with sick time, the employee's location determines what work rules we must follow.
What are considered fair and legal religious-based responsible accommodations? How do I respond to these requests?
This is where those personal holidays can come in handy. You certainly don't want an employee feeling uncomfortable for taking a faith-based holiday off, nor do you want them using their vacation time since that seems a bit unfair. Further, the fewer personal details you know about your employees, such as religious preferences, the less likely you are to discriminate accidentally.
What if someone uses more than the provided PTO amount?
Some employers allow people to go into vacation time "debt;" others do not and then have the employee take unpaid time off. Whatever you decide, just be consistent; don't play favorites, and keep it fair to avoid unfair and/or inconsistent practices.
Consider other options if there is a pressing need for time off, such as flex time or working from home. This may be appropriate if, for example, someone has an ill family member.
Can different employees receive different amounts of PTO (based on tenure or hard work, etc.)?
Yes, you can set your policy to work that way. When it comes to vacation time, it is normal for employees with longer tenure or higher-ranking roles to have more paid vacation time offered to them upfront than other employees. For example, if you were to hire a chief operating officer (COO), the new COO would probably require more than the typical 10 days off for vacation time. This is a great example of why PTO is a benefit offering that can flex as needed.
Bottom Line
Do not shrug off PTO as an employee benefit option. We strongly encourage you to offer PTO in a way that is manageable for you, and that will help retain top industry talent. With good tools like the PTO policy template offered in this article and the resources that we have suggested throughout, you can have both a PTO policy that is ideal for your team and a robust employee benefit that your team members will love you for.
Also, don't forget to check out Zoho People which makes it easy to customize leave types, create online timesheets, and let employees log time on their mobile devices, all for free for up to 5 users.