An HR Information/Management System (HRIS/HRMS) is software that manages people data across the employee lifecycle, from recruitment to termination. The best HR software for small business isn't an expensive ERP system designed for large corporations. Instead, it's affordable cloud-based software that easily integrates with your business' other apps.
Best 7 HRIS Software & HRMS Tools
| HRIS/HRMS Software | Best for |
| --- | --- |
| | (Best Overall) Any business with 1-99 employees, including HR, benefits, and payroll processing. |
| | Brick-and-mortar businesses needing workforce management and hiring tools. Free for one location. |
| | Low-cost HRMS software for performance-focused firms with recruiting and attendance options. |
| | Companies that want to manage all their people data in one software system. |
| | Another good HRIS software for businesses that want to add HR features as they scale. |
| | Performance-oriented firms that want robust HR, performance, and employee engagement options. |
| | Businesses that manage complex schedules and shift work across multiple locations. |
How We Evaluated the Best HR Software
The best HRIS/HRMS software for small business includes affordable HR software tools that are easy to set up and use. For small businesses looking to set up all employee-related data in one system, HRMS software is a nice solution, especially if it has application integrations that eliminate duplicate data entry as your business grows.
Based on the needs of a small business (1 to 100 employees), we focused on HRIS/HRMS software that's:
Affordable – Some have free options and others are low-cost with no setup fees.
Easy to set up and use – You shouldn't need IT staff on hand to implement it.
Secure – Encrypted and backed up, so that confidential data is safe.
Compliant – Includes programming to support U.S. federal and state labor laws.
Integrated – The software we evaluated do more than one thing and can integrate with other HR software, payroll, or accounting applications you use.
Insightful – Standard reports and tools that let you view or export HR analytics.
Mobile optimized – Has a mobile app or employee self-service portal option.
Larger corporate enterprise HRIS/HRMS systems like Workday, Success Factors, SAP, or Oracle are outside the scope of this article, as they tend to be pricey, complex, and require dedicated HR and IT staff to set up.
HRIS/HRMS Definition for Small Business
It's worth mentioning that the terms HRIS and HRMS stand for HR Information/Management Systems, and are terms used by larger corporations, HR professionals, and enterprise software providers. Some refer to these HR software tools as human capital management (HCM) or human resource management (HRM) systems. All in all, they're just HR software that manages people data.
If you're interested in learning more about the myriad of HRIS software and HRMS options available, read our complete article on HRIS/HRMS.
If you're looking to outsource HR entirely, consider reading our guides on HR outsourcing, or professional employment organizations (PEOs). In fact, ADP provides a nice HR outsourcing option with its PEO solution, ADP Total Source, that includes a full HRIS software suite.
Based on the small business criteria above, we recommend Gusto as the best overall HRIS/HRMS software for small business because it includes HR onboarding, e-signature, an employee self-service dashboard, benefits administration, and payroll process. It's an all-in-one system starting at $45 per month for one employee (+$6 per employee per month after that). You can see for yourself how Gusto works; sign up for their software provides a free 30-day trial. In fact, you can get your first payroll free.
Gusto: Best Overall HR Software for Small Businesses


We recommend Gusto as the best HR software for small businesses that have under 100 employees. It's about half the cost of larger HRIS software tools and includes free timekeeping software integration to Homebase and When I Work. Gusto manages all HR employee data for you, from pre-hire to payroll and more, including signed documents, policies, an org chart, employee benefits, tax forms, and your employee handbook.
Gusto Pricing
What makes Gusto super for small business is its affordable pricing based on the number of employees (or contract workers) you have. Its base price is $39 per month plus $6 to $12 per employee per month depending on whether you want advanced HR features or not. You can upgrade to a Concierge package if you want professional HR consulting support. Employee benefits cost extra.
Gusto Pricing Table
| | |
| --- | --- |
| Payroll Pricing per Month | $39 for the software itself + $6 per user |
| Payroll Tax Filing Service | Included |
| Direct Deposit | Included |
| W-2s & 1099s | Included |
| Workers' Comp Administration | Included |
| Benefits Administration | Included |
| Advanced HR Tools | $6/month per employee additional |
| Certified HR Advisory Services | $149/month additional |
| 401(k) Retirement Plans | $8/month per employee |
| 529 College Savings | $6/month per employee |
| FSA | $4/month per employee |
| HSA | $2.50/month per employee |
| Commuter Benefits | $4/month per employee |
Gusto Features
Gusto offers features you won't find in other HRIS/HRMS systems at this price point. It provides employee onboarding, an employee self-service portal, and a complete HR, benefits, and payroll package. All employee data resides in one system; employee documents, like performance reviews, can be attached to each employee's file. No need for paper files!
HR Features
The HR features within Gusto include an employee self-service portal, where your workers can view and download their pay stubs, review the employee handbook, or check out their 401(k). This saves you time from having to answer routine employee questions and gives your small business employees the experience of working for a much larger firm.
Benefits Options
Because Gusto serves as a benefits provider in most U.S. states, they can offer your employees health insurance, a 401(k) plan, and even commuter benefits (required in some locations). All those options, including their benefits enrollment, can be done via self-service within the software so you don't have to manage multiple benefits providers yourself.
Payroll Processing
You can set up your payroll on any pay cycle with Gusto, and they provide multiple payment options like direct deposit to your employees. You can import attendance data from several timekeeping systems, including Homebase (which is free), and then export payroll and tax data to accounting software like QuickBooks.
Other Features
Other is what Gusto does best. Need an HR expert to answer your HR compliance questions? They provide that with their Concierge package, at a lower cost than working with a PEO or other outsourced HR/payroll service. And their onboarding improves your employment brand. Employees can also donate to causes, complete satisfaction surveys, and view an org chart with pictures of your team members.
Gusto integrates with free timekeeping software Homebase, which provides workforce management and recruiting tools to round out your HR package. With Gusto and Homebase combined, you'll have an end-to-end HRIS software solution to manage all your employee data.
What Gusto Is Missing
As your business grows past 100 employees, you may find yourself wanting to add additional HR features, like an applicant tracking system (ATS) or performance management software. While Gusto can interface with these HR software options, larger tools like Zenefits and Paycor have these apps built in.
What Users Think About Gusto
Small business users give Gusto four to five out of five-star ratings on third-party review sites, including ours. What they like best are the easy-to-use interface and price. What they like least is that they may have to move to a different system once they grow past 100 employees, as some mandated reporting, like that required by the Affordable Care Act (ACA), isn't automated in Gusto. Read our Gusto Review for more insight.
Homebase: Best HR Software for Brick-&- Mortar Businesses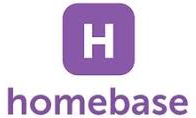 We find Homebase best for businesses with a physical location, as it is free for one location (with unlimited employees). Homebase is HR software that falls into the category of a workforce management tool because of its scheduling, time tracking, and task management features. It has an HR database with information on employees, an employee communication tool, employee scheduling software, and recruiting options so you can post open jobs to help you find staff, all for free.
Homebase Pricing
Homebase pricing starts at free and stays there if you have only one physical location, like a restaurant, retail store, or repair shop. If you want to upgrade to get more features, like department-level scheduling or enhanced reporting, prices range from $19.95 to $99.95 per location for an unlimited number of employees.
Homebase Pricing Table
| | Basic | Essentials | Plus | Enterprise |
| --- | --- | --- | --- | --- |
| Cost Per Month Per Location | Free | $19.95 | $49.95 | $99.95 |
| Scheduling | ✔ | ✔ | ✔ | ✔ |
| Time Tracking | ✔ | ✔ | ✔ | ✔ |
| Reporting | Basic | Basic | Advanced | Advanced |
| Mobile Apps | ✔ | ✔ | ✔ | ✔ |
| Mobile GPS Timeclock | | ✔ | ✔ | ✔ |
| Manager Logbook | | | ✔ | ✔ |
| Timesheet Approvals & Restrictions | | | ✔ | ✔ |
| Auto-scheduling | | | | ✔ |
| API Access to Plug Into Outside Systems | | | | ✔ |
| Dedicated Account Management | | | | ✔ |
Homebase Features
Homebase is one of the newer cloud-based HR systems that do more than one thing. It's not just time management, or just communications, or just recruiting: it's all three. At its core is HR software that keeps track of your employee data. It provides instant messaging to employees, lets you schedule and manage their attendance, and keeps track of their overtime.
HR Features
Homebase's HR features include an employee database with contact and availability information. It makes managing your employee's work schedules and attendance easy by providing payroll-ready time sheets. It lets you manage business performance through the manager log book. In addition, its recruiting software lets you post jobs and hire applicants through the system.
Time & Attendance Options
Homebase offers a robust drag-and-drop scheduling tool that can manage complex shift schedules. It also includes time tracking, time sheets, and a virtual time clock; if you choose, you can let your employees manage their own shift swaps. Once you input pay rates into Homebase, you'll also have labor cost reporting and controls.
Employee Communication Tools
Homebase lets your managers send messages to individuals and groups. You can even post team pictures. Managers can leave notes for one another and provide information for shifts or events (like a weekend trade fair or a catering event). It also has reminders to let you know if someone is late or hasn't clocked in yet, and it shares employee performance information among managers.
Job Postings
Homebase provides free job postings and gives you hundreds of job description templates to start from. Job seekers can apply via text message. Once you hire someone through the built-in applicant tracking tool, they'll automatically be added to your employee list for scheduling and will receive an invitation to use the free Homebase app.
What Homebase Is Missing
As an HR tool, Homebase doesn't do payroll processing (although it can export a payroll-ready time sheet file to your payroll system). It also lacks any benefits integration, other than leave policies so that employees know how much holiday, vacation, or sick time they get. However, this drawback is easily overcome by integrating it with Gusto (which offers the payroll and benefits features that Homebase lacks), or any other payroll system.
What Users Think About Homebase
Homebase gets top marks on third-party software review sites. Users love that it's free for one location, and that it has a free mobile app for managers and employees to access schedules and communicate across shifts. Read our Homebase Software Review for more information.
Zoho People: Best HR Software for Performance-Focused Businesses

We recommend Zoho People's HRIS software due to its focus on performance. Zoho People is just one tool in a larger suite of affordable business software that includes everything from call center management to a sales suite. Its low-cost HR software is designed for your people activities, such as onboarding, document management, timekeeping, scheduling, and performance reviews.
Zoho People Pricing
Zoho People provides basic HRIS software free if you have fewer than five employees. After that, prices range from $1 to $3 per employee per month, with price breaks if you sign up for an annual package. Like Gusto and Homebase, they provide a free trial that doesn't require you to pull out your credit card.
Zoho People Pricing Table
| | Essential HR | Professional | Premium | Enterprise |
| --- | --- | --- | --- | --- |
| Pricing | $1/employee per month* | $2/employee per month | $3/employee per month | $5/employee per month |
| HR Data, Documents, Automation & Reports | ✔ | ✔ | ✔ | ✔ |
| Leave Tracking | ✔ | ✔ | ✔ | ✔ |
| Time Tracking | | ✔ | ✔ | ✔ |
| Performance Management | | | ✔ | ✔ |
| Employee Data Entry Forms | 1 | 2 | 3 | 5 |
Zoho People Features
Zoho People's most basic package includes an HR employee database with a self-service dashboard for employees. It can track employee data, signed forms, and manage leave policies with time off requests and approvals, similar to Gusto. If you upgrade, you can get attendance and time sheets, like Homebase, along with shift scheduling. Upgrades include employee profiles, additional forms, performance management, custom reports, and an API.
HR Data
The employee data lets you track employee information, including schedules, leave balances, and performance reviews, electronically. You can also attach files and use forms for things like expense reimbursement or tip reports. Its mobile app lets your employees access their own data similar to the other HRIS/HRMS software tools we've covered thus far.
Time & Attendance
Like Homebase and When I Work, Zoho People's HRIS software includes leave tracking in its free version. Once you upgrade, you can schedule jobs, track time, and integrate a biometric time clock.
Performance Management
What makes Zoho People stand out as a small business-friendly HRIS software tool is that it provides a full performance management suite with multi-rater feedback and 360-degree reviews. This feature alone is why many companies choose Zoho People as their HR software.
Reports & Integrations
Standard reports are provided based on the module, such as time tracking or leave management. If you upgrade, you can integrate reports (and data) with Zoho's other business software. For more on Zoho's suite of business products, read our complete Zoho Review.
What Zoho People Is Missing
Zoho People lacks payroll integration (similar to Homebase, BambooHR, and When I Work). In addition, its pricing goes up as you add data storage (which is free in all the other HR software we've covered). Its customization options mean it also takes longer to set up and learn, but Zoho People does provide free training when you upgrade to a paid package.
What Users Think About Zoho People
Zoho People gets a solid four out of five-star reviews on third-party software review sites, including ours. What people like is how flexible and customizable it is. What they sometimes complain about is having to pay when they want additional features, like an employee email account, which is available in a separate Zoho app. Read our full Zoho People Review for more information.
Paycor: Best HR Software for Larger Companies That Want an End-to-End Solution

We recommend Paycor for businesses that outgrow Gusto, as it can support both small businesses as well as larger ones with up to 10,000 employees. It's priced on par with Gusto, and like Gusto, includes payroll. It's set up in a modular format that lets you add functionality as your business grows, or shut off functions you don't need.
Paycor is a full HRIS/HRMS software suite they refer to as human capital management (HCM), providing an end-to-end solution for recruiting, onboarding, engaging, training, and paying employees.
Paycor Pricing
Paycor pricing isn't available on their website because they price based on the features you need. But based on third-party websites and our own comparisons, they appear to be on par with Gusto for HR and payroll offerings on an annual basis for a similar number of employees. Please be aware that their pricing is based per payroll run, not per employee like other HRIS software.
Paycor Pricing Table
Base Price
Per Payroll Cycle
$49
(Up to 10 employees)
Additional Employees
$3 each/payroll cycle
Reporting
✔
Tax Services
✔
Additional features such as new hire onboarding, employee training, performance management, and health insurance cost extra. To obtain accurate pricing for your business, it's best to contact Paycor, request a demo, and then ask them to provide you with a quote.
Paycor Features
Paycor offers features on par with the big names in HRIS/HRMS systems, including everything from an HR employee database to performance management. They offer payroll and benefits like Gusto does, but have additional HR add-ons like a learning management system to track employee training. They also provide an employee dashboard for self-service access to pay stubs, tax forms, and more.
HR Features
Paycor's HR software provides workflow and performance management in addition to an HR database. Their recruiting tools are integrated to help make the onboarding process easy for new hires. And they can help you identify hiring tax credits, which none of the other HR software we reviewed offers.
Benefits Options
Similar to Gusto, Paycor provides employee benefits, including ACA-compliant health insurance and a 401(k). Benefits enrollment is done online and data can pass seamlessly to your benefits providers.
Payroll Processing
Time and attendance is included, which makes payroll processing easy. Employees can be paid on any pay cycle, similar to Gusto. However, unlike the Gusto plus Homebase combination, complex scheduling, such as for appointments, teams, and shifts, isn't included as part of Paycor's system. You'd need to add scheduling software, like When I Work, separately.
Other Features
Paycor provides data analytics with reports and custom dashboards, and you can share data with any other business software you use.
What Paycor Is Missing
Paycor's pricing isn't transparent; you have to set up a demo/sales call to get a quote. In addition, being so feature-rich means their software won't feel as streamlined and user-friendly as Gusto. In fact, there's going to be a longer setup time and like Zoho People, a bit of a learning curve.
What Users Think About Paycor
Paycor gets great reviews in the four to five out of five-star range, including on our reviews site. What people like is the fact that all HR data is in one place. What some don't love is the inconsistent quality of their customer service reps, or that it isn't always intuitive enough to figure things out yourself. Read our Paycor Review to see what other small business users say.
Zenefits: Best for Growing Businesses That Want to Add Features as They Scale Up

We recommend Zenefits for those who want more than what Gusto offers (such as timekeeping and performance management), but don't want to take on a larger end-to-end HRIS/HRMS system like Paycor yet. It's in that middle space for companies that have grown past 50 or 100 employees, but don't expect to grow into the thousands. It's more costly than Gusto. Otherwise, it's similar in that it gives your managers and employees a nice self-service application. Zenefits it best when you're ready to move up from basic workforce management or payroll software.
Zenefits Pricing
Zenefits costs from $5 to $9 per employee per month, and running payroll is an additional $6 per employee per month. On top of that, you pay a monthly base fee of $40. That makes Zenefits more costly than Gusto, and even at $5 per month, you don't get as much as you would with Zoho People, which is half the price.
Zenefits Pricing Table
| | Standard | Advanced |
| --- | --- | --- |
| Price | $5/user per month | $9/user per month |
| HR | ✔ | ✔ |
| Benefits | | ✔ |
| Payroll | + $6/employee per month | + $6/employee per month |
Other features like performance management, advisor services, and timekeeping are priced separately, allowing you to choose whether to add them or not.
Zenefits Features
Zenefits does have some cool HRIS/HRMS software features that may make it worth the investment. For example, it can help you visualize your HR data, and offers custom reporting and custom data fields. Like Gusto, it provides HR records, an employee directory, company org chart, and onboarding.
HR Features
The HR features you get are HR records and document storage. You can customize your onboarding and track new hire forms, as you can with Gusto and Paycor. If you upgrade to the advanced pricing tier, you'll get time-off tracking, ACA compliance, and some cool tools like a compliance assistant and HR library.
Payroll Processing
Like any good payroll software, Zenefits can manage your payroll, and like Gusto and Paycor, your employee data will all be in one place. Also like Gusto, Paycor, and other payroll software, Zenefits will manage taxes and deductions, including employee pre-tax benefits deductions.
Benefits
Zenefits is great if you want to offer medical, dental, and vision. Their platform was designed around benefits offerings to make it easy for you, whether you want to provide insurance, health care, or commuter benefits. In that way, it's very similar to Gusto, providing self-service enrollment and benefit information to employees.
Other Features
Like Zoho People, Zenefits offers other add-on apps, such as Time and Attendance, which costs $5 per employee per month. Similar to Gusto, it offers HR expertise, but that's a $5 per employee per month add-on. Adding performance management costs an extra $4 per employee per month. You get the idea: With Zenefits, you can have it as an all-in-one system, but you have to pay extra for each add-on.
What Zenefits Is Missing
Zenefits is costly once you start adding up all the features that are priced separately. They also charge an implementation fee that isn't listed on their website and may vary depending on how much help you need getting it set up.
What Users Think About Zenefits
Zenefits users like that all the data is in one place, but they don't appreciate that support hours are based on Pacific Time. Check out or Zenefits Review for more information and a video overview of their HRIS software.
BambooHR: Best HRIS/HRMS Software for Businesses with an HR Department of One

We recommend BambooHR as a complete HR software platform for employee self-service, onboarding, applicant tracking, performance management, document storage, e-signature, and HR analytics. If you have one person managing HR, they'll appreciate all the HR features and the fact that they can delegate tasks to managers, from applicant tracking to performance management, within one system.
BambooHR Pricing
What makes BambooHR a good alternative for small business is that it's affordable at $6 to $8 per user per month for the HR software alone. Payroll and other add-on options like performance management and applicant tracking cost extra. You can contact them for a custom quote and build the system with the exact features you want, similar to how you can tailor Paycor or Zenefits to fit your business needs.
BambooHR Pricing Table
Option 1

Option 2

Price

$6/employee per month

$8/employee per month

Storage Per Employee

50MB

100MB

Reports

Basic

Advanced, Custom

Salary and Job History

✔

✔

Employee Onboarding

✖

✔

Benefits Tracking

✖

✔

Mobile

iOS, Android




(Time-off application onl.)

Third Party Integrations

NetSuite, Maxwell Health, Payscale




(Full list here)

Customer Support

Knowledge base, email, phone
BambooHR Features
BambooHR sets up role-based security so that your lone HR person can delegate some of the HR tasks to managers, such as performance reviews. In addition, it can manage the full life cycle of an employee in one system. It starts with an ATS, includes onboarding with hiring documents stored electronically, processes payroll, and manages performance reviews. When employees leave your company, it can help you manage the offboarding process as well.
HR Features
The HR features within BambooHR include employee and manager self-service, leave tracking, an HR employee database, and performance management. It also has an applicant tracking system similar to Homebase and When I Work, and allows new hires to onboard themselves. In fact, while Gusto can run employee satisfaction surveys, BambooHR takes it up a notch by tracking the pulse of your firm with an employee net promoter score (eNPS).
Applicant Tracking
BambooHR provides a basic applicant tracking system that lets you source and track your job applicants. That makes it easy to move newly hired employees directly from the ATS into your employee database, saving a step (and time) for your lone HR rep.
Performance Management
Performance management is often an HR manager's biggest headache. BambooHR makes it easier by having the performance management software, forms, and approvals built in, similar to Zoho People.
Other Features
BambooHR can track employee time worked and paid time off without you having to add on a third-party timekeeping software tool or purchase a physical time clock.
What BambooHR Is Missing
Sometimes an all-in-one system sounds great, but if the payroll process isn't smooth or the applicant tracking system isn't the best, you may be better off with separate systems that you integrate, rather than an all-in-one tool with less than perfect built-in apps.
What Users Think About BambooHR
BambooHR gets great reviews on third-party websites, including ours. Users love the interface, but some comment that the ATS and payroll features aren't the best. Read what real users have to say in our BambooHR Review.
When I Work: Best for Multi-Location Businesses That Want to Improve Scheduling & Communication

We recommend When I Work as a great alternative Homebase's free timekeeping software. It is free for up to 75 employees if all you need is employee scheduling and communication tools. Therefore, it's great for hospitality, technology, and service companies that manage complex schedules across multiple locations, and need to ensure employees are in the loop.
Similar to Homebase, it offers free team messaging and a mobile app in addition to an employee database. In fact, When I Work, like Homebase, has recently added a hiring tool to its HR software.
When I Work Pricing
When I Work offers a free scheduling tool that includes team communications. Prices range from $1.50 to about $4 per person per month, depending on the tier you choose. For example, adding attendance tracking to the free plan costs $1.50 per employee per month extra. If you have more than 75 employees or want to upgrade to an Enterprise plan that includes new hire onboarding and an API, you can contact them for a custom quote.
When I Work Pricing Table
| | Free | Basic | Pro |
| --- | --- | --- | --- |
| Price | Free | $1.50/user per month | $2.25/user per month |
| # Users | Up to 75 | Unlimited | Unlimited |
| Simple scheduling | ✔ | ✔ | ✔ |
| Time Clock and Attendance | ✔ | $1.30 extra | $1.30 extra |
| Team member availability and scheduling | ✔ | ✔ | ✔ |
| Team communications | ✔ | ✔ | ✔ |
| Advanced scheduling | | ✔ | ✔ |
| Multiple teams | | ✔ | ✔ |
| Remote job sites | | ✔ | ✔ |
| Task Management | | | ✔ |
When I Work Features
When I Work is similar to Homebase in terms of the HR features it offers in support of workforce management. It includes HR tools like policy templates, an employee handbook, and job application forms. With an applicant tracking system built-in, you can post jobs, recruit candidates, and hire them using When I Work's onboarding features.
Employee Scheduling
Like Homebase, employee scheduling is simplified with a drag-and-drop interface, schedule change approvals, and an option to allow employees to swap shifts. It includes GPS locations and provides notes and task options so that your off-site employees know where to go and what to do once they get there.
Attendance Tracking
When I Work tracks attendance across multiple job sites and monitors worker's progress against assigned tasks.
Team Communications
The messaging features of When I Work make it easy to share schedules and request individuals to fill open shifts. You can send out mass messages to all team members at once, and employees can message one another using any device or format: chat, text, or email.
Other Features
The other features that When I Work offers is a single sign-on, which prevents you and your staff from having to remember multiple passwords. Similar to Homebase, it provides an applicant tracking system for hiring and onboarding new employees. By using their API, you can integrate other software, like Gusto for payroll or an expense reporting system, for example.
What When I Work Is Missing
When I Work is HR software that completes only part of the HR data puzzle. To create an end-to-end HRIS/HRMS software solution, it integrates with payroll systems like Gusto, ADP, or QuickBooks. Those add the employee management, benefits, and other HR compliance functions that add up to a complete HRMS software suite.
What Users Think About When I Work
Like Homebase, When I Work gets great online reviews. Small business users like how easy it is to implement and use. Some wish it had a better way to set permissions and track PTO balances. Check out our When I Work Review for additional insights.
Alternatives to an End-to-End HRIS/HRMS Software Suite
HRIS/HRMS software includes tools as diverse as recruiting software that posts jobs, tracks applicants, and helps them during onboarding. Or, you may be looking for workforce management, performance management, or payroll processing; all can be provided by HR software, but each serves different needs.
Here are alternatives to the best HRIS/HRMS software we've compiled for small business:
Alternatives to Best HRIS/HRMS Software
Alternatives to HRIS/HRMS Software
Best for

Startup businesses doing a lot of recruiting. Consider

Indeed

with its free ATS.

Business with more than one employee (to ensure payroll and HR-compliance) as

Gusto

does.

Businesses that manage complex scheduling and timekeeping, e.g., tools similar to

When I Work

.

Businesses concerned about training and employee certifications. Consider

TalentLMS

.

Professional firms employing experienced workers that want to find the best talent available. Consider

Freshteam

.

Hospitality, healthcare, and service industries that manage hourly workers. Consider

Homebase

.
Thanks to modern software integrations, webhooks, and APIs, you can customize most of these tools and combine them to serve as a full HR software suite to manage all your employee data.
Or, you may want to outsource HR completely using a PEO like ADP Total Source, which provides HRIS/HRMS software as part of its service. ADP is the leader in payroll processing. Therefore, you can count on their PEO being a great small business HR/payroll-compliant solution.
Bottom Line
HRIS/HRMS software will make your life easier by managing all the employee data you need, electronically. Your HR system should eliminate paperwork and duplicate data entry. The options we find best are easy to use and integrate well with other HR tools to provide you with an end-to-end HR solution that can manage employees from onboarding to retirement.
For small businesses in any industry, we find Gusto to be the best HRIS/HRMS software. Its integrations with free scheduling software like When I Work, free timekeeping software like Homebase, and free job posting software like Indeed allow you to keep all your employee data in one system at a fraction of what an enterprise HRIS/HRMS system would cost.