5 Best Personal Trainer Insurance Companies in 2023
Companies with the best personal trainer insurance offer affordable policies, like professional liability, and great customer services, such as online account management and the option to create an instant certificate of insurance (COI). We researched top providers to find the five best providers of personal trainer insurance.
Top Personal Trainer Insurance Providers Compared
Quote Process

Purchase Policy Online

Accessibility

Instant COI

Financial Rating

Online

✓

Monday to Friday, 8 a.m. to 8 p.m. Eastern time

✓

A- (Excellent) to A++ (Superior)

Online

✓

Monday to Friday, 8 a.m. to 8 p.m. Mountain time

✓

A+ (Superior)

Online

✓

Monday to Friday, 6 a.m. to 5 p.m. Pacific time

✓

A- (Excellent)

Online

✓

Monday to Friday, 9 a.m. to 6 p.m. ET

✓

A- to A (Excellent)

Online

✓

Monday to Friday, 8 a.m. to 5 p.m. ET

✓

A (Excellent)
Simply Business: Best Overall Provider for Personal Trainer Insurance

Pros
Quote system
Account management
Large provider network
Cons
No 24/7 call center
Does not handle claims directly
May be unable to offer property quote online
Standout Features
Compare quotes from multiple top-rated providers
Tailor real-time quotes to customize coverage
Range of coverage options available
Purchase a policy online or speak with a dedicated agent
Simply Business is an online insurance brokerage that specializes in small business insurance. Insurance is available in all 50 states, and it focuses on offering liability and workers' compensation for smaller businesses with five or fewer employees, making it great for a personal trainer or a small gym.
The main strength of Simply Business is its partnership with 16 top-rated carriers, such as Berkshire Hathaway, Hiscox, and Travelers. This allows it to provide you with multiple quotes that you can compare and customize in real time, after which you can choose and purchase a policy online in ten minutes or less.
The ability to compare quotes with other providers makes Simply Business unique in this guide of providers; the rest give you a quote directly for a policy serviced by them. Meanwhile, Simply Business gives you real-time quotes from other providers that you can tailor to fit your needs.
However, some of its additional services are limited—most notably the claims process. If you have a claim, you are directed to contact the provider directly, although it does offer all of the contact information for each carrier's claims department. If that isn't getting you anywhere, or you are having trouble filing a claim, then you can reach out to Simply Business to initiate the claim.
We received two quotes for personal trainer liability insurance:
The first quote was through Preferra and did not have a monthly installment option. The cost was $590 annually and carried both general liability and professional liability. Both policies carried a limit of $1 million per occurrence and $3 million aggregate.
The second quote was through Hiscox and, after two months down, it cost $70.82 monthly or $850 annually. The coverage was less, with a general liability limit of $1 million per occurrence and a $2 million aggregate, and professional liability with a total aggregate of $1 million.
Either policy could be purchased online, although you could call and speak with an agent for further options.
Simply Business is a one-stop shop for finding insurance and managing your policy. You can make and request changes online or over the phone, including requesting a COI. It is well-reviewed by users, with 4.7 stars out of 5 from nearly 700 reviews on Trustpilot1.
Simply Business works with multiple top-rated carriers. For example, Hiscox, one of the providers that offered a quote, has a rating of A (Excellent) from AM Best.
Insurance Canopy: Best for Building the Policy You Need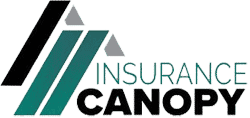 Pros
Simplified quote system
Good financial rating
Instant COIs
Cons
Coverages are limited to the program
No 24/7 call center
Does not handle claims directly
Standout Features
Policy is designed for personal trainers with applicable coverages and limits
Easy to build coverage and purchase policies online
Account to manage policy and file claims
Will cover a wide range of activities that fall under "personal trainer"
Insurance Canopy sells one customizable base policy designed for personal trainers and other instructors in the fitness space. The policy starts with general liability and professional liability, which costs around $12.50 monthly or $129 annually, and is available for personal trainers, yoga, dance, and Pilates instructors, CrossFit trainers, online fitness instructors, group fitness instructors, and others.
From there, you build the coverage you need, giving you control over adding what you need. Though options are limited, these are also specific to the fitness industry. For example, there is no option for workers' comp or commercial auto, but you can get diet and nutrition coverage. As you add coverage, sometimes there will be a limit for options, like with inland marine for your tools and equipment.
This feature of building a policy is unique to the providers on this list. Although most let you add coverages, none have the same starting policy with simple selections of additional coverage to bundle what you want. It is a bit like a buffet—you can take the protein and check it out, or you can take the protein and whatever sides you want, check it out, and then the price will match what you selected.
Also, it has the easiest purchasing process, allowing you to purchase the policy in minutes. Besides that, the policy is designed broadly enough that you do not have to put much thought into it—you can just purchase a policy and have an instant COI.
It costs $129 annually for personal trainer liability insurance. There are a number of additional changes you can make to personalize the coverage for your specific needs. For example, for $16, you can add $2,000 in gear and equipment coverage. For $75, you can add coverage if you offer nutrition and diet advice. Or, for $99, you can add cyber liability insurance.
If you purchase the basic liability policy for $129, then you will get general liability and professional liability with an occurrence limit of $2 million and an aggregate limit of $3 million. These limits apply separately to each liability coverage. It also has $3 million in products completed coverage and $300,000 for damage to a rented premise.
Insurance Canopy has developed a simple system that lets you quickly purchase the coverage you need without needing to speak to an agent. Once you've purchased the policy, you gain 24/7 access to your policy. From your account, you can also file a claim or create an instant COI.
It is well reviewed by customers on feefo2 where it has 4.2 out of 5 stars from nearly 600 reviews.
The policy is serviced by the Great American Insurance Company. Great American has a financial strength rating of A+ (Superior) from AM Best.
Next: Best for Personal Fitness Instructors

Pros
Same-day coverage
Tiered coverage options
Available discounts
Cons
Newer carrier; still expanding coverage availability
Weekday-only availability
Smaller amount of available coverages than a more traditional carrier
Standout Features
Affordable coverage for all three tiers
Fast and easy process to purchase insurance online
Commercial app to manage your policy, file claims, and create instant COIs
Professional liability included in all quotes
Next Insurance is a direct-to-consumer provider, meaning it sells insurance online instead of through an agent, giving you the ability to save up to 25%. This direct-to-consumer model allows Next to provide policies at a lower rate than its competitors, which you can see in the costs below. Next offers insurance for personal trainers that covers you regardless of your location, so if you are a fitness instructor who works independently at multiple gyms or outdoor locations, the coverage is valid.
The policy it offers for personal fitness instructors automatically includes professional liability and accusations of abuse and molestation. Next has created a COI Analyzer that makes it very quick and simple to create and share a COI via its app. These benefits make Next ideal for personal fitness instructors, especially ones working as independent contractors who need to regularly show proof of insurance.
Next is the only true insurance carrier in this guide. Simply Business, Insurance Canopy, Thimble, and Sadler are all different types of brokers or agents working with carriers to provide coverage. This makes Next stand out as being the only true one-stop shop if you're looking for an option where the billing, claims, and policy management are all handled by the same company.
While Next is a single provider, it usually offers quotes in tiered stages of coverage, giving you some flexibility in finding the policy right for your business. We received three quotes for personal fitness instructor coverage:
Basic coverage costs $10.67 monthly. It had general liability and professional liability, each with separate limits of $500,000 per occurrence and $1.5 million aggregate. It also had $100,000 in total coverage for accusations of abuse and molestation.
Premier coverage costs $11.50 for the same coverage, except that the general and professional liability limits increased to $1 million per occurrence and $3 million aggregate.
Deluxe coverage costs $13.42 monthly. Again, it had the same coverage, but the limits further increased to $2 million per occurrence and $4 million aggregate for general and professional liability.
All options were available as same-day coverage and could be purchased online without speaking to anyone. It also offers workers' comp and inland marine, so if you need coverage for employees or equipment, that is an option.
Next is a newer insurance company that is steadily expanding its offerings. This type of coverage, however, is available in all 50 states. The National Association of Insurance Commissioners (NAIC) tracks complaints filed with the department of insurance at the state level. Next Insurance has lower-than-expected complaints.
It also has an app for iOS and Android where you can manage your policy, file claims, and create and share an unlimited number of COIs.
Thimble: Best for Trainers Who Work Special Events

Pros
Short-term coverage
Fast quote process
Intuitive system
Cons
No real way to reach anyone on the phone
Claims are not handled by Thimble
Annual policy may be more expensive than other options
Standout Features
Very fast process to receive same-day coverage for short-term or annual policies
App to manage policy, file claims, and create a COI
Unlimited and free COIs generated via app or website
Professional liability, general liability, and inland marine available for trainers
Thimble is one of the only commercial providers that offer short-term liability coverage. You can purchase coverage by the hour, day, or month for short-term liability, or you can purchase an annual policy too. If you have a full-time job but work as a trainer at special events, Thimble is the best provider, as you can get insurance in 60 seconds for an event and a COI to show your proof of insurance to the event organizer.
Its quote process is quick and simple—much faster than any other provider on this list. The process differs depending on whether you are seeking a short-term or annual policy, as the questions will get much more in-depth for an annual policy. That said, while it is similar to Next, one of the biggest differences is that Thimble does not handle its own claims.
It is also very tech-forward, so much so that it can be difficult to reach an actual person to discuss anything. The limits it offers can, at times, be lower than what you may need depending on the size of your business or risk exposure. Other options, like Sadler or Simply Business, can offer higher limits.
In around 30 seconds, we received a quote for general and professional liability insurance for one day of coverage that cost $50.32. Each coverage had a total limit of $1 million.
We also received a second quote for a personal trainer that cost $83.26 monthly. This quote had general liability, professional liability, and inland marine. The general liability had a limit of $1 million per occurrence and $3 million aggregate, while the professional liability had a total limit of $1 million. Meanwhile, the inland marine had $2,500 in coverage for tools and equipment.
If you wanted to add cyber insurance it cost $8.33 monthly.
Both the short-term and annual policies were available same-day and online.
Thimble is a newer company and is still expanding, but its liability coverages are available nationwide. Through your online account or via the app, it allows you to manage your policy, file a claim, and instantly create and share a COI. It is well-reviewed by customers, with 4.6 out of 5 stars on Trustpilot3 from over 1,200 reviews.
While Thimble offers daytime hours, when you call the phone number, there isn't any way to reach anyone—it simply offers prompts and different email addresses depending on your need. However, you can chat online or reach out via the app.
Sadler Sports & Recreation: Best for Trainers Who Own a Small Gym

Pros
Structured policies
Instant COI
Certification discounts
Cons
Have to fill out a form to report a claim
No 24/7 call center
Unclear information on which carrier is servicing the policy
Standout Features
Insurance for independent trainers or trainers with a building
Structured policies making shopping easier
High limits for a relatively low premium
Specialization in sports and recreation industries
Sadler is a national agency that specializes in offering insurance for the sports and recreation space. Of all the providers in this guide, it is the only one that specializes exclusively in sports, recreation, and personal fitness. It offers five levels of coverage for personal fitness trainers, and it also has insurance for small gyms with less than 3,000 square feet of space.
If you are a fitness trainer insured with it, you can save up to 38% off on fitness or studio insurance, making it a great option for a personal trainer who runs a small gym.
Sadler is a large agency that works with several carriers to offer a large number of policies for companies in the sports and recreation space. Rather than offering a quote, it has developed policy packages with carriers that come in multiple tiers and prices. The prices are also separate for licensed trainers and unlicensed trainers, with unlicensed trainers needing to pay more.
Its services seem more bareboned than any of the other providers listed here, and from our research, it appears that the only way to file a claim is to download a form, fill it out, and send it back. All of the other providers, including Simply Business, give you the option to file it online.
That said, with the convenience it offers, the ability to purchase a high-limit policy at an affordable price, the option to bundle that with coverage for a free-standing building or gym, and its exclusive experience in the fitness space, Sadler is a provider to consider.
Its general liability automatically includes professional liability and has five options for coverage—the difference between each being the coverage limit. The limits range from $1 million to $5 million per occurrence. They all have the same level of coverage for damage to premises rented to you, which is $1 million.
For option one, it costs $194, while for the top level of coverage, it costs $1,034. Those costs require certification. If you are not a certified trainer, then the price increases to $245 and $1,110, respectively.
Sadler offers online account management and the option to create an instant COI. You can also talk with a representative via live chat. If you'd like to speak to someone, it is open Monday through Friday from 8 a.m. to 5 p.m. ET.
It is a bit difficult to find any reviews of Sadler, especially since it is unclear which carrier it works with. On Facebook, it has 4.7 stars from 60 votes.
Sadler doesn't provide information on what carrier it works with, stating only that it is rated A (Excellent) by AM Best.
How We Chose the Best Personal Trainer Insurance Providers
We determined the best personal trainer insurance companies with our in-house proprietary evaluation system. In evaluating them, we focused on the customer's needs. We paid particular interest to convenience, financial ratings (from AM Best), customer service, types of policies offered, and the overall experience as a policyholder for a specific provider.
Bottom Line
Just like you approach training methodically, we've applied our own method to evaluate the best providers for personal trainer insurance. Simply Business is the best overall provider. As a digital broker, it can help you find the right coverage quickly, tailor quotes in real time, and then let you purchase the insurance in ten minutes or less.
Visit Simply Business for a Quote
---
User review references:
1Trustpilot | Simply Business
2feefo | Insurance Canopy
3Trustpilot | Thimble