Personal trainer insurance usually refers to a group of commercial policies designed to protect a personal trainer's assets. One common policy for trainers is commercial general liability, which covers third-party bodily injury, property damage, and reputational harm. However, most trainers need other types of insurance, so personal trainer insurance costs between $150 to $1,500 annually.
CoverWallet is a reliable provider that makes getting personal trainer insurance easy. It offers fast online quotes, and experts are available to provide specialized guidance that helps make sure you are properly protected. Complete a free, no-obligation questionnaire online and get covered in minutes.
How Personal Trainer Insurance Works
Personal trainer insurance is a collection of coverages designed to protect personal training businesses. General liability insurance is a primary personal trainer insurance policy because it covers the costs that follow third-party claims of bodily injury, property damage, and reputational harm. These are some of the most common claims personal trainers see.
Depending on their operations, some trainers and fitness instructors need additional policies. For instance, trainers who own studios or have a lot of fitness equipment may also need commercial property insurance. This can be bundled with general liability into a package called a business owners policy (BOP) that is a cost-effective means of getting broad coverage.
Personal Trainer Insurance Providers
To get the best personal trainer insurance for your unique business, you need to look for a small business insurance company that works with small businesses and has specialized insurance packages for personal trainers and fitness instructors. If the provider doesn't understand your business, they may not recommend the appropriate coverage.
Top Personal Trainer Liability Insurance Providers
| Provider | Best For |
| --- | --- |
| CoverWallet | Trainers who want low-cost coverage and need quick access to certificates of insurance |
| | Personal trainers who don't have time to research all of their insurance options |
| Sadler Sports & Recreation Insurance | Trainers who want high limits on bundled general and professional liability |
| Hiscox | Personal trainers who want affordable liability policies they can manage online |
| Philadelphia Insurance Companies | Trainers who regularly work special events or travel overseas for business |
Some of the top
small business insurance brokers
and carriers include CoverWallet, CoverHound, Sadler Sports & Recreation Insurance, Hiscox, and Philadelphia Insurance Companies.
CoverWallet is an online insurance broker that utilizes technology to allow you to quickly compare multiple quotes from top carriers and find a low-cost option that's right for you. The platform is well-known for being easy to use and simplifies much of the information, so that small business owners understand how to choose the proper coverage.
CoverWallet works with insurance carriers that understand the coverage needs of small businesses and solopreneurs, including personal trainers, and provide reliable coverage that takes all the potential risks into consideration. The ability to compare policies can help trainers see where their premium dollars go with each insurance carrier. CoverWallet clients can bind online and receive certificates of insurance remarkably fast.
CoverHound is an insurance broker that allows you to compare multiple policies from top carriers. Their online application is fast and easy, or you can call to speak with a representative directly.
As a personal trainer, you need to be sure you're prepared to cover any damages during your sessions, whether they be to humans or equipment. Since rates and policy needs vary widely across the board, speaking with a broker can help you ensure that you know all of your options. CoverHound will take a close look at your business and match you with a provider to meet your needs.
Sadler Sports & Recreation Insurance is an insurance company with more than 60 years of experience insuring sports and recreational programs. Its personal trainer insurance program is available in all 50 states, and trainers can get quotes and bind policies online.
Personal trainers should consider working with Sadler Sports & Recreation Insurance if they want to bundle their personal trainer liability insurance policies. The company combines general and professional liability in a package that includes coverage for third-party medical expenses, sexual misconduct defense costs, and damages to rented properties. Additionally, personal trainers who own or rent their business space are eligible for a discount of up to 38%.
Hiscox is a large, nationwide insurance carrier with high financial ratings that does a good job of making commercial insurance easy for small business owners. Personal trainers can get general liability insurance and professional liability with Hiscox, and the company offers other coverage as needed.
Hiscox is an ideal choice for personal trainers who want affordable policies they can manage easily. The company's personal trainer liability insurance is remarkably affordable, starting at $270 per year for professional liability and $350 for general liability. Plus, trainers can get quotes, bind policies, and file claims online.
Philadelphia Insurance Companies (PHLY) is a national carrier that specializes in hard-to-insure industries and professional liability insurance for small businesses. In its 55 years of developing products for niche industries, PHLY has developed a fitness and wellness insurance programs that encompass studios, health clubs, and personal trainers.
PHLY's fitness and wellness program has a number of highlights including coverage for up to $3 million in general liability coverage for both on- and off-premise activities. However, PHLY should be a top choice for trainers who work internationally or who take part in special events. Coverage for these activities is included in its program automatically.
Types of Personal Trainer Insurance
Personal training businesses often need a number of insurance policies, but perhaps the most important coverage is personal trainer liability insurance. Liability policies cover business owners' interactions with clients and other third parties. For personal trainers, this usually means getting general and professional liability insurance.
"Personal trainers need general liability and professional liability insurance. General liability insurance covers unforeseen accidents on the job site—for example, if somebody trips over a weight on the ground and breaks his or her leg. Professional liability covers bodily injury or property damage arising from your operations as a trainer. For example, a client sues you, alleging you failed to offer proper instruction on a certain exercise, resulting in a strained back. The client has to have surgery as a result of your services. Professional liability would cover this."
—Natalie Cutler, Senior Insurance Advisor, Next Insurance
Most Common Types of Personal Trainer Insurance
General Liability Insurance
General liability insurance, sometimes referred to as personal trainer liability insurance, covers third-party bodily injury, property damage, and reputational harm. This is a policy every personal trainer needs, whether they are independent or a gym owner, because the third-party claims it covers represent the greatest risk for most small business owners.
Some examples of situations general liability cover include:
Bodily injury: A client breaks a toe tripping over a dumbbell in your gym
Property damage: A stray medicine ball shatters a mirror in the studio you rent
Reputational harm: A performance rights organization sues after learning you haven't paid royalties for the playlist you use in class
In incidents like these, general liability insurance helps pay for the injured party's medical bills and repair costs or your legal fees, including judgments or settlements, if the injured party decides to sue.
Commercial Property Insurance
Commercial property insurance covers damage to your business's physical assets, including your business-owned gym or studio and the equipment, furniture, or fixtures within it. If these items are destroyed in a covered event, commercial property insurance pays to repair or replace them up to the insured amount and minus your deductible.
Covered events typically include:
Fire
Theft
Vandalism
Hail
Windstorm
Personal trainers who own their own studios should consider getting a BOP. This policy combines general liability and commercial property in a convenient and affordable bundle. Trainers who rent space can get property policies that only cover the business personal property, such as weight machines, Pilates equipment, and kettlebells.
Professional Liability Insurance
Also called errors and omissions (E&O) insurance, professional liability insurance pays the costs of your legal defense plus any settlements or judgments if a client claims their injuries are the direct result of your services. Common covered injuries typically include those caused by your mistakes, including errors and omissions in providing advice or training as well as your failure to deliver some aspect of your service.
Some examples of events covered by professional liability insurance include:
Errors: Instructing a client to lift more before they are ready
Omissions: Offering weight loss advice but leaving out a key component
Failure to deliver: Selling a pack of classes but failing to teach them
Personal trainer professional liability insurance covers your legal fees even when the allegations are baseless.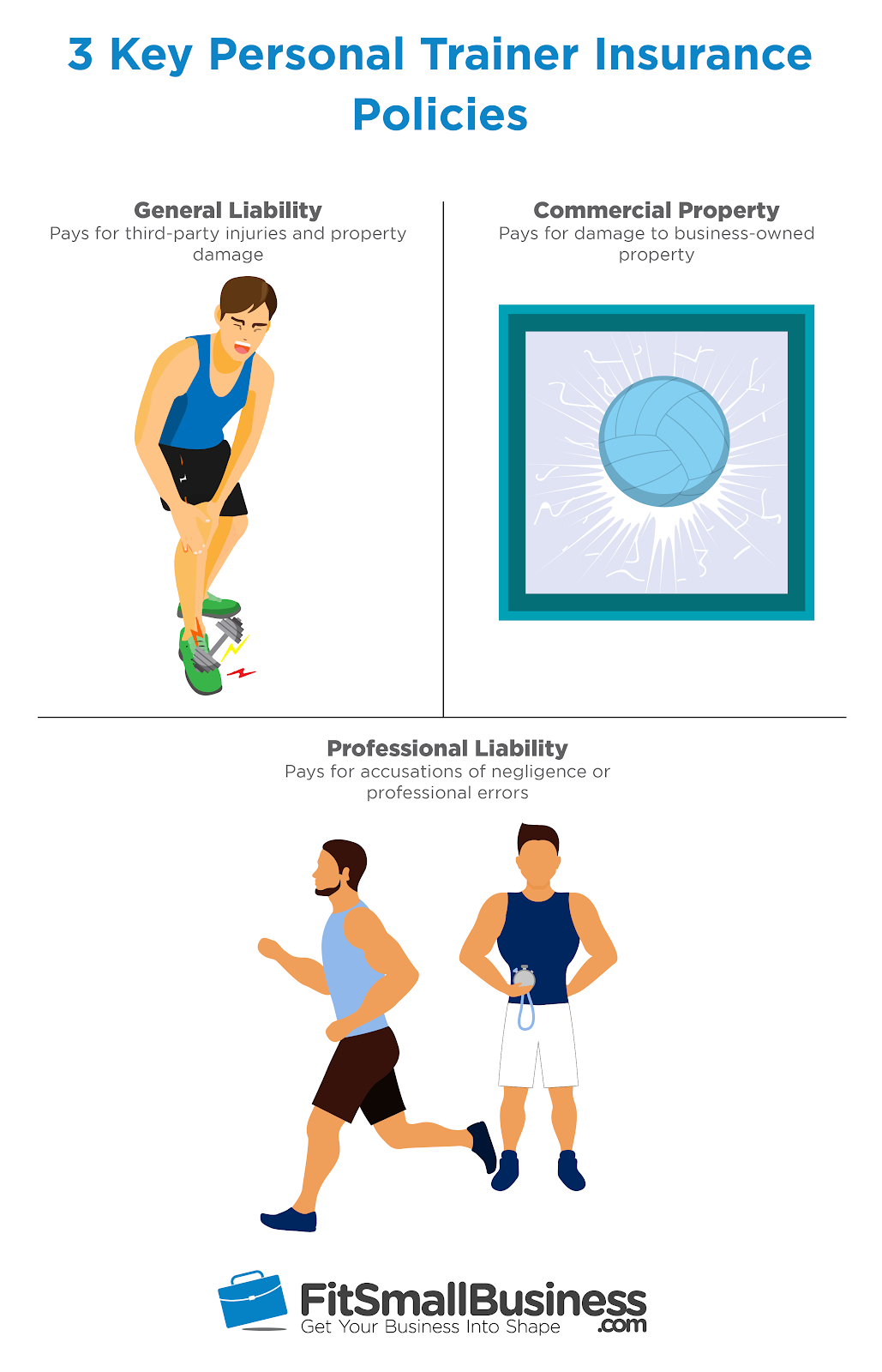 Additional Types of Personal Trainer Liability Insurance Policies
As a personal training business grows, the owner typically needs additional personal trainer liability insurance. This is especially true as they add employees or sell products to bolster revenue.
Workers' Compensation Insurance
Workers' compensation insurance is required in most states to cover costs associated with employees' work-related injuries and illnesses. These costs are usually medical bills and lost wages. Without workers' compensation, trainers with employees would have to pay these expenses out of their own pockets.
Each state has its own requirements for workers' compensation insurance but, in general, policies pay for any injury or illness that is the result of an employee's work tasks. These can be traumatic injuries like a sprained ankle, repetitive stress injuries like carpal tunnel, or occupational diseases like a lung infection after prolonged exposure to dangerous chemicals.
Sexual Misconduct Liability Insurance
Because of the physical and intimate nature of personal training, sexual misconduct liability insurance can be a wise investment for personal trainers. General liability and professional liability usually exclude allegations of sexual misconduct, but some insurers add coverage to one or the other through an endorsement. Other trainers may have to find a standalone abuse and molestation policy.
Sexual misconduct policies vary greatly. Some cover civil trials whether or not the allegations are true, and most only cover employers but not the alleged perpetrator. Policies that cover the alleged perpetrator often require policyholders to reimburse legal fees if the perpetrator is found guilty.
Product Liability Insurance
Product liability insurance covers claims that a product caused a consumer physical harm or property damage. Most trainers get product liability insurance through their general liability policy's products/completed operations coverage. It pays for to pay for an injured consumer's medical bills or property repairs, or your legal defense if the consumers decide to sue.
Even if you did not make the product, you can still be sued if you sold a faulty product to a client. For example, say you unknowingly sell your client a bottle of protein powder infected with salmonella and they end up in the hospital. Their claim triggers either your standalone product liability policy or the product or completed operations portion of your general liability.
Commercial Auto Insurance
Commercial auto insurance is coverage for your business-owned vehicles and other cars, trucks, or vans you use to run your personal training business. Most states require business owners to purchase liability coverage to pay for damages or injuries they cause other people, but personal trainers can also get coverage for their injuries and car damage.
Personal trainers may need commercial auto insurance even if they drive their own cars for work. Most personal auto insurance excludes business-related driving, so trainers who drive to clients' homes and offices throughout the day may not be insured as they go.
Who Needs Personal Trainer Insurance?
Every personal trainer and fitness professional, including yoga and Pilates instructors, needs business insurance. This is true whether they are training out of their home, driving to clients' homes or offices, offering sessions at the park, or teaching classes in a commercial gym.
According to Steve Pritchard, human resource manager of cuuver.com:
"All personal trainers should look into buying personal trainer liability insurance. It's a form of public liability insurance that covers trainers for any losses they could incur as a result of a member of the public making a claim against them but specialized for personal trainers to cover any injuries their customers may sustain as a result of their business. Without this coverage, personal trainers will incur the loss themselves."
Personal Trainer Liability Insurance for Independent Contractors
Personal trainers who work as independent contractors for commercial gyms are seldom covered by the gym owner's liability insurance. Some gym owners require independent trainers to carry coverage and ask to see certificates of insurance (COIs) before allowing anyone to work in their facility, but not all of them do. Either way, it's crucial independent contractors obtain their own personal trainer liability insurance.
"Personal trainer liability insurance will generally cover you in the event that your client gets hurt performing an exercise that you recommended and decides to sue you. For this reason, I purchase it annually. Liability insurance is a small investment that can save you from financial disaster. Also, some gyms and clubs require that you hold a minimum of a $1 million policy if you want to work—train clients—on their premises."
—Franklin Antoian, Founder, iBodyFit
If you're an employee of a commercial gym, there's a good chance your employer's personal trainer liability insurance policy already covers you. However, you need to confirm this with your employer and check that the coverage is sufficient for your needs.
Personal Trainer Insurance Costs
How much personal trainer insurance costs depend on the number of policies and amount of coverage needed. Trainers who only need general liability typically pay between $150-$500 per year. Those who need additional personal trainer liability insurance often pay another $150-$500 annually. Costs go up as you add other coverages.
Personal Trainer Insurance Costs & Deductibles by Insurance Type
| Insurance Type | Annual Premium | Deductible | Coverage Amount |
| --- | --- | --- | --- |
| General Liability Insurance | $150-$500 | $0-$500* | $1 million per occurrence/$2 million aggregate |
| Commercial Property Insurance | $150-$700 | $100-$500 | Varies based on property value |
| Professional Liability Insurance | $150-$500 | $500-$1,000 | $1 million per occurrence/$2 million aggregate |
* General liability insurance doesn't usually require a deductible, but business owners may request one to help lower costs.
In addition to the number of policies and coverage amounts, insurers also consider facts about your business when determining premiums. Your business location, prior claims history, and your income are a few of the factors that impact your personal trainer insurance costs.
Some of the information about your business that affects your premiums include:
Location: Businesses located in low-risk areas for crime or extreme weather events usually pay less for their insurance.
Claims history: Filing multiple claims makes your business look riskier to insurers, and this can increase your premiums.
Revenue: Personal trainers who earn more money may pay more for their insurance. This is partly because they are more likely to be sued. Moreover, if they are sued, awards sometimes reflect their income.
Employees: Employers have to get workers' compensation insurance in most states, but hiring employees also increases your chances of theft, client lawsuits, and property damage.
Business-owned property: Insurers also look at the size, age, and type of property your business owns, plus its overall value.
Risk management: Some insurers offer discounts to personal trainers who have security systems and fire alarms. They may also reduce premiums if a trainer regularly uses written contracts and liability waivers.
Personal trainers can sometimes save money on their insurance by either reducing their coverage limits or raising their deductible. However, both of these options may cause problems because you take on greater financial obligations in the event of a claim.
Tips on Getting Personal Trainer Insurance
Applying for personal trainer insurance can be a complicated process. You don't need to be an insurance expert to find the ideal coverage at the right price, but there are a handful of important steps to take that can make applying easier.
Here are four things to remember when applying for personal trainer insurance.
1. Gather Your Documents Before You Apply
To make sure you get the best personal trainer insurance for your situation, gather all of the necessary information about your business before you apply. Having the proper documents on-hand makes the process easier and helps the insurance agent figure out how to best protect your business. Moreover, inaccurate information on your application allows your insurer to reject claims if you ever file one.
Some of the information you need when applying for insurance includes:
Value of assets, such as your fitness facility and training equipment
Details of any products you sell
Number of years you've worked in the personal fitness industry
Information on other insurance coverage you already have
Claims history for at least three years
2. Evaluate Your Risks
No matter how careful you are, incidents can arise that expose your personal training business to risk. You need to be objective about what those incidents may be and how likely they are to occur so that you can determine which policies best cover your business. This is why personal trainers may want to work with an insurance agent. An agent with experience in your industry can identify where trouble lies and how insurance can protect against it.
3. Pay Attention to Exclusions
When you're comparing quotes, it's important to pay attention to exclusions, or the risks not covered in a policy. Some insurance companies exclude certain risks from policies to reduce the cost, but the result may mean claims you think are covered end up being denied. Lower cost does not always translate to better value when it comes to insurance.
4. Ask About the Certificate of Insurance
A certificate of insurance (COI) is a document your insurance company issues that summarizes your coverage. Gym and studio owners may ask to see your COI prior to allowing you use their space because the document acts as proof of insurance. You may need a new certificate for every gym you work in, and some insurers charge a fee for every request. However, others allow you to request as many COIs as you need.
Personal Trainer Insurance Frequently Asked Questions (FAQs)
Hopefully, this article gives you enough information so that you can find personal trainer insurance that suits your business operations. Just in case, we've answered a few of the most commonly asked questions in this section.
Can liability waivers protect my business from lawsuits?
Liability waivers can reduce the chance of your personal training business facing a liability lawsuit. However, they aren't a perfect solution. Waivers only transfer some of the liability to your clients, and injured parties can still sue you for gross negligence. This is why it's a good idea to use waivers and liability insurance.
Do I need personal trainer insurance if I see clients in my home?
Personal trainers who offer services from their homes still need business insurance. Most homeowner's policies exclude business-related activities, so trainers may not be covered if clients or other third parties suffer injuries or property damage when visiting the trainer's home for business purposes.
Do personal trainers need an LLC?
Forming a limited liability company (LLC) is not a requirement for starting a personal training business, but there are some benefits of doing so. For example, your personal assets are usually protected if your LLC is sued. Sole proprietors, on the other hand, are personally liable for business debts, and that includes judgments against the business.
Bottom Line
Personal trainer insurance is often called personal trainer liability insurance because the most important coverages for trainers are general liability and professional liability. Not only do these policies cover some of the most common claims trainers face, but they also can demonstrate your trustworthiness to potential clients. For these reasons, every personal trainer should invest in liability insurance and have quick access to their certificate of liability insurance.
If you're a personal trainer who rents a space or trains outside of a gym, CoverWallet provides the coverage you're likely to need. Connect with an expert online today to get multiple quotes from top-rated insurers.