If you've been in business for very long, your company almost certainly has an online reputation, whether you're actively managing it or not. Review sites (e.g., Yelp, Google, and Trustpilot, among others) provide your customers with an unfiltered sounding board to tell other potential customers exactly what they think of your products, services, and customer relations.
Choosing a good reputation management service for your small business could be the difference between success and ruin. We examined more than 20 digital reputation management companies to determine which is best for your small business. Here's how they stack up:
Best Reputation Management Services at a Glance
Thrive: Best Overall Reputation Management Service

Custom pricing from $1,000

Review generation
SEO reputation management
Two-way SMS

or

Rhino Reviews: Best User-managed Reputation Management Solution

Custom pricing from $2,000 per project

Free reputation analysis
Personalized review response
Employee review monitoring

or

WebiMax: Best Reputation Management Provider for Multiple Locations

Custom pricing from $500 per project

Review monitoring
Content deletion
Positive content promotion

or

Go Fish Digital: Best Service for Search Engine Reputation Repair

Custom pricing from $10,000 per project

Negative content suppression
Google auto-complete improvement
Digital PR

or

Gadook.com: Top Reputation Management Service for Individuals & Sole Proprietors

From $750 per month

Third-party endorsements
Backlinks
Social media management

or

NetReputation: Best Reputation Management Service for Crisis Management

Custom pricing from $1,500 per project

Crisis management and planning
Reputation management
Public relations

or

Reputation Defense Network: Best Content Removal Specialists

Custom pricing from $10,000 per project

Guarantees results
Content removal specialists
Provides investigative and legal remedies

or
If you're not altogether clear about what reputation management entails, open the drop-down below. It explains the scope of managing your brand's online reputation and what to look for in a professional services solution.
Reputation management services monitor, protect, and improve your business' digital reputation. They do this by soliciting positive feedback from customers, performing search engine optimization (SEO) to promote a positive image of your company, and working to remove or diminish the impact of negative content.
Here are some of the main services and features you can expect from a reputation management company:
Review monitoring
Review response
Review solicitation and generation
Positive SEO
Reputation analysis
Reputation management
Social media monitoring
Social media management
Google Business Profile optimization
Business profile management on sites like Yelp and Trustpilot
---
We compared the pricing, features, scope of services, and (un-ironically) the online reputation of the service providers below. Depending on whether you need a robust general solution or have a niche use case to address, these are the best reputation management services for small businesses.
Thrive: Best Overall Reputation Management Service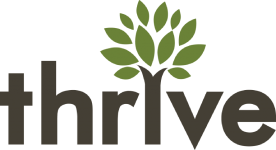 Pros
Full-service agency with robust reputation management services
Email and SMS review requests
Business listings management
Review monitoring and response
Comprehensive digital marketing solutions for website development, SEO, and more
Cons
Lacks client dashboard for monitoring performance
Agency focuses more on a wholistic approach rather than just reputation management
Thrive does not publish pricing for its services, but it will assess your digital footprint and provide a results-oriented custom package to fit your needs. According to online reviews, pricing starts at $1,000 per project. Here are some of the reputation management services Thrive offers:
Online reputation repair
Review response
Review monitoring
Review generation
SEO reputation management
Survey campaigns
Online product reviews management
Business listings management
Website development
Social media management
4.7 out of 5 stars on Clutch:
Reviewers note that the comprehensive services Thrive offers are effective and it improved overall lead generation and sales. Website traffic also increased with Thrive.
Some reviewers questioned whether Thrive staff could be more data-driven in the planning and execution of their campaigns.
4.9 out of 5 stars on UpCity:
Thrive clients noted the responsive nature of the staff and the quality of work Thrive produces.
Some reviewers noted it took a little longer than expected to see results from Thrive's efforts.
Thrive is an online digital agency that offers a robust digital reputation management service covering virtually every aspect of reputation management. Its service includes review response and monitoring, search engine reputation management on Google and Bing, and business listings management on sites like Google and Yelp. Because of the breadth of services offered, Thrive is our top choice for digital reputation management services.
In addition to reputation management, Thrive provides a complete digital marketing solution. The services include website development, social media marketing, and search engine optimization (SEO). The Thrive staff can also manage pay-per-click (PPC) campaigns on sites like Google, Bing, and Facebook. All services are priced on an a la carte basis, and Thrive will build a custom proposal based on your business needs.
For businesses just starting to build out their digital marketing campaign, Thrive might be the ideal solution. However, if you don't need a small business website or social media marketing, you can save money and choose a dedicated reputation management service like Rhino Reviews or NetReputation.
Thrive's reputation management services provide a customized approach to the needs of your small business. From helping you get reviews in Google to improving the positive impression of your business in organic search results, Thrive delivers solutions that work. To get started, request a custom proposal on its website.
Rhino Reviews: Best User-managed Reputation Management Solution

Pros
User-managed software plus expert-managed solution all in one
Custom campaigns
Review response on all platforms
Appeal negative reviews
Cons
Google review management is not ideal
Can be more expensive than comparable services
Rhino Reviews does not publish pricing, but online reviewers note projects starting at $2,000 per project.
Review management suite
Custom campaign creation
Personalized review responses within 24 hours
Google Business Profile creation and optimization
Business listings on multiple platforms
Competitive analysis
Employee review monitoring
Appeal negative reviews
5.0 out of 5 on G2:
Reviewers report excellent results and improved star-rankings across the board. No negative reviews have been entered.
Managing Google reviews and Google Business profiles can be somewhat challenging because the software doesn't always navigate Google's complex rules.
4.8 out of 5 on Clutch:
Users offer overwhelmingly positive reviews and note excellent performance from the software and the service.
Some reviewers noted projects took longer than expected to complete or to produce results.
Rhino Reviews combines the peace of mind of a fully managed reputation management service with the control and oversight of a user-managed software suite. Services range from setting you up on their platform to taking over and running your reputation management across the board. It offers an expert staff well-trained to monitor and respond to reviews, optimize your business profiles, and grow your digital reputation.
The company will also monitor and respond to employee reviews on sites like Glassdoor and Indeed, further improving your online reputation. In addition to reputation management, Rhino Reviews can also manage social media campaigns, which takes one more chore off your plate.
The biggest drawback of Rhino Reviews is the expense. While it doesn't publish pricing, customers report projects ranging from $2,000 to upward of $20,000. This is fairly standard for reputation management, but that price can freeze out some small businesses on a tight budget. For a cheaper alternative, choose Thrive.
Rhino Reviews enjoys a phenomenal reputation online—which kind of makes sense, if you think about it. It is, after all, a reputation management company. With a hefty slate of review management tools and services, it provides an effective and simple solution to digital reputation management. To get a free reputation analysis or to request a proposal, visit the Rhino Reviews website.
WebiMax: Best Reputation Management Provider for Multiple Locations

Pros
Managed solutions for multiple locations
Create or claim profiles on business directories
Positive content promotion
Content monitoring to delete or report negative reviews
Offers public relations services in addition to reputation management
Cons
Does not offer some reputation management staples, such as review solicitation or surveys
Lacks social media management
WebiMax offers custom pricing based on projects. While it does not publish pricing, clients report projects ranging from $500 to more than $20,000.
Content deletion
Review monitoring
Negative content removal or depreciation
Positive content promotion
Business profile creation
4.8 out of 5 on G2:
Flexible contracts that grow and contract with business needs, fast response times, and positive results are just a few of the benefits reported.
Content created can feel a little canned, while some users report higher-than-expected costs and longer time frames than desired.
5.0 out of 5 on Clutch:
Users report extremely positive review results coupled with increased lead generation and sales.
Clutch users offered no criticisms of the company or its services.
While WebiMax is far from a full-service reputation management provider, it nevertheless delivers a high-impact service to its clients. The WebiMax team establishes and maintains business profiles and reviews monitoring for each location of your business. Additional services include review deletion, positive content promotion, and the removal or diminishment of negative content and reviews on search engines.
WebiMax doesn't focus solely on reputation management, and bundling services can provide a more well-rounded online presence. It offers everything from SEO services to web design and even public relations (PR). These additional services make WebiMax a virtual one-stop shop for your online digital marketing needs.
It can take a little time to get your reputation management program up and running with WebiMax, according to some online reviewers. Also, the company isn't necessarily the best option for companies that need a more active and robust reputation management service across multiple platforms. For a more thorough solution, Rhino Reviews and Thrive are the better choices.
With flexible contracts and effective services, WebiMax makes a great choice for reputation management for small businesses that operate in multiple cities or with more than one location. Its team specializes in profile creation and management, and with a managed business profile for each location, customers can offer reviews targeted to specific locations, which bolsters your online presence. For pricing information, request a proposal from WebiMax.
Go Fish Digital: Best Service for Search Engine Reputation Repair

Pros
Negative search suppression
Content creation and promotion
Review monitoring and response
Social media monitoring
Search auto-complete improvement
Cons
Does not include client dashboard
Does not include business profile management or optimization
Go Fish Digital does not publish pricing and instead gives clients custom quotes. According to multiple online reviews, services range from under $10,000 to more than $50,000.
Negative content suppression
Content creation and promotion
Review monitoring and response
Social media monitoring
Google auto-complete improvement
Yelp management
Content marketing
Social media marketing
Digital PR
Email marketing
5.0 out of 5 on Clutch:
Clutch reviewers recount overwhelmingly positive relationships with Go Fish, including high-impact, successful campaigns, responsive client services, and remarkable communications.
No negative interactions were reported.
Go Fish Digital is a digital marketing agency that offers reputation management services. Unique among those services is the monitoring and improvement of Google auto-complete suggestions, which can greatly increase positive outcomes for Google search results. It also provides review monitoring and response, content creation and promotion, and social media monitoring so you can stay on top of your online reputation.
Supporting the company's reputation management efforts are services including email marketing, social media marketing, and digital PR. Go Fish Digital offers insights and support to grow your company's brand presence online. These additional services provide a well-rounded digital footprint, making Go Fish a good single source for almost all of your digital marketing needs.
There are some significant holes in the services Go Fish provides. Particularly missing are a client dashboard to track performance as well as claiming and managing business profiles on Google, Bing, and other websites. If you need a dashboard or want managed business profiles, choose Thrive or Rhino Reviews.
The ability to monitor and modify Google auto-complete suggestions is a powerful tool to improve a business' online reputation. Go Fish provides that ability, and it offers enough reputation management solutions to build a formidable product for clients. With fully managed review monitoring, content creation and promotion, and a focus on suppressing negative content, Go Fish can greatly improve your reputation.
Gadook: Top Reputation Management Service for Individuals & Sole Proprietors

Pros
Reputation management for individuals
Promotes direct interaction between you and others
Creates and manages social profiles
Transparent pricing
Month-to-month contract
Cons
Review management locked behind higher tiers of service
No dashboard for reporting
Gadook publishes pricing on its website based on the level of service you or your business needs. Pricing plans are as follows:
Level 1:
Cost: $750/month
Custom website design
Search engine optimization
Third-party endorsements
Facebook and Twitter publishing
Backlinks to your website
Statistics reporting and metrics
Level 2:
Cost: $1,000/month
Level 2 includes everything in Level 1 plus:
Social media profile creation
Link building service
Review verification
Rating categories
Level 3:
Cost: $1,250/month
Level 3 includes everything in Levels 1 and 2 plus:
Article marketing
Video creation and submission
Press release submission
Social media monitoring
Review management on multiple platforms
Gadook also offers custom-priced solutions that include dispute resolution, blogging services, and advanced website development and SEO.
5.0 out of 5 on Clutch:
With few reviewers, Clutch scored highly for working well with clients and having a knowledgeable team. Users report a higher search performance and improved online reputation.
No negative comments were reported, though one client noted the cost of service.
Gadook is an online reputation management service that specializes in working with individuals to improve their online standing. These services include review management, social media profile creation and posting, and press release submission. In addition, it offers article marketing, link building, and search engine optimization (SEO).
For individuals and sole proprietors looking for more, Gadook does offer website design and building services, as well as dispute resolution. The company will also create search engine marketing (SEM) and SEO strategies that answer more complex challenges, such as crowded industries or multiple businesses with the same name.
Though Gadook is good for individuals and sole proprietors, it may not be the best answer for your small business, especially if you need to address a specific situation, like review bombing or a negative customer experience that's gone viral. In the case of a crisis such as this, choose NetReputation instead.
With transparent pricing starting at $750 per month, Gadook is one of the more affordable reputation management solutions we reviewed. While many of its more advanced features, such as review management and social media marketing, are locked behind higher tiers of service, it is still a relatively affordable option for most small businesses. Contracts are month-to-month, so you can try Gadook relatively risk-free to make sure it's a good fit.
NetReputation: Best Reputation Management Service for Crisis Management

Pros
Dedicated crisis management service for when bad things happen
Manage and monitor Wikipedia to ensure accuracy and avoid negative spin
Reputation monitoring keeps you informed about your online profile
Cons
Results can take longer than promised
No client dashboard to track performance
While NetReputation does not publish its pricing, online reviews suggest a per-project cost ranging from $1,500 to more than $10,000. Here are some of the services NetReputation offers:
Crisis management service
Crisis planning
Content removal
Reputation management and monitoring
Review management
Public relations
Social media management
Google Business Profile management
4.4 out of 5 on Trustpilot:
Reviewers noted almost universally positive experiences, highlighting individual staff members by name and calling out the excellent results the company produced.
Some reviewers commented that NetReputation took longer than expected or failed to deliver anticipated results.
NetReputation is a reputation management company that offers dedicated crisis management services. This includes services for navigating an emerging crisis as well as crisis planning and recovery. Additionally, it offers more traditional reputation management services, like content removal, reputation monitoring, and review management.
Besides additional services like SEO and social media management, NetReputation can provide public relations support as needed. The company will also manage your Google Business Profile to optimize for search as well as to manage and monitor reviews.
While NetReputation delivers an exceptional array of services, it lacks a couple of features some business owners might desire. Specifically, it does not have a client dashboard to track performance. If you're looking for a more data-driven solution, Thrive and Rhino Reviews both include client dashboards.
If your small business is navigating a crisis, like negative review bombing or a viral customer interaction, NetReputation provides exceptional crisis planning and management services. You can avoid many crises with reputation monitoring and management. To get a free reputation consultation, all you need to do is answer a few questions on its website and let the company know what you're looking for.
Reputation Defense Network: Top Content Removal Specialists

Pros
Focuses on removing negative content
Provides legal services and investigations of negative content
Works to identify and stop cyberbullies
Guaranteed results
Cons
No review monitoring or management service; only addresses negative reviews
Lacks other core reputation management services like business profile optimization
Though Reputation Defense Network does not publish pricing, online reviews indicate projects start around $10,000. Here's what you get from the company:
Negative content removal
Negative content suppression in search
Positive content promotion
Online investigations
Stop cyberharassment
Qualified legal representation and investigations
5.0 out of 5 on Clutch:
Clients commended the company's skill and knowledge at removing or suppressing negative content. Also, several reviewers noted the importance of legal services.
Some reviewers noted the cost was higher than other services.
Perhaps the most unique aspect of Reputation Defense Network is the investigative and legal services the company provides. It employs a team of licensed attorneys who can pursue legal remedies to inaccurate negative content. Additionally, the Reputation Defense Network team utilizes more traditional reputation management techniques like search engine and review suppression to improve your online profile.
Additional services include the promotion of positive content. Also, another unique offering is the identification of the individuals or organizations responsible for cyberharassment. Leaning into the legal team, Reputation Defense Network can even help stop cyberbullying.
Though Reputation Defense Network provides an effective and unique set of services, it doesn't include many of the staples you may be looking for. One notable absence is a fully managed solution for online reviews. For small businesses attracting and promoting positive reviews, choose WebiMax or Go Fish Digital.
If your business is struggling to overcome inaccurate or malicious online content, Reputation Defense Network can help you correct your online profile. Its team of online experts and licensed legal professionals will attack negative content and fight for its removal. To get started, request a free consultation.
Visit Reputation Defense Network
How We Chose the Best Reputation Management Services for Small Businesses
To provide an accurate assessment of reputation management services for your small business, we examined more than 20 providers, taking a close look at the services and features each offered. We also leaned into our experience managing the online reputations for small businesses—expertise gleaned from more than 20 years in digital marketing.
Here's a breakdown of the areas we assessed:
General services: Almost all reputation management services we chose provided a relatively uniform set of core services. These include review management and generation, reputation monitoring, social media monitoring, and performance tracking. We looked at each provider's offerings as well as the results customers report in online reviews.
Niche services: Most providers in this space have carved out their position by offering unique, niche services. We considered each niche service's value and usefulness to small businesses and assessed them on their efficacy in online reputation management services.
Customer engagement: A significant factor in the success or failure of reputation management efforts is how well the provider works with the client. We pored over customer reviews to determine which providers worked best with customers—and therefore which delivered the best results.
Pricing: Because it is labor-intensive, reputation management services pricing is by nature more expensive than many other small business services. Nevertheless, we considered pricing as one of the key factors in determining which providers to include on this list.
Customer tools: Many providers offer tools customers can use to improve their reputation, track their reputation, and monitor the performance of reputation management efforts. We assessed the user-friendliness and value of these tools as we looked at each provider.
Frequently Asked Questions (FAQs)
The cost of reputation management services varies depending on a number of factors, such as which provider you choose, the services you need, the goals you set, and the state of your reputation when you get started. Generally speaking, reputation management companies price services on either a monthly or per-project basis. Project-based prices range from $1,500 to $10,000 or more per project, while monthly services will typically run you $1,000 or more.
---
The core components of online reputation management are review monitoring and response, reputation monitoring, negative content removal or suppression, content creation, and search engine optimization to emphasize positive content. Many reputation management companies provide additional services, like crisis management and recovery or social media monitoring and management.
---
The provider you choose should be based on what your needs are and what you can afford. First, take a close look at the kinds of issues you are looking to address and ask yourself which services will best address those issues. If you need help staying on top of reviews or gaining more reviews, select a provider that specializes in review management. For companies in a crisis, such as negative review bombing or a viral customer interaction, choose a provider that has experience navigating crisis management.
---
Bottom Line
Reputation management services vary in quality, the issues they address, and cost. Choosing the right provider to protect and grow your online reputation is an important decision, and to make that choice, you should carefully consider what your needs are and how much you can afford to pay. Our overall best choice for reputation management is Thrive, which provides a wide array of online marketing services, including reputation management.