Imagine performing a Google search for your business and it comes up with five competitors—all of which have dozens of glowing Google reviews. If you're like a lot of small businesses I've worked with, chances are you didn't have to imagine. You just had to remember. I call it "review envy."
Getting positive reviews on Google is a challenge, because there isn't a silver bullet. No one technique will garner the gushing praise you desire.
Yet, the more positive reviews you have, the higher your ranking will be in the search engine results pages (SERPs) and the stronger your online brand presence. So, putting in some time, effort, and maybe even some money could be the key for getting those Google reviews you want so badly.
Here are more than a dozen tips to help you get more Google reviews for reputation management, higher rankings, and more:
1. Ask Your Customers for Google Reviews
This might seem obvious, but have you asked your customers to leave reviews? After all, they are the best qualified to review your business. Even so, I'm never surprised when a business neglects to encourage customers to leave positive reviews because they're embarrassed or worry that it's an inconvenience.
Many customers won't mind taking a few minutes to help a business they patronize, though. All you have to do is ask.
Some business owners choose to ask family and friends to leave positive Google reviews for their business, products, or services. This can work, but Google usually can detect such reviews. So, honesty is the best policy. Be sure you only ask for reviews from those who have made a purchase from you.
2. Get a Free Marketing Kit From Google to Get More Reviews
If you have a Google Business Profile and verified account, you can get a free Google Marketing Kit. It includes digital and printable Google-branded collateral for promoting your business online and off, including tools to help you get more Google reviews.
Your free Google Marketing Kit will come with various tools and resources like printable posters, flyers, and cards with a quick response (QR) code that leads back to your reviews. You can add this QR code to email newsletters, your website, social media profiles, and marketing materials to send happy customers straight to your Google page to leave a review. For more details on QR codes, read the section below.
3. Get Google Reviews Using QR Codes
A QR code is similar to a barcode on a product. When your customer scans the code with the camera on their smartphone, the web address linked to the QR code automatically opens in a browser window. Add QR codes linked to your Google reviews page to your small business website, customer emails, digital receipts, and social media profiles. Also place QR codes on offline marketing materials like postcard mailers, brochures, business cards, or posters.
You can generate and download a QR code that links to your Google reviews page for free on VistaPrint. Simply go to vistaprint.com/qr-code-generator and click on "Create QR code." Next, indicate what you want to happen when the QR code is scanned (e.g., "leave a review") and enter the URL for your Google reviews page.
Then click on "Create QR Code," and VistaPrint will generate a QR code image that you can download or continue customizing. Once you're happy with the image, click the Download button to get a ZIP file with your code's image.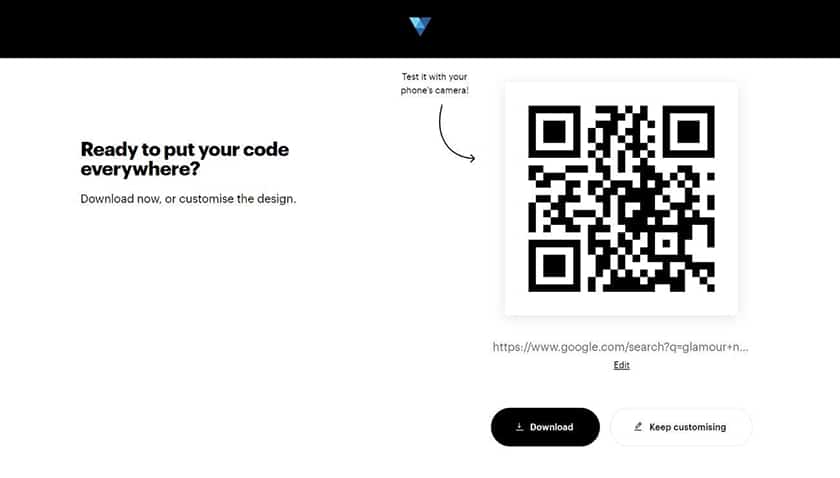 ---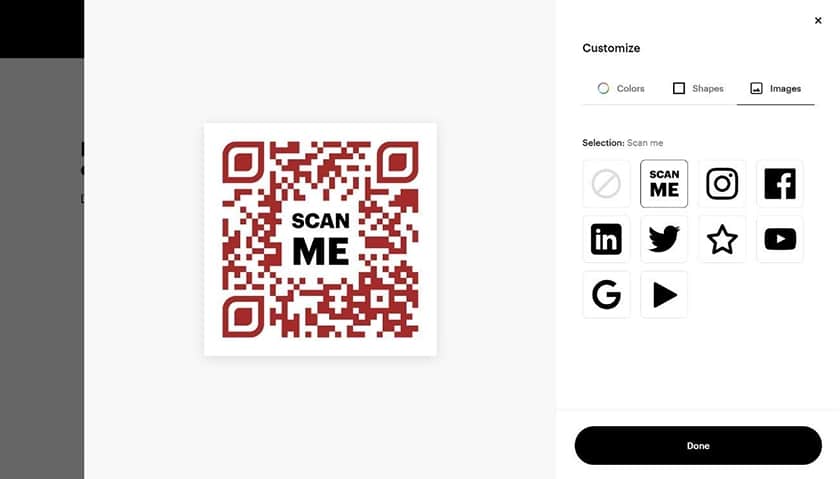 ---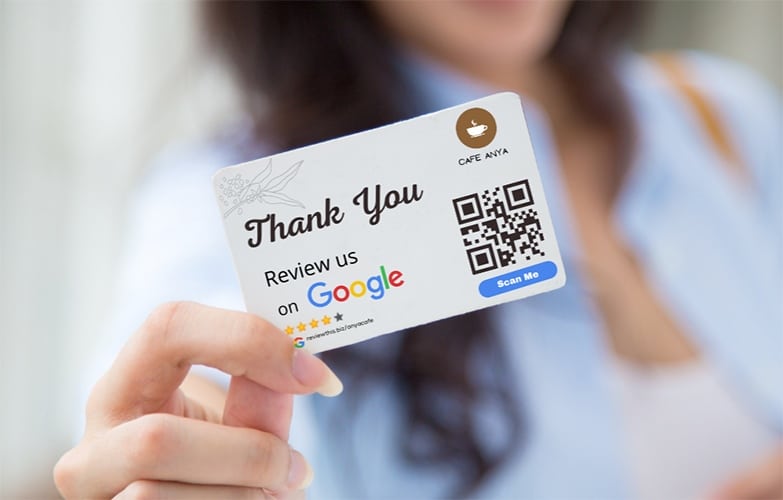 ---
VistaPrint, our top pick for best direct mail service and best place to get free business cards, makes it super-easy to add a QR code to your marketing materials (and super-affordable to print). Add them to your business cards, invoice forms, or thank-you postcards to get more Google reviews from satisfied customers after each transaction.
4. Send Thank-you Notes Inviting Reviews on Google
Taking the time to send a thank-you card is a proven way to build customer loyalty and improve your chances of getting word-of-mouth recommendations, including Google reviews. You can make it easy for your customer to follow through and leave a review for your business by including a QR code or a shortened link, which you can create for free on sites like bitly.com.
5. Ask for Google Reviews on Receipts
Placing a polite request for a Google review on your receipts is an easy way to ask every customer to leave a review. Include this request whether you're giving a printed, emailed, or SMS receipt. Be sure to use a short URL generated via bitly.com or add a QR code to make it easy for your customer to take action.
6. Increase Google Reviews With Automated Transactional Emails
One of the best times to prompt a customer for a review is right after a purchase, and you can do this with transactional emails. Transactional emails are emails sent automatically following a transaction, such as a sale, site visit, abandoned cart, and so on.
Schedule an email marketing campaign to automatically send customers an email requesting a review on Google at a set time period after a purchase. For example, you could set it up to go out three days after an in-store purchase or delivery of an online order or one to two hours after a purchase in the case of businesses like restaurants or salons.
Aside from sending an email campaign, another simple tactic is to include a link to your Google reviews page as part of your professional email signature. This way, whenever you send an email, your customers will see the link and be reminded to leave a review for your business on Google.
7. Link to Google Reviews on Social Media
Positive Google reviews make great content for social proof. Whenever I'm trying to build up Google reviews, I make sure to share new reviews in the business' newsfeed. Potential customers see the review and trust in the business grows. Existing customers also see the review, and it serves as a reminder for them to leave their own.
Additionally, occasionally posting your review link on social media is an excellent way to encourage new and long-time customers to provide feedback. Whether you're sharing positive feedback you've received or encouraging your clients to leave a review of their own, social media can help amplify the reach of the reviews you receive.
8. Respond to Google Reviews as Quickly as Possible
A BrightLocal survey revealed that 87% of consumers read online reviews before making a purchase. Good, bad, or otherwise, online reviews help drive buying decisions. You're not likely to get glowing reviews from every customer, but that's OK, since you can still shape the narrative simply by responding to reviews.
It's important to respond to positive and negative reviews alike as soon as possible. At the very least, doing so shows there's a real person behind the business and logo, which can help build trust. You can even make it up to a customer who's upset with their experience and turn the negative feedback into a positive review. Plus, in the ReviewTrackers survey, 45% of customers said it makes a difference when businesses respond to negative reviews.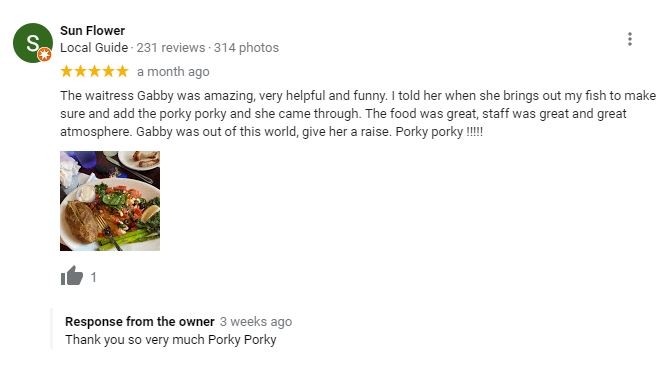 ---

---
How to Respond to Fake or Inappropriate Reviews
Occasionally someone will leave a fake review of your business that is negative, spammy, and inappropriate. You can request that these reviews be removed, which will help you ensure your overall rating is not negatively affected by reviews that shouldn't count.
Specifically, Google prohibits the following in reviews:
Inappropriate civil discourse: This includes harassment, hate speech, offensive content, and revealing personal information (aka "doxxing").
Deceptive content: Content that falls into this category includes fake engagement, impersonation, misinformation, and misrepresentation, such as someone purporting to be a customer who is not.
Mature content: This applies not only to sexually explicit or adult-themed content, but also to violence and gore, obscenity, and profanity.
Regulated content: You can ask for reviews to be removed if the content is restricted (e.g., restricted substances or products like alcohol or weapons or proprietary content like menu images and pricing information). This also includes content deemed to be dangerous, illegal, and endangering to children, as well as terrorist content.
Low-quality content: This includes off-topic content, advertising, solicitation, spam, gibberish, and repetitive content.
For more details, go to support.google.com. If you spot a review that falls into one of these categories, you can reach out directly to the reviewer, asking them to remove the post. If that doesn't work, you can tweet to the handle @googlesmallbiz on X (previously Twitter) with the request to remove it or formally report content for legal reasons.
9. Use Website Pop-ups to Ask for Feedback
Using pop-ups to ask for feedback after a customer makes a purchase from your online store can be an effective way to get more Google reviews. If a customer was inspired to purchase an item or service from you, they might already have an opinion on their experience, and it's a great time to say thanks and ask them to share their experience.
10. Embed Google Reviews on Your Website
Whenever I'm building a website for a small business, I always try to incorporate Google reviews into the website copy. Embedding Google reviews on your website allows customers to see what others have experienced with your company. Additionally, seeing positive reviews on your site can help convince potential customers to choose your business because positive customer feedback inspires trust.
Adding Google reviews to your website can even benefit your search engine optimization (SEO) efforts. It's also an automated way to regularly update content and encourages visitor engagement. For example, when someone finds the reviews on your website, they are likely to read them. This increases how long they spend on the page, which also improves your site's ability to rank higher on Google.
While Google doesn't have a widget for embedding reviews, you can easily embed Google reviews with a tool like Elfsight's Google Reviews Widget. Set up the widget with your preferred template and customize it with your brand colors, fonts, and display preferences. When you're ready, you can embed it into just about any website, including Shopify, Wix, Squarespace, WordPress, OpenCart, and many other web content management systems (CMS).
11. Request Google Reviews in Lieu of Gratuities
Some businesses in industries where employees generally rely on tips as part of their wage (e.g., restaurants, salons, and so forth) opt to pay higher hourly wages and salaries in lieu of allowing customers to leave gratuities or tips. If this applies to your business, use in-store signage to spread the word that staff members can't accept tips but would love for customers to leave more Google reviews instead.
12. Create a Google Review Instruction Video
You may have customers willing to write reviews for your business but aren't sure about the best way to do it. Promotional videos are a great way to market your business, and you can even create instructional videos on how to write a Google review.
Videos like these can help prospects and customers learn more about your business and how to leave feedback that benefits your company. Once your instructional video is ready to share, you can embed it on your site, post it on social media, or send it via email.
If you have no experience creating videos, Fiverr is the best place to find professionals who will do the job for you. For as little as $25 to $50, you can get a whiteboard or animated video from a freelance pro. In addition, if you need help writing your script, you can hire an affordable copywriter for this on Fiverr, starting as low as $5 to $25.
13. Don't Try to Get Google Reviews the Wrong Way
As tempting as it is to offer a discount for reviews or purchase reviews as a shortcut—don't. Incentivizing customers to leave reviews goes against Google's policy. Your profile could be suspended or removed as a result. It's also against Google's policies to have employees leave reviews for your business.
14. Use Reputation Management Services & Tools
Using professional reputation management services and tools could be the most cost-effective strategy to get more Google reviews. This can be especially true when you factor in the time and resources you'll need to execute the strategies above.
Here are some of the best reputation management tools for getting more reviews on Google, Facebook, Yelp, and more:
Monitor all your Google, Yelp, and other reviews in one place

Use social listening and other

social media AI

tools to monitor your brand's reputation online

Get expert help with reputation and reviews solicitation and management

Starting from $29/month

30-day free trial; plans from $249/month

Free plan; paid plans from $13/month

From $5 per project
Getting Google reviews is just one aspect of search engine marketing (SEM). See what else you can do to improve your rankings on Google, drive more traffic to your website, and grow your business with our SEM guide. Also, leverage both online and offline website marketing strategies to grow your brand's presence.
Where Google Reviews Show Up & How to Use Them
Google displays customer reviews in four prominent places, each of which appears as the result of different kinds of searches. Google weights reviews heavily in its local business search, displaying businesses with positive reviews higher than those with negative reviews or no reviews at all. Here is where Google displays reviews and why they are important:
In the "map pack": The Google map pack (aka "3-pack") is the cornerstone of Google local search. It's the selection of three local businesses that display with a location finder at the top of search results when a user enters "near me" as part of their search. Google displays a star ranking in the map pack, and this ranking is the user's first impression of your business. The more positive reviews you have, the higher your star ranking.
In your Google Business Profile: Many times a user will search your business by name. This will typically bring up your Google Business Profile, where users can find your contact information, hours of operation, and your customer reviews. Displaying positive reviews in your Google Business Profile will increase customer trust and improve the likelihood that they choose to do business with you.
In Local Services Ads: Google Local Services Ads are paid placements that appear at the top of SERPs when users search for the keywords you've chosen to advertise for. Google incorporates your business' reviews through the inclusion of a star ranking, and it gives users a single click to get to your reviews page.
In search results: Depending on the kind of business you operate and the search results Google displays, it occasionally includes the most recent reviews your business has received in the organic search results. This means potential customers are seeing reviews before they ever visit your reviews page or click on the link to your website. The better the reviews they see, the more likely they are to engage with your search result.
5 Ways to Use Positive Google Reviews
Positive Google reviews don't only help your search engine optimization (SEO) efforts and drive customers your way when they search. You can put them to use in other ways as well. Here are five ways you can use Google reviews to help grow your business.
On your website: Incorporate positive reviews into landing pages and product pages to highlight the value of your products or services. This reinforces your customer's interest at their peak moment of need and increases the likelihood they'll convert to a sale.
On marketing materials: Whenever you're making a brochure, flier, or even a business card, you can use positive Google reviews to reinforce your brand's image to potential customers. They'll see the review as an endorsement of your business, making them more likely to choose your brand when they decide to become a paying customer.
During client consultations: Prospects frequently ask questions about products and services, and if you stay on top of your Google reviews, you'll have an arsenal of happy customer feedback to share during these consultations. Imagine the power of answering a question about product quality with what actual buyers had to say about it.
Displayed in your business: Make business signs to display positive reviews, particularly around products that might be helped with social proof. If you're a web-based business, you can create web banner ads and graphics to highlight glowing reviews. It not only improves the chances a potential customer will make a purchase, but it also encourages new customers to leave reviews of their own.
In your ads: Nothing sells a product better than a happy customer. That's why including positive reviews in your advertising efforts can greatly increase the effectiveness of your marketing budget. Potential customers see each review as an endorsement of your products or services, and this increases the chances they'll become your customers.
Google Reviews Statistics: Why Getting Reviews Matters
Positive online reviews can significantly impact your business' bottom line. According to a study by BrightLocal, 46% of consumers trust online reviews as much as personal recommendations. What's more, review sites are the third-most trusted source of information for consumers when making purchasing decisions.
Here are some statistics about Google reviews to keep in mind:
​​These statistics underscore the importance of online reviews and show why you should increase your Google reviews. The more positive reviews you have, the more likely customers are to trust your business, choose, and refer your services.
Frequently Asked Questions (FAQs)
The Google Review Policy states that fake reviews are not allowed, and you can report them to request they be removed. To do so, follow Google's step-by-step guide on removing reviews. Also, keep in mind that you can use a review monitoring tool like Podium to help you keep track of your reviews and report any spammy ones.
---
It's not clear exactly how many you need, but recent reviews make it more likely that your business will appear in Google Maps and on search results. To continually reap the benefits, you'll need to have a strategy in place for continually generating new reviews. Make sure you're routinely reaching out to customers when they interact with your business while their experience is still fresh and they're more likely to leave reviews.
---
One of the most important factors in local rankings on Google is claiming your Google Business Profile. You can also search for keywords that reference your locale and use them to optimize your website's content to help with local SEO. In addition to optimizing your site for local search, getting Google reviews directly impacts your ranking, as does getting backlinks from high authority sites.
---
Bottom Line
Google reviews not only inspire repeat and new business, they also improve your website's SEO. As a result, increasing your reviews on Google, can, in time, drive your business to the top of rankings. To monitor your brand's reviews and reputation online, try BrightLocal. For $29 a month, you can gain and manage Google reviews to put your company in the best position to win more business.