A secured credit card is a credit card backed by a deposit and helps your business establish or rebuild credit. For example, business owners with a poor credit score or limited credit history will find it easier to qualify for a secured credit card when compared to an ordinary business credit card. We chose Wells Fargo's Business Secured Credit Card as the best.
In this article, we will help you decide if a secured credit card like Wells Fargo's is right for your business, including qualifications such as minimum credit score. If your credit score is under 640, a secured business credit card may help you build your score. If your credit score is above 640, you may be able to qualify for an unsecured small business credit card. 
Check Your Credit Score for Free Here
Wells Fargo's Business Secured Credit Card helps business owners with damaged or unestablished credit  build their credit while earning rewards. The annual fee and rewards program fee are a bit on the high side, but that's common with secured credit cards. You can benefit from a relatively low APR and access to a high credit line. We're covering only the Wells Fargo card because it's the only secured business credit card that's available nationwide.
Wells Fargo Business Secured Credit Card

Card Type

MasterCard Secured Business Credit Card

How Do I Apply?

Credit Check Required?

Yes, but those with poor credit or no credit score can qualify.

Credit Line / Security
Deposit

$500 to $25,000. Your credit line is the same as the amount that you deposit in your collateral account.

Rewards Program

Yes, but

enrolling in rewards costs $50 per year

(waived in first year). When enrolling, choose

Rewards Points:



1 point for every dollar spent with no limit


1,000 bonus points every month the company spends $1,000 or more on the account.




Or Cash Back:



Unlimited 1 % cash back, automatically credited to your Wells Fargo business credit card account or business checking account.


$10 cash back bonus every month the company spends $1,000 or more on the account.



APR on purchases

Currently 13.4 % (Prime + 9.90 %)

Balance Transfers

Not permitted on this card.

Employee Cards

Get up to 10 employee cards, each carrying a fee of $25/year

Annual Fee

$25 per card

Foreign Transaction Fee

None
What is a Secured Credit Card?
A secured business credit card is a revolving line of credit offered to your business by a bank and is designed for business owners who can't qualify for unsecured business credit cards due to bad or limited credit history. The credit limit offered by the bank is not related to your credit score and credit history like a traditional unsecured credit card. Instead, the credit limit directly reflects a cash deposit that you place with the bank in exchange for the card.
Many business that have been turned down for an unsecured business credit card can qualify for a secured credit card. Because you have to put up a security deposit in a "collateral account" connected to the card, the lender has a guaranty that they will be able to collect what is owed to them, meaning they can accept riskier borrowers.
An alternative to secured credit cards for those with poor credit is to use a prepaid debit card. However, prepaid cards cannot help you build credit, and you must use caution because many of them are riddled with fees. If you are considering the prepaid route, we like the Bluebird card from American Express because it has the lowest fees.
Secured vs. Prepaid Credit Cards
While a secured business credit card might seem similar to a prepaid credit card there are significant differences.
With a prepaid credit card you load the card with a specific amount of money. When you use that card for a purchase, the transaction amount is deducted from the balance you loaded onto the card. Secured Business credit cards work differently.
The deposit you place with a secured business credit card is not used to pay cover your monthly charges (unless you default on your payments). Instead, you pay the lender monthly, just like with a traditional unsecured credit card, to cover your monthly charges. If you do not pay the monthly balance in full, the balance will carry over into the following month and you'll continue to be charged interest on the balance.
Because the lender is actually extending you a line of credit and you're making payment on the line of credit, the lender reports your activity to the credit bureaus. So, by making timely payments every month on a secured business credit card and keeping your utilization no higher than 50% of your credit limit, you can expect to add positive information to your credit report every month. In doing so, you'll be taking step to build or rebuild your credit score with the goal of eventually graduating to a traditional unsecured business credit card.
Why We Recommend Wells Fargo's Secured Business Credit Card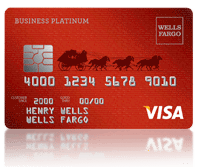 We like the Wells Fargo business secured credit card because it has a rewards program, a low APR, and a substantial credit line, all of which are atypical for a secured credit card.
To begin with, there are several secured consumer credit cards, but Wells Fargo is one of the few banks offering a secured business credit card. Having a secured business credit card is important for a couple different reasons. First, it can help you establish or build up your business credit score (in addition to your personal credit score), which comes in handy when applying for a business loan. Second, a secured business card helps you separate your business and personal expenses because it can only be used for business purposes.
The terms for this Wells Fargo card are pretty favorable for a secured card. Wells Fargo gives you the option to pay $50 per year (waived the first year) to enroll in its rewards program. Once enrolled, you can choose to earn either rewards points or cash back, redeemable for gift cards, travel, and more. The APR on this card is currently 13.4%, significantly lower than the 16% average for secured credit cards. Lastly, you can get a credit line as low as $500 and as high as $25,000, depending on how much cash you have on hand to deposit.
On the downside, you have to pay both an annual fee of $25 per card and an annual $50 rewards fee if you want to earn rewards or cash back. That can be tough for a small business that is already struggling from poor credit, especially one that's planning on issuing several employee cards. However, if you spend enough on the card each year, the rewards points/cash back will offset the fees. If you're diligent about making timely payments, you can eventually graduate to an unsecured card, which offers many more perks than a secured card.
How to Apply
You can apply for a Wells Fargo Secured Business Credit Card by phone or in person at a Wells Fargo branch. You can learn about Wells Fargo and our other top picks for small business checking accounts in our article when you click here.
When you apply, you must provide both your SSN and your EIN if your business has one. Wells Fargo will pull your personal and business credit history. Even though they do a credit check as part of the application process, Wells Fargo doesn't require a minimum credit score to qualify for the secured business credit card.
Wells Fargo reports payments on this card to both the consumer and business credit bureaus. If you regularly make timely payments, you can boost both your personal and business credit score.
Credit Line/Security Deposit
Secured credit cards require an initial deposit that becomes the basis for your credit line. The credit line on a Wells Fargo secured business card can range from $500 to $25,000.
When you open a secured business credit card, Wells Fargo will open an associated collateral account for you. The initial deposit in your collateral account will be your credit line. For example, if you deposit $1,000 in your account, your monthly credit limit will be $1,000.
Make sure you choose your deposit amount carefully. If you want to add more funds later, this will be treated as a request to increase your credit line and requires a second credit check. If you want to withdraw funds from the account, this will be treated as a cash advance and subjects you to a higher 24.24 % APR.
Rewards Points/Cash Back
These days, most people won't even consider an unsecured credit card if doesn't offer a rewards programs. Now, secured cards are catching on to the trend. For a $50 annual fee that's waived the first year, you can enroll in Wells Fargo's Business Rewards Program. That fee covers the primary cardholder and all employee cards on the company account. Once enrolled, you can choose to earn either rewards points or cash back.
Cash back means that you earn $1 for every $100 spent on the card. Points means you earn 1 point for every $1 spent on the card. We recommend choosing points over cash back for this card because it offers more flexibility. You can redeem points for gift cards, hotels, travel, or if nothing strikes your fancy on the rewards catalogue, trade in your points for a statement credit.
Wells Fargo offers Bonus points or cash back for customers who regularly use the card. Every month that your company as a whole (including all employee charges) spends at least $1,000 on the card, you get 1000 bonus points or a $10 cash rewards bonus credited to your business card account or deposited to your eligible business checking or savings account.
There are two caveats to choosing points, however. The first is that their value will vary based on what you redeem them for (e.g. gift cards, travel, etc.). The second is that Wells Fargo business rewards points expire after 3 years, but cash back never expires.
If you're looking for an ordinary, unsecured credit card with a fantastic points program, check out Chase Ink and Amex business credit cards.
APR 
It is always wise to pay off your credit card balance in full every month. This goes for everyone but is especially advisable for someone who's trying to rebuild their credit with a secured card. If you must keep a balance, then it's wise to pick a card with a low APR.
APR is the cost of borrowing money on your credit card. The APR for Wells Fargo is currently 13.4 %. The APR on purchases for this card is calculated by adding the Prime Rate (currently 3.50 %) and 9.90 %. At 13.4 %, the APR is actually quite low compared to what some business credit cards, such as Capital One Spark cards, charge. Even our recommended card, Chase Ink Plus, charges more interest. This is a clear benefit of the Wells Fargo Secured Business Card; when you're trying to repair credit, the last thing you want to deal with is a high interest rate.
Since the APR of this card is pegged to the Prime Rate, it can change based on market conditions. Credit card interest rates have fallen over the last few decades. While there's no guarantee this trend will continue in the future, there's usually not a whole lot of variation from year to year.
Remember that your regular APR can change under other circumstances too. If you're late with a payment, you could face a higher penalty APR. If you withdraw cash using your credit card (cash advance) or withdraw over your credit line (overdraft), you may be subject to a higher APR and other fees. Always review your cardholder agreement carefully, so you understand your APR. Business cards are not covered the the Credit Card Accountability Responsibility and Disclosure Act (or CARD Act) , which regulates interest rates on consumer credit cards.
Wells Fargo Secured Business Card does not allow balance transfers. A balance transfer can help people with credit card debt lower their monthly payments by moving their debt to a low or no-interest credit card. Capital One Spark cards are the best options for balance transfers, but you need excellent credit to qualify.
Annual Fees and Foreign Transaction Fees
Unlike APR, which only affects you if you carry a balance, annual fees and foreign transaction fees affect all cardholders.
The Wells Fargo secured credit card charges an annual fee of $25. This is on top of the $50 fee that is charged for the rewards program. While this seems high, if you charge at least $7,500 per year on your card (giving you $75 of cash back), this offsets the annual fee and rewards program fee.
Secured cards typically carry an annual fee of around $20 – $40. Some consumer secured cards (see list here) don't carry fees, but they won't help you with establishing business credit.
This card does not have a foreign transaction fee, making this a good choice for business owners who travel frequently.
Employee Cards
If you have employees, you may want to issue a credit card to them to use for business purposes.
Wells Fargo will issue you up to 10 employee cards (the card does not say "secured" on it). Your credit line will be allocated among your employees, and you must call Wells Fargo to specify the spending limit on each employee card.
For each employee card, you must pay a $25 annual fee. However, the $50 annual rewards fee covers all cards on the company account. All employee expenses generate rewards points/cash back for your company. For instance, if your employees together charge $1000 to the card in one month, your account gets $10 cash back or 1000 points.
Other Secured Business Credit Card Options
While Wells Fargo is our recommended provider of secured business credit cards, they are not the only lender to offer them and they might not be the right provider for everyone. Two other companies worth looking into are First National Bank and BBVA.  
If you need a larger credit limit on your secured business credit card we recommend First National Bank. Their secured business credit card offers limits as high as $100,000. You're required to put down a deposit of 110% of your credit line and the card come with an annual fee of $39.00 and an APR of 18.24% (14.74% above prime).
BBVA for Free Rewards Program
If you concerned with earning rewards by using your secured business credit card, consider BBVA. They enroll you into their rewards program for free and you can earn 1 Compass Rewards point for every $1 you spend. The card also requires a deposit of 110% of your limit and comes with an annual fee of $40 (waived for the first year) and an APR of 16.40% (12.99% above prime).
Low Credit and Bad Credit Business Loan Options
Secured business credit cards are a great option for business owners looking to build or reestablish their credit. Those with good credit would do better with a traditional business credit card. However, because they require a deposit as large as (or larger than) the credit line they give you, they are not helpful if you're looking for a loan. If your credit isn't great and you're looking to borrow money without putting down a deposit, these lenders will be a much better option than a secured business credit card:
OnDeck
Kabbage
Fundbox
Minimum
Credit Score
500
550
N/A
Minimum Time in Business
1 Year
1 Year
6 Months
Maximum
Loan Amount
$500,000
$100,000
$100,000
Term
Up to 3 years
Up to 1 year
Up to 12 Weeks
Expected APR Range
30% - 50%
40% - 80%
38% - 54%
Approval Time
Same Day
Same Day
Same Day
OnDeck.com
Kabbage.com
Fundbox.com
The Bottom Line
If you have damaged credit of limited credit history but funds available to put towards a deposit, you're the ideal candidate for a secured business credit card. Wells Fargo's secured business credit card can help you establish or rebuild business credit, and it features a relatively low APR, high credit line if you deposit a matching amount, and a rewards program.
If you're looking for a loan rather than a credit card that is secured by a cash deposit, read our guide on bad credit business loans or exmplore other small business financing options. 
If you're being held back because old or inaccurate information is showing up on your credit report, or if you want some hands-on guidance to rebuilding your credit score, consider working with the professionals at My Credit Group. Read why they're our recommended credit repair company here or speak with them directly.