This article is part of a larger series on VoIP.
Bluetooth-enabled or wired headsets compliment your voice-over-internet-protocol (VoIP) phone system by providing better sound for users and callers. Top-rated VoIP headsets deliver clear audio quality with noise cancellation for distraction-free calling. However, talk time, comfort levels, and price vary among devices. To help you find the right fit, we've identified the best VoIP headsets:
Best VoIP Headsets at a Glance
VoIP Headsets

Starting Price

Key Features

Wired/Wireless

Our Rating

Poly Voyager 4220 UC

$138.95

HD voice
Noise-canceling microphone
12 hours of wireless talk time

Bluetooth

4.83 out of 5

Jabra Evolve 75

$314.40

100-foot range
Active noise cancellation (ANC)
18 hours of wireless talk time

Bluetooth

4.58 out of 5

Sennheiser MB 660

$369

Battery lasts 15 days in standby mode
82-foot Bluetooth range
30 hours of wireless talk time

Bluetooth

4.20 out of 5

Logitech H600

$73

Noise-canceling microphone
USB nano receiver included with the headset
Lightweight design

Bluetooth

4.05 out of 5

Poly CS540

$209.99

400-foot range
Multiple wearing options
7 hours of talk time

DECT (Digital Enhanced Cordless Telecommunications)

3.94 out of 5

Jabra Biz 2400 II

$199.50

Filters out loud noises over 118 dB
HD voice
Rotatable boom arm

Wired

3.93 out of 5

Microsoft LifeChat LX-6000

$69.99

Noise-canceling microphone
Ergonomic design
Easy-to-use microphone controls

Wired

3.85 out of 5
Poly Voyager 4220 UC: Best Overall VoIP Headset
What We Like
Shorter charge time compared to Jabra, Logitech, and Sennheiser models
Red LED (light-emitting diode) on-call indicator light
Mobile app for managing device settings
What's Missing
Lacks advanced active noise cancellation (ANC) features
Heavier than Logitech and Poly CS540 models
Doesn't come with a hard case for travel
Pricing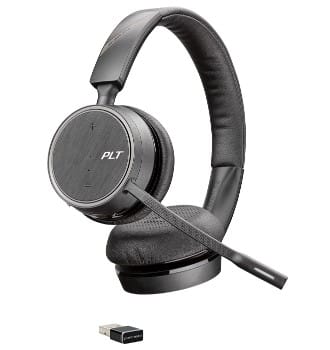 The Poly (formerly Plantronics) Voyager 4220 UC is a well-rounded, reasonably priced Bluetooth headset. It earns the highest ratings because it's easy to use and automatically turns on and pairs with your device once you put the VoIP headset on. You won't need to worry about a dead battery during a call, as the Poly Voyager 4220 UC has a 12-hour talk time and 13 days of standby time.
If you prefer to move around while working, this wireless headset has a range of 98 feet, less than Poly's DECT model, yet more than Sennheiser MB 660 and Logitech H600. You don't have to worry about compatibility issues, as it works with most business phone systems, including RingCentral, 8×8, and Avaya.
The Poly Voyager 4220 UC is comfortable with plenty of cushioning on the headband and earcups. Although it's more expensive than our wireless budget pick (Logitech H600), it offers double the talk time and charges quicker. However, it lacks active noise cancellation (ANC), so if you have a lot of ambient or environmental background noise during calls, you may prefer the wireless Jabra Evolve 75 or the wired Jabra Biz 2400 II.
Poly Voyager 4220 UC Features
Mobile app: The Poly Hub mobile app for iOS and Android devices shows headset and battery status. Update your device firmware and manage settings for mute alerts. It also has a "Find MyHeadset" feature, making your headset emit an audible tone.
Speaker and microphones: Like other VoIP headsets, the Poly Voyager 4220 UC provides sound leveling protection by filtering loud noises above 118 dBA (A-weighted decibels). The dual-microphone includes unidirectional and omnidirectional sensors, and the speaker has a range of 20 hertz (Hz) to 20 kilohertz (kHz).
VoIP headset controls: The right earcup has a dial adjuster, controls, and a micro USB (universal serial bus) port. Unlike the Jabra Evolve 75, the Poly Voyager 4220 UC has media navigation controls on the earphones, allowing you to pause and play music.
Jabra Evolve 75: Best VoIP Headset for Multidevice Connectivity
What We Like
Has passive and active noise cancellation
The "Listen-in" ambient button lets you hear your surroundings
Offers Bluetooth and USB connectivity
What's Missing
Doesn't have a mobile app like Poly models
Lacks music navigation controls
More expensive than other call center headsets
Pricing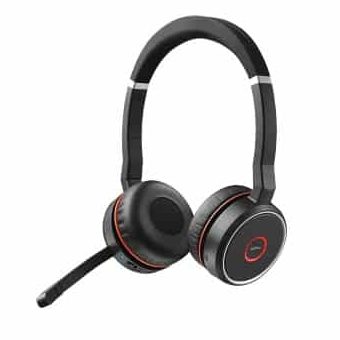 While other wireless headsets let you switch between devices, the Jabra Evolve 75 can connect up to two devices simultaneously. It remembers up to eight paired devices and works well for call center agents or busy office professionals using a unified communications platform. Like the Poly Voyager 4220 UC, the Jabra Evolve 75 automatically pairs with your device upon powering it up. It also has an LED light to let others know when you're on a call.
This top-rated Bluetooth headset has leather-like earcups and a padded headband, making it comfortable for an entire shift. If you need to hear what's going on around you, there's no need to remove the headset. Instead, touch the left earpad button to listen to your surroundings, and you'll only hear the audio in your right ear.
However, the Jabra Evolve 75 is expensive compared to the Poly Voyager 4220 UC or Logitech H600. If you need a call center headset without stereo-quality sound for music, the Logitech H600 is a less expensive option. In contrast, the cheaper Poly Voyager 4220 UC provides excellent stereo and mono sound.
Jabra Evolve 75 Features
Noise cancellation: Eliminate low-frequency sounds with Jabra Evolve 75's advanced microphones. It has both passive and active noise cancellation features, reducing office and environmental noises.
Compatibility: The Jabra Evolve 75 UC model is Zoom-certified, whereas the MS model is certified for Microsoft Teams. The call center headset works with over 10,000 conventional desk phones and small business VoIP services, like RingCentral, Dialpad, Google Voice, and 8×8.
Battery and range: With up to 18 hours of talk time with ANC off or 14 hours with it on, you won't need to worry about low batteries during a shift. It charges in 120 minutes or less and keeps its charge on standby for 15 days. In addition, you can move up to 100 feet away and stay connected to your devices (and callers).
Sennheiser MB 660: Best VoIP Headset for Talk Time & Sound Quality
What We Like
Three digital microphones with SpeakFocus technology (zooms in on the voice)
Plush earcups
Highest audio quality and adaptive ANC
What's Missing
Most expensive VoIP headset
Heaviest headband and earmuffs at eight ounces
Doesn't work with office phones
Pricing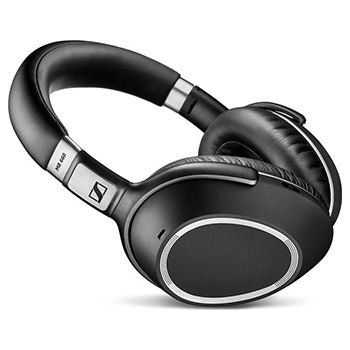 The Sennheiser MB 660 is built for business executives with premium speakers and design elements. It stands out for its 30-hour talk time, 12 hours more than Jabra Evolve 75, and 24 hours more than the Logitech H600. You can put the headset on and block out most sounds while ensuring callers hear every word, thanks to Sennheiser MB 660's three multidirectional microphones.
Unlike other wireless headsets, the Sennheiser MB 660 doesn't have an external boom mic. Instead, the speakers are built into the earcup. It comes with a cable, or you can also connect your devices through Bluetooth, making it a great choice for professionals who want one headset with wireless and wired capabilities.
However, you'll pay quite a bit for the legendary Sennheiser high definition (HD) sound. While this pricier model may be perfect for music lovers, it's too expensive (and heavy) for a large-scale call center where agents spend hours on the phone. Instead, consider the Poly Voyager 4220 UC or Jabra Evolve 75 models, as both provide excellent sound at a lower price.
Sennheiser MB 660 Features
Sennheiser Noisegard: The adaptive ANC technology automatically alters noise reduction levels based on your current background noise. This feature helps save battery while ensuring the highest call quality. Alternatively, you can adjust the ANC from your earcup.
Sennheiser Signature sound: If you use your headset for music or movies while traveling or to block background noise while working, you'll appreciate the immersive experience Sennheiser provides. It offers modes like club, speech, movie, and user-defined, so you always have the best audio.
Connectivity: You can choose how you want to connect with the Sennheiser MB 660. It supports Bluetooth 4.2 and near-field communications (NFC). The headset also comes with an audio cable. It has a call control button and 2.5 millimeters (mm) and 3.5 mm jack plugs. Also, use the USB cable with a micro-USB connector.
Logitech H600: Most Affordable Bluetooth Headset for Softphone Applications
What We Like
Foldable and lightweight
Noise-canceling microphones
Inexpensive
What's Missing
Shortest talk time and wireless range
Less padding in headband and earcups than other wireless headsets
Doesn't have HD audio
Pricing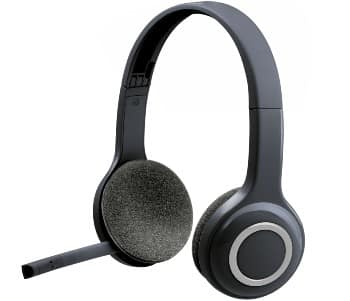 The Logitech H600 is the lowest-priced wireless headset on our list and is also easy to use. After setting up your VoIP system, insert the USB nano receiver into your computer to pair your devices. The earcup controls are basic, and you won't need a training guide to figure out the features. Weighing only 3.7 ounces, the Logitech H600 is 2.2 to 4.2 ounces lighter than the Jabra Evolve 75 and Sennheiser MB 660, respectively.
While it only has a six-hour talk time, you can charge it using the included USB cable and use your headset while charging. It's perfect for home and office users wanting an affordable, wireless headset but less than ideal for music lovers wanting distraction-free, noise-blocking headphones.
Since the Logitech H600 doesn't hug your ear like cushioned earpads or offer HD sound, these won't entirely block out your surroundings. In this case, consider upgrading to the Poly Voyager 4220 UC. Although it's slightly more expensive, it has multimedia controls and better sound.
Logitech H600 Features
Call quality: The Logitech H600 lacks advanced ANC and multidirectional microphones. Still, it has stereo-quality sound at a decent volume, and you can position the mic to reduce background noise while capturing your voice.
Comfort: The Logitech H600 isn't the most padded headset, and it's the only one with foam ear pads. Yet, unlike other models, the Logitech H600 doesn't hug your ear, which can be uncomfortable for some people. Instead, it sits on top of your ears and is lightweight.
On-ear controls: Touch the right earcup to adjust the volume or mute calls, even when you're away from your desk. There's also a spot for your nano receiver in the left earcup, which is great if you travel with your headset.
Poly CS540: Best Wireless Headset for VoIP & Landline Phones
What We Like
Incredible range of 400 feet
Noise-canceling microphone
Weighs less than an ounce (without the headband)
What's Missing
Doesn't connect to cell phones or computers
Can't be used to block background noise like other dual headphones
On the pricier side
Pricing
The Poly CS540 is the best option for call center agents and business professionals needing to connect to VoIP phones or landline devices. It uses DECT technology, providing long-range connectivity without Wi-Fi interference. DECT extends the range of the Poly CS540 to 400 feet, hundreds more than every other VoIP headset on our list.
This cordless DECT headset has a seven-hour talk time, which is shorter than other wireless models, but it also charges in only 60 to 90 minutes, far less than the three hours needed for the Sennheiser MB 660. Unlike other headsets, the Poly CS540 only has one earpiece, perfect for those who need to keep an ear free but a drawback for those wanting to block all noises.
However, you can't use the Poly CS540 to join a Zoom or Microsoft Teams meeting on your computer. It doesn't have stereo sound, so it's not the best for listening to music. The Jabra Evolve 75 works with many VoIP phones, so consider this headset an alternative.
Poly CS540 Features
Custom fit: You can wear the Poly CS540 in three different ways. It has an optional headband for over-the-head use, a neckband for behind-the-head use, and an over-the-ear style that allows you to choose your level of comfort.
SoundGuard: Protect your ears automatically with the Poly CS540. It stops sharp, loud noises above 118 dBA from reaching your ears.
Compatibility: The Poly CS540 comes with a base station and works with or without a headset port. It has a compatibility slide switch, allowing you to adjust the setting so it will work with nearly any telephone. If one configuration doesn't work, just slide the switch to the next letter until you find one that works with your device.
Jabra Biz 2400 II: Most Durable VoIP Headset for Call Center Agents
What We Like
360-degree rotating boom arm
Lightweight and comfortable
Active noise cancellation
What's Missing
Doesn't have multimedia controls
Costs more than the Microsoft LifeChat LX-6000
The brand Jabra doesn't have a mobile app
Pricing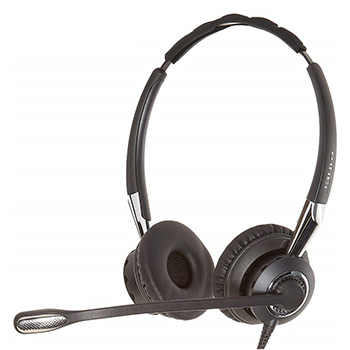 With a bendable boom arm and a reinforced cord, the Jabra Biz 2400 II is built to last. The FreeSpin boom arm can rotate a full 360 degrees without breaking. It comes with a neoprene zippered case, so you can travel without worrying about damage. The Jabra Biz 2400 II has soft ear cushions and weighs only 2.7 ounces for the stereo headset (two earcups) and 1.9 ounces for the mono headset (single earcup).
This wired call center headset has a USB cord that connects to your computer and powers the device. Jabra provides instructions for pairing your headset to a mobile phone or tablet, but it still needs to be plugged into your computer. Plus, it works with most desk phones via Bluetooth or USB.
The Jabra Biz 2400 II is pretty pricey compared to the Microsoft LifeChat LX-6000. If you don't spend much of your day on the phone or need to haul your headset back and forth on your commute, the Microsoft LifeChat LX-6000 is a good alternative.
Jabra Biz 2400 II Features
Jabra Direct: Although Jabra doesn't offer a mobile app like Poly, you can download Jabra Direct to your Mac or Windows computer. It lets you update firmware, program headset buttons, and adjust features.
Accessories: The Jabra Biz 2400 II mono version can be worn in three ways, including as a headband, ear hook, or neckband. All accessories are included with your purchase. It has the neckband, headband, small and medium ear hooks, an optional clothing hook, carry pouch, headband cushion, and medium leatherette and foam ear cushions.
Audio protection: The Jabra Biz 2400 II has an "air shock" noise-canceling mic that screens breathing sounds. And the PeakStop technology filters sound above 118 dB. Additionally, you can adjust the noise cancellation levels using Jabra Direct.
Microsoft LifeChat LX-6000: Best Budget-friendly VoIP Headset for Occasional Use
What We Like
Call indicator light
Noise-canceling microphone
Ultra-wideband digital audio for clear stereo sound
What's Missing
Some Mac computers won't automatically recognize the device when plugged in
Less comfortable and durable than the wired Jabra Bix 2400 II
Pricing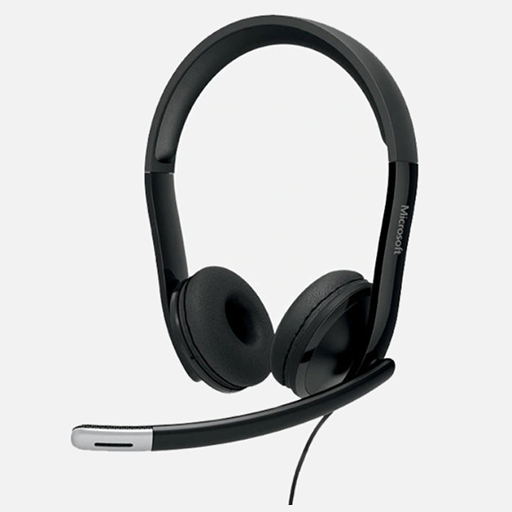 If you want a low-priced wired headset for answering business calls, the Microsoft LifeChat LX-6000 is an excellent choice. It's over $100 cheaper than the Jabra Biz 2400 II and lets you answer calls from your desktop's softphone app or browser-based VoIP software. The seven-foot cord gives you enough room to move around your desk area.
This wired headset is a supra-aural model like the Poly CS540, so it sits on top of your ears instead of fully enclosing them like the Jabra Evolve 75. The padded earcups are comfortable for light use, and the microphone boom arm rotates 270 degrees.
However, if you spend most business hours on the phone, you may want to invest in the Jabra Biz 2400 II. It's more durable and customizable, allowing you to find the fit that works best for all-day use.
Microsoft LifeChat LX-6000 Features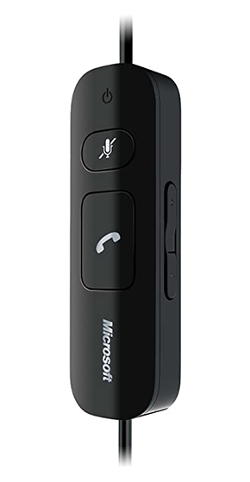 Plug and play: You don't have to download or pair any devices for the Microsoft LifeChat LX 6000 to work. Simply plug it into your Windows computer. Mac users may have to adjust settings, as Microsoft built this headset specifically for the Windows operating system.
Sound: The Microsoft LifeChat LX-6000 uses noise-canceling to reduce background noise automatically and improve your caller's experience. It also has a clear stereo sound, making hearing people on the other end easy.
Controls: The wired headset has inline volume, mute, and microphone controls on the headset. You can also use the controller on the cable to answer calls.
How We Evaluated the Best VoIP Headsets
Wired and wireless headsets come in various prices and styles to fit different business and individual needs. We assessed several models by looking at key features, such as sound quality, noise cancellation, and ease of use. To identify the best VoIP headsets, we considered what type of devices each headset connects to and rated them on comfort and overall value.
Learn how we evaluated the best VoIP headsets by clicking on the tabs below:
40%
Functionality Enhancers
40% of Overall Score
Basic features can make a big difference in everyday use. We analyzed sound quality by reviewing speaker size, sensitivity, and impedance. For comfort, we considered the weight, padding, and style. We verified the ease of setup and type of wireless connectivity, if applicable.
40% of Overall Score
The number and types of microphones affect the caller's experience, as does noise cancelation. We considered models with passive and active noise cancelation and checked the battery capacity for talk and standby time. We reviewed wireless headset ranges during our evaluation and ensured each had a mute button.
20% of Overall Score
To calculate an expert score, we considered unique features that set the VoIP headsets apart and the overall value for the cost. We looked at customer reviews to see how professionals felt about the device. We also examined how easy the headsets were to use by looking at how to adjust settings and the location and type of call controls.
*Percentages of overall score
Bottom Line
Top-rated VoIP headsets are comfortable to wear and provide high-quality audio. However, a call center agent may have different needs than a business professional or office staff. That's why we evaluated DECT, wired, and Bluetooth headsets and rated each on price, functionality, and features.
The Poly Voyager 4220 UC earned 4.83 out of 5, making it the clear winner. This wireless headset has a 12-hour talk time, 98-foot range, and HD voice. It's also easy to set up, and the mobile app settings are adjustable. Best of all, the Poly Voyager 4220 UC is affordable and has a two-year warranty.