A VoIP (voice-over-internet-protocol) headset offers a hands-free option for making and receiving VoIP telephone calls. It has a built-in microphone so that you are free to do things like type or pull up support tickets while managing your phone calls. We compared several different headsets to find our pick for the best, looking at aspects like call features, price, and comfort as criteria.
| | Weight | Talk Time | Wireless Range | Connectivity |
| --- | --- | --- | --- | --- |
| | 4 oz | 10 hrs | 100 ft | Bluetooth, USB cable, USB dongle |
| | 3.7 oz | 6 hrs | 33 ft | USB dongle |
| | 5.3 oz | 12 hrs | 98 ft | Bluetooth |
| | 6.9 oz | N/A | N/A | Corded |
| | 8 oz | 30 hrs | 82 ft | USB dongle or corded |
| | 3.3 oz | 7 hrs | 350 ft | Telephone interface cable connects base to phone; headset connection to base is wireless |
*Note that during the COVID-19 pandemic and the current increase in remote workers, VoIP headset availability might fluctuate during this time. Prices may vary depending on whether the headsets are new, used, or on backorder from the manufacturer.
How We Evaluated VoIP Headsets
While headsets are not a required component of a VoIP business phone system, they are a great tool for improving call efficiency in businesses that rely on telesales. The ideal headset comfortably fits on your head for long periods of time without causing strain or pain. Call quality should also be clear and consistent with a stable internet connection. The best headset should be affordable, have a reliable warranty, and have a customer service team to help in case of an issue.
Some of the factors we considered to identify the best VoIP headsets include:
Pricing
Range and sound quality
Talk time
Comfort level and ease of use
Paired devices
Advanced features
Customer support
We found that the Jabra Evolve 75 was ultimately the best headset for phone calls. However, even the highest-quality headset won't make a difference in terms of call quality if you don't have a reliable VoIP phone system in place. If you're considering making a change to your business' phone service, read our buyer's guide on the best VoIP systems for more details.
Jabra Evolve 75: Best Overall VoIP Headset in a Business Setting

Blending features like soft, leather-feel ear cushions and 15 hours between charges, the Jabra Evolve 75 wins our pick for the best overall headset in a business setting. Although it leans on the steeper side of the price spectrum, it is backed by a one-year limited warranty and additional warranty packages like dust and sweat protection. For employees who spend a great deal of time on the phone and need a quality VoIP headset, the Jabra Evolve 75 has our vote.
| Jabra Evolve 75 Strengths | Jabra Evolve 75 Weaknesses |
| --- | --- |
| 100-foot range from your PC, tablet, or smartphone | Is more expensive than others on this list |
| Noise-cancellation technology blocks outside noises while you're on a call | Some users complain that the headband is too hard for long-term wear |
| Busy light indicates to your colleagues that you are on a call | Charging stand is not included; is an optional purchase |
Jabra Evolve 75 Pricing
The Jabra Evolve 75 can be found through most online retailers for between $279 and $329.
Jabra Evolve 75 Features
Pairing: Enjoy Bluetooth connectivity between devices, allowing you to connect to a PC and a mobile device simultaneously.
Music streaming: You have the capability to stream music through your headphones.
Busy light: Let your coworkers know that you're on a call with the automatic busy light feature.
Distance and charge times: Hands-free calling lets you move up to 100 feet away from your paired device while enjoying 30 hours between charges.
Retractable microphone: The plastic microphone boom folds up when not in use.
Visit Jabra Evolve 75 Retail Site
Logitech H600: Best VoIP Headset for Businesses on a Budget

If you're looking for a good quality VoIP headset that comes at a good value, the Logitech H600 ticks both of those boxes. Wireless and letting you travel 33 feet away from your Bluetooth receiver, you are given the convenience of a hands-free device for as low as $39.98 from most retailers. We chose the Logitech H600 as our pick for the best VoIP headset for budget-conscious companies.
| Logitech H600 Strengths | Logitech H600 Weaknesses |
| --- | --- |
| Plug and play; simple installation makes it easy for all skill levels | Some users report flimsy construction of the headband, causing easy breakage |
| 2-year limited warranty | Limited range makes it difficult to stray too far from your desk, plus the device only goes about six hours between charges |
| Compatible with Mac, Windows, or Chrome OS | No Bluetooth option, only USB hardware |
Logitech H600 Pricing
You can find the Logitech H600 priced between $39.98 and $59.99 at most online retailers.
Logitech H600 Features
Easy to use: This headset is astonishingly easy to use for all tech skill levels.
On-ear controls: Adjust volume, mute calls, and turn the headset on and off with built-in ear controls.
Adjustable headband: Expand the headband as needed for a comfortable fit.
Comfort: Foam ear cups keep your ears comfortable while canceling background noise.
Multifunctional: Works with VoIP phone calls, music, and even video games.
Visit Logitech H600 Retail Site
Plantronics Voyager 4210 UC: Best Bluetooth VoIP Headset
The Plantronics Voyager 4210 UC headset is a completely Bluetooth-reliant device, giving you a wireless range of 98 feet and about 12 hours between charges. You can find the device at most retailers for as low as $148.00. Although it is more on the expensive side, the freedom of hands-free calling without being tied to your desk is what wins the Plantronics Voyager 4210 UC our pick for the best Bluetooth headset.
| Plantronics Voyager 4210 UC Strengths | Plantronics Voyager 4210 UC Weaknesses |
| --- | --- |
| One-year warranty | Can be troublesome if Bluetooth signal drops |
| Flexible microphone boom that folds out of sight when not in use | Users complain of discomfort after long-term wear |
| Great wireless range of 98 feet | No encryption technology, making it an unsecured choice for lawyers, doctors, and other sensitive callers |
Plantronics Voyager 4210 UC Pricing
You can expect to spend between $148 and $220 online for a Plantronics Voyager 4210 UC headset.
Plantronics Voyager 4210 UC Features
Bluetooth capability: Wirelessly connect your devices.
Pairing: Connect your headset with your PC, Mac, phone, or tablet.
Busy light: Like the Jabra Evolve, an "on-call indicator" light alerts your colleagues that you're on a call.
Sound quality: Provide callers with clear audio thanks to a noise-canceling microphone.
Controls: On-ear controls like the Logitech H600 let you tweak volume settings.
Visit Plantronics Voyager 4210 UC Retail Site
Logitech H570e: Best Corded VoIP Headset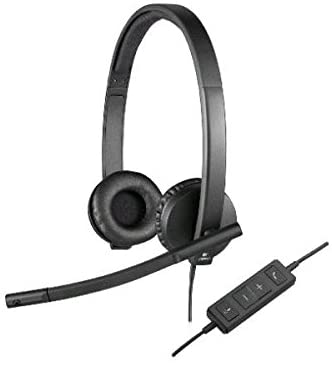 If you're looking for a device that never needs charging, the Logitech H390 is the ideal pick for you. A USB cord connects the headset (which can be found for as low as $62.00) to your computer, syncing with most calling applications and services. Padded headphones with a leather feel are soft against your ears, while a cable that is 6 feet, 9 inches gives you almost seven feet of distance. All of these features and more are what wins Logitech H570e our vote as the best corded VoIP headset.
| Logitech H570e Strengths | Logitech H570e Weaknesses |
| --- | --- |
| You never need to charge the device | No Bluetooth compatibility |
| Customers report clear sound quality and good reception | The cord forces mobility limitations on users |
| Media and call controls—you can listen to music as well as take calls using the headset | Does not sync with smartphones and tablets |
Logitech H570e Pricing
Most online retailers charge between $62 and $90 for a Logitech H570e headset.
Logitech H570e Features
Adjustable microphone: Pivot the mic up or down, fold it up when not in use, and rotate it between your left ear and right ear.
Inline controls: Mute calls and control volume from a control pad located on the cable.
Affordable: Less expensive than other options on this list, and with a two-year limited warranty.
Indicator lights: A flashing red light lets you know that the call is muted, while a green light signals an incoming call.
Noise reduction: Double-ear construction blocks outside noise to help you hear better.
Visit Logitech H570e Retail Site
Sennheiser MB 660 UC MS: Best VoIP Headset for Noise Control

The Sennheiser MB 660 UC MS, which costs as low as $293.00 from select outlets, is a more expensive option than most of its competitors, but it offers exceptional audio quality. It goes 30 hours between charges and allows a maximum wireless range of 82 feet. The headset was designed to block background noise and provide the clearest possible sound while you're on a call, which is the reason we picked it as the best VoIP headset for noise control.
| Sennheiser MB 660 UC MS Strengths | Sennheiser MB 660 UC MS Weaknesses |
| --- | --- |
| Two-year warranty on all Sennheiser headsets, including the batteries | Expensive: The average retail price is about $300 |
| 30 hours of talk time | No boom mic |
| Bluetooth capability so that you can switch between devices | Users complain that Bluetooth can be spotty |
Sennheiser MB 660 UC MS Pricing
You can expect to pay between $293 and $350 for a Sennheiser MB 660 UC MS headset.
Sennheiser MB 660 UC MS Features
Noise canceling: Built-in active noise canceling (ANC) technology is a stock feature with your headphones, reducing background noise.
Multiple microphones: Three internal mics work together to provide a clearer sound.
Foldable: Fold and store your headphones in the included zippered carrying case when you're not using them.
Maximum comfort: The foam ear cups and cushioned headband provide the most comfortable fit after long-term use.
Customizable: Choose between four different sound modes (Speech, Club, Director, and Movie) to best suit your environment.
Visit Sennheiser MB 660 UC MS Retail Site
Plantronics CS540: Best VoIP Headset for Confidential Calls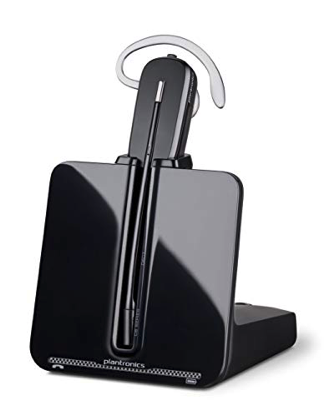 For professionals such as lawyers, educators, and doctors, privacy is an essential feature in a VoIP headset. The Plantronics CS540 can be found for around $150.00 and delivers this in built-in security features that automatically encrypt conversations. It also allows a wireless range of an impressive 350 feet. Its security features are what makes the Plantronics CS540 our pick for the best headset for confidential calling.
| Plantronics CS540 Strengths | Plantronics CS540 Weaknesses |
| --- | --- |
| One-year limited hardware warranty | Relatively low talk time of only seven hours |
| Overall positive reviews from happy customers | Customers report discomfort with the earpiece after a short time wearing it |
| Small and lightweight | Charging port reportedly does not always nestle properly with the device, causing uneven charges |
Plantronics CS540 Pricing
Generally, the Plantronics CS540 will cost you about $150 at most online retailers.
Plantronics CS540 Features
Security: 64-bit encryption technology protects wirelessly transmitted conversations to keep them private.
Incredible range: At 350 feet, the Plantronics CS540 has the longest wireless range of any headset on this list.
Wear styles: Choose from an ear loop or earpiece, a headband with two ear cups, or a behind-the-head neck strap that is sold separately.
One-touch answering: Answer, mute, and adjust the volume on all calls with one touch.
Office phones: Connect your headset to existing office phones.
Visit Plantronics CS540 Retail Site
Bottom Line
Whether you work remotely or in an environment surrounded by others, a quality VoIP headset is an essential piece of technology. Clear, easy-to-hear calls add a layer of professionalism to your business and help to instill trust between your business and your customers.
For the best overall VoIP headset, we chose the Jabra Evolve 75. Although it is one of the more expensive items on this list, it delivers exceptional call quality. You can wander up to 100 feet away from your desk while enjoying noise cancellation technology, 15 hours of talk time, and a padded, comfortable fit around your ears.