Voice-over-internet-protocol (VoIP) business phone services offer users a wide range of functionality at an affordable price. However, the setup process can be overwhelming if you have not done it before. You'll have to assess your budget, select your desired features, and plugin any required hardware devices.
While each business phone service will have its own unique steps, the following will give you a general understanding of what it takes to set up a VoIP service:
1. Evaluate a VoIP System's Benefits for Your Business
VoIP services provide a number of benefits compared to traditional copper landline setups. On one hand, they cost far less than landline services; they usually offer unlimited nationwide calling, even when it is long distance. The fact that they work over the internet also allows for features that are not possible with a landline service. This includes functionality like video chat, file sharing, live answering services, and more.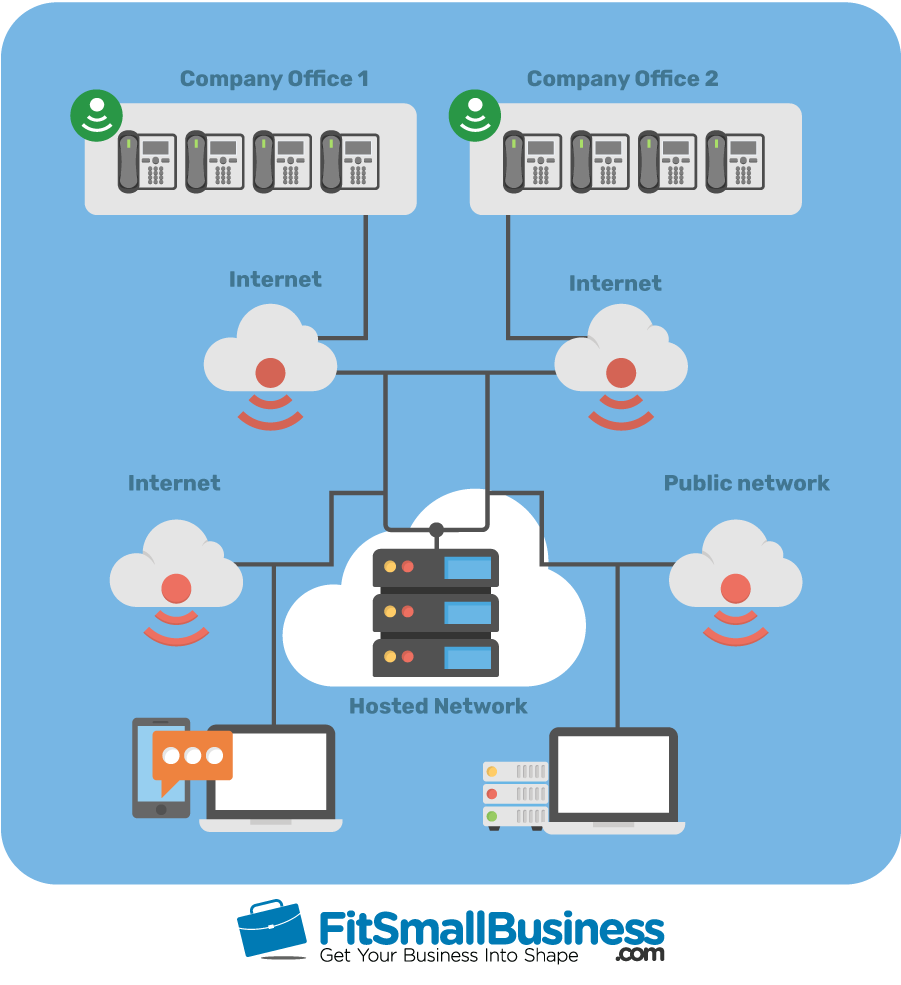 VoIP systems are especially helpful for the following reasons:
Mobility: Most business VoIP services offer mobile apps for iOS and Android devices. These apps allow you to log in to your VoIP service and take calls with your work number. This effectively means that a VoIP system lets you take your work phone wherever you go. This is especially ideal for remote teams.
Integrations: Leading VoIP services have the ability to connect call data with outside business software. This can include cloud storage services like Google Drive. It can also mean connecting caller information with a customer relationship management (CRM) platform.
Accessibility: Most systems offer voice-to-text functionality so that you can read messages instead of hearing them. The fact that they offer text messaging features also means that VoIP systems can be user-friendly for those who have hearing impairments. VoIP solutions offer a more accessible alternative to landline setups.
It is worth noting that VoIP systems are just one kind of business phone service available to you. In addition to VoIP and landline systems, there is also an alternative known as a virtual phone system. These solutions are internet-based, but require an existing phone number to forward calls through, and they usually lack advanced features. However, they come at a substantially lower price than VoIP systems.
It is also important to mention that this guide discusses hosted VoIP services exclusively. These systems are hosted in the cloud and take a great deal of work and cost out of the customer's hands. We encourage you to take our quiz on business phone services to learn which type of service is best for your team.
×
Free Ebook: How To Choose Your Business Phone System
×
Free Ebook: How To Choose Your Business Phone System
2. Assess How Many Users You Will Need
Before you subscribe to any business phone system, it is helpful to assess both the current size of your company and the projected growth of your team in the future. You will want to determine how many of your employees will be using your VoIP services. You will also want to determine if shared resources, like conference rooms, will be used. This is important, as most VoIP solutions are priced on a per-user basis.
3. Ensure You Have a Compatible Network
A VoIP solution works over the internet. Therefore, it is crucial that you have a fast, stable internet connection. This is especially true if you want everyone on your team to be able to use the service. We invite you to use our free VoIP speed test. If your network is slow, you may want to call your internet service provider (ISP) to discuss upgrading your solution.
The speed of your network connection will dictate how many VoIP phone lines you can support. As a rough example, a 500 Kbps upload speed will typically support five lines at most. On the other hand, a 10 Mbps upload speed will support at least 100 lines. A speed test will effectively tell you how many phones you can support.
Number of Supported Lines Based on Your Bandwidth
| Bandwidth (Upload Speed) | Maximum # Lines | Recommended # Lines |
| --- | --- | --- |
| 500 Kbps | 5 | 1 |
| 1 Mbps | 10 | 2 |
| 5 Mbps | 50 | 11 |
| 10 Mbps | 100 | 22 |
| 30 Mbps | 500 | 67 |
Conversely, you can also do some simple math to calculate exactly how many VoIP lines you can support:
Multiply your upload speed by 1,000: This converts the units from Mbps to Kbps; if your speed is already expressed in Kbps, then skip this step.
Divide your result from step 1 by 445: This will tell you the recommended number of phone lines your connection can support.
Divide your result from step 1 by 100: This is how many phone lines your VoIP system can support in a perfect world if your internet connection is stable and consistent and no bandwidth is being used for other activities, like browsing or downloading.
4. Determine Your Desired Features & Hardware
There is a wealth of VoIP systems available to small business users in 2020. They all carry different costs and feature sets. No matter what your budget or needs are, there is likely a perfect solution for you. With that said, it is vital to take the time to research your options and evaluate how well each one fits into your current workflow.
Most VoIP solutions will have an automated attendant, but not all of them have a multilevel attendant module. You will also want to determine if you need VoIP service features like an interactive voice response (IVR) module, video chat, or a dedicated hardware desk phone. These considerations will ultimately determine how much you end up spending on your service each month, so it's important to put serious thought into these factors.
Also consider what sort of hardware you need. While most VoIP services can be used with a desktop or mobile app, it could be helpful for some organizations to have a dedicated desk phone. For more information, check out our guide to VoIP phones.
5. Choose Your VoIP Provider
After you have determined what features are important for your needs, you can begin choosing a VoIP service. We suggest checking out our buyer's guide to see some of the best phone service providers on the market today. From that point, you can get in touch with a sales rep from a vendor, who will tell you more about the service and provide more detailed pricing information. In many cases, you can also get a guided tour through the solution. Take this quiz to find out which VoIP provider is right for you.

6. Connect Your IP PBX With Your ISP
Depending on which VoIP solution you choose, your plan might have come with a physical public branch exchange (PBX) box. A PBX is a piece of hardware or software that automatically receives and routes incoming calls and works in conjunction with your internet service provider (ISP).
Most small business VoIP services will host your PBX on their own servers, which saves you the job of having to install and maintain a physical box at your office. However, if you do get a PBX device, you will need to connect the box to a power source as well as your office router via Ethernet cable. Once your PBX is set up, you will be able to connect phones to the hardware. Contact your service provider for more detailed, system-specific instructions or check out our article on hosted PBX phone systems for more information.
7. Plug In Your VoIP Phones
The majority of VoIP solutions allow you to make and receive calls via a desktop web app. However, if you want to use desk phones, you will need to connect VoIP phone hardware to your network. Simply plug an Ethernet cord into the port on each VoIP phone, and connect the other end to one of the Ethernet ports on the back of your PBX box. If you are using a hosted PBX service, you can usually just connect the phone to a router or your desktop machine.
Some devices come equipped with Wi-Fi, so you may be able to skip the connection process altogether. You can also download a mobile app on your smartphone in most cases. This could save you the hassle of dealing with a desk phone altogether. However, if you need a dedicated phone, check out our article on the best VoIP phones for small businesses.
8. Configure Your Service Through Your Vendor's Settings Menu
No matter what service you adopt, you will need to set up your VoIP system through the software's setting menu. Here, you can do things like set up your phone tree, assign lines to employees, and set up voicemail, integrations, and more.
This process will vary widely depending on what service you have. A modern VoIP service will likely have guided help to set up their VoIP system via a wizard or human-guided setup process. Ask your provider for more information.
9. Optional Step: Connect VoIP Mobile Apps
If your VoIP system has a mobile app, you will be able to essentially take your business phone system with you while outside of the office. All you need to do is search for your VoIP service on either the Android or iOS stores (depending on which device you use) and download the app. From there, just log in with your subscription information and follow the on-screen instructions.
This is an optional feature that you can skip if you want to, especially if you only do work while within your office. However, it is an extraordinarily helpful feature that is a testament to the flexibility of a VoIP service. Ask your provider for more information on their mobile offerings.
If you only need to use a phone service for making calls and sending texts over a mobile device, it is important to note that less expensive alternatives to VoIP systems are on the market. For example, Google Voice is a free solution that provides you with a free local number in most of the United States, texting, and calling capabilities. For more information, check out our guide to using Google Voice.
Bottom Line
VoIP solutions offer organizations a full set of powerful telephony features at a fraction of the price of a landline system. Additionally, they are often easier to set up, even for less technical business users. If you are able to plug in a few key components and navigate through some basic software settings, you have all of the skills needed to install the service. However, you will need to make sure you have a fast enough internet connection to support a VoIP service.
We recommend RingCentral for any small business that is looking for a new VoIP service. It offers a fast, easy setup process, comes packed with features, and even comes with some advanced modules like team messaging and video chat. They even offer a 14-day free trial.