How to Set Up a VoIP System in 7 Steps
This article is part of a larger series on VoIP.
The initial steps to set up a voice-over-internet-protocol (VoIP) phone system include identifying your business needs and priorities, testing your internet connection, and learning about different VoIP types. After these, set a budget and choose a VoIP provider that matches your requirements. Decide if you need to retain or get a new business phone number. Finally, complete the process by installing the new VoIP system.
Continue reading for a more extensive discussion of how to set up a VoIP system. For those that want a video-based walkthrough, Fit Small Business has a video guide to setting up your VoIP system:

Step 1: Identify Your Business Needs
Your business needs will dictate the type of VoIP system you should use and help you choose among subscription plans later. To make an accurate inventory of your needs, you should consider your current phone system, your call volume, and the type of calls you handle.
Evaluate what your existing phone system does well and what needs improvement. Perhaps you have the traditional landline, but you notice that your employees use their mobile devices away from their desks. Maybe your communication needs have changed recently, and other than call features, you want a system that allows video conferencing and chats. These phone system needs should guide your choice of a VoIP system later.
The call volume will determine how many phone lines your business needs. Naturally, companies that receive a significant number of calls daily provide individual phones and unique extensions to team members. Meanwhile, startups that get fewer calls designate phone lines per team or department, not necessarily per person.
By taking stock of how many phone lines you'll need, you'll be able to choose which VoIP plans are best for your business. For example, RingCentral's premium plan is most popular among midsize companies that typically handle high call volume. It includes unlimited users, unlimited calls within the U.S. and Canada, unlimited audio conferencing, and call recording capabilities.
The type of calls your business deals with regularly will help you decide which features to look for in a VoIP system. For example, if you handle several sales-related calls, it's good to have a system that has a caller ID, call recording features, and customer relationship management (CRM) integrations. If your calls are mostly customer service-related, look for a phone system with interactive voice response (IVR) and call queueing.
Consider these aspects as you move to the next steps of the setup process. These are especially important when learning about VoIP and choosing among the best business phone system providers.
Step 2: Test Your Internet Connection
VoIP call quality largely depends on your internet connection. Additionally, if you're planning to get a system with video conferencing, chat, and other collaboration features, your internet will affect how fast the data are transmitted. Thus, part of your preparation for the VoIP setup is testing your internet connection.
VoIP providers like 8×8 Contact Center, RingCentral Contact Center, and Nextiva have speed test tools on their websites. The test measures different elements, namely:
Bandwidth: This refers to the overall capacity of the network to process information. If your business aims to accommodate 20 calls at once, the recommended bandwidth is at least two megabytes per second (Mbps).
Latency: Also called lag, this refers to the time delay when transferring data. A lag of 150 milliseconds is acceptable. A figure higher than that will result in poor call quality.
Packet loss: This describes when pieces of data transmitted across a network do not reach their end destination. During a call, this manifests as the recipient missing parts of what was said or hearing distorted sounds. The acceptable packet loss rate is 1% to 2%.
Jitter: This refers to the time difference between sent and received packets. Jitter greater than 30 milliseconds negatively affects call quality.
If your VoIP test results fall short of the industry standards, upgrade your internet connection plan. Talk to your service provider to know what else to do to make your digital infrastructure ready for a VoIP setup. Be prepared for the possibility that the limited internet connection in your area may not make VoIP dedicated server hosting fit your business. In this case, opt for virtual phone services.
Step 3: Understand the Different VoIP Types
Before choosing a particular VoIP system, be familiar with its different types to know which would best fit your needs:
Device-based VoIP: This involves using a VoIP device and connecting it to your existing phone set to facilitate calls. Ooma is one of the top device-based VoIP service providers, offering a range of device options, including analog phones, digital desk phones, conference phones, and cordless IP phones.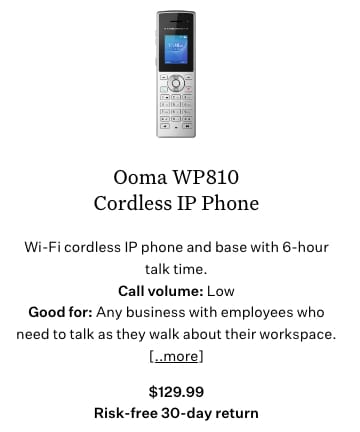 ---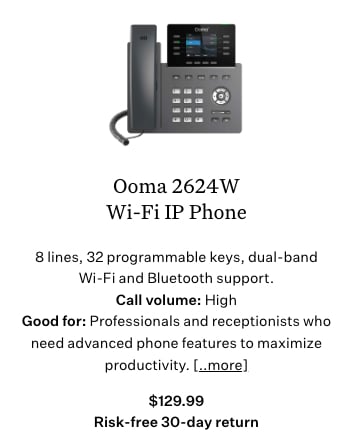 ---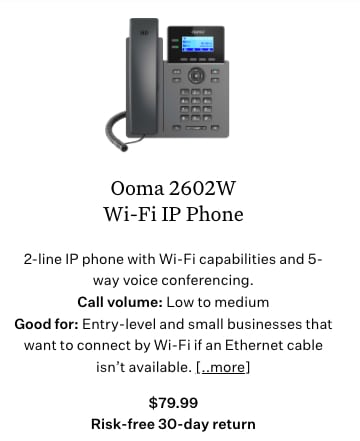 ---
On-premise PBX: PBX is an acronym for private branch Exchange, which refers to a private telephone network that facilitates user communication. On-premise PBX hosts your own VoIP. With a dedicated VoIP server in your physical office, you need an information technology (IT) team to maintain, repair, and upgrade systems.
Cloud-based PBX: Unlike on-premise VoIP, a third-party VoIP provider handles all the maintenance and upgrades of the system. Considered the more affordable option, cloud-based systems use a software solution and don't require purchasing hardware. Team members make and receive calls via the softphone app on their desktop or mobile. Cloud-based PBX is also called hosted PBX.
Step 4: Set a Budget
Determine how much your business will spend on your new phone system. If you're going for a device-based VoIP, the cost will largely depend on your hardware. The price of desk phones and cordless phones ranges from $90 to $420. Meanwhile, headsets are priced from $74 to $400. For the on-premise system, the expenses will include actual VoIP installation, in-house IT services, and server room maintenance.
On the other hand, a cloud-based PBX solution will have monthly costs, which depend on how many phone lines you get. There's a flat rate charge for a certain number of phone lines, but providers usually drop the price when there are more users.
If you regularly receive a high volume of calls, it's wiser to choose annual payments over monthly to maximize savings. If you only have seasonal spikes in calls, a monthly scheme would give you better flexibility when upgrading and downgrading plans.
Take, for example, the Nextiva Essential plan for 20 to 99 users. It costs $18.95 per month on an annual plan and then $25.95 per month on a monthly plan. You'll save up to 27% on costs a year.
Aside from the monthly payment subscription, consider these other VoIP system costs:
Internet connection upgrade: Business internet plans go up to 1Gbps for $160 a month, locked in for a year.
Toll-free numbers: While some VoIP subscription plans cover toll-free calls, others offer this as an add-on. The cost typically ranges from $10 to $15 a month. For the incoming calls, the cost is 6 cents to 30 cents per minute.
Overseas call charges: Check how much a VoIP provider charges for calls (per minute) for different countries. They must have a complete list of international call fees. For instance, RingCentral charges 3.9 cents per minute for international calls from the U.S. to China.
Integrations: Most providers offer seamless integrations to third-party platforms but they're sometimes locked in high-tier plans. For instance, Nextiva's Essential plan lacks frequently used customer relationship management (CRM) and productivity tools. Upgrade to Professional and Enterprise plans to connect Salesforce, HubSpot, Zendesk, Oracle, and MS Teams in your VoIP system.
Step 5: Choose a VoIP Provider
Consider all the features each VoIP provider offers to see how well they fit in your operations. In particular, pay attention to these critical aspects:
Call management: Your VoIP system should enable your team to make and receive calls more efficiently. These are some features most useful in managing calls: call routing, call forwarding, call transfer, call queues, call screening, call recording, speed dial, and three-way calling.
Third-party integrations: Ideally, your VoIP system works with other solutions you already have. Depending on your business needs, your phone system should offer integrations with customer relationship management (CRM) systems and productivity apps. RingCentral has a wide range of integrations, from collaboration and customer engagement to employee experience, marketing, productivity, and business continuity.
Unified communications: A VoIP system that supports other communication needs will increase employee productivity, promote team collaboration, and decrease costs. Choose a VoIP provider that accommodates audio and video conferencing, team messaging, and SMS.
Mobile apps: A VoIP system with a mobile app makes communication easier, especially when you have remote employees. Phone.com is one of the most popular VoIP systems accessible on desktop and mobile. The platform made it to our list of best VoIP apps.
Security: Make sure your VoIP system has security protocols to reduce data theft risks. Go for a platform that offers both at-rest and in-transit encryption. Look for advanced authentication options, such as multifactor verification and biometrics.
Take advantage of the free trial periods and demo versions VoIP providers offer. Make sure that the tool is easy to use, works well with your network, and has all the features you need. This comprehensive list of the best business VoIP systems should help you decide which providers are right for you.
Step 6: Get (or Retain) Your Business Phone Number
Most VoIP plans include a local phone number, which features a three-digit area code. This is ideal for businesses that serve a limited market area and aim to establish a local presence. Other phone number options from VoIP providers include toll-free numbers (e.g., 800, 888, and 877) and vanity numbers (e.g., 1-800-FLOWERS and 1-800-NEWCARS).
If you want to retain your existing digits or convert a traditional phone number into a virtual phone number, ask your VoIP provider to port the numbers. Provide them with your current phone number and other important information. Once they receive your transfer request, they will send it to your existing carrier. You'll receive an email notification when the porting process is complete.
Take note of the fees involved in number porting. Google Voice, for instance, charges $20 to port your mobile number from another carrier.
Another option when retaining phone numbers is Bring Your Own Carrier (BYOC). Most businesses choose this when their current provider's rates are better than the others in the market. This option is also ideal when your business expands to new territories, since you can easily add current or additional carriers for new locations.
Step 7: Install Your New VoIP System
The actual VoIP phone installation will depend on the type of solution you choose. For device-based VoIP systems, connect your existing phones to the modem using adapters. There's also the option to use IP phones, which connect to the internet through Wi-Fi.
For on-premise VoIP, installing the PBX in your office involves a team of project managers, system administrators, and electricians with VoIP certifications. If you choose a software-based or cloud-based VoIP, the installation takes place on your digital devices; simply download the app from the provider on your desktop and mobile device.
After installing the equipment and software, complete the VoIP setup by designing your call flow, incorporating third-party tools, and making test calls. Implement a comprehensive training program for employees, and share the best practices for making and receiving calls.
How to Set Up a VoIP System Frequently Asked Questions (FAQs)
Yes, it's possible to set up your own VoIP system using open-source solutions, which offer features other phone systems provide, including call routing and voice mail. However, the easiest way to start on VoIP is to go for cloud-based PBX solutions already available in the market. Providers like RingCentral Contact Center and Grasshopper have a wide range of robust phone features that accommodate the communication needs of small businesses.
---
To get started with VoIP, you need a reliable internet connection, an on-premise PBX or VoIP subscription, a computer, and hardware, such as desk phones and headsets. If you're a small business just starting out with VoIP, you can check these cheap VoIP service providers.
---
Yes, you can use an internet protocol (IP) phone at home. Connect the phone to your router via an Ethernet adapter. To ensure the quality of calls, test your internet connection and upgrade, if necessary.
---
Bottom Line
A VoIP system is beneficial for small businesses, especially in reducing costs, improving call quality and accessibility, and facilitating collaboration among team members. If you're ready to adopt this phone system, follow the easy steps mentioned above for a smooth transition. Shop around for VoIP service providers to find the best tool suited for you.