Blanket mortgages enable real estate investors to buy, hold, and sell multiple properties under a single financing arrangement. With a blanket loan, properties can be sold without triggering "due on sale" which allows proceeds from the sale to be used to purchase more property. This can be simpler and more efficient than having many individual mortgages.
If you own 5 or more rental properties (1-4 units) and looking for $500K+ in blanket financing, reach out to CoreVest. They offer and LTV up to 75%, fixed rates, and terms of 5 or 10 years. They offer free, no-obligation consultations to investors looking for flexible financing solutions.
What A Blanket Mortgage Is
A blanket mortgage is a mortgage that covers two or more pieces of real estate. While each property covered by the mortgage serves as collateral for the loan, blanket mortgages have a unique feature, known as a release clause. A release clause enables properties included in the financing to be sold without having to repay the entire blanket mortgage. This is in contrast to traditional mortgages which have a "due on sale" clause, which forces the borrower to repay the entire mortgage when the property is sold.
Instead, the proceeds from the sale of the property can be used to purchase another property, which will then be added as collateral for the blanket mortgage. This creates what is essentially a revolving credit facility for real estate investors, property flippers, or developers who invest in multiple properties on an ongoing basis.
A single blanket mortgage can cover dozens or hundreds of properties at the same time, which eliminates the need to get a new mortgage each time a property is purchased.
If you own 5 or more rental properties (1-4 units) and looking for $500K+ in blanket financing, reach out to CoreVest. They offer and LTV up to 75%, fixed rates, and terms of 5 or 10 years. They've financed over 20,000 investment properties and may be able to help you.
Who Are Blanket Loans Right For?
There are four primary groups that can benefit from blanket mortgages. They include:
Builders & Developers
Property Flippers
Multi-Property Investors
Businesses with Multiple Locations
Let's take a quick look at what makes a blanket loan such a good fit for these businesses.
Builders & Developers
A builder will typically purchase a large tract of land, and build multiple homes on it. They can benefit from blanket mortgages because they can finance the entire project, rather than each property individually. Certain blanket mortgages even provide for temporary construction financing, which can be converted to longer-term financing.
Typically, these blanket mortgages have terms of 12 – 24 months. And of course the release clause – the ability to sell properties financed with a blanket mortgage without disturbing the mortgage itself – is made to order for builders.
Property Flippers
Those entrepreneurs looking to flip home that are in need of renovation can use a blanket mortgage to purchase, renovate, and sell multiple properties. It enables them to re-purpose existing properties on a rolling basis without having to get financing on each individual property. This allows flippers to avoid applying for and taking out multiple rehab loans. The release clause is crucial for this purpose and the loans will generally have short to medium repayment terms 1 – 5 years).
Multi-Property Investors
If you are a real estate investor, building and maintaining the portfolio of rental properties, the blanket mortgage is a perfect solution. You can not only use one mortgage to cover multiple properties, but you can also buy and sell properties under the same loan. Being able to tap your portfolio's combined equity when you need to can enable you to better compete with all cash buyer purchase under valued assets at real estate auctions or pre-foreclosure sales.
Businesses with Multiple Locations
Though this is a less common use for blanket mortgages, it is possible for a non-real estate business to purchase multiple locations to expand their business. Though the blanket mortgage will be secured by the business real estate, the loan amount will be calculated based on the business revenue that each location is expected to generate.
A blanket mortgage can enable a growing business to add locations on an ongoing basis, without having to get a new mortgage on each property location.
Blanket Mortgages vs Traditional Mortgages for Investment Properties
In general, real estate investors with larger portfolios of properties are not well served by traditional mortgage lenders.
Traditional mortgage lenders not only require a dedicated mortgage on each investment property, but they base their lending decision primarily on your personal finances. With a blanket mortgage covering multiple properties, underwriting is concerned primarily with the cash flow on the properties covered by the loan.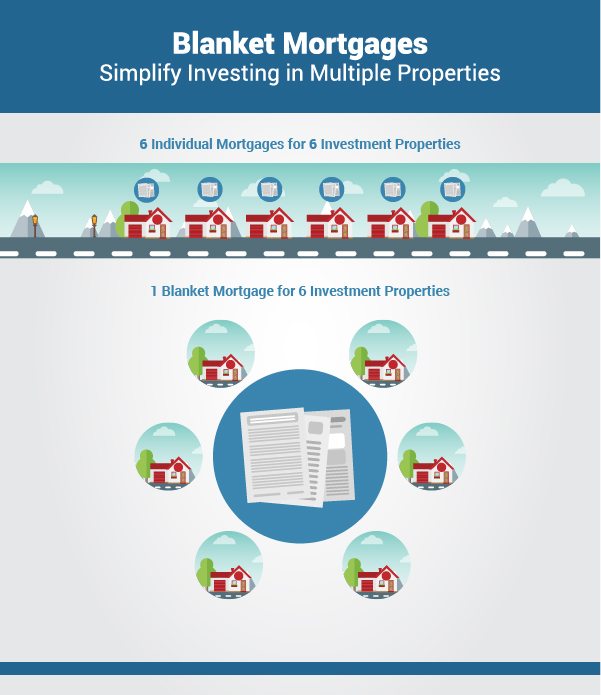 No Property Limits
Traditional mortgage lenders often set limits on how many financed properties an investor can own. That limit is normally between 4 and 10 properties. In most cases, a blanket mortgage provider will not have such a limit.
Traditional mortgage lenders can also be reluctant to lend to investors who show a pattern of turning over properties quickly. Blanket mortgages are actually designed to allow for investors to buy and sell properties as opportunity dictates.
Fee Advantages
A blanket mortgage can be less expensive than having many traditional mortgages on multiple properties. With a blanket mortgage, you only have to pay closing costs and fees on one mortgage rather than many. Additionally, in certain cases one master insurance policy can be used to cover all the properties. This also results in a less time consuming, more streamlined process when working on monthly bills and tax preparation.
Raw Land Purchases
Unlike traditional mortgages, blanket mortgages can also be used to purchase raw land for development. They can be structured to allow you to not only purchase the land, but also to have construction financing available as you build and sell homes on the tract. You can build the individual homes, and sell them upon completion, without having to rearrange the blanket mortgage.
Portfolio Cash Outs
Blanket mortgages also allow real estate investors to do equity refinances (or cash outs). An equity refinance is when you have a low amount of indebtedness on your real estate portfolio and you get a blanket mortgage that will both pay off the existing indebtedness, and provide you with additional cash.
No Strategic Defaults
Because a blanket mortgage covers your entire real estate portfolio, it also means that you will not be able to default on any properties within the portfolio without risking seizure of all the properties by the lender. That means no strategic defaults or walking away from any one property.
Generally speaking, the mortgage will be the obligation of your business entity. That entity is typically set up as a limited liability corporation (LLC). But in many cases, both your business and you personally will be obligated on a blanket mortgage.
Where to Get a Blanket Mortgage
Now that you have a good understanding of what blanket mortgages are, how they work, the cost and qualifications, let's take a closer look at where you can find a blanket mortgage provider.
Blanket Mortgages are Customized Loans
Traditional individual mortgages are generally provided by banks, who originate the loans and then sell them to third-party agencies, such as Fannie Mae and Freddie Mac. As such, they are very standardized. But blanket mortgages are each unique and customized to suit the borrower and the properties to be covered by the loan. For this reason, they are more typically funded by private capital sources.
In order to obtain a blanket mortgage, it's common to work with a broker who specializes in facilitating such loans. Small, local banks may also provide blanket mortgages on a case-by-case basis, particularly if they are portfolio lenders. In general, blanket mortgages are not a common product offered by well known, national banks.
National Blanket Mortgage Providers
Below are three national lenders or brokers that offer blanket mortgages as well as some of their blanket loan program details and requirements:
Established in 2014 by industry leaders, CoreVest has since financed over 20,000 residential investment properties for about $3 Billion loaned. CoreVest offers real estate investors access to affordable, flexible financing.
$500,000 to $100 million loan amounts
75% LTV
5 or 10 loan terms
fixed rates
Must own 5+ rental properties w/ 1-4 units
CoreVest offer free, no-obligation consultations to investors looking for flexible financing solutions.
Visit CoreVest
Based in Arizona, DACL lends in all 50 states. They offer three different types of blanket mortgages made for small and large portfolios, as well as portfolios of apartment buildings with 100 units or less:
$500,000 to $50 million loan amounts
75% Loan to Value (LTV) for refinance transactions
75% Loan to Cost (LTC) for purchase transactions
Cash out refinance is acceptable
5 or 10 year fixed terms with amortization up to 30 years
Based in Florida, Centurion Equity Consulting is a brokerage firm working with several different mortgage lenders. Centurion will offer blanket mortgages on as few as two properties with loans that look like:
Minimum Loan Size: $100k (no max)
Minimum Property Values: $35k
Maximum LTV: 75% LTV
Non-recourse blanket mortgages available (but at lower LTV)
Cash-out refi allowed
Interest Rates ranging from 5.5% – 8.5%
Terms range from 5 to 15 years (with option to extend), amortized over 15 to 30 years
Minimum credit score is 600
Based in Illinois, this broker lends in most states. They have a minimum property requirement of 3-5 properties, depending on the blanket loan program. They offer the following:
Loan amounts from $50,000 to $10 million
Maximum 75% LTV for recourse loans
Non-recourse blanket loans available at 60% LTV or less
Interest rates start at 5.5% – 7.5%
Cash reserve requirement 6 months
Minimum DSCR 1.15% to 1.25%
5, 7, and 10 year ARMs available
Lending Institutions Offering Blanket Mortgages
As you search for other blanket mortgage providers, keep in mind that there are 4 primary types of lending institutions that offer blanket mortgages:
Traditional Banks
Some conventional banks still offer blanket mortgages. Normally these will be smaller, local banks, but some nationwide bank offer them as well. These mortgages can be hard to get and are often unadvertised and offered only to high value customers.
Private Investors or Private Lenders
This is the most widely available option. The majority of blanket mortgages are offered by private lenders. They raise money, or have partners that put up their own money, for the sole purpose of lending to real estate investors. They are knowledgeable in the space, and are a great partner to have as you grow your investment portfolio.
Online Lending Institutions
These lending options are becoming more plentiful every year. Many of these online businesses offer blanket mortgages, but they are also the option with the highest interest rates that we have found. While these institutions are private lenders, they differ from traditional blanket mortgage private lenders because they usually offer many more products, and do not offer real estate mortgages as their primary business.
Portfolio Lenders
Portfolio lenders are great because they hold the mortgages on their own balance sheets rather than selling them in the secondary market. Often times they are banks or credit unions that are very local or regionalized, and they lend money under certain scenarios to keep relationships that they previously have. This option is going to likely give you the best rates.
Note: Since the funding sources for blanket mortgages is so diverse and decentralized, the guidelines and requirements will vary from one lender to another. Also, rates, fees, and qualifications change regularly. Contacting a reputable blanket mortgage provider or experienced broker for the latest program details is advisable.
Now that you have a sense for what kinds of blanket mortgage loan programs are offered, let's dig in the the details of blanket loans.
How Much Does a Blanket Mortgage Cost?
Blanket mortgages are highly customizable loans. Therefore, the rates, fees, and terms on the loans can vary widely. The total cost of a blanket mortgage will depend on a number of factors, including:
Number of properties covered by the loan
Type of properties covered by the loan
Long term vs. Short term loan
Income production of properties
Strength of the borrower
With that in mind, let's discuss some of the most common range of costs associated with blanket mortgages.
Blanket Mortgage Range of Costs
Interest Rates
3.75% - 11%
Lending Fees
1 - 2 points
Broker Fees
0.5 - 1 point
Appraisals & Closing Costs
$500+ per property
Early Payoff Penalty

(More common for long term mortgages)
1 year - 5 points
2 years - 4 points
3 years - 3 points
4 years - 2 points
5 years - 1 point
Blanket Mortgage Interest Rates
The interest rates charged on a blanket mortgage are higher than what you will typically pay on a mortgage on your primary residence. Interest rates range from 3.75% – 11% (simple interest – actual APR will be specific to each loan, based on the amount of loan points and closing costs paid).
Since each blanket mortgage is essentially a custom loan, rates can vary substantially from one mortgage to another, and from one lender to another.
Blanket Mortgages Lender & Broker Fees
Lender and broker fees are upfront fees, and are typically charged It is remuneration to the lender and broker for creating a blanket mortgage for you.
Each point is equal to 1% of the amount of the blanket mortgage. That means that if you are taking a blanket mortgage for $1 million, and you are required to pay three points, you will pay $30,000.
You should generally expect to pay points on a blanket mortgage, and they will typically run from two points to as many as five points. The amount of money that you are borrowing is a major factor here. For example, you may pay five points on a $300,000 loan, but just two points on a $3 million loan.
The points are paid to both the broker and the lender. For example, on a three-point loan, one point may be paid to the broker, and two to the lender, but this split will vary on a loan-by-loan basis.
Loan points are typically paid at closing, out of the proceeds of the new loan.
Appraisal Fees & Closing Costs
Since property values are a major factor in establishing a blanket mortgage, an appraisal will be needed on each property that is included in the blanket loan. For 1 to 4 family properties, condominiums and townhomes, the appraisal fee will be at least $500 per property. Therefore if you are doing a blanket mortgage on 30 properties, your total appraisal fees will be at least $15,000.
But if a blanket mortgage will include apartment complexes or commercial properties, the per property appraisal fee can be substantially higher. It's not possible to generalize what such a fee will be, since it will be determined by both the location and the specific nature of the property being appraised.
While some lenders might require payment of the appraisal fees out of the proceeds of the blanket mortgage, most will require that you pay the fees prior to closing.
Closing costs include fees that are traditionally charged in connection with any real estate transaction. They can include attorney's fees, title searches, title insurance policies, state and local mortgage taxes, and escrow setup fees. The actual amount of these fees will vary widely based on both the location of the properties being financed, as well as the types of properties that they are. They will generally be paid out the proceeds of the new blanket mortgage, rather than in advance.
Loan Sizes and Repayment Terms
The minimum loan amount for a blanket mortgages will typically be around $100,000. The maximum loan amount will often be around $50,000,000, however many lender will say they have no limitation to maximum loan size. These larger blanket mortgages will be most common for borrowers with long track records of success and profitability and who are holding properties like large apartment complexes.
Common Blanket Mortgage Loan Sizes
$100k - $50,000,000
Common Blanket Mortgage Terms
12-24 Months (Interest Only)
3 Year Balloon
5 Year Balloon
10 Year Balloon
10 Year Fixed
25 Year Fixed
30 Year Fixed
Common Blanket Mortgage Amortization
15 Years
30 years
In many cases, blanket mortgages will have shorter repayment terms than traditional home mortgages. Though many can have 15 – 30 year amortization schedules, blanket mortgages will often have a balloon feature requiring repayment or refinance of the loan after 3, 5, 10 or 15 years.
Fixed Rate vs Variable Rate on Blanket Loans
It's not uncommon for blanket mortgages to be set up as adjustable-rate mortgages with scheduled rate resets. For example, a 10 year blanket mortgage might has a fixed rate for 3 years and then have a rate reset and become an adjustable rate that's pegged to LIBOR, that adjusts annually. Short term blanket mortgages used for fix and flip project or developments may have interest only payments until the balloon payment.
Qualifications for a Blanket Loans
It's important to remember that blanket mortgages are for people who are engaged in the real estate business as principals (rather than agents). Qualifying for a blanket mortgage is vastly different from getting a mortgage on a personal residence because you're taking the mortgage based primarily on your business, and the cash flow that it generates.
Every lender is going to vary slightly in approval requirements for their blanket mortgage programs. Here is a list of common approval requirements that are industry standard, and will likely be required by your lender:
Typical Qualifications for Blanket Mortgages
| | |
| --- | --- |
| Minimum Loan Size | $100,000 - $500,000 |
| Minimum Credit Score | 630 |
| Minimum Debt Service Coverage Ratio | 1.20 |
| Maximum Loan-to-Value | 65% - 75% |
| Minimum Cash Reserve | 6 months |
| Minimum Number of Properties | 2 - 5 |
| Property Management Experience | Often required |
| Minimum Property Seasoning | 90 days |
| Minimum Occupancy Rate | As high as 90% |
Debt-Service Coverage Ratio (DSCR) & Net Operating Income (NOI) for Blanket Mortgages
When you apply for a blanket mortgage, each property contained within the financing arrangement must generate its own cash flow. Underwriting is concerned that the collective cash flow from all of the properties within a blanket mortgage is sufficient to meet the debt service on the new loan. The measure of your cash flow's ability to meet these payments is referred to as debt service coverage ratio (DSCR).
Calculating Debt Service Coverage Ratio
Real estate investors looking to calculate their DSCR must first determine the annual net operating income (NOI) of the properties. NOI is the total gross income from the properties, less property taxes, insurance, utilities, repairs and maintenance, and often a vacancy factor. A vacancy factor is an estimate, and it can be as high as 20% of the gross income from the property, depending on the lender (some don't include it at all).
The NOI is then divided by the annual mortgage debt service (the total of monthly payments on the new blanket mortgage) to produce the DSCR. Lenders will typically require the DSCR to be greater than 1.00%, since a ratio of less than that (say 0.95%) means that the properties will have a negative cash flow (greater than 1.00% means that cash flow is positive). The most typical requirement is a DSCR of 1.20%.
Example of Debt Service Coverage Ratio Calculation
Let's work through an example to demonstrate how the DSCR calculation works. We'll assume that we are applying for a blanket mortgage to finance the purchase of 20 rental properties.
GROSS RENTAL INCOME:
$40,000 per month (or $480,000 per year)
LESS EXPENSES:
Annual Property Taxes, $60,000
Annual Insurance, $20,000
Annual Landlord Paid Utilities, $15,000
Estimate for Repairs and maintenance, $25,000
Vacancy Rate – 10% of Rent Income, $48,000
TOTAL EXPENSES: $168,000 per year
NET OPERATING INCOME (NOI): $312,000 per year
ANNUAL BLANKET MORTGAGE DEBT SERVICE: $260,000
DSCR – $312,000 / $260,000 = 1.20
Loan-to-Value (LTV) for Blanket Mortgages
Loan-to-value is the amount of the new mortgage loan, divided by the market value of the property as determined by an appraisal. For example, if you are going to borrow $750,000 on five properties that are worth $1 million, the LTV for the mortgage would be 75%.
Blanket mortgages generally have a maximum LTV of 75%. However, the LTV will be adjusted based on the DSCR. That is, the mortgage loan amount offered by lender may be something less than 75% if the DSCR will only support a lower loan amount.
Cash Reserve Requirement for Blanket Mortgages
When you apply for a blanket mortgage, the majority of lenders will require you to have a certain amount of cash available. Lenders refer these funds as you cash reserves. Blanket mortgage lenders typically require that you have a cash reserve sufficient to cover at least six months of the new mortgage payment. So if that payment is $10,000 per month, you'll need to show $60,000 in liquid assets available.
In most cases, your cash reserve does not need to be turned over to the lender or held in escrow, it will simply need to be shown in your bank accounts. Depending on your lender, the cash reserve requirement might be tied to LTV, and rise or fall accordingly.
Time of Ownership & Seasoning Properties
For those real estate investor who are looking to obtain a blanket mortgage for a portfolio of rental properties, it will be important to make sure your properties are sufficiently seasoned. When blanket loan providers talk about a seasoned property, they are typically referring to how long you've owned and been renting the property. Most blanket loan providers will expect the properties to be covered by the mortgage to be seasoned for 90 days or more.
Industry Experience Required for Blanket Mortgages
Blanket mortgage lenders will take in consideration beyond just the creditworthiness, LTV, and DSCR. Lenders will also have minimum requirements for a borrower's industry experience. The exact amount of experience required will depend on the amount you're borrowing and complexity of the project.
The blanket mortgage provider will want to know that you have a solid amount of experience as a builder, in rehabilitating properties, managing investment properties, or running the type of business that you are looking to expand. Lenders will often want to see documentation proving that you have successfully completed similar development or fix and flip project, or that you've successfully managed a similar rental portfolio before.
Application Process & Necessary Documents for a Blanket Mortgage
When shopping for a blanket mortgage, you may be working with an experienced broker or you may be working directly with a lender. Regardless, the application process will have much in common.
Initial Application for Blanket Mortgage
Whether you're working with a broker or direct lender, you need to fill out an initial application and provide preliminary documentation. Beyond basic contact and identifying information for you and the business, required documentation will likely include:
Personal tax returns
Business tax returns (if applicable)
Bank statements (to prove cash reserves)
Professional resume
Business plan / project proposal
Property details
Property Details Required for Blanket Mortgage Applications
This will be a requirement with virtually any blanket mortgage application. You'll need to prepare a spreadsheet providing specific information for each property that will be covered by the blanket mortgage, including:
Property address
Property type of each property (single family home, multifamily property, apartment building, commercial real estate, etc.)
Property breakdown (bed, bath, square footage, etc)
Date purchased
Purchase price
Current fair market value
Cost of any renovations performed
Rent or business income (rent rolls)
Property expenses (taxes, insurance, HOA fees, common charges, utilities, etc.)
Amount of any existing financing
This spreadsheet will play an important part in underwriting the blanket mortgage.
Having all of this information ready, before you apply for a blanket mortgage, will streamline the process, allowing you to focus your time and energy on the most promising lender options.
Steps After Pre-Approval
After submitting a complete application and all necessary supporting documentation, the lender will make a determination on pre-approval. If pre-approval is granted, the next steps will include the ordering of appraisals and, depending on the project, site visits and environmental reports.
This information will be used to determine the final LTV and a term sheet will be issued. Assuming the term sheet is acceptable, you will provide closing documents and the lender will prepare the final loan package. In most cases, the entire process will take a minimum of 4 – 6 weeks.
Blanket Mortgages: A Closer Look at What Makes Blanket Loans Unique
While blanket mortgages are similar in concept to traditional mortgages, they are very different in the way they're structured. We discuss the key provisions of a blanket mortgage below, however important to keep in mind that these are general guidelines and that blanket mortgages are highly customized loans, so there can be considerable variation between lenders and blanket loans.
Release Clause in a Blanket Mortgage
The release clause is what allows a real estate investor to sell one property covered by the blanket mortgage without having to pay off the entire blanket mortgage. This is one of defining characteristics of a blanket loan.
While you won't have to pay off the entire mortgage, you will have to either replace sold properties with new ones within a certain agreed upon time frame, or reduce the loan amount. After all, every time you sell property covered by the blanket mortgage, you reduce the collateral backing the loan. The lender will want to see that the collateral is replaced quickly so that they're not risking a situation where you default on a largely unsecured loan.
In situations where property replacement isn't permitted, the lender may require you to reduce the amount of the loan outstanding. The lender will generally require that you reduce the loan amount by an amount that exceeds the pro-rata share of the mortgage that is attributable to that specific property. For example, they may require that you reduce the loan by 120% of the loan attributed to the sold property. If the loan share is $100,000, you will need to reduce the blanket mortgage balance by $120,000.
Types of Properties Covered by Blanket Mortgages
Properties included in a blanket mortgage are typically income generating. That means that such properties either produce cash flow from rents, business income, or sales proceeds (new construction or "fix and flip" properties for sale).
Blanket mortgages can be used to finance residential properties, generally considered to be 1- 4 family properties, condos, and townhouses. Blanket mortgages are also available for larger rental properties, like apartment buildings. They can also be used to cover commercial real estate, like office buildings, and even undeveloped land.
In most cases, a blanket mortgage provider will require that properties contained in a blanket mortgage must be of "like kind." That means that a mortgage covering rental properties must not contain raw land or commercial properties and vice versa..
While a blanket mortgage must finance a minimum of two properties, each lender establishes its own minimum number, with a 3 – 10 property minimum being quite common. Lenders may also establish a maximum number of properties financed with a single blanket mortgage, though for many it can be unlimited.
Multi-State Blanket Mortgages
With blanket mortgages, not only must the property type be of like-kind, sometimes the properties must be located in the same geographic area.
So while some lenders will include properties from various states under a single blanket mortgage, others may require a separate blanket mortgage covering properties in each specific state.
Blanket Mortgages: Recourse vs. Non-recourse
In a recourse loan, the lender has the legal right to pursue assets that you own apart from the properties that are pledged as collateral should you default on the mortgage. A recourse loan will require that you provide a personal guarantee on the mortgage.
In a non-recourse arrangement, the lender can only pursue the properties that are specifically pledged as collateral. No personal guarantee will be required on your part.
A blanket mortgage can be either recourse or non-recourse. However, in most situations, you will need a track record of previous success to get a non-recourse loan and it will likely have a lower loan-to-value ratio, since the lender will not be able to go after you personally in the event of a default.
Bottom Line
A blanket mortgage can be the perfect credit facility for builders & developers, flippers, investors assembling a rental portfolio, or businesses looking to leverage multiple locations. The release clause within a blanket mortgage gives investors the flexibility to buy and sell properties without having to apply for and settle a new mortgage every time. That will simplify the borrowing process and, in many cases, can save you money.
If you own 5 or more rental properties (1-4 units) and looking for $500K+ in blanket financing, reach out to CoreVest. They offer and LTV up to 75%, fixed rates, and terms of 5 or 10 years. They offer free, no-obligation consultations to investors looking for flexible financing solutions.