If you're going to invest in real estate, unless you have truckloads of cash, you're going to need to borrow money. Who you borrow from and how much you need will depend on the lender and the type of financing, the type of investment property, your personal finances, and your real estate investing experience.
Get a financing preapproval before going out to look at investment property. When you see a property you like, you'll be in a position to put an offer in and compete with all-cash buyers and buyers without a financing preapproval. You're going to have to do it anyway, so it's better to know upfront what financing you qualify for.
How to Use This Guide
First, bookmark this page, because you're going to reference it a lot. Go ahead. We'll wait. Second, sign up to receive email alerts to new articles we add to the guide and to access all the free downloads and tools we've created as part of this journey to help you build your real estate empire.
In the chapter, What to Do When You're Ready to Buy Investment Property, we go step-by-step through the process of buying and closing on investment property. Here, we'll cover buyer and investment property criteria and the different types of financing. In each section, you'll see links to in-depth articles on investment property financing topics. As we continue to build our database with relevant financing topics for real estate investors, they'll be added to the appropriate sections.
Investment Property Financing Criteria
To fund your investment property, lenders have to approve both the borrower and the property. Lender criterion varies depending on the type of financing and type of investment. Borrowing for a fix-and-flip loan comes with different criteria from borrowing for an owner-occupied buy-and-hold investment property. Fix-and-flip lenders offer easier qualifications compared to buy-and-hold.
A fix-and-flip loan often requires a minimum credit score of 640. Borrowers with better credit scores and a long history of successful fix-and-flip projects are considered safer and likely qualify for lower rates and fees as well as higher borrowing limits. If you're a new fix-and-flip investor, the lender typically expects you to work with a general contractor. .Knowing lender criteria will save you time in finding the right funding for your project.
Investment Property Financing: Borrower Criteria
Create a file for all the documentation lenders requires for approving your loan. Some documents lenders require including two years of tax returns, employment or self-employment verification, proof of funds for your down payment, and your last two pay stubs. The lender will do a hard credit check. If you have other assets like stocks and retirement accounts, expect to provide information for those too.
If this is not your first investment property, the lender will want copies of leases and proof of rental income. Depending on the type of financing and the type of investment property, some lenders require investors to have at least three years of real estate investing experience. If you're building a portfolio, they may require a business plan. For your convenience, we've included a downloadable borrower checklist that you can use to gather your information before talking with lenders.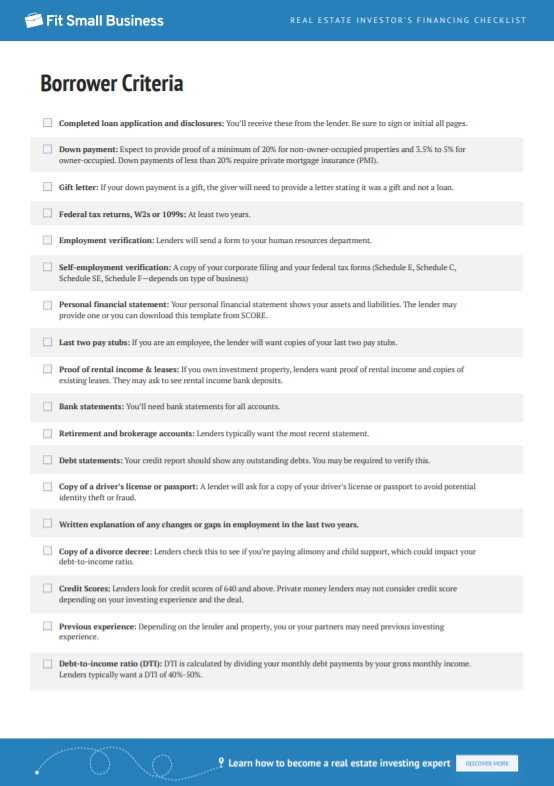 Download Borrower Criteria Checklist
Information lenders will ask for may include:
Down payment: Expect to provide proof of a minimum of 20% for nonowner-occupied properties and 3.5% to 5% for owner-occupied. Down payments of less than 20% require private mortgage insurance (PMI).
Gift letter: If your down payment is a gift, the giver will need to provide a letter stating it was a gift and not a loan.
Federal tax returns, W2s or 1099s: At least two years.
Employment verification: Lenders will send a form to your human resources (HR) department.
Self-employment verification: A copy of your corporate filing and your federal tax forms (Schedule E, Schedule C, Schedule SE, Schedule F — depends on the type of business)
Personal financial statement: Your personal financial statement shows your assets and liabilities. The lender may provide one, or you can download this template from SCORE.
Last two pay stubs: If you are an employee, they will want copies of your last two pay stubs.
Proof of rental income & leases: If you own investment property, lenders want proof of rental income and copies of existing leases. They may ask to see rental income bank deposits.
Bank statements: You'll need bank statements for all accounts.
Retirement and brokerage accounts: Lenders typically want the most recent statement.
Debt statements: Your credit report should show any outstanding debts. You may be required to verify this.
Copy of a driver's license or passport: A lender will ask for a copy of your driver's license or passport to avoid potential identity theft or fraud.
Copy of a divorce decree: Lenders check this to see if you're paying alimony and child support, which could impact your debt-to-income (DTI) ratio.
Credit Scores: Lenders look for credit scores of 640 and above. Private money lenders may not consider credit score depending on your investing experience and the deal.
Previous experience: Depending on the lender and property, you or your partners may need previous investing experience.
DTI ratio: DTI is calculated by dividing your monthly debt payments by your gross monthly income. Lenders typically want a DTI of 40% to 50%.
No Money Down 100% Financing
One of the most searched topics on the web about real estate financing is how to buy investment property with no money down. Before the subprime mortgage mess in 2008, if you were breathing, you could easily get 100% financing. It's more difficult today. The problem is that people who needed 100% financing were the last people who should've been using it.
We've been conditioned to want instant gratification, but it's better to get your finances to where you don't need 100% financing. If you find a lender who's willing to do 100% financing, and you don't need it, you're in a better position not to lose your investment property if something shifts.
Investment Property Financing: Property Criteria
If the lender is satisfied with the borrower criteria, you will get a preapproval letter from the lender that includes the amount you can borrow. You can submit this letter when making an offer to purchase a property. A lender preapproval is not a loan guarantee. It simply means that, at the time of application, you met the lender's borrower criteria.
With an accepted offer on an investment property, the information you submitted with your application is given to the lender's underwriting department for further scrutiny. The property gets evaluated and has to meet lender criteria. You'll need to submit a copy of the signed purchase agreement.
Items lenders need to meet investment property criteria include:
Appraisal: A formal valuation of the investment property to ensure financing is within the loan-to-value. The lender orders it, and you pay for it upfront or as part of your closing costs.
Property tax bills: These are usually provided by the seller or from the tax assessor's office.
Purchase & sales agreement: Your real estate agent will give you a copy or send it directly to the lender.
Repair estimates: For a rehab property, you'll need to supply contractor estimates for repairs.
Current rental income: The lender may want to see copies of existing leases and rent rolls for the property you're buying. Rental income doesn't count toward the purchase.
Certificate of occupancy: The occupancy certificate defines the building's legal use. Lenders may require this to make sure the property can be used as a rental.
Title search: An attorney or title agent conducts a title history search to rule out liens and encumbrances and determine the seller has the right to sell the property.
Deed: The copy of the deed is usually provided when you sign a purchase agreement.
Insurance binder: You'll need to purchase property insurance and submit proof of insurance (a binder) prior to closing, which you can do a few days before the closing.
Septic & well inspection reports: Not all lenders ask for these, but you may need to provide them.
Investment Property Formulas
To determine how much you can borrow on an investment property, lenders use different formulas and calculations. They may use a loan-to-cost (LTC) ratio, which is the percentage of a property's acquisition, rehab, and construction costs that will be financed.
If you've ever bought a house, you're probably familiar with the loan-to-value (LTV) formula, which determines how much you're able to finance, less your down payment. For example, an 80% LTV simply means the lender will loan 80% of the appraised value while you'll provide 20% down payment.
The after repair value formula (ARV) is generally used for fix-and-flip and rehab loans. ARV is calculated by adding the property's purchase price to what it will be worth after repairs are made based on what similar properties sell for that do not need repairs.
Approved With Conditions
After the borrower and property meet the lender's criteria, you'll have a financing commitment and can close on the property. It's more typical to get an approval with conditions that need to be satisfied. Conditions include further verification of the borrower's information or some issue with the property getting resolved. Rarely, an approval can also be suspended until the borrower resolves whatever arose that caused a suspension.
Investment Property Criteria
What Is After Repair Value: How to Calculate + ARV Formula
Debt-to-Income Ratio: How to Calculate & DTI Formula
How to Finance Your First Investment Property
There are many ways to finance investment property. If you don't have a down payment, you can start saving, or perhaps a parent or relative would give all or a portion of the down payment to you as a gift. If you receive gift money toward a down payment, the lender will require a gift letter from the giver to show the money is not a loan that needs repayment.
To build a down payment faster, you can sell your stuff, reduce expenses, and save the difference, reinvest rental income, or pick up a side gig.
Live in One Unit, Rent the Other
If you buy an owner-occupied duplex or triplex and live in one unit and rent the others, you can take advantage of lower interest rates and down payments as low as 3.5%. Saving 3.5% is easier than saving 20%, but a down payment below 20% will require private mortgage insurance (PMI) of approximately 0.5% to 1% of the amount borrowed, paid annually. PMI reduces the lender's risk of default, and you'll pay PMI until the property has 20% equity.
Borrow From Your Home's Equity
If you have substantial home equity in your primary home, you might qualify for a home equity loan or line of credit (HELOC) that you can use as a down payment. Taking out a loan for a down payment increases your DTI, so make sure the investment property has enough cash flow to cover this expense. To borrow against your home, you'll typically want at least 30% to 40% equity.
Tap Into Retirement Accounts
If you're self-employed, you can use a self-directed solo 401(k) to buy investment property. If you have a retirement account through your employer, you can use a self-directed individual retirement account (IRA) for investment property. There are some restrictions and potential penalties, so make sure to contact your retirement plan administrator and read our articles below.
Financing Investment Property
Where to Get Investment Property Loans for Rental Property
Buying a Duplex, Triplex, or Fourplex—The Ultimate Guide
How to Finance a Real Estate Portfolio
All the ways that you can finance your first investment property can be used to finance multiple investment properties, but there are additional resources to get investment property financing for building your portfolio. If you're a buy-and-hold investor, you'll most likely need to stabilize the first property before you can finance additional properties.
Stabilizing rental property means it's fully rented, collecting market rents, and capital improvements are minimal or completed. Most lenders require a seasoning period of six to 12-months before lending on additional properties. Some lenders offer financing without the seasoning period. Traditional lenders typically won't finance more than four investment properties, even though Fannie Mae guidelines allow up to 10.
In the Types of Investment Property Financing section below, we include information about portfolio loans and other nontraditional financing designed for financing multiple investment properties.
Buy, Rehab, Rent, Refinance, and Repeat
The BRRRR method means to buy, renovate, rent, refinance, and repeat. For this to work, you'd have to get a great deal on a property that needs work, renovate it, secure tenants, and do a cash-out refinance to get funds to buy the next property, repeating the process to build your portfolio. It's a lot of work so, ideally, you'd only want to invest in no more than five properties within a year.
BRRRR is a great portfolio building tool, but you have to make sure the numbers work. When you refinance, you still need to have enough equity for the lender's LTV ratio, and the rental income from the BRRRR property has to have enough income to cover the new loan and provide positive cash flow.
I know investors who have built large portfolios using BRRRR. It can be a slower process since it takes time to complete all the steps, sometimes taking six months per property. If you need additional financing for the next rental, lenders often require a six-month seasoning period of an existing rental before they lend on the next property. Some investors have done two or three BRRRR properties within a year.
Investment Property LOC
An investment property LOC is the same as a home equity line of credit, but the loan is drawn from the investment property's equity. LOCs are more difficult to get than HELOCs because there is a greater risk for a borrower to default on an investment property than their home. For an investment property LOC, you'll need at least 20% equity remaining after you take out the line of credit so that the property would need substantial equity.
1031 Exchange
The Federal government created the 1031 Exchange tax code to encourage real estate investing. Section 1031e allows investors to reinvest profits from the sale of a nonowner-occupied investment property into up to three other investment properties and avoid paying capital gains and depreciation recapture.
Rent Your Owner-occupied Property and Move
If you buy an owner-occupied multifamily property, you can get low rates and a down payment as low as 3.5%. Some investors start by using the rental income from the other units to cover their mortgage and move in a year or two into another rental property while renting their former unit. Lenders often require the borrower to live in the property for at least a year. You will still need to come up with the down payment on the next property.
Buying Multiple Properties
How to Buy Multiple Rental Properties in 7 Steps
Investment Property Line of Credit (LOC): The Ultimate Guide
Section 1031 Exchange: The Ultimate Guide to Like-kind Exchange
Investment Property Financing Types
With so many types of investment property financing, it's easy to get overwhelmed trying to figure out which financing is right for your project. The type of investment property you're purchasing, your credit rating, and whether you're building a portfolio or flipping rehabs are all factors that impact the financing you'll choose.
Short-term Financing
Short-term financing loans typically do not exceed three years with most only for one or two years. These include hard money loans for fix-and-flip projects and bridge loans, which provide a "bridge" while investors transition into long-term financing. Short-term financing carries higher interest rates and fees than traditional 15- and 30-year mortgages, but short-term lenders are more lenient with a borrower's credit and financial status.
Private money lenders usually offer short-term loans instead of traditional banks. Some short-term loans have prepayment penalties, so be sure to read the fine print. Short-term loans are right for investors who can't get traditional, long-term financing for their investment property. They're also a good choice for fix-and-flip projects.
Short-term Financing Resources
Private Money Lenders: The Ultimate Guide to Private Money Loans
Fix & Flip Loans: The 5 Best Fix & Flip Financing Options
Rehab Loans for Investors: FHA 203(k) Loans, Hard Money & More
Long-term Financing
Long-term loans are typically for a term of 15- to – 30-years, though some consider seven- to-10-year mortgages as long term. Long-term loans have lower interest rates and fees than short-term mortgages, and most don't carry a prepayment penalty if you pay off the loan early. They offer both fixed and adjustable interest rates.
If you buy an owner-occupied investment property, you can get a long-term, fixed-rate loan with as little as 3.5% down payment, but don't forget, you'll have to pay PMI. Long-term loans are great for investors of both owner-occupied and nonowner-occupied multifamily investment properties. With lower rates and more time to pay, monthly payments are smaller than with short-term financing, leaving more cash flow to reinvest.
Long-term Financing Resources
4 Types of Multifamily Financing: Rates, Terms & Qualifications
Federal Housing Administration (FHA) Multifamily Loan: Costs, Terms & Where to Find
Mixed-use Loans: The Ultimate Guide on Financing a Mixed-use Building
Nontraditional Financing
Nontraditional financing is creative financing that doesn't conform to standard mortgage guidelines. It includes short-term financing. Any type of financing that breaks away from the typical FHA, conventional, nonconforming and conforming loans can be considered nontraditional. You can get creative to finance investment property without borrowing from a bank like asking the seller to carry all or a portion of the mortgage.
Another option is crowdfunding real estate, where a group of people pool small amounts of money in exchange for equity or interest payments. Nontraditional financing is ideal for investors who need financing for more than four properties, can't get traditional funding, or have a unique investment project that doesn't fit lender criteria.
Nontraditional Financing Resources
Owner Financing: The Ultimate Guide to Seller Financing
Government Financing
The federal government offers loan programs that can be used to finance multifamily investment properties where the property is the borrower's primary residence. Government-backed loans have low-interest rates and minimal down payment requirements. They're a great option for investors who don't have a lot of cash for a down payment and don't mind living in their investment property.
An often overlooked source of government financing is the United States Department of Housing and Urban Development (HUD) Community Development Block Grant and Housing Rehabilitation Program (HUD CDBG). With the HUD CDBG program, grantees can rehabilitate rental housing. There are caveats. Properties need to be in a low-to-moderate-income (LMI) area, and landlords have to adhere to tenant income guidelines. For nonowner-occupied investment properties, the Housing Rehab program will grant up to 50% of rehab costs and 100% for owner-occupied income-eligible owners.
Government Financing Resources
8 Steps to Buying a HUD Home: An Investor's Guide
3 Types of Apartment Loans: Rates, Terms & Qualifications
Summary
Your homework for this chapter is to start a regular habit of studying about different types of investment property financing. Set a goal to read at least one or two articles a day. Knowledge is cumulative so, by continually digesting information on different investment property loan products and ways to get financing, you'll have a storehouse of resources to fund deals.
You'll be way ahead of other investors who don't think about how they'll fund their investment until they're ready to submit an offer and limit themselves to conventional loans or lose the deal because they couldn't get funded.
Key Points to Remember
Knowledge is power when it comes to investment property financing. Knowing what financing is available for different types of investment properties will aid in getting more deals funded.
Lenders use criteria for both the borrower and the property when determining whether to lend on investment property.
No-money-down, 100% financed loans are better for investors who don't need 100% financing.
Short-term loans have higher interest rates than long-term loans.
A good investment strategy for buying multiple investment properties is to live in one unit, rent the others, and move in a few years into the next investment property. This strategy allows the borrower to take advantage of a low down payment and favorable interest rates.
Seller financing is when a seller acts as the lender. It's a good option for investors who are looking for creative nontraditional financing.
Government financing for investment property typically requires the borrower use the property as their primary residence.