U.S. businesses lose around $60 billion annually to retail shrinkage. The vast majority of the losses are attributable to retail theft. Before your business can stop shoplifting and reduce shrinkage, you need to implement careful inventory management. Once that's in place, there are a number of affordable ways to reduce retail theft at your business.
5 Steps to Reduce Retail Theft & Shoplifting
1. Identify Where Your Losses Are Coming From
Before you can reduce retail theft, you need to know who is responsible for your losses. According to a 2017 study by the National Retail Federation, there are 3 main reasons for retail loss, also known as shrinkage.
Your Customers
Shoplifting accounts for around 37% of retail loss in the United States. Items can be taken for personal use or resale. Health and Beauty, apparel, and electronic stores are most vulnerable to this kind of theft. Make sure crime coverage is included in your insurance.
Your Employees
In the US, employee theft is the number one cause of retail shrink. In fact, it makes up about 30% of retailers' total shrinkage. There are various reasons that employees steal from their companies. Some want to give friends a deal (sweethearting), others are dissatisfied with their employers/bosses, and some steal because they want extra cash. We've written about how a modern point-of-sale system (POS) can significantly reduce this kind employee theft.
Other: Suppliers, Contractors, Management, and Administration
The remaining 34% of retail theft was pinned on suppliers and contractors, and inventory management and administrative errors. Suppliers and contractors might overcharge you, resulting in costs for services or products that you never actually received. Small businesses with more informal/less-organized contracts are especially susceptible to this kind of theft. Management and administrative errors, like mismanagement of inventory (ordering too much product, etc.) and pricing items incorrectly would both be examples of errors that will add up to significant losses.
Pro Tip: Invest in a Security System
The easiest way to identify where losses are occurring is by covering all areas of your store with cameras, so you can keep an eye on things even when you can't physically be on the sales floor.
2. Educate Your Employees
Your first line of defense is your staff. You should educate them on how prevent shoplifting and employee theft.
How to Prevent Shoplifting
Some common ways employees can help with shoplifting prevention include:
Be more aware at certain times such as peak hours, opening, closing
Keep an eye on shoppers with bulky clothing, handbags, strollers
Be aware of common tactics such as label switching, returning merchandise, theft in changing rooms
Pay attention to shoppers who spend too much time watching staff, those entering and exiting the store without buying anything, and multiple people in a dressing room
Most times staff don't need to intervene. They can simply ask if a shopper needs help. This is often enough to prevent shoplifting. If you do need to intervene it's probably best to get a manager or call the police.
How to Prevent Employee Theft
The best way to prevent employee theft is to educate them on the measures you are taking to prevent it.
Explain that you are tracking inventory
Tell employees what is being taken and how much
Describe any measures you are taking to prevent employee theft such as video cameras
3. Organize Your Store and Put Up Signs and Mirrors
Store Organization
The majority of shoplifters steal in response to an impulse. The National Association for Shoplifting Prevention (NASP) conducted a survey which found that around 73% of shoplifting incidents are not premeditated. With proper deterrents in place, shoplifters are much less likely to actually act on their impulses. Here are some ways to organize your store for better shoplifting prevention:
Have open floor layout so most of the store is visible
Keep displays from going to high and dividing store visibility
Keep often or most easily stolen items are closer to the cash register
Have your checkout near the front of the store instead of in the back
Design it so cashiers have a clear line of site throughout the store while they checkout shoppers
Arrange lighting so there are few if any dimly lit areas
If you need more help in planning your store layout take a look at our step by step instructions.
Put up Shoplifting Signs and Security Mirrors
We called Joe Frawley, former police sergeant at Cambridge, MA police department and former owner of Eastern Security Inc, to talk about reducing retail theft. He stated that one of the most important things is to put up shoplifting signs like the ones below. These signs are important not only as deterrents, but also for legal reasons. If you ever intend to take a shoplifter to court, you need to have your store posted. Joe also mentioned the importance of security mirrors. If there are areas in your store that have taller shelving or are more secluded, security mirrors can be a great low-cost deterrent option.
4. Install Surveillance Equipment
Although training, signs, and mirrors are generally enough to reduce retail theft for the small business owner, the next step up in security is installing surveillance equipment such as cameras and RFID tags.
Fake Surveillance Cameras
A very inexpensive way to use cameras to prevent shoplifting is to buy a fake security camera. They can range from just a few dollars to a couple of hundred dollars depending how realistic they look. For example they might come equipped with faux lights, rotate across the store, etc.
Video Surveillance Systems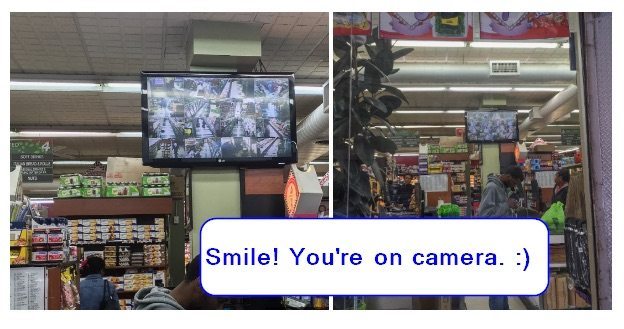 Video security cameras not only allow you to check on your customers/employees, they also provide an obvious visual deterrent to would-be shoplifters. Although advanced security camera systems can be expensive, a basic system doesn't have to be. In fact, like most electronics these days, security camera systems have seen their quality drastically improve while their prices have dropped. Today, a good multi-camera system with a DVR or NVR can run as low as $200.
Discreet cameras are not really the best choice. Make sure the camera is obviously a camera and big enough to see clearly. These cameras are especially effective when paired with a monitor that is placed in a public space where people can see themselves on-camera.
Premium Video Surveillance/Analytics System
The newest thing in retail security is what is known as video analytics software. This is a high-end video surveillance system which digitally monitors your customers and employees in real-time and alerts you when it senses suspicious behavior. In addition, it allows you to look up any transaction and view the video footage associated with any item on the receipt.
Stoplift is one of the major movers and shakers in this business, and one of their systems will cost between $7,000-$8,000 in startup costs, depending on the number and quality of cameras desired, and then around $300 a month in service fees for an 8 checkout retail store. Stoplift also has the ability to integrate with video surveillance systems that are already in place.
Although relatively expensive and probably overkill for most small-business owners, video analytics software does have the potential to significantly reduce retail theft and free you up to focus on other areas of your small business.
RFID Tags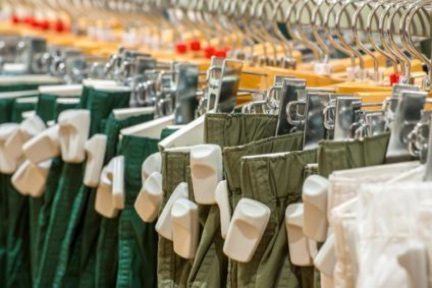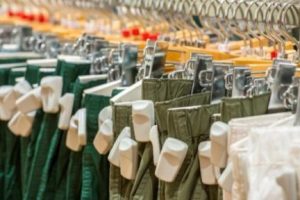 Retail RFID tags are sticker or pin-tag radio-frequency identification devices that attach to your products. If a customer walks out with an item that still has an RFID tag on it a sensor alarm near the door will go off.
RFID tags vary in cost, depending on the level of sophistication and range. A refurbished system will often be cheaper and just as effective. You can find several different refurbished RFID package options here that include 1000 tags, 1-2 sensor wands, and several tag removers for between $2,000-$5,000.
Although professional thieves can bypass this system using foil-lined shopping bags, RFID tags are a good option to discourage the majority of shoplifters.
5. Hire a Security Guard
If you are looking to hire a security guard, expect to pay around $15-$25 an hour for unarmed guards to around $50-$100 an hour for an armed guard. Depending on the type of security guard and your geographic location, it could cost your company around $40,000-$100,000 a year.
Uniformed guards are a great visual deterrent, but also have the potential for making loyal customers uncomfortable. Plainclothes guards are often more effective in actually catching thieves, because they look much like a regular customer, but are not nearly as effective of an overall deterrent.
If you just want to test drive having a security guard or need one right away for a short time, consider working with a company like Bannerman Security. They offer on-demand security guards. The guards can work stores, bars and restaurants, office parties/events, and office lobbies, and much more.
All of their guards pass background checks by the FBI and DOJ, but they also get rated by other Bannerman users. Cost is around $35 per hour. This can be a very affordable way to try out a security guard at your business. If it seems like a good fit, you can undertake a search for a full-time guard. If it's not a great fit for your business, no problem.
Currently, Bannerman only operates in New York, Los Angeles, San Francisco, and Sacramento but they have plans to expand to other cities soon.
Bottom Line – Reducing Retail Theft & Shoplifting
Although retail theft can be a big problem, the good news is that there are a variety of affordable theft-reduction options available for small businesses. Using a POS system can show you where you have inventory shrinkage, and using security mirrors can give you better visibility of your store.
If you feel that you need an actual security system rather than simple theft deterrents, try SimpliSafe. You can get a wireless security system including a motion and door sensor, wireless keypad, and keychain remote for less than $250. There's no annual contract, no installation fees, and no landline needed.