Top 5 Business VoIP Routers in 2022
This article is part of a larger series on VoIP.
Voice-over-internet-protocol (VoIP) routers provide a reliable connection for your wired and wireless VoIP devices. The best business VoIP routers are expandable for large or multi-branch offices. They use the latest wireless standards, have additional security features, and support quality of service (QoS) prioritization.
To find the right router for your business phone system, we compared several options based on pricing and added functionalities.
The best VoIP routers include:
Best VoIP Routers at a Glance
Business VoIP Routers

Starting Price

Features

Number of Radio Bands

FSB Rating

ASUS RT-AC68U

$129.99

Combined data transfer rate up to 1,900 megabits per second (Mbps)
4 Ethernet ports
Trend Micro intrusion detection

Dual-band (2)

4.61 out of 5

SonicWall TZ270

$596.37

16 supported access points
8 Ethernet ports
Intrusion detection protection

Dual-band (2)

4.43 out of 5

TP-Link Archer VR2800

$314.65

Combined data transfer rate up to 2,167 Mbps
4 Ethernet ports
Integrated modem for DSL users

Dual-band (2)

4.36 out of 5

Netgear Nighthawk X10

$499.99

Combined data transfer rate up to 7,200 Mbps
7 Ethernet ports
Bitdefender network security

Dual-band (2)

3.83 out of 5

Linksys EA8300 Max-Stream

$199.99

Combined data transfer rate up to 2,200 Mbps
5 Ethernet ports
Quad-core processor

Tri-band (3)

3.69 out of 5
ASUS RT-AC68U: Best Overall & Best Business VoIP Router for Affordability
What We Like
No subscription fees for security protection
Encrypted virtual private network (VPN) access
Works with other ASUS routers
What's Missing
Only 1 universal serial bus (USB) 3.0 port
Less random access memory (RAM) than other routers
ASUS RT-AC68U Pricing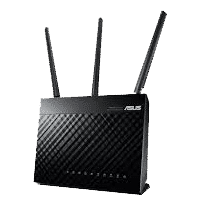 ASUS RT-AC68U is the best VoIP router for overall value thanks to its low price and ability to create up to three guest networks. It features one USB 3.0 for large data transfers and a standard USB 2.0 to connect your printer or modem. The 1 gigahertz (GHz) dual-core processor is faster than Linksys EA8300, but it has the lowest flash RAM out of all of our featured business VoIP routers.
The web-based setup is straightforward, with ASUS saying it only takes 30 seconds to install the router. It's AiMesh-supported to connect other ASUS routers, and the device comes with AiProtection from Trend Micro for threat protection and blocking. ASUS also earns the highest ratings for customer satisfaction, according to J.D. Power's 2021 Wireless Router Satisfaction Report.
ASUS RT-AC68U Features
ASUS router app: Use your Android or iOS device to manage network traffic, update router firmware, and diagnose connection issues. You can also handle your QoS settings and block users or devices from the application.
AiProtection: Unlike SonicWall TZ270 and Netgear Nighthawk X10, which charge fees for security services, the ASUS RT-AC68U provides security protection for the product's lifetime. The services include an intrusion prevention system (IPS), blocklists, and a content filter.
AiMesh: Increase connectivity in your home or office building by adding routers. Your network can have single or multiple SSIDs (service set identifiers), and the mobile app or browser lets you manage all equipment from a central location.
SonicWall TZ270: Best Business VoIP Router for Comprehensive Security
What We Like
Integrated security services provide comprehensive threat detection
Easy to scale as part of a larger network
Maximum control over QoS
What's Missing
More expensive than other VoIP routers
May be overkill for home offices and small buildings
SonicWall TZ270 Pricing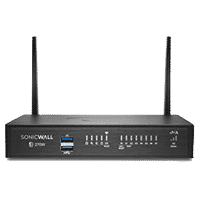 Although all business VoIP routers on our list offer security features, SonicWall TZ270 provides the highest level of protection with real-time intrusion detection tools alongside wireless and networking capabilities. It uses advanced threat protection (ATP) and real-time deep memory inspection (RTDMI) technology to detect and block threats.
SonicWall TZ270 supports 64 virtual local area networks (VLANs) and 16 access points, making it suitable for small to medium enterprises (SMEs) and multi-branch locations. The dual-band router also has the highest number of Ethernet ports (eight) compared to seven with Netgear Nighthawk X10 and four with TP-Link Archer VR2800.
However, the SonicWall TZ270 is more expensive than other devices. If you don't intend to add wireless access points, switches, or LANs, consider the ASUS RT-AC68U with Trend Micro threat prevention.
SonicWall TZ270 Features
Adaptive QoS: Optimize the available bandwidth for inbound and outbound data with SonicWall's QoS tools. You can drag and drop priority applications and tasks to create preset configurations for your VoIP and file transfers.
Threat protection suite: Built-in security features help manage and block threats from a single device. Many third-party sellers bundle one to three years of threat protection services into your router purchase, but you can also buy it as a standalone package.
SonicExpress mobile app: Set up and monitor your security using SonicWall's mobile app for Android and iOS devices. The easy-to-read dashboards provide system status and resource utilization metrics.
TP-Link Archer VR2800: Best Business VoIP Router for DSL Users
What We Like
Amazon Alexa compatible
Can be used as a DSL modem
Two high-speed USB 3.0 ports
What's Missing
Fewer Ethernet ports than other routers
Lacks built-in intrusion protection software
TP-Link Archer VR2800 Pricing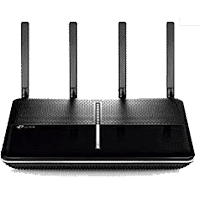 The TP-Link Archer VR2800 is an excellent solution if you want to use one device as a modem and a router. It works with most internet service providers (ISPs) and provides a very-high-bit-rate digital subscriber line (VDSL) for DSL users. If you have fiber or cable, you can use the TP-Archer VR2800, but you'll still need a router. The dual-band unit has combined data transfer rates of 2,167 Mbps, higher than ASUS RT-AC68U but lower than Netgear Nighthawk X10 and Linksys EA8300.
Two USB 3.0 ports support high-speed file transfers, and four Ethernet ports let you connect other devices requiring a wired connection. According to J.D. Power, TP-Link also receives the second-highest score in customer satisfaction. However, it has fewer Ethernet ports than SonicWall TZ270 (eight) and Netgear Nighthawk X10 (seven)—making it less desirable for wiring multiple external devices.
TP-Link Archer VR2800 Features
Tether app: Manage your blocklist, guest network, and parental controls from your mobile phone. The Tether app also provides central management if you add other TP-Link Archer routers.
QoS: Like SonicWall TZ270, the TP-Link Archer VR2800 offers traffic control and asynchronous transfer mode (ATM) management.
Security: This router has a network address translation (NAT) firewall, access controls, and network encryption. But it lacks dedicated security software offered by SonicWall and ASUS.
Check out TP-Link Archer VR2800
Netgear Nighthawk X10: Best Business VoIP Router for Media Streaming
What We Like
Ultra-fast processor
Support for 20 devices
Has a small form-factor pluggable (SFP) port
What's Missing
More expensive than other solutions
Not as scalable for large teams
Netgear Nighthawk X10 Pricing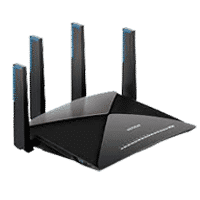 Netgear Nighthawk X10 is the best VoIP router for workplaces or home offices with a high volume of media streaming—from watching videos to hosting large webinars or conferences. The data transfer rate of 7.2 gigabits per second (Gbps) or 7,200 Mbps is significantly higher than ASUS RT-AC68U or TP-Link Archer VR2800 devices. It also features 1GB of RAM compared to the standard of 256MB that comes with other routers.
Likewise, Netgear Nighthawk X10 uses a quad-core processor with 1.7GHz, the most processing power of any router on our list. But, it doesn't offer as many QoS features as TP-Link Archer VR2800 or SonicWall TZ270, and the security tools require a subscription after the trial period.
Netgear Nighthawk X10 Features
Nighthawk app: Download the Nighthawk app to your iOS or Android device to pause the internet, perform a VoIP speed test, and view connected devices.
SFP port: The Netgear Nighthawk X10 is the best VoIP router for connecting a fiber line to the SFP port and freeing up an Ethernet port for direct-wired endpoints.
Plex media server: Store your business or personal media on Netgear's Plex media server and free up storage space on your computer.
Check out Netgear Nighthawk X10
Linksys EA8300 Max-Stream: Best Business VoIP Router for Tri-band Service
What We Like
Supports up to 50 devices
Automatic firmware updates
Amazon Alexa compatible
What's Missing
Only 1 USB 3.0 port
Slower processing speed than other VoIP routers
Linksys EA8300 Max-Stream Pricing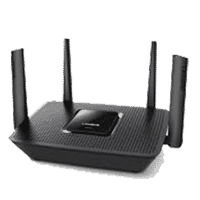 The Linksys EA8300 is the only router offering three radio bands, including two 5GHz and one 2.4GHz, making it a great choice for small homes or offices. You can put VoIP business phones on one band, use another for guest access, and connect work computers to the third. Also, you have the option to let your router choose the best band based on a device-by-device basis.
However, at 716 megahertz (MHz), the quad-core processing unit is slower than the competitively priced dual-core ASUS RT-AC68U with 1GHz. You'll still see higher data transfer speeds with Linksys EA8300's 2,200Mbps versus 1,900 with ASUS. If you have a larger office space, consider a more scalable solution that's compatible with other routers, access points, or mesh systems like SonicWall TZ270 or ASUS RT-AC68U.
Linksys EA8300 Max-Stream Features
Linksys app: Install and configure your router using an iOS or Android device. The Linksys app lists your connected devices and supports internet scheduling. Plus, you can allow Wi-Fi access for up to 50 guests.
Airtime fairness: Evenly distribute Wi-Fi to home and office devices to reduce lag times on slower or older equipment. The Linksys EA8300 does this in the background, keeping Wi-Fi steady for all connected hardware.
Alexa Wi-Fi access: Like Netgear Nighthawk X10, use your voice to control Wi-Fi access. The Amazon Alexa integration supports voice commands to turn off Wi-Fi to certain devices or enable guest Wi-Fi.
Check out ​Linksys EA8300 Max-Stream
How We Evaluated the Best Business VoIP Router
Router Wi-Fi speeds and central processing units (CPUs) can affect the quality of your small business VoIP service. However, QoS and multi-band features let you prioritize devices and applications for improved voice and video calls. Based on general and advanced features, user reviews, and costs, we compared several routers to determine their standout features and best use cases.
Learn how we evaluated the best business VoIP router by clicking on the tabs below:
10% of Overall Score
The cost of a single router varies widely, and many offer optional subscriptions that alter the starting price. As such, we reviewed the individual cost per unit and factored in the length of the free warranty.
40% of Overall Score
All business VoIP routers meet the latest Wi-Fi standard type that supports multi-user multiple input multiple output (MU-MIMO). We gave points according to the average Wi-Fi speed and number of USB ports. Plus, we looked for consoles with built-in VPNs and dual bandwidth.
30% of Overall Score
We examined the types of network protection offered with each router, including optional, integrated security subscriptions. Additionally, we scored routers on their QoS capabilities and suitability for large teams.
20% of Overall Score
Our expert score looked at standout features and considered the overall value for the money. We also looked at the ease of installation and user reviews to determine device popularity.
*Percentages of overall score
Bottom Line
A voice-over-internet-protocol (VoIP) or in-office PBX phone systems relies on your internet connection, and many companies hook business VoIP routers to their cable, fiber, or digital subscriber line (DSL) modems. This provides wireless coverage and supports hardwired devices. Consult your VoIP provider before purchasing to ensure compatibility with the router hardware and firmware.
ASUS RT-AC68U earns 4.61 out of 5, making it the best VoIP router for small businesses. The web-based or mobile app installation process takes less than a minute, and the incorporated threat protection software doesn't require a subscription. Explore more features by visiting the link below.