The best voice-over-internet-protocol (VoIP) routers for businesses provide excellent data security, enable high-quality calls amid surges in network traffic, and offer fast wireless connectivity. To help you find the right solution and know what you should look for in a VoIP router, we combed through dozens of solutions and compared their features, such as dual/tri-band frequency and flexible connectivity options.
Based on our research, these are the six best business VoIP routers:
Best Business VoIP Routers at a Glance
Business VoIP Routers

Starting Price

Number of Radio Bands

Key Specifications

FSB Rating

Linksys EA8300 Max-Stream

$199

Tri-band (3)

5 Ethernet ports, auto firmware update, and 716 Mhz quad-core

4.88 out of 5

ASUS RT-AC68U

$129.99

Dual-band (2)

5 Ethernet ports, combined dual-band speeds of up to 1900 Mbps, and AiProtection Pro

4.46 out of 5

Netgear Nighthawk X10

$229.99

Dual-band (2)

7 Ethernet ports, 802.11ac and 802.11ad Wi-Fi technology, and Plex media server

4.20 out of 5

Cisco RV320

$329

Not available

6 Ethernet ports, 7 VLANs supported, and firmware upgrade via web browser

4.19 out of 5

SonicWall TZ270

$777.00

Dual-band (2)

8 Ethernet ports, advanced threat protection, and stream-based malware scanning

3.89 out of 5

ARRIS Surfboard SB8200 DOCSIS 3.1

$169

Not available

2 Ethernet ports, easy setup with SURFboard Central app, and wired speed of up to 2 gigabytes per second (Gbps)

3.66 out of 5
Linksys EA8300 Max-Stream: Best Overall Business VoIP Router for Customizability
What We Like
Tri-band technology offering fast Wi-Fi speeds
Simple setup, not requiring sophisticated technical expertise
Easy configuration via the Linksys platform
Where It Falls Behind
Only one universal serial bus (USB) 3.0 port
Low random access memory (RAM)
Not ideal for large offices since it lacks the long-range capabilities
Linksys EA8300 Max-Stream Pricing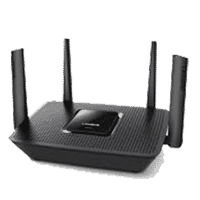 The Linksys EA8300 Max-Stream is the best business VoIP router as it ticks off the right boxes: affordable price, excellent signal quality thanks to seamless roaming, and easy, straightforward setup using a smartphone or tablet. More importantly, it's a customizable router, offering options to prioritize data allotment between devices and other applications, like video conferencing platforms. The router is easy to configure through Linksys' Smart Wi-Fi app.
Upon accessing the dashboard, you'll find plenty of tools for tweaking the router for optimal performance. Set your preferences on the network map, Wi-Fi settings, external storage, parental controls, and security. Take note, however, that this router works best in small offices because of its short range. If you're looking for a solution with a longer range, the next solution listed here, ASUS RT-AC68U, is the most suitable.
Linksys EA8300 Max-Stream Features
Airtime fairness: Ensure that each device on your network gets equal internet performance. This is especially beneficial to a team with members using different types and models of devices.
Advanced beamforming: Direct a wireless signal toward a specific direction to facilitate faster internet for certain devices.
Seamless roaming: Let devices "roam" between the router and range extender products to ensure high-quality VoIP calls. Remember, your device must support seamless roaming ("Wi-Fi roaming" in Android devices) to maximize this feature.
ASUS RT-AC68U: Most Affordable VOIP Router
What We Like
Works seamlessly with ASUS routers
Commercial-grade security via AiProtection Pro
Great value for money
Where It Falls Behind
Only one USB 3.0 port
Cannot be mounted to a wall
Low random access memory (RAM)
ASUS RT-AC68U Pricing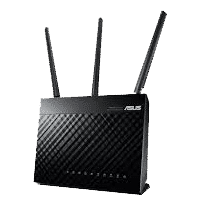 ASUS RT-AC68U is the best VoIP router for small businesses requiring an affordable solution. For only $129.99, enjoy fast internet speeds of up to 1900 megabits per second (Mbps), made possible by the router's 802.11ac 3×3 technology. It's TurboQAM Wi-Fi acceleration also increases wireless speeds, especially when paired with AiRadar, which uses beamforming technology.
This affordable router is especially beneficial for those new to VoIP technology. With this solution, transitioning from landlines to modern business phone systems won't break the bank.
One disadvantage you should know when choosing the ASUS RT-AC68U is that it has a low amount of RAM, at 256MB. This could be a problem if you have more than 10 devices connected. In this case, it's better to choose Netgear Nighthawk X10, as it has more RAM, making it more capable of preventing network congestion.
ASUS RT-AC68U Features
AiProtection Pro: This feature improves network security by preventing data leaks when an infected device connects to the router. It also uses Trend Micro's official database to identify and block known malicious sites.
AiRadar: Aside from using the beamforming technology, this feature has high power amplification and exclusive ASUS RF fine-tuning, enhancing wireless connectivity and supporting extended coverage.
AiMesh: This connects several compatible ASUS routers, further improving the connectivity in your office.
Netgear Nighthawk X10: Best VOIP Router for Media Streaming
What We Like
1GB RAM
Fast Wi-Fi experience thanks to 802.11ac technology
Powerful processor
Where It Falls Behind
More expensive than other VoIP routers
Fewer quality of service (QoS) features compared to other providers
Not supported by security tool NETGEAR Armor
Netgear Nighthawk X10 Pricing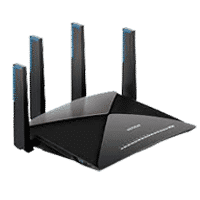 If you regularly engage in large meetings and webinars, Netgear Nighthawk X10 is the ideal small business VoIP router for you as it uses 802.11ac and 802.11ad Wi-Fi technology, supporting intensive media streaming. It also accommodates Wi-Fi devices that use the 60 GHz band, which offers a maximum speed of 4,600 Mbps.
The VoIP router's Quad Stream enables four data streams for each of the three Wi-Fi bands, further securing an excellent connection. Netgear Nighthawk X10 has a total range of 2,500 square feet, making it most suitable for large offices. One downside in using this business VoIP router is that it doesn't have as many quality of service (QoS) features as SonicWall TZ270.
Netgear Nighthawk X10 Features
Plex media server: Plex media server runs on Nighthawk X10, enabling you to store pictures and videos on the router and make files easier to access.
Multi User-Multiple Input Multiple Output (MU-MIMO): This feature allocates bandwidth and prevents speed slowdown when you have several users connected to the network at the same time.
Enhanced active antennas: Each of the router's four antennas have Wi-Fi amplifiers, offering stronger signals and boosting the internet performance on devices.
Cisco RV320: Best for Easy, Secure Remote Access
What We Like
Intuitive device management platform
Firmware upgradable via the web browser
High-performance Ethernet ports for fast transfer of large files
Where It Falls Behind
Costly compared to other routers
Load balancing bugs reported by some users
Poor technical support, according to some users
Cisco RV320 Pricing

Since Cisco RV320 is a virtual private network (VPN) router, it allows employees from anywhere in the world to access central network resources. Thus, this solution is most suitable for companies that have remote teams accommodating multiple devices. It's also a great option if you have offices in several locations, as the VPNs provide secure connections among different branches.
Aside from the easy, secure remote access, Cisco RV320 makes for an ideal router choice as it features two Ethernet ports, providing two connections to your internet provider. The downside, however, is that some users reported encountering load-balancing issues. If this is a dealbreaker for you, consider the Linksys EA8300 Max-Stream, as it has a more robust band steering feature that can easily be configured.
Cisco RV320 Features
Security features: Cisco RV320's security features include a stateful packet inspection (SPI) firewall and different kinds of encryption: Data Encryption Standard (DES), Triple Data Encryption Standard (3DES), and Advanced Encryption Standard (AES).
Dual USB ports: Connect a printer, an external hard drive, or a 3G/4G modem to your router. The Wide Area Network (WAN) can fail over to the 3G/4G modem when plugged into the router.
QoS: The settings include rate control and prioritization types. With these options, ensure crystal-clear calls even during high volumes of network traffic.
SonicWall TZ270: Best for Secure Connectivity
What We Like
Sophisticated threat detection
High-port density of up to 10 ports
Zero-touch deployment
Where It Falls Behind
Most expensive among the routers listed here
Need to purchase annual licenses to unlock additional features
May be overkill for home offices
SonicWall TZ270 Pricing

SonicWall TZ270 is among the best routers for VoIP communications for its extensive set of security features protecting confidential business information. It automatically inspects all incoming and outgoing data packets and applications within the network through next-generation firewalls. These firewalls guard against Distributed Denial of Service (DDoS) attacks and prompt biometric authentication for remote access.
The router's operating system provides Transport Layer Security (TLS) and Secure Sockets Layer (SSL) encryption. In addition, SonicWall's Capture Advanced Threat Protection (ATP), a cloud-based, multi-engine sandbox, detects and analyzes malware, preventing data breach incidents. Set up your VoIP system with this security-feature-rich router.
The downside of choosing SonicWall TZ270 is that it comes at a high cost. If you're looking for a more affordable option, go for ASUS RT-AC68U, which costs $129.99.
SonicWall TZ270 Features
Real-Time Deep Memory Inspection: This patented technology helps ATP detect malware faster than sandbox testing. It boasts a lower false positive rate.
Expandable storage: The router offers high-capacity storage of up to 256GB, accommodating features like logging, reporting, and firmware backup.
SonicExpress app: Manage your router easily through the mobile app. The platform, which is available on the App Store and Google Play, features an intuitive interface, so it's easy to navigate.
ARRIS Surfboard SB8200 DOCSIS 3.1: Best for Reliable Wired Connections
What We Like
3GB of RAM
Easy to set up and manage
Link aggregation support enabling multi-gig speeds
Where It Falls Behind
Lacks USB ports
No telephone ports
Fewer Ethernet ports
ARRIS Surfboard SB8200 DOCSIS 3.1 Pricing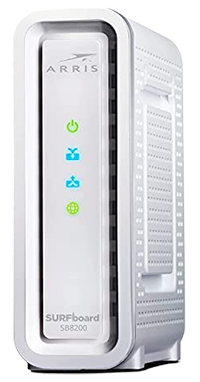 The ARRIS Surfboard SB8200 is a great option for a VoIP provider when you prefer wired connections for a faster, more stable internet. The solution is compatible with all major cable providers, including Cox, Spectrum, and Xfinity. It has two gigabit ports allowing you to connect devices directly.
One notable feature that elevates wired connectivity in this router is its link aggregation support, combining multiple network connections resulting in 2Gbps of internet speed. Another advantage of using SURFboard SB8200 is it has an integrated DOCSIS 3.1 cable modem, so you won't need a separate device.
Before choosing this router, though, note that it doesn't have USB ports. You won't be able to connect USB-powered networking devices like printers and hard drives and allow team members to print documents and store files. If this is an important feature for you, go for ASUS RT-AC68U, which has a USB 3.1 port and a USB 2.0 port.
ARRIS Surfboard SB8200 DOCSIS 3.1 Features
DOCSIS 3.1 technology: With the router's 32 downstream and eight upstream channels, meet with team members virtually without lag. This feature supports 4K video streaming.
SURFboard Central App: Set up the modem easily and configure priority devices with this platform. The app is available on the Apple Store and Google Play.
Multi-internet service provider (ISP) support: Surfboard SB8200 works seamlessly with WOW, Advanced Stream, Spectrum, Armstrong, Mediacom, Altice Optimum and Suddenlink, and Sparklight.
How We Evaluated the Best VoIP Router Options
To evaluate popular VoIP routers and understand how they stack up against each other, we used five criteria points, which reflect businesses' priorities when looking for a solution. Here's a breakdown of those elements:
25% of Overall Score
We considered the router's cheapest pricing available and gave more points to those $250 and below. We checked if the provider offers a warranty and includes a power adapter in the package. Devices that are easily accessible via Amazon earned more points as well.
30% of Overall Score
We favored providers that provide dual/tri-band frequency, wireless support, and several color options. We looked into each router's number of ports and gave more points to those with more than four ports.
20% of Overall Score
We checked if the providers offer flexible connectivity options and incorporate VPN. Those with a multi or quad-core processor and Alexa Wi-Fi access earned more points.
10% of Overall Score
We considered the customer support channels providers offer, particularly looking for the availability of live chat, phone, email ticketing system, and help center. We checked the providers' customer service hours and gave more points to those with communication lines open 24/7.
15% of Overall Score
Our expert score consists of our evaluation of the provider's standout features, value for money, and ease of use. We also considered the popularity of the devices.
*Percentages of overall score
Bottom Line
After a thorough review of the best VoIP routers, we determined that Linksys EA8300 Max-Stream is the top solution for its affordable price, customizable features, and hassle-free setup. With its notable features, airtime fairness, advanced beamforming, and seamless roaming, businesses are able to enjoy stronger, more stable internet performance. Buy the Linksys EA8300 Max-Stream for only $199.