Learning your internet connection's speed helps you decide if a voice-over-internet-protocol (VoIP) phone system is right for your business. Use our free tool to check your internet's performance with a VoIP speed test. You can measure your ping, internet, and jitter speeds to determine how many lines you can add to your system. Once you run the test, assess your VoIP bandwidth requirements and explore steps to take if your speed isn't up to par.
How Many Phones Can My Internet Connection Support?
The number of phones your internet connection can support depends on your internet speed. That's because VoIP solutions send voice and telephony data over your internet connection. Faster services provide more bandwidth, meaning you can add more phone lines. Typical upload speeds range from 500 Kbps to 30 Mbps, but fiber-optic networks deliver upload speeds up to 100 Mbps.
A standard internet connection with an upload speed of 500 Kbps supports up to five lines, whereas you can connect up to 500 lines with speeds of 30 Mbps. Compare your VoIP speed test results with our chart showing the recommended number of phone lines to determine how much speed you need.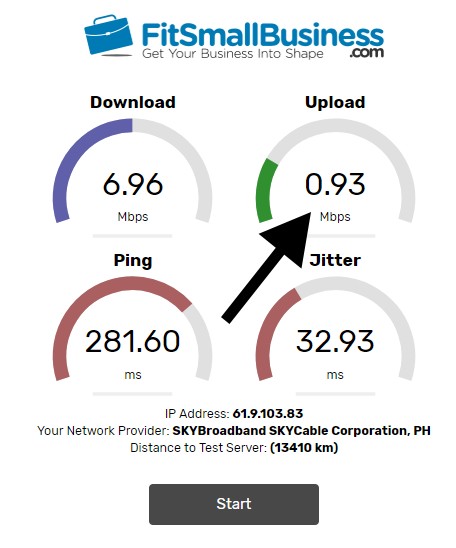 A VoIP speed test records your upload and download speeds. Internet services usually offer higher download speeds, as internet providers prioritize data retrieval over sending capabilities. However, phone lines use your internet's bandwidth, which normally is your upload speed. If your download speed is slower than your upload speed, then the smaller figure equals your bandwidth. Find your upload speed on the chart below to decide how many phone lines your internet service can handle:
Number of Lines Based on Your Bandwidth
| Bandwidth (Upload Speed) | Maximum # Lines | Recommended # Lines |
| --- | --- | --- |
| 500 Kbps | 5 | 1 |
| 1 Mbps | 10 | 2 |
| 5 Mbps | 50 | 11 |
| 10 Mbps | 100 | 22 |
| 30 Mbps | 500 | 67 |
Maximum vs Recommended Number of Lines: Knowing the Difference
When planning your small business phone setup, it's essential to consider the total number of devices in use and your employees' types of activities. Each phone line and device uses bandwidth to perform actions like making video calls or streaming webinars.
Although the chart shows a maximum number of lines, this figure will drop sharply once you add up bandwidth use among your users and devices. Going above the recommended number of lines may reduce call quality and reliability, leading to poor call experiences.
Before setting up a small business phone system, talk to your local internet service provider (ISP). Many services offer plans ranging from low to high speeds. Business internet packages often provide higher speed rates, no data caps, and features designed for office environments. If you're unsure about your VoIP bandwidth requirements, you can ask your ISP and VoIP provider for suggestions.
How to Do a Manual VoIP Speed Test
If your upload speed isn't listed on the chart above, you can perform a manual VoIP speed test. This gives you accurate and custom results based on your capacity at the time of the test. To start, find your upload speed. Then use this formula:
Multiply your upload speed by 1,000: This formula uses Kbps, so you must convert Mbps speeds to Kbps. If your results show Kbps, skip this step.
Divide your result from step 1 by 445: This result gives you the recommended total number of phone lines your connection can support.
Divide your result from step 1 by 100: This figure reflects the total number of phone lines your connection can handle if no other devices use your network.
The results below reflect standard internet services with several connected devices, which is typical of a small office sharing bandwidth between tablets, phones, and desktops:

The upload speed of 11.01 Mbps translates into a maximum of 110 phone lines, but the recommended number of VoIP phone lines is 24.
What the VoIP Speed Test Numbers Mean
Reliable VoIP calling depends on your bandwidth. However, jitter, ping, and latency also affect your call quality and stability. Learn what these terms mean and what you need to make VoIP calls.
Upload Speed
Upload speed indicates how much data you can send from your computer through your internet lines. For example, you may upload video files or email large documents. It's measured in megabits of data per second (Mbps). Your upload speed is usually the same number used for bandwidth. VoIP providers, like RingCentral, suggest a bare minimum of 90 Kbps. But higher rates support higher call quality.
Download Speed
Download speed refers to the amount of data you can receive per second. Like upload speed, download speed is measured in megabits of data per second. Download activities include watching videos online, browsing the internet, or listening to music. According to the Federal Communications Commission (FCC), a single VoIP call requires a minimum download speed of less than 0.5 Mbps.
Ping (Latency)
All internet activities send packets of data. Ping is measured in milliseconds (ms) and reflects the length of time it takes for your data packet to reach the server. Latency includes the ping time and adds the return trip's time, also called a pong response. VoIP speed tests may offer ping or latency results. For quality VoIP calls, your ping results should stay under 60 ms. In contrast, latency should be less than 150 ms. Higher numbers result in delays or lag time during calls.
Jitter
Jitter accounts for variations in your ping speed. It's measured in milliseconds and refers to interference that reduces the accuracy of your data packet arrivals. Interference may be from congestion caused by too many devices accessing the same network. If your jitter results are higher than 30 ms, you'll experience choppy, low-quality calls.
VoIP Bandwidth Requirements
Concurrent calls on multiple lines each use bandwidth, as do other office devices. To determine how many simultaneous phone calls your network can handle, you need to find the lower number between your upload and download speed. This figure represents your bandwidth.
Although a bandwidth speed of 30 Mbps can handle up to 500 calls at once, this number doesn't consider other office activities. For best results, stick with the recommended number of lines, which is 67 for 30 Mbps.
Here's how to compute your maximum number of simultaneous calls:
Bandwidth Limitations for VoIP
Bandwidth
(Upload Speed)




Bandwidth Fluctuation
(Subtract)




Internet Browsing Activity
(Subtract)




Bandwidth Available for VoIP

Maximum Number of Concurrent Phone Calls

500 Kbps

- 105 Kbps

- 250 Kbps
(1 user)




145 Kbps

1 phone call

1 Mbps

- 205 Kbps

- 500 Kbps
(2 users)




290 Kbps

2 concurrent phone calls

5 Mbps

- 1.05 Kbps

- 2.75 Mbps
(11 users)




1.2 Mbps

11 concurrent phone calls

10 Mbps

- 2.1 Kbps

- 5.5 Mbps
(22 users)




2.4 Mbps

22 concurrent phone calls

30 Mbps

- 6.3 Kbps

- 16.75 Mbps
(67 users)




6.95 Mbps

67 concurrent phone calls
It's important to note that fluctuations may occur during peak hours, resulting in less available bandwidth. Furthermore, certain activities use more bandwidth. If your office staff mainly uses software as a service (SaaS), email, and web browser tools, you'll have more capacity for simultaneous calls. However, if your team spends a lot of time in video conferences or meetings, this may reduce available bandwidth by quite a bit.
What to Do if You Get a Poor Bandwidth Test Result
There are several reasons for a poor bandwidth test result. For starters, if you performed the VoIP speed test using Wi-Fi, try it again with a hard-wired device. If those numbers differ dramatically, the low bandwidth could be due to an issue with your wireless router. But, if your hard-wired speed test is low, take these steps before contacting your internet service provider:
Reboot your computer, modem, and router by unplugging your equipment for 10 seconds.
Scan your devices and network for malware using anti-viral software.
Verify the minimum acceptable speeds for your internet plan.
If these steps don't give you better results and your speed doesn't meet guarantees from your ISP, then it's time to give them a call. Your provider can run additional tests to rule out any problems with your cable lines. In most cases, you will need to upgrade your internet package or reduce your network load. Although internet plans and speeds vary by location, most providers offer various packages for all budgets.
What to Do if You Continue to Experience Poor Call Quality
If your internet speed is stable, but you're experiencing poor quality, check your router. Old or outdated routers may need replacing. You can also configure your business router to prioritize your traffic by service or application. However, if you continue to have problems, consider changing to a new VoIP provider.
After all, not all VoIP business phone services are created equal. Some solutions work better for offices requiring multiple phone lines or extensions. Others provide contact center services that can handle high traffic volumes. With support from your provider, you can set up your VoIP phone service for optimal performance.
RingCentral is a VoIP platform providing messaging, video, and phone services. Along with calling features, employees can collaborate by sharing documents and using team messaging. RingCentral offers affordable plans with user-based discounts and savings of up to 33% when you pay annually.
Take advantage of a 15-day trial to see how RingCentral works for your small business.
Useful VoIP Resources
Check out the following additional articles for more detailed information on VoIP systems:
VoIP vs Landline: Which Is Better for Small Business?: Unsure if you need VoIP or landline services? Explore how the technologies differ and which is better for your company.
Small Business VoIP Service—Who Is the Best: Discover the top business phone service providers, including features, pricing, and more.
Start planning your business phone configuration using our comprehensive e-book.
Bottom Line
The majority of internet services are capable of handling simultaneous calls from up to 10 lines. By completing a VoIP speed test, you'll get a good idea of how much bandwidth is available for your business phone system. Doing this first helps you decide if you need to upgrade your internet speed before switching to a VoIP phone system.
For high-quality calling, consider RingCentral. All plans come with unlimited calling and texting. You can port an existing number or add a toll-free number with your RingCentral package. Plan prices start at $19.99 per user, per month and offer plenty of features, including advanced call handling and customer relationship management (CRM) integrations on certain plans. Sign up for a 15-day free trial with RingCentral.