Voice-over-internet-protocol (VoIP) systems transmit voice calls as data over the internet instead of the copper wire network that landlines have used for more than a century. They usually cost less than landline setups. They also offer advanced features like automated attendants, video conferencing, and text messaging to enhance your daily workflows.
If you'd like to start capturing some of these benefits but aren't sure which solution is best for you, consider taking our quiz. You can also read on to learn more about VoIP technology and how it helps businesses.
What Type of Business Phone Service Is Best for You?
How VoIP Phone Systems Work
VoIP technology works by converting the audio of your voice into digital data that is then sent over the internet to the person you are speaking with. The signal can be sent to another VoIP system or be converted to the public switched telephone network (PSTN) that landlines and cellphones use in a process known as SIP trunking. If you've ever used applications like Google Voice, Facebook Messenger, or Skype to make audio calls, then you've already used VoIP.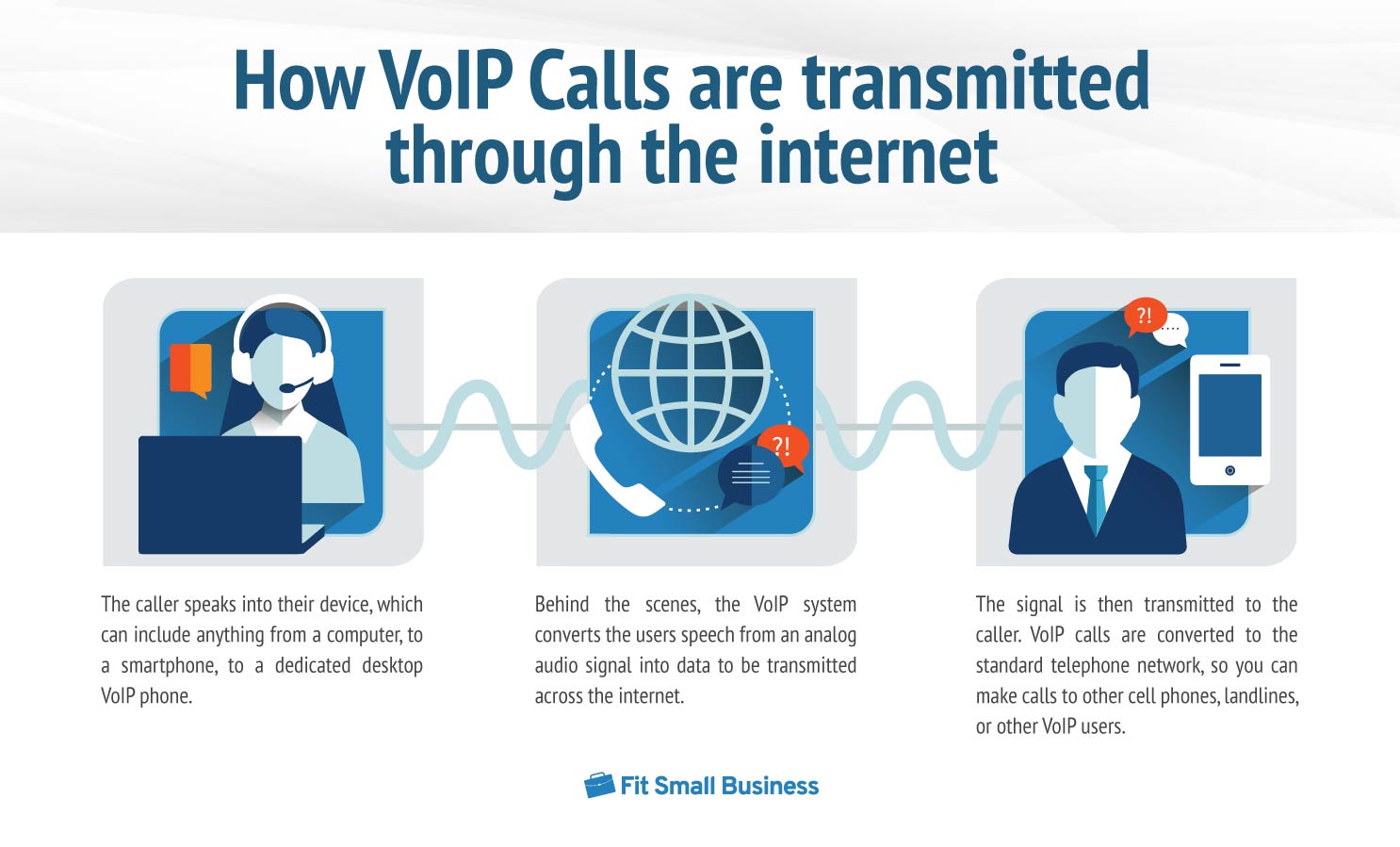 VoIP calls can be made to any phone number, including smartphones, landlines, or other internet-based systems. In addition, while most VoIP business phone systems do not charge for domestic calls, many do charge a per-minute rate for international calls. In this way, VoIP systems work in a similar fashion to traditional copper-based landline networks. The primary difference between VoIP and a traditional system is how the call is transmitted.
The way a VoIP system converts and transmits data is defined by a piece of computer code known as a codec. There are two different kinds of VoIP codecs used by today's popular services. The G.711 requires a great deal of bandwidth, but offers clear audio quality during calls. On the other hand, the G.729 sacrifices audio quality in order to take up less bandwidth. For more information, check out our detailed comparison of the codecs.
However, because calls are transmitted as data over the internet, making a call with a VoIP system requires electricity and a reliable, high-speed internet connection. In addition, you will also need a device to communicate with, be it a computer, smartphone, or VoIP-equipped desk phone.
Alternative hardware you can use in a VoIP system includes:
Traditional phone connected to a special adapter
Headset and microphone plugged into your computer
VoIP conference phones for team calling
To learn more about what is involved in making the switch to a VoIP-based system, check out our guide on how to set up your business phone system.
Who VoIP Is Right For
While switching from a landline system to a VoIP system for the first time may require you to purchase equipment, VoIP is a powerful, yet affordable alternative to expensive, traditional landline setups. They are especially ideal for teams with remote workers, as the internet-based nature of VoIP services allows employees to make calls from virtually anywhere they are located in the world (as evidenced by the growing number of businesses adopting the technology).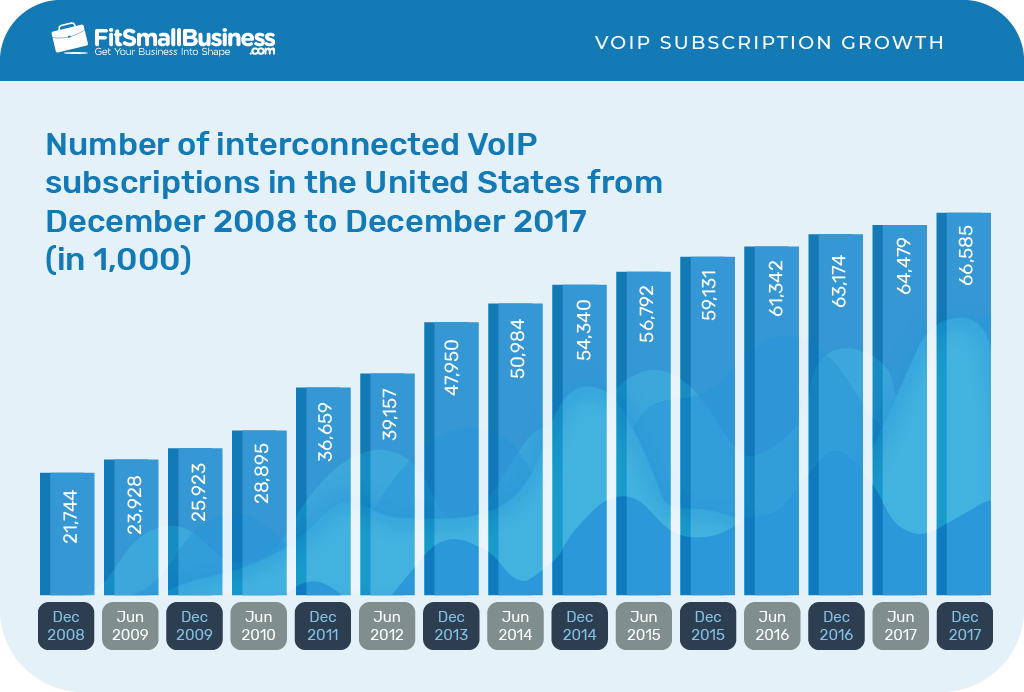 VoIP technology is especially helpful in the following environments:
Call centers: Many VoIP systems come standard with features that lend themselves well to call center environments, such as call queuing, call monitoring, and interactive voice response (IVR) modules.
Sales reams: Many VoIP systems come with the ability to connect sales data with popular customer relationship management (CRM) platforms like Freshsales and Pipedrive.
Mobile teams: VoIP systems usually offer apps for iOS and Android devices. Therefore, you can effectively take your work phone wherever you go.
Growing companies: VoIP systems come in many different price plans and scale easily. Most systems make it very easy to add more users even when you are in the middle of a current contract.
If you are considering making the switch to a VoIP system, but are unsure if your network can handle the technology's impact on your bandwidth, you can use our free VoIP speed test to measure the health of your internet setup.
VoIP Phone System Costs
How much your VoIP service costs will vary depending on what system you choose and what additional hardware you want. You can adopt basic systems like Phone.com for as low as $9.99 per month, while more advanced services, like the premium packages of RingCentral, go for as much as $59.99 per month depending on what configuration you go with.
If you are a solo worker or a very small team, you may find that most paid VoIP systems are beyond what you can afford. In this case, we recommend looking at any of the capable virtual phone systems on the market. These systems have fewer features than VoIP and require a separate line to forward calls from, but they come at more affordable price points.
You can also download our VoIP checklist to make sure your team is ready to take on an internet-based telephony service, which will help ensure you get the best return on your investment.
VoIP Phone System Features
Every mainstream VoIP service on the market is going to come standard with the bare minimum that you need to make calls, such as a dialer, address book, and options to mute yourself and end the call. However, many vendors also offer functionality that isn't physically possible with a landline-based system. This includes on-screen softphones, automated attendants, and CRM integrations to help improve all of your daily workflows.
Auto-attendant
Automated attendants are capable of picking up, greeting, and routing all of your incoming callers to their desired extension without any human intervention. Sometimes, auto-attendants can route calls to multiple extensions and external phone numbers.
CRM Integration
Mainstream VoIP systems allow the ability to connect call data to CRMs like Salesforce and HubSpot. Being able to track callers as prospects in the sales pipeline could be extremely useful in helping your salespeople close more deals.
Phone Number Porting
If you're a longstanding business and have any sort of emotional attachment to your existing phone number, you can still benefit from using VoIP. Most systems offer some way of porting your existing number to their service. In most cases, you can do this yourself via the settings menu or have the vendor's customer service team do it for you.
Free Local & Toll-free Phone Numbers
When you sign up with a new VoIP system, you will be offered the opportunity to adopt a new business phone number. This could be a local number with an area code prefix or a toll-free number that starts with a 1-800. Some vendors even offered customizable vanity numbers like 1-800-FLOWERS.
Free Local & International Calling
One of the more notable benefits of a VoIP system is that it offers unlimited domestic calling to nearly anywhere in the United States. And in some cases, like with 8×8, you can call countries all over the world at either a low per-minute rate or at no extra cost. For more information on making international calls with VoIP, check out our guide to international calling rates.
VoIP Phone System Providers
There is no shortage of capable VoIP systems on the market today. These services come at a variety of different price points and offer different features and user experiences. We encourage you to check out our guide to the best small business VoIP services for a more detailed analysis of these solutions.
However, if your business needs a new phone service, we recommend looking at RingCentral. The system comes with a wide range of call management features and even comes with video conferencing and an automated attendant to handle all of your incoming calls. Click the button below to learn more today.
Types of VoIP Phones
VoIP systems are popular due in part to their flexibility. Most small business users will be just fine using their desktop computers to make calls. However, it's worth mentioning that there are many different VoIP hardware products on the market in case you want a dedicated phone handset for your system.
Desktop VoIP Phones
A desktop VoIP phone works in a very similar fashion to a landline-based device. These phones are dedicated telephony hardware that can be used to make and receive calls. They can also support multiple lines, conference calling, and the ability to connect to a wireless Bluetooth headset. These phones are popular in traditional offices with staff that spend most of their time working at the same desk.
Conference VoIP Phones
Conference VoIP phones connect to your network and offer specialized features for conferencing. These devices usually look like the smart speakers that are popular in millions of homes today and offer controls to mute attendees, block callers, and put attendees on hold. Some advanced devices come with browser-based tools and offer features for scheduling calls. They are perfect for board rooms and other conferencing environments.
Call Center VoIP Phones
There are a number of different VoIP phones that cater to call center use. They look similar to desktop phones, but come with IVR functionality that can direct callers to the right agent based on time, location, and expertise. These phones are especially helpful in sales and customer support departments.
Softphones
A softphone is a phone that does not have any physical form but instead exists as a software-based tool for making calls on a computer, phone, or tablet. You can use your device's built-in microphone and speakers, or you can connect virtually any headset. They are typically a free feature in mainstream business phone services. These are ideal for remote teams or business users who do not want to deal with hooking up and maintaining a physical phone.
Pros & Cons of VoIP Phone Systems
VoIP phone systems are going to be beneficial for nearly any type of business user, as they are exceptionally flexible and offer a wide range of features. However, the fact that it requires both electrical power and a fast internet connection can be problematic for some teams.
| Pros of VoIP Phone Systems | Cons of VoIP Phone Systems |
| --- | --- |
| Portable: You can log into your VoIP service from any phone or computer in the world and effectively take your work number with you | Requires internet: VoIP services require fast, reliable internet; in many rural areas, sufficient internet packages are not available |
| Feature-rich: VoIP solutions do things that landlines cannot, such as offer video conferencing and software integrations | Requires electricity: If you are located in an area with frequent power outages, you run the risk of losing phone service during blackouts |
| Cost savings: The average monthly cost of a VoIP solution is far less than that of a landline setup | Call quality can be spotty: The clarity of your VoIP system's audio quality can cut out or sound choppy if there is a problem on your network or within your provider's servers |
Bottom Line: What Is VoIP?
Business VoIP systems offer an affordable, yet capable alternative to traditional landline-based setups. VoIP is popular and continues to grow because of its cost savings and capabilities. Choosing the right VoIP provider for your needs is important, and your team should take the time to research what is available on the market.
With that said, we suggest considering RingCentral for virtually any small business. The system is exceptionally easy to use, has many features, and comes at price points that can meet nearly any small business budget. Click the button below to get started with RingCentral today.