17 Employee Training Methods (+ Free Plan Template)
Employee training is essential for developing skills, increasing efficiency, and, ultimately, boosting productivity. Choosing the right employee training method for your small business will depend on the type of training needed and the learning style of each employee.
The top training methods for employees include:
Learn more about each method of training, as well as their benefits and drawbacks, to find which approach works best for your employees.
But first, download our customizable employee training plan template. Having a training plan in place for each employee will help you keep track of what learning has been completed and what needs to be accomplished.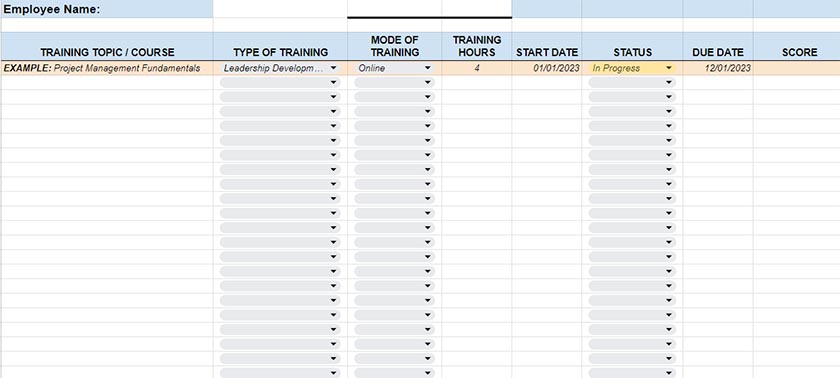 Thank you for downloading!
Need help creating an employee training plan? Consider Rippling, a full-scale HR software that provides training and onboarding programs–with preloaded courses.
Visit Rippling
Apprenticeship
Apprenticeship is a form of vocational training that involves learning skills and trade through hands-on experience under the guidance of a skilled professional. It is an alternative route to education that focuses on practical knowledge, sometimes allowing individuals to learn while they earn. Apprenticeships offer a great opportunity to develop skills in a specific industry.
Unlike traditional classroom-based teaching, apprenticeship provides practical exposure, which allows individuals to see firsthand from trained professionals what it takes to succeed in their chosen field.
Benefits

Drawbacks

Offers real-world experience
Trainee often lacks experience
Is a direct pathway to employment
Low wages can be a deterrent to some employees
Employers value hands-on experience
Could take years to complete training
Blended Learning
The training style known as blended learning combines traditional classroom teaching with online resources and technology. This means that part of the training is held in person and led by an instructor, and the other portion allows students to work at their own pace and receive support from teachers when needed.
Benefits

Drawback

Trainee has the benefit of both instructor-led and online training
Trainees may miss work due to in-classroom portion of training
Promotes engagement between colleagues in this same course
May not have access to technology
Provides a wide range of online resources
May not be computer literate
Case Studies
A case study is a real-life example that demonstrates how a particular problem was solved or addressed. By evaluating case studies, employees can learn how to approach similar situations in their work. These can be especially effective with interactive activities, such as group discussions or role-playing exercises.
Case studies provide an opportunity for employees to see the direct impact of their decisions on the company's success. This helps create a sense of ownership and accountability among team members, leading to better decision-making and improved overall performance.
Benefits

Drawback

Allows trainees to apply theoretical knowledge in practical scenarios
Cannot fully replicate real-life scenarios
Uses a hands-on approach to teach complex concepts
Potential for bias
Encourages collaboration
May not be one right or wrong answer
Collaborative Learning
Collaborative learning is a teaching strategy that encourages students to work together in groups to solve problems, complete projects, and learn from one another. This approach, sometimes called peer-to-peer learning, has gained popularity in recent years, as research has shown that it leads to better learning outcomes and improved social skills. It can take many forms, such as group discussions, team-based assignments, peer tutoring, and collaborative writing.
One of the biggest benefits of collaborative learning is that it creates a more engaging and interactive experience. When peers are working together on a project or assignment, they become more invested in their own learning because they feel like they are contributing to something larger than themselves. Additionally, by working with their peers on complex tasks, students can develop critical thinking skills and learn how to communicate effectively with others.
Benefits

Drawbacks

Promotes active engagement and participation among colleagues
Can lead to unequal participation
Enhancing critical thinking by encouraging employees to see others' perspectives
Can create motivation issues for those that may let others take the lead
Promotes effective communication skills among colleagues
Can create a hostile work environment if everyone cannot agree
Cross-training
Cross-training is the process of employees learning new skills and responsibilities in different departments or roles within the organization. Cross-training helps build teamwork, communication, and collaboration among employees as they interact with one another across various departments or roles.
Employees that undergo cross-training are likely to have job satisfaction, as they feel valued by the organization, while at the same time gaining a sense of achievement for learning new things. Cross-trained employees are also less likely to experience burnout since they have variety in their work that keeps them engaged.
Benefits

Drawbacks

Can learn new skills
May have to train in areas they aren't interested in
Fosters a sense of teamwork and collaboration
Can lead to reduced efficiency
Can contribute to future career development opportunities
Can lead to burnout due to increased workloads
e-Learning / Online
Employees receive their training virtually with e-learning, also known as online training. This type of learning is done 100% on a computer with no physical instructor present. It is typically self-paced, although timed exams are usually present.
E-learning provides a range of benefits over traditional classroom-based teaching methods. It reduces the need for classrooms and textbooks—making it more cost-effective for your company and the employee—and can be customized to suit individual learning styles and needs. This means that individuals can learn at their own pace, taking as much or as little time as they need to complete their courses.
Benefits

Drawbacks

Can learn at their own pace
Lack of face-to-face interaction
Offers a personalized learning experience
May not be computer literate and therefore struggle
Caters to diverse interests and goals
Requires self-discipline to complete tasks
Gamification
Gamification is the process of incorporating game elements into non-game contexts, such as education, healthcare, marketing, and more. By doing so, gamification engages and motivates learners to achieve their goals.
Gamification appeals to our desire for challenge and reward with challenges to earn points for completing tasks, competing against others on leaderboards, and unlocking achievements for reaching certain milestones. It can be used to improve employee productivity, increase customer loyalty, encourage healthy habits, and promote learning.
Benefits

Drawbacks

Makes training more fun
Could become too competitive
Motivates trainees to participate
Can oversimplify complex concepts
Enhances knowledge retention
May be too difficult for slower learners
Hands-on Learning
This type of learning involves actively engaging the learner through physical activities, experiments, and real-life simulations. You see a hands-on training method used a lot in industries such as information technology, manufacturing, restaurants, and retail.
Hands-on learning allows students to:
See how the concepts they are studying apply to the real world
Gain experience through structured activities or experiments
Help make what they are learning more tangible and memorable
Improve the understanding of the material
Increase creativity and problem-solving skills
Foster an appreciation for how academic knowledge can be practically applied
Encourage collaboration and teamwork
Benefits

Drawbacks

Provides a more engaging and interactive learning experience
Requires a significant investment in equipment, materials, and personnel
Results in enhanced understanding of concepts
May be hindered by geographical locations
Helps develop problem-solving skills
Can be time consuming
Instructor-led
Instructor-led training is a traditional type of learning wherein a teacher conducts the learning face-to-face, such as in-classroom, workshops, seminars, or webinars. The focus of this training method is usually on interactive learning rather than just lectures or presentations. Students have the opportunity to ask questions and get immediate feedback from their instructors, which helps them retain information better.
Instructor-led training often includes
Lectures
Presentations
interactive activities
Development of skills in a specific area
Role-playing exercises
Group discussions
Group activities
Collaboration among learners
Benefits

Drawbacks

Provides a structured and interactive environment
May be difficult for learners who need additional time
Encourages group discussions and activities
Limited personalization and individual attention
Can lead to enhanced problem-solving skills
Learners are required to adhere to a specific schedule, which may not be convenient
Job Shadowing
Job shadowing enables individuals to learn about a particular job or industry by observing someone in the role. Job shadowing provides hands-on learning experiences and allows for a more immersive understanding of the work involved. It can be especially useful for those who are new to the workforce.
One of the benefits of job shadowing is that it offers an opportunity to ask questions and gain insights from experienced professionals. Participants can observe different aspects of the job, including how tasks are completed, how communication occurs between team members, and what skills are required to succeed in the role.
Benefits

Drawbacks

Provides first-hand exposure and the opportunity to learn from professionals
May lack hands-on experience
Helps the learner understand the skills and knowledge needed to succeed in the career
Learners may lack the ability to grasp complex concepts
Provides the opportunity for the learner to build their network and interact with professionals in their chosen field
Provides limited exposure to the full aspect of any position
Mentoring
Mentoring is a process where experienced professionals guide and support less experienced colleagues to help them develop skills, knowledge, and expertise necessary for career growth. The mentoring relationship fosters personal and professional development, which benefits both the mentee and the mentor.
A mentor, or coach, can help an employee
Identify areas where they need improvement
By providing feedback on how to make progress
By helping them stay motivated
By offering encouragement and recognition for their accomplishments
By provide guidance on how to navigate complex work situations
Build confidence
Improve communication skills
Increase productivity
Benefits

Drawbacks

Helps provide guidance, support, and encouragement
Learners may not be receptive to the mentor's ideas
Beneficial to the mentor to enhance their listening and feedback skills
Potential limitations to real-life experiences
Allows mentors to share their knowledge and experiences
May result in poor matching of mentors/mentees
A successful mentoring program can lead to higher job satisfaction levels among employees as they feel supported and valued by their organizations. In fact, according to MentorcliQ's 2023 Mentoring Report, 92% of US Fortune 500 companies use mentoring programs to engage, develop, and retain talent.
Microlearning
Microlearning focuses on delivering bite-sized, easily digestible information to learners. The idea is to break down complex concepts into smaller sections that can be quickly and easily understood. This flexibility makes it ideal for busy professionals who want to upskill themselves but are unable to commit long hours due to their work schedules.
Microlearning can cater to different learning styles with a range of multimedia formats, like videos, podcasts, infographics, and quizzes, which engage learners across different senses like visual, auditory, and kinesthetic.
Benefits

Drawbacks

Training is easier to digest for the learner
Limited in depth and detail for complex concepts
Content can be accessed anywhere at any time
Fails to provide an overall picture
Promotes better retention of knowledge
May not be a comprehensive course
On-the-job Training
On-the-job training occurs when employees learn by doing tasks under the supervision of a more experienced colleague. This type of training allows employees to acquire job-specific skills while earning a salary. Different from job shadowing and mentoring, on-the-job training allows employees to do the work themselves while guided by their peers. They gain hands-on experience while working alongside experienced colleagues who can provide guidance and support.
One of the advantages of on-the-job training is that it is typically tailored to meet the specific needs of a role or company. This means that employees receive relevant instruction that directly applies to their job responsibilities, rather than being forced to sit through generic classroom sessions. Additionally, on-the-job training can be more cost-effective for businesses than traditional training methods, since it does not require as much time or money for planning and implementation.
Benefits

Drawbacks

Allows employees to learn by doing
May lack structure and consistency
Provides a tailored learning experience directly related to the skills of the position
Can be time consuming
Provides a mentorship atmosphere
Experience limited to the knowledge of those training
Roleplay
Roleplay creates scenarios that simulate real-life situations and allows participants to act out their roles in a safe environment. This type of training can be used for customer service, sales, leadership development, conflict resolution, and many other areas where communication and interpersonal skills are essential.
One of the main benefits of roleplay training is that it provides an opportunity for participants to practice their skills without fear of consequences or failure. They can experiment with different approaches, receive feedback from trainers or peers, and refine their techniques until they feel confident enough to apply them in real-world situations. Roleplay training also allows for customization and personalization based on the specific needs of each organization or individual.
Benefits

Drawbacks

Allows the learner to train in real-life scenarios
Learners may feel self-conscious or embarrassed
Eliminates the failure aspect of the work
Organizing sessions is costly and time consuming
Offers a safe and controlled environment to learn
Can be challenging to find colleagues who are willing to participate
Simulation
Simulation training, similar to roleplay, involves creating a virtual environment that is designed to replicate real-life scenarios, allowing individuals to gain practical experience without any physical harm or risk. The use of simulation training can be found in the military, aviation, healthcare, and emergency services.
Simulation training provides a safe and controlled learning environment. With simulations, students are able to experiment with different techniques and approaches without fear of causing injury or damage. Additionally, this type of training allows for immediate feedback and analysis from instructors, which can help improve their skills faster than traditional classroom-based lectures.
Benefits

Drawbacks

Allows the learner to train without causing harm
Learners may freeze up when faced with a real-life experience
Can be conducted virtually
Over-reliance on technology
Provides a realistic and immersive learning experience
Simulator equipment can be expensive
Spaced Learning
Spaced learning involves breaking up sessions into shorter intervals with rest periods in between. The idea behind spaced learning is to allow the brain time to absorb information before moving on to the next topic or task.
This technique can be adapted to different learning styles and preferences, making it accessible to everyone. By using spaced learning strategies, students are able to consolidate their knowledge over time, leading to a deeper understanding of concepts and better problem-solving skills.
Benefits

Drawbacks

Allows the learner to digest concepts before moving on
Requires careful planning and organizing to deliver the required knowledge
Promotes better retention of material long term
Can be time-consuming to set up
Allows learners to go back and revisit concepts
Learners risk forgetting information between modules
Video
With high-quality cameras and editing software, anyone can create video tutorials that are both engaging and informative. Online platforms such as YouTube, Udemy, and Coursera offer a vast array of video courses on various subjects, from programming to cooking.
With video training, learners can access courses at any time and from anywhere with an internet connection. They can pause or rewind a lesson if they miss something or need to review a concept. Video training also allows for personalized learning since learners can choose which topics they want to focus on or skip over those they already know.
Benefits

Drawbacks

Ability to stop and start training as needed
Requires a good internet connection
Allows the learner to go back and revisit concepts
Can lead to gaps in understanding
Allows for an immersive learning experience and the use of visual cues
Relies on only auditory reinforcement of concepts
Creating an Employee Training Plan
Before diving into training your employees, each one should have their own unique training plan. This can be a simple spreadsheet that includes the employee's name, type of training method(s) they will follow, and any specifics to their plan.
Download our customizable employee training plan template to keep track of each employee's training.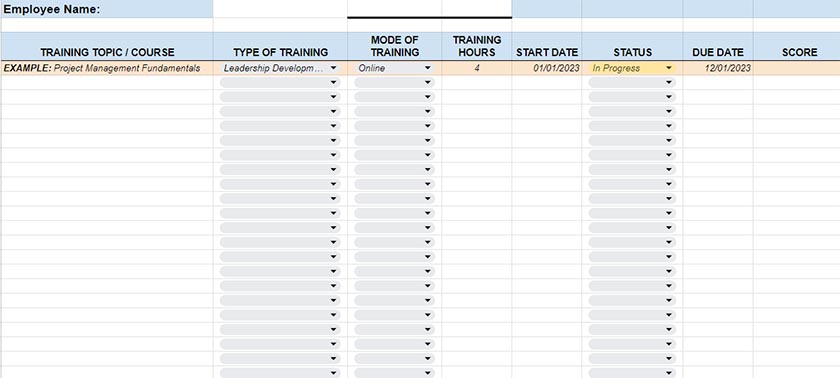 Thank you for downloading!
Need help creating an employee training plan? Consider Rippling, a full-scale HR software that provides training and onboarding programs–with preloaded courses.
Visit Rippling
Why an Employee Training Plan Is Important
Training and development is a major part of employee management—it ultimately contributes to the success and growth of your organization. Without a well-crafted employee training plan for each of your employees, you may miss important learning opportunities.
A well-designed employee training plan provides numerous benefits that contribute to the overall efficiency, productivity, and competitiveness of a company.
It ensures that employees are equipped with the necessary knowledge and skills to perform their roles effectively.
Employees will have a better understanding of their job responsibilities, industry trends, and best practices.
It fosters professional development and career advancement within your organization.
What to Include in an Employee Training Plan
An employee training plan is designed to keep track of the specifics of each individual employee's training. Your plan, or spreadsheet, should include the following information:
Training topic/course – Enter the name of the training topic or course attending (e.g., marketing fundamentals)
Type of training – Enter the type of training (e.g., blended learning, gamification, hands-on training, etc.)
Mode of training – Enter the mode of training (e.g., in-classroom, online, or hybrid)
Training hours – Enter the number of hours this training should take to complete
Start date – Enter the date the training started
Status – Enter the status of the training (e.g., not started, in progress, or completed)
Due date – Enter the date in which the training should be completed
Score – If applicable, enter the score or grade achieved after completing the training
Bottom Line
The employee training methods selected should be based on the needs and goals of the company, as well as the learning styles of its employees. Continuous training will ensure that employees stay up-to-date with the latest practices and technologies in their field. With proper employee training, companies can increase productivity, improve job satisfaction, and ultimately see a positive impact on their bottom line.
If you need help creating an employee training program, consider Rippling. Its full-scale HR software provides training and onboarding programs that are ready to use with preloaded courses for some state-mandated training, like sexual harassment. Sign up to try it today.