The Federal Unemployment Tax Act (FUTA) requires employers to pay a tax of 6% on the first $7,000 of salary or wages paid to each employee during the year. This FUTA tax is deposited with the IRS throughout the year. Employers file Form 940 to calculate their FUTA tax for the previous calendar year.
How to File Form 940 Quickly & on Time
To make sure your FUTA tax and other employment taxes are calculated correctly and deposited in a timely manner, we recommend using a trustworthy payroll service provider, such as ADP. Doing payroll with a payroll software provider helps reduce your payroll tax risk by calculating federal, state, and local employment taxes automatically on your behalf and scheduling those payments for you. Click here for a free quote.
How FUTA Tax and Form 940 Work
Under FUTA, employers pay a tax rate of 6% on the first $7,000 that each employee earns. This tax is paid quarterly. Employers file Form 940 annually by January 31 showing their FUTA tax calculations and payments made in the previous year.
The good news is that the amount you pay to the federal government can be reduced by the amount of unemployment taxes you pay to the state. Paying state unemployment taxes on time can reduce your FUTA taxes by as much as 5.4% percentage points, meaning that you can end up paying a FUTA tax rate as low as 0.6% at the federal level on the first $7,000 that each employee earns.
Regardless of how much FUTA tax you pay, you must file your federal 940 annually to report unemployment tax payments you made to the FUTA fund. It's one of the numerous payroll forms employers are expected to file to stay in compliance.

×
FREE Guide: How To Run Payroll For Your Small Business!
×
FREE Guide: How To Run Payroll For Your Small Business!
Who Has to Pay FUTA Tax
Employers pay federal unemployment tax if they meet one of two tests. The first test measures the amount of wages paid during the current calendar year and the previous year. The second test measures the number of weeks employees worked for an employer during the current year. Even part-time and temporary employees count toward these tests.
If you answer yes to either of the below questions, then you must pay federal unemployment tax and file a federal 940:
Wages paid test: Did you pay at least $1,500 or more in wages to employees in any calendar quarter during 2018 or 2017?
Weeks of employment test: Did you have at least one employee or more working for you at least some part of a day in any 20 or more different weeks in 2018?
However, independent contractors are not considered employees. Payments to contractors are not subject to FUTA tax and payments are reported on Form 1099. Be aware that the IRS can audit to make sure you are classifying your workers properly. To learn more, read the FitSmallBusiness guide on the issues to consider when deciding to hire contractors vs. employees.
How Much FUTA Tax Your Business Has to Pay
The FUTA tax rate is 6% on the first $7,000 paid to each employee. Once employee's wages exceed $7,000, you have no further FUTA tax liability. You'll also have to pay state unemployment taxes (SUTA). By paying SUTA on time each quarter before FUTA taxes are due, you can reduce your FUTA tax rate to 0.6%.
This is because in all states except for "credit reduction states," the federal government allows a credit of 5.4% to offset what you pay in state unemployment taxes. This means the maximum FUTA liability for many businesses is $42 per employee ($7,000 x 0.6% = $42). It doesn't matter what your state tax rate is ― the federal tax credit is the same. However, your SUTA tax might vary depending on your state.
When the Form 940 Due Dates Are
The employer's annual FUTA tax return, which is IRS Form 940, is due by January 31 of each year to report FUTA tax liability for the previous calendar year. The due date for 2018 FUTA taxes is January 31, 2019. However, employers can file Form 940 by February 11, 2019, as long as their FUTA tax liabilities are paid throughout 2018 by the quarterly payment due dates.
The deadlines for filing Form 940 with the IRS by year are:
| Calendar Year | Due Date for Filing Form 940 |
| --- | --- |
| 2017 | January 31, 2018 |
| 2018 | January 31, 2019 |
| 2019 | January 31, 2020 |
| 2020 | February 1, 2021 |
Calculate FUTA Taxes & File 940 Automatically
If keeping track of federal 940 due dates and calculating federal unemployment tax is too confusing and stressful, try using ADP to run your payroll and calculate and file local, state, and federal taxes automatically — including FUTA. ADP's trained payroll and tax specialists are also available anytime you need help. Get a free quote.
What the FUTA Tax Credit Reduction States Are & How It Works
The federal FUTA tax rate is 6% on the first $7,000 paid to each employee. That's the full FUTA tax rate for all years. In some cases, the IRS permits employers to reduce their federal FUTA tax rate based on paying SUTA. This is called the credit for state unemployment tax.
The credit for state unemployment tax works like this: the full federal FUTA tax rate of 6% is reduced by 5.4% percentage points, bringing your federal FUTA tax rate down to 0.6%.
Employers qualify for the credit for state unemployment tax as long as:
Pay SUTA taxes on time: You must pay the SUTA tax by your state's deadlines
Pay SUTA taxes before FUTA taxes: You must pay your SUTA tax before your FUTA taxes are due
Credit reduction states: Employers in certain states are not eligible for the 5.4% reduction; see the Credit Reduction States section below
How FUTA Tax Works in Credit Reduction States
Sometimes, a state borrows money federal government to pay for unemployment benefits. When a state has not yet repaid its loan to the federal government, employers are not eligible for the full 5.4% credit. Only a reduced credit is available. Such states are called credit reduction states.
Employers who have employees in a credit reduction state fill out Form 940 Schedule A in addition to their Form 940.
What the 2018 FUTA Tax Rates are in Credit Reduction States
For the year 2018, there is just one credit reduction state: the United States Virgin Islands. Employers in the Virgin Islands pay a net federal FUTA tax rate of 3% for the year 2018. This 3% rate is composed of the 0.6% standard FUTA rate plus a 2.4% credit reduction rate.
FUTA tax rates in credit reduction states for other years include:
Year 2019: Credit reduction states have not yet been announced
Year 2017: Employers in California & the Virgin Islands were subject to a credit reduction; what this means for you is that if you paid wages in the state of California or the U.S. Virgin Islands, your net federal FUTA tax was 2.1%, compared to 0.6% for the rest of the U.S.
2018 FUTA Tax Rates by State for Businesses with Federal Tax Credit
| State | 2018 FUTA Rate | Maximum FUTA Tax per Employee |
| --- | --- | --- |
| Virgin Islands | 3.0% | $210 |
| Rest of the U.S. | 0.6% | $42 |
How Much SUTA Tax Businesses Have to Pay
SUTA refers to taxes or contributions paid into a state-level unemployment fund. These funds are held by the state to pay out unemployment benefits. Each state sets its own unemployment tax rates, so the SUTA tax rates vary from state to state.
Sample 2018 SUTA Tax Rates by State
State

SUTA Tax Rates for Existing Business

SUTA Tax Rates for a New Business

California

1.5% to 6.2%

3.4%
(plus 0.1% employment training tax)

Massachusetts

0.56% to 18.55%

10.5% to 11% for nonconstruction industry
6.30% for construction industry
(plus 0.056% workforce training fund surcharge)

New York

0.9% to 8.3%

3.6%

Texas

0.36% to 6.36%

2.7%
States use a variety of complicated formulas to calculate each employer's unemployment rate. SUTA tax varies not only by state but also by business within the state. More information on the SUTA rates in your state can be found in this guide to payroll tax rates by state.
For example, a common component in these formulas is the number of employees that are laid off or fired from your business who collect unemployment compensation. States often reward businesses with stable employment by assessing lower SUTA taxes on them, so the best way to reduce your SUTA taxes is to keep turnover to a minimum.
If you have an employee who is not performing well, try to find out what the issue is and see if it is something that you can help with before you fire them. Maybe there is an easy fix to the problem or perhaps they need some additional training.
When FUTA Taxes Are Due
Employers pay their FUTA tax to the IRS either quarterly or once a year, depending on how much their total FUTA tax liability is for the year. If your FUTA tax will be $500 or less for the entire year, then you can pay annually. Otherwise, you pay quarterly. FUTA tax payments are also called deposits.
Digging deeper, the rules for when employers deposit their FUTA tax with the IRS are:
Quarterly FUTA deposits: If your FUTA tax liability for the calendar quarter is more than $500, then deposit your FUTA tax by that quarter's due date; otherwise, you can defer payment to the next quarter's due date; repeat this process for each calendar quarter
Annual FUTA deposits: If your FUTA tax liability for the entire year is $500 or less, then deposit your FUTA tax with the IRS no later than the January 31 due date; you can pay the FUTA tax when you file your Form 940
FUTA Tax Payment Due Dates
| If Undeposited FUTA Tax is More Than $500 on: | Tax Payment is Due By: |
| --- | --- |
| March 31, 2018 | April 30, 2018 |
| June 30, 2018 | July 31, 2018 |
| September 30, 2018 | October 31, 2018 |
| December 31, 2018 | January 31, 2019 |
| March 31, 2019 | April 30, 2019 |
| June 30, 2019 | July 31, 2019 |
| September 30, 2019 | October 31, 2019 |
| December 31, 2019 | January 31, 2020 |
Example: Let's say you are a New York-based business with 10 employees. Your total FUTA taxes are $420 on March 31, which is $42 for each employee. You do not have to submit a FUTA payment yet because your taxes are below the $500 minimum.
Let's now say by June 30, you hire three additional employees and now have a total of $546 in FUTA taxes. Your payment is due on July 31, which is the next quarterly payment due date. On July 31, you would deposit $546, which is the $420 accumulated from the first quarter plus the additional tax from the second quarter.
When SUTA Tax Payments Are Due
You will also have to meet your state's reporting requirements and deadlines for SUTA tax payments and forms. For more information on what your state requirements are for SUTA, check out this guide to payroll tax rates by state.
How FUTA Taxes Are Paid
Employers must pay their FUTA tax deposits electronically. Payments for FUTA taxes must be submitted through the Electronic Federal Tax Payment System (EFTPS). You can visit EFTPS.gov to schedule payments. To use EFTPS, you will need a federal employer identification number (EIN), and you will need to enroll either online or using Form 9779.
In extraordinary circumstances, same-day tax wire payments can be made. Make sure in advance that your financial institution provides this service and ask about fees. To do this, you can visit EFTPS.gov and download the Same-Day Taxpayer Worksheet. Complete the first sheet, and then submit both pages to your financial institution.
How to Complete Form 940
There are six primary sections of Form 940. Below, you will find a snapshot of a sample Form 940 and a brief description of the information required for each section. If you are using a payroll software program, Form 940 will automatically be completed for you. Payroll software can also file Form 940 electronically and schedule electronic payments.
FUTA Form 940 Example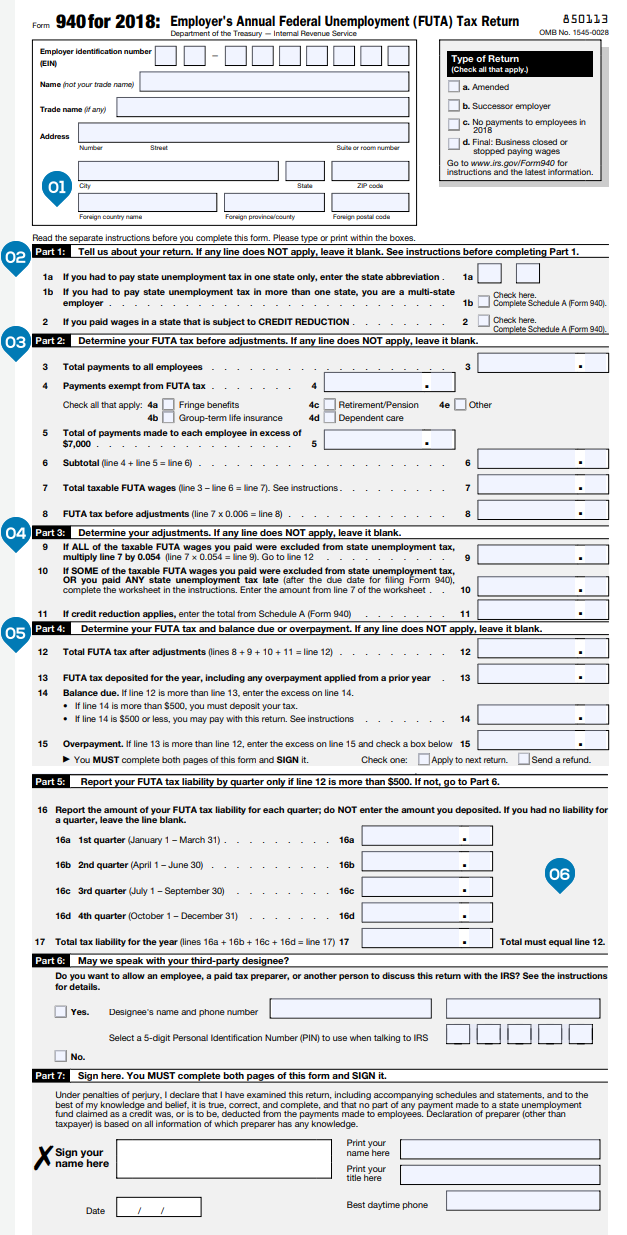 FUTA Form 940 Instructions
Brief Form 940 instructions include:
General information: Provide general information about your business such as business name, address, and employer identification number.
Part 1: Indicate whether you paid in unemployment tax in one state or multiple states. Also, indicate if one of the states is a credit reduction state.
Part 2: Calculate the total FUTA tax that you owe. To do so, you will need to provide total wages paid to all employees and wages paid in excess of $7,000 per employee. Refer to the IRS Form 940 Instructions for additional details.
Part 3: Calculate any adjustments to your FUTA tax. Additional FUTA tax for credit reduction states is reported here. If you paid SUTA tax late, indicate that here also. You may need Form 940 Schedule A.
Part 4: Show your total FUTA tax liability after adjustments and deposits paid throughout the year. The result shows the net balance due or net overpayment.
Part 5: Show your total FUTA tax liability for each quarter. This section is needed only if your total FUTA tax liability reported on line 12 is more than $500. If it's not, no need to complete this section.
If you need a better understanding regarding the information you need to record your payroll properly and how or when to report and pay your payroll taxes, check out our payroll guide for best practices.
When Form 940 Must Be Filed With the IRS
Form 940 is due to the IRS once a year on January 31, for the preceding tax year. For example, tax deposits made in 2018 must be reported on Form 940 due on January 31, 2019. Form 940 is a reconciliation of the amount of FUTA tax owed each quarter, less any quarterly payments that were made.

×
FREE Guide: How To Run Payroll For Your Small Business!
×
FREE Guide: How To Run Payroll For Your Small Business!
Form 940 & FUTA Tax Frequently Asked Questions (FAQs)
We have discussed the general rules when it comes to calculating the FUTA tax and how this is reported on Form 940. Much more can be said on this topic. Below, we answer some questions about FUTA tax that are asked frequently by business owners.
If I'm Exempt From SUTA Tax, Am I Also Exempt From FUTA Tax?
You will pay more FUTA. Wages that are exempt from state-level SUTA taxes are still taxable for federal FUTA. And those wages are not eligible for the credit for state unemployment tax. That means, wages exempt from SUTA are subject to the full 6.0% federal FUTA rate, according to the Form 940 instructions for Line 9.
Where Can I Get a Copy of the 2018 Form 940?
You can download a copy of the 2018 version of Form 940 and the corresponding Instructions for Form 940 from the IRS. You may also need Form 940 Schedule A to provide details if you paid SUTA taxes in more than one state and/or you paid wages in a credit reduction state.
Are Wages Paid to a Spouse Exempt From FUTA?
Wages paid to a spouse are exempt from FUTA. However, these wages are still subject to income tax withholding, Social Security tax, and Medicare tax. Wages that parents pay to minor children can also be exempt from FUTA. The IRS details the special rules for family employees in chapter 3 of Publication 15.
Bottom Line
As you can see, there's a lot that goes into calculating the unemployment tax for both the federal and state authorities. You can, of course, do it yourself, but this can be time-consuming and confusing. You'll have to pay your quarterly payments on time and accurately file Form 940 in a timely manner.
To avoid penalties and reduce your payroll tax risk, use a trusted payroll and HR software like ADP to manage your payroll taxes. ADP lets you run payroll online, calculates tax liabilities (including FUTA and SUTA), and files Form 940 and other payroll tax forms — all automatically. Click here for a free quote.