To successfully crowdfund your small business you will need to select the type of crowdfunding that best suits your needs as well as a platform to host your campaign. When you set up the campaign you will need to tell a compelling story and adequately describe how your product or business can benefit potential backers.
There are a number of crowdfunding websites to choose from. The most successful sites offer a large audience of potential investors, thereby providing greater exposure and higher potential for startup funding. The best crowdfunding site for your project will be one that handles the type of crowdfunding you want to pursue, and that has successfully funded projects like yours.
What Crowdfunding Is
Crowdfunding is a means of funding a project through the financial contributions of many individual investors. There are four types of crowdfunding; donation crowdfunding, reward crowdfunding, equity crowdfunding, and debt crowdfunding. In any type of crowdfunding campaign, contributions are made by multiple backers to fund the goal amount of the campaign.
How Crowdfunding Works
Crowdfunding is a process that allows many people to contribute small amounts of money to your business to fund a product launch, an inventory purchase, or some other project. When you visit a crowdfunding site, you post a campaign telling people a little bit about your business, the project that you're trying to fund, and how much money you're trying to raise. Potential backers can then view your campaign and, if they wish, contribute.
Crowdfunding platforms make money by charging you a fee when you raise money. This may be a small percentage (usually 5%) of the funds you raise or a flat monthly rate. There are also credit card processing fees of 3% to 5% that are charged when people contribute to you with a credit or debit card. When the campaign is complete and you have raised your goal amount, the money is transferred to your account.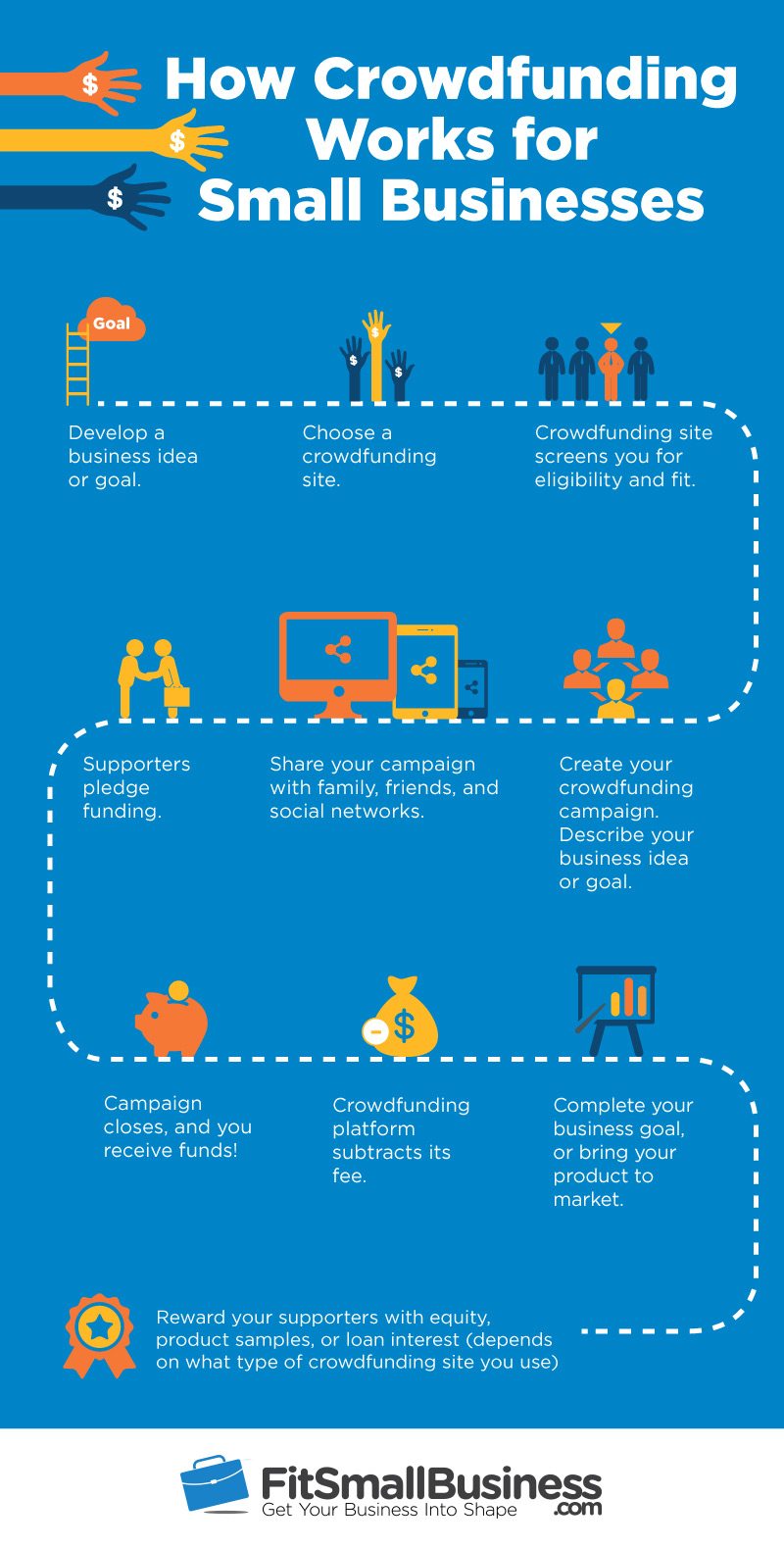 Types of Crowdfunding
There are four different types of crowdfunding: donation crowdfunding, reward crowdfunding, equity crowdfunding, and debt crowdfunding. Each operates in a different manner, and each has its own set of pros and cons. The best type of crowdfunding for your small business will be the one that best suits your needs.
The three primary types of crowdfunding are:
Reward Crowdfunding
Reward crowdfunding is the most common type of crowdfunding. In this type of crowdfunding you visit the crowdfunding site and list an offer containing information about your business, the project you're trying to fund, and your funding goal. In exchange for their money, you give your backers some kind of reward. Typically, the higher a backer's contribution, the better the reward he or she gets.
Startups that sell consumer products and visually appealing products are generally most successful with reward crowdfunding. Campaigns can last up to 60 days on most platforms, but those that last 30 to 45 days are typically the most successful.
Equity Crowdfunding
With equity crowdfunding, you don't just give a small reward to your backers. You give them ownership shares in your business. Because of the equity exchange involved, there are rules and regulations that must be followed. Crowdfunding platforms will help you with some of this, but it's important that you are aware of the rules as well to ensure you don't violate any laws.
For example, to be eligible for equity crowdfunding you must be a corporation and must disclose certain financial data to the Securities and Exchange Commission and investors before you can raise any money. While not required, you'll also need a good pitch deck (similar to a business plan) to share with investors.
Startups are typically best suited for equity crowdfunding and equity financing. However, if you have an established business, you can still try equity crowdfunding if you've had trouble raising money through venture capital firms or other conventional routes.
Debt Crowdfunding
Debt crowdfunding is essentially a loan, wherein many different people loan money to your business. You must pay the loan back, with interest, within a certain period of time. The repayment period is typically one to five years. Debt Crowdfunding is a form of debt financing, and is sometimes also called peer-to-peer lending.
On most platforms, only business owners with good credit are eligible. This means you should have a credit score of at least 620. Good credit is typically all you need if you just want a personal loan of up to $35,000.
If you want a larger loan, or a business loan, those are typically only open to businesses that have been operating for at least two years. You should also have good credit and at least $75,000 in annual business revenues.
Interest rates on crowdfunded loans generally range anywhere from 5% for those with excellent credit to 30% for those with average credit. Debt crowdfunding is the fastest type of crowdfunding to obtain capital for your business. You simply apply through the platform, and if you're eligible, you can get funding within one to two weeks.
Donation Crowdfunding
Donation crowdfunding does not require that you provide rewards or any type of repayment to your backers. However, it tends to be harder to convince potential backers to contribute when they aren't receiving anything in return.
Generally, the businesses that are most successful with donation crowdfunding are those that are already in existence and have a connection with the communities they operate in. You will often see donation crowdfunding campaigns for businesses that have hit a point of hardship and are seeking donations to avoid failure.
Top Crowdfunding Platforms
| Platform | Best For |
| --- | --- |
| | Reward crowdfunding for businesses making products that can be offered as rewards |
| | Reward crowdfunding for companies at any stage with products to offer as rewards |
| | Donation crowdfunding with no additional fees |
| | Donation crowdfunding without concern for meeting goal |
| | Equity crowdfunding with potentially cost-saving subscription based fees |
| | Equity crowdfunding for high-growth industries |
| | Debt crowdfunding for those who want to qualify based on business finances |
| | Debt crowdfunding for those who want to qualify based on personal finances |
Some of the most popular crowdfunding sites include:
Kickstarter: Best Platform for Idea-Stage Businesses
Kickstarter is one of the biggest names in rewards crowdfunding, and perhaps the site most often associated with crowdfunding. With more than 158,000 successful campaigns and more than $4 billion pledged, Kickstarter is a well-established crowdfunding option. This success has resulted in a significant number of big projects being launched and funded as well as an extensive audience that serves as both a source of funding and exposure for your business.
Who Kickstarter Is Right For
Kickstarter is best for businesses that produce creative products for consumers like games, art, technology, music, or food that can be shipped easily to campaign backers. Breaking through the competition in the crowdfunding market can be difficult, especially for small business crowdfunding.
Kickstarter Costs
Kickstarter charges a 5% fee for successfully funded campaigns. Additionally, you will be responsible for a third-party payment processing fee ranging from 3% to 5%. These fees are competitive with other rewards crowdfunding sites and, if your funding campaign does not reach the target in the allotted time, you will not be assessed any fees or receive any payments.
Indiegogo: Reward-Based Crowdfunding for Operating Companies
Indiegogo is one of the top rewards crowdfunding sites available to startups and small businesses, and has raised over $1 billion. Businesses ranging from the idea stage to the product stage regularly raise money and get loyal customers through Indiegogo campaigns. However, getting noticed can be difficult due to the number of active campaigns.
Who Indiegogo Is Right For
Indiegogo is best for companies at any stage that are making consumer products that can be shipped as rewards. Besides getting some much-needed capital, you will also be able to build a community of users that are excited about your product and are invested in seeing you and your company succeed. However, backers are more likely to invest if you have a working prototype.
Indiegogo Costs
Indiegogo charges a 5% fee on all funded campaigns. Additionally, you will be responsible for a transaction fee of 2.9% plus 30 cents per transaction. This is comparable to other rewards crowdfunding sites. Indiegogo has the added benefit of a very large network of potential backers.
GoFundMe: Best Donation Platform With No Additional Fees
GoFundMe is a donation crowdfunding site where people have raised more than $5 billion cumulatively. With donation crowdfunding there is no equity to give up, no debt to repay, and no rewards to ship. GoFundMe doesn't charge any fees to start a funding campaign. You'll only be responsible for the transaction fees when you receive the funds.
Who GoFundMe Is Right For
GoFundMe is best for businesses that can gather supporters to fund their campaign, even though there will be no repayment. This isn't a great option for startups because the stories are less compelling on the human level. However, struggling businesses that are important to their communities often raise funds successfully.
GoFundMe Costs
With GoFundMe there are no additional fees for the funds you raise and the money doesn't have to be repaid. You will still be responsible for the fees charged by its payment processor of 2.9% plus 30 cents per transaction.
Fundly: Best for Donations Without Concern for Goals
Fundly's crowdfunding platform allows individuals to raise money for nearly any kind of cause, project, or event. Fundly operates a "Keep It All" platform meaning fundraisers don't have to reach their goal in order to receive the money they raise.
Who Fundly Is Right For
Fundly is best for businesses that aren't certain that their crowdfunding campaign will be able to reach their financial goal within the time allotted. Unlike other crowdfunding platforms, Fundly allows you to keep any funds your campaign raises, even if the overall goal is not met. This allows businesses to try to raise larger funding amounts without the fear that missing their goal will result in not receiving any funding.
How Much Fundly Charges
Unlike GoFundMe, Fundly charges a 4.9% standard platform fee. The platform fee is charged in addition to a 2.9% credit card processing fee and a fee of $0.30 per transaction.
Crowdfunder: Best For Potentially Reduced Fundraising Fees
Crowdfunder offers a unique low-cost equity crowdfunding solution for any company and has raised more than $150 million for startups. With Crowdfunder, you pay a monthly subscription fee of up to $499, depending on the investors that you want to access. It also offers a powerful CRM tool within the platform that helps you track the campaign, reach investors, and get funded.
Who Crowdfunder Is Right For
Crowdfunder is best for businesses that are preparing to launch a crowdfunding campaign or would like the option to fundraise from private, invite-only sources before opening up the campaign. By inviting your own investors, your business goals will be partially funded by the time they reach outside investors, which can increase your chances of getting funded.
Crowdfunder Costs
Crowdfunder has three membership tiers. Storing documents is free, private crowdfunding costs $299 per month, and public crowdfunding is $499 per month. This is more expensive than other subscription equity crowdfunding sites, but costs less overall compared to being charged a percentage of raised funds.
WeFunder: Best for High-growth Industries
With $83 million invested since 2013, WeFunder is one of the largest equity crowdfunding sites covering every business from technology to retail and entertainment. However, it may be difficult to raise funding as a new business, as the most successful projects have demonstrated growth or major accomplishments or government contracts.
Who WeFunder Is Right For
WeFunder is best for startups ranging from breweries and Apple Watch apps, to combustion engine innovations with an emphasis on scalability and demonstrated growth. Most companies on the platform also bring in roughly 50% of their own investors to the campaigns, which can be difficult if you have a smaller business network.
WeFunder Costs
WeFunder charges a fee equal to 7.5% of the amount you raise with a successful campaign, which includes your transaction fee. This is competitive with other equity crowdfunding sites.
LendingClub: Best for Borrowing Based on Business Finances
LendingClub has raised more than $20 billion for applicants and offers small business loans of up to $300,000 with terms up to five years through debt crowdfunding. One of the great things about its platform is that you can get access to funds within one week. Crowdfunded loans through LendingClub have interest rates starting as low as 5.99% per year.
Who LendingClub Is Right For
If you need a quick source of capital, LendingClub is a great option for debt crowdfunding. To qualify, you'll need to be in business for at least 12 months, have a personal credit score of at least 700 and annual business revenues of at least $50,000. However, these qualifications are typically not difficult to meet for small startups, and certainly for more established businesses.
LendingClub Costs
Interest rates for LendingClub loans start as low as 5.99% for the most qualified borrowers and have an additional origination fee of 1.99% to 8.99%. The APR for LendingClub loans ranges from 9.77% to 35.71%, which is comparable to other debt crowdfunding sites.
Prosper: Best for Those With Strong Personal Finances
Prosper has originated more than $14 billion in peer-to-peer financing since its inception, and offers personal loans that can be used to fund your business needs. You can get a loan of up to $40,000 crowdfunded from investors after completing a short application. However, you will need to have good credit with a score of 640 or higher and enough personal income to support loan repayment.
Who Prosper Is Right For
Prosper is best for business owners that want to take a personal loan for business purposes. This is a great option if you're operating a startup business or if your business isn't generating enough revenue to qualify for other financing options.
Prosper Costs
Prosper charges interest rates ranging from 7% to 36% on its loans and an origination fee of 0.5% to 4.95%. This brings the total APR up to 7.5% to 41%, which is competitive with other debt crowdfunding options. However, this type of crowdfunding requires monthly payments until the debt is repaid, which will have an immediate impact on your cash flows.
10 Tips on How to Crowdfund Successfully
Crowdfunding is not a guaranteed source of funding for your small business. However, it can be a successful way of raising capital if it is done correctly. To get the best results from crowdfunding choose the type of crowdfunding that best suits the type of business you have, and the benefit that you are willing to provide to backers.
The 10 tips to crowdfund your business successfully are:
1. Select Your Crowdfunding Method
Before starting a crowdfunding campaign, be certain that you understand the various types of crowdfunding, and that you select the type that best suits your business needs. There are significant differences between the various types of crowdfunding, and choosing the wrong one could lead to problems. Review the different types and the various platforms that are available to be sure you are making the best choice for your situation.
2. Offer Good Rewards and Communicate with Backers
If you're crowdfunding on a rewards platform like Kickstarter, you will need to offer appealing rewards to increase your chances of a successful campaign. Many times, potential backers will comment on your listing, which can provide you ideas as to what type of reward you should offer. It's also a good idea to scale the rewards according to the level of support a backer gives. Someone who contributes $500 to your business should get a bigger reward than someone who contributes only $50.
Also, if you are successful in raising money, communicate regularly with your backers. This is particularly important if your product launches later than expected because it can delay when backers receive their rewards. Backers are usually pretty understanding if your timeline changes as long as you communicate well.
3. Get the Rules Right
Equity crowdfunding is more complicated than the other forms of crowdfunding, and is governed by a number of SEC rules and regulations. It's important to fully understand and comply with all the SEC rules. If you have any questions about your compliance it is important to reach out to an attorney to make sure you are not at risk of violating any of these regulations.
4. Increase Your Credit Score
On debt crowdfunding platforms, your credit score is very important. It determines whether you're even eligible to raise money and directly affects the interest rate you receive. For instance, the difference between a 650 credit score and a 750 credit score may be the difference between a 30% and 10% interest rate. Having a higher credit score can save you thousands of dollars over time.
5. Time Your Campaign Strategically
Before you can start raising money, the crowdfunding platform must approve your campaign. This can take a few days, so if you have a product launch coming up or want to raise your money by a certain date, factor that in when deciding when to list your campaign.
Once you list your campaign, you'll have to decide how long to keep it active. In general, reward crowdfunding campaigns that last for fewer than 40 days are the most successful. Equity crowdfunding campaigns may take longer due to the amount of paperwork and money involved. For debt crowdfunding, the platform will determine initial eligibility and list your loan for up to two weeks. During that time, investors can view your loan request and loan money.
If your campaign is successfully funded, it can take up to two weeks to process all your backers' payments and transfer them over to your bank account. Again, make sure you factor in this time period if you have a launch coming up.
6. Tell Your 'Crowd' About Your Crowdfunding Campaign
It's not enough to just start a crowdfunding campaign and sit back and wait. The most successful crowdfunding campaigns are spread by word-of-mouth. Tell your family members and friends, Facebook friends, Twitter followers, and LinkedIn connections about your crowdfunding campaign before it goes live and once it's live.
Sometimes, local media will even publish stories about local crowdfunding campaigns. This is free marketing and PR for your business. If you want a bigger push, there are companies, like Kickbooster, which let you maximize word-of-mouth referrals. You can use them to pay people in your network a portion of the funds you raise for helping you spread the word about your crowdfunding campaign.
7. Tell a Compelling Story About Your Business
Crowdfunding has a very personal human element. These are individual people who are contributing their own money to your campaign. To convince them to support you, it helps to inject a personal element into your pitch. Tell them your story, and share with them how your business service or product could impact their lives.
8. Invest in Professional Photos and/or Videos
Investing in professional photos or videos of your product or service will help convey your story and show potential backers that you are a credible business. In the event that your crowdfunding campaign isn't successful, you can still use the photos and videos on your website and social media accounts to further promote your business.
9. Know Your Funding Target
Setting your crowdfunding goal takes more effort than you may realize. You will need to take into account the cost it takes to manufacture, market, sell, and ship your product. Additionally, some crowdfunding sites only provide you with the funding if you reach your goal, so setting a goal that is too high could result in a failed campaign.
If you're using reward crowdfunding, you also need to take the rewards you're offering into account and the amount of money it will take to ship contributors their rewards. These are additional expenses that are often overlooked in reward crowdfunding.
10. Deliver on Your Promises
One of the most important aspects of crowdfunding is that you follow through on your campaign promises. While this is important with all crowdfunding campaigns, it is especially important in reward campaigns where you promised backers a reward in exchange for their contribution. Delivering on your promises helps to build confidence in your business and in your campaign as a whole.

Crowdfunding Pros & Cons
Using crowdfunding can build momentum for your business and validate that your idea is viable. It is also unique in that it allows you to fund your business through many small donations from individual backers. However, the process is a lot of work, and involves actively marketing your campaign in order to stand out from all of the other businesses seeking crowdfunding.
Crowdfunding Pros
Some of the benefits of crowdfunding are:
It can build momentum: Crowdfunding campaigns are a great way to get your idea in front of many people at once, building excitement for your business.
It can validate your idea: You can gauge potential interest in your project based on the activity of backers willing to support your campaign.
It leverages small donations: Unlike other funding options like angel funding, or venture capital, crowdfunding allows you to accept small donations from many backers to reach your funding goals
Crowdfunding Cons
Some drawbacks to crowdfunding include:
It's a lot of work: There is a lot more to crowdfunding than just setting up your campaign on a website. It involves a lot of effort on your part to make the campaign successful.
Standing out can be difficult: Crowdfunding sites host pitches for a large number of businesses seeking crowdfunding simultaneously, it can be challenging to make your pitch stand out among all of the opportunities for investors.
You have to market your campaign: To increase the chances of your campaign reaching its goals, you will need to heavily market it within your network and beyond.
Crowdfunding Frequently Asked Questions (FAQs)
Is crowdfunding a donation or investment?
Crowdfunding can be either a donation or an investment depending on the type of crowdfunding you choose. Donation crowdfunding is simply a donation to a business or cause. Reward crowdfunding provides a small reward in return for a contribution, and equity and debt crowdfunding offer a return on the investment.
Do you pay back crowdfunding?
Whether or not you need to repay crowdfunding depends on the crowdfunding mechanism you use. Donation crowdfunding does not require repayment of any kind, while rewards crowdfunding requires you to provide a reward to backers. Equity crowdfunding results in giving up a percentage of equity ownership and debt crowdfunding is repaid like a loan.
How do you successfully crowdfund a project?
Successful crowdfunding campaigns tell a compelling story and adequately describe how your product or business can benefit potential backers. The most successful campaigns are well promoted. Additionally, you will need to keep your backers well-informed on the progress of the campaign, and your business. Lastly, you need to follow through with your campaign promises.
How do I start crowdfunding?
To begin crowdfunding, you will first need to decide on the type of crowdfunding you want to pursue (e.g., rewards crowdfunding, equity crowdfunding), and which crowdfunding site will best suit your needs. With those decisions made, you can prepare your crowdfunding presentation, and launch your campaign.
Bottom Line
Crowdfunding can be a great way to raise money for a new business or an established business. Before you set up your campaign, make sure you understand the different types of crowdfunding and choose the type of crowdfunding and platform that's best suited for you and your business.