A niche market is an audience of people interested in a specific topic, like a certain sport, hobby, or lifestyle interest. So, soccer is a niche market within sports, and dog costumes is a niche within pet interests. Targeting niche markets helps small businesses stand out in search results, attract shoppers, and sell products.
You'll need a website to profit from niche marketing and WordPress is the most popular platform with niche marketers. From affiliate blogs and ecommerce websites to informational resources, if you can dream it, you can do it on WordPress. It costs just $2.95 per month to launch your site with our preferred provider, Bluehost. Enter your business name below to get started today.
What Is a Niche Market & Why Does It Matter?
A niche market is an audience of consumers interested in a specific topic. Niche markets can be broad, like soccer and pet products, or very narrow, like pee-wee soccer and dog costumes. Whatever the scope, the goal of targeting niche markets is threefold:
Build websites that rank high in search results for niche-related terms
Appeal to niche audience consumers and drive sales
Establish the brand and website as a leading resource within the niche
Niche markets come in all shapes and sizes, but drilling into a very narrow niche is a popular tactic among small ecommerce businesses, affiliate bloggers, and drop shippers.
Here's a look at how niche market drill-down happens in three stages, moving from broad market audiences to niche and narrow-niche interests:
Three Stages of Niche Market Drill-Down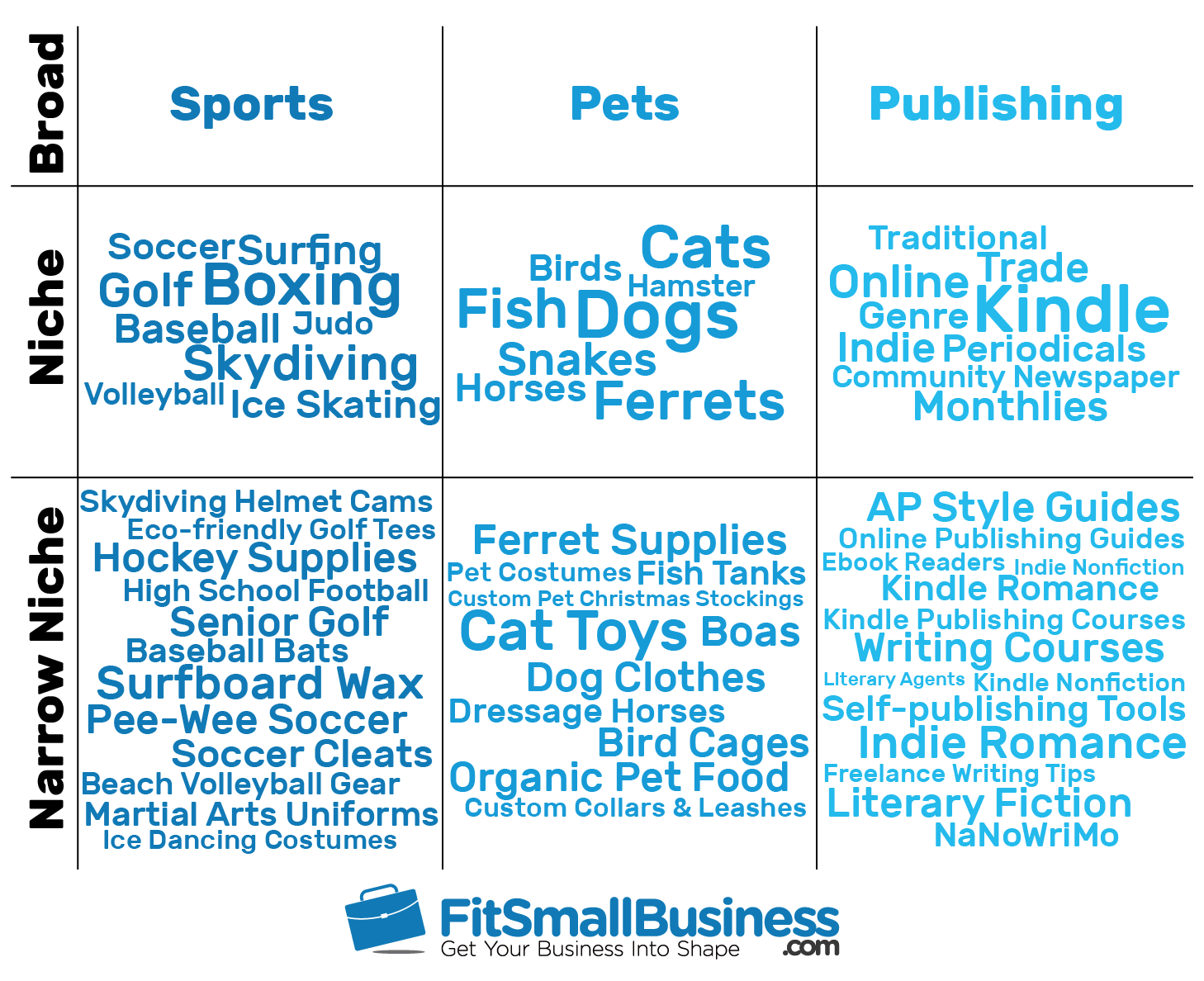 Since a niche website can hyper-focus on niche and narrow-niche keywords, content, and products, it can actually outrank the biggest online names in search results — including Amazon, Walmart, and Wayfair when those words are searched for. In fact, that's the goal of most niche marketers and the reason this tactic is so popular.
For example, in a Google search for "pee-wee soccer gear," a family-run niche soccer website, Soccer.com, captures the number-one organic (non-paid) search result. It even tops results from mega-sellers Amazon and Dick's Sporting Goods, which is quite impressive.

Soccer.com achieves this high search ranking because it's hyper-focused on all things soccer. It sells products for soccer players of all levels and age groups. It also has an extensive content section full of news and information related to the sport, and the website is built using sound search engine optimization (SEO) tactics.
Along with traffic-driving search results, its niche focus lends credibility to the Soccer.com site and sets the brand up as a leading resource for soccer enthusiasts.
3 Examples of Niche Marketing Strategies in Action
Soccer.com is just one example of the many niche market success stories out there. Below are three more to check out. As you explore these niche market examples, note how each business uses their website to attract, inform, and monetize visitors in different ways.
You'll see that each combines both products and information in their niche marketing strategy, which is a common tactic. Most publish some type of niche-focused content, such as informational blog posts, product reviews, or how-to guides. Some sell products directly to buyers while others market goods via affiliate links. Still others sell niche-driven informational products that they create themselves, like courses, software, or e-books.
Pay attention to these different strategies as you research your own niche market examples, and be sure to consider all of these options in your own niche marketing plan.
Countertop Specialty Stone Care Products
The Countertop Specialty website focuses on the narrow niche market of natural stone countertop care by selling cleaning and repair products and providing care tips in a guide.
Here's how Countertop Specialty targets and monetizes its niche market:
Niche Market – Anyone who has stone or quartz countertops and wants to know the best products and methods to care for them.
Profit Angle – To make money on this niche, Countertop Specialty uses the drop ship sales model to sell a variety of countertop cleaners, sealers, and repair products on its website.
Content Angle – The website features a Countertop Care section that helps it rank well in the search engines. This also informs site visitors looking for solutions and positions the site as an expert resource.
Blogger Amanda Formaro's Craft & Cooking Websites
Amanda Formaro has made a very successful career in blogging. Rather than having one overall lifestyle blog site, she runs two more niche-specific sites. Formaro is a great example of blogging done right. Her niche-specific WordPress blogs attract visitors in droves and the traffic is monetized with affiliate links and ads.
Here's how Crafts by Amanda and Amanda's Cookin' target and monetize two unique niche markets:
Niche Market – Amanda operates two separate family-focused WordPress blogs. Amanda's Cookin' is a recipe site is dedicated to family-friendly mealtimes and fun treats. Crafts by Amanda features how-to's and DIY projects for home decor, holiday, and kids' crafts.
Profit Angle – Both WordPress blogs use affiliate marketing and advertising to create income. Recommended products are featured in posts and projects via affiliate links and niche-related ads appear throughout the site.
Content Angle – These sites are completely content-driven and focus on recipes, project how-to's, DIY decor instructions, and buyers guides for the best tools for crafting and cooking.
Kindlepreneur
Dave Chesson is one of the leading voices in the become-a-Kindle-author niche — which is rather competitive. Chesson's Kindlepreneur website sells proprietary software, KDP Rocket, which is designed to help budding Kindle authors make the most of their e-book sales on Amazon. His Kindlepreneur niche website delivers a wealth of free information that establishes Chesson as a leader in this niche and, in turn, drives sales of his software.
Here's how Kindlepreneur targets and monetizes the wannabe Kindle author niche market:
Niche Market – Kindlepreneur targets newbie authors looking to make it big on Kindle.
Profit Angle – Chesson sells proprietary software called KDP Rocket and also makes money on affiliate links to his recommended Kindle e-book production and marketing tools.
Content Angle – Chesson publishes a ton of great Kindle how-to content that viewers can access for free. This strategy helps secure Kindlepreneur as a leading site in this niche and many visitors therefore happily take the plunge on the KDP Rocket software.
How to Find a Niche Market in 3 Easy Steps
Now you know what a niche market is, how targeting niche markets helps small sellers stand out from the crowd, and have seen several niche market examples. Now we'll show you how to find a niche market of your own and assess its profit potential — all in three easy steps.
1. List Your Interests, Hobbies, Skills & Passions
A good starting point for finding a niche market is listing all of the things, topics, and interests that you know well and enjoy doing. There are two very good reasons for using your own interests as your niche market launchpad:
Successful niche marketing takes time and energy – You're going to spend a lot of time setting up a WordPress website, developing content, and sourcing products that resonate with your niche audience, all before you ever make a dime. This labor is best done as a labor of love — or at least some level of like. If not, you'll soon lose interest and end up with lackluster results.
Niche audiences know if you're authentic – Niche audiences know their stuff, so it's hard to fake it amongst a crowd of enthusiasts. If you don't have existing knowledge or the drive to learn all you can about the niche, it probably won't ever pay off.
Sarah Beeskow Blay, Vice President of the affiliate marketplace ShareASale, says, "Authenticity is the core of any successful niche marketing business."
"Most niche marketing websites use content to establish credibility, rank well in the search engines, and connect with visitors," says Beeskow Blay. "Developing content, whether for the purposes of affiliate marketing or direct product sales, must be done in a way that delivers value to a niche audience. A deep understanding of, and interest in, your niche helps your message resonate with visitors and sets your brand above pitchy, shallow competitors."
By finding a profitable niche market within your sphere of interests, you can be sure to avoid any "fakery," as Blay terms inauthentic niche marketing sites.
So, list your interests, knowledge base, and skill set, and don't be afraid if your topics seem to have limited appeal. If it interests you, there's sure to be a like-minded audience out there. Make that list, then move on to step two, where you'll test the potential of your niche ideas.
2. Explore the Audience Potential of Your Niche Markets
In this step, you'll judge the internet and social media traffic surrounding the niche market ideas on your list. This helps you determine how popular various niche topics are and, more importantly, if there are shoppers searching for related goods. If you uncover search engine traffic and social media groups surrounding a niche topic, then you can comfortably say there's an audience for that niche.
To do this, you can use free search engine and social media research tools, including:
Google AdWords Keyword Tool
This research tool is included in every free Google AdWords account. You can use it to see the number of searches that people make using terms — called keywords—related to your niche market ideas.
In the Google AdWords Keyword Tool, enter niche market-related keywords to see the average search volume ranges monthly and over time. Google also shows you search volume for related terms, which is helpful in spotting popular products and topics within the niche. Google even measures the competitive outlook for niche terms in the "Competition" column.
Here, we decided to explore the potential of the pet products niche market and researched "dog collars." As you can see below, "dog collars" and related terms have quite a bit of search volume as well as online competition, according to Google: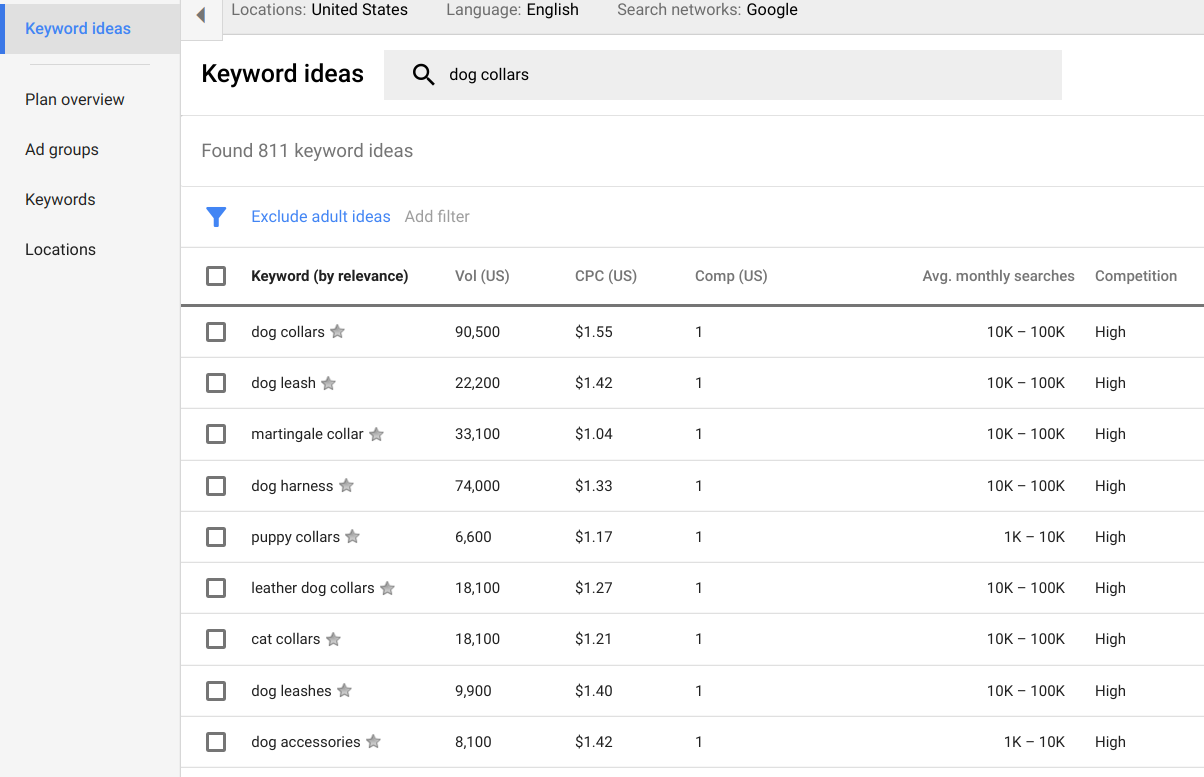 Now, competition isn't always a bad thing — it can indicate that there's plenty of demand to go around. However, you'll want to explore many niche-related terms, as we did below with a search for "dog costumes." This gives you a deep understanding of the potential audience and competition for the various niche-related terms on your list.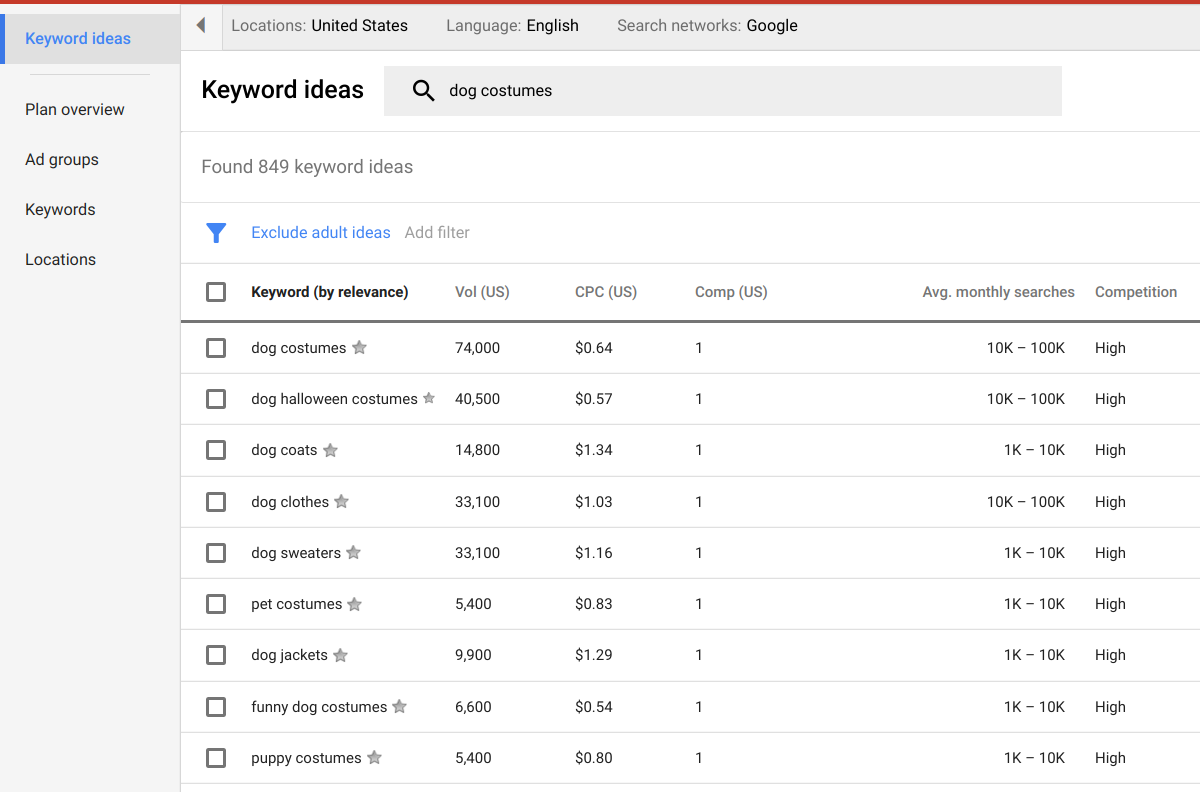 Keywords Everywhere Keyword Tool
Want a shortcut for the AdWords process outlined above? There's an app for that! The free Keywords Everywhere browser app is a shortcut that gives you Google's top-level keyword data without having to do a deep-dive into the Google AdWords Keywords Tool. It's not as thorough as AdWords, but it's great for quickly researching overall search volume for a long list of terms.
Once the Keywords Everywhere extension is installed, a Google search for "dog costumes" displays search volumes right in your browser window. Specifically, it lists:
The average monthly volume for the search term (listed under the search bar)
Related niche keyword volumes (to the right)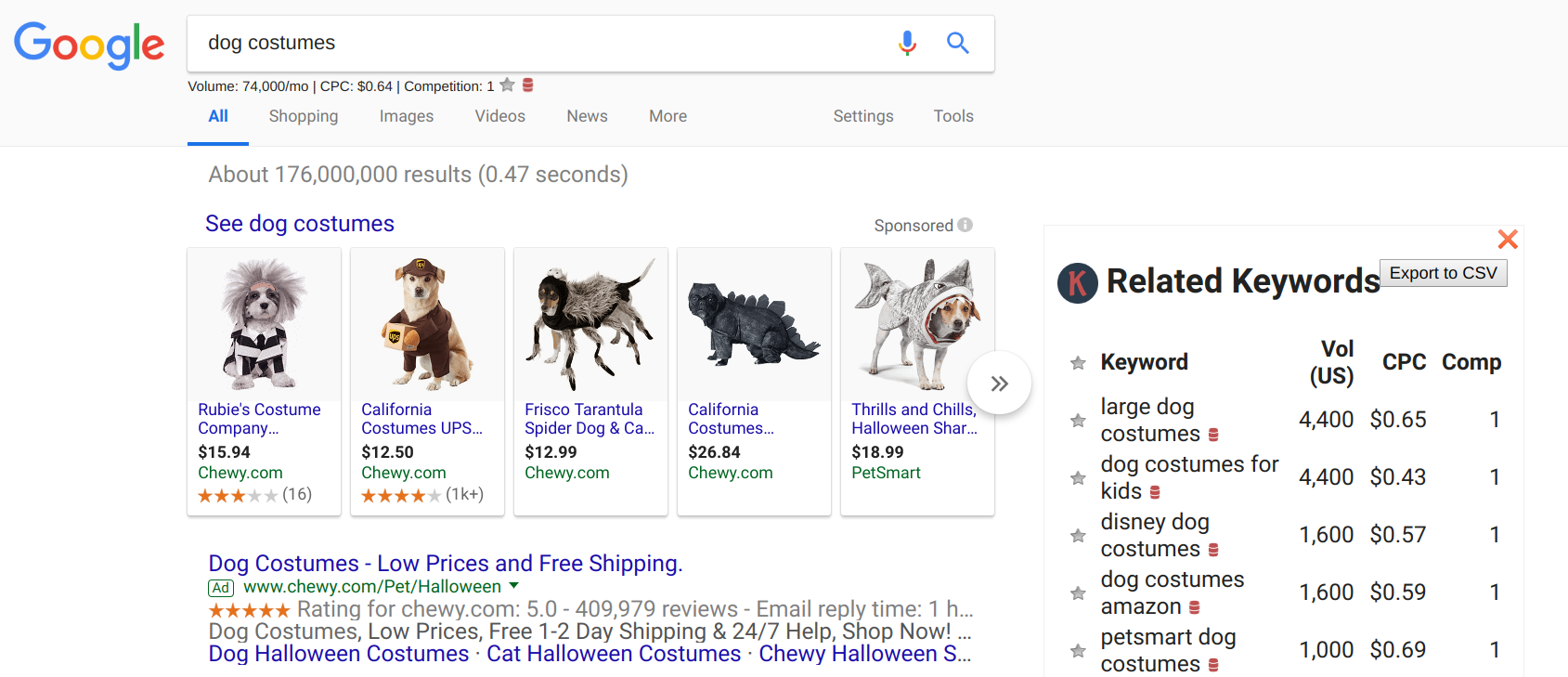 The Keywords Everywhere app pulls this data from Google in real-time, so you get the same top-level data as you would using the AdWords tool. You can't drill into this data like you can in AdWords, but it's a terrific tool for quick niche market keyword research.
Google Trends
Google Trends is a fast and free way to check the trending popularity of niche market topics and products. With a quick keyword search, you can see if the audience is consistent, trending up or down, or seasonal.
Google Trends doesn't deliver actual search numbers, unlike AdWords and KeyWords Everywhere. Instead, it maps keyword search popularity trends in easy-to-read graphs. Paired with your search volume data, it helps you quickly spot niche markets and products with audience potential.
For example, a search for "dog collars" shows consistent search volume — and thus sales — year-round: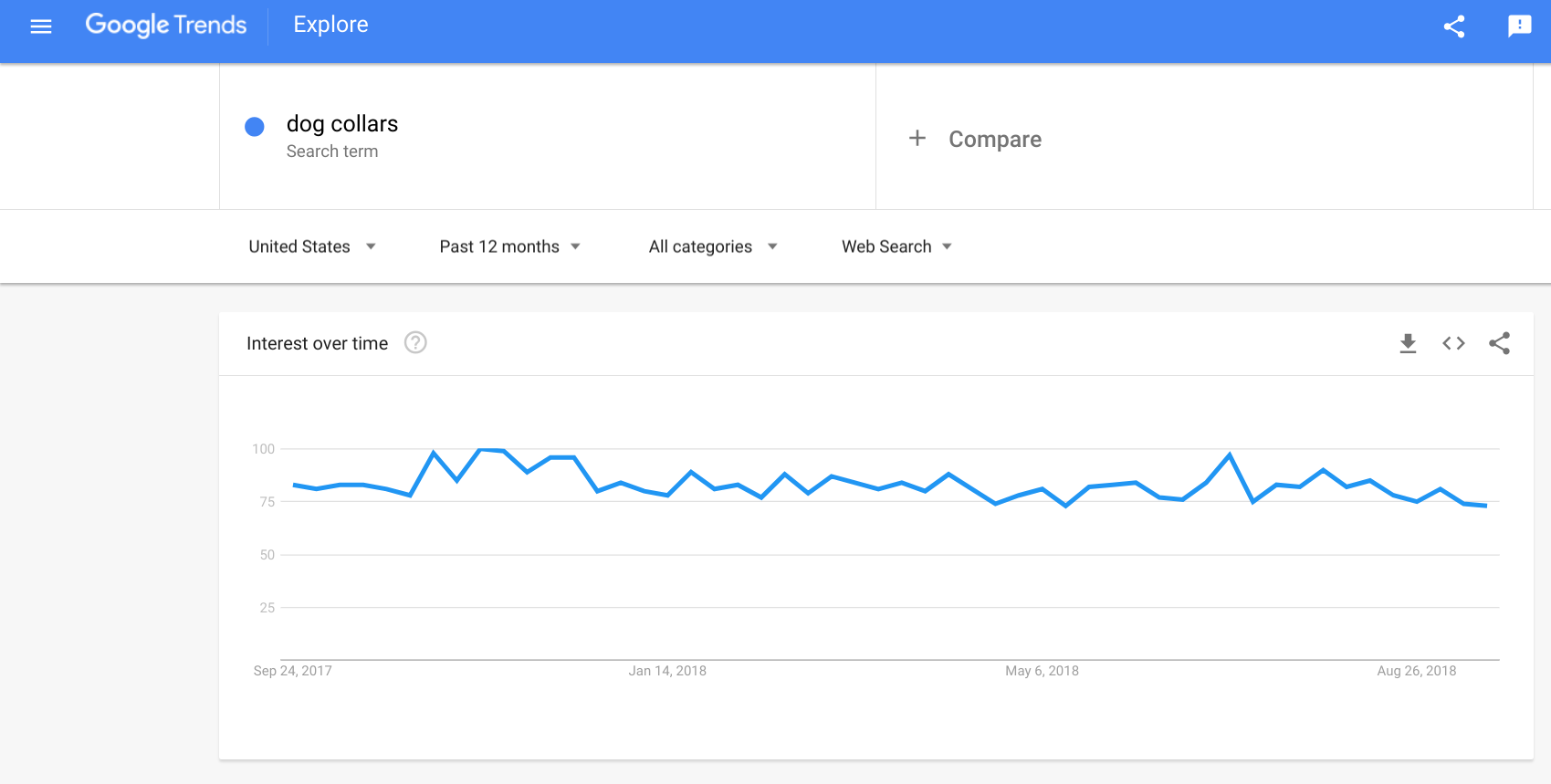 However, a search for "dog costumes" shows peaks around October, but very low demand — and thus sales — at other times of the year: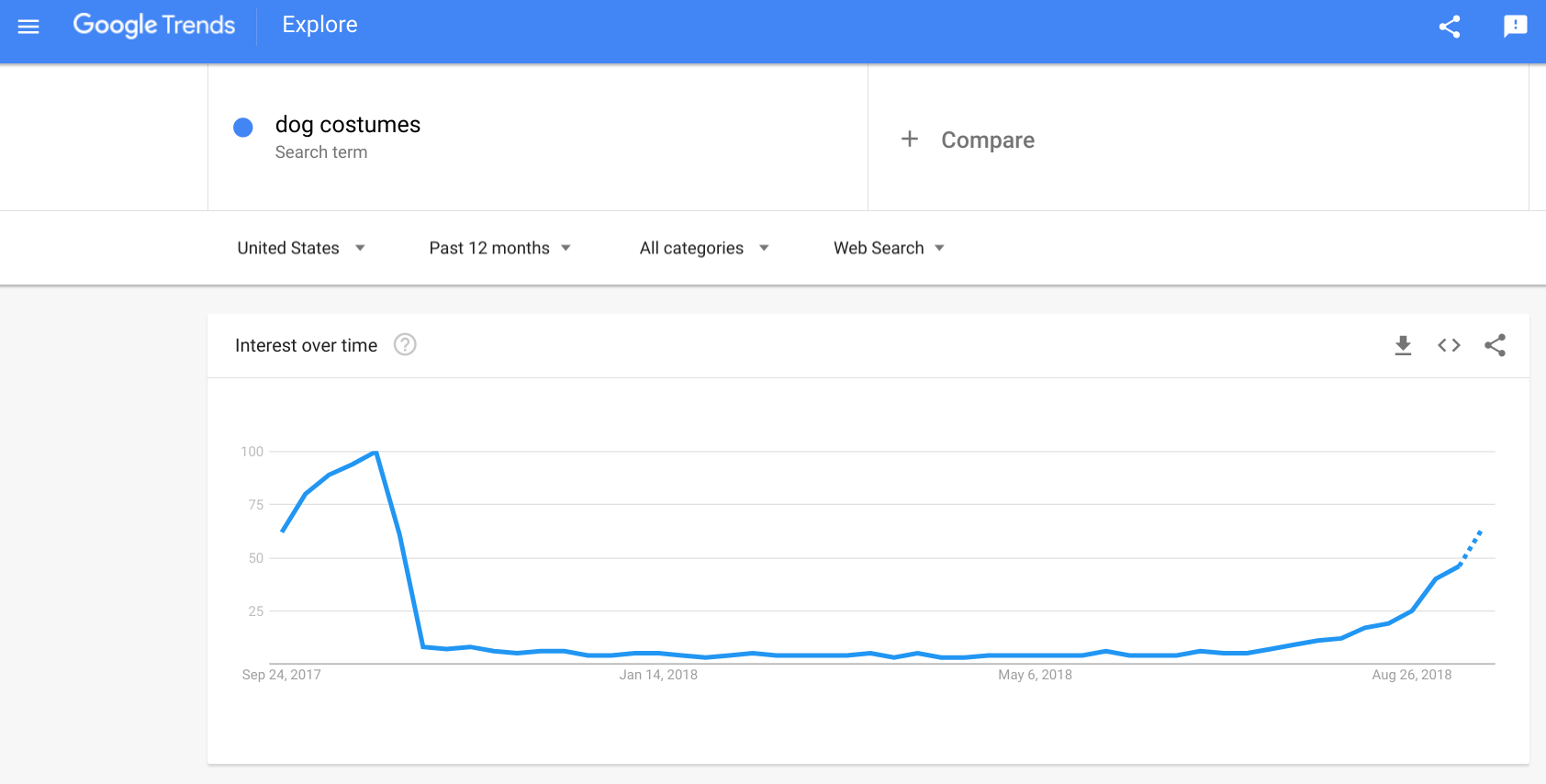 By closely examining these niche terms, you can plainly see that targeting a very narrow niche market — like dog costumes — probably wouldn't be profitable year-round.
However, the data shows that you can target a broader niche market — like pet products — and sell dog collars and other evergreen items year-round. Then, you can add dog costumes to your lineup when they're in demand and your pet-niche audience is actively shopping for them.
Social Media Sites
Use your niche market keywords to find related groups on Facebook, Pinterest Boards, and Instagram. The number of group members and post and page followers you find on these sites tells you how large and active the social audience is for various niche markets.
For example, if you search for "dog collars" in Facebook groups, you'll find groups ranging from under 1,000 members to over 10,000 members. That indicates a ready (and pretty impressive) audience interested in dog collars that you could target with Facebook posts and ads: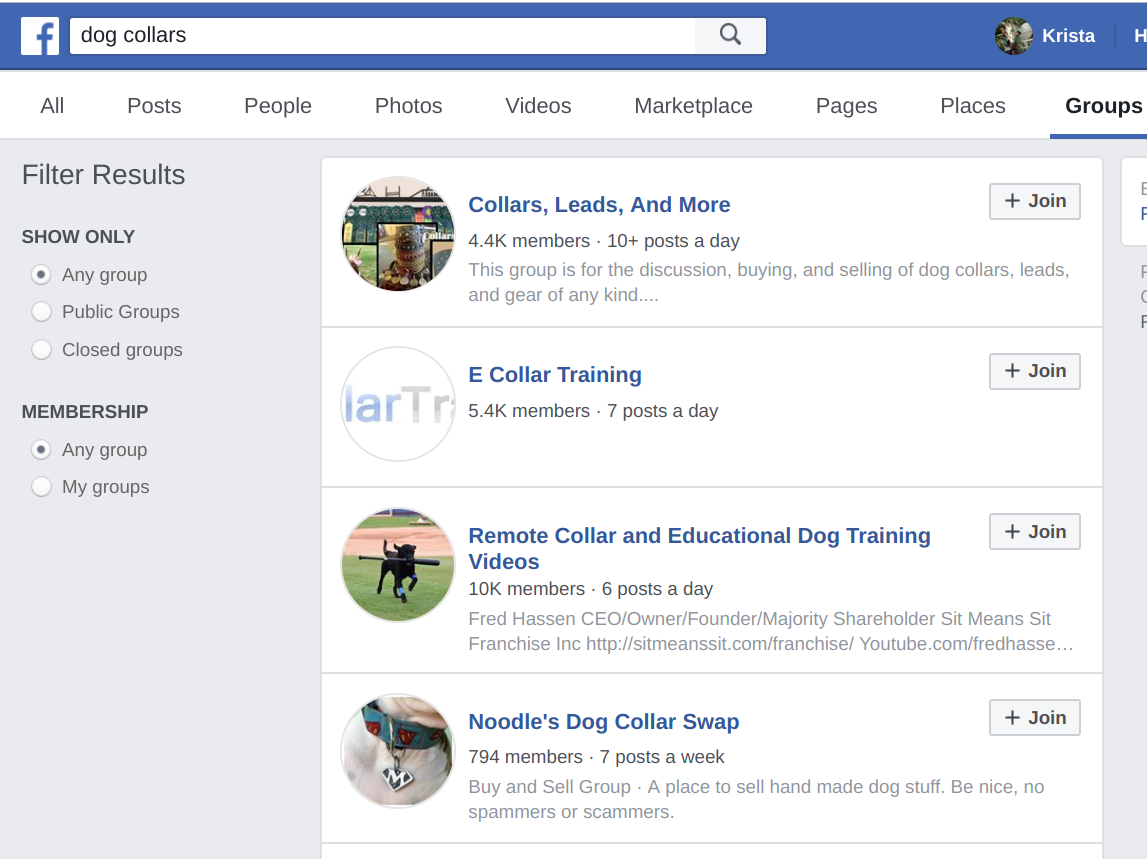 Done right, social media marketing is an effective, low-cost way to get the word out about your website, distribute marketing content, and even sell products. So, uncovering existing social media audiences can help prove the viability of your niche marketing idea.
Don't Forget to Dig into the Competition
While you're searching in Google and on social media sites, be sure to dive into the top results to see what your potential competitors are up to. Here are some things to look for when assessing the competitors that you uncover:
Who's at the top of the search results — Amazon and other major players, or niche sites?
If Amazon and other major seller marketplaces lead the pack:

Check to see if there are niche-focused informational sites in the search results too. If there aren't many, this could be a good niche affiliate marketing opportunity for you.

If niche sites top the search results, dig into them and see if you can do a better job:

Could you launch a competing site with better content and products? If so, you could top their results and grab their traffic (and sales).
Do these sites have social media pages with many or just a few followers? If just a few, you can easily top them there, too.
Again, don't let competition thwart you from your niche marketing dreams. Instead, research the competitors that you find. Note what they're doing well to see how you can top that with your own niche-focused WordPress website.
Plus, uncovering niche-related product listings on Amazon and other major seller marketplaces can be a goldmine if affiliate marketing is your goal. Learn how to use Amazon products to create your own income-generating website in our Amazon affiliate marketing guide.
3. Research the Profit Potential of Your Niche Markets
Next, take your audience research a step further and look at the demand for products within the niche markets on your list. There are several ways to research the profit potential of products that fall under your niche. Best of all, they're free to use.
Amazon Best-Seller Lists
Amazon is the king of online sales and it gives niche marketers a wonderful research tool — Best-Seller Lists. Niche marketing pro and CEO of ProScootersMart, Derek Jones, says, "Researching niche categories and products on Amazon Best-Sellers Lists is the easiest way to uncover profitable niche markets for drop shipping businesses and other online sales methods."
"Amazon is the king of ecommerce and boasts the largest online marketplace in the world," says Jones. "Niche marketers can put Amazon's own research to work by visiting its Best-Sellers by Category page. Here, you can dig deep into very narrow niche categories and uncover some really cool — and surprisingly profitable—niche marketing opportunities for drop shipping, affiliate marketing, and even direct ecommerce sales."
Navigating Amazon's Best-Sellers Lists is easy — and frankly, a lot of fun.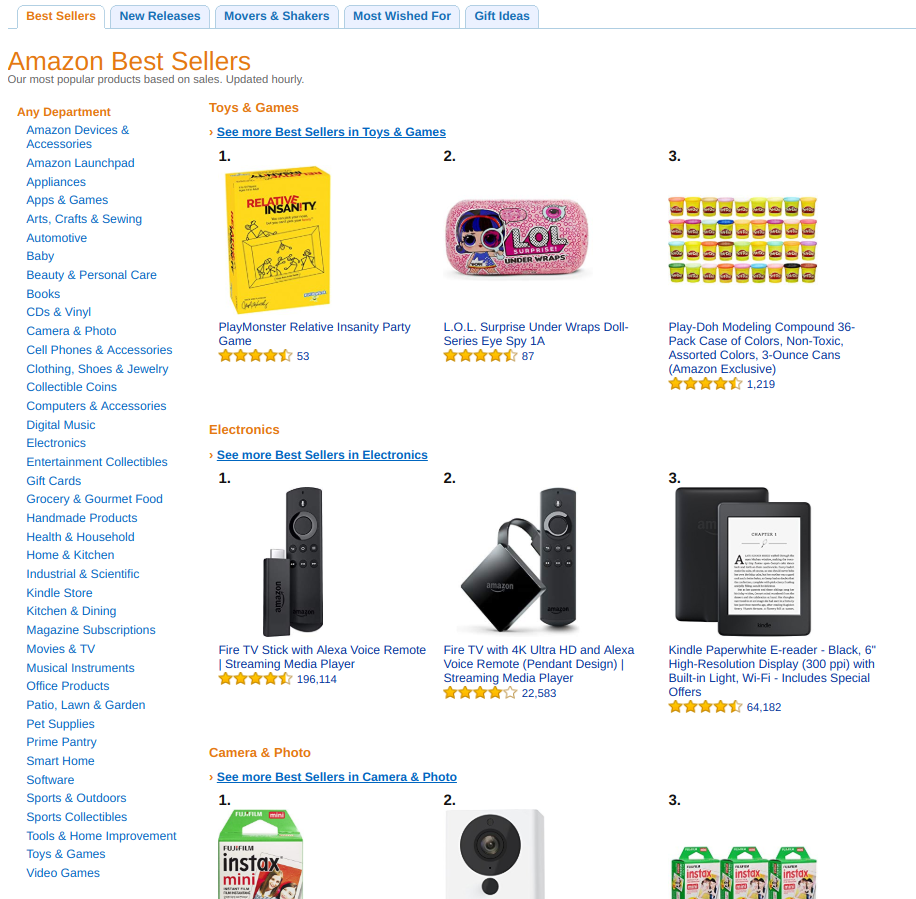 Amazon provides a lot of valuable sales information in best-seller lists, but you need to know what the rankings mean to make sense of it all. Our guide to finding profitable Amazon products explains how to use Amazon's best-seller data for your niche market research.
Affiliate Marketplace Product Lists
Even if you're not planning on using affiliate marketing to make money with a WordPress website, you can use affiliate-related tools to determine the profit potential of niche markets.
Affiliate marketplaces like ShareASale, ClickBank, and CJ Affiliates are free to join — all you need is an email to sign up. Once you have an account, you can search niche-related product categories and get a detailed look at the popularity of products related to your niche market.
For example, in a free ShareASale account, you can search niche market terms and see how much various companies pay when an affiliate sends a customer their way. Here's what we find in a search for "pet products."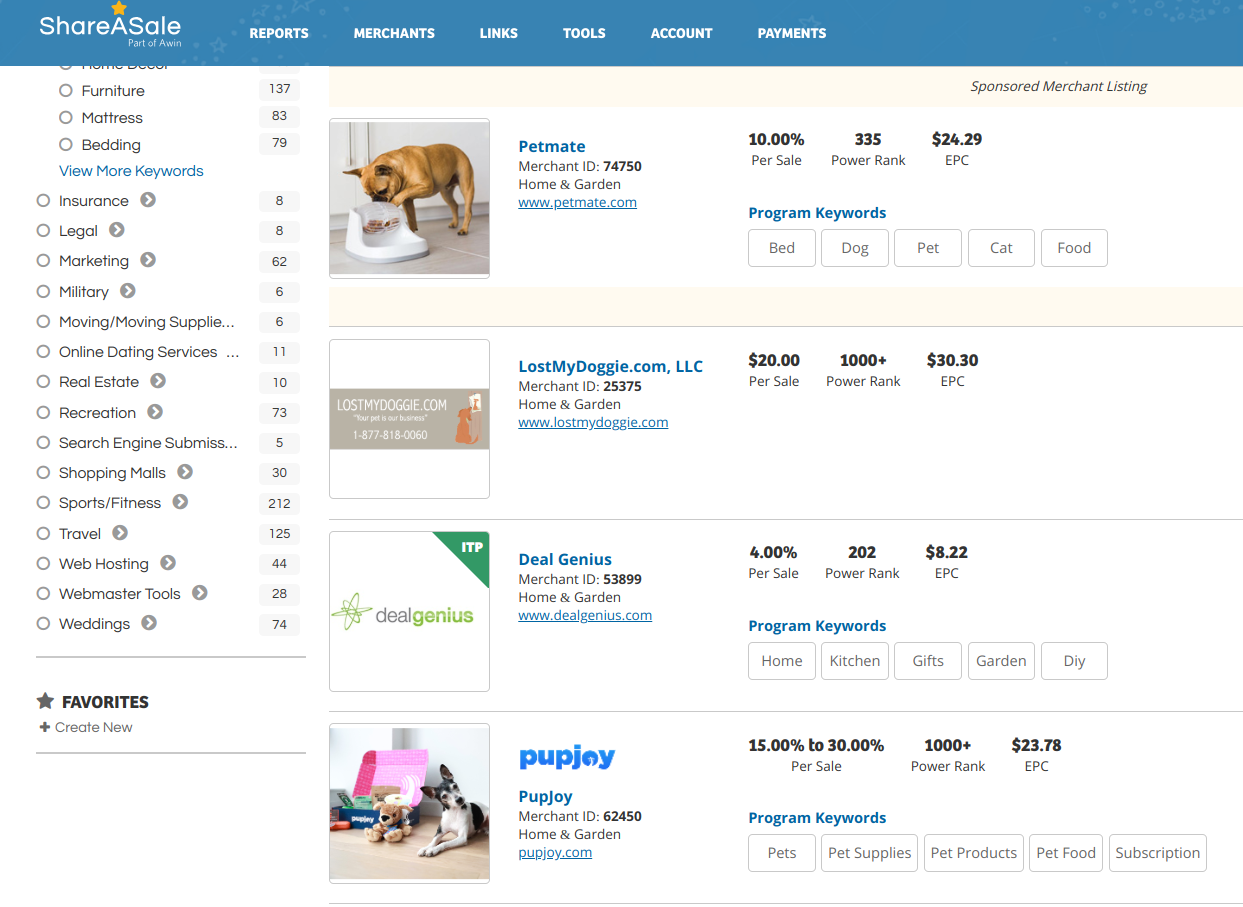 Digging into the top program — Petmate — we can see the profit potential of many products within the pet niche market.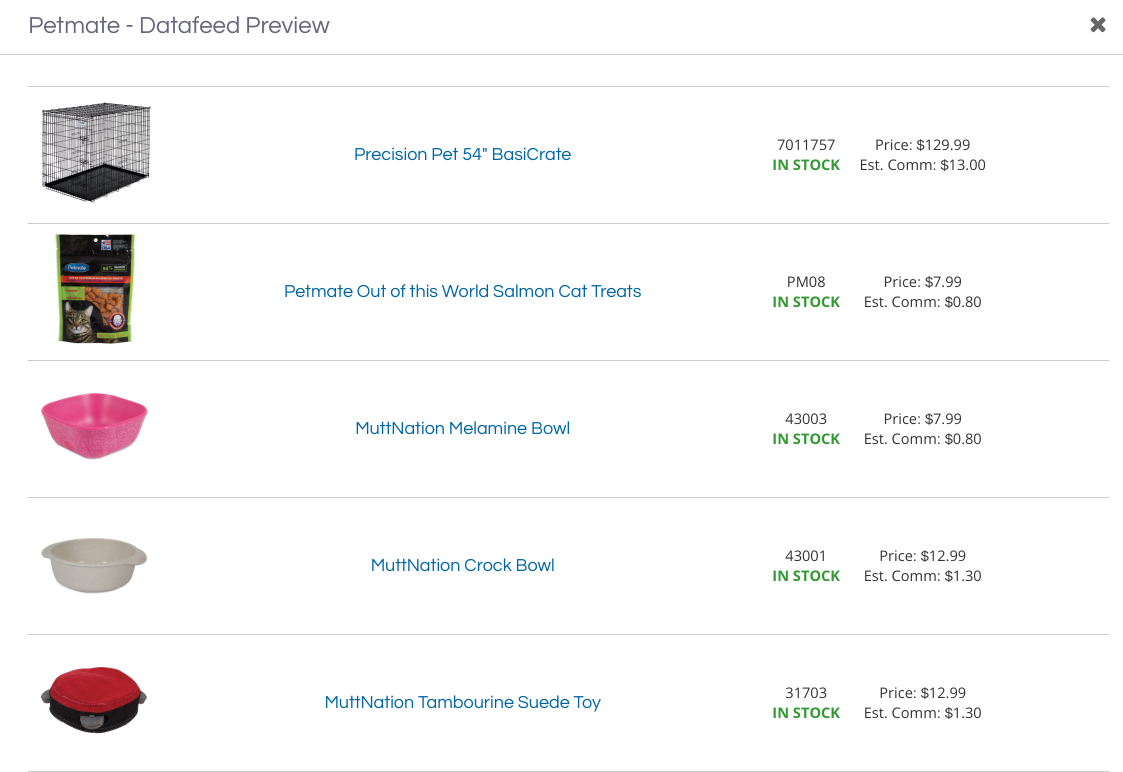 Searching affiliate marketplaces is a great way to gauge niche profitability. If you want to make money blogging, it gives you a head start on finding affiliate partners, too. Or, if you're considering selling your own products, it gives you a closer look at your niche market competition, the products they sell, and their pricing.
Drop Ship Marketplace Top-Seller Lists
Drop ship marketplaces list a wide range of products available from drop ship suppliers. You can use these listings to research products within various niche markets, plus explore the profit potential of starting a niche drop shipping business.
Like affiliate marketplaces, many drop ship marketplaces are free to join, including AliExpress and Oberlo, shown below.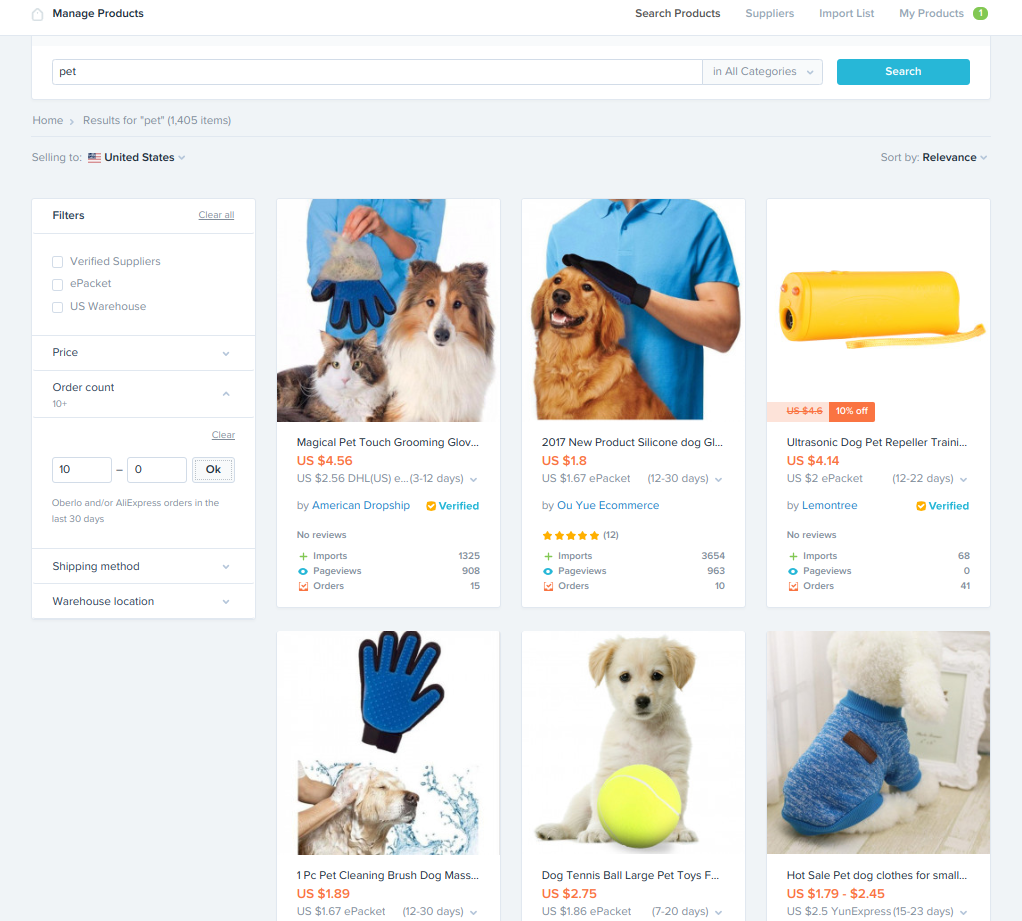 Drop ship marketplace research gives you a real-world look at the exact items that other businesses are selling successfully. You can search these huge product databases by keyword, item name, and category. You can even filter products by the number of sales over a set period, price, and other factors.
This research helps you sort and find the best-selling goods within various niche categories. Plus, you can see the actual sales figures and profit potential of products within various niche markets on your list.
Bottom Line
Niche markets are the secret to success for many types of small businesses, from bloggers and drop shippers to direct sellers and informational resources. Learning how to find a profitable niche is a simple, three-step process: list your interests, skills, and passions; research audience potential; and then research profit potential.
Once that's complete, you'll know which of your niche market ideas has the most profit potential. The next step is capitalizing on that by launching a website to house your new business. WordPress is the top choice of niche marketers because it lets you create anything you desire — an informational affiliate blog, a drop ship business, a complete ecommerce store — and anything in-between. See how easy it is to set up in our guide to building a WordPress website.
Ready to get your niche business started? Launch your WordPress website today for just $2.95 per month with our preferred provider, Bluehost. Just enter your business name below to get the ball rolling: