SBA startup loans are the same as traditional SBA 7a loans for existing businesses but are more difficult to qualify for because there is a higher risk of default. These loans are still possible but you'll typically be required by SBA lenders to come up with 25 – 30% as a down payment as well as additional collateral.
One great way to come up with your down payment is through a Rollover for Business Startups (ROBS). If you have $50k+ in a tax-deferred retirement account you can schedule a free 1-on-1 consultation with our recommended ROBS provider, Guidant, to learn more. What's more, they can help you with SBA loan packaging, increasing your chance of approval.
The 7 steps to getting SBA startup loans are:
1. Understand the Types of SBA Startup Loans
Before you start applying for an SBA startup loan, it's important to understand that these loans are the same as any other SBA loans but are harder to qualify for. Many SBA lenders won't work with startups and those that do make it more difficult qualify when compared to existing businesses because of the larger required down payment (25%- 30%) and increased scrutiny on your business plan.
The reason for this is that only half of all startups last past their first five years. Still, there are a few types of SBA loans available for startups, offering rates from 6.75 – 9.25% and favorable repayment terms. Ultimately, the right SBA startup loan for you will depend on how much money you're borrowing and how you plan on using the total funding amount.
SBA startup loans typically will fall into one of these 4 main SBA loan types:
SBA 7a Loans
SBA 7a loans are the most popular type of SBA loan used today and are best for businesses that need working capital. Startups with a proven business model like franchises will find this to be a good option because of the $5 million maximum loan amount available through a 7a loan.
SBA Express Loans
An SBA Express Loan is a form of an SBA 7a loan and is a good option for many startups that only need up to $350k to get started. Many startups will like the Express loan option because lenders are more likely to approve Express loans than other SBA loans since the risk of lending a smaller amount isn't as high. In fact, in 2017 SBA Express loans accounted for 46% of all SBA working capital lending, but only 8% of the total dollars funded.
SBA Microloans
The SBA microloan program helps nonprofit intermediary lenders lend money to small businesses. These loans are best for small businesses only needing up to $50,000 to start your business or for non-profit childcare centers. This is the only SBA program where the SBA doesn't guarantee the loans.
SBA 504 Loans
If you need money for owner-occupied real estate to get your business off the ground, then an SBA 504 loan is a good fit for you. You can get access to up to $5 million in financing for the real estate you may need to use as a warehouse, office, or manufacturing facility. For more information, you can read our article on SBA 504 loans.
While these startup loans are less common than traditional SBA loans, they are becoming more popular with lenders every single year. In 2013, startups only received 31% of the total SBA 7a loans given out and 26% of the total money. In 2017, however, startups received 38% of total 7a loans and 35% of the total dollars funded. As of writing this article, those numbers have increased in 2018 to 44% each.
Regardless of the increase in popularity, many lenders will still require you to come up with a 25-30% down payment. A ROBS is a great way to get those funds tax and penalty-free from your retirement account. A ROBS professional can help you through the process if you have $50k+ in a tax-deferred account. You can contact our recommended provider, Guidant, to set up a free 1-on-1 consultation today.
2. Determine How Much Money You Need
Many business owners think they should borrow as much money as they qualify for, but that can cause financial constraints if you're not careful. You should only borrow the money you need and can afford to repay. For example, you never want your debt service coverage ratio (DSCR) to exceed 1.25 for startups.
To really know how much money you need for your startup, however, you'll want to put together a detailed cash flow analysis of your new business. You can create your own cash flow analysis following these steps:
Forecast revenue over the next 12 months
Forecast all expenses over the next 12 months
Factor in any desired working capital or CapEx purchases
Subtract the total expenses from your revenue
The difference after all of these steps is your minimum required capital
The cash flow analysis will help you know how much money you'll need each month over the start of your business. You'll want to make sure that you're asking for enough money to cover any potential "red" or negative cash flow months over this time period.
A best practice to help you feel confident in your cash flow is to have a safety net saved for anything that is unexpected or that varies from your cash flow analysis. One way to do this is to rollover funds from your retirement account through a ROBS transaction. Unlike borrowing extra money, a ROBS doesn't require monthly payments or charge you interest. Read our ROBS guide to learn more.
3. Determine Your Eligibility
SBA loan requirements are the same for startups as they are for existing businesses. The requirements are strict, requiring exceptional personal credit and a solid business plan.
General SBA startup loan qualification requirements are: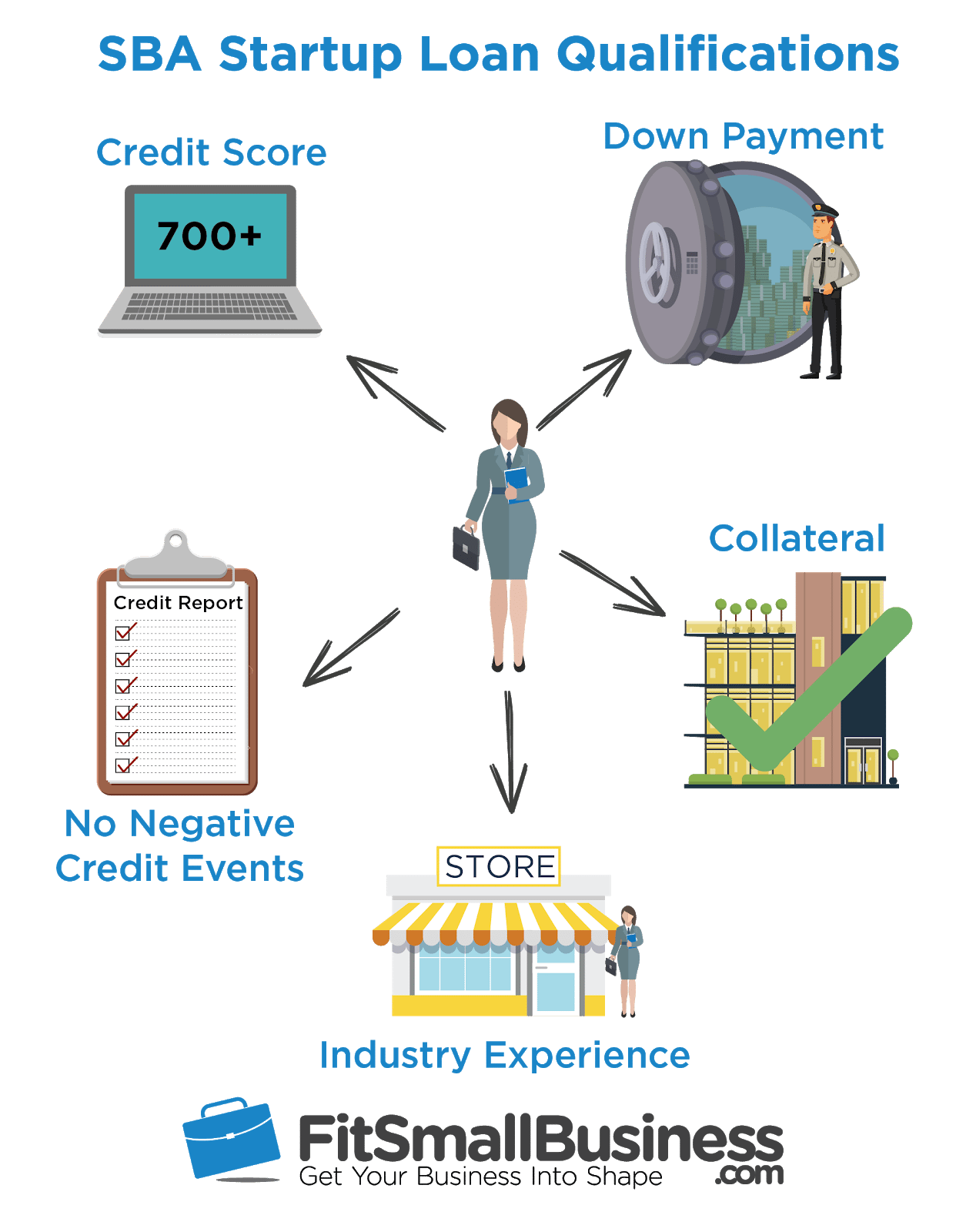 Personal Credit Score
Startups will want a credit score over 700 to feel confident that they meet this requirement. You can check your credit score for free to see if you might qualify.
Down Payment
While most SBA loans don't technically require a downpayment (unless you're purchasing real estate), the SBA requires that all approved lenders hold potential borrowers to their usual qualification standards. This means that most lenders will want to see you invest at least 10% in a project or purchase for SBA loans.
However, startups will typically put 25 – 30% down to show that they have more skin in the game. For a commercial real estate purchase, the down payment is straightforward and is a percentage of the purchase price. If you're looking for working capital or to purchase a business, the down payment is the difference between the total cost and the amount the SBA lender is willing to give you, which is typically 70 – 75% of the total amount.
This can be difficult for brand new businesses. You essentially have to put in enough money while still showing your SBA lender that you have enough liquid assets to cover debt payments. For this reason, using your entire savings as a down payment might not look good to a lender, especially if your new business venture isn't yet profitable.
One way to come up with your down payment is to rollover money from your tax-deferred retirement account through a ROBS transaction, penalty- and tax-free. It's also not a loan so there's nothing to repay and no interest to worry about. If you have $50k+ in a qualified retirement account, you can speak with Guidant for more information.
Collateral
Collateral is very important for startups seeking an SBA loan. The loan might not need to be 100% collateralized by your personal assets, but the more collateral you have the better your chances will be of getting funded.
Experience
You'll need both industry and management experience to get an SBA startup loan, or you'll need to have hired an operating partner that has it and is willing to run the business. You'll need at least 5-10 years of experience to pass this test, but it will vary by lender.
Other Requirements
You can't have any recent bankruptcies, tax delinquencies, or defaults of debt obligations to the U.S. government (including student loans) on your credit report. You must also have a solid business plan (discussed below) that highlights the future success of your business.
If you meet these minimum qualifications you can see what your financing chances are by using an experienced SBA loan broker who knows what lenders will fund startup businesses. Guidant is a good example of a business that will perform this service for you, increasing your likelihood of getting funded.
4. Create a Detailed Business Plan
A detailed business plan is important for startups looking for SBA funding because the lender needs to not only understand the business you're creating but they need to feel like you'll be successful. Providing your entire plan to the lender can go a long way to helping both of these things happen. It's a required part of the SBA loan application process and the better your plan is, the better your chances are of getting funded.
Your startup business plan should include:
Executive Summary: What your startup does (or plans to do), what it offers, and what your overall plans for the business are.
Product or Service Overview: Provide details of what your startup offers and how it's different than the competition. Make sure anyone reading this understands how your product or service helps your target market.
Target Market: Identify who you're targeting as customers and why they make a good fit for what you have to offer.
Competitor Analysis: Be clear about who your competitors will be and how you can differentiate from them.
Business Model: Here you'll give an in-depth view of exactly how you're going to operate the business and accomplish everything that needs to be done.
Business Projections: Create projections based off of conservative estimates on how the business will perform financially, including your cash flow analysis.
Financial Plan: Provide a detailed analysis of how much money you need to borrow, what your plans are for that money, and how you'll overcome unexpected expenses.
Keep in mind that as a startup, your business plan will need to make plenty of assumptions about the future of your business through your written plan and your financial projections. These assumptions should be backed up by industry and geographic data, and you should be prepared to defend your assumptions to potential lenders.
5. Get Your Down Payment Together
One of the biggest things that stop startups from getting SBA loans is the required down payment. While established businesses can get an SBA loan with as little as 10% down, we've learned from speaking with SBA loan experts that startups will typically be required to put 25 – 30% down. The three ways to get the required down payment is to use liquid savings, other assets like retirement savings, or even borrow the required funds.
David Nilssen, CEO of Guidant Financial who consults on SBA loans, says:
"Although often touted lower, most startup SBA Loans require 25-30% down as a percentage of the purchase price or project cost and some additional operating capital. This can be challenging for the average entrepreneur so ROBS opens up opportunity."
With an SBA 7a loan for working capital, your down payment is never actually paid to the lender, but not all of the money you ask for will be funded. SBA lenders will typically only approve startups for 70 – 75% of the total cost of a project or initiative. This helps show the lender that you have sufficient skin in the game to give the business your best effort.
For example, if you want to borrow $100k for a project the lender will ask you for the details on how you're going to spend that money. If they feel like you need $100k and approve you for it, they'll lend you that amount minus whatever down payment they require you to pay. So if your required down payment is 25%, you'll be asked to come up with $25k for your business project and the lender will fund $75k.
With SBA 504 loans for commercial real estate, the process is much more straightforward. Instead of the lender requiring 10% down as a percentage of the property's purchase price, for startups they will instead require 25% or more down.
Many business founders end up either not being able to scrap the down payment together or do one of these things:
Conduct a Rollover for Business Startups (ROBS)
A ROBS is a good financing solution that helps you get access to your retirement funds without paying any withdrawal penalties or taxes before you've turned 59 ½ years of age. It's also not a loan so there's nothing to pay back and there are no issues with your business being on the hook with multiple lenders. It's one of the best solutions to the down payment problem for startups seeking an SBA loan, and it could work for you if you have $50k+ in a tax-deferred retirement account.
A ROBS works by rolling over funds from your retirement account into a new retirement account for your new business entity. That retirement account then purchases shares in your business and your business is free to use those funds to pay for any necessary business expense. It's a great way to get the capital needed to qualify for more financing, like an SBA loan.
ROBS transactions are watched over by both the IRS and the Department of Labor. A very small percentage of ROBS – less than 1% – are audited every year. However, if you fail an audit then you could be required to pay the taxes and early withdrawal penalties discussed above. That's why it's important to use an experienced ROBS provider to help you set up and manage your ROBS throughout the time you've invested those funds in your business.
Our recommended ROBS provider is Guidant, who can help you get set up with a ROBS within 2-3 weeks if you have $50k+ in your retirement account. Since these transactions are so unique to your personal situation we encourage you to sit down with them in a free 1-on-1 consultation to get your questions answered.
Borrow From Your 401(k)
Borrowing from your 401(k) account can be expensive, and requires you to pay it back in full within 5 years. If you don't pay it back then you'll get cashed out and be charged a withdrawal penalty and be taxed for the full amount that was in your account. Plus you'll pay interest on the money you borrow and have two loan payments you're paying back while trying to build a business.
Cash Out Your 401(k)
This is a solution available to you but since the government requires you to be at least 59 ½ years of age before accessing your retirement funds, you'll be charged taxes and penalties that could total 20% or more of your total account value. That's a significant amount of money to pay just to get access to your funds.
Borrow From Friends and Family
This is a possibility but it requires you to have access to high network individuals who you don't mind owing money. Businesses are risky, regardless of how solid your plan is, and if something happens and you're unable to repay these people then it could damage your relationships.
Take Out a Personal Loan
Some borrowers think they can take out a personal loan from a 3rd party to get the necessary down payment. Unfortunately, as a startup, you're going to need all the collateral you can get and the more loans you have the less available collateral you're likely to have.
Plus, your SBA lender won't like that you personally owe someone else when you're looking to get funded for an SBA loan. They will want to have the first right to all of your personal assets in the event you can't repay your SBA loan.
Use a Home Equity Loan
Many startup business owners have equity in their personal home which can be leveraged to get a loan up to 90% of that equity. These loans are typically low-interest loans and could be a good option if taking out a home loan is your only option.
However, the problem with this is that you'll have two loan payments when you combine it with an SBA loan. While home equity loan rates are more favorable than SBA rates, the combined can be too expensive for your business to handle. Not to mention, the two loans will further increase your debt to income ratio and reduce the amount of collateral you have available.
Apply for a Personal Credit Cards
Some business owners charge up their personal credit cards to get the money needed to put down on a loan. This is not only an expensive option since credit cards carry an APR of 12 – 29%, but you'll also likely not have access to the amount of funding you need for a downpayment. What's more, it can ruin your debt to income ratio, making it harder to qualify for a loan.
6. Find the Right SBA Lender
Once you have your down payment in hand, you still may find it difficult to get an SBA loan because the amount of SBA lenders that will lend to startups is limited. While we have a great comprehensive list of SBA lenders which will give you access to the top 100 SBA lenders in the country, the problem is that most lenders don't advertise whether they work with startups or not.
To find an SBA lender willing to fund your startup, you could go down that list and reach out to every SBA lender to see who you could potentially apply with. Reaching out to so many potential lending partners can be time-consuming, and most startup entrepreneurs are short on time.
A better way to find the right lender is to use a broker or consulting company that consistently works with SBA lenders. They'll know exactly which firms are willing to work with you as a startup, and based on your industry or personal credit profile, they'll be able to match you to someone likely to fund your loan.
An SBA consultant like Guidant Financial works with a network of SBA lenders and has an understanding of each of their unique credit boxes. According to David Nilssen, CEO at Guidant Financial:
"Most entrepreneurs walk into their bank and attempt to secure an SBA loan. Per the Biz2Credit Small Business Lending Index (from 2017) – only 24% will successfully get funding. So most will go through the full application process, which can take up to 90 days, only to hit a dead end. This is where one could benefit of working with an SBA Consulting Firm like Guidant Financial. We work with a network of SBA lenders and has an understanding of each of their lending preferences and unique credit boxes. Plus, it never hurts to have banks competing on rates and terms."
7. Complete SBA Loan Paperwork and Submit
Once you find a lender willing to work with startups, you'll need to complete the appropriate paperwork and go through the underwriting process. You can expect the SBA underwriting process to take 45 – 120+ days, depending on your lender and how fast you are at responding to their document requests.
To cut down this time as much as possible you should be prepared with the required paperwork and documentation before your lender asks. When you apply, you should be prepared to supply your lender with the following documents:
Your business plan that includes an executive summary
Breakdown of your business's ownership
Personal profile highlighting your industry and management experience
Breakdown of how you'll use the funds you're borrowing
Statement of how you'll repay the loan
All of this could be covered in your business plan, but your lender may want separate submissions with each of these pieces of information. You'll also be asked to fill out a generic SBA loan application containing your personal and business information. Each lender provides its own application that may vary slightly.
The SBA also has certain forms that you'll be required to fill out depending on your personal situation. For example, every borrower is required to fill out Form 1919 that contains borrower information as well as Form 413. Once you complete all of the required paperwork, your loan will enter underwriting.
During the underwriting process, you'll likely be asked to provide a variety of paperwork and answer a bunch of questions. The lender just wants to get their arms around your business and your business plan to make sure you're worth the risk of lending money. The entire process can take 90 days more before you get the funds you need.
A company like Guidant can help walk you through this application paperwork and help you manage the process. Not only that, but they can even introduce you to the lenders most likely to fund an SBA startup loan like the one you need. Finally, the can also help you use your retirement savings if you need extra capital to allocate towards the down payment.
SBA Startup Loan Trends
Since unsecured business loans for startups are hard to come by, SBA startup loans are becoming more popular with lenders every single year. In 2013, startups only received 31% of the total SBA 7a loans given out and 26% of the total money. In 2017, however, startups received 38% of total 7a loans and 35% of the total dollars funded. As of writing this article, those numbers have increased in 2018 to 44% each, showing that startups currently have more SBA loan opportunities than they ever have before. Same goes with a commercial real estate purchase.
Bottom Line
SBA startup loans are pretty much the same as regular SBA loans. The biggest differences are finding a lender who will lend to startups and coming up with a larger down payment and more collateral then you normally would have to if you were borrowing for an existing business. With an SBA startup loan, you'll need to put 25-30% of your own money down.
A great way to come up with the necessary down payment is by using a ROBS, which gives you access to your retirement funds without paying early withdrawal penalties or taxes. If you have $50k+ in a tax-deferred 401(k) or IRA then you could qualify to work with a ROBS provider. We recommend speaking to our recommended ROBS provider, Guidant, to learn more. Schedule a free 1-on-1 consultation today.