Cash flow problems arise when businesses cannot cover debt payments, payroll expenses, or inventory restocking. Many cash flow problems are temporary and pose a serious threat only if they become chronic. Cash flow solutions include financing, for temporary issues like growth or inventory, and managerial, for chronic cash flow problems.
OnDeck, which sponsored this article, offers short-term working capital loans and lines of credit. It can provide up to $500,000 in short-term financing to address cash flow problems with low starting rates. Cash flow solutions should be quick, so OnDeck offers same day approval and next day funding to small business owners.
How Cash Flow Problems Work
Cash flow problems occur for growing businesses because expenses outpace receivables during growth. A new customer may bring future revenue, but the expenses rise immediately to service the customer. Leaving cash flow problems unaddressed can cause unpaid lease payments, delayed payroll, and overall damage to operations.
Financing Solutions to Cash Flow Solutions
Cash flow solutions for small businesses often need to be quick because the cause of the shortage is acute. Working with the best lenders to finance inventory or cover payroll can ease the cash flow problem. Establishing better credit terms is also an option, and business owners have a variety of other financing cash flow solutions from which to choose.
Find the Right Financing Solution for You
Managerial Solutions to Cash Flow Solutions
Business owners that have identified chronic cash flow problems should consider managerial cash flow solutions. Managerial solutions involve on cash flow management, including renegotiating contracts, improving invoicing, incentivizing payments, stretching out payables, reducing expenses, and moderating growth.
10 Cash Flow Solutions for Small Businesses
Identifying and matching cash flow problems and solutions is the first step that business owners must take to resolve cash flow issues. Fixing temporary cash flow problems is best done with short-term financing that can ease the pressure on the business quickly. Chronic cash flow problems require long-term cash flow solutions.
1. Apply for Short-term Business Loans
Short-term loans are easy to get approved for, and lenders can provide funding in as quick as one business day. These loans have a higher annual percentage rate (APR). However, the total cost of capital can be less expensive than longer-term options with a lower APR. Business owners looking to get a short-term loan will find OnDeck or a top competitor may be a good fit.
With OnDeck, business owners can qualify with a personal credit score above 600, at least 12 months, and $100,000 or more in annual revenue. OnDeck offers up to $500,000 with repayment terms up to 36 months and next-day funding. Business owners need not submit extensive paperwork and can get an approval decision on the same day.
OnDeck Short-Term Business Loan at a Glance
Maximum Loan Amount

$500,000

Time to Receive Funds

One day

Minimum Time in Business

One year

Minimum Annual Revenue

$100,000

Minimum Credit Score

Collateral

Personal Guarantee

Required

APR Range

10% to 100%

Repayment Period

3 to 36 months

Get Started
To learn more about term loans,
join our free webinar
. We'll answer the most common questions about business loans and how to qualify for them.
2. Apply for Small Business Lines of Credit
A small business line of credit works like a credit card, so borrowers only pay interest on the outstanding balance, not on the entire available credit line. When business owners pay down their balance, the amount of credit replenishes and is available to borrow again.
OnDeck offers a flexible business line of credit up to $100,000 with terms up to 12 months. As with OnDeck's short-term business loan, business owners can apply online and receive an approval decision within minutes. Applicants need not provide any additional documentation beyond basic personal and business information and recent bank statements.
OnDeck Business Line of Credit at a Glance
Maximum Loan Amount

$100,000

Time to Receive Funds

Next business day

Minimum Time in Business

One year

Minimum Annual Revenue

$100,000

Minimum Credit Score

Collateral

Blanket UCC filing

Personal Guarantee

Required

APR Range

13.99% to 63.2%

Repayment Period

Six or 12 months

Get Started
To learn more about small business lines of credit,
join our free webinar
. We'll discuss when to use a line of credit and what it takes to qualify.
3. Establish Favorable Credit Terms With Trade Partners & Suppliers
Another option that business owners have to improve cash flow involves negotiating better invoice payment terms with trade partners. Extending the time a business has to pay a partner from due on receipt to due in 30 to 90 days allows the business to hold on to more cash for a longer time.
Extending terms frees up cash now that would otherwise go to pay trade partners. This is like a line of credit from suppliers because a business is receiving goods or services right away and paying for them later. This arrangement will free up capital and may help build a business credit score found on reports like Dun & Bradstreet credit report.
4. Explore Other Financing Cash Flow Solutions
Some trade partners will require cash payments. Using a business credit card or a credit line to make other payments can maximize cash on hand to address cash flow problems. Using available credit is a short-term solution, and it carries an interest rate. Therefore, business owners should always budget for repayment.
Invoice Factoring
Invoice factoring advances money based on unpaid invoices owed by a business or government client. Businesses pay a small fee for early access to the revenue they will receive from customers and reduce the wait time from 30 to 90 days to a single day. The best invoice factoring companies offer small businesses up to $25 million in funding.
Invoice Financing
Businesses looking to finance less than $100,000 in invoices should consider accounts receivable (A/R) financing. This is like factoring in that lenders base financing on unpaid invoices. However, it works more like a line of credit and is more flexible. The best accounts receivable financing companies also have low qualifications and offer funding the same day.
Inventory Financing
Inventory financing is used to finance inventory purchases. It's an excellent fit to ramp up for a busy season or to buy the inventory to fulfill an order before collecting payments. This loan or line of credit uses the inventory of the business as collateral and is a great way to finance growth or seasonal surges in business.
Purchase Order Financing
Purchase order (PO) financing is an advance that pays suppliers for goods that will help a business complete a written purchase order. PO financing can fund 100% of the costs to supply purchase orders, which includes delivery. The best purchase order financing companies work across multiple sectors and can provide $5 million or more in funding.
Refinance & Consolidate
Cash flow problems are often the result of costly debt payments. Borrowers can refinance a business loan, or consolidate all of their debts into a single monthly payment that can save money. Consolidating small business debt can also save a business owner time by reducing the effort required to manage a complicated cash flow process.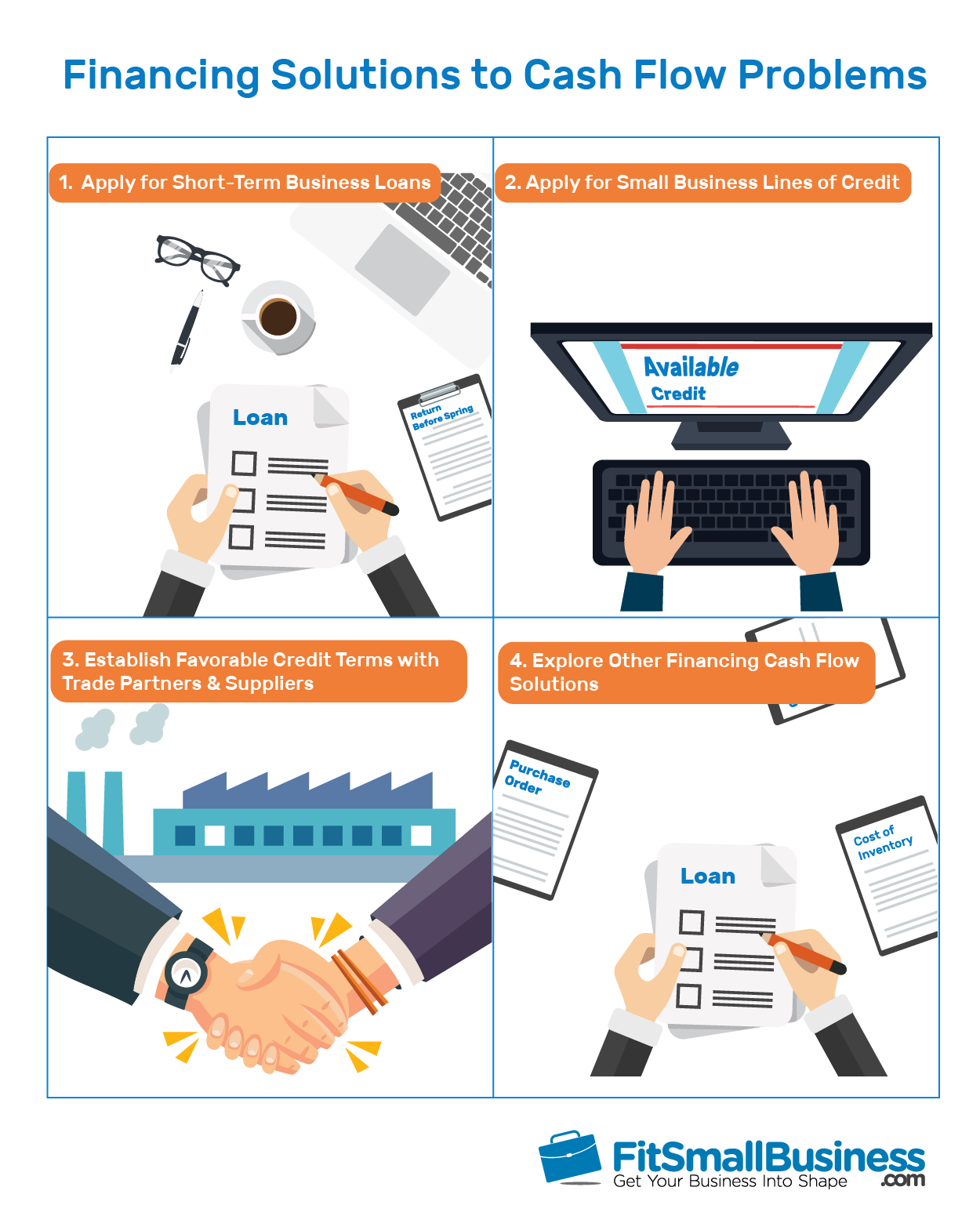 Business owners that are evaluating a financing decision should consider a long-term solution to their cash flow issues. Most times, failed equipment, slow months, or delayed customer payments are best solved with a financing cash flow solution. However, financing can also make chronic cash flow issues worse if the underlying causes are not addressed.
"Borrowing can be a solution for certain cash flow problems, but there are times when borrowing can make cash flow problems worse. Before borrowing, it is a good idea to examine how a business is doing and whether a new debt payment will help the cash flow situation long term."
―Ty Kiisel, Editor, OnDeck
5. Renegotiate Supplier Contracts
Businesses struggling with cash flow problems need a permanent managerial cash flow solution to increase disposable cash. This is also true if adding revenue doesn't seem to increase the bottom line. One cause of the cash flow problems might be how much a business is paying suppliers.
"One of the first things to consider is the gross profit margin. If the margin is too low, it might be time to renegotiate the cost of goods sold with vendors."
―Paola Garcia, Business Advisor, Excelsior Growth Fund
An increase in gross profit could mean a substantial increase in disposable income. This isn't a cash flow solution that brings immediate benefits, but business owners notice the impact of it within 30 days.
6. Improve Invoicing Processes
Business owners that don't use an accounting system to invoice clients should invest in an accounting solution. Business owners should also automate their invoicing system because both processes can help address cash flow problems. By reducing the number of errors, ensuring everyone receives bills on time and providing business owners with a clear snapshot of their cash position.
Benefits of automating an invoicing process include:
Reduced costly invoicing errors and delays
Faster invoice delivery to clients
Increased data clarity and insights
Reduced effort for past due invoice collections
Business owners can send invoices online through their accounting software to speed up the payment process. Most small businesses use QuickBooks to track their accounting, which business owners can use to send invoices. Setting up invoicing for the first time might be confusing, but following a free QuickBooks invoicing course can make the process simpler.
7. Encourage Clients to Pay Faster
Every small business owner with cash flow problems should ask themselves what they can do to make it easier for their clients to pay faster. Providing a method or a reason for clients to pay faster can improve immediate cash flow problems. There are many ways to do this, and businesses can get creative based on their circumstances.
Set Up Auto Billing
Signing clients up for an auto-billing cycle where the money is drafted from their bank account or charged to a credit card on the same day each month will help make payments predictable. This information helps business owners manage budgets and reduces the likelihood of cash flow issues.
"For our repeat customers, we invoice them once a month and the invoice terms are 'due upon receipt' which encourages people to pay faster. We also offer to accept direct deposits from our clients so that way the money goes directly into our bank account. This saves us from waiting for a check in the mail and having to go to the bank and depositing them all the time. We get paid three to 10 days faster this way."
―Ben Walker, CEO, Transcription Outsourcing
Accept Online Payments
Paying a bill online with a credit card is convenient for clients. If clients can pay online, then they may be more willing to pay the invoice upon receiving it. Keep in mind that accepting credit cards can come with credit card processing fees. Whether business owners pass fees along to customers or not, accepting online payments can be a great cash flow solution.
"We integrated our cloud-based invoice and accounting system with a credit card transactor. Now, we find clients paying invoices immediately when we issue the invoice—even before they have received their shipment. Now, our payables are down from an average of 40 days to 10 days."
―Rich Patterson, owner, Patterson Brands
Encourage Early Payment and Discourage Late Payment
Most people are cost-conscious. Clients could be happy to pay more if it means they will get a better deal or discount. Using the right combination of carrots and sticks to ensure a business gets paid on time solves cash flow problems that don't require financing.
You can use discounts or lower deposits to encourage customers to pay early. You can also charge penalties or interest for late payments. Encouraging your customers to pay early adds more cash to your company."
—Russab Ali, Founder, SMC Digital Marketing
Let Clients Choose Their Payment Day
Every business has different revenue cycles. It may be beneficial to some clients to make payments mid-month, while others would prefer to make payments at the beginning of the month. Allowing clients to choose the day that works best for them will incentivize them to pay on time. This increases a business's ability to predict what their cash flow will be.
8. Stretch Out Payables
Stretching out payables means choosing to pay certain bills past their due date. While this can help with short-term working capital, it is not a long-term solution and can damage relationships with trade partners and hurt personal credit. If businesses stretch out payables, then there are multiple ways to do this while still preserving important vendor relationships.
Reschedule Payments
If a business has too many payments due at a particular part of the month, then consider negotiating a different due date throughout the month with some of these trade partners. Many vendors will be happy to change their payment date if they feel confident in the business's ability to pay on time.
Change Payment Agreement
Many payments are due once per month, but some service providers will allow business owners to pay semi-annually or annually. An annual subscription might be cheaper as some service providers will give discounts for paying this way. Also, by paying only once per year, business owners do not have ongoing monthly payments to fit into a budget. This eliminates one more payable to juggle every month.
9. Reduce Expenses
Reducing expenses is a common approach to trying to fix a cash flow problem. However, it's easy to go about this the wrong way by cutting big-dollar expenses that hurt a business's ability to generate revenue. There are other expense-reducing measures that business owners can take to maximize the amount of cash flow the company receives without hurting the business operations, and to minimize the time to receive the money.
Cut the Fat
Business owners should suspend non-essential expenses, like landscaping or pest control to increase cash flow. Businesses should cut anything that is not essential before necessities like inventory, marketing, or labor. Often the vendors that business owners cut will offer discounts to earn back business, which can be great after the business owners resolve cash flow problems.
"Be savvy about where you are spending your money and cut out any expenses that are not necessary. For instance, reduce your labor costs by doing it yourself, or set up shop from home unless you need a location for product production. Building a business takes making smart cash flow decisions each day."
—Jennifer Aube, owner, DoYouBake
There are even ways to reduce the costs of services business owners continue to use. Services like phones and the internet can provide cost-saving opportunities. Business owners without a contract can shop around to see if there are cheaper options out there for the same service with other providers.
10. Monitor and Moderate Growth
Business owners get excited about growth, and for a good reason. Growth means more employees, higher revenue, new opportunities, and personal success. However, unmonitored and unmoderated growth can cause cash flow issues. Business owners should develop the discipline to turn away customers if they are experiencing cash flow shortages.
Unmoderated growth, or overtrading increases future receivables and current expenses for businesses. As expenses outstrip revenue, businesses face cash flow problems. In the short run, business owners may use financing as a cash flow solution. However, repeat overtrading will only compound cash flow problems and could bring the business down.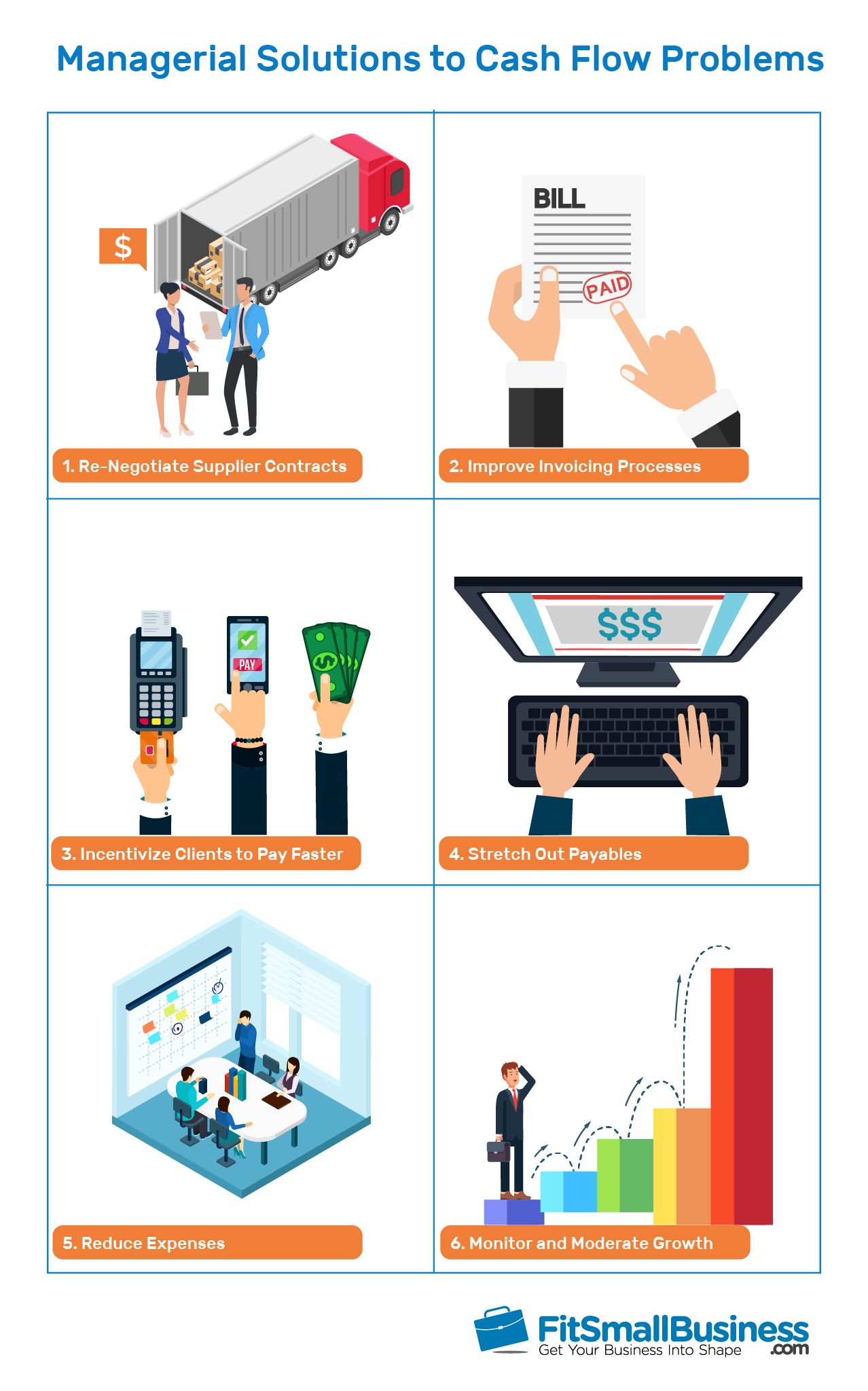 Cash Flow Problems and Solutions Frequently Asked Questions (FAQs)
This article outlines some common cash flow problems and solutions that small business owners can use to address cash flow issues. Small businesses have a variety of needs, and small business owners often have questions we did not address. Below are some frequently asked questions, and we invite readers to post questions in the Fit Small Business forum.
How do you solve cash flow problems?
Business owners needing to solve cash flow problems should start by identifying the underlying cause. After identifying the issue, business owners should select a solution that will address it in the short-term and the long-term. A short-term solution may require financing, while a long-term cash flow solution is likely to be more structural.
Can a profitable business fail because of cash flow problems?
Profitable businesses can fail because of cash flow issues, especially during rapid growth. Businesses taking on customers or clients may be profitable on paper, but this is because the expenses necessary to service clients are still low. If that happens, customers may leave or debtors may call in debts, causing the business to fail.
How can overtrading cause cash flow problems?
Overtrading involves engaging in more business than the company can support and increasing future receivables slower than current expenses. This imbalance can cause cash flow problems. In the short-term business owners can get financing to address the issue, but business owners should monitor and moderate growth to avoid overtrading in the long run.
How can you improve cash flow?
Business owners can improve cash flow by reducing immediate expenses or increasing cash on hand. Some ways to reduce immediate expenses include cutting costs and delaying supplier payments. Increasing prices, getting short-term funding, and investing personal money into a business can increase cash-on-hand.
Bottom Line
There are many ways to solve business cash flow problems. Some cash flow solutions involve being smarter about invoicing and getting customers to pay quicker while others involve cutting expenses. Each solution can help with overall cash flow management and improve a business's ability to predict how much cash they have on hand.
Some cash flow problems require an immediate influx of capital. In those cases, a short-term loan or a business line of credit with OnDeck can be the right fit. Its online application is quick, and it can provide same-day funding of up to $500,000. Apply now and get approved within 10 minutes.