Venmo Business Account: 2023 Ultimate Guide
This article is part of a larger series on Payments.
Venmo is a popular peer-to-peer mobile payment platform that allows users to send and receive money easily and securely. The payment app Venmo was launched in 2009 and quickly gained traction among the younger generation as a convenient way to split bills, pay friends, and even make small purchases.
In 2012, Venmo was acquired by Braintree, which was later purchased by PayPal. Since then, Venmo has expanded its services, including the launch of Venmo Business in 2020.
A Venmo Business account allows merchants to accept payments from other Venmo users, generate and send invoices, and integrate with ecommerce platforms for receiving Venmo payments. It's free to sign up—just pay per transaction.
What Is Venmo Business?
Venmo Business is an account type offered by Venmo to cater to the needs of businesses, allowing them to accept payments and conduct transactions through the Venmo app. A Venmo Business account is a suitable option for entrepreneurs and small businesses looking to accept payments from Venmo users and capture its younger-aged demographics.
The unique feature of Venmo is its social media aspect, which contributed to its popularity and widespread use among younger users. Venmo users can see payment interactions between their friends and even strangers. People's natural curiosity to see what other people spend their money on (and sometimes, who they are hanging out with) helped drive the "Venmo stalking" phenomenon.
In addition to friends and family, the app also shows when users make payments to a merchant, which inadvertently serves as a promotion for merchants that accept Venmo payments.
Venmo Business vs Personal
Business Profile

Personal Profile

Best For

Startup, small businesses, freelancers, individual proprietors

Sending payments to peers, paying merchants

Monthly Fee

$0

$0

Transaction Fee for Accepting Money

Starts at 1.9% + 10 cents

Free from other Venmo users

Instant Transfer Fee

1.75% (minimum 25 cents, maximum $25 fee)

1.75% (minimum 25 cents, maximum $25 fee)

Spending Limit (weekly)

Unverified: $2,499.99

Verified: $25,000.00

Unverified: $249.99

Verified: $7,000.00

Withdrawal Limit (weekly)

Unverified: $999.99

Verified: $49,999.99

Unverified: $999.99

Verified: $19,999.99

Features

Tax reporting tools
Visibility in the Venmo app as a merchant
Purchase protection
QR code
Marketing

Send money for free using Venmo balance or from a linked bank account or debit card
Buy and sell cryptocurrency
Venmo Personal accounts are designed for individual users to send and receive money casually between friends and family. In contrast, the Venmo Business Account offers additional functionalities tailored to meet the needs of businesses, including the ability to accept payments, create invoices, and access more comprehensive analytics.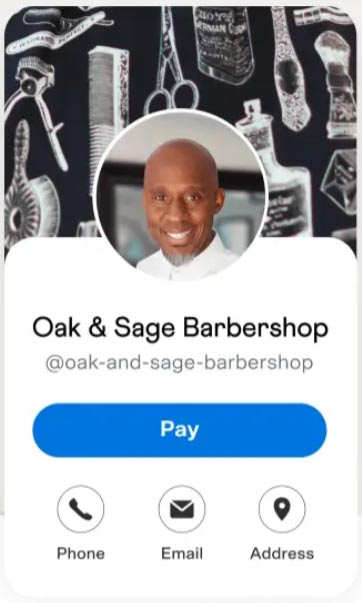 A Venmo user may have both a Personal and a Business profile. If you already have a Venmo Personal account, you only need to create a Business profile to access all the Venmo Business features.
A Venmo Business account is not a separate standalone account within Venmo. For those without a personal account, creating a Venmo Business account will result in a Venmo account with a Personal and a Business profile.
Venmo Business Pros & Cons
Pros:

Cons:

User-friendly interface

Only available to Venmo users

Instant transfer

Limited payment types supported

Social integration

Data privacy concerns

Transaction security

 
Pros
User-Friendly Interface: Venmo's intuitive design makes it easy for both businesses and customers to navigate the platform and conduct transactions effortlessly.
Instant Transfers: Businesses can access funds immediately (for a fee), ensuring smooth cash flow.
Social Integration: What's unique about Venmo is its social feed. The interface allows businesses to engage with customers, share updates, and encourage repeat business through organic interactions.
Transaction Security: Venmo employs encryption and other security measures to safeguard sensitive financial data.
Cons
Only Available to Venmo Users: While Venmo is widely used among consumers, not all customers have adopted the platform, potentially limiting the business's customer base. This can be addressed by offering other payment options aside from Venmo.
Limited Payment Types Supported: Businesses using Venmo may accept payments directly on the app (customers look for their business profile and pay), on your website, or using your QR code. There is no native capability to send an invoice or set up recurring payments. This can be addressed by integrating Venmo with other apps (such as invoicing apps) for added functionality.
Data Privacy Concern: Venmo's social integration can be a concern for customers who do not want their purchasing activity shared on their feed. If your customer would be concerned about the privacy of their transactions with your business, let them know there is an option to set the default privacy settings to Private.
Venmo Business Alternatives
While a Venmo Business Account is a suitable option for many small businesses, there are also other similar alternative payment platforms that might be more suitable for your business.
Best For

International payments

All-in-one solution

Direct bank-to-bank payment

Monthly Fee

$0

$0

$0

Transaction Fees

Starts at 2.6% + 10 cents

Starts at 2.29% + 9 cents

Varies (depends on bank account)

Payment Channels

Mobile app
POS system
Online integrations
Invoicing
Recurring payments/ subscriptions

Mobile app
POS system
Online integrations
Invoicing
Recurring payments/ subscriptions
ACH payments
Venmo Business Pricing
Venmo Business has one of the lowest transaction fees among other payment processors. The fee for merchants is 1.9% + 10 cents per transaction for direct Venmo payments. This is regardless of the source of funds used by the customer.
However, transaction fees are different when using Pay with Venmo on websites and online checkouts. For website integrations, Venmo uses PayPal, so PayPal Merchant fees apply.
Through Venmo app: 1.9% + 10 cents
Online checkout: 3.49% + 49 cents
Tap to Pay: 2.29% + 9 cents
Tap to Pay on iPhone or Android
Venmo is currently in the process of enabling Tap to Pay on iPhone and Android. Once fully released, this will allow Venmo Business users to accept contactless payments from any customer using their contactless cards and devices. This means that a customer doesn't need to be a Venmo user for merchants to receive payments through this method.
Customers do not have to pay any fees if they use their Venmo balance or fund it with a linked bank account or debit card. However, customers are charged 3% if they fund their payment using a linked credit card.
Venmo doesn't charge any monthly or setup fees, and standard withdrawal of your Venmo balance is also free (one to three business days). It also offers instant transfer with a fee of 1.75% of the amount withdrawn.
Venmo Business Features
Having a Venmo Business profile allows you to use a range of features tailored to businesses, including a QR kit, tax reporting, purchase protection, and sales tax and tipping.
QR Code & Kit
Both Venmo Business and Personal profiles have the ability to generate a QR code that other users can use for sending payments. For businesses, the personalized Venmo QR code makes it easy for customers to pay with just a quick scan. This is especially useful for brick-and-mortar establishments, pop-up shops, events, and even individual sellers conducting face-to-face transactions.
Venmo has made it easy for merchants to display their unique QR code at the point of sale or on their websites. Venmo Business offers a QR Kit that includes a tabletop display with a stand, five stickers, and a wallet card with a lanyard. The first kit is free, and any succeeding kits cost $14.99 each.
Online Checkout Integrations
To integrate Venmo with your website, you will need to integrate it via PayPal or Braintree. If you already have a PayPal integration on your website, you will need to add a Java SDK code to your website to show the Venmo button on the product and checkout pages. When a customer clicks on the Venmo button upon checkout, they will be redirected to the Venmo app to authorize the payment.
Tax Reporting
Venmo helps users with a Business profile fulfill tax requirements. All payments sent to a Venmo Business profile are tagged as purchases and are therefore considered payments for goods and services.
Merchants that receive at least $600 in a calendar year will need to provide their tax info. Those who have provided their tax info will be issued with and asked to complete a 1099-K form. Merchants that fail to provide their tax information may experience tax holds or a 24% backup withholding of their funds.
Purchase Protection
Venmo transactions that are tagged as payments for goods and services may be eligible for Purchase Protection. This feature helps keep merchants from losing money due to unauthorized transactions or claims that the buyer never received their purchase.
In case of disputes, Venmo reserves the right to determine if a transaction is covered by Purchase Protection. Keeping proof of deliveries is essential if you want your transactions covered by Venmo Purchase Protection. Check out the full details in the Venmo Purchase Protection User Agreement.
Social Interaction & Marketing
One of the distinctive elements that sets Venmo apart from other mobile payment platforms is its strong emphasis on social interaction and marketing features. Venmo's integration of social elements creates a unique and engaging payment experience for users, making it more than just a transactional tool.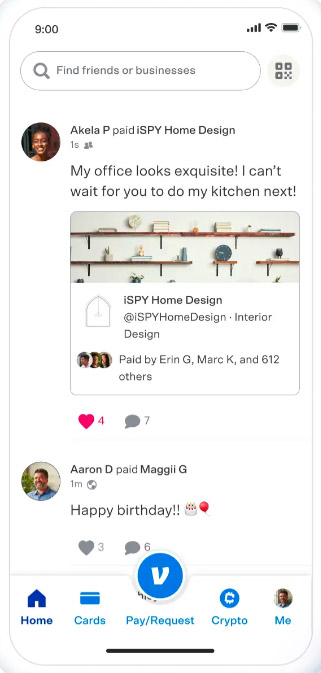 Venmo's social feed resembles a social media timeline, where users can view and interact with their friends and contacts' payment activities. By default, all transactions made on Venmo are visible in the feed unless the user chooses to make a transaction private. This transparency can foster a sense of community and encourages engagement among users.
While this feature serves as some kind of promotion for a business, it also raises privacy concerns among Venmo users. Aside from users being able to set privacy settings for each individual transaction as they are made, the default privacy setting of all transactions can be set to Private.
Aside from added visibility to other users whenever a user makes a purchase, Venmo Business profiles can engage with their customers through the feed, allowing them to build a more organic and personal connection.
Venmo also has a search function that lets users look for certain businesses. If you'd like your business to appear in these searches, you will need to opt in to the "Search" marketing feature, which can be found in the Settings menu of your Business profile.
Security
Venmo uses encryption to protect all account information, and all encrypted data is stored on servers in secure locations. A Venmo Business profile can be better protected by setting up a PIN or Face ID to open your Venmo app and then setting up a different PIN to switch profiles. This will help safeguard your Venmo Personal profile should you choose to allow your employees to use your device to access your Venmo Business profile. You may set up PINs for profile switching for one of or both your Personal and Business profiles.
Sales Tax & Tipping
Venmo Business profiles may choose to collect sales tax on their goods and services. This can be done by going to your Business Profile settings and creating a tax. Merchants are responsible for collecting the right tax amounts from their customers.
There is also an option to turn on tipping from your Business profile settings. When turned on, your customers will be able to send additional amounts and indicate them as tips.
Refunds
The Venmo app provides Business profiles the ability to issue refunds directly in the app. When viewing the payment details of a transaction, you should be able to see a "Refund" option. Keep in mind that when processing refunds, the transaction fees you paid Venmo are non-refundable.
Deposit Speed
Venmo offers the same bank transfer options for Personal and Business accounts. The Standard option is free and takes one to three business days for the funds to appear in your bank account. The Instant Transfer option has a 1.75% fee (minimum of $0.25 and maximum of $25), which only takes minutes for the transfer to be completed.
Customer Service
Venmo offers various options for customer support:
Comprehensive Help Center
Contact form on the Venmo website
Chat support is available on the app Mondays to Sundays, 8 a.m.–10 p.m. Central time
Phone support is available via (855) 812-4430, Mondays to Sundays, 8 a.m.–8 p.m. CT
Email businesssupport@venmo.com
Bottom Line
The Venmo Business Account offers a user-friendly and socially integrated mobile payment solution for businesses. Its features, ease of use, and instant transfer capabilities make it a suitable option for small businesses and entrepreneurs.
However, Venmo Business might not be suitable as the only payment platform of a small business because it can only currently accept payments from customers with Venmo accounts. Still, there are no fixed monthly costs for having a Venmo Business profile and accepting payments is relatively low-cost compared to other payment providers, making it ideal as an add-on or alternative payment option to help capture the younger-aged Venmo users.