How to Void a Check in QuickBooks Desktop
QuickBooks is very forgiving of users who make mistakes when issuing checks. If you have created a bill payment check or payroll check with the wrong details or issued the check to the wrong person, you can void it in QuickBooks Desktop. You might also run into a situation where your employee lost their paycheck or held it for too long (stale checks). In this case, you'll need to print a replacement check and void the old or stale-dated check. This tutorial will help you learn how to void bill payment checks and payroll checks already issued in QuickBooks Desktop.
The process of voiding a check is similar in all QuickBooks Desktop products. If you don't have a QuickBooks Desktop product yet, you can choose between QuickBooks Desktop Pro, QuickBooks Desktop Premier, QuickBooks Enterprise, or QuickBooks Desktop Accountant. To help you determine which QuickBooks product is right for you, read our comparison of QuickBooks Desktop products.
Intuit offers special discounts on its QuickBooks Desktop. You can purchase QuickBooks Desktop Pro, one of our best small business accounting software, with a 33% discount for your first year.
Watch the tutorial video below and the step-by-step instructions that follow.
When to Void a Check in QuickBooks Desktop
There are some cases where you need to void a check in QuickBooks Desktop, including:
Issuing the check to the wrong person
Duplicate check is created
Incorrect details like amount or date
Check is lost or stolen
Incorrect work locations (tax jurisdiction) for paychecks
Other than for duplicate checks, you'll generally want to void a check and then issue a corrected replacement check. This is straightforward for regular checks, but reissuing paychecks can be tricky, which we'll discuss later.
How to Void a Check in QuickBooks Desktop
To void a general check or bill payment check in QuickBooks Desktop, follow the steps below:
Select check register.
Select the check to void.
Void the check.
1. Select Check Register
From your QuickBooks Desktop home page, click on the Banking menu and then select Check Register. You can also click on the Banking menu on top of the screen, and then select Use Register from the drop-down list:
2. Select the Check to Void
Next, choose the bank account that issued the check you want to void:
A window displaying all the checks that have been created will open. Select the check you want to void by double-clicking anywhere on the line, as shown below:
3. Void the Check
After selecting the check from the list, your check will appear, as shown below. You'll notice that the list also includes the outstanding bills owed to the vendor you're issuing the check to:
You'll see a Delete menu on top of the check screen. Click on the small dropdown arrow under Delete, and click Void:
After clicking on Void, you'll notice that the amount turns to zero, which is an indication that the bill was reverted to open. You'll also see VOID in the memo field:
Click Save & Close, and then you'll be prompted with a message asking whether you want QuickBooks to record the changes. Click Yes to proceed:
Voiding and deleting a check are two different things. Voiding a check means turning the balance to zero while deleting a check means removing the transaction completely from QuickBooks.
If you need to reissue and reprint the check, just follow the instructions on how to pay bills as discussed in our previous tutorial on printing checks on QuickBooks Desktop.
How to Void a Payroll Check in QuickBooks Desktop
Voiding a payroll check is a bit more complicated than voiding general checks, especially if all payroll tax returns have been filed. Voiding payroll checks can have a significant effect on your books and payroll records. The best way to reissue a payroll check is to not void but to reprint it with a new check number instead. You can then create a new check, assign it the old check number, and void it.
To do this, follow the steps mentioned below.
Select check register.
Find the payroll check.
Reprint with a new check number.
Assign the old check number to a new check and void it.
1. Select Check Register
Navigate to Check Register, as shown above for voiding a general check.
2. Find the Payroll Check
From the check register, select the payroll check you want to void: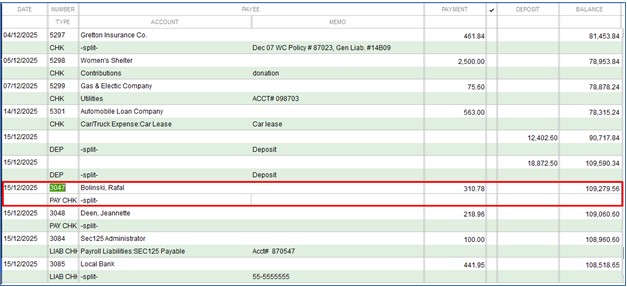 Select the payroll check to void in QuickBooks DesktopDouble click on the line to display your paycheck. Take note of the existing check number of the check you want to void. In our screenshot below, the check number is 3047:
3. Reprint With a New Check Number
To change the check number, click on the Print menu on top of the payroll check window, and then choose Check from the dropdown list, as shown below:
QuickBooks Desktop will generate a new check number automatically. Verify this number matches the check in your register, or change the number if needed, and then print the new check:
Once the check with the new number is printed, it'll be recorded in the Check Register automatically. As shown below, the old check number 3047 is now check number 3089.
You can find the new check in the Check Register, but the old check won't be there.
4. Assign the Old Number to a New Check and Void It
This step isn't absolutely necessary, but if you want to void the old check, you need to record it in the Check Register. To do this, click on the bottom-most line in the register, enter the old check number, and then set the details. For instance, in the screenshot below, type 3047 (the old check number), select a Payee and leave a note in the Memo field saying it was voided. Click Record, and then you'll find the old check in the register:
Find the old check and then follow the steps for voiding a check.
It's good practice to make sure all check numbers appear in the check register, so you know that no blank checks are missing. That's why many companies will go through the trouble of creating a check and voiding it in QuickBooks.
Wrap Up
There you go—you have just learned how to void a bill payment check and payroll check in QuickBooks Desktop. We hope you find this tutorial helpful. If you are considering a switch to QuickBooks Online, you might want to check out our tutorial on how to convert QuickBooks Desktop to QuickBooks Online.